Flat iron is one of the most versatile cuts for quick grilling and in this fast recipe we are showing you how to use summer's bounty to its fullest with a tequila lime marinated flat iron, char-grilled and served as a loaded salad. You'll never look at salad the same.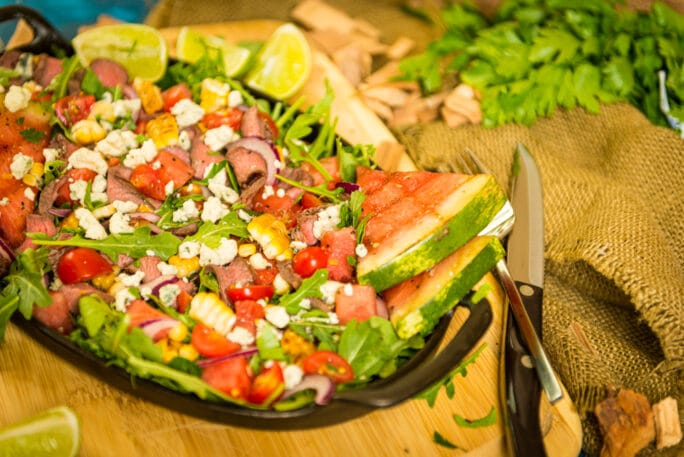 Salad is something I am addicted to.
Wait! Don't stop reading. I promise this isn't some health post trying to convert you to beans and leaves. It's just a personal truth. I love salad. But I promise. I don't do boring salads. And I don't believe in iceberg lettuce either. From crazy pan seared whole 30 salmon with poached eggs, to coffee crusted flank steaks, salad in my house are kind of the bee's knees.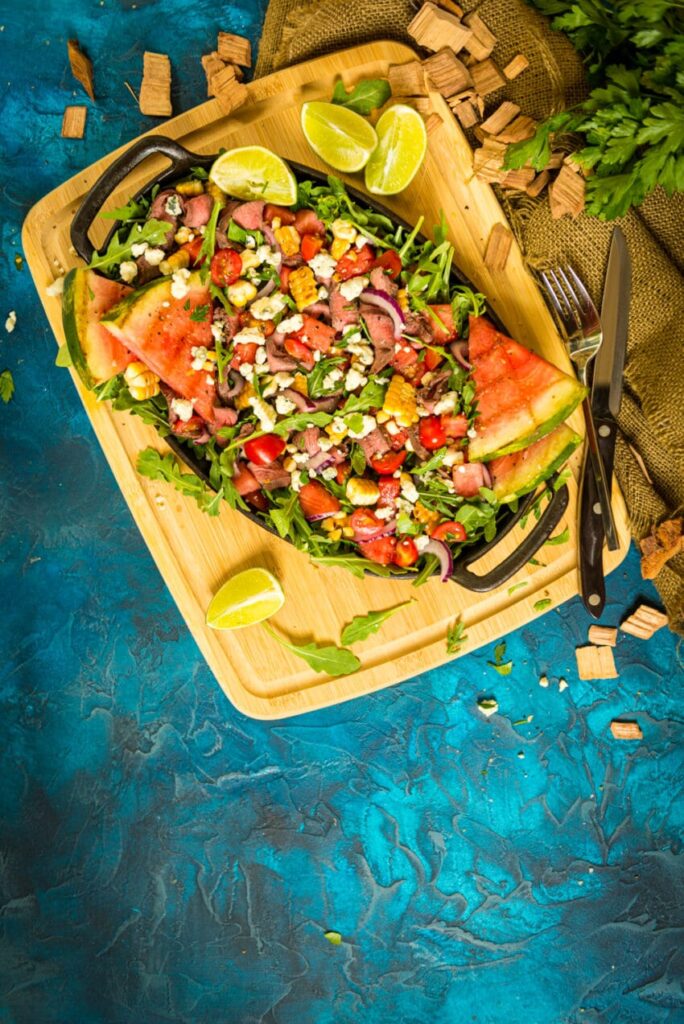 Any why not? I mean, I grew up with those minced iceberg salads with a whole lot of no flavor except for the dressing they were swimming in. But since I have branched out my own tastes, adding a bit of green leafy goodness has really kept me perky.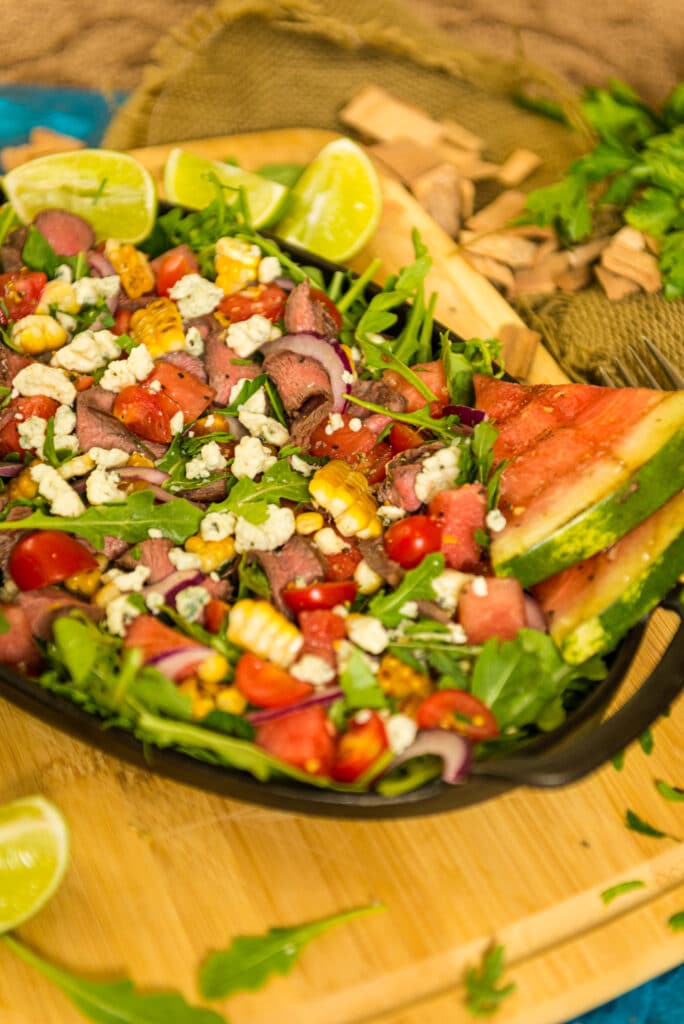 And then we topped that salad with a perfectly grilled flat iron steak that had been marinated in a funky little lime tequila mix, grilled watermelon, smoked corn on the cob (seriously, have you tried smoked corn on the cob?!), and of course some melty blue cheese crumbles. Because, as I said, salads aren't boring.
What I love best about this steak salad is that it uses up fresh summer ingredients. The grilled watermelon adds a burst of freshness totally different from the ripe tomatoes and smoked corn is my summertime side dish every chance I get. But really, it would work with cherries, grilled peaches, chèvre, or pretty much anything else you happened to pick up cuz it was fresh at the market.
One grill, a few Western Wood Chunks, and a little while later, that beach body diet isn't looking so bad at all. (Heck, skip the tequila – cuz you hate life – and the blue cheese and you're onto another amazing whole 30 approved recipe).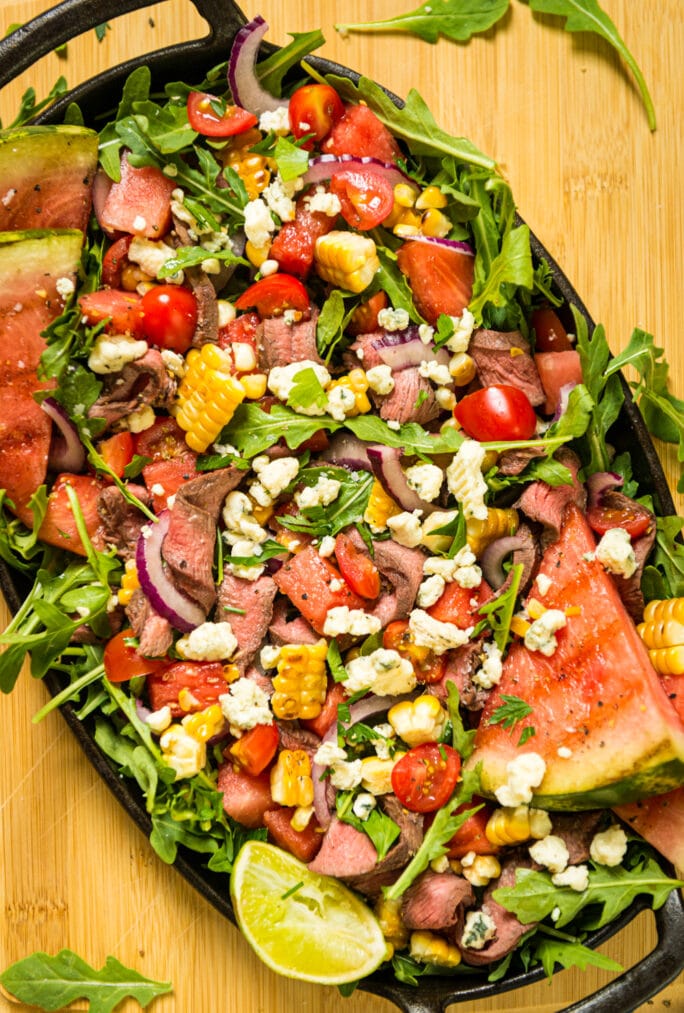 How to grill a flat iron steak:
Flat iron is a long thin cut. It is loaded with flavor and can be incredibly tender if you cook it to medium rare.
Be sure to grill quickly over medium to high heat to an internal temp of 130 and then allow the steak to rest for 5 to 10 minutes.
Slicing the flat iron against the grain in thin strips is crucial to keep that tenderness.
From there, slices are perfect on salads (like this one), in tacos, or even steak sandwiches.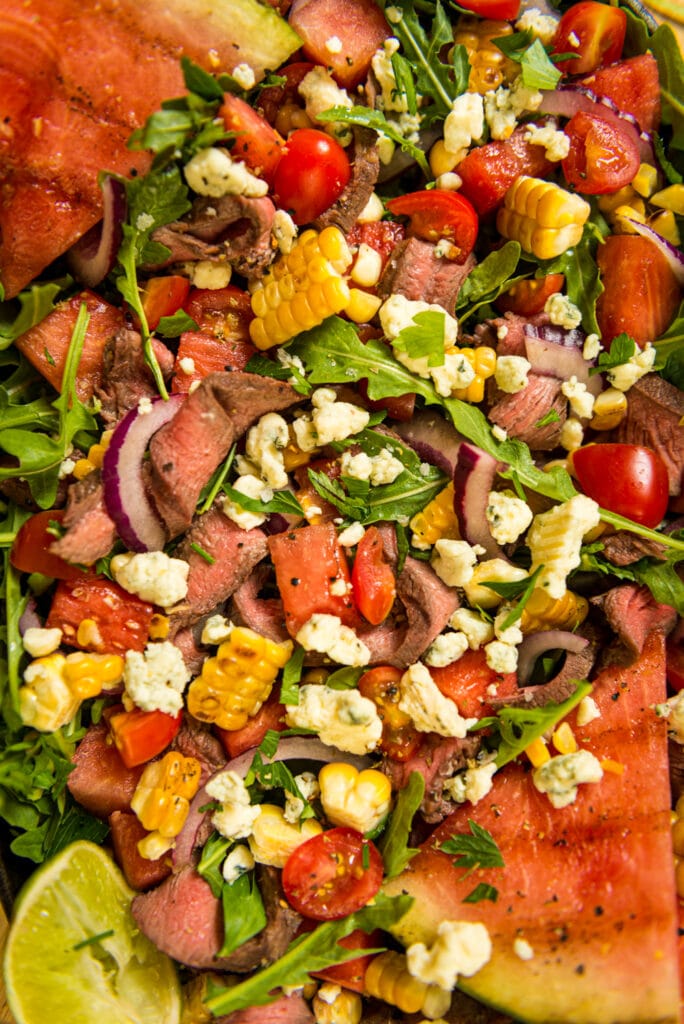 Want more delicious Flat Iron recipes? Try some of my favorite recipes
If you've tried my Grilled Flat Iron Steak Recipe or any other recipe on GirlCarnivore.com please don't forget to rate the recipe and let me know where you found it in the comments below. I get inspired by your feedback and comments! You can also Follow Me on Instagram: @girlcarnivore, Twitter and Facebook.
Yield: 1 Salad
Grilled Flat Iron Steak Salad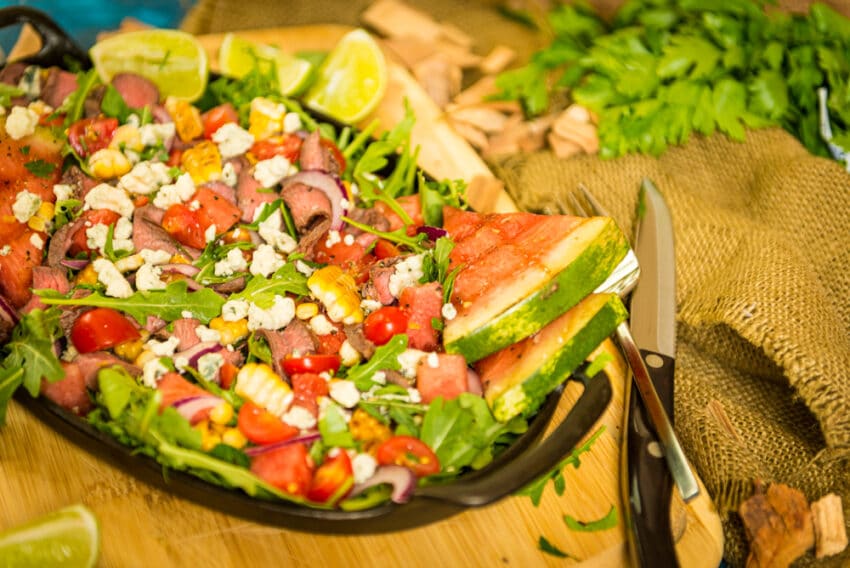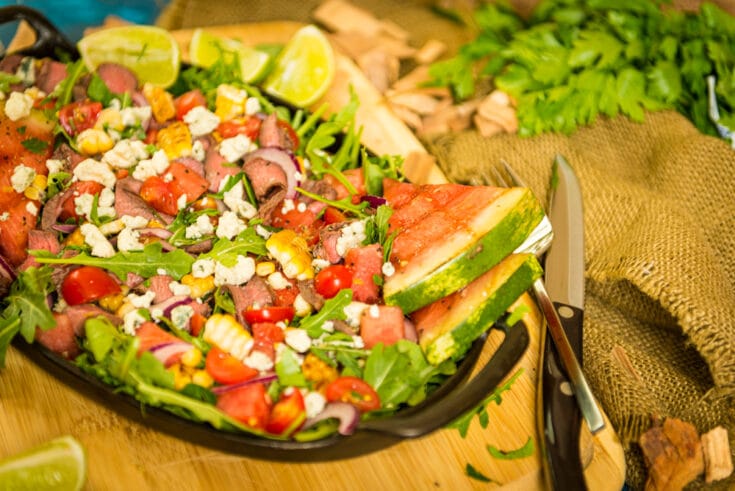 Total Time
1 hour
30 minutes
Ingredients
For the Flat Iron Steak
2 lbs flat iron steak
¼ cup olive oil
2 tbsp tequila
Juice from one lime
Coarsely ground black pepper
Salt
For the Salad
6 cups Arugula
6 slices watermelon
2 ears corn, husked and silks removed
¼ red onion, sliced
8 to 10 cherry red tomatoes, sliced
¼ cup blue cheese, crumbled
1 lime, sliced
Instructions
Marinate the flat iron steak. Whisk the olive oil, tequila and lime juice together. Sprinkle the flat iron liberally with black pepper and pour the marinade over the steak in a resealable bag. Allow the steak to marinate in the refrigerator for at least one hour.
Meanwhile, set up your grill for indirect heat and allow the grill to heat up by arranging the coals in a pile to one side.
When ready to grill, add Western Wood Chips (I used cherry for this one just to keep the summer flavors going strong) to the hot coals to produce smoke. Grill the steak, corn and watermelon with the lid closed, only opening to rotate the corn and flip the steak.
Grill the flat iron to 130 degrees before removing from heat and wrapping in foil to rest.
Remove the watermelon from the heat one grill marks are formed on both sides.
Rotate the corn to get a good smoked color on all sides. The kernels will take a golden hue.
Once the corn is smoked and kernels are tender, cut the kernels from the cob and cut the watermelon into bite sized pieces.
Arrange the salad by tossing the arugula with the red onion, chopped watermelon, corn kernels, and cherry tomatoes.
When ready to serve, slice the flat iron steak thinly against the grain into strips. Lay over the salad and top with the blue cheese crumbles.
Recommended Products
As an Amazon Associate and member of other affiliate programs, I earn from qualifying purchases.
Nutrition Information:
Yield:
6
Serving Size:
1
Amount Per Serving:
Calories:

880
Total Fat:

47g
Saturated Fat:

15g
Trans Fat:

1g
Unsaturated Fat:

26g
Cholesterol:

195mg
Sodium:

562mg
Carbohydrates:

52g
Fiber:

5g
Sugar:

34g
Protein:

64g