This Easy Veal Saltimbocca is an impressive yet simple dinner made with tender pan-fried veal cutlets wrapped in salty prosciutto and rich sage. Ready in just 30 minutes!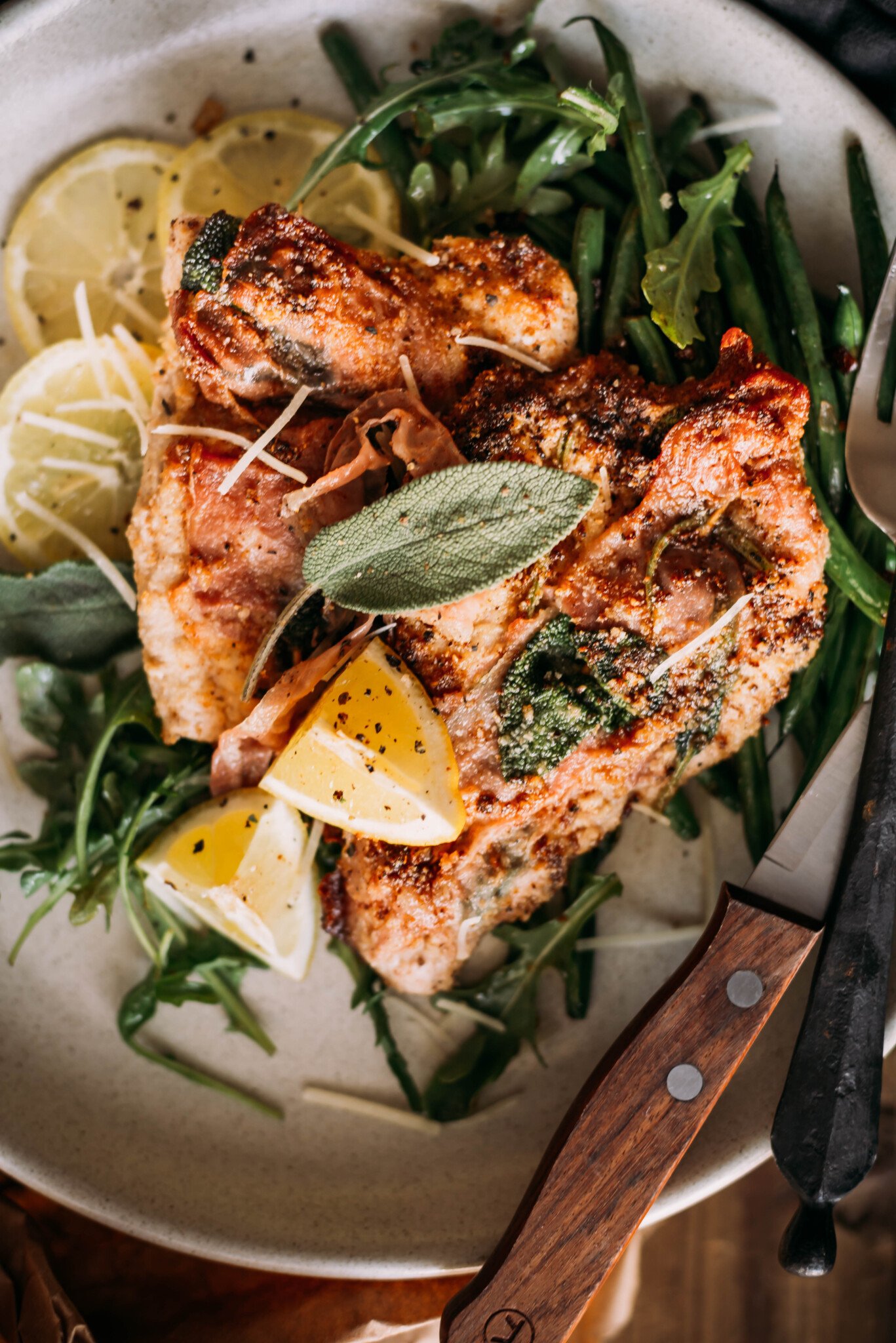 Okay, this is Easy Veal Saltimbocca is one of those meals that full-on impresses your guests because it looks like you spent a lot of time on it, but it's actually incredibly easy to make.
All you need are veal cutlets, prosciutto, sage leaves, flour, oil, butter, and a few garnishes if you're feeling zesty.
So, gather those ingredients, and let's get cooking!
If you're looking to break from traditional veal recipes and try something new, my spin on this version as a burger is delicious!
What Kind of Dish is Saltimbocca?
Saltimbocca is a classic Italian dish with Roman roots. It's made up of tender veal cutlets topped with fresh sage leaves and wrapped in salty prosciutto. Curious what else to make with veal cutlets? Try this delicious veal scallopini with mushrooms, quick and easy veal parmesan or our favorite weeknight dinner, veal piccata!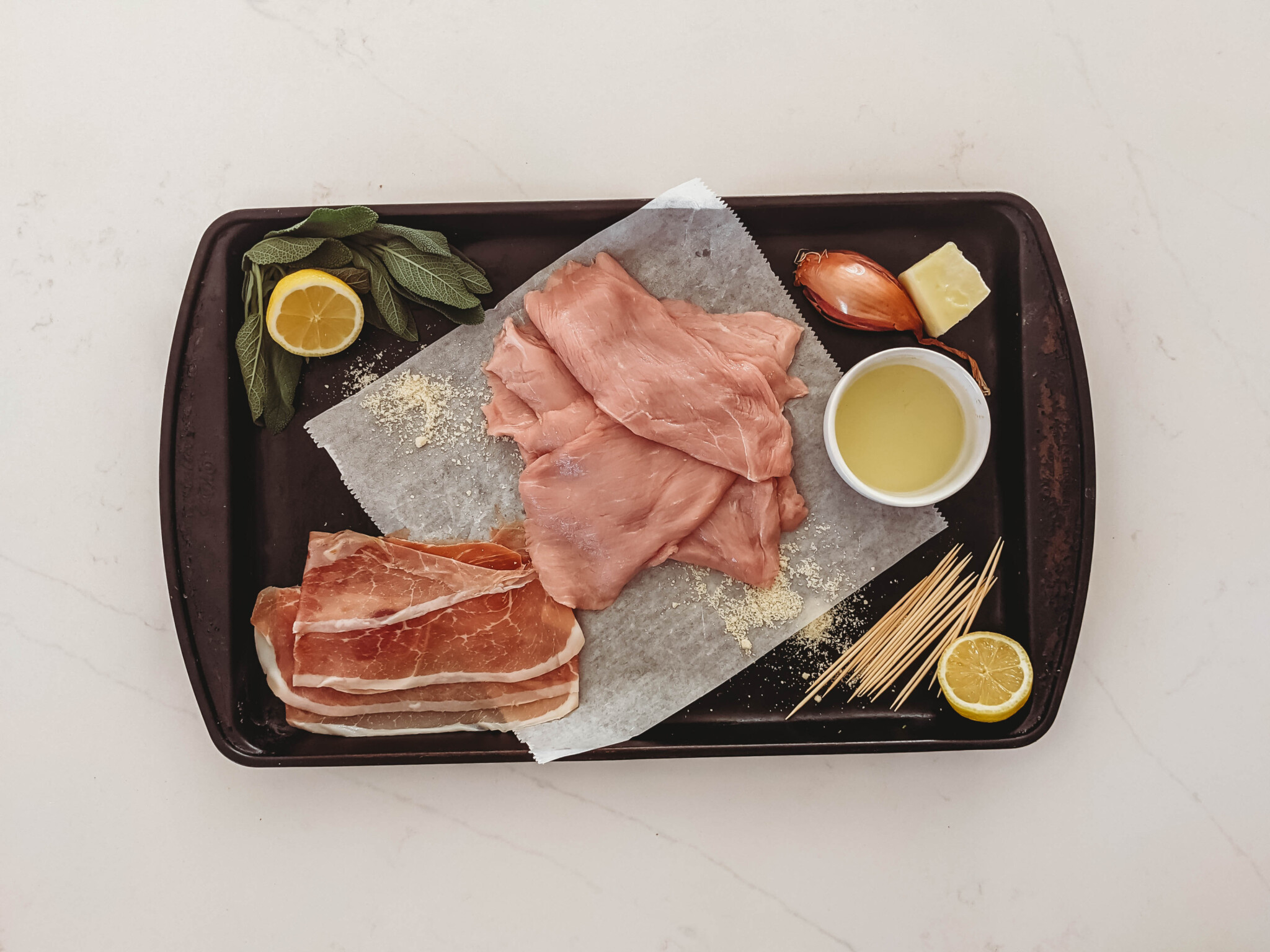 What Are the Ingredients for Veal Saltimbocca?
Veal Cutlets – you'll need 1 pound of veal cutlets. Be sure to pound them into ¼" thick pieces so they cook quickly.
Prosciutto – whatever prosciutto you can find works great. You'll need 4 ounces!
Sage Leaves – fresh sage leaves add a fresh, pine-y, almost citrusy flavor which complements the saltiness of the prosciutto perfectly.
Almond Flour – traditionally, veal saltimbocca is dredged in flour. However, we're sticking to a keto-friendly version and using almond flour instead. If you aren't on a keto diet, traditional flour works great.
Butter and Avocado Oil – the perfect combination for frying the veal.
Black Pepper, Shaved Parmesan, Parsley, and Lemon Wedges – for garnish!
How to Make this Veal Saltimbocca Recipe
This veal saltimbocca recipe takes just 15 minutes to prep!
First, prep the veal: pat it dry, then cover it with plastic wrap. Pound the veal into ¼" thin cutlets, then trim, cutting in half if needed, to make manageable sizes for frying.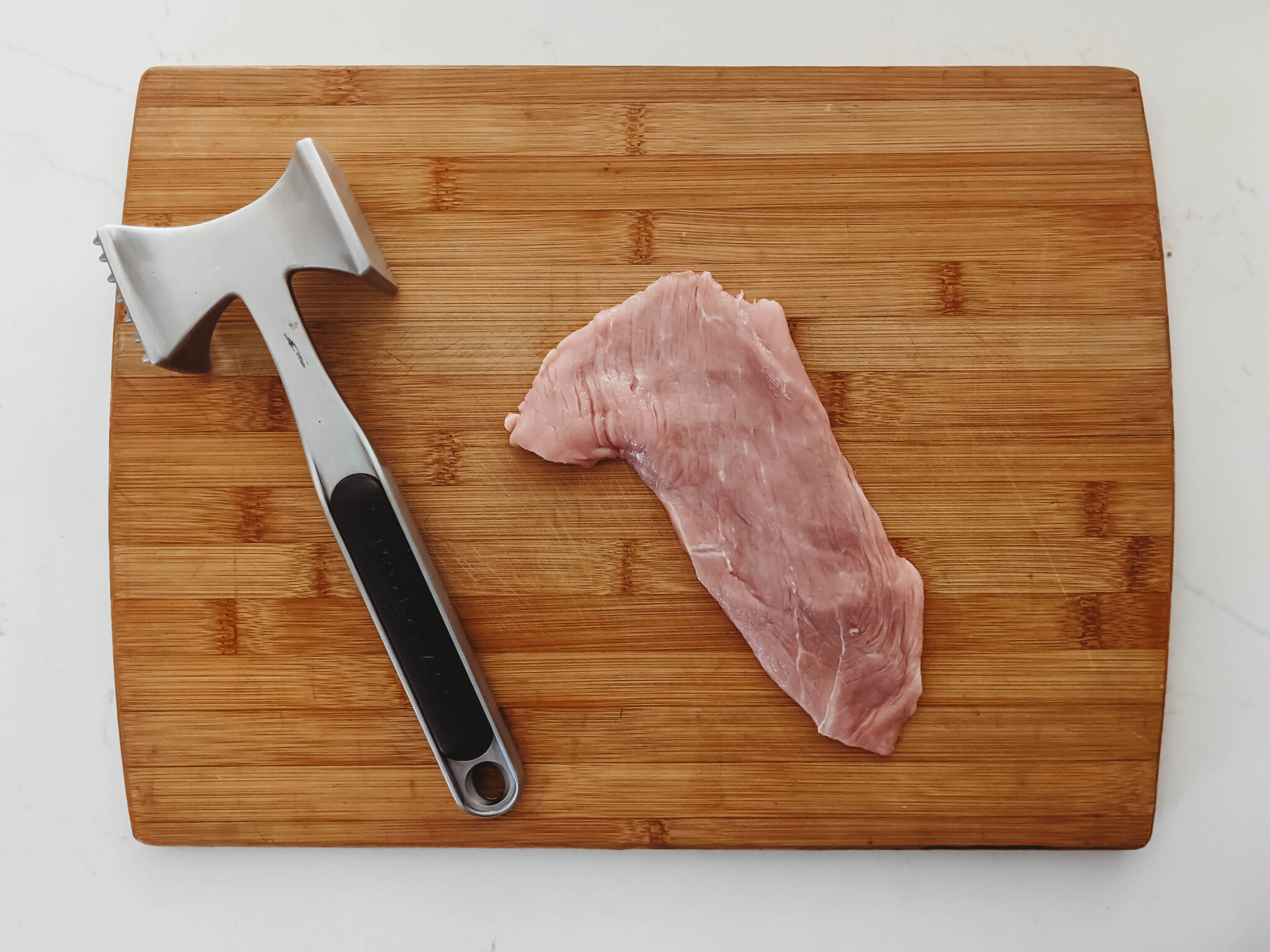 Working once piece at a time, place a layer of prosciutto over the veal and top with a sage leaf. Weave a toothpick through the veal to secure.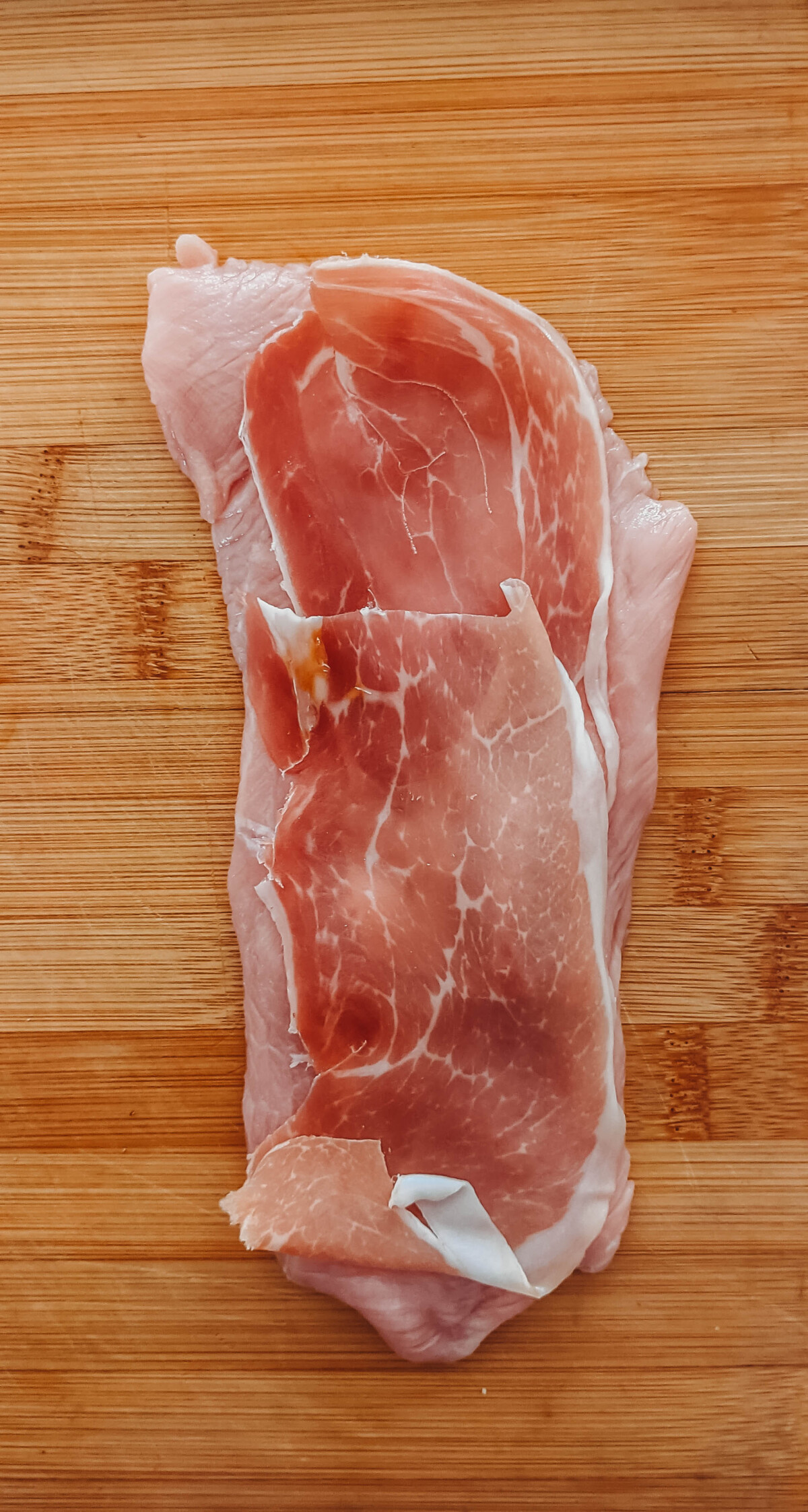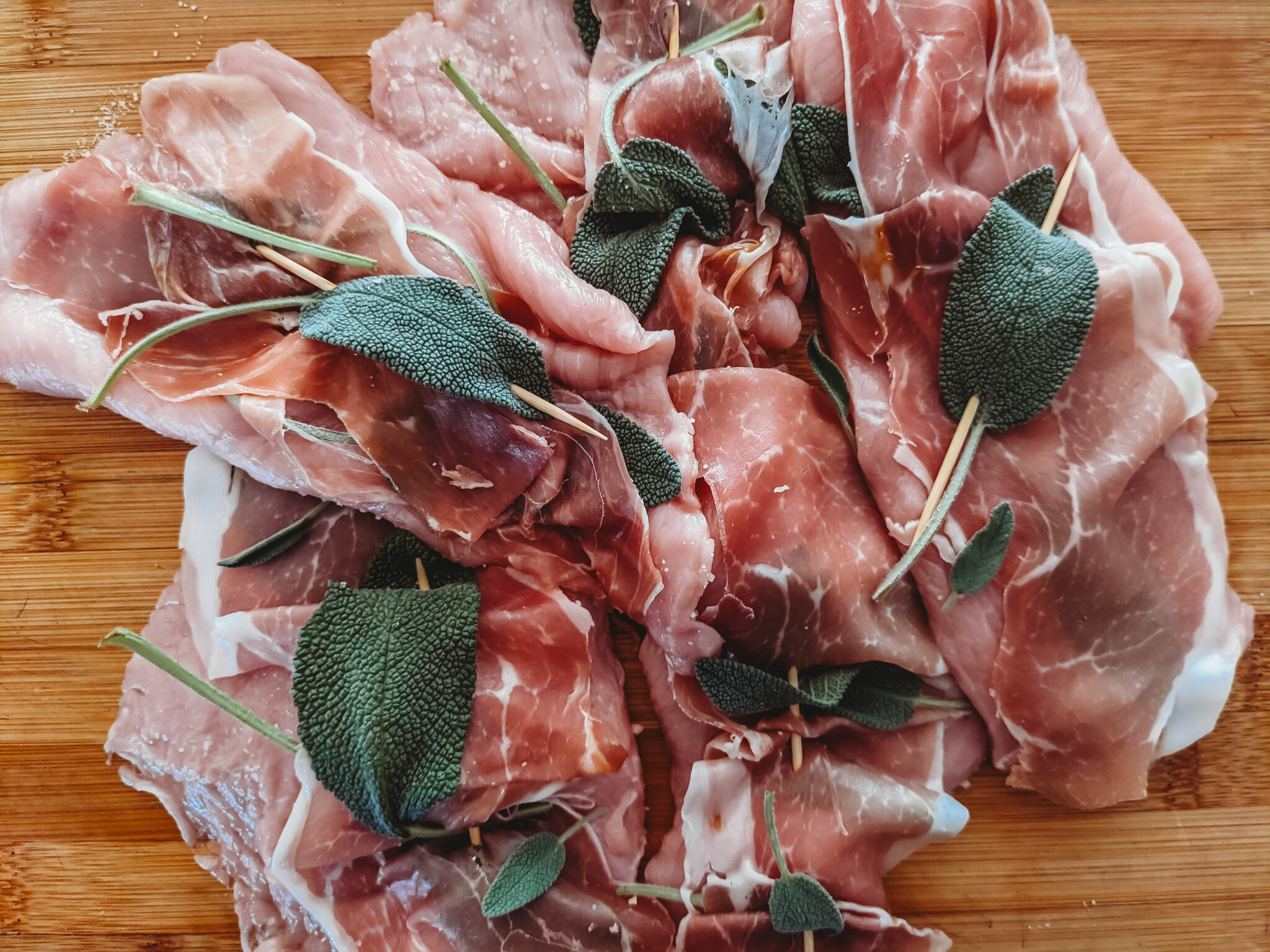 Spread the almond flour out into a shallow pan, then dip the veal into the flour. Dredge both sides and shake off any excess.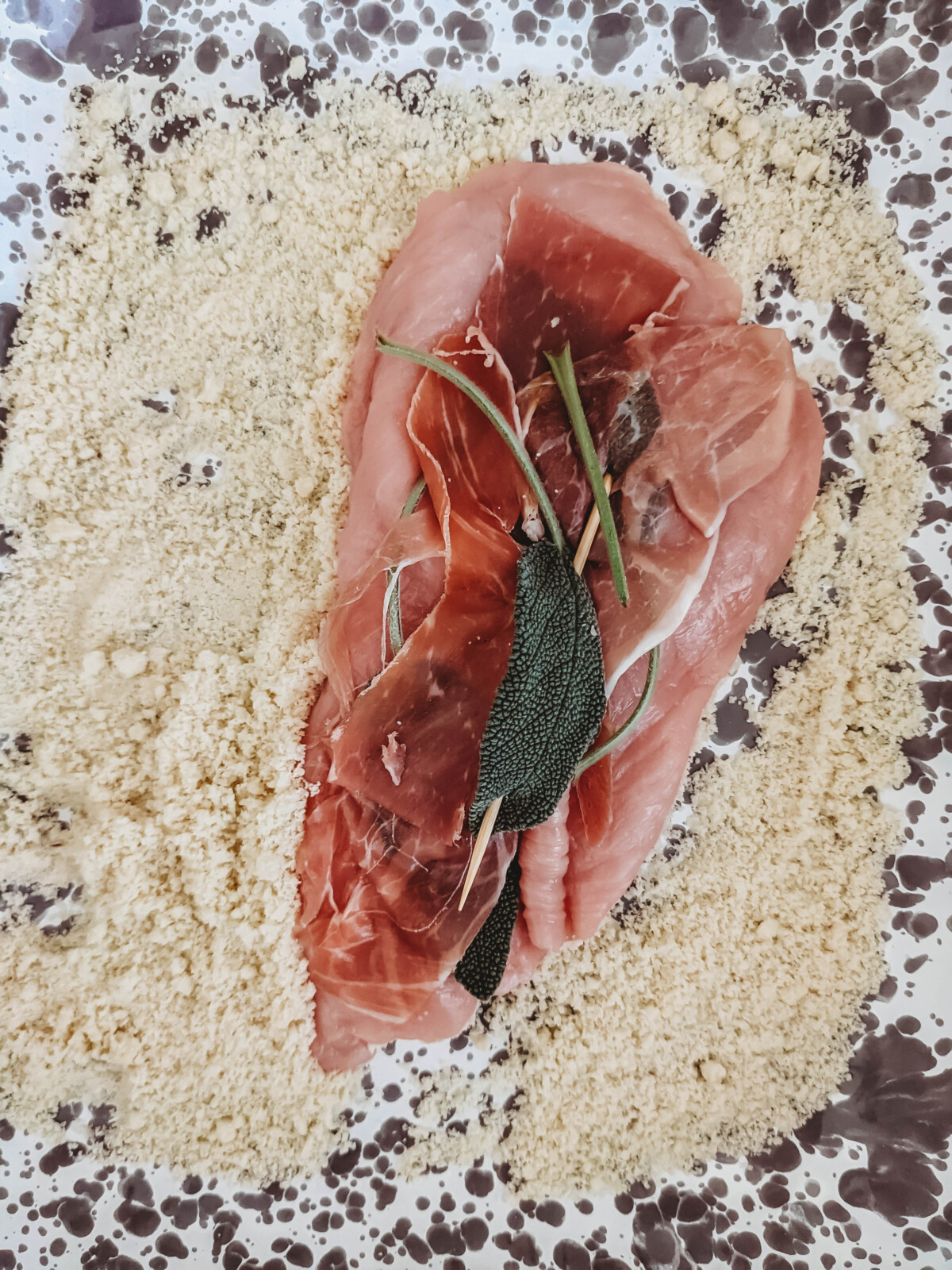 Preheat a large skillet over medium heat, then add in butter and oil until heated. Add in the veal and sear for 2 minutes on each side. Remove and place on a paper towel-lined plate to drain. Let rest for 5 minutes.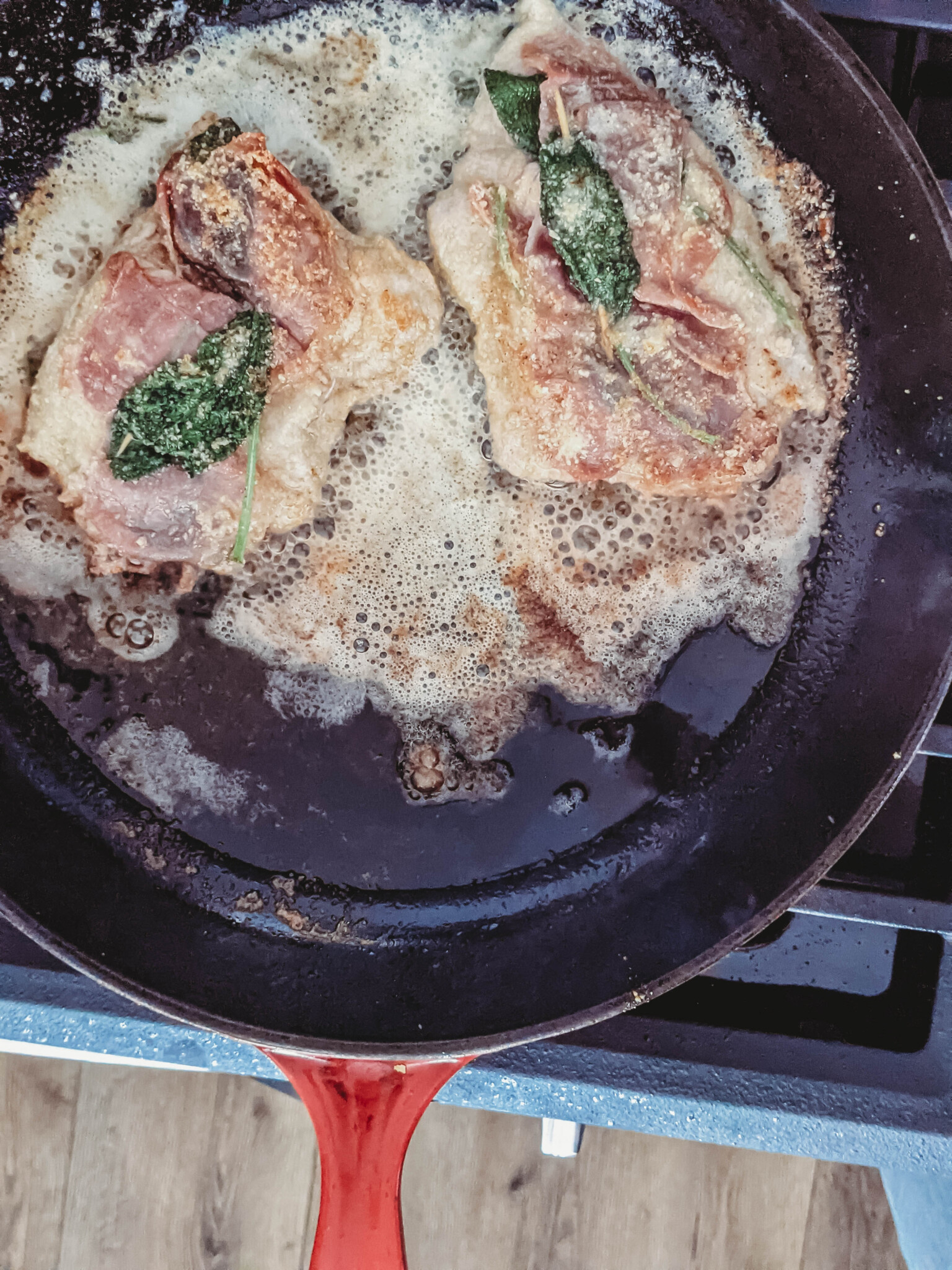 Serve the cooked veal over oil-tossed arugula, sprinkle with shaved parmesan, pepper, and lemon.
Can You Use Chicken Instead?
You can! Although I do love the more mild flavor of veal paired with the crisp flavor of prosciutto and sage, you can totally swap it out for chicken cutlets instead if preferred.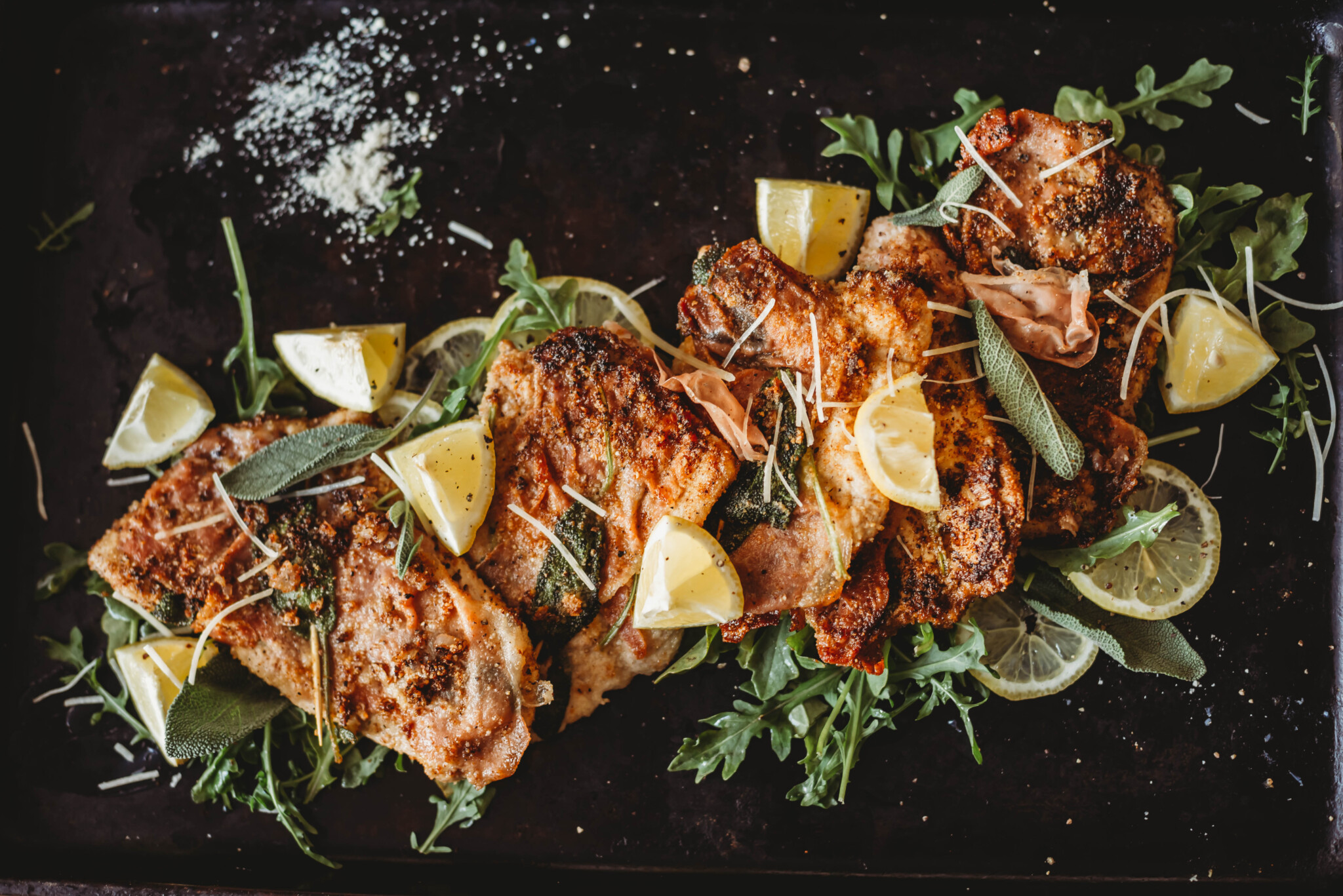 Tips and Notes
Here are a few of my tips and tricks to pull off this veal saltimbocca recipe without a hitch!
Pound the meat. Make sure you pound the meat into ¼"-thick pieces so it's thin enough to cook quickly and all the way through.
Preheat the pan. The trick to great veal saltimbocca is preheating the pan and a fast sear. Make sure the pan is hot before you add in the meat. Because it's so thin, the meat cooks quickly while maintaining a tender texture.
Check the temp. Use a meat thermometer to double check that the internal temperature of the veal is 145ºF before serving.
Shaving some grana padano over this dish while it rests adds another luscious layer of flavor.
Serving Suggestions
Serve this veal saltimbocca with wilted spinach and pan-seared mushrooms in a marsala sauce for a decadent, restaurant-style meal.
If you're sticking to a keto-friendly version, blanched green beans, a hearty salad, oil tossed pasta, this amazing stuffed eggplant, or polenta are all great options as well. If you're not counting carbs, serve this over pasta tossed with tomato alfredo sauce for an incredible meal.
This dish also takes well to a mild fruity red wine or a light Chardonnay!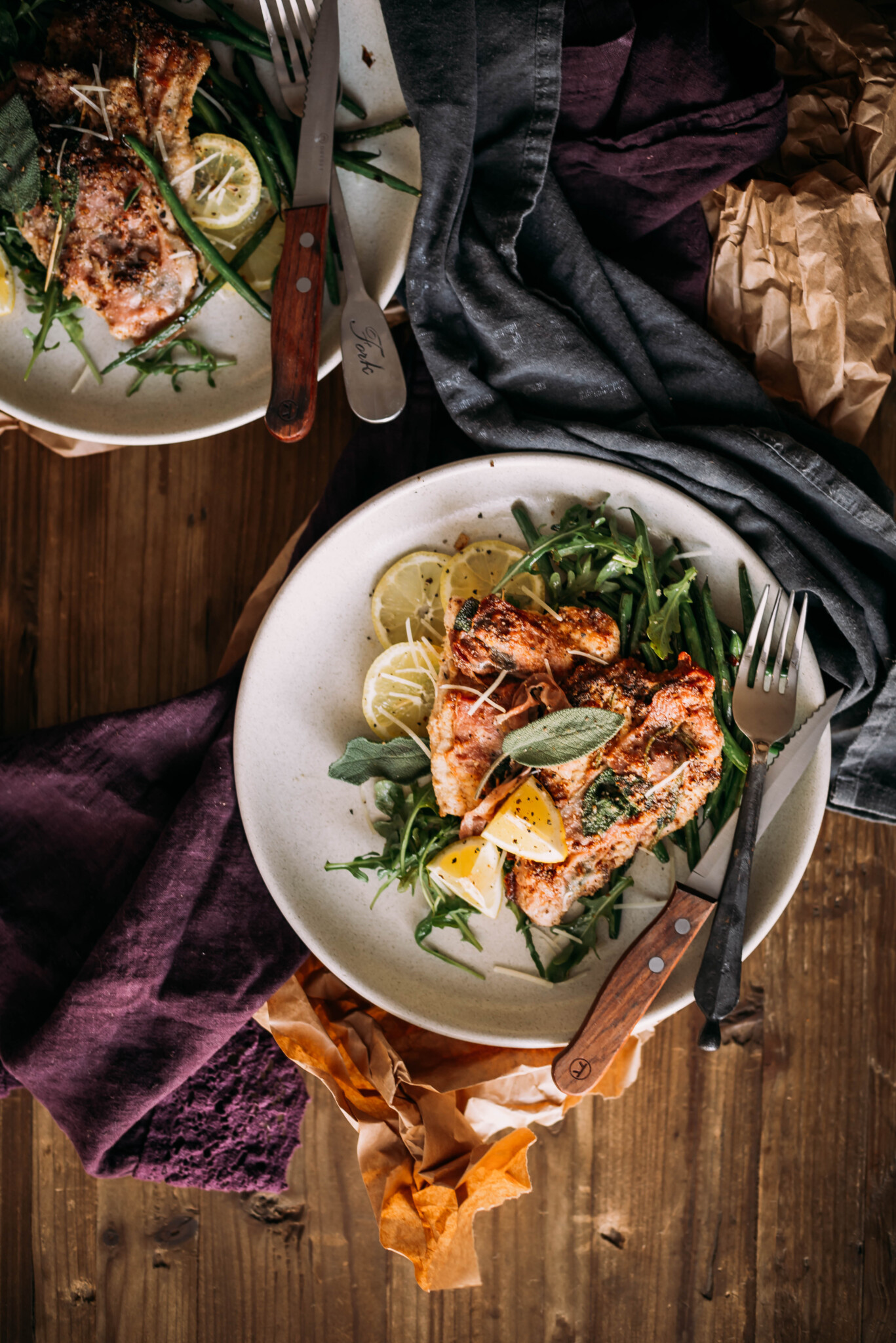 How to Store
This veal saltimbocca is fantastic fresh from the pan, but if you do have leftovers they will last in an airtight container in the fridge for up to 3 days.
To reheat, warm in a shallow pan over medium heat or on a baking sheet in the oven at 325ºF for 10 minutes.
MORE DELICIOUS VEAL RECIPES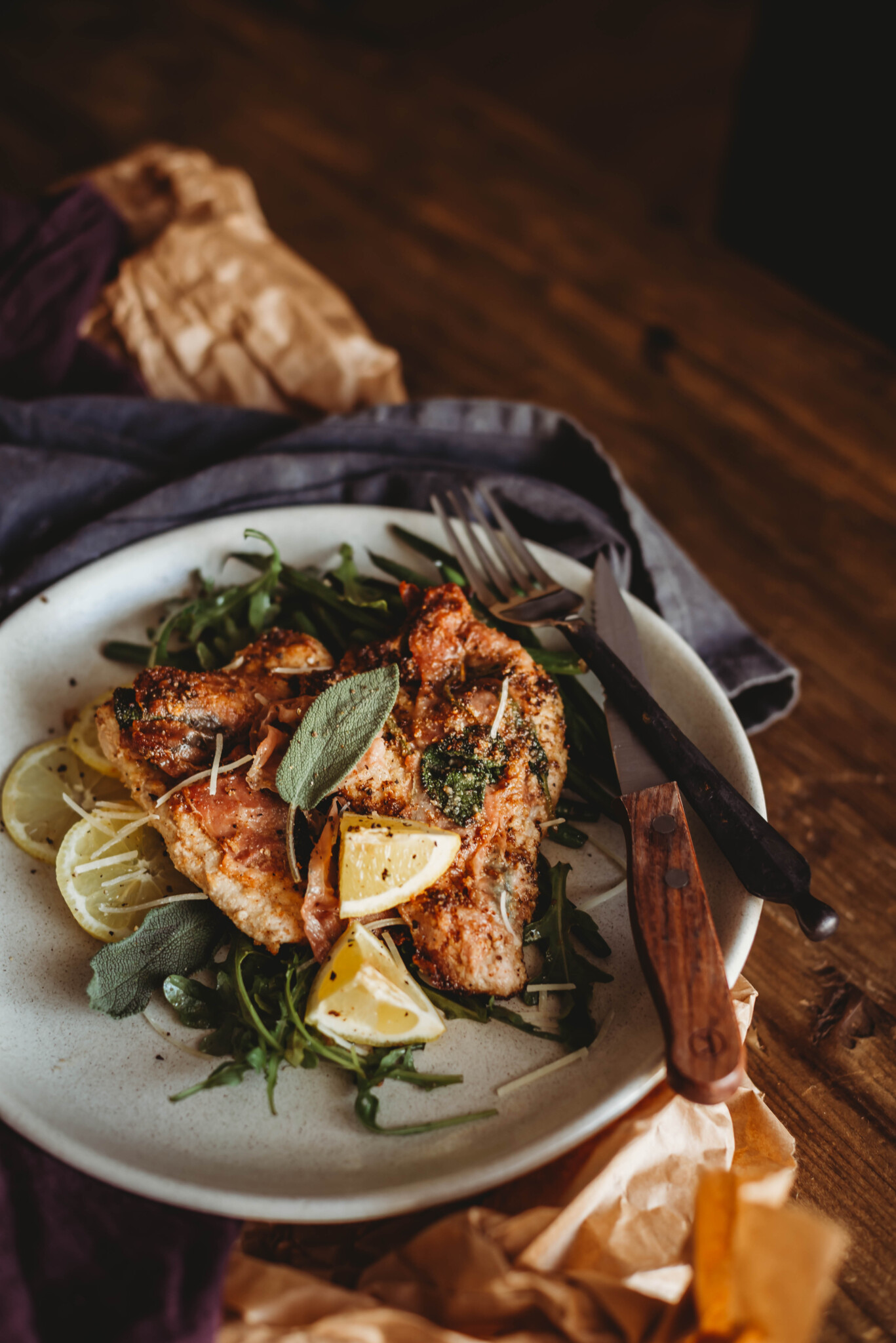 Save this recipe for later by clicking the ❤️ button on the recipe card. Did you know you can save all of your favorite recipes right to your own recipe index on GirlCarnivore to find them easier later on?
Have you tried this recipe? Do us a favor and rate the recipe card with the ⭐ ⭐ ⭐ ⭐ ⭐ and drop a comment to help out the next reader.
Veal Saltimbocca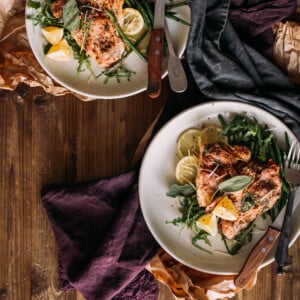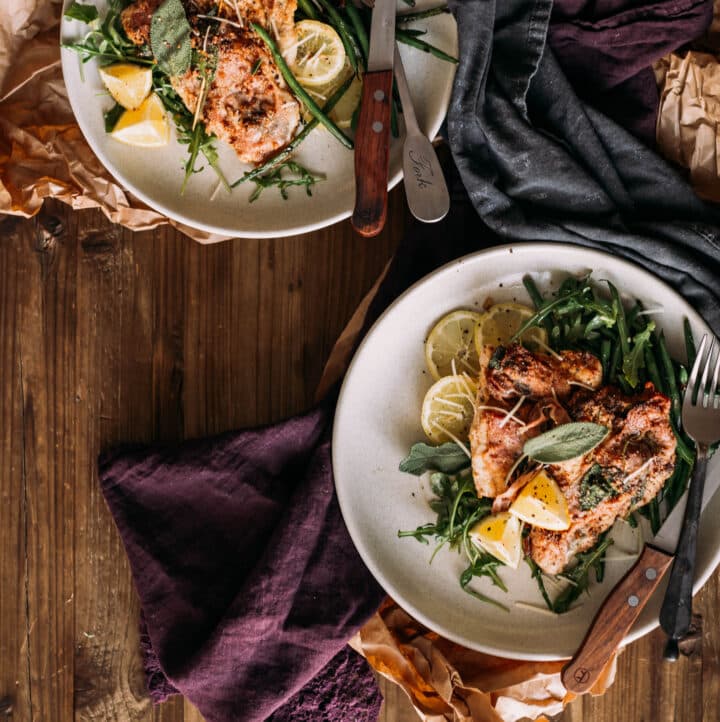 This quick keto-friendly spin on the classic veal saltimbocca is light, loaded with flavor and a perfect dish for if you want to really impress someone (Or if you just want a dang good dish for yourself).
Ingredients
1

lbs

veal cutlets

4

oz

prosciutto

4

fresh sage leaves

1/2

cup

almond flour

4

tbsp

butter

⅓

cup

avocado oil
For Garnish
Coarse ground black pepper

Shaved parmesan

Parsley

Lemon wedges
Instructions
Prep the veal
Pat the veal dry and arrange on a clean work surface. Cover the veal with plastic wrap and pound the veal into ¼" thin pieces.

Trim, cutting the veal in half, if needed to make manageable portions for frying.
Add the Prosciutto
Working one piece at a time, place a layer of prosciutto over the veal, top with a sage leaf.

Weave a long sharp toothpick through the veal, to secure the prosciutto and sage.
Flour the Veal
In a shallow pan, spread the almond flour out.

Dip the veal into the almond flour, to dredge both sides with a light dusting of almond flour.

Shake off the excess.
Cook the Veal
Preheat a large cast-iron skillet over medium heat.

Add the butter and avocado oil to the pan.

Melt butter in the pan, swirling to coat the pan.

Place the veal in, a few pieces at a time, to not overcrowd the pan, searing 2 minutes on each side.

Remove from the pan and place on a paper towel-lined plate to absorb excess liquid.

Repeat until all cutlets have been cooked to 145 degrees F and rested 5 minutes.
Serve
Serve over oil tossed arugula and sprinkle with shaved parmesan, freshly ground pepper, and lemon wedges for serving.
Notes
Add minced shallots to the butter and oil for bonus flavor.
Fry a few extra sage leaves while the veal rests in the pan for serving.
This recipe is fantastic fresh from the pan, but if you have leftovers, store them in an airtight container in the fridge for up to 3 days.
Reheat any leftovers in a shallow pan over medium heat or in the oven preheated to 325 for 10 minutes on baking sheet.
Use long toothpicks for securing the sage and be sure to remove each one before serving.
If you aren't on a keto diet, traditional flour works great for this.
Nutrition
Serving:
2
g
|
Calories:
394
kcal
|
Carbohydrates:
2
g
|
Protein:
20
g
|
Fat:
34
g
|
Saturated Fat:
10
g
|
Polyunsaturated Fat:
3
g
|
Monounsaturated Fat:
15
g
|
Trans Fat:
1
g
|
Cholesterol:
92
mg
|
Sodium:
239
mg
|
Potassium:
317
mg
|
Fiber:
1
g
|
Sugar:
1
g
|
Vitamin A:
240
IU
|
Calcium:
27
mg
|
Iron:
1
mg
Video: Watch how to make Veal Saltimbocca