Grilling steaks is HARD – especially if you are looking for that perfect pink center. But this recipe for charcoal-grilled steaks is the solution for hitting the perfect internal temp, every time.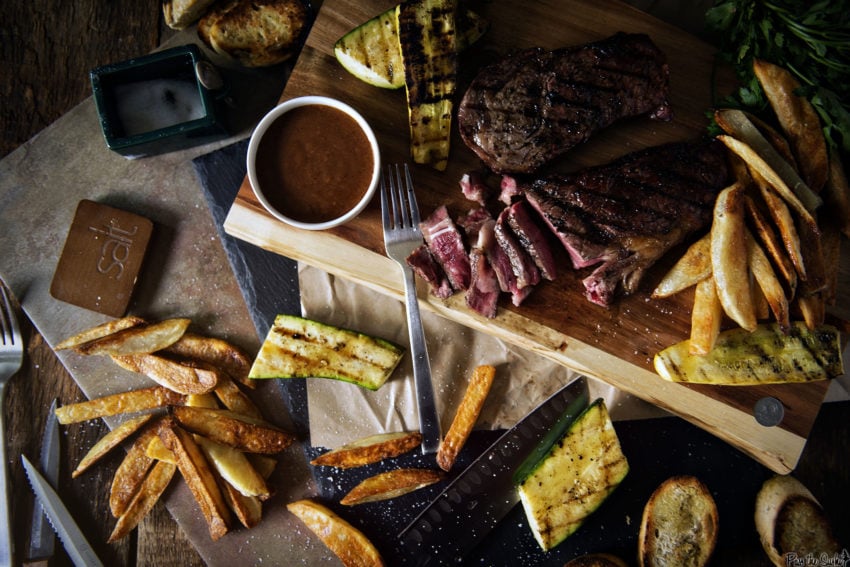 Forget lavish sauces, double-stuffed restaurant fads, and extreme toppings. A good steak is best served naked and char-grilled. But getting a 'good' steak these days can be tricky, and when that's not an option, dressing up the flavor with options isn't a bad idea.
But, if you can find a great cut at the butcher counter, and have a little extra coin to spend, this perfect char-grilled steak recipe is the way to go. Just season, chill and grill. Leave the fancy toppings for the french fries.
You've got center stage covered.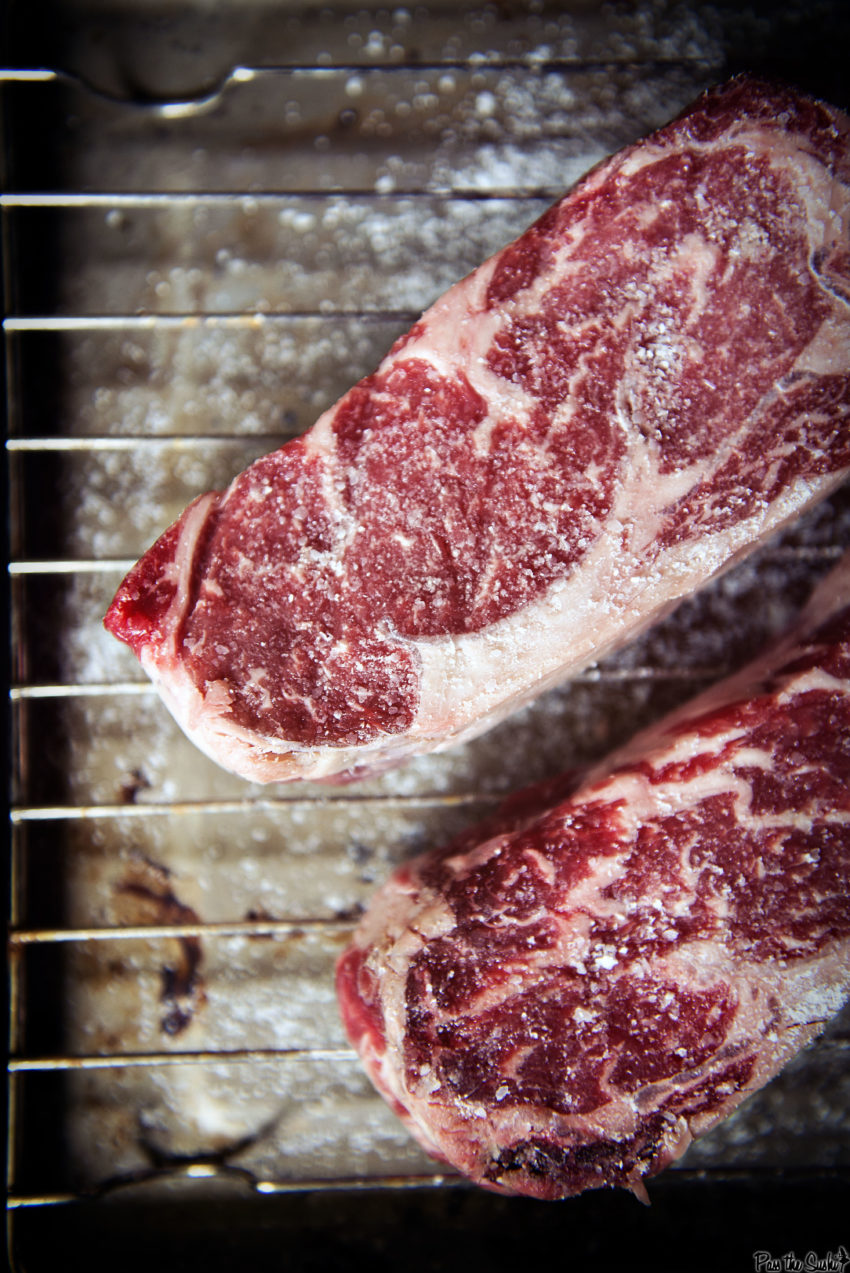 Tips for Perfectly Grilled Steaks
Nothing like a grilled steak to reaffirm your inner carnivore. I like mine on the medium rare side with a nice char on the exterior. You may like yours more done and if that is the case, then more power to you.
But just so you know… The red liquid that comes out of steak when you cut into it is NOT blood. If it were blood then you would be dealing with a nasty congealed scab. In reality, that is just myoglobin from the meat. Aka, a protein
However, no matter how you like your steak, I think we all agree that the best grilled steaks have a nice char mark on them. You may be happy with just some diagonal lines or you might be passionate about attaining perfect crossed hatch style marks. What really matters is that special essence gained through the "maillard effect".
The French of course have perfect names to describe everything when it comes to food. Pretty interesting, because the French are notoriously rigid about accepting words into the language. With cuisine, they must have relaxed the standards.
What Is The Maillard Reaction?
The cornstarch and salt mixture, along with the sprinkle of pepper right before you begin grilling will help perfect your "maillard" effect. The maillard effect refers to the unique caramelization of these ingredients on the meat. The smell and taste of the meat and seasonings simply defies description… which is I am sure why the French were compelled to create a word for it.
The key to creating a perfect maillard reaction is making sure your meat is well seasoned and your cooking heat is nice and high.
Want to practice? My go-to method for getting an edge-to-edge sear when a grill isn't handy is pan-searing. But, if you've got the grill, this is the way to go for a serious layer of flavor!
Start High Go Low Or Vice Versa With Grilling Steaks?
This is very common question. Many people think that it is critical to start with high heat in order to keep the juiciness sealed inside. I have looked into this extensively and that really is not the case.
If you start the steaks on lower heat to help them cook on the inside first, then finish them with high heat to create the char marks and get the maillard reaction, then that actually keeps the moisture intact best. Aka, reverse searing.
The lower heat to start causes the moisture to be absorbed into the tissue of the meat.
You will still see folks debate this to the point of dueling with pistols at dawn. Don't let it come to that. But I do recommend trying both methods with a very similar two portions of steak. The end result of flavor will still be the same.
Where you will notice the difference is how long you need to rest the meat after bringing it off the heat, and how much water flows out when you cut them open. The less water the better. That is the difference between a juicy steak and an incredibly juicy steak.
The Grill Marks Get The Praise
You have may just grilled a steak to be all that came before it, but if the grill marks aren't perfect then you will find someone calling you out about it.
To attain perfect grill marks, follow this simple strategy. Put the steaks on the high heat area of the grill at an angle. About halfway through being done with that side, then turn the steak to the reverse of that angle, 45 degrees. It would be like making an "X" with the steak.
When that side is done, then flip it and follow the same exact steps. When you pull off the steak there will be a steak with square grill marks you could place chess on.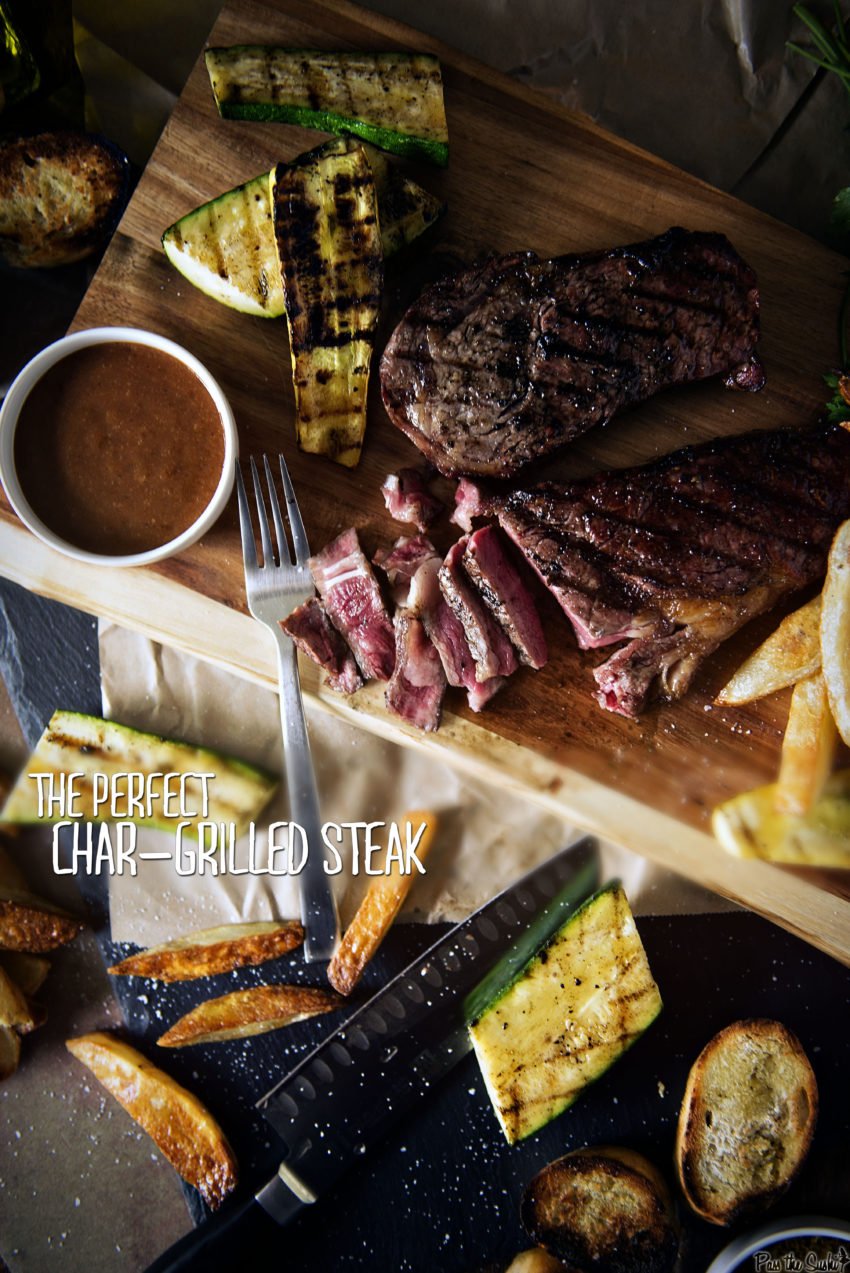 Some Other Beef Dishes I Love
Steak is amazing, but sometimes you do want to go a different route with beef…
If you've tried my Perfect Char Grilled Steak recipe, or any other recipe on GirlCarnivore.com please don't forget to rate the recipe and let me know where you found it in the comments below. I get inspired by your feedback and comments! You can also FOLLOW ME on Instagram @girlcarnivore as well as on Twitter and Facebook.
The Perfect Char-Grilled Steak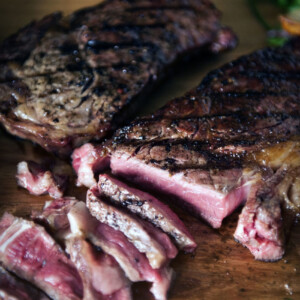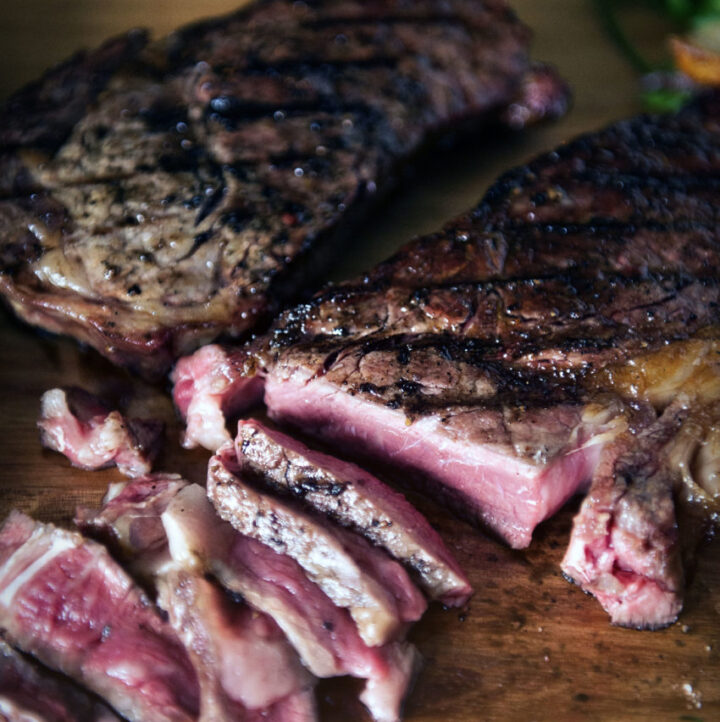 Simplicity. It's all your meat really ever needed.
Ingredients
1

tspn

salt

plus more for seasoning

1

tspn

cornstarch

4

rib-eye steaks

about 1 1/2" thick, around 1 pound each

pepper
Instructions
In a small bowl, combine the salt and cornstarch.

Pat the steaks dry and rub with the salt mixture.

Place the steaks on a wire rack and chill in the freezer for 30 minutes to 1 hour.

Meanwhile, build a fire on your charcoal grill and clean the grate for when those steaks are ready to go.

Season the steaks with pepper.

Grill for 4 to 8 minutes per side (for your desired doneness – 4 is my lucky number).

Remove from the grill and tent with foil. Allow to rest for 5 minutes before serving.

To serve, slice thin on an angle against the grain.
Nutrition
Serving:
1
g
|
Calories:
472
kcal
|
Carbohydrates:
1
g
|
Protein:
46
g
|
Fat:
32
g
|
Saturated Fat:
14
g
|
Cholesterol:
138
mg
|
Sodium:
166
mg
|
Potassium:
608
mg
|
Vitamin A:
34
IU
|
Calcium:
16
mg
|
Iron:
4
mg