There's something about those savory smoked side dishes that can really take a quick and easy dinner and turn them into something over the top. In this case, I paired twice smoked brisket bbq beans with some simple country-style pork back ribs to make a southern-style feast at home.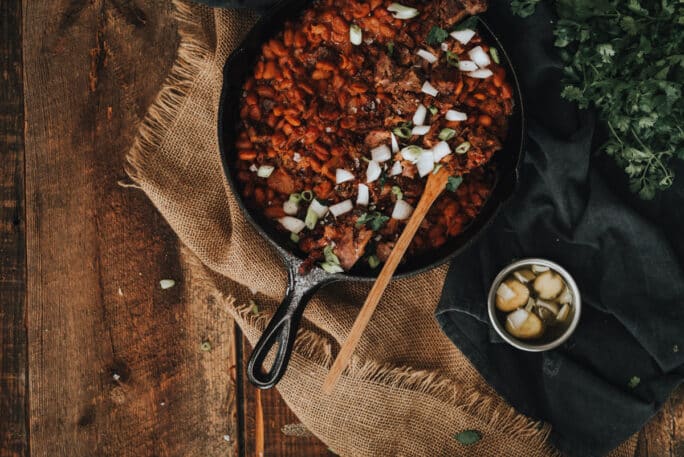 This post was sponsored by Adaptable Meals, all thoughts and opinions are my own.
Inspired To Make Baked Beans More Interesting
I love reinventing meals. Using up leftovers and swapping out side dishes so that eating all week is easy. I'll normally prep my kitchen on the weekend and then just munch on whatever is leftover all week, adding quick proteins and fresh salad to the rotation. It makes meal planning so easy.
Brisket bbq beans is one of those inspirations.
The folks at Adaptable Meals have sent me some products to check out, and you may remember them from these easy instant pot carnitas I made.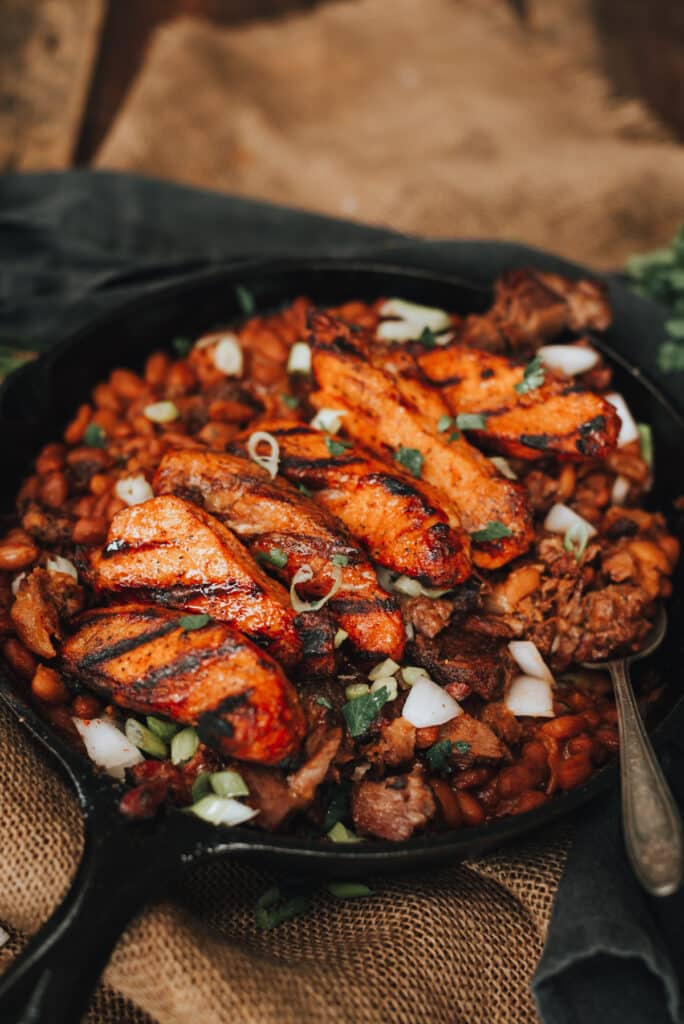 Normally, I don't seek out pre-seasoned or pre-packaged foods. But, having tested 5 or 6 of the AdapTable Meals products now, I have to admit, I am a fan. These real pork and real beef products don't have any artificial ingredients or preservatives added.
The pork, in particular, stands out to me, the spices on it meld well and the pork comes out juicy.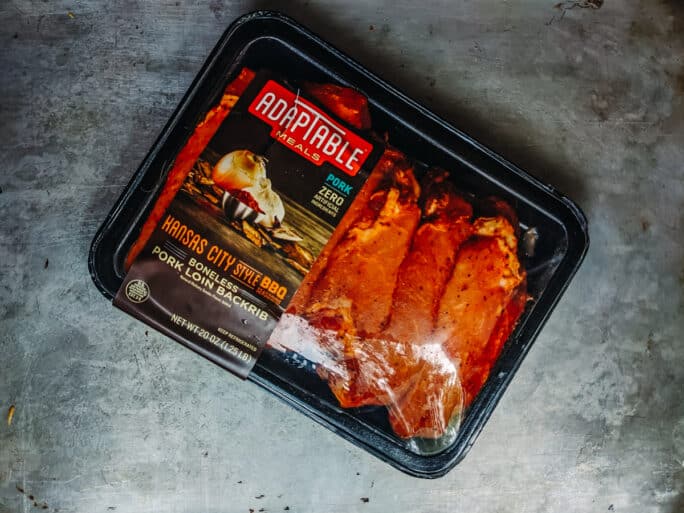 These pork loin back ribs (also known as KC Boneless Back Ribs ) cook up in 20 minutes on the grill and made kick butt sandwiches and a killer topper for these beans.
Now, on to those twice smoked Brisket Baked BEANS.
Using up leftovers is a personal mission of mine (I mean, not that you expected my kitchen to have leftovers? Right?) So taking scraps from the weekends smoked brisket and chopping them into my favorite smoked beans is a total harmony of grilled flavors!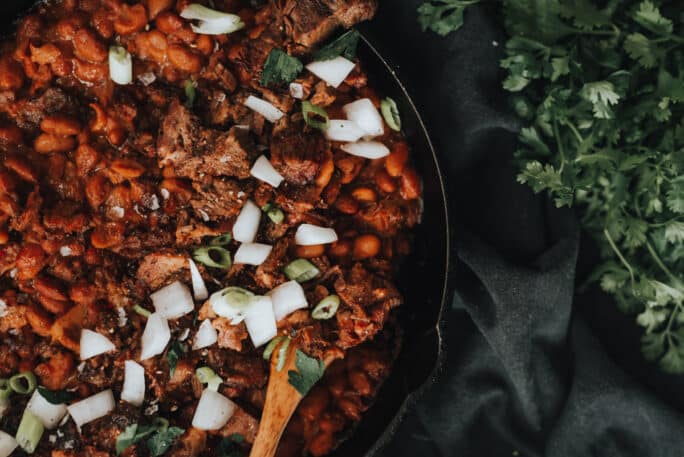 Canned or Dried Beans?
This is absolutely your call, and based on whatever you have in the pantry and how much prep time you have. Dried beans will need to be soaked and rinsed at least 8 hours before cooking.
Canned beans should be rinsed to remove any excess liquid and reduce the sodium. If using canned beans, reduce the salt in the recipe to taste.
What kind of beans can you use in baked beans?
Picking what kind of beans goes into this recipe is rather easy. I love a mix of navy beans, kidney beans, white beans, and pinto beans. Heck, in my favorite quick and easy smoked beans, I start with canned baked beans and build from there (I am all about not overthinking it).
Tips For Cooking Beans (From Scratch, Not From A Can)
If you are going to go with dried beans instead of canned, then I have few tips how to get them just right. By "just right" I mean soft on the inside, but not mushy. The skin exterior can't be tough. No mealiness allowed.
Soak but don't salt the beans first. If you soak in salted water then it toughens the skins.
Toss the soak water and start fresh for the cooking water. The soak helps break down the complex sugars that cause… ahem… the flatulent side of the bean.
Bring the water to a slow boil. Cooking time will take up to 2 hours so be patient. You will get the flavor in there when you make the brisket bbq beans with your prepared beans.
Skim the foam off the cooking beans periodically.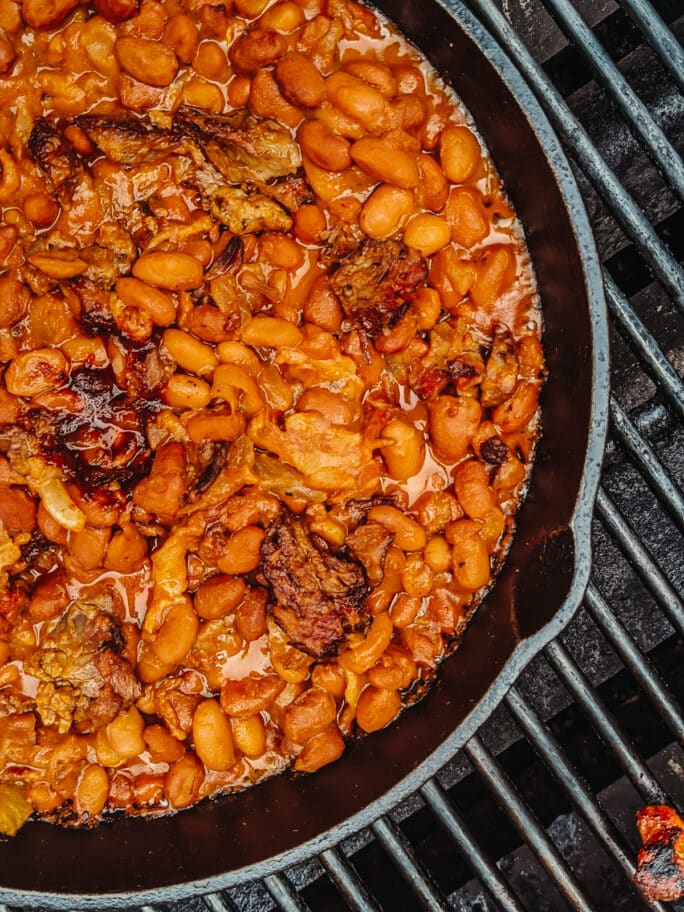 And what else goes into smoked beans?
Whipping up these classic cowboy beans is actually a mishmash of pantry staples, like ketchup, barbecue sauce, mustard, vinegar, onion, brown sugar, garlic, salt, and a dash of Worcestershire. Add in a roasted poblano pepper and a mix of beans you have on hand and things are looking really good.
Also, for this recipe, I start with a base of bacon, because the rendered fat is wonderful to sautee the vegetables in and it makes for a great base. And, last I checked, no one complained about bacon chunks in their beans.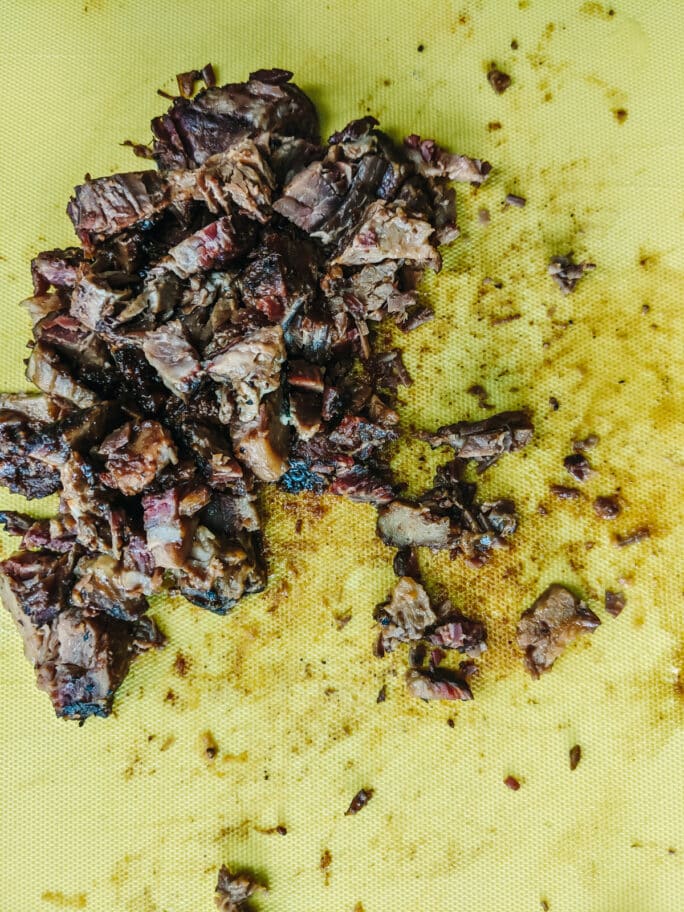 Quick Ways to Add Flavor to Baked Beans
Toss in a little of the following to add a little something-something to your beans and really develop a deep piquancy.
Molasses
Maple Syrup
Coffee or espresso powder
Bourbon or Whiskey
But why shove brisket in there:
Leftover brisket can be a little hard to use up when you get past the thin-sliced buttery melt in your mouth layers. So, chopping it up and tossing it into other dishes stretches the dollar and makes the most of it all. The fat in brisket renders well in beans and adds another layer of flavor to this dish.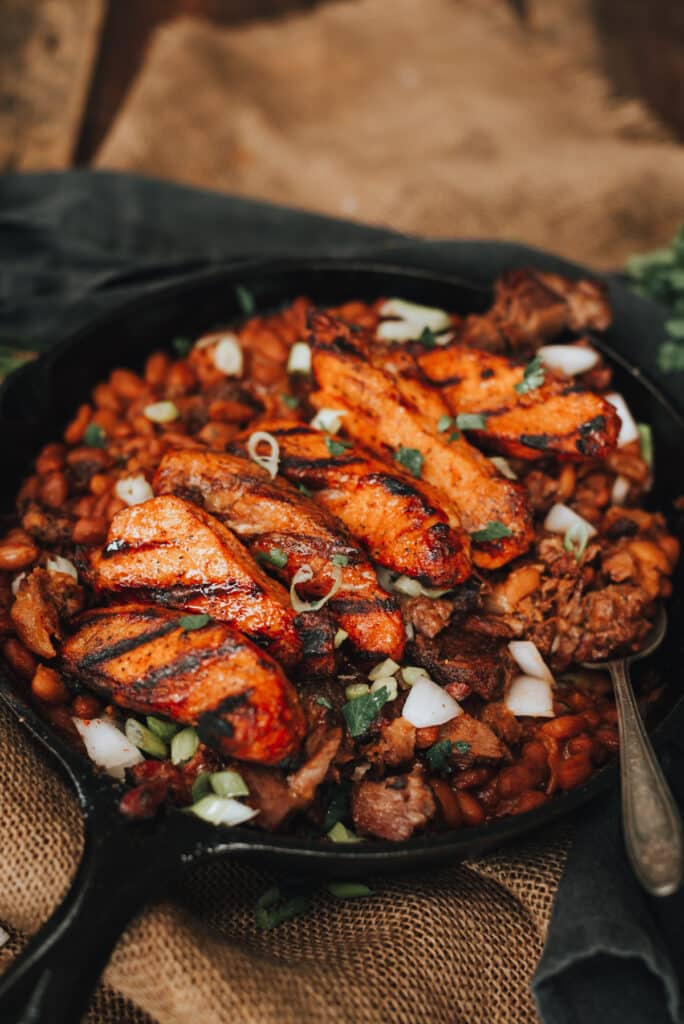 No brisket, no problem.
Sure, if you don't have brisket, there are other things that go great in this too, like chopped pork loin back ribs for starters. I love using leftover ribs in this.
Also, shredded pork, like what I used for these bowls, would be great in there too. Really, it's about adding some meat with a little bonus fat so that it stays moist and adds to the richness of the beans.
No Smoker? Brisket BBQ Beans are perfect in a Slow Cooker
Don't have a smoker but still want to make amazing baked beans? Yep, you can make these in a slow cooker. You won't get the same flavor, but if you are using smoked brisket, then the beans will infuse with the hint of smoke from the meat as they simmer away in the slow cooker for around 6 hours on low.
Adding Smoke Without A Smoker For Brisket BBQ Beans
If you are not going to actually use a smoker to smoke brisket for ten hours ahead of time just to make brisket bbq beans, then there are other ways to get the smokiness in there. If you are making these with a slow cooker like a crock pot, then you can always add a bit of smoke flavoring.
Liquid smoke is pretty handy and it actually does get made with a variety of smoked charcoals. For this recipe I would recommend the alder or hickory smoke.
You can also add smoke and a bit of heat with some smoked peppers like smoked anchos. They add a bit of heat, but not too much.
Want more quick dinner & easy sides inspiration? Try some of my favorite recipes
If you've tried this recipe or any other on GirlCarnivore.com please don't forget to rate the recipe and let me know where you found it in the comments below. I get inspired by your feedback and comments! You can also FOLLOW ALONG on Instagram @girlcarnivore as well as on Twitter and Facebook.
Twice Smoked Brisket BBQ Beans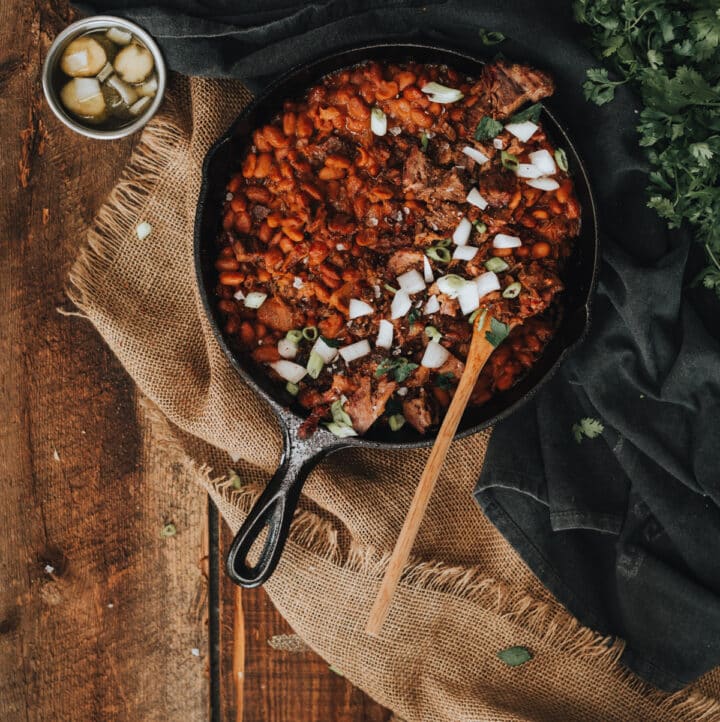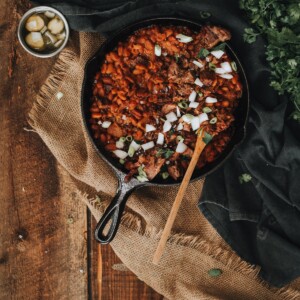 Use up leftover brisket to level up your baked barbecue beans with smoked flavor over the grill. You may never go back to the can again.
Recommended Equipment
grill

Wood Chips or chunks for smoking
Ingredients
4

strips bacon

1

onion

chopped

2

poblano peppers

fire-roasted, skinned, seeded and chopped

2

cloves

garlic

minced

1

tbsp

salt

2

tbsp

brown sugar

1

tbsp

Brisket Rub

¼

cup

beer or water

1

cup

honey barbecue sauce

½

cup

ketchup

2

tbsp

mustard

1

tbsp

Worcestershire sauce

28

oz

can pinto beans

rinsed and drained

2

cups

smoked brisket

chopped
Instructions
Cook the Bacon
In a large cast-iron skillet heated over medium heat, cook the bacon until crispy.

Remove from the skillet and drain on a paper towel.
Sautee the Onion:
In the same skillet, with the rendered bacon fat, add the onion and saute about 5 minutes until soft.

Add in the chopped poblano and cook 5 minutes longer.

Add in the minced garlic and cook 30 seconds longer.
Add the Spices:
Mix in the salt, brown sugar, and brisket rub.
Whisk in the Liquids:
Deglaze the pan with a splash of beer if needed by adding the liquid to the pan and scraping up any browned bits.

Add the barbecue sauce, ketchup, mustard, and Worcestershire and stir to combine.
Add the Beans:
Add the beans and allow the dish to smoke over the grill about 45 minutes.
Smoke:
Add the chopped brisket and continue to smoke, for another hour.
Serve:
Remove the beans from the heat and serve hot.
Notes
Store leftovers in an airtight container for up to 3 days.
You can reheat on the stovetop in a pan or in the microwave.
To round this dish out, I grilled the Adaptable Meals KC Boneless Back Ribs and served them on top with a fresh kale salad on the side.
Nutrition
Serving:
1
g
|
Calories:
220
kcal
|
Carbohydrates:
27
g
|
Protein:
13
g
|
Fat:
7
g
|
Saturated Fat:
2
g
|
Cholesterol:
29
mg
|
Sodium:
1218
mg
|
Potassium:
477
mg
|
Fiber:
4
g
|
Sugar:
14
g
|
Vitamin A:
187
IU
|
Vitamin C:
18
mg
|
Calcium:
55
mg
|
Iron:
2
mg