This post may contain affiliate links. Please read my disclosure policy
Craving a savory breakfast that puts your a classic short stack to shame? Dig into a hearty portion of BBQ Rib Hash for breakfast and be fueled all day.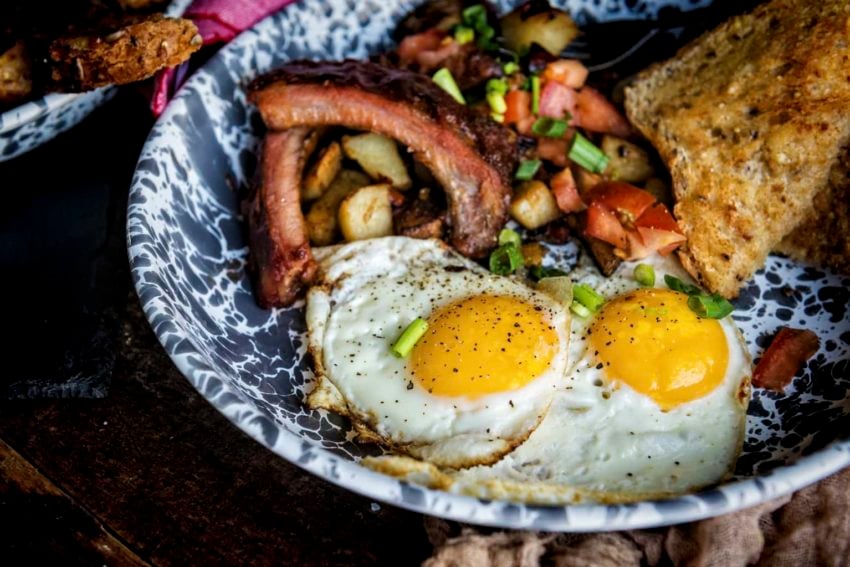 This recipe was created for Curly's but the deliciousness and meaty morning craving, are as always, all my own.
Waffles and pancakes may be a Sunday brunch staple, but every now and then you have to unleash your inner carnivore on more than just a measly side of bacon. I am talking those mornings when you want a slab of meat set out in front of you like you just rode into the last standing kingdom on your prize stallion.
Yeah, we've all had those mornings as we saddle up to the breakfast bar, only to be met with a single flapjack with a syrup smile staring back at us. The whipped cream melting and mocking our hunger all at the same time.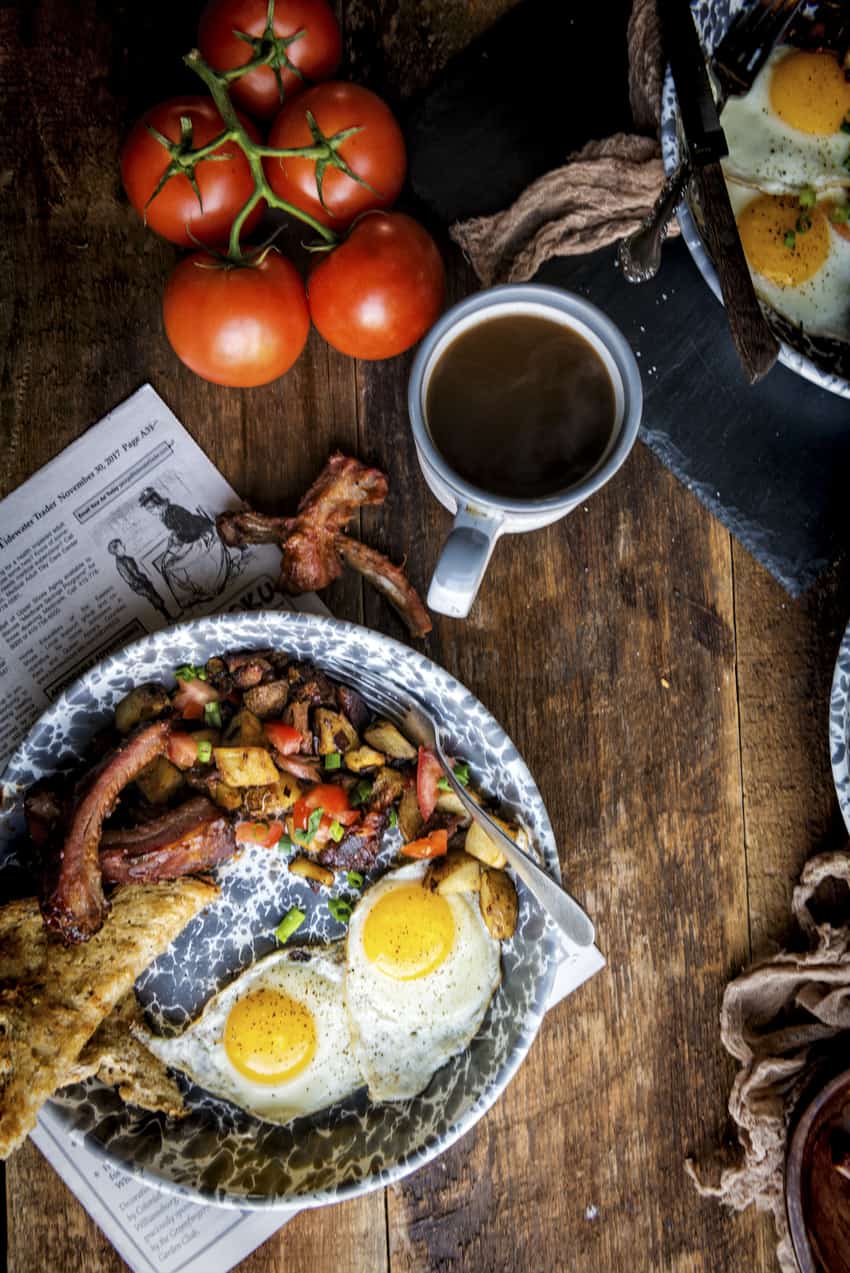 But, this BBQ Rib Hash is worthy of those meaty morning cravings. Skip the drive, and fire up the grill to create a breakfast hash worthy of a pint of ale.
This one is another quick and easy recipe – using Curly's pre-packed ready to heat up and eat BBQ ribs. So, if you are using up leftovers, or opening a fresh pack just to kick the weekend off right, it's a hit that won't have you wiping down the waffle iron hours later.
Just a skillet, and a serious craving. That's all this one takes.
Now, let's kick the door down on boring brunch.
Pop over to the archives for more breakfast ideas. 
Pro Tip: Use oven safe dishes to keep food warm while frying the eggs. Set your oven to keep warm, or 190 degrees and arrange the hash in the dishes while the eggs finish up and the toast is buttered. No soggy cold potatoes here!  I used my Crow Canyon Home Enamelware for this epic breakfast.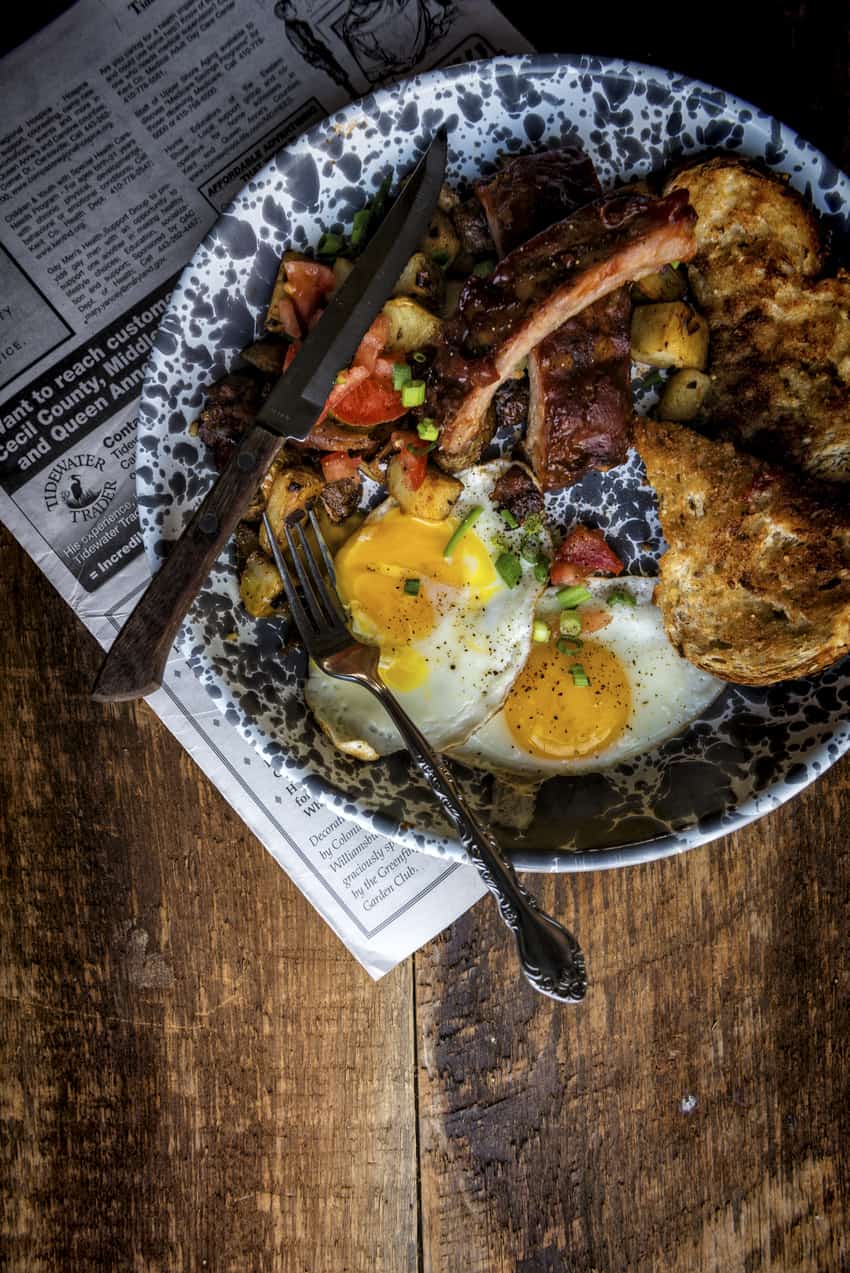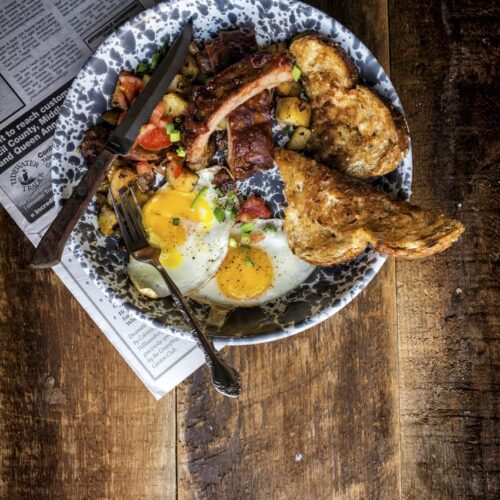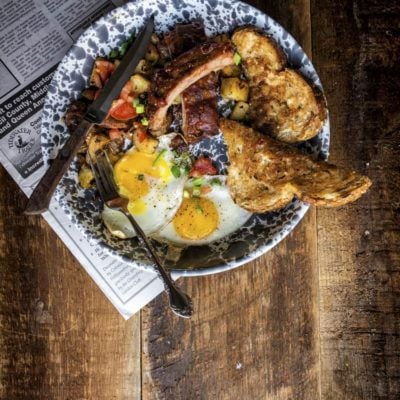 Ingredients
1

package Curly's BBQ Ribs

2

russet potatoes

scrubbed, chopped and lined on a wire rack to dry for 20 minutes

2

tbs

Olive oil

Salt and pepper

1

Ž2 red pepper

diced

1

Ž2 green pepper

diced

1

Ž4 onion

diced

Eggs

Toast
Instructions
Cook the pork ribs in the oven or on the grill until heated through. Set aside until cool enough to touch and remove meat from bones of half the rack. Slice the remainder to toss onto the plates if you are feeling rugged, otherwise, chop all the meat.

Meanwhile, in a large skillet over medium-high heat, heat the oil to coat the pan. Toss in the potatoes and season with salt and pepper. Cook for 10 minutes, stirring as needed, until starting to soften and crisp a bit. Add the red and green pepper and the onion to the pan and saute another 10 to 15 minutes, until potatoes are golden and crispy all over.

Stir in the chopped rib meat and toss to combine.

Meanwhile, fry a couple of eggs to pile high on top as desired and toast and butter some bread.

Toss it all together on a platter and serve with a meaty rib for those who are feeling brave enough to take on brunch with a wet-nap.