These Smoked Pork Loin Back Ribs are made up of beautiful racks of tender, juicy pork, and a simple homemade sweet and spicy pork rib rub. With just 5 minutes of prep, this smoked ribs recipe makes cooking pork easy!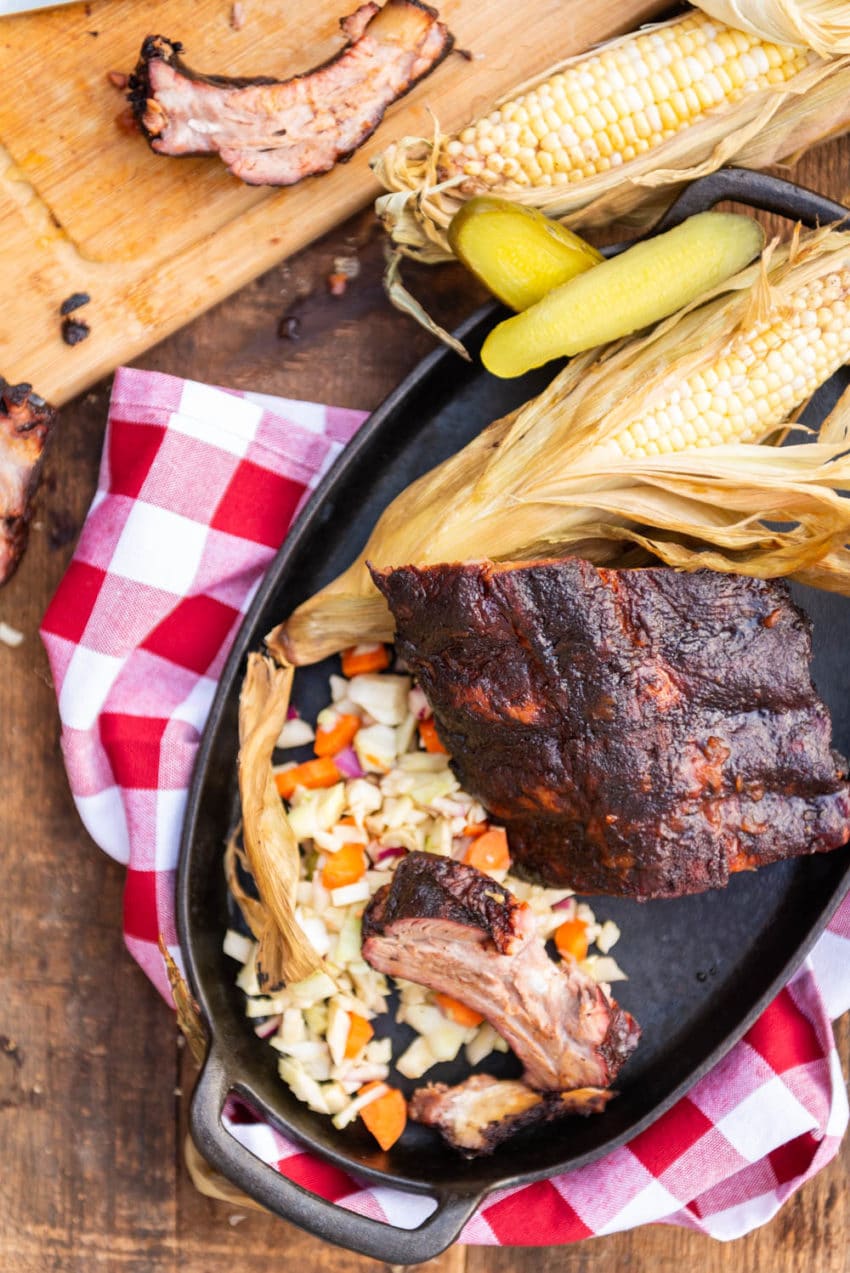 Smoked ribs are one of those recipes that tend to intimidate new grillers. So we're going to take a step back to demystify smoking pork ribs…because you don't have to be a rocket scientist to achieve award-winning smoked ribs.
When it comes to how to smoke great ribs, all you need is a high-quality cut of meat, a delicious spice mixture, and a little bit of time. Remember, great barbecue is always temperature, not cook time. Once you lock that in, you'll nail this recipe for Smoked Pork Loin Back Ribs every time!
What are Pork Loin Back Ribs
Pork loin ribs are short, meaty, tender ribs. Also called back ribs, or baby back ribs, they are cut high up on the rib cage, along the spine, unlike spare ribs, which are cut from further down the side. The loin muscle is removed, revealing this tender part of the meat that is easily a fan favorite.
These short, meaty ribs tend to be stout and between 4 and 6 inches long. They may be labeled pork loin back ribs, loin ribs, or back ribs at your local grocery store.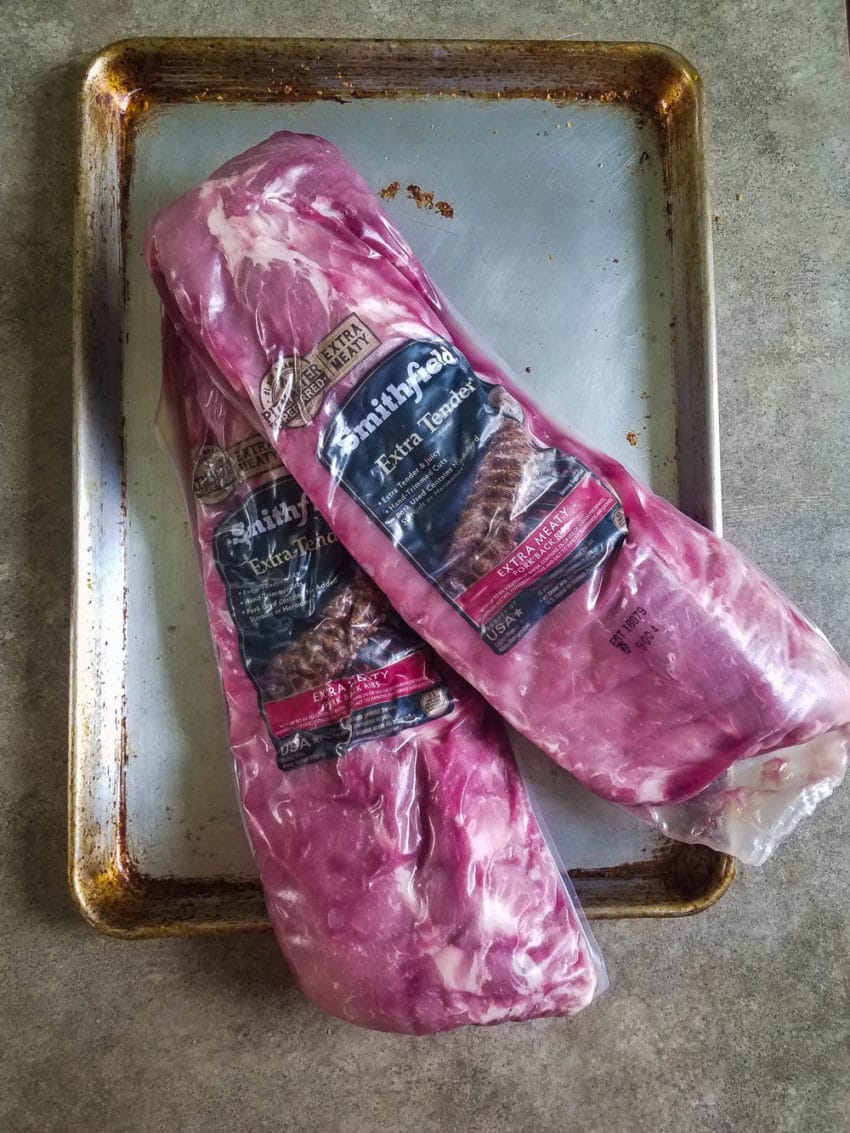 Ingredients Needed for smoked Pork Ribs
The dry rub for this recipe is homemade and packed with flavor you'll love. But you could use your favorite pre-made spice blend. We love GirlsCanGrill PK Pork Rub.
For the Dry Rub
Brown sugar
Salt – we always use kosher salt
Paprika – smoked paprika is great if you have it on hand
Cayenne pepper
Cumin
For the Rib Racks
How to Smoke Pork Loin Ribs
It can take some time to figure out how to smoke racks of ribs, but once you master it, you'll never stray away from that smoky flavor.
Prepare the Meat
First, mix together your dry rub ingredients in a small bowl.
Next, remove your pork ribs from the package and dry them off by patting a paper towel on them. Arrange them on a clean working surface.
Remove the membrane if you want by sliding a butter knife off the thin skin on the back along the bones. Lift up, and peel back the membrane. You don't have to do this step, but it helps the ribs to have a better texture for serving when finished.
Then season the meat well with the prepared spice rub. You'll want to let the meat sit for 1 hour so the seasonings can absorb into the meat.
Smoke the pork loin ribs
While your meat comes to room temperature, prep your charcoal grill with lit coals and wood chunks. Set up your smoker for indirect heat at 225 degrees F. Place the drip pan under the cooler side of the grill and pour in the apple juice.
Place the grate over top and add your pork rib racks right to the grill grate. We use the 3-2-1 rib method for this cook. Cover the grill and let the ribs smoke for 3 hours.
Remove the ribs from the grill, wrap them in foil, and add them back onto the grill. Cook them like this for another 1-2 hours. Be sure to spritz them with the apple juice or the vinegar mop a few times for added moisture.
Finally, remove the ribs from the aluminum foil, baste in barbeque sauce, and cook for one more hour. When the ribs are finished, place them on the hotter side of the grill for a few minutes. This allows them to char, and then they are ready for serving.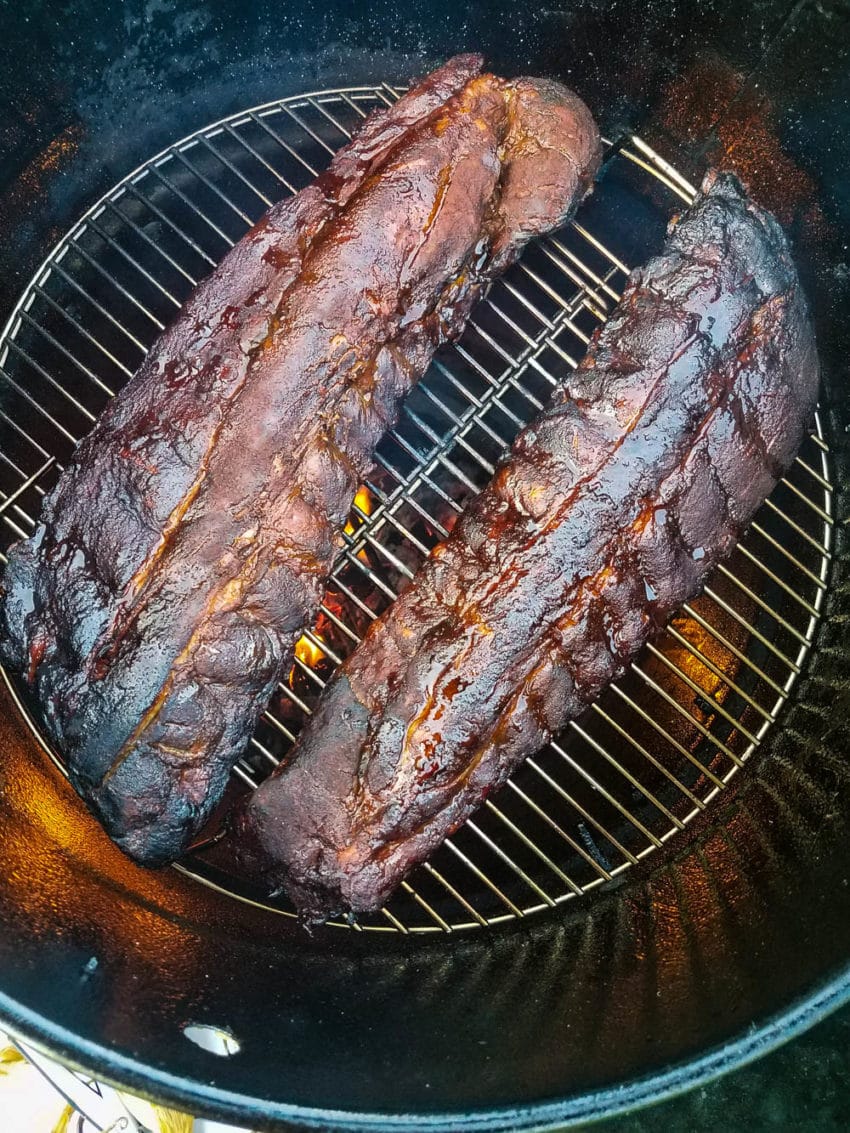 EXPERT TIPS FOR PORK LOIN BACK RIBS
Pat the ribs dry. It's a general rule that ridding the ribs of any excess moisture will help them form that delicious crust as they cook.
Wait an hour after seasoning. After you season the ribs, let them sit for at least 1 hour or up to 24 hours before cooking. This gives the meat time to absorb all of that flavor.
Cook on indirect heat. Lower and slower is where it's at for ultimate tender juiciness. High temperatures will dry the meat out.
Check the temp. Shoot for somewhere between 195ºF and 205ºF for perfectly smoked pork ribs. Use a meat thermometer to check this by inserting it into the flesh of the ribs at the thickest part, avoiding the bone.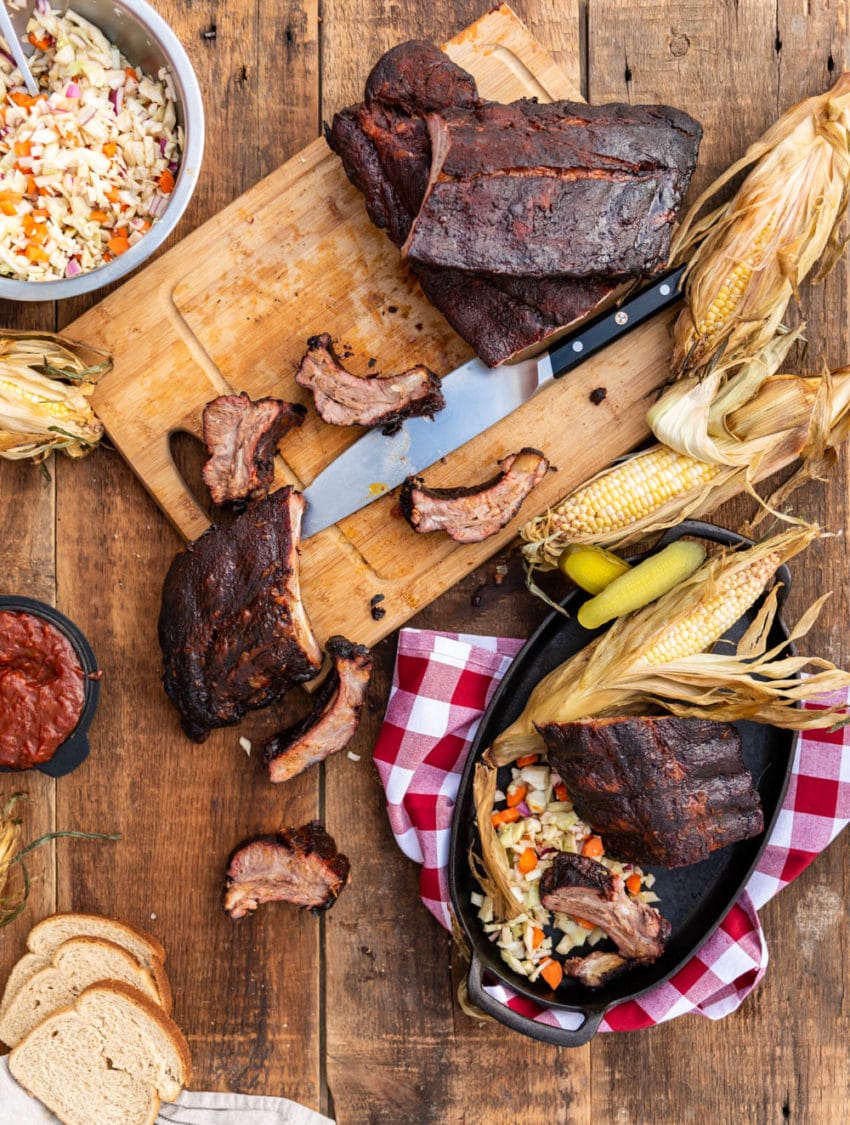 Leftovers and Reheating
Leftover smoked pork loin back ribs will last in an airtight container in the fridge for up to 5 days or in the freezer for up to 2 months.
We don't recommend freezing cooked ribs as they tend to dry out when reheated. But, to reheat, thaw them in the fridge if they are frozen, and wrap the ribs in aluminum foil. Then warm them at 250 degrees F in the oven until heated through. This takes about 10 to 15 minutes.
FAQs
Which Cut of Pork Ribs Should Be Used For Perfect smoked ribs
For a perfect smoked ribs recipe, every pitmaster has a different cut they love for different reasons. Spare ribs are cut lower on the side and are longer. We love Pork Back Ribs for this smoker recipe because they are extra tender, juicy, and super easy to work with. You could also use spare ribs or St. Louis-style ribs for this recipe too.
We love these pork loin back ribs for this recipe, but as with all of our smoke rib recipes, when you find a good rack of ribs, you'll know.

How Long to Smoke Pork Ribs
When it comes to smoking, it's never about time. Factors that affect cook time can include temperature, wind, altitude, and the grill itself. While there are rough estimates, you're better off going with temperature. This puts so much more in your control in terms of tenderness, flavor, and texture.
For smoked pork loin back ribs, I aim for an internal temperature of 200ºF with a digital meat thermometer, which usually takes anywhere from 4-5 hours total. Again, this is a rough estimate and will depend on your conditions, so invest in quality thermometers.
What to Use When a Smoker isn't an Option
We realize that not everyone has the space or time for a smoker at their home.
If you have a gas grill, make it a smoker by adding a smoker box with hickory or pecan grilling wood chips to add a subtle smoky flavor.
Or if you don't have a grill at all, there's always the option for cooking ribs in a slow cooker or even an instant pot. Prepare your tender meat the same way by marinating it in the seasoning for at least an hour.
When it's time to cook, place your rack of ribs into the instant pot for 20 minutes. Let the steam release for 10 minutes, and then serve. If using a slow cooker, cook the meat on high for 5 hours and test it with a fork before removing it. We believe the best way to cook the ribs is on a smoker, but many different ways work as needed!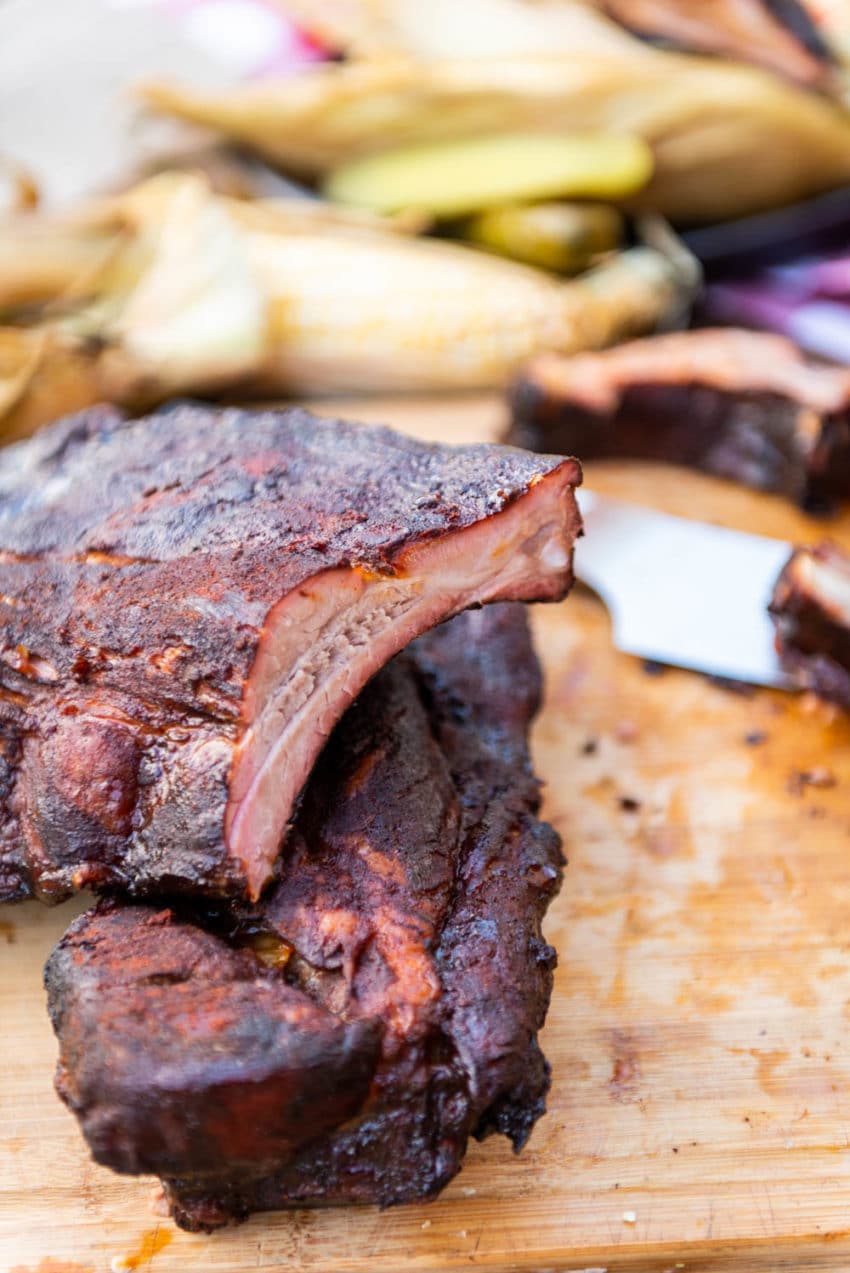 More Delicious Rib Recipes to try
These Pork Loin Back Ribs make the perfect rack of ribs for holidays, large gatherings, or a regular family dinner. You'll be serving up the best ribs to your guests in no time. If you've tried them, be sure to rare the recipe and leave a comment below to help the next person out.
Smoked Pork Loin Back Ribs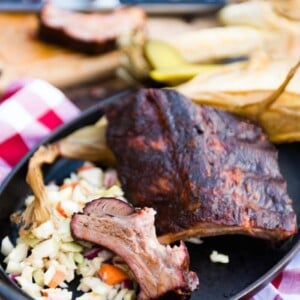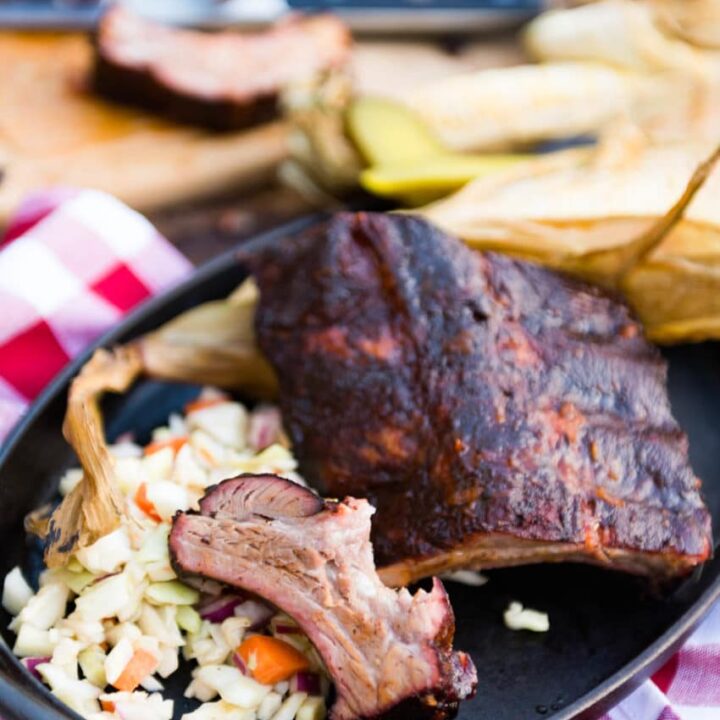 These spicy smoked pork ribs are perfect recipe for starting out on the smoker – with just 5 ingredients in the rub you can customize to your needs
Ingredients
FOR THE DRY RUB
4

tbsp

brown sugar

1

tbsp

salt

1

tbsp

paprika

1

tsp

cayenne

1

tsp

cumin
FOR THE RIBS
2

racks Pork Back Ribs

1

cup

apple juice

Barbecue sauce

if desired
Instructions
FOR THE DRY RUB:
Whisk the dry rub ingredients together in a bowl.

Remove the pork ribs from the package and pat dry. Arrange on a clean work surface.

Carefully remove the membrane on the back side of the ribs, if desired.

Rub the pork ribs thoroughly with the dry rub.

Allow to sit at least 1 hour before grilling.
WHEN READY TO GRILL:
Prep your charcoal and wood chunks.

Set up your smoker for indirect heat, 225 degrees.

Arrange a drip pan under the cooler side of the grill. Pour in the apple juice.

Place the grate over top and arrange the racks of pork ribs.

Smoke for 3 hours.

Carefully remove the ribs and wrap them in foil tightly.

Place them back on the grill.

Keep an eye on your temperature and adjust as needed to maintain 225 degrees.

Let the ribs cook for another 1 to 2 hours on the grill, spritzing with apple juice once or twice while cooking, about every 45 minutes.

For the last hour of cooking, unwrap and baste with sauce, if using.

Place the pork ribs over the hotter side of the grill to char, flipping often, just to finish the ribs off.

Serve hot.
Nutrition
Serving:
1
g
|
Calories:
200
kcal
|
Carbohydrates:
10
g
|
Protein:
14
g
|
Fat:
12
g
|
Saturated Fat:
4
g
|
Polyunsaturated Fat:
2
g
|
Monounsaturated Fat:
5
g
|
Trans Fat:
0.1
g
|
Cholesterol:
49
mg
|
Sodium:
938
mg
|
Potassium:
244
mg
|
Fiber:
0.5
g
|
Sugar:
9
g
|
Vitamin A:
554
IU
|
Vitamin C:
0.5
mg
|
Calcium:
35
mg
|
Iron:
1
mg