Slow cooker Asian Pork Ribs in the slow cooker.
I feel the barbeque purists rolling their eyes. Not because I can't stand by the grill in the snow, but because I am freakin' cozy in the warmth of my home and don't want to change out of my fluffy slippers into real boots.
And, they're damn good. Even without a grill mark of approval burned into them. (I also have another braised rib slow cooker recipe to check out by the way)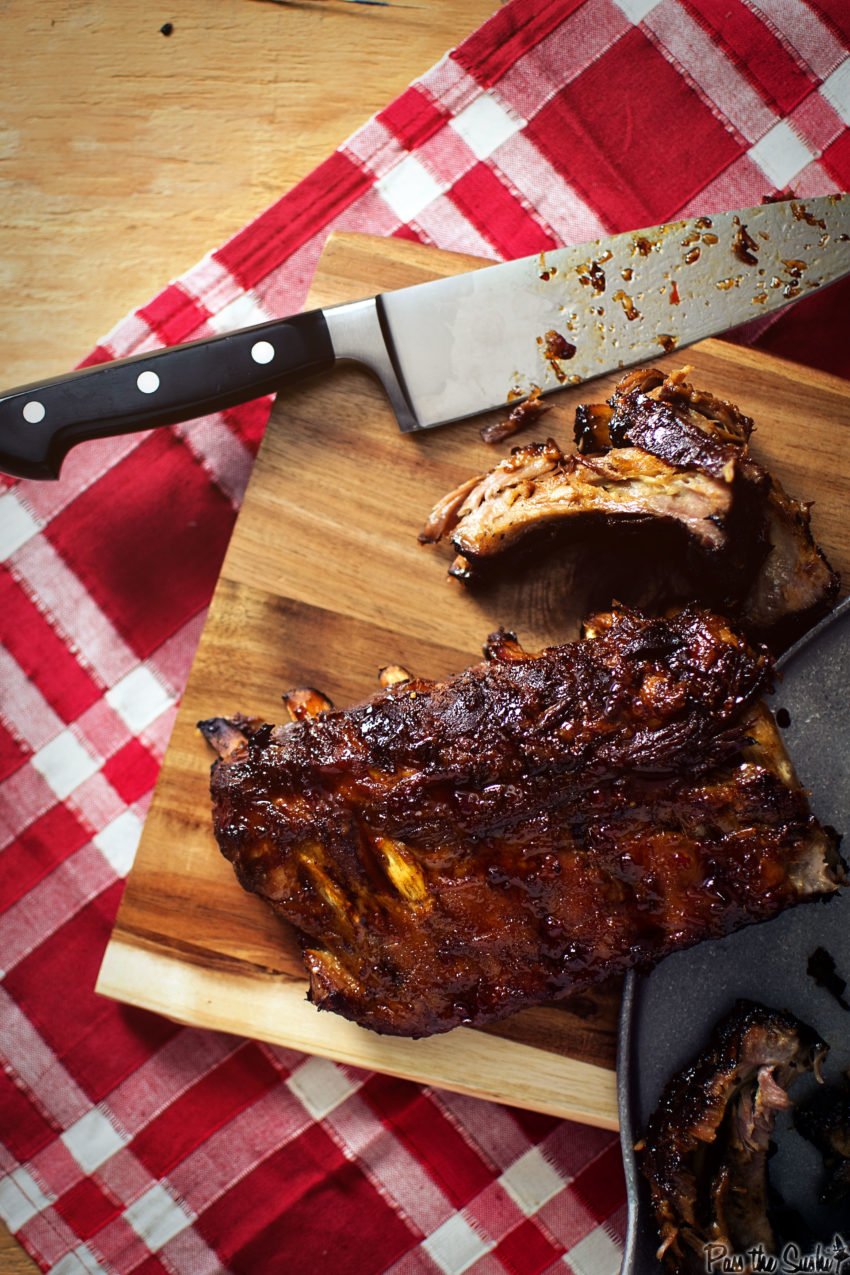 Slow Cooker Asian Ribs Are Great, No Grill Required
Ok, Pitmasters, drop the judgement before reading any further. Today, we are discussing ribs. Ribs in the slow cooker. I hear the barbeque purists clicking their tongues even as they gaze past this to the recipe all the way down to read the hate filled email comments.
In the words of Elsa, 'Let it Go'.
Now, for those of you intrigued by the slow cooker rib method, let me just tell you. It's a pretty easy way to make pull apart ribs. I am a fan and personally grill all winter long, but some days, I am just too lazy to stand outside and push the snow off the grill.
Not because I can't, because I am freakin' cozy in the warmth of my home and don't to change out of my fluffy slippers into real boots. And this is when these ribs come in handy.
Or maybe you don't have space or budget for a grill yet, your complex doesn't allow outdoor grills, but you still want to enjoy the mouth watering goodness that is a pork rib.
What Ribs Are Best For Asian Style Ribs?
If you want to make ribs like you enjoyed at the Tiki bar while sipping on your Mai Tai and enjoying the pupu platter, then go with pork short ribs. Also commonly known as baby back ribs.
Baby back ribs offer plenty of meat, don't skimp on flavor, and you can pretty much always find them on sale. They don't take freaking forever to cook either. Win to the power of four.
What Are Baby Back Ribs?
The baby back rib is the part of the rib cage that comes up right next to the spine. So, pretty much where the meat is going to be the most tender and succulent. Full of flavorful fats that melt away and leave only flavor behind.
Baby back ribs don't come from baby pigs. So, if you were avoiding them because you didn't want to eat Piglet, then time to get over it. They get the name from being the smaller cut of rib.
If you want to use a bigger rib, and I don't blame you, then use the St Louis style cut of pork ribs. Those are longer and have more meat… and fat. However, I recommend the baby backs just because they are so convenient and also pretty uniform in size.
What Is Hoisin Sauce Anyway?
Hoisin sauce paints umami flavors over anything you use it for. The sauce is popular in Cantonese cooking. The name actually loosely translates as "fish flavor" even though fish isn't in it. But, it works great on fish too, I'll give it that!
Although there are regional variations, most of us are familiar with the variety we see on the Asian themed aisle in our local supermarkets. It is a thick dark brown soy bean sauce, pretty sticky, and seasoned with ginger, five spice, and fennel.
Make Great Ribs In a Crock Pot
Pop those bad boys in the slow cooker and let's call it a day. A rib purist might say that is a crock of ….. But get the heck over it. Great ribs in a crock pot are still nothing short of amazing. Truth must be told.
These Slow Cooker Asian Pork Ribs are a winner. Sure, they don't have the sweet sear of charcoal flames or that award winning smoke ring, but they are all the amazing perfection that is a pork rib to an audience who just wants to chow down on some good food.
Bring a pile of napkins and get the gang ready for an indoor barbecue festival of a different sort. PS, just tween us girls, the oven method is pretty kicking too.
Slow cookin, like a boss.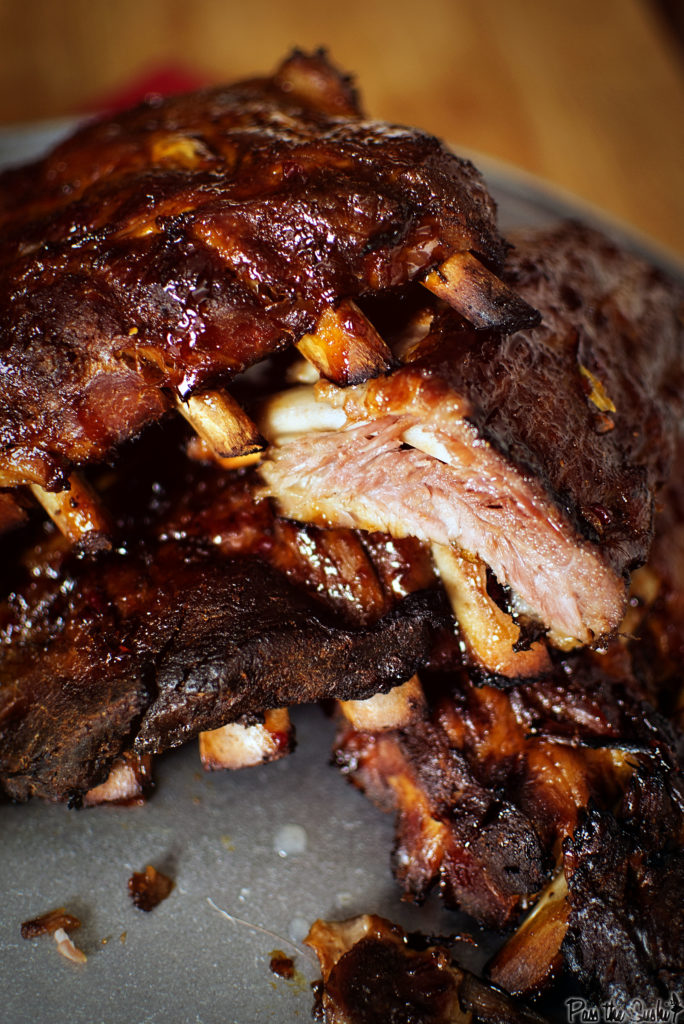 Slow Cooker Ribs not for you? I'm all for firing up that grill and doing it live-fire style! Try these out!
If you've tried my Slow Cooker Asian Pork Ribs Recipe or any other recipe on GirlCarnivore.com please don't forget to rate the recipe and let me know where you found it in the comments below. I get inspired by your feedback and comments! You can also FOLLOW ME on Instagram @girlcarnivore as well as on Twitter and Facebook.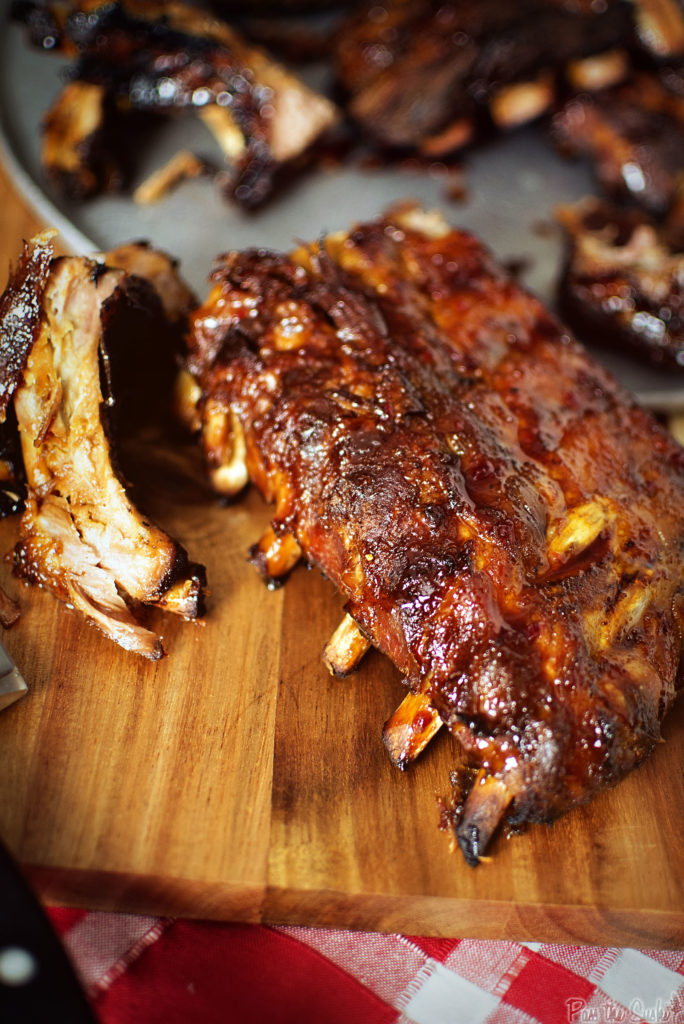 Slow Cooker Asian Pork Ribs
Asian style slow cooker ribs seasoned in Hoisin sauce and cooked low and slow.
Ingredients
1

cup

hoisin sauce

1

cup

sugar

½

cup

soy sauce

½

cup

dry sherry

cilantro

handful of fresh stems chopped and leaves coarsely chopped

8

scallions

whites chopped coarsely, greens minced thin, divided

3

tbs

ginger

minced

6

garlic cloves

minced

4

orange

strips of zest from an orange about 3 to 4" long

1 ¾

teaspoon

cayenne pepper

6

lbs

baby back pork ribs

salt and pepper

1 10

oz

hot pepper jelly

full jar of pepper jelly

½

cup

apple cider vinegar
Instructions
Whisk the hoisin, sugar, soy, sherry, cilantro stems, scallion whites, ginger, garlic, orange zest and 1 ½ teaspoon of the cayenne in a bowl.

Pat the ribs dry with paper towels and season with salt and pepper.

Grease your slow cooker with vegetable spray and arrange the ribs standing and wrapping around the rim of the cooker with the meaty side facing outwards.

Pour the sauce over the ribs, cover and cook for 6 to 8 hours on low.

Set up and preheat your broiler. Line a baking sheet with foil and place an oven safe rack in it. Coat the rack with vegetable oil. Place the ribs meat side down on the rack.

Strain 3 cups of cooking liquid from the cooker into a sauce pan.

Whisk in the hot pepper jelly, vinegar, cilantro leaves, and remaining cayenne pepper to the liquid.

Bring to a simmer and cook for 15 to 20 minutes until thickened.

Brush the ribs with the sauce and broil 2 to 4 minutes.

Carefully flip the ribs over, brush with sauce and broil another 8 to 10 minutes, until ribs are sticky and browned, brushing with liquid every 2 minutes.

Tent the ribs with foil and allow to rest for 10 minutes before slicing and serving with minced scallion greens and additional sauce if desired.
Notes
Slow Cooker Revolution
You can make a little dipping sauce for these with some of the pan juices, hot mustard, and a bit of ketchup.
The ribs are easy to cut into individual riblets after you cook them so you can serve that way or leave them altogether if you prefer. 
A bit of pepper heat goes a long way during the cooking time, but if you want a bit more spice then I recommend using some extra hot sauce in the braising liquid.
Nutrition
Nutrition Facts
Slow Cooker Asian Pork Ribs
Amount Per Serving (1 g)
Calories 915
Calories from Fat 369
% Daily Value*
Fat 41g63%
Cholesterol 170mg57%
Sodium 1793mg78%
Potassium 826mg24%
Carbohydrates 82g27%
Protein 51g102%
Vitamin A 323IU6%
Vitamin C 17mg21%
Calcium 128mg13%
Iron 3mg17%
* Percent Daily Values are based on a 2000 calorie diet. Nutrition information provided is an estimate. For specific health concerns, please put the recipe into your Dr recommended nutrition calculator.