If I ever look back on my life and have to question why I am out of shape, it really comes down to this. Mainly the creamy cheese part. I'm pretty sure I could eat that by the spoonful. And I'm not just blaming this version of macaroni and cheese for my ultimate demise, but all versions, or really, just all versions of cheese slathered things. This version just happens to have killer  blackened chicken  that kicks up a notch, giving you something meaty and spicy to smear about and sop up extra cheese sauce with. The peas make a lame attempt at counting as a vegetable but the bacon tops it all of with a little extra texture and crunch.
No matter how many sit ups I do, or how far I run, I won't be able to work this meal off. I'm not Michael Phelps. So, I guess I'll just have to settle for fat and happy. 😉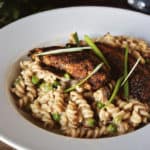 Blackened Chicken Mac and Cheese
Ingredients
1/4

lbs

bacon

cut into 1/4″ cubes

2

tbs

butter

melted

1/3

cup

blackening seasoning

1

lbs

chicken

sliced thin and trimmed if needed

1

lbs

pasta

2

tbs

butter

2

tbs

flour

1/2

cup

heavy cream

1/2

cup

milk

8

oz

sharp cheddar cheese

1/2

cup

frozen peas

scallions

sliced thin
Instructions
Cook bacon in skillet until crispy. Transfer to a paper towel lined place to drain.

Heat griddle or skillet over high heat until smoking. (I recommend a flat cast iron griddle and an outdoor grill. Things are about to get smokey). Arrange melted butter in a bowl next to a dish with the blackening spice. Coat the chicken in butter, then cover in the spice. When the griddle surface is smoking, turn on a fan for ventilation and add the chicken. Cook for 5 to 7 minutes, turning as needed until all sides are blackened and chicken is cooked through. Remove from griddle and cover while preparing the macaroni.

In a large pot of salted boiling water, cook pasta according to directions on box; Drain and set aside.

In a medium saucepan over medium heat, melt the butter and whisk in the flour. Cook for 1 minute. Slowly whisk in the cream and milk. Add the cheese and stir until melted through.

Toss cheese sauce over pasta. Add the frozen peas and bacon.

Place heaping portions of macaroni and cheese on plate, top with chicken and scallions.