Short rib burgers with lemongrass & fennel slaw recipe & Cuisinart 360 Griddle Cooking Center Review – level up your burger recipes!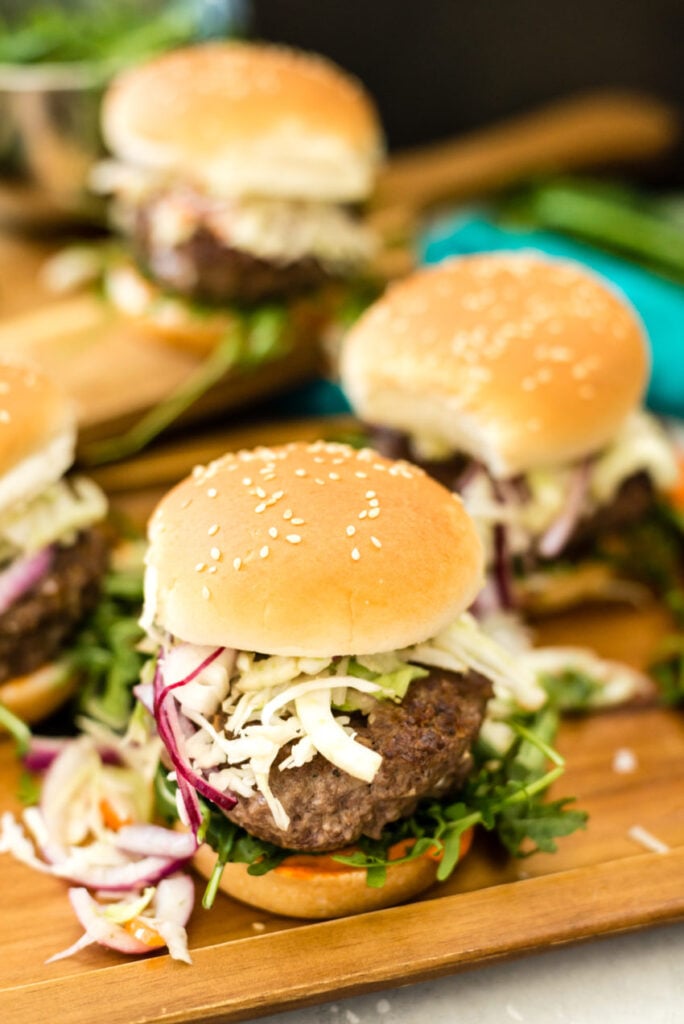 This post was sponsored by Cuisinart to showcase their new Cuisinart 360° Griddle Cooking Center. Thoughts and opinions expressed are my own.

In the world of outdoor cooking, there is something new every day lighting our fires (sorry guys, I couldn't help the pun). I obsess over checking out the latest and greatest in the world of outdoor cooking, so when the folks at Cuisinart reached out to me about their new Cuisinart 360° Griddle Cooking Center, I was excited to check it out.
What is the Cuisinart 360° Griddle Cooking Center?

It's a grill – no wait – it's a griddle! Ok, the Cuisinart 360 Griddle Cooking center is exactly what it claims to be – a 22" round griddle surface idea for anything you want to cook. It has 2 u shaped propane-fed heating coils that evenly heat the entire griddle surface for even temps. With 2 temperature control knobs, you can cook over the full surface or use half for those days when you aren't feeding a crowd.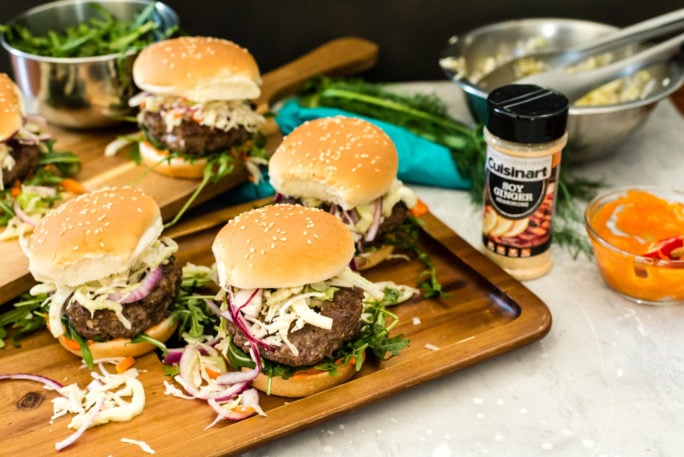 About the Cuisinart 360° Griddle Cooking Center

The Cuisinart 360 Griddle Cooking Center makes griddle cooking outdoors fun.
There is a durable lid that covers the entire cook surface to keep heat in (and make melting the cheese a breeze). A full 360 grease pan that drains into a pan at the back of the griddle. And a handy fold-down tray that is perfect to pop up while cooking and fold down to compress and store. The grill rolls away with ease until next time.
One of my favorite sneaky features of the Cuisinart Griddle Cooking Center is the lid – it has a built-in hook so that when you remove it you can easily hang it on the side of the griddle. It's brilliant and a small detail that really stood out to me. Oh, and there's a 360 grease trap to collect any drippings. All are funneled to a removable pan in the back for easy cleaning. And I love easy cleaning.
Also, this grill pops together super quick. All you need is a screwdriver and a friend who can help hold things in place. 30 minutes later and you are ready to go.
Now, Imagine breakfast outside, sizzling eggs, crisped French toast and the scent of bacon wafting through the air to remind your neighbors just how good life is. Perfect skin on a beautiful salmon filet. Or (what I'm most looking forward to) grilled pizzas all summer long!
Need more specs? Be sure to pop over to Walmart to check it out.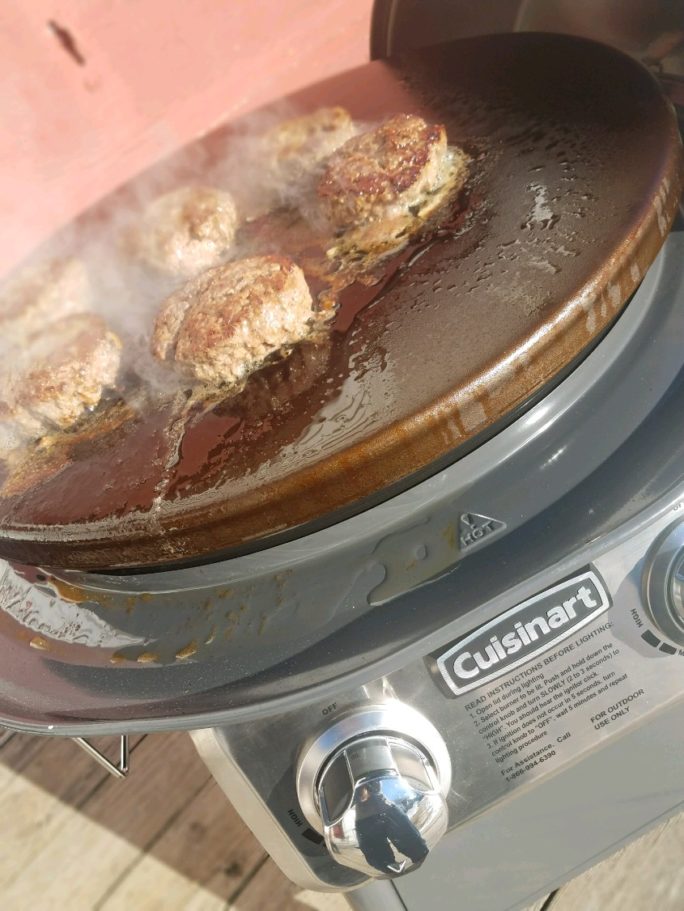 What you need for Griddle Grilling

There isn't much needed for great grilling besides good food – but here are the essentials you must have for amazing griddle grilling:

Squirt Bottle – for easily squirting oil onto the surface
Spatula – to flip foods
Tongs – to grab food and handle paper towels to safely wipe down the surface
Cleaning Pads – these are not a must – but they do make life easier once you are done cooking and are cleaning your griddle top!
But first…. You MUST season your grill!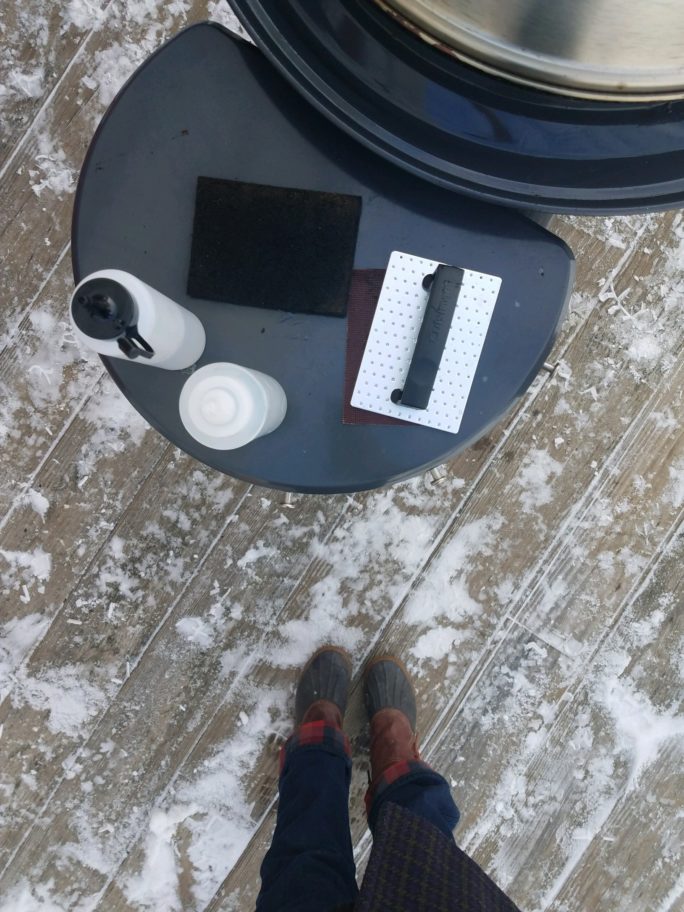 Why Pre-Season your Griddle
Seasoning any new cooktop is essential for success.
Seasoning helps protect the cooking surface for a longer life
Seasoning helps create the non-stick coating to flip foods without ripping or tearing
And seasoning your griddle adds a bonus layer of flavor.
So, spend the time to properly season your grill before your first use and you will love your results!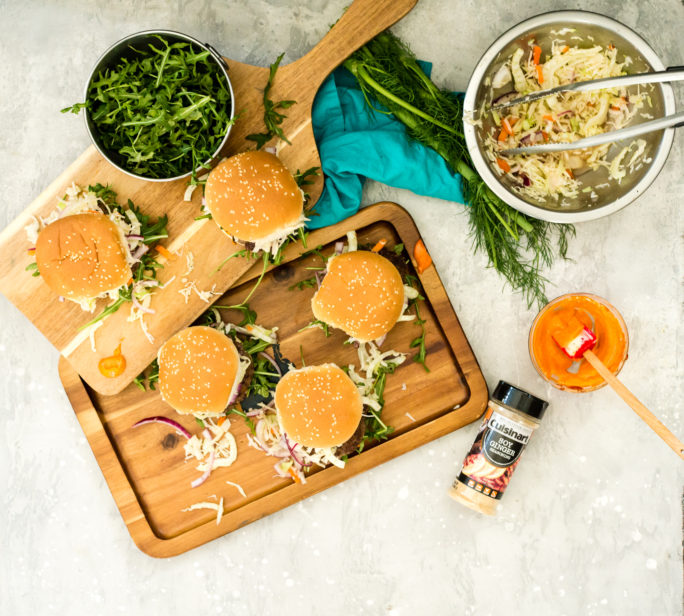 How to Pre-Season Your Griddle
Always wash the new grill parts in clean soapy water and rinse well.
Start with the clean griddle surface.
Turn on the grill and allow it to heat.
Add oil and cover to coat.
Allow the oil to heat past smoking.
Cool the grill completely.
Repeat the steps 2 or 3 more times to get a shiny dark surface on your new griddle!
Watch this how-to video that explains how to easily pre-season your grill: how to pre-season the Cuisinart 360 Griddle Cooking Center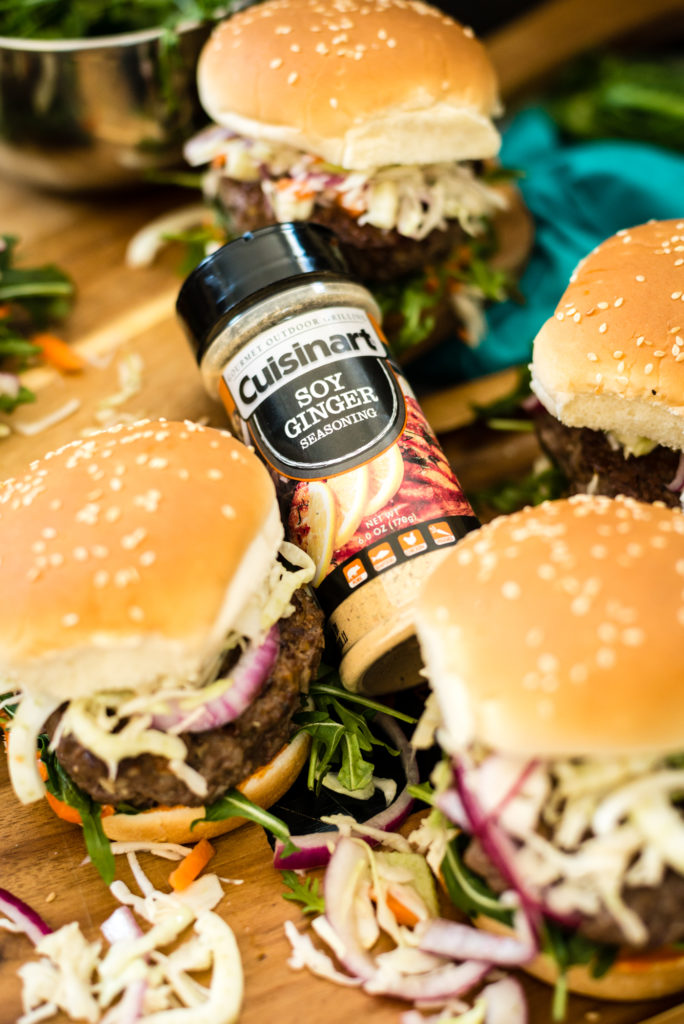 And now the Short Rib Burgers with Lemongrass Slaw
We whipped up this burger for out Burger of the Month Club challenge and OMG it was a hit. Our challenge had us using Short Ribs, fennel, lemongrass, and Gochujang paste for a crazy delicious Asian inspired burger.

Want more griddle inspiration? Try some of my favorite recipes
If you've enjoyed this 360° Griddle Cooking Center review or any other recipe on GirlCarnivore.com please don't forget to rate the recipe and let me know where you found it in the comments below. I get inspired by your feedback and comments! You can also FOLLOW ME on Instagram @girlcarnivore as well as on Twitter and Facebook.
Short Rib Burgers with Lemongrass and Fennel Slaw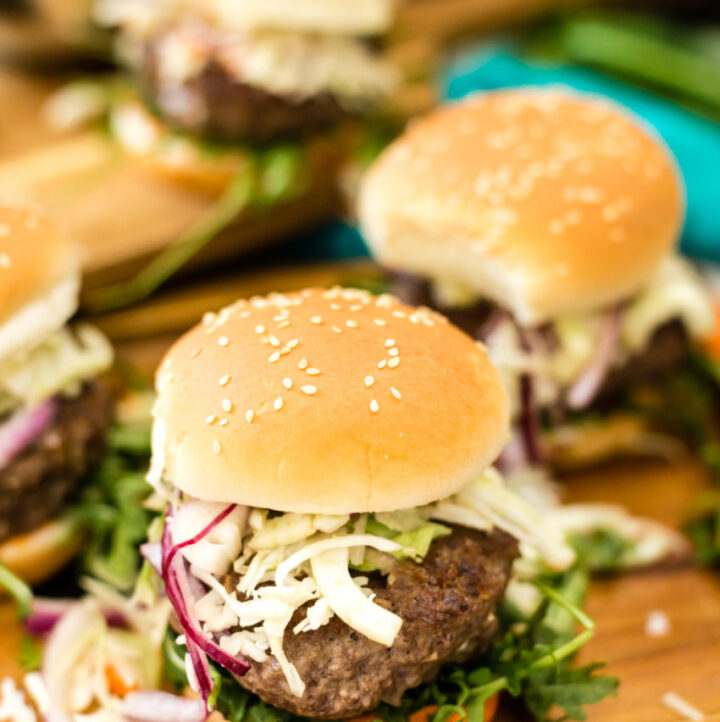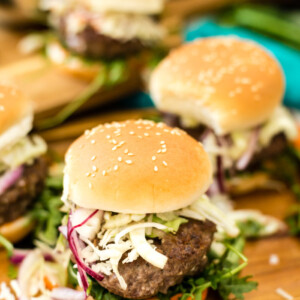 Add a whole world of flavor to your next burger by creating your own grind with short rib and chuck and then stacking on a fresh lemongrass slaw and spicy gochujang mayo!
Ingredients
For the Burger
1

lbs

chuck

cubed

1

lbs

short ribs

cubed

1

tbsp

Worcestershire sauce

1

shallot

minced

Salt and pepper
For the Lemongrass Fennel Slaw
1

small head cabbage

finely chopped

1

carrot

julienned

1/2

red onion

sliced

1

small fennel bulb

top and bottom removed, sliced

1

tbsp

lemongrass paste

1

tbsp

brown sugar

¼

cup

apple cider vinegar

Salt and pepper
For Assembly
Burger buns

Gochujang mayo

Arugula

Short rib burgers

Lemongrass Fennel Slaw
Instructions
To make the burger grind:
Grind the chuck and short rib with your meat grinder thoroughly.
To make the burger patties:
Combine the Soy Ginger Cuisinart Seasoning Mix, Worcestershire sauce, minced shallot, and salt and pepper. Using your hands, mix to combine.

Form into even patties, dimpling in the center. Season both sides with additional salt, if desired.

Preheat the griddle to high heat.

Rub with oil.

Reduce the heat to medium-low.

Add the patties and cover, cooking for 4 to 6 minutes until a nice crust forms.

Using the spatula, flip and cover, allowing the burgers to cook through.

Carefully remove from heat and allow to rest while building your burger.
Meanwhile, make the Lemongrass Fennel Slaw:
Combine the cabbage, carrot, fennel and onion in a large bowl. Season with salt

Whisk the lemongrass, brown sugar and apple cider vinegar together in a bowl and pour over the cabbage mix.

Toss to combine completely.

Allow to sit for a few minutes before tasting. Toss, taste, and add salt if needed.
To make the gochujang mayo:
Whisk the mayo and gochujang sauce together in a small bowl.
To assemble the burgers:
Arrange the burger buns with the tops removed.

Slather the gochujang mayo over the bottom

Pile the arugala on top of the mayo mix

Add a short rib grilled patty and a pile of lemongrass fennel slaw.

Top with the remaining bun topper and serve hot.
Notes
Freeze your meat grinder attachments for at least 30 minutes before grinding.
Always work with cold meat to make sure the fat doesn't get too warm while grinding. This causes it to stick and clump inside of the grinder and doesn't produce a good burger texture.
Nutrition
Calories:
283
kcal
|
Carbohydrates:
14
g
|
Protein:
21
g
|
Fat:
16
g
|
Saturated Fat:
5
g
|
Cholesterol:
66
mg
|
Sodium:
181
mg
|
Potassium:
748
mg
|
Fiber:
4
g
|
Sugar:
6
g
|
Vitamin A:
1465
IU
|
Vitamin C:
46.9
mg
|
Calcium:
109
mg
|
Iron:
3.7
mg