What happens when you want to chow down on a classic Southern po'boy and have your burger at the same time? This. The perfect Surf & Turf Burger with Fried Oysters. Go big or go home.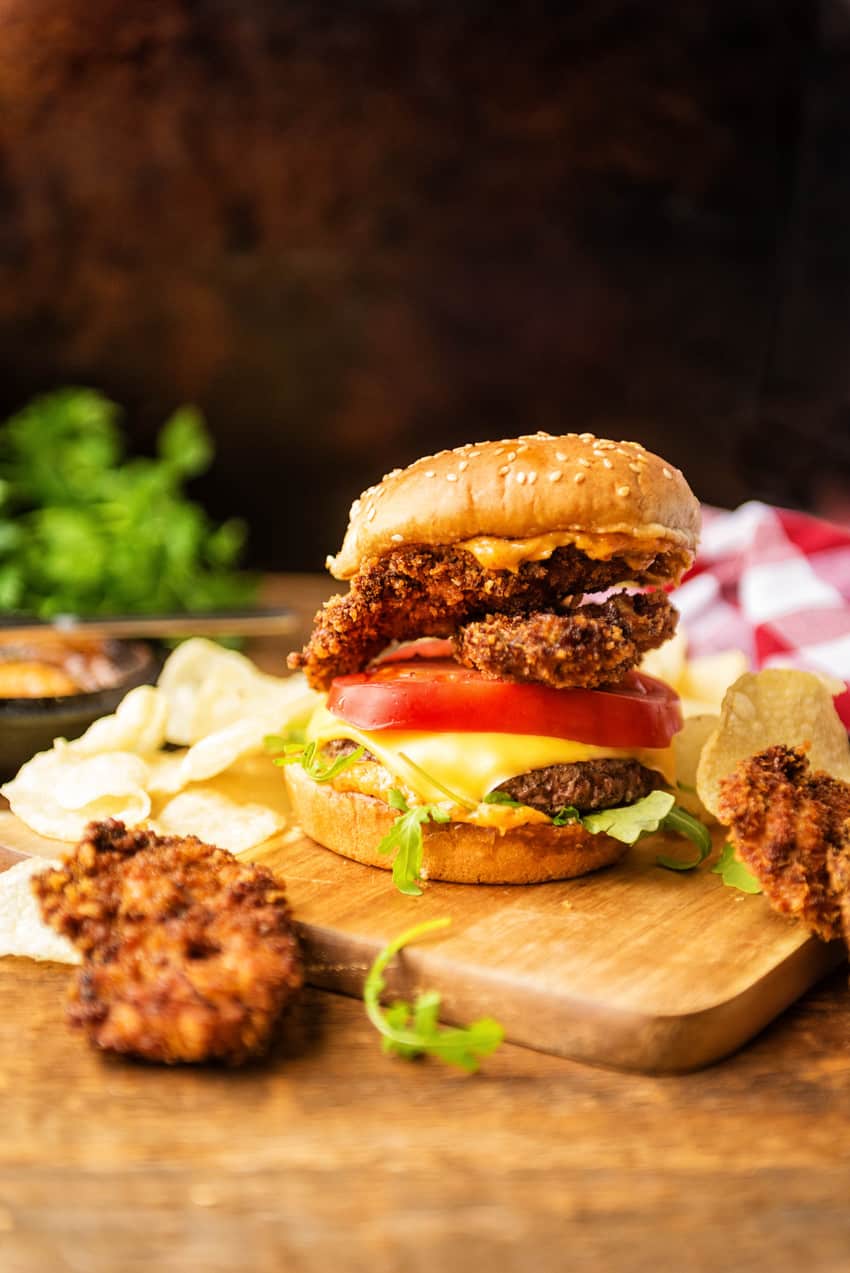 You can have the best of both worlds, and this burger proves it. It's got a big beefy patty topped with golden-brown Panko fried oysters, and the flavor is out of this world!
This oyster burger recipe is the perfect combination of crunchy fried bites, beefy goodness, and a hit of spice to hold it all together. Inspired by the big and bold flavors of Louisana, this Southern bayou burger is a must-try for anyone who loves seafood.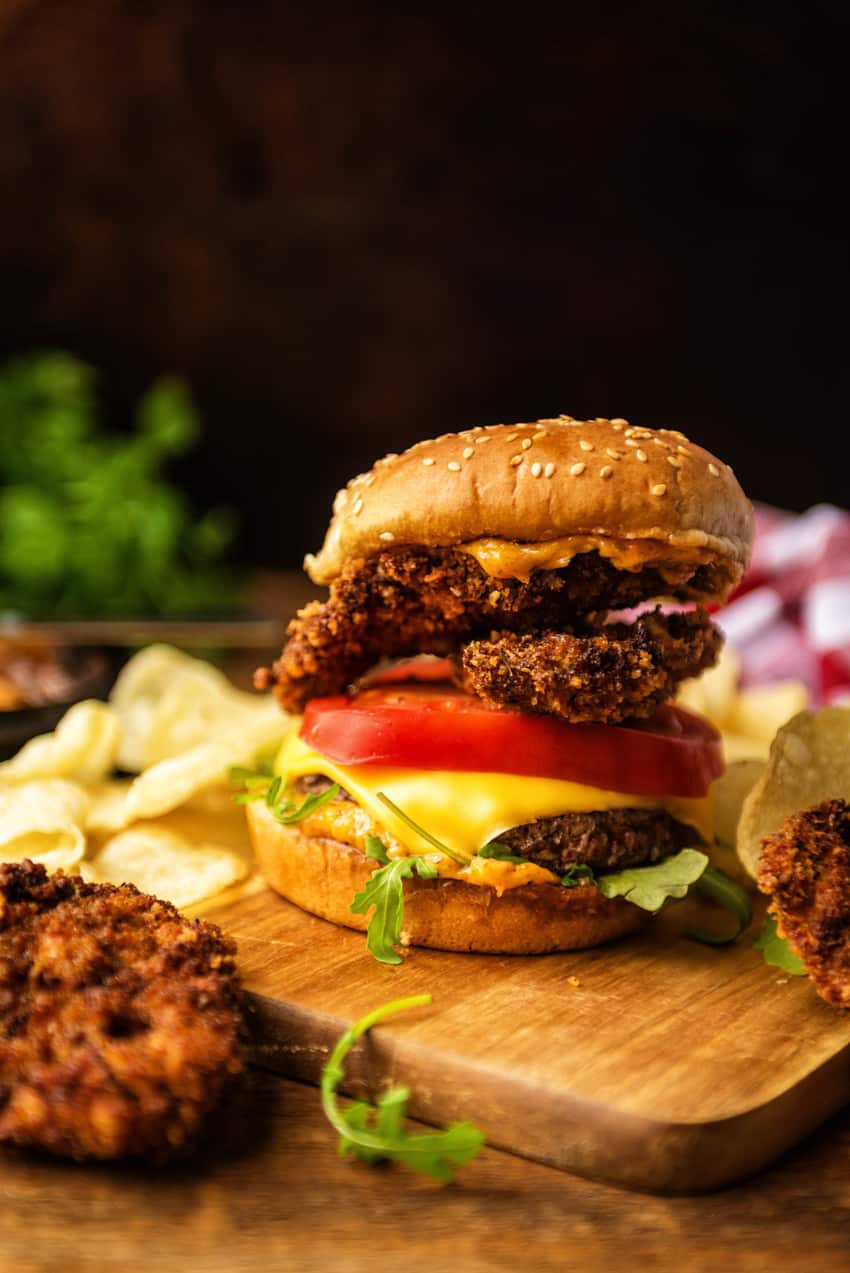 What is A Surf and Turf Burger?
Skip the steak and get your surf n turf burger style. Topped with seafood (the surf), this beefy burger (the turf) is well-balanced, flavorful, and delish – it's the kind of burger you dream about!
Inspired by Oyster Po'Boys
After drooling over some Gulf Coast food memories, I decided to go classic GirlCarnivore and throw down an epic burger to celebrate. A thick all-beef patty topped with crispy panko fried oysters and a toasted bun slathered in my secret weapon – a custom aioli – loaded with spice was everything I dreamed it to be. And the best part is that you don't have to dine out to get it! Get your hands on this colossal burger made in your kitchen!
But, like all things born on the Bayou, this Surf and Turf Burger with Fried Oysters has some quirkiness to it. After all, throwing a burger together with an oyster is a bit out there.
But think about it. Did oysters work as an appetizer before a wonderful ribeye dinner in a fancy steak house? Yes? So why not bring the wonder of a fried oyster to a hamburger?
You are creating surf n turf magic here.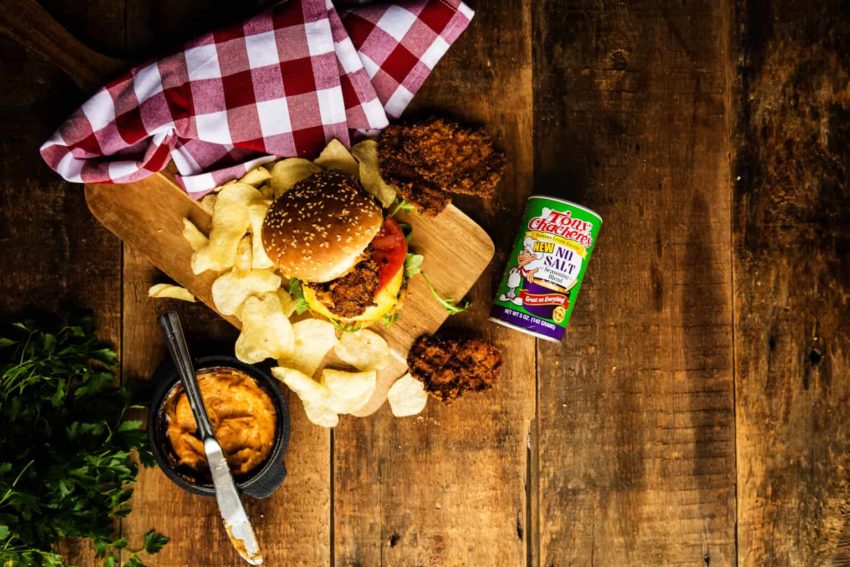 What You Need To Make The Best Surf And Turf Burger With Fried Oysters
For the zesty mayo:
Mayonnaise
Cajun seasoning
For the Panko fried oysters
Oil for frying
Oysters – drained and patted dry.
Panko breadcrumbs
Cajun seasoning
All-purpose flour
Salt and pepper
Eggs
Buttermilk – or plain yogurt or sour cream.
For the burgers:
Burger patties
Sliced cheese – sharp cheddar or Swiss.
Buns
Butter – melted.
Burger toppings – lettuce, tomato, and all your favorites.
How To Make A Surf n Turf Burger
The only challenge to this recipe is bringing the whole stack together in the best possible state of readiness. If the burger is juicy and hot but not overcooked, and the oysters nice and toasty, then that is ideal.
Make sure your oysters don't get soggy before going on the burger. The burger will still taste good, but it won't attain "Holy Mackerel" status. Those oysters need to have plenty of crunch on the outside.
For the Zesty Mayo:
Whisk the mayo with the Cajun seasoning and pop it into the fridge until you're ready to use it.
For the Fried Oysters:
Mix the Panko breadcrumbs with the Cajun seasoning.
Mix the flour with a pinch of salt and pepper.
Whisk the eggs and buttermilk in a bowl.
Dredge the oysters through the seasoned flour, then dip them into the egg wash and then into the Panko breadcrumbs.
Press the oysters into the breadcrumbs to ensure they're well-covered.
Refrigerate the oysters for 2-6 hours before frying.
Heat the oil in a large cast-iron skillet or Dutch oven.
Fry the oysters until golden brown and drain on paper towels.
For the burgers:
Preheat your grill to medium-high heat for offset cooking.
Grill the burgers until they reach 130-135-F with an instant-read thermometer.
Move the burgers to the top rack of the grill and arrange the cheese on top to melt.
Brush the melted butter over the buns and grill until light golden brown.
To assemble:
Spread some Zesty Mayo on the top and bottom buns.
Arrange the lettuce, burger patty, tomato, and two Panko fried oysters on the bottom bun, then top with the top half of the bun.
Serving Suggestions
These hearty Surf & Turf Burgers with Fried Oysters are amazing on their own, or you can pair them with Jalapeno Popper Fries or Philly Cheesesteak Fries.
Or, go all out and make an Around The World Burger Bar with tasty picks like:
Storage Instructions
Once cooked and assembled, the burgers won't keep well without the buns getting soggy. To store leftovers, package them separately and keep them in the fridge for 2-3 days.
Frequently Asked Questions
What's a good surf and turf burger sauce?
I love my Zesty Mayo with a fully-loaded surf and turf burger. Zesty mayo is a combination of mayonnaise and Cajun seasoning, but you can jazz it up with hot sauce to get it spicier! 
What kind of seafood goes on a surf and turf burger?
Anything goes! I'm partial to fried oysters but shrimp, lobster, and even fish fillets would all work.
What's the best bun for a surf n turf burger?
This is a BIG burger so you need a hefty bun that'll hold up to it. Go for a bakery bun – they tend to have more substance to them and won't sog or fall apart on you.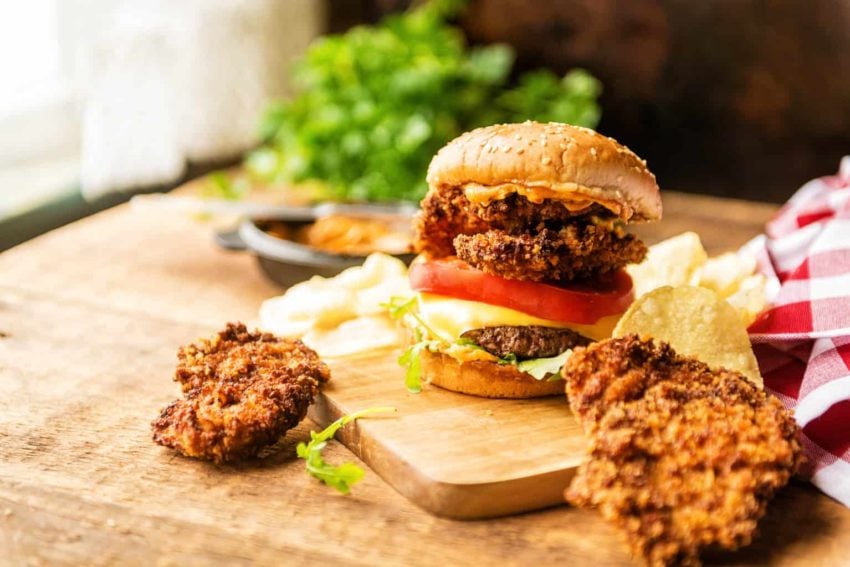 Southern foods, especially those with roots in the Gulf regions, have always held a special place in my culinary curiosities. Let's see what else I whip up this season.
If you've tried my Panko Fried Oyster Bayou Burger, or any other burger recipe on GirlCarnivore.com please don't forget to rate the recipe and let me know where you found it in the comments below. I get inspired by your feedback and comments! You can also FOLLOW MEon Instagram @girlcarnivore as well as on Twitter and Facebook.
Surf & Turf Burger with Fried Oysters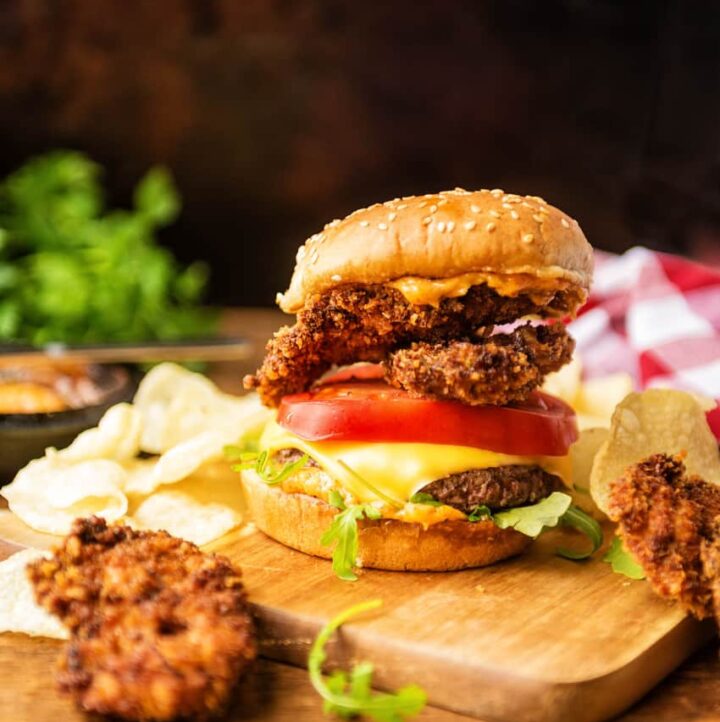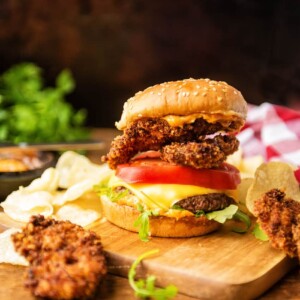 Fried oyster on a burger creates a very exotic yet simply delicious specialty hamburger you can do on a grill or a stovetop.
Recommended Equipment
grill

mixing bowl

Deep boiler for frying
Ingredients
For the Zesty Mayo:
⅓

cup

mayo

2 to 3

tsp

Tony Chachere's No Salt Seasoning Blend
For the Panko Fried Oysters:
Oil for frying

8 to 12

oysters

drained and gently patted dry

1 ½

cup

panko

2

tsp

Tony Chachere's No Salt Seasoning Blend

1

cup

Flour

Salt and pepper

to taste

3

eggs

large or extra large are easier

2

tbsp

buttermilk

use plain yogurt if you don't have or like buttermilk
For the Burgers:
4

lean ground beef patties

4

slices

of strong cheese

a sharp cheddar or swiss does well

Buns

1

tbsp

butter

melted and cooled

Zesty Mayo

Fried Oysters

Lettuce

Tomato
Instructions
Make the zesty mayo:
Whisk the mayo with the Tony Chachere's No Salt Seasoning Blend in a resealable airtight container and set in fridge until ready to use. This

This can be made a day or two ahead of time. (Bonus, this is great with fries!)
Fry the oysters:
Arrange your workstation for ease of flow and minimal mess.

Mix the panko and Tony Chachere's No Salt Seasoning Blend in a bowl.

Add the flour and a pinch of salt and pepper.

If desired, to a large resealable bag. Whisk the eggs and buttermilk together in a bowl.

Take each oyster and toss them into the bag of flour, closing the bag, and shaking to coat evenly.

One at a time, using tongs, removing the oysters from the flour, shaking off any excess as needed, and dredge in the egg wash.

Drain the oyster of any excess egg and place into the panko seasoning mix. Coat and flip.

Gently press each side once an initial coat is on to make sure there is a good panko coating clinging to the oyster.

Arrange on a wire rack and place in fridge for 2 to 6 hours before frying.

When ready to fry, heat 2 to 3 inches of oil in a large Dutch Oven, making sure to leave at minimum 1 inch from the surface of the oil to the rim of the pot, to 350 – 375 degrees, monitoring the temp with a heat and cook safe thermometer.

With a slotted spoon, carefully place 3 to 4 oysters in the pot. Fry 2 to 3 minutes, flipping as needed, until golden and cooked through.

With a slotted spoon, remove from oil, drain and let sit on a wire rack to cool. Sprinkle with a touch of salt, if desired.

Repeat with the remaining oysters, being careful to adjust the heat as needed to maintain the oil temp.
Grill the Burgers:
Clean and oil grill as needed and preheat to medium-high heat for offset cooking.

Prep your burgers by seasoning lightly with salt if desired and place them on the grill.

Cook the burgers for 5 to 7 minutes, and flip.

Remove the patties from the heat to check for doneness. 130F – 135F for medium rare with an instant-read thermometer.

Move burgers to the top rack of the grill where it's cooler and arrange slices of cheese atop.

Close the lid and let melt 30 seconds to a minute.

Meanwhile, brush the melted butter over the buns and grill or toast to a light golden.
Assemble the burgers
Add a dollop of zesty mayo to the bottom and top buns.

Starting with the bottom bun, arrange the layers starting with the lettuce,  a cooked patty, next arrange the tomato, two fried Panko Fried Oysters and finally, top with the remaining bun half.

Serve fresh, hot and with napkins!
Notes
This recipe is best with the oysters and burgers coming off hot at the same time so everything is fresh and hot when served.
Keep in mind your oysters will need to sit for several hours before cooking, so prep them ahead of time.
Nutrition
Calories:
756
kcal
|
Carbohydrates:
42
g
|
Protein:
34
g
|
Fat:
48
g
|
Saturated Fat:
18
g
|
Cholesterol:
228
mg
|
Sodium:
622
mg
|
Potassium:
495
mg
|
Fiber:
2
g
|
Sugar:
2
g
|
Vitamin A:
590
IU
|
Calcium:
322
mg
|
Iron:
6.4
mg