What happens when you want to chow down on a classic southern po'boy and have your burger all at the same time? This. The Panko Fried Oyster Bayou Burger. Go big or go home.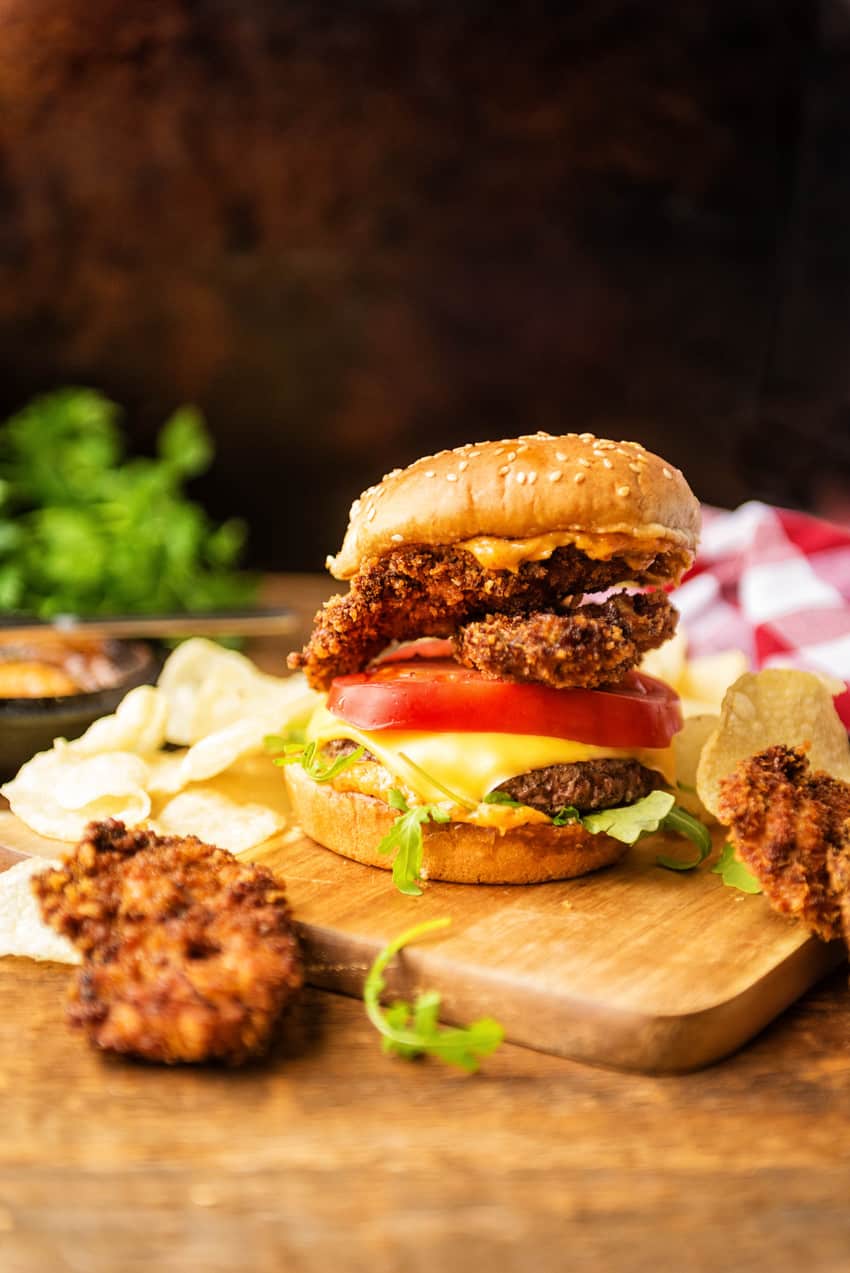 There I was dreaming a little southern dream of fresh gulf seafood… That is, crunchy fried bites, and just the perfect bit of spice to hold it all together. Inspired by a big box of love that Tony Chachere's sent my way, filled with their new No Salt Seasoning Blend. Immediately a Bayou Burger came to mind.
Seasoning a bayou burger
I love a 'no salt' added product because I season as I go so that things are just the way I like them. Seasoning with salt changes, based on what and how you are cooking.
People tend to lack seasoning throughout their cook and then have a sodium overload at the dinner table. Me? I work it in, tasting and testing as a recipe develops for just the perfect flavor.
And as a bonus, no salt products are a Godsend to those who have heart conditions and need to really monitor their sodium intake. This No Salt Seasoning Blend is perfect for that. All the zest of a great blend to flavor things, with me in the driver's seat for the salt portion.
Some other ideas for this No Salt Seasoning Blend? Oh, given its timing, etouffee, red beans and rice, gumbo, adding it to a blackening blend for this killer mac and cheese. Yeah, the list goes on and on and I have a feeling I am just getting warmed up.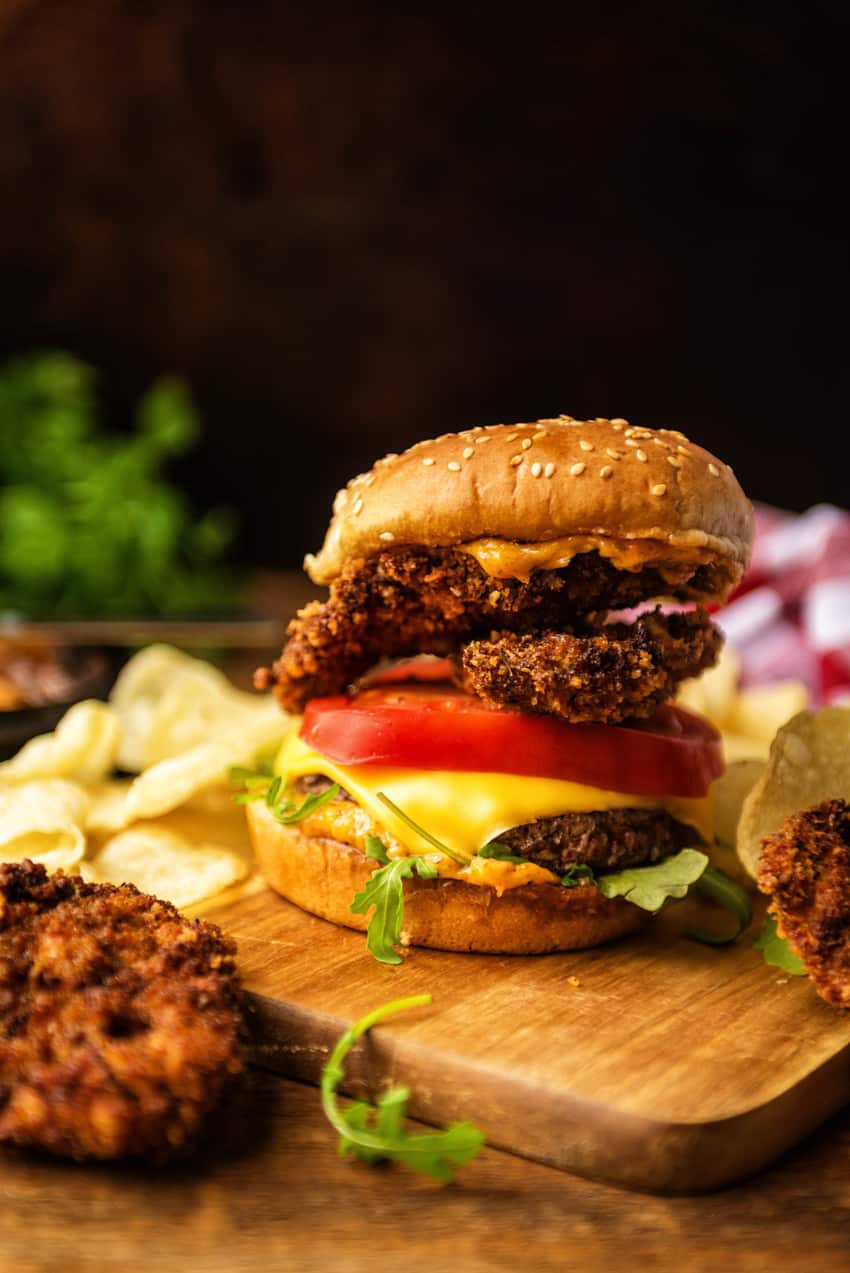 The burger inspired by Oyster Po'boys
After drooling over some real gulf coast food memories, I decided to go classic GirlCarnivore and throw down an epic burger to celebrate. A thick all-beef patty topped with crispy panko fried oysters and a toasted bun slathered in my secret weapon – a custom aioli – loaded with spice, was everything I dreamed it to be. And now I am sharing this gem with you.
A surf and turf style burger
The bayou burger, like all things born on the bayou, has some quirkiness to it. After all, throwing a burger together with an oyster is a bit out there.
But think about it. Did oysters work as an appetizer before a wonderful ribeye dinner in a fancy steak house? Yes? So why not bring the wonder of a fried oyster to a hamburger?
You are creating surf and turf magic here.
What is a po'boy?
To understand the panko oyster burger more thoroughly, it helps to grasp the genius of an actual Po'boy sandwich. The Po'boy is a sandwich made on a beautiful fresh French style baguette. The interior of the bread is soft, light, and fluffy, while the outside has a bit of crunch.
One of the most popular Po'boy sandwiches is made with deep fried oysters. Sounds perhaps a bit odd to anyone living more than one hundred miles from the coast.
They typically contain a form of coleslaw and some sort of meat, usually roast beef, and seafood. Fried oysters, shrimp, crab, fish or crawfish are all popular.
Timing is everything
The only challenge to this recipe is bringing the whole stack together in the best possible state of readiness. If the burger is juicy and hot, but not overcooked, the oysters nice and toasty, then that is ideal.
Make sure your oysters don't get soggy before they go on the burger. It will still taste good, but it just won't attain "Holy Mackerel" status. Those oysters need to have plenty of crunch on the outside.
A fan of Southern style cooking
Southern foods, especially those with roots in the gulf regions, have always held a special place in my culinary curiosities. Let's see what else I whip up this season. Follow along on Instagram for all the behind the scenes peeks at what's going on in the GirlCarnivore Meat Labs.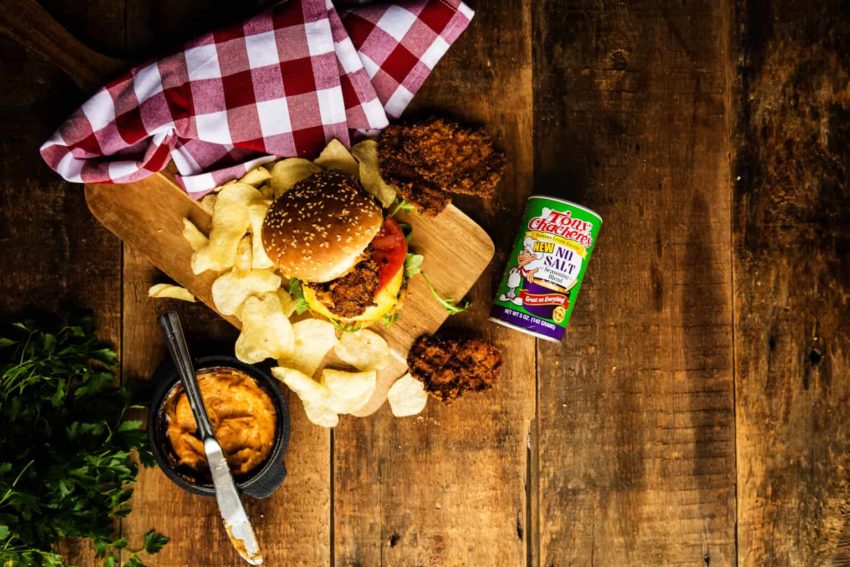 Want to get your hands on some of the Tony Chachere's No Salt Seasoning Blend? Check out this sweet coupon code KITAFREE15 for Free Shipping on orders of $15 or more.
Tools used for this recipe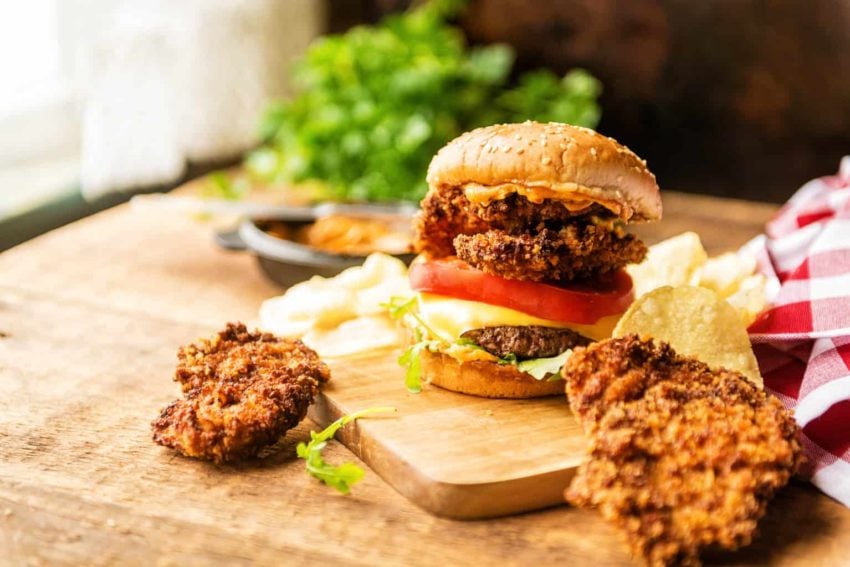 If you If you're feeling brave, consider making burgers around the world bar, with toppings for my Char Grilled Fajita Burgers, Argentinian Butter Burgers, Salmon Sliders, and Pork Pineapple Teriyaki Burgers, crunchy-pork-belly-burgers.
If you've tried my Panko Fried Oyster Bayou Burger, or any other burger recipe on GirlCarnivore.com please don't forget to rate the recipe and let me know where you found it in the comments below. I get inspired by your feedback and comments! You can also FOLLOW MEon Instagram @girlcarnivore as well as on Twitter and Facebook.
Panko Fried Oyster Bayou Burger Recipe
Fried oyster on a burger creates a very exotic yet simply delicious specialty hamburger you can do on a grill or a stovetop.
Equipment
grill

mixing bowl

Deep boiler for frying
Ingredients
For the Zesty Mayo:
⅓

cup

mayo

2 to 3

tsp

Tony Chachere's No Salt Seasoning Blend
For the Panko Fried Oysters:
Oil for frying

8 to 12

oysters

drained and gently patted dry

1 ½

cup

panko

2

tsp

Tony Chachere's No Salt Seasoning Blend

1

cup

Flour

Salt and pepper

to taste

3

eggs

large or extra large are easier

2

tbsp

buttermilk

use plain yogurt if you don't have or like buttermilk
For the Burgers:
4

lean ground beef patties

4

slices

of strong cheese

a sharp cheddar or swiss does well

Buns

1

tbsp

butter

melted and cooled

Zesty Mayo

Fried Oysters

Lettuce

Tomato
Instructions
For the Zesty Mayo: Whisk the mayo with the Tony Chachere's No Salt Seasoning Blend in a resealable airtight container and set in fridge until ready to use. This can be made a day or two ahead of time. (Bonus, this is great with fries!)

For the Fried Oysters: Arrange your workstation for ease of flow and minimal mess.

Mix the panko and Tony Chachere's No Salt Seasoning Blend in a bowl.

Add the flour and a pinch of salt and pepper.

If desired, to a large resealable bag. Whisk the eggs and buttermilk together in a bowl.

Take each oyster and toss them into the bag of flour, closing the bag, and shaking to coat evenly.

One at a time, using tongs, removing the oysters from the flour, shaking off any excess as needed, and dredge in the egg wash.

Drain the oyster of any excess egg and place into the panko seasoning mix. Coat and flip.

Gently press each side once an initial coat is on to make sure there is a good panko coating clinging to the oyster.

Arrange on a wire rack and place in fridge for 2 to 6 hours before frying.

When ready to fry, heat 2 to 3 inches of oil in a large Dutch Oven, making sure to leave at minimum 1 inch from the surface of the oil to the rim of the pot, to 350 – 375 degrees, monitoring the temp with a heat and cook safe thermometer.

With a slotted spoon, carefully place 3 to 4 oysters in the pot. Fry 2 to 3 minutes, flipping as needed, until golden and cooked through.

With a slotted spoon, remove from oil, drain and let sit on a wire rack to cool. Sprinkle with a touch of salt, if desired.

Repeat with the remaining oysters, being careful to adjust the heat as needed to maintain the oil temp.

For the Burgers: Clean and oil grill as needed and preheat to medium-high heat for offset cooking. Prep your burgers by seasoning lightly with salt if desired and cook to the desired temp.

Check off heat for 130 – 135 for medium rare with an instant-read thermometer.

Move burgers to the top rack of the grill where it's cooler and arrange slices of cheese atop. Close the lid and let melt 30 seconds to a minute.

Meanwhile, brush the melted butter over the buns and grill or toast to a light golden.

Add a dollop of zesty mayo to the bottom and top buns.

Starting with the bottom bun, arrange the layers starting with the lettuce,  a cooked patty, next arrange the tomato, two fried Panko Fried Oysters and finally, top with the remaining bun half.

Serve fresh, hot and with napkins!
Notes
This recipe is best with the oysters and burgers coming off hot at the same time so everything is fresh and hot when served. Keep in mind your oysters will need to sit for several hours before cooking, so prep them ahead of time.
Nutrition
Nutrition Facts
Panko Fried Oyster Bayou Burger Recipe
Amount Per Serving
Calories 756
Calories from Fat 432
% Daily Value*
Fat 48g74%
Cholesterol 228mg76%
Sodium 622mg27%
Potassium 495mg14%
Carbohydrates 42g14%
Protein 34g68%
Vitamin A 590IU12%
Calcium 322mg32%
Iron 6.4mg36%
* Percent Daily Values are based on a 2000 calorie diet.