Moist, tender, flavorful, and topped with crispy, smoky bacon, there are few things as good as this delicious Smoked Meatloaf recipe. Easy to make and just as good the next day, this is a must-try recipe for smoked meat fans if you love amazing flavor!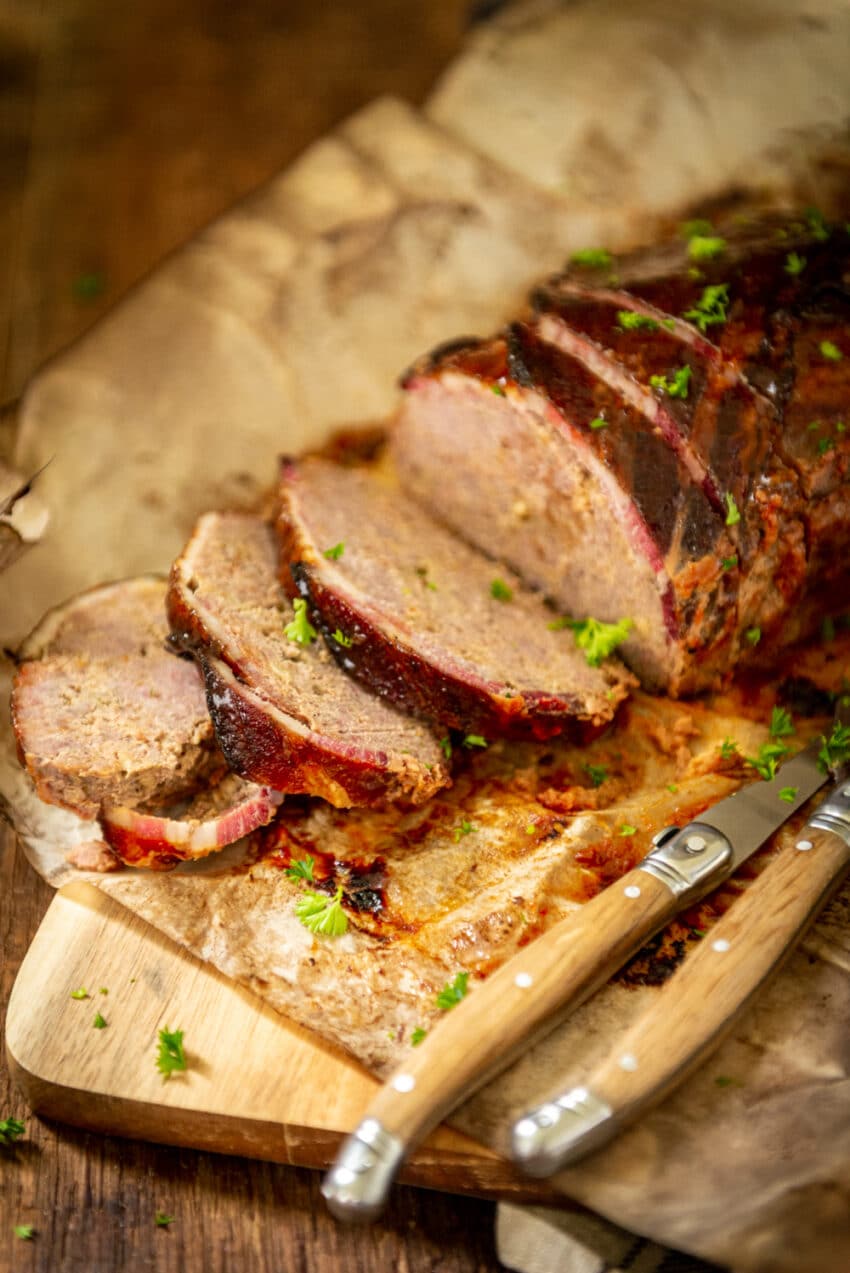 Sick of plain old meatloaf? Yeah, us, too. This smoked bacon-wrapped meatloaf is the best way to take regular meatloaf to a whole new level. Whether you make smoked meatloaf on a traditional smoker, pellet grill smoker, a charcoal grill with wood chips, or in a vertical barrel smoker, swapping the oven for a smoker creates the most amazing results.
You can never go wrong with anything that's wrapped in bacon! Of course, this isn't just any old smoked meatloaf recipe. With a double dose of bacon INSIDE the meatloaf and wrapped over the top, there's bacon in every bite of this ultimate comfort food, just like our Bacon-Wrapped Stuffed Chicken.
And, because we're all about big flavors, you'll find flavor throughout this classic meatloaf recipe. Starting with a blend of spices, plenty of onions and garlic, and a tasty combination of meats, this sure ain't your Mama's traditional meatloaf!
What Is Smoked Meatloaf?
Smoked meatloaf is different from your traditional meatloaf recipe. This bad boy has all the classic meatloaf flavors you love but is smoked in a smoker instead of baked in an oven. The result? A perfectly smoky meatloaf wrapped in bacon and cooked to perfection.
Want more smoked beef recipes? Try our Smoked Beef Tenderloin, Smoked Prime Rib, and Easy Smoked Chuck Roast!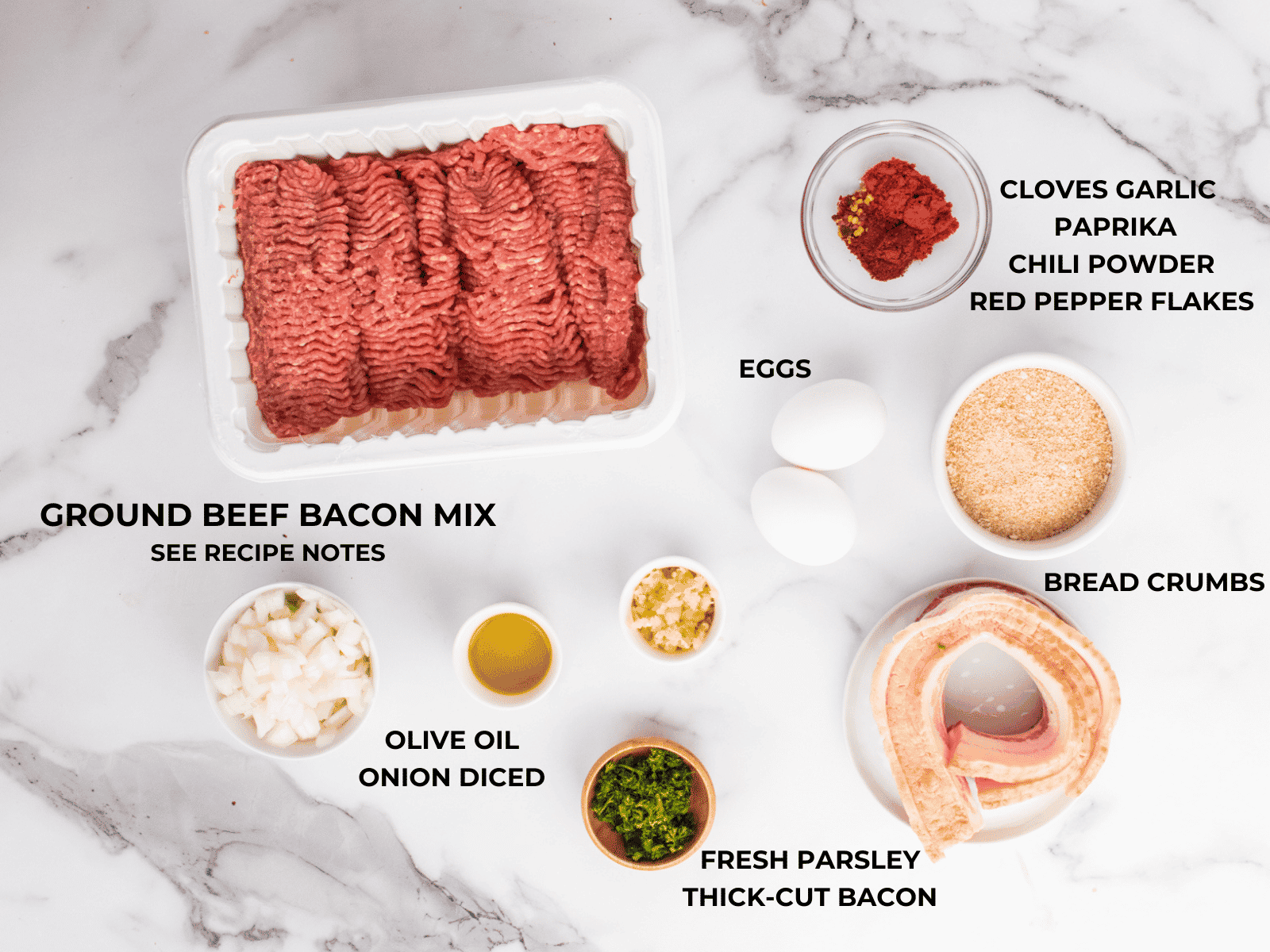 Bacon-Wrapped Meatloaf Ingredients
There's nothing fancy in this bacon-wrapped smoked meatloaf recipe – but if you can't find Porter Road's Beef vs Bacon blend, you can use a mix of ground beef and ground pork with some chopped bacon added in.
Beef vs Bacon Mix – We use Porter Road's Beef vs Bacon for this easy smoked meatloaf recipe. See more on where our favorite sources to order meat online are. Alternatively, use a mix of ground beef and ground pork.
Olive Oil
Onion and Garlic – Onions add a subtle caramel-y sweetness, while garlic adds a punch of nuttiness.
Paprika
Chili Powder
Red Pepper Flakes
Eggs
Bread Crumbs – Bread crumbs help keep the smoked meatloaf moist.
Parsley – Fresh parsley.
Bacon – Thick-cut bacon works best, so it doesn't overcook.
How to Make The Perfect Meatloaf
Prep your grill with neutral flavor wood chunks and get it ready to smoke at 225-250F.
Preheat a skillet over medium heat and sauté the onion in the olive oil until soft. Add in the garlic and cook for another 30 seconds, then mix in the paprika, chili powder, and red pepper flakes. Remove the mixture from the heat.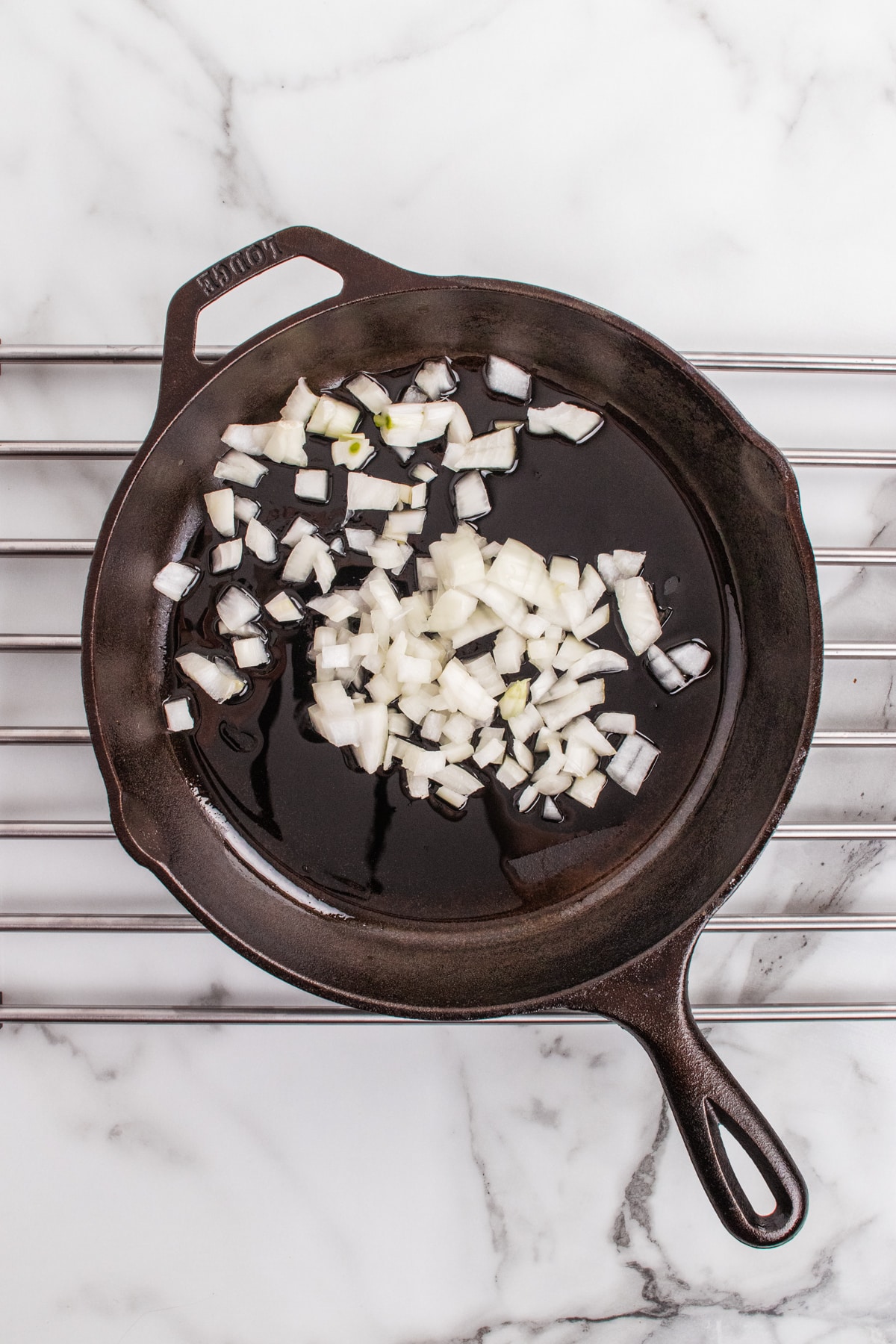 In a large bowl, add eggs, breadcrumbs, parsley, beef bacon mix, and the onion to make the meatloaf mixture. Stir to combine.
Form the meat mixture into a loaf shape, then layer and wrap the bacon on top of the meatloaf. If you're feeling fancy, make a bacon weave to adorn the top. Place the loaf into a loaf pan.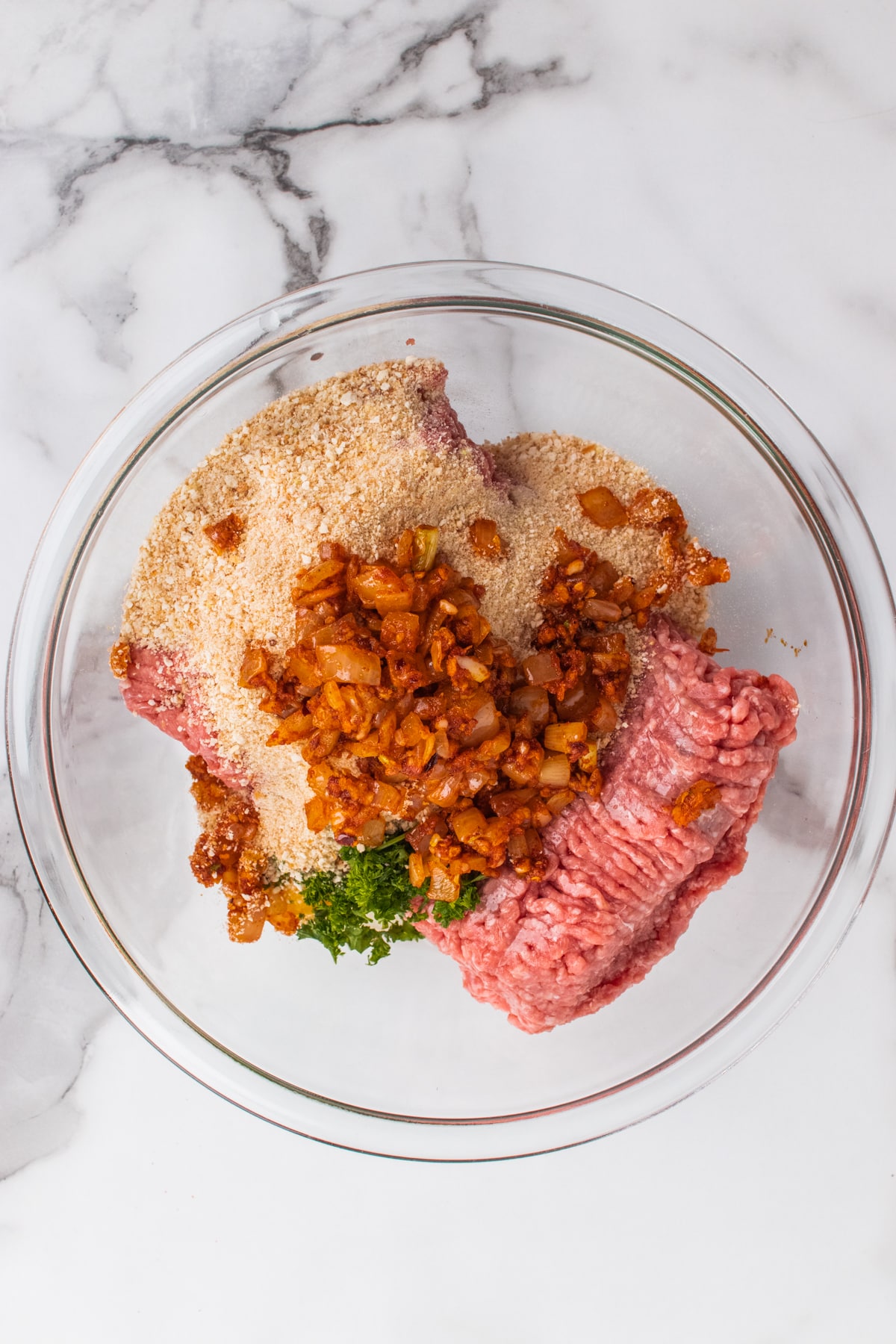 Place the pan on the preheated smoker rack and close the lid. Smoke the meatloaf over indirect heat until the bacon is crisp and the ground meat is 160F with an instant-read meat thermometer.
Rest the smoked meatloaf for 10 minutes. As it rests, the meatloaf's internal temperature rises to 165 degrees F before slicing and serving.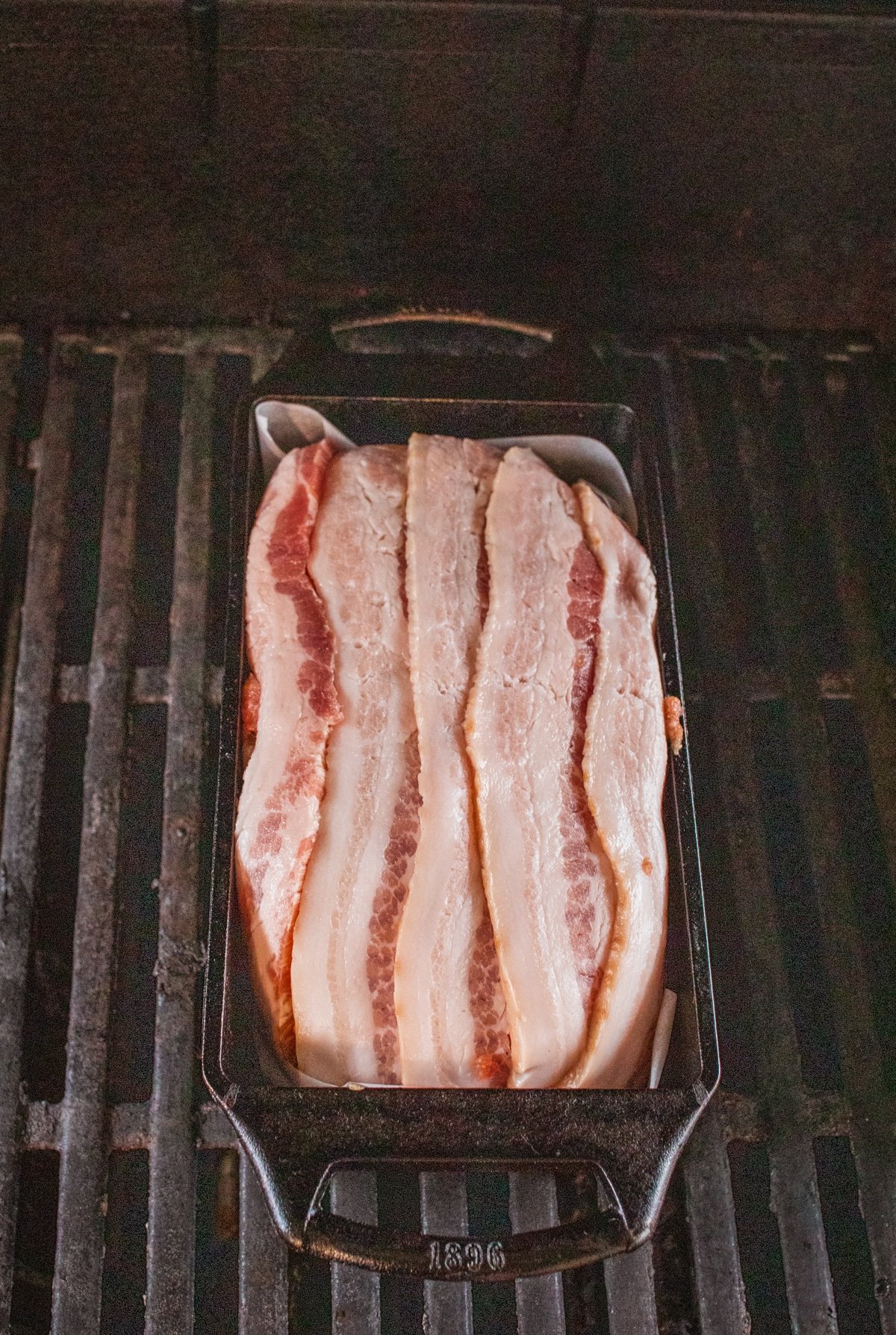 🔪 Girl Carnivore Expert Recipe Tips
Follow these tips to make the best smoked meatloaf recipe:
Use neutral flavor wood chunks. We recommend using mellow wood for a more mild smoke flavor. We use Western Wood Hickory Chunks. Stay away from fruitwoods so the smoke can work its magic.
Don't over-mix. Mix the meatloaf ingredients only until just combined. If you mix too much, the meat can become tough and dry.
The key to keeping this our favorite meatloaf recipe and not dried out like mama used to make – is not skimping on the fat by using lean ground beef. We use 85% or higher fat ground beef and even mix it with Italian sausage when we can't find the bacon mix listed above for an incredibly juicy meatloaf.
Use thick-cut bacon in this smoked meatloaf with bacon recipe so that it cooks at the same rate as the meatloaf. Thin-cut will cook too fast and could burn in the smoker.
Drain off excess fat. As the meatloaf starts cooking, drain off any excess fat if it starts to accumulate, so the meatloaf doesn't end up soggy or greasy. Fat is good, but greasy is just bad. You can use a spoon to remove the fat or simply tilt the pan to drain it once or twice while it's smoking. Also, draining the fat allows the bacon to crisp up better.
Don't overcook the smoked meatloaf! Stop cooking the meatloaf as soon as it reaches an internal temperature of 160F. Overcooked meatloaf isn't as tender and moist.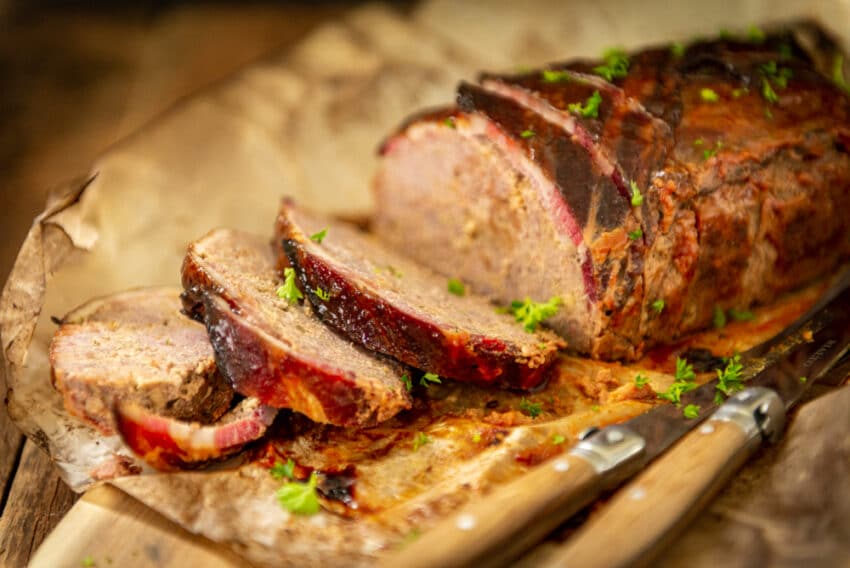 What to Serve With Smoked Meatloaf
Wondering what to serve with Bacon-Wrapped Smoked Meatloaf? This easy meatloaf recipe pairs so well with so many dishes, but these smoked side dishes are some of our favorites:
Leftovers & Reheating
Store leftover meatloaf in an airtight container in the fridge for 3-4 days or in the freezer for 3-4 months. To reheat it, thaw it in the fridge (if frozen) and reheat it in the oven until it is heated through and the bacon is crisp.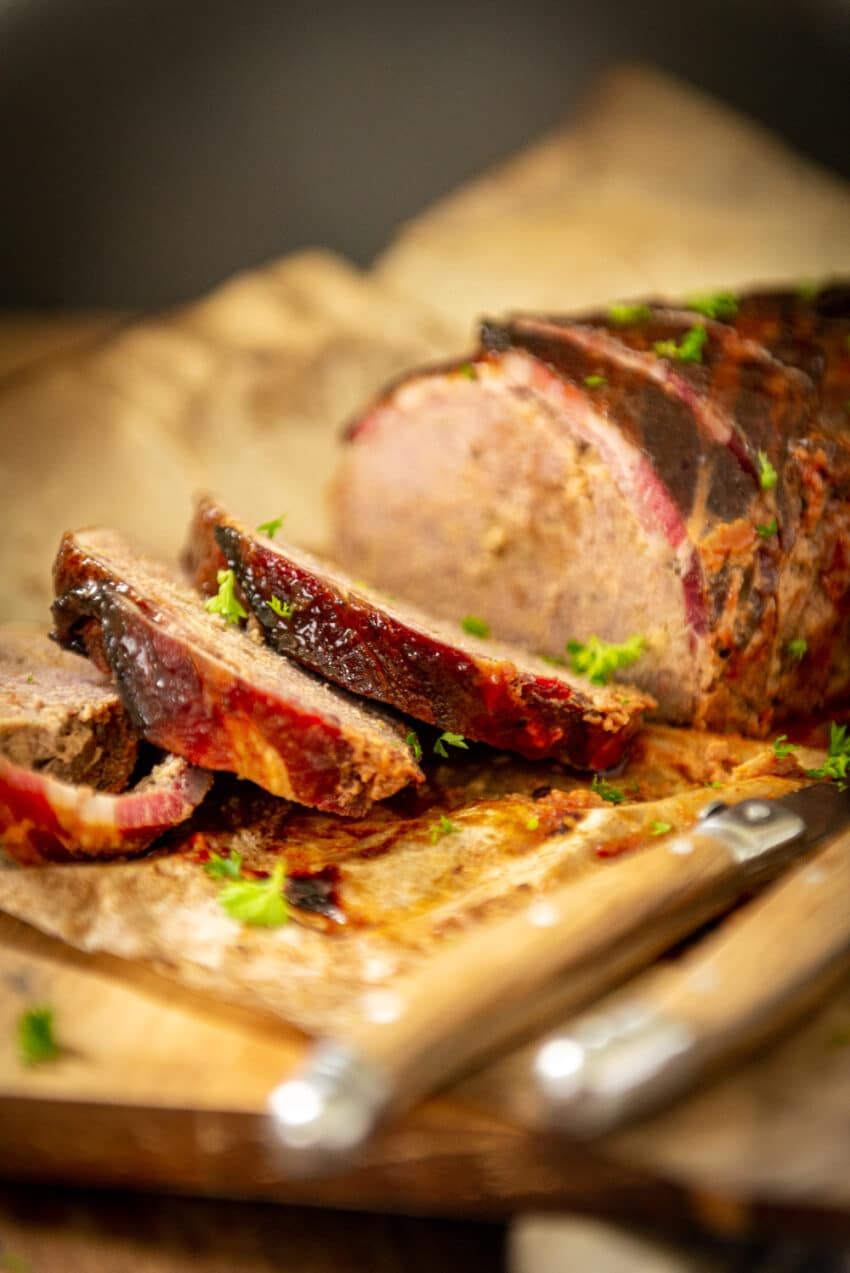 MORE BACON WRAPPED RECIPES YOU'LL LOVE
If you're looking for the best meatloaf recipe, you'll love this Smoked Meatloaf. Even a humble home chef can whip up the most flavorful meatloaf right at home. You only need a few simple ingredients and a little bit of time, and you can make this easy recipe.
Save this recipe for later by clicking the ❤️ button on the recipe card. Did you know you can save all of your favorite recipes right to your own recipe index on GirlCarnivore to find them easier later on?
Have you tried this recipe? Do us a favor and rate the recipe card with the ⭐ ⭐ ⭐ ⭐ ⭐ and drop a comment to help out the next reader.
Perfect Bacon Wrapped Smoked Meatloaf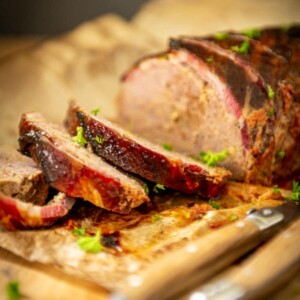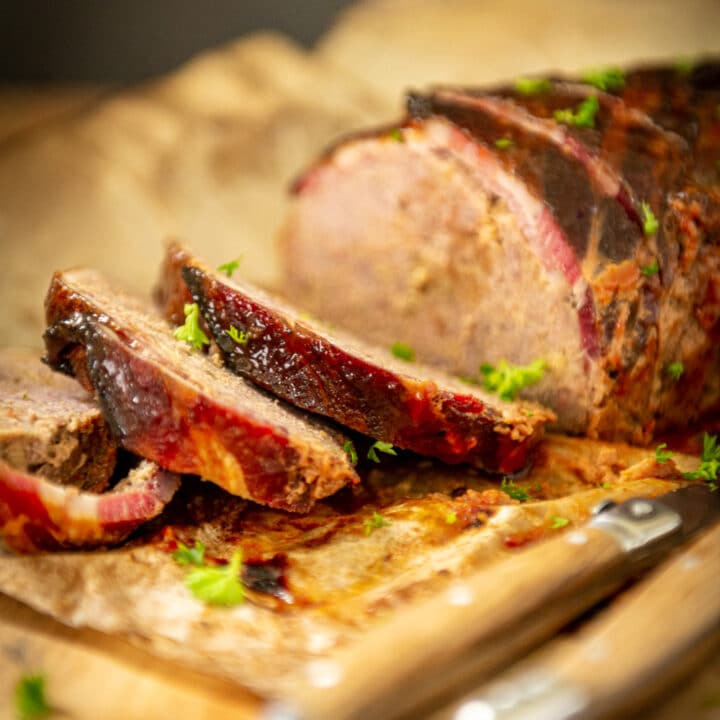 Bacon Wrapped Smoked Meatloaf may be the best meatloaf you have tasted in a very long time. Double down with bacon in the meat mixture and wrapped around the loaf for incredible flavor!
Recommended Equipment
Pit Barrel Cooker

or any smoker.
Ingredients
2

lbs

beef vs bacon mix

see note*

1

tbsp

olive oil

1

onion

diced

3

cloves

garlic

minced

1

tsp

paprika

½

tsp

chili powder

¼

tsp

red pepper flakes

2

eggs

¾

cup

bread crumbs

1

tbsp

fresh parsley

finely chopped

½

lbs

thick-cut bacon
Instructions
Prep Grill
Preheat your smoker with good neutral flavor chunks and get it ready for a smoke at 225 – 250 degrees.
Sautee Onion
Line a 9″ loaf pan with parchment paper or butcher paper.

Meanwhile, preheat a skillet over medium heat.

Add the olive oil and swirl to coat the pan.

Sautee the onion 5 minutes, until soft.

Add the garlic and cook another 30 seconds, until fragrant.

Add in the paprika, chili powder, and red pepper flakes and stir to coat.

Remove from heat and allow to cool.
Make Meatloaf
In a large mixing bowl, add the eggs, bread crumbs, parsley, and beef bacon mix.

Add in the onion mixture.

Stir to combine well.

Form into a loaf and gently layer the bacon atop as desired, based on the length of the bacon.

Place the meat in the prepper loaf pan.
Smoke Bacon Wrapped Meatloaf
Smoke the meatloaf over indirect heat until the bacon is crisp and the meatloaf temps at 160 degrees F in the center with an instant read thermometer.
Rest and Serve
Remove the meatloaf from the heat and allow to cool for 10 minutes on a wire rack.

Carefully wiggle the meatloaf from the pan and slice into even portions to serve hot.
Notes
I used Porter Road's Beef vs Bacon for this recipe. However, a mix of 50% beef and 50% ground pork would also do the trick. Add chopped bacon to the mix as well and use lean ground beef if you are going to mix with bacon to avoid things getting too wet.
Use thick cut bacon for this recipe, as thin bacon will overcook during the time it takes to cook the ground meat properly.
Western Wood Hickory Chunks were used for this smoke.
If you want even more flavor, brush the bacon with your favorite bbq sauce during the last 10 minutes of cooking.
Nutrition
Serving:
1
g
|
Calories:
486
kcal
|
Carbohydrates:
10
g
|
Protein:
26
g
|
Fat:
37
g
|
Saturated Fat:
13
g
|
Polyunsaturated Fat:
3
g
|
Monounsaturated Fat:
17
g
|
Trans Fat:
1
g
|
Cholesterol:
140
mg
|
Sodium:
358
mg
|
Potassium:
434
mg
|
Fiber:
1
g
|
Sugar:
1
g
|
Vitamin A:
291
IU
|
Vitamin C:
2
mg
|
Calcium:
54
mg
|
Iron:
3
mg
🎥 Watch: How to make this meatloaf Recipe
Recipe FAQs
WHAT SEASONINGS DO YOU USE IN BACON-WRAPPED SMOKED MEATLOAF?
We use a combination of paprika, chili powder, and red pepper flakes. This is a simple trio of seasonings that gives the smoked meatloaf a spicy, smoky flavor.
​WHAT IS THE INTERNAL TEMPERATURE FOR MEATLOAF?
For smoked meatloaf, you want an internal temperature of 165F. The key is to keep a close enough eye on your meatloaf that you cook it to 160F, but no more. The temp will continue to rise 5 degrees while it rests. If it's overcooked, the meat will be dry and tough.
​HOW LONG DOES IT TAKE TO SMOKE MEATLOAF?
A perfectly cooked meatloaf will probably take around 2 hours in the smoker. Keep in mind that there are a lot of factors that can alter the smoking time. We recommend a quick-read digital thermometer, like a Thermapen, to check that it's cooked to the right temperature before serving.