This is an oven-baked totally healthy salmon curry in a hurry recipes! And a total favorite of mine, with crunchy sauteed veggies in a green curry coconut milk sauce. It's pretty much my definition of comfort food.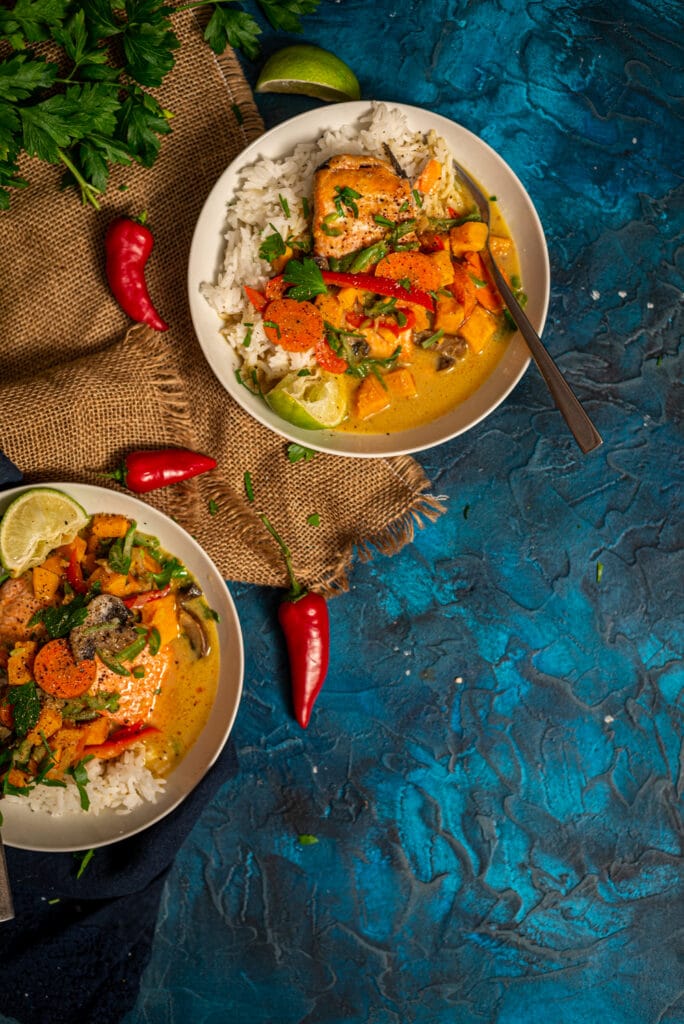 The lovely folks at Copper River Salmon send me their product however to try. However, my love of the wild Alaskan fish is what keeps me creating recipes with it.
I am not sure when I had my first curry, and that's a little sad, because I know it was one of those life-changing moments. In that first bite, curry became my go-to takeout dish. My cozy comfort Netflix and chill bestie meal and my number one way to sneak a million veggies into one creamy dish.
Homemade Curry Is Easy
Also, one of those dishes I spent far too long not making at home. Thinking that that rich broth must be super complicated to make, I didn't experiment with curries until I was exploring the Korean market behind my old comic shop. I discovered little tins in bright colors with only one word I could read, Curry. Knowing they were different varieties but having no clue which was the one I loved, I bought them all. Came home. And got to cooking.
Turns out, all are absofreakinlutely amazing but I loved the red curry the best. And it goes amazing in quick recipes like this, is totally divine over pork, or to knock the socks off anyone you know with a delicious pot pie.
Easy Salmon Curry
This quick salmon recipe is one of my go-to favorites not for when I am looking to impress anyone with a five-star experience, but when I want them to appreciate flavors in a healthy fresh way. It's the kind of recipe that makes even those friends that are all like 'I hate coconut milk' into believers. And, if they are still against trying it, more for you. They don't have any idea what they are missing!
Oh, and did I mention, it's incredibly quick to make – so a perfect meal for healthy weeknights after work. Yep, life is good.
What you need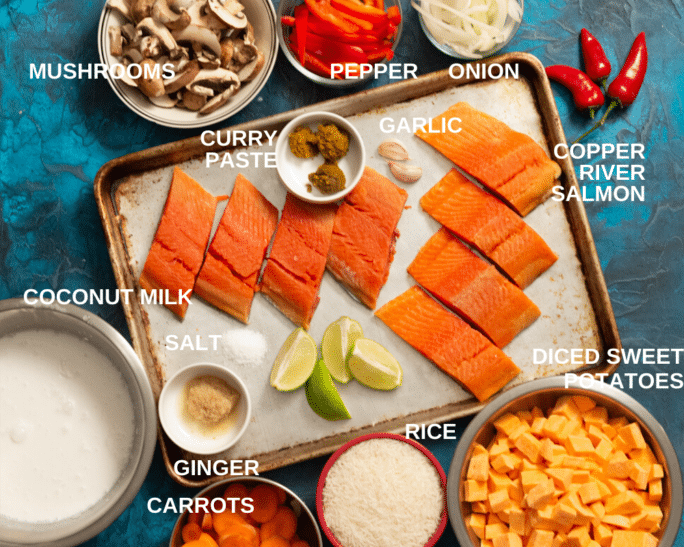 A quick curry recipe that just needs any and all the fresh veggies you have on hand, like carrots, onions, peppers, mushrooms, green beans, sweet potato or butternut squash diced, and honestly, just about any other vegetable, I find in my fridge calling to be used.
The coconut milk is seasoned with ginger, garlic and green curry paste, though I love red curry for this dish too. Use what you have on hand. Remember, adding more curry paste increases the flavor and spice, so start with a few tablespoons and add more for your tastes. You can find curry paste in the Asian section of most markets these days. I love the kind that I get in small tins at my local Asian market tho.
A whole salmon filet portioned out into 2″ slices. I did this so that when I served I wasn't cutting into a whole filet, causing the salmon to flake apart. Salmon slices easier before it's cooked.
What Exactly Is Curry Made Of?
Curry has been around for thousands of years. Different regions, cultures, ethnicities all have their variations. But at its core, most curries contain a combination of spicy peppers, turmeric, coriander, ginger, and cumin. If you don't have curry on hand, but you have those spices then try mixing up your own.
Curries are considered "red", "green", or "yellow" based on the base ingredients. Some curries are super spicy, while others less spicy and more herbal.
I personally love trying different styles of curry and always look for new ones to try. The ones I find at the Asian markets are "wet" rather than dry and might contain ingredients like lemongrass for example.
How to make quick curry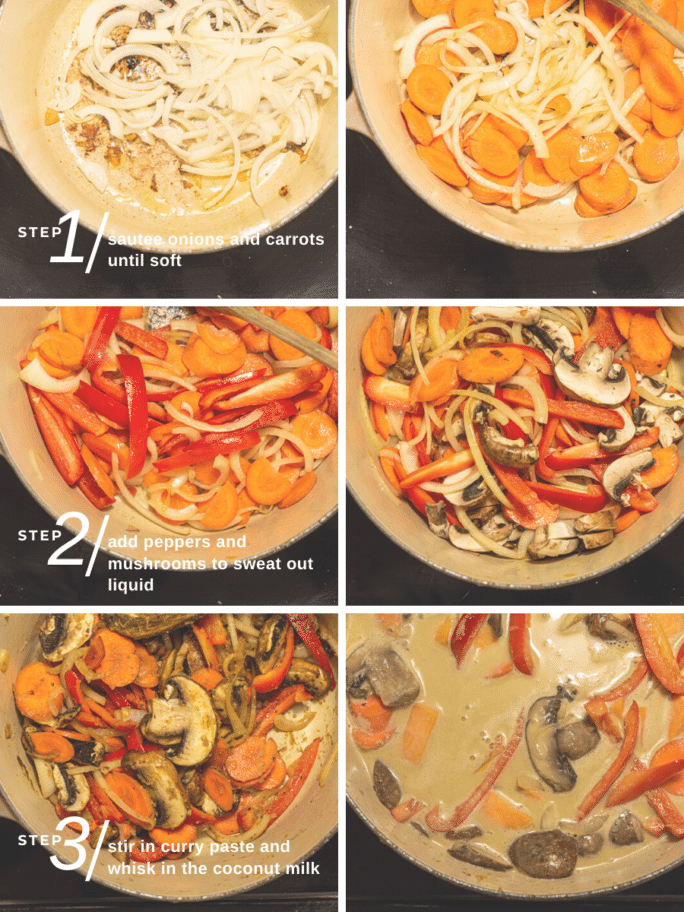 This dish is like a stir fry, in that, it's best if you prep everything ahead of time. Once it's all chopped, it comes together in under 30 minutes for a delicious dinner.
You simply start by sauteeing the onions and carrots until they are tender and then add the peppers and mushrooms for a few minutes longer. But, I like a crunch to my veggies, so I don't overcook them.
Adding the curry paste is the only 'hard' part, just because you want to cook it for 30 seconds or so before stirring to coat all the veggies. From there you pop in the garlic and ginger, and then whisk in the coconut milk and par-cooked potatoes. It simmers while the salmon bakes in the oven and you prep your rice or noodles.
I add green beans at the very last minute to make sure they are bright green and crunchy when I serve my curry.
To plate, I pile things in bowls starting with my rice, then a salmon filet and top it all with a huge portion of creamy delicious curry over top with a ton of veggies to mix in with the rice and salmon. It looks super fancy and fresh.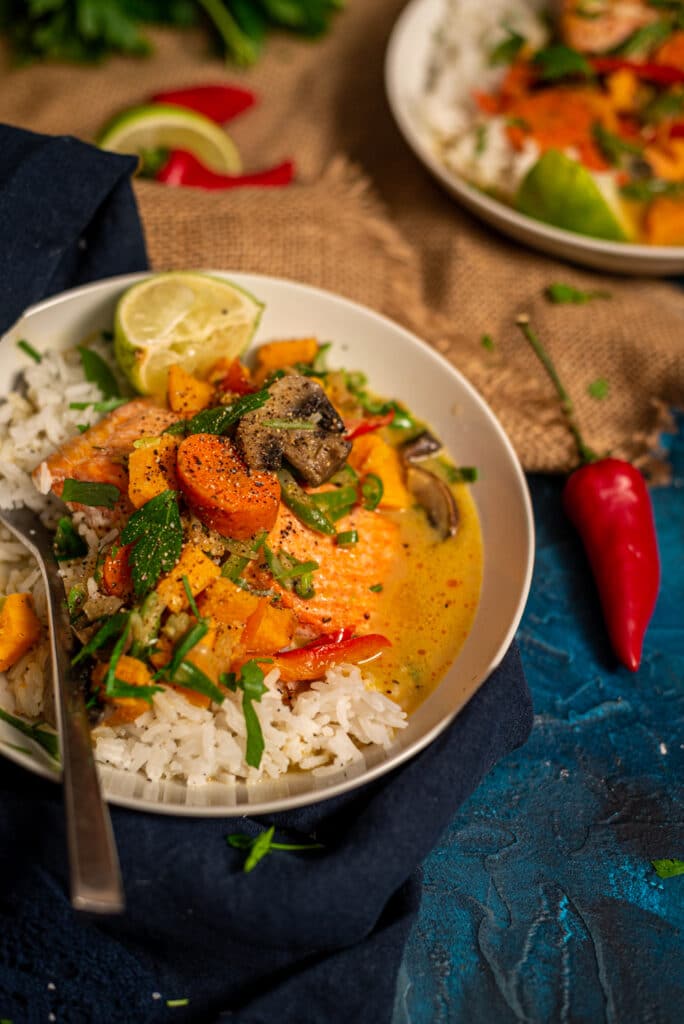 What type of salmon do I buy at the market?
Shopping for fish at your local market is increasingly hard. I always ask my fishmonger what's fresh and what they recommend. I personally love Copper River Salmon, the fish is a deep red that hasn't been dyed and the flavor is the cleanest salmon I ever enjoyed. Salmon runs in seasons so that will affect what is at the market.
Sockeye, coho, and king all run at different points in the summer. All are delicious but coho and king definitely top the scales for fine dining. (You will spend more for them.) Especially if it comes from a special place like the Copper River Alaskan Salmon.
If you are as particular as I am, you want to make sure the salmon is labeled Copper River Salmon or Prince Edward Sound for my favorites.
What to serve with salmon curry
Salmon curry is perfect ladled over rice – or cauliflower rice if you are sticking to a whole 30 diet. It is also fun served over thick udon noodles to slurp. I love serving it in big bowls, over any of the above, with a fresh-baked filet on top.
If you feel it's needed a grilled naan bread is also delicious to help scoop up the extra curry and veggies from the bowl.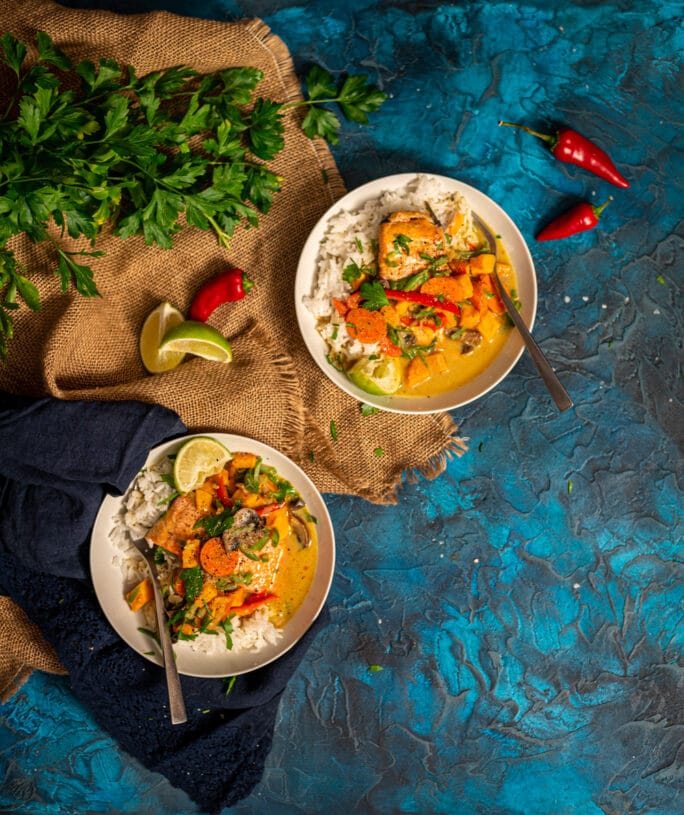 Want more delicious inspiration? Try some of my favorite recipes
If you've tried this recipe or any other recipe on GirlCarnivore.com please don't forget to rate the recipe and let me know where you found it in the comments below.
I get inspired by your feedback and comments! You can also join in on the adventures on Instagram @girlcarnivore, Twitter & Facebook.
Quick Salmon Curry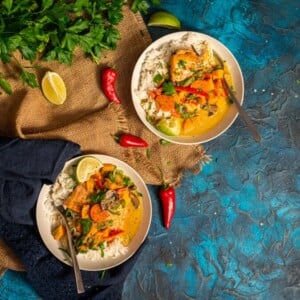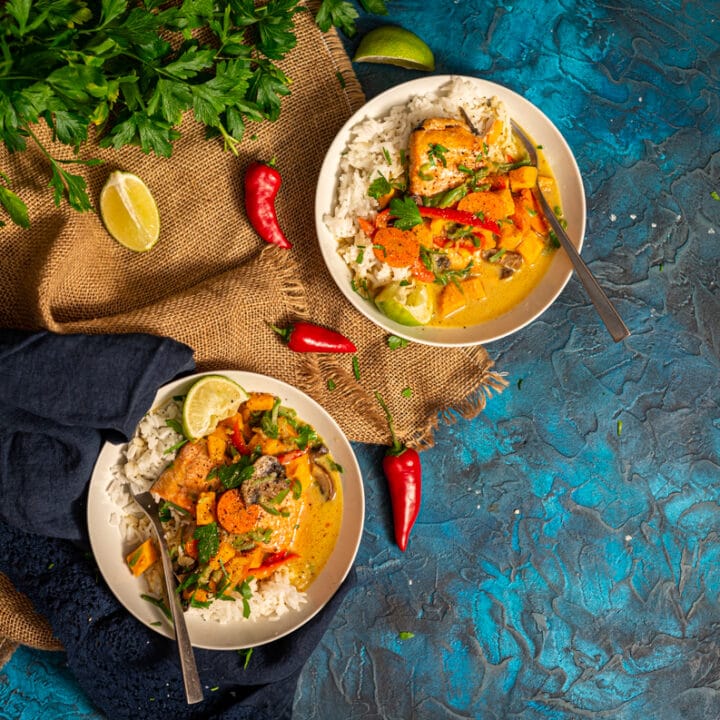 Everything about this fast and healthy recipe is so good. Salmon curry is loaded with comforting spicy flavor and is perfectly clean eating comfort food.
Ingredients
2

lb

salmon

portioned into 3 to 4 oz servings

1

tbsp

salt

divided

2

tbsp

olive oil

divided

1/2

onion

sliced

3

carrots

diced

1

bell pepper

stemmed, seeded and sliced

1

cup

mushrooms

sliced

1

tbsp

ginger

finely grated

2

garlic cloves

minced

2 – 4

tbsp

green curry paste

2

cups

coconut milk

1

cup

green beans

chopped into 2" pieces

2

cups

rice

cooked
Instructions
Preheat the oven to 350 degrees F.

Pat the salmon dry and season with 1 teaspoon salt.

Arrange the salmon on a baking dish greased with 1 tbsp olive oil, skin side down.

Bake for 17-20 minutes, until salmon flakes easily with a fork.
Meanwhile, Make the Curry
Preheat a large Dutch Oven over medium heat. Add the remaining tablespoon olive oil and swirl to coat the pan.

Sautee the onion 2 to 3 minutes.

Add the carrot and cook 2 to 3 minutes longer to soften.

Add the sliced peppers and mushrooms and cook 1 to 2 minutes longer.

Work in the curry paste and allow it to cook for about 30 seconds to a minute before stirring it in to coat the veggies.

Add the garlic and ginger and cook 30 seconds longer.

Whisk in the coconut milk and bring to a low simmer. Allow the curry to simmer while the salmon bakes.

Add the green beans right before serving and cook for a minute or two.

When ready to plate, spoon rice into bowls and top with a salmon filet. Ladle a hearty portion of veggies and curry over top.

Garnish with minced cilantro and lime wedges if desired.
Notes
I love serving this over rice, or cauliflower rice when I am doing whole 30. But it's also great over zoodles and thick udon noodles as well. 
To store leftovers, save each in individual air tight containers for up to 3 days. 
Reheat individually as well to prevent the salmon from getting soggy.
Often times whole filets are cheaper than the pre-portioned ones at the market. If that is the case, buy and slice yourself. Cut them about 1 1/2 to 2″ thick – or about 3 to 4 ounces each. Portioning before you cook the salmon makes for clean cuts. 
Thai Kitchen makes whole 30 compliant curry paste. Be sure to always check the ingredients but I use this a lot! 
Nutrition
Serving:
1
g
|
Calories:
332
kcal
|
Carbohydrates:
29
g
|
Protein:
19
g
|
Fat:
15
g
|
Saturated Fat:
8
g
|
Cholesterol:
42
mg
|
Sodium:
633
mg
|
Potassium:
610
mg
|
Fiber:
1
g
|
Sugar:
2
g
|
Vitamin A:
2952
IU
|
Vitamin C:
16
mg
|
Calcium:
35
mg
|
Iron:
2
mg