This cast-ironed blackened salmon recipe is one of our favorite easy recipes–it offers all your daily nutrients wrapped up in a medley of Cajun flavors that pack a punch. It's the perfect way to get in all your macros (and some servings of fruits and veggies, plus omega-3 fatty acids to boot) without sacrificing bold flavors and exciting textures.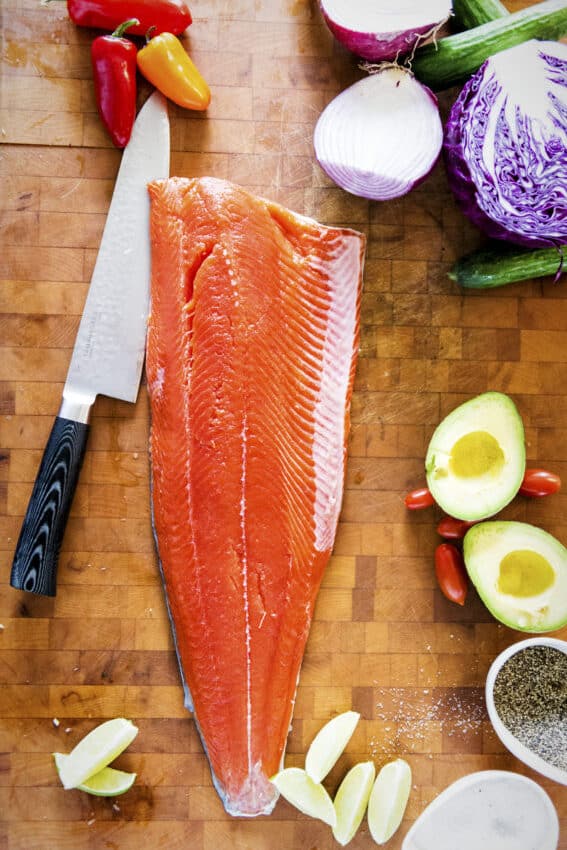 Why Blackened Salmon?
A staple in Cajun cuisine, blackened fish is ultra-flavorful. A blackening spice blend is a seasoning mix of paprika and other spices, which turns a dark color when applied to high heat. You can find them pre-made at your local market.
The fish is coated in a crust made of a unique seasoning blend that is cooked on cast iron for a fantastic sear and offers a crunchy, spicy texture. It's a delicious way to serve healthy lean protein without sacrificing your flavor craving. Just like with pan seared salmon, it's a great fish that can hold up to the heat without falling apart.
We use a blend of blackening spices and a hot cast iron skillet for a quick pan sear to lock in the flavor without drying out the fish. Salmon is an excellent choice for this fish recipe because it can hold up to the heat without falling apart.
And not just salmon, blackening is a great cooking method when you want to amp up any delicious dinner, like our favorite blackened swordfish or chicken over creamy mac and cheese.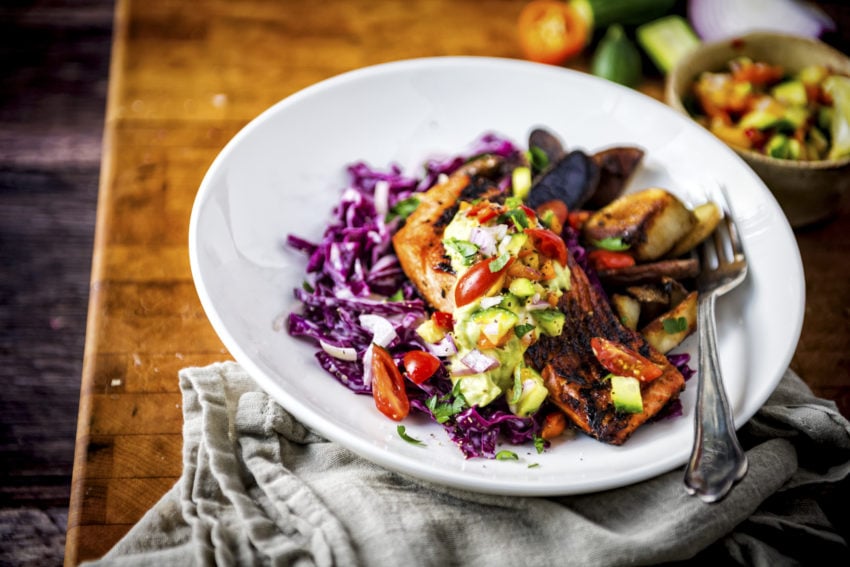 Why You'll Love This Recipe
This delicious blackened fresh salmon is served with a tangy cucumber mango relish, a crunchy, acidic cabbage slaw, an optional side of fingerling potatoes, and a creamy, slightly spicy avocado crema. It's a powerful medley of flavors, and yet it's super healthy meal and packed with protein and veggies. It makes the perfect dinner for fancy occasions and regular weeknights alike!
Not to mention, salmon is just good for you. Loaded with healthy fats and Omega-3 fatty acids, its a great choice when mixing up the proteins the diet.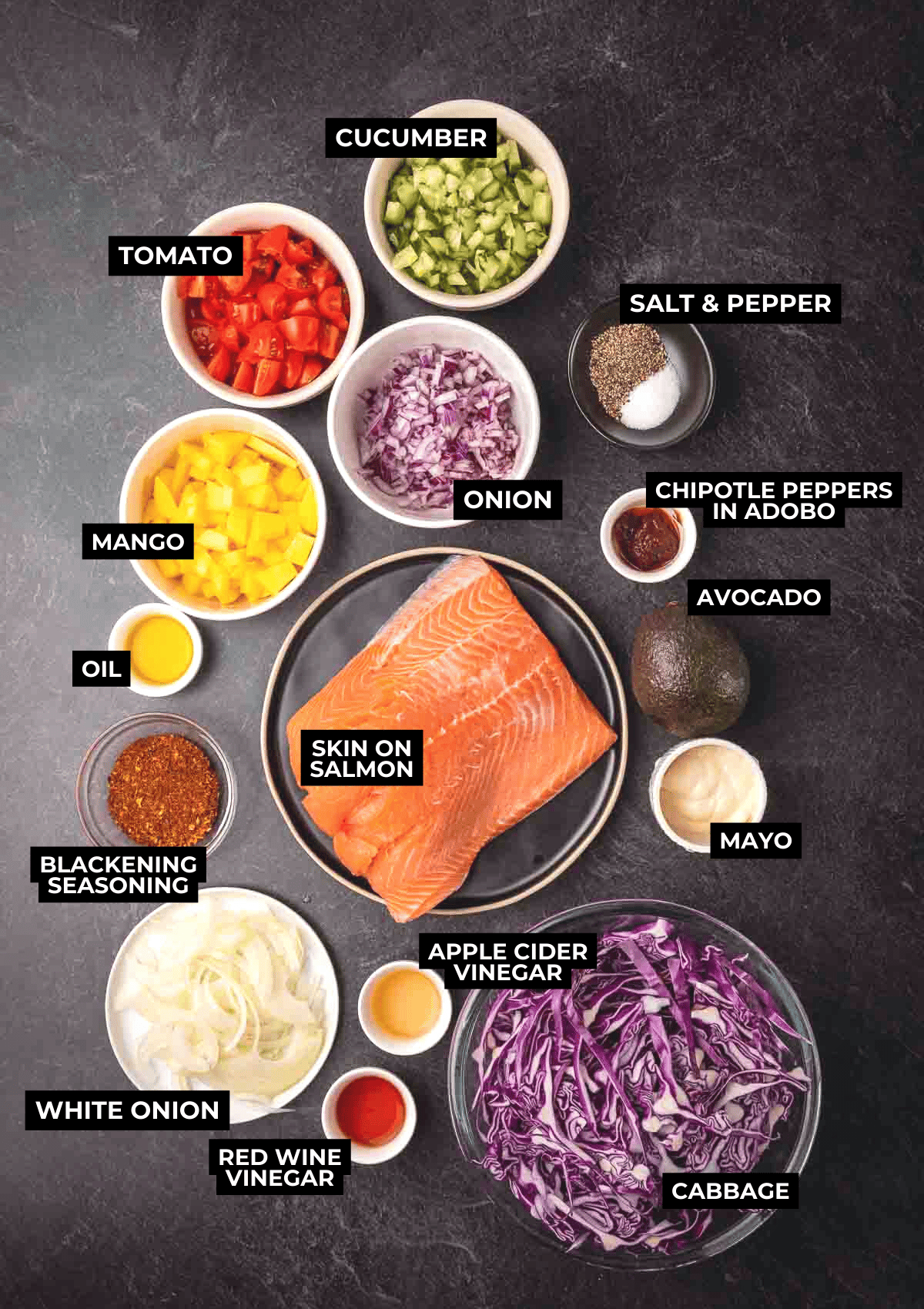 Ingredients:
For the Blackened Salmon
Skin-on salmon fillet, sliced into individual fish fillets – we love Copper River Salmon whenever we can get our hands on it.
Salt – we always use kosher salt
Pepper – we always use freshly ground black pepper
For the Cucumber Mango Relish
Cucumbers, minced
Red onion, minced
Mango, diced
Olive oil
Cherry tomatoes, chopped
Fresh parsley, minced (for garlic)
For the Crunchy Crabby Slaw
Red cabbage, sliced thin
Onion, sliced
Apple cider vinegar
Red wine vinegar
Salt
Pepper
For the Avocado Crema
Avocado
Mayo
Salt
Pepper
Chopped chipotles in adobo sauce
How to Make Blackened Salmon
Start by heating a large cast-iron skillet over medium-high heat until smoking hot. As the pan heats, pat the salmon dry and sprinkle it with a heavy, even coating of your blackening spice mixture. Season with salt and pepper to taste.
Place each salmon filet, skin side up, on the smoking hot skillet and allow the flesh side to "blacken" (you'll see a solid crust from the seasoning when it's pan seared). Flip and cook the salmon skin side down for 5 to 7 minutes. Salmon should be cooked to 140 degrees F with an instant-read thermometer or until it flakes easily with a fork.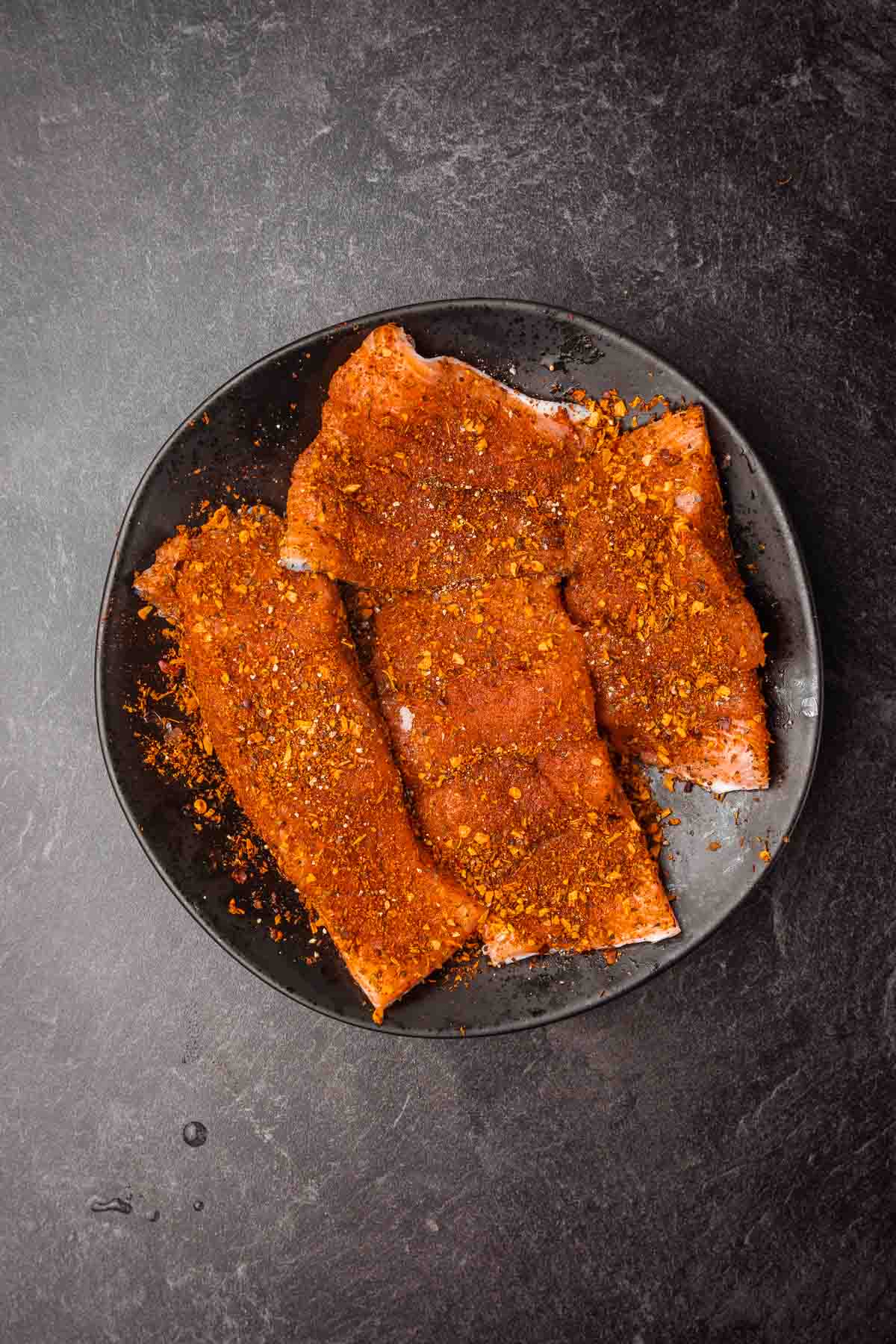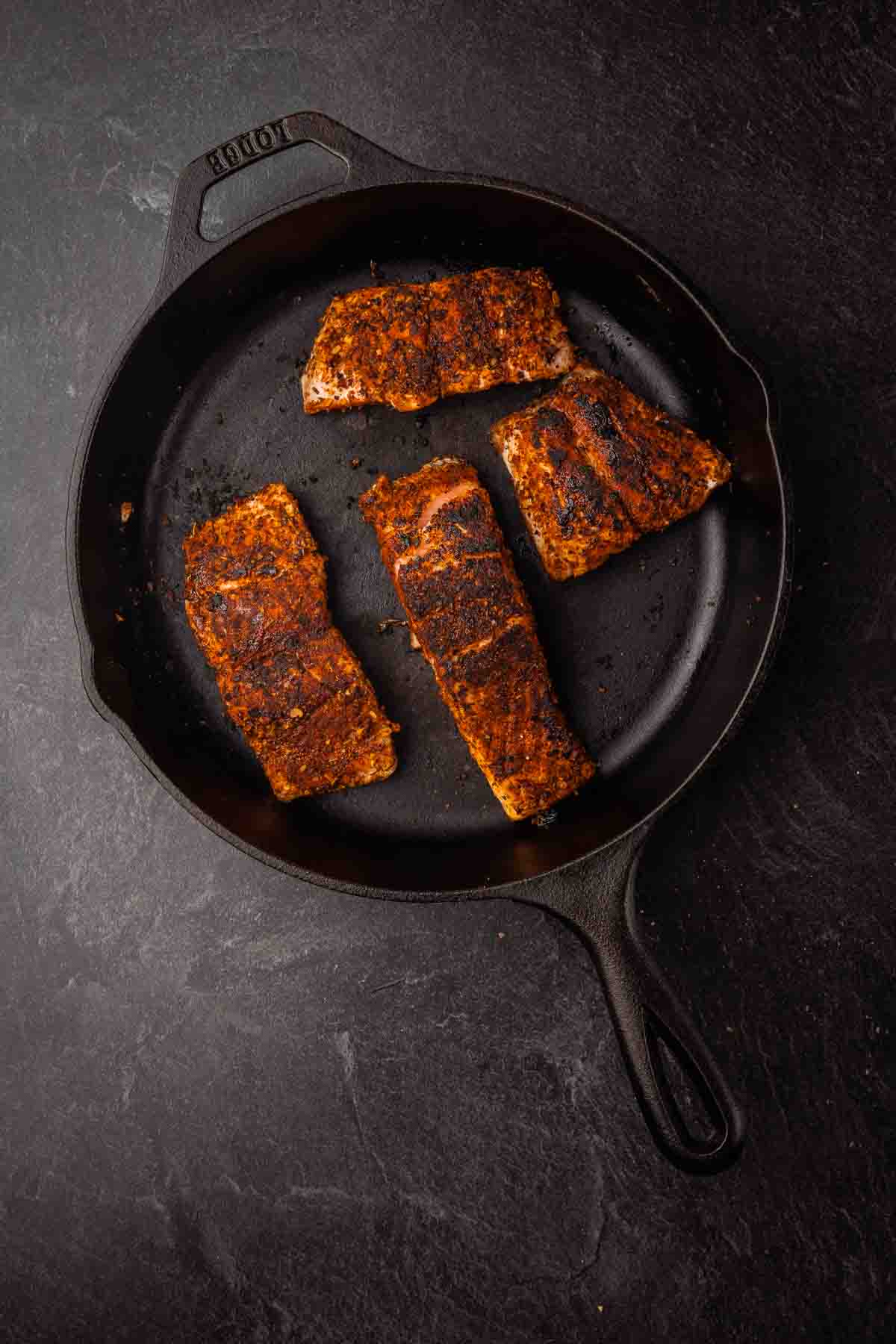 Meanwhile, as the salmon cooks, toss the cucumber, red onion, and mango in a small bowl with olive oil until evenly combined to make the salsa.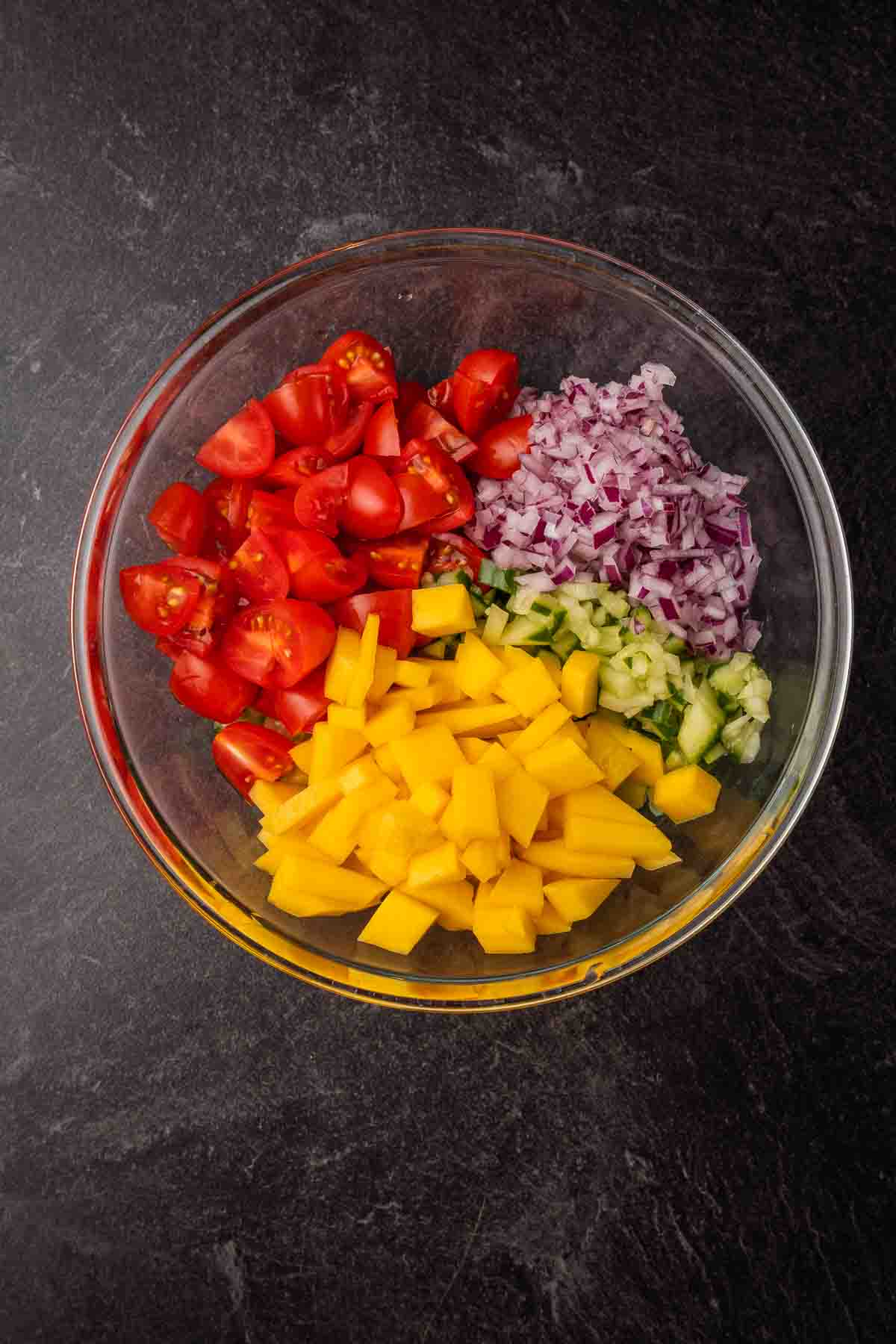 To make your slaw, toss the cabbage and onion. Add apple cider vinegar, red wine vinegar, salt, and pepper and toss to combine.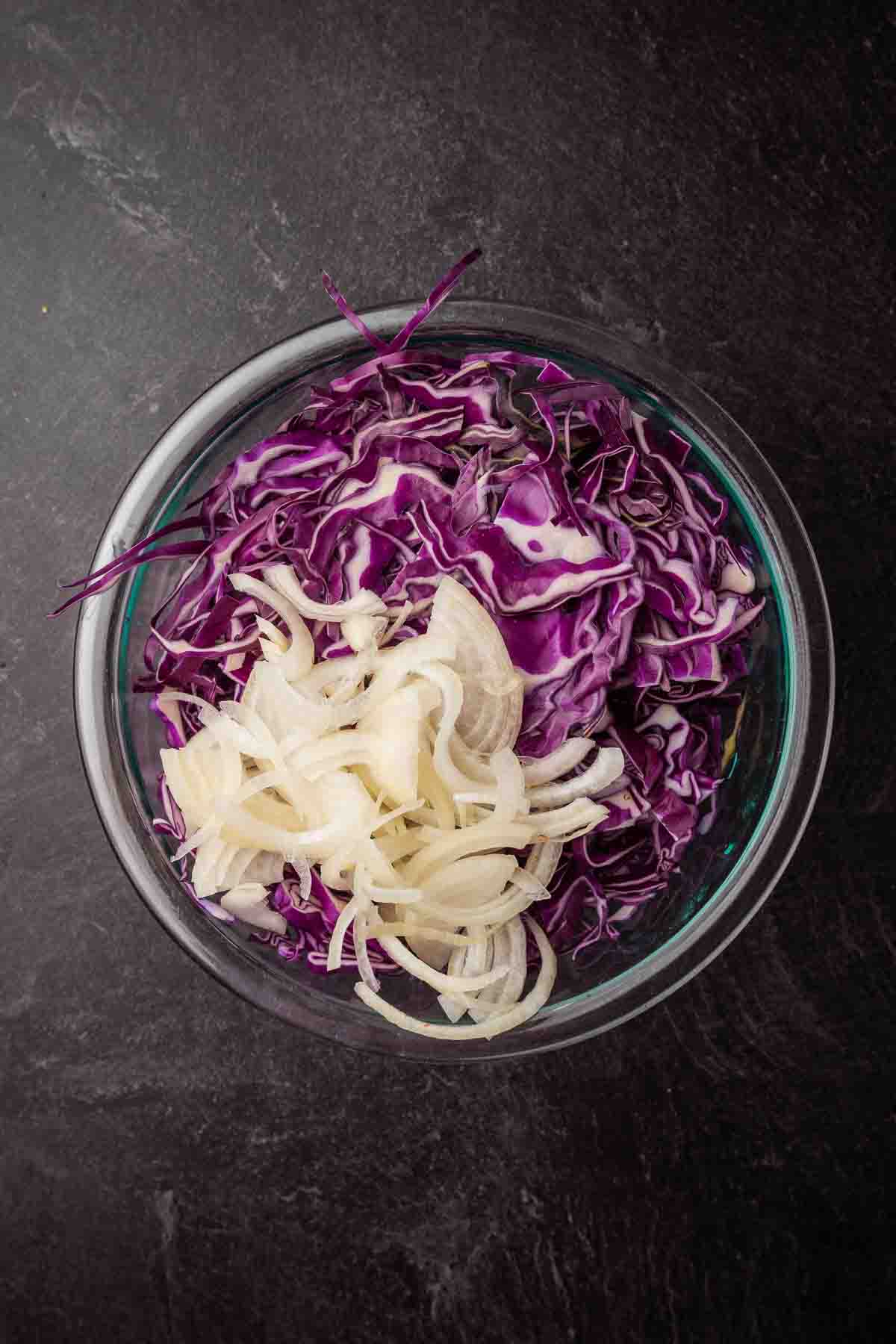 As the salmon finishes cooking, mash the avocado and stir in the mayo, salt, pepper, and chopped adobo chipotles.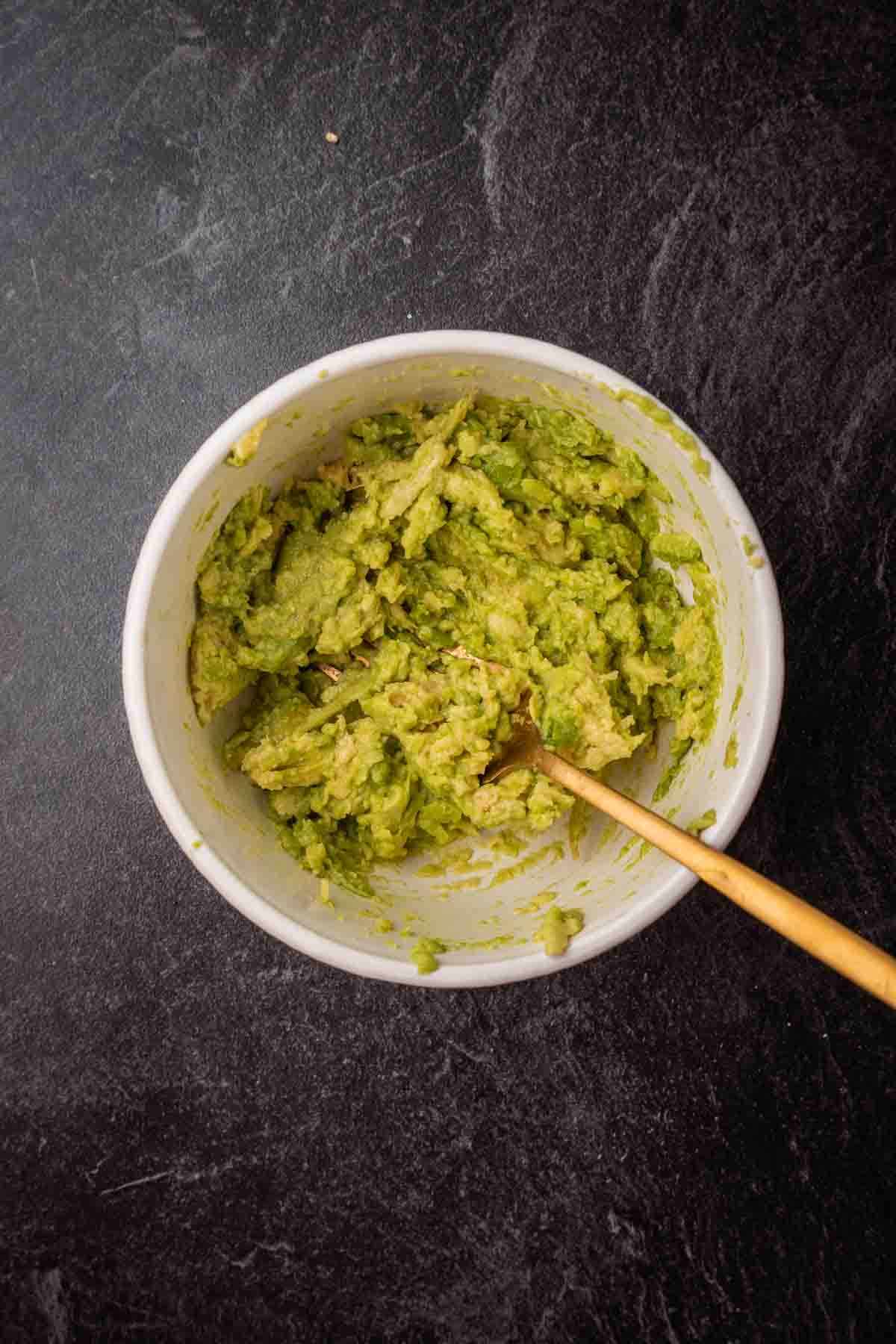 Finally, arrange the blackened salmon fillets atop the cabbage slaw (and roasted fingerling potatoes if desired) to plate your dish. Spoon the avocado crema over each plate and top with a dollop of the mango salsa. Voilà!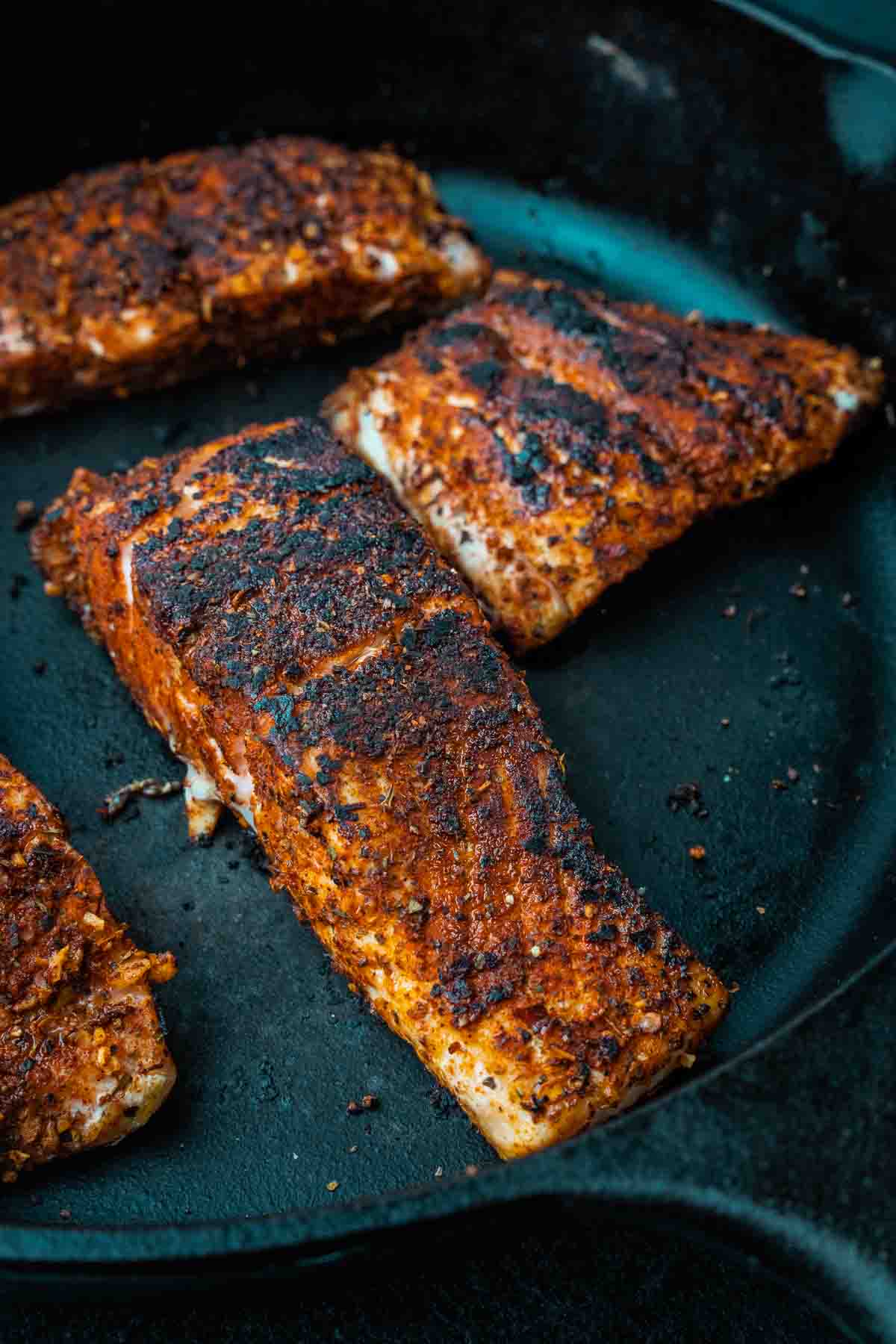 Expert tip
A hot pan is key to getting the blackening seasoning locked in on the exterior of the fish and cooking without drying it out. The key here is to wait until the pan has just started to smoke; that means it's ready to go, and you can gently place the salmon in. If the pan is smoking a lot, stop and don't put the fillets in. Carefully pull it off the heat and let it cool down. Blackening is delicious, burnt is not.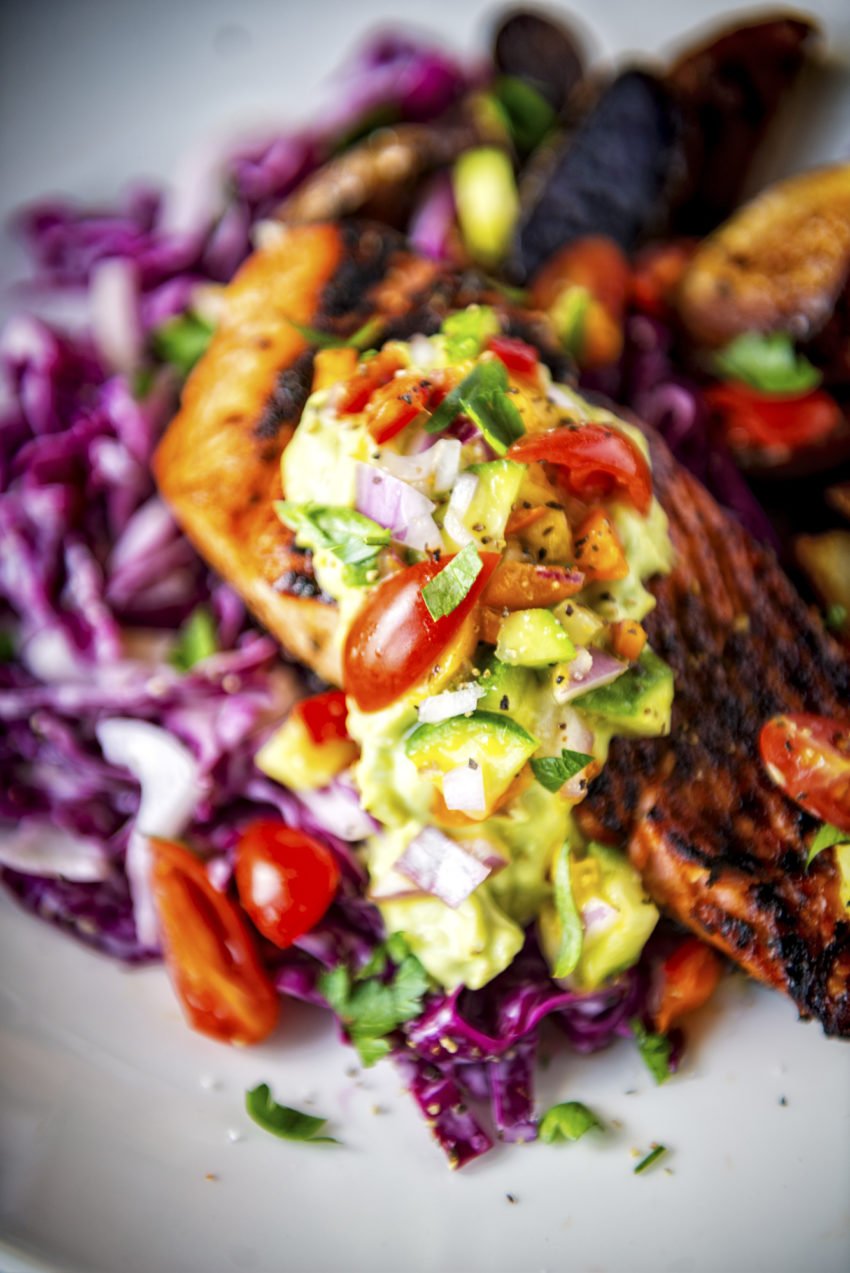 How to Store Leftovers & Reheat
In an airtight container in the fridge, leftover salmon will last for another day or two. Cooked salmon also lasts in the freezer for up to 4-6 months, but be warned that the texture may change over time, and we don't recommend it.
You can reheat this blackened salmon to enjoy again on the stove or in the oven! Just wrap the salmon in foil and pop it in a preheated oven set to 325 for 10 minutes, until heated through.
What to Serve with Blackened Salmon
The best part of this healthy salmon recipe is that it's made with simple ingredients and goes with almost any of your favorite side dishes. It's delicious served with cabbage slaw, fingerling potatoes, avocado crema, and mango salsa as we have it shown. But otherwise, a side of rice, cauliflower rice, broccoli, quinoa, or mashed potatoes are other perfect complements. If you're feeling wild, turn this into salmon tacos!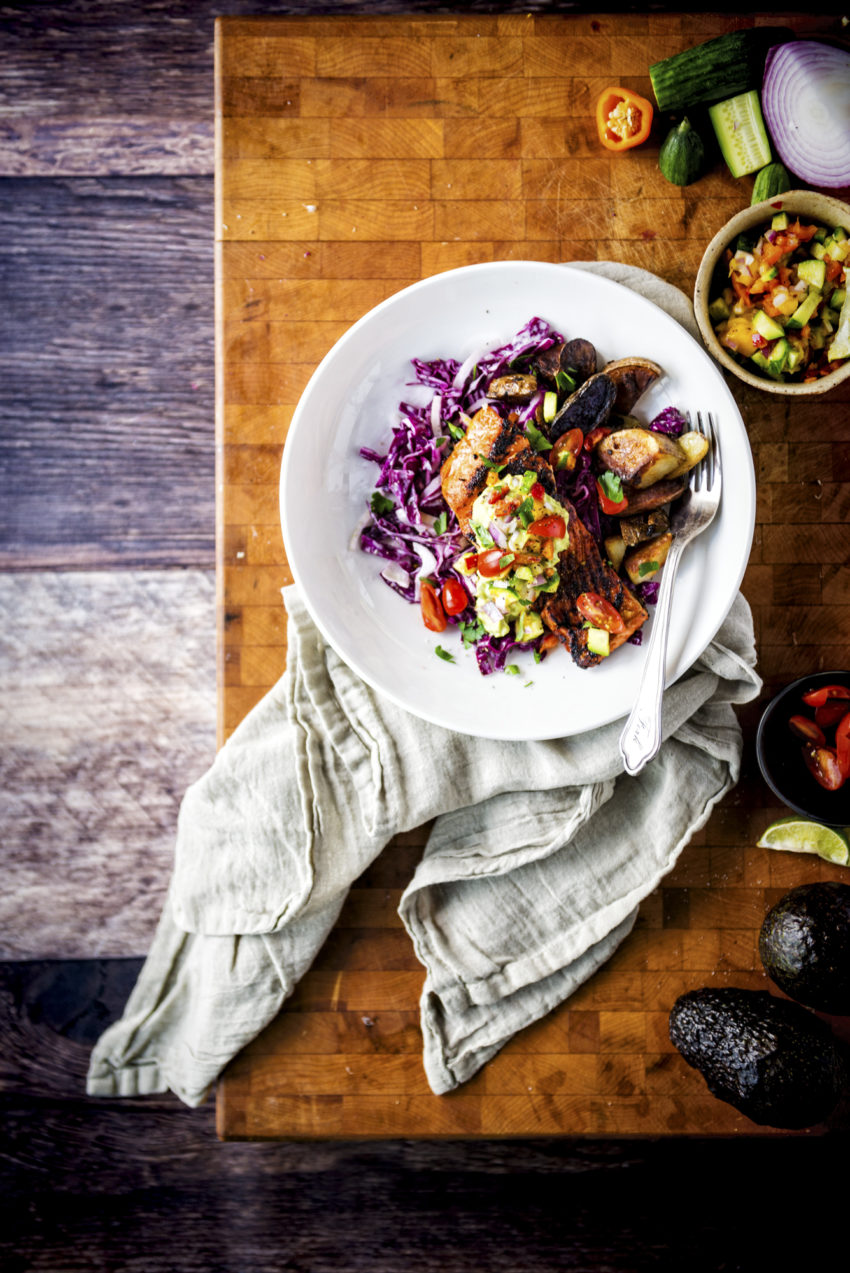 FAQs
IS BLACKENED SALMON SPICY?
Blackened salmon is slightly spicy, ok, it's spicy. But also offers so much flavor. It's savory, buttery, and rich. You can adjust spice levels by choosing your blend or spice mix according to your preference! We also love pairing blackened dishes with something creamy to cut the heat, which is why the slaw on this recipe is a great combo.
HOW LONG SHOULD YOU COOK BLACKENED SALMON?
This recipe calls for your blackened salmon to be cooked for approximately 15 minutes. This is smack dab in the middle of the general range, which spans from 14 to 18 minutes for the fish to be cooked through.
WHERE DOES THE "BLACKENING" TECHNIQUE COME FROM?
Originally from Cajun cuisine and made using Cajun seasoning, the "blackening" technique was popularized across the U.S. by Chef Paul Prudhomme, who was responsible for popularizing many Cajun dishes such as dirty rice, jambalayas, and gumbos (all of which he grew up eating throughout his Louisiana childhood and worked as an adult at his New Orleans restaurant).
MORE SALMON RECIPES YOU'LL LOVE:
Did you enjoy this blackened salmon? Don't forget to rate the recipe and let us know in the comments below–what did you serve it with? Did you make it for a special occasion, or just to jazz up one of your busy weeknights?
Cast-Ironed Blackened Salmon Recipe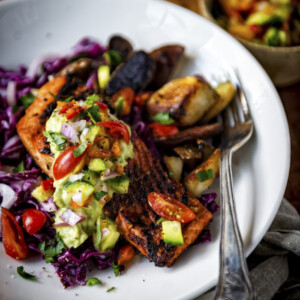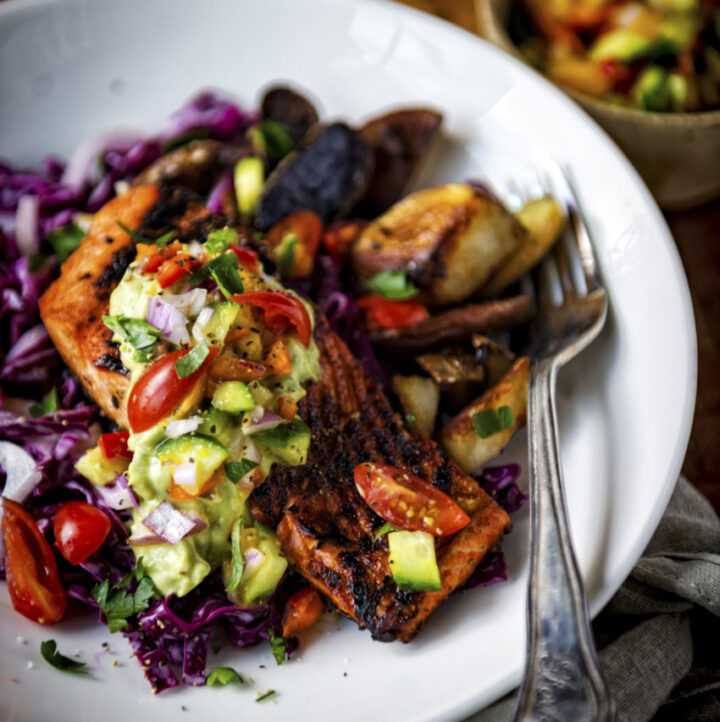 Blackened salmon served with a delicious medley of fruits and veggies and an avocado crema–it's a Cajun-inspired delight that brightens up any dinner plate!
Ingredients
1

skin on salmon filet

about 2 lbs, sliced into portions to make cooking easier

2

tbs

blackening seasoning

salt and pepper
for the Cucumber Mango Relish
cucumbers

minced

red onion

minced

1/2

mango

diced

1

teas olive oil

Cherry Tomatoes

chopped

fresh parsley

minced for garnish
For the Crunchy Crabby Slaw
1/2

red cabbage

sliced thin

1/2

onion

sliced

1

teas apple cider vinegar

1

teas red wine vinegar

salt and pepper
For the Avocado 'Creama'
1

avocado

1 to 2

tbs

mayo

salt and pepper

1/2

teas chopped chipotles in adobo sauce
Instructions
Prep the salmon
Heat a heavy cast iron skillet over medium-high heat on the oven or grill top until smoking hot.

Meanwhile, pat the samon dry and sprinkle a heavy coating of blackening season evenly over it.

Season with a pinch of salt and pepper if desired.
Blacken the salmon
Place the salmon, with the skin side up in the hot pan, and allow the salmon to 'blacken', cooking until there is a solid crust from the seasoning and the salmon pulls from the pan without tearing, about 2 to 3 miutes.

Flip and allow the salmon to cook through, skin side down until it reaches 140 degrees F, and flakes easily with a fork.

Remove the salmon from the skillet and set aside to rest.
Make the salsa & cabbage
Meanwhile, toss the minced cucumber, red onion, and mango in a small bowl. Add the olive oil and toss to combine.

Make the slaw by tossing the cabbage and onion. Add the apple cider vinegar and red wine vinegar, season with salt and pepper and toss to combine.

As the salmon finishes cooking, mash the avocado and stir in the mayo, salt and pepper and chopped chipoltes.
Assemble and serve
Arrange the dish with cabbage slaw, roasted fingerlings (if serving), with the salmon on top.

Spoon the avocado creama over each and top with a dollop of the mango salsa.
Notes
When blackening, we always open a window and have a fan running to help air out the room. When the spices hit the heat, the peppery aroma can cause sneezing. 
This recipe is perfect on a cast iron griddle or pan or the grill top directly on the grill grates. 
A hot skillet is essential for this recipe to sear the salmon quickly, allowing the crust to form so you can flip it easily. 
Nutrition
Serving:
1
g
|
Calories:
111
kcal
|
Carbohydrates:
9
g
|
Protein:
6
g
|
Fat:
7
g
|
Saturated Fat:
1
g
|
Cholesterol:
12
mg
|
Sodium:
315
mg
|
Potassium:
385
mg
|
Fiber:
3
g
|
Sugar:
4
g
|
Vitamin A:
817
IU
|
Vitamin C:
38
mg
|
Calcium:
32
mg
|
Iron:
1
mg