Want a fancy fresh dinner that looks good enough to impress anyone in under 30 minutes? This Cast-Ironed Blackened Salmon with Cucumber Mango Relish and Avocado 'Cream' will win anyone over. Any one it doesn't can eat somewhere else.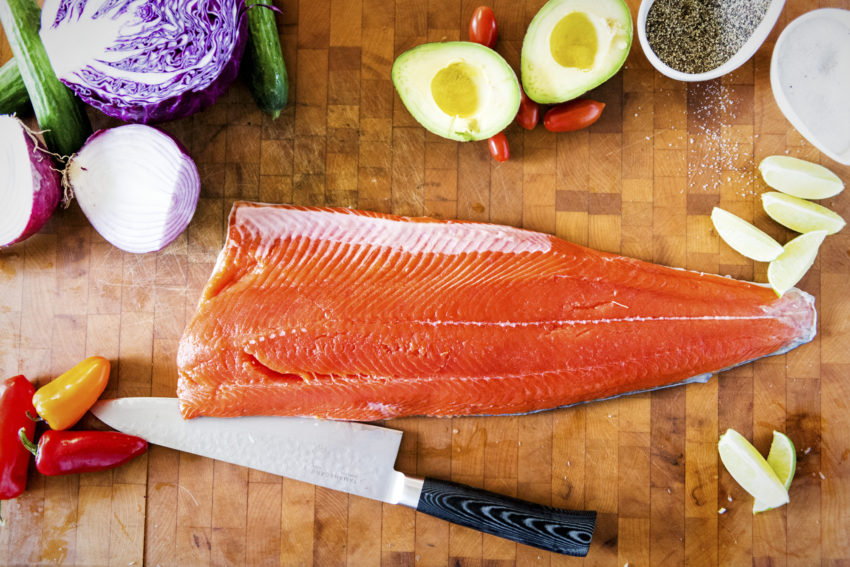 Grab a heavy cast iron pan and let's sit and chat about how cool this dish is. I'm have a deep moment. Maybe it's the bourbon (it's not), but I really am swooning over this recipe.
There are moments when you pause and look at the ingredients in front of you and you stop to realize how much of a gift it is.
I realize that sounds all woo-woo and girly, but stop, take a swig, and talk with me.
See, this box arrives the other day, overnighted from Alaska, with a perfect salmon filet in it. A fish that had been caught and harvested less than 48 hours before by skilled hands. Sent to me.
That is a gift.
This creature is a gift.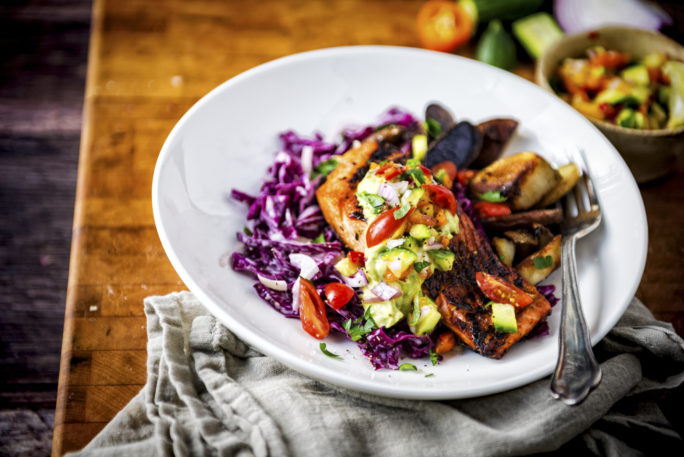 And it makes me want to create meals that you can make in your own home quickly, that highlights the salmon as best it can. It packs in flavors and hopefully motivates you to step up your own kitchen skills.
I wanted to honor this salmon by not overpowering it with too many things, only using real ingredients to pair with it, and to create a beautiful meal that has you all running to the market to cook dinner tonight (and seriously, you should, this takes less than 30 minutes!).
A simple pan sear – aka blackening – is what I decided on for this. With local produce and a pop of heat. And damned if I don't feel like I did a good job. (this is my go-to blackening seasoning by the way)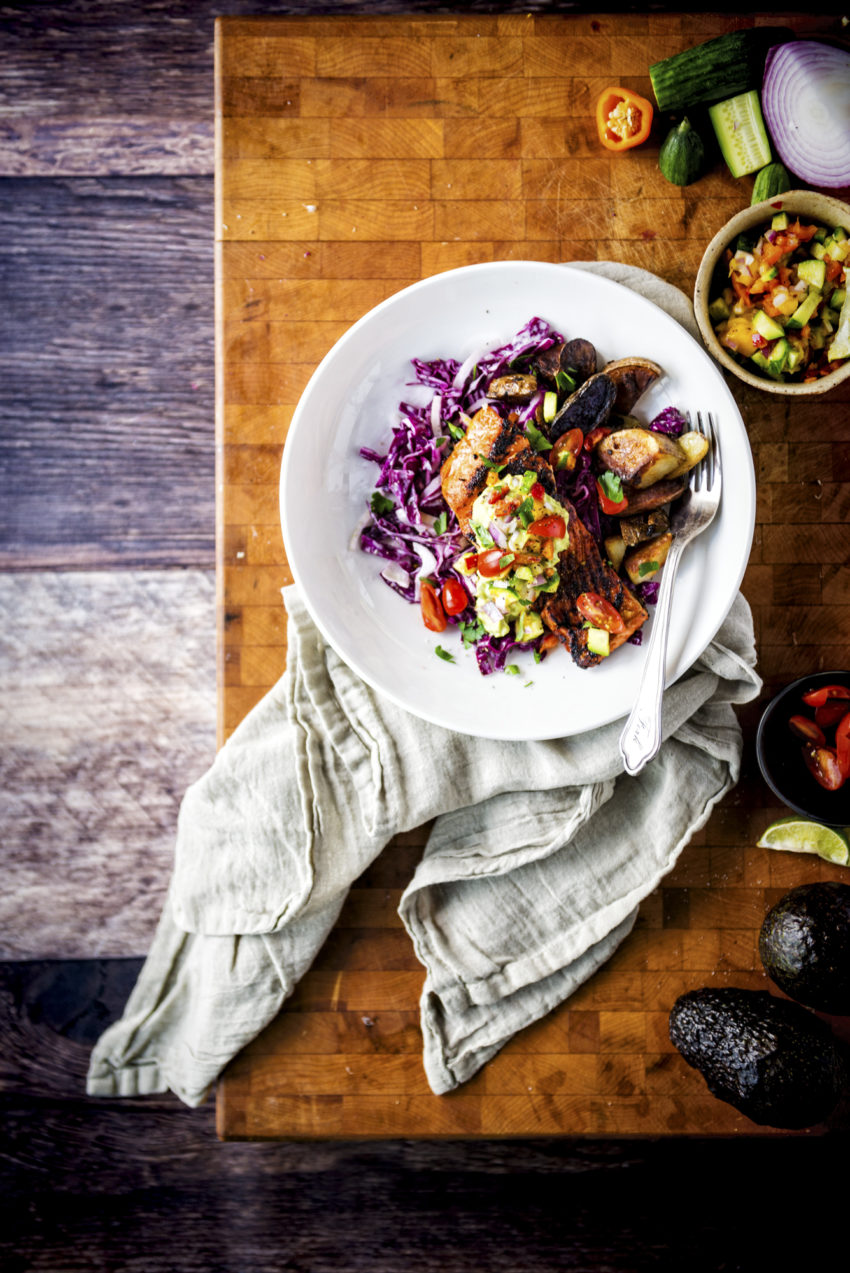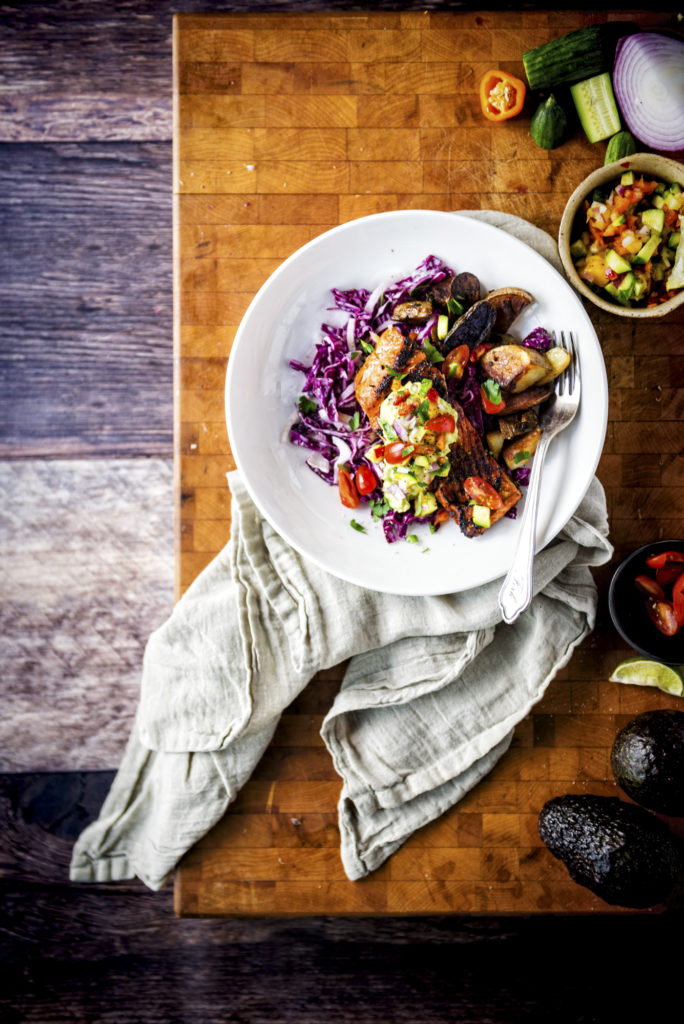 You'll just have to go get your hands on some fresh salmon, create this and let me know what you think.
Meanwhile, let me know what one ingredient you have received, harvested yourself, or use that you feel is a gift – and that you want to showcase when you get to use it. Chime in below on the comments, hop over the the Facebook group, or leave a comment on the instagram. I would love to know. Side note, any of you are hunters and want to share any of that harvest with me, I am always game 😉
(PPS, you should really be following on Insta and facebook – cuz I am coming to you LIVE with more content! Happy Hour Chats – Friday Nights at 5PM EST. Join us for random chats! Hope to see you there)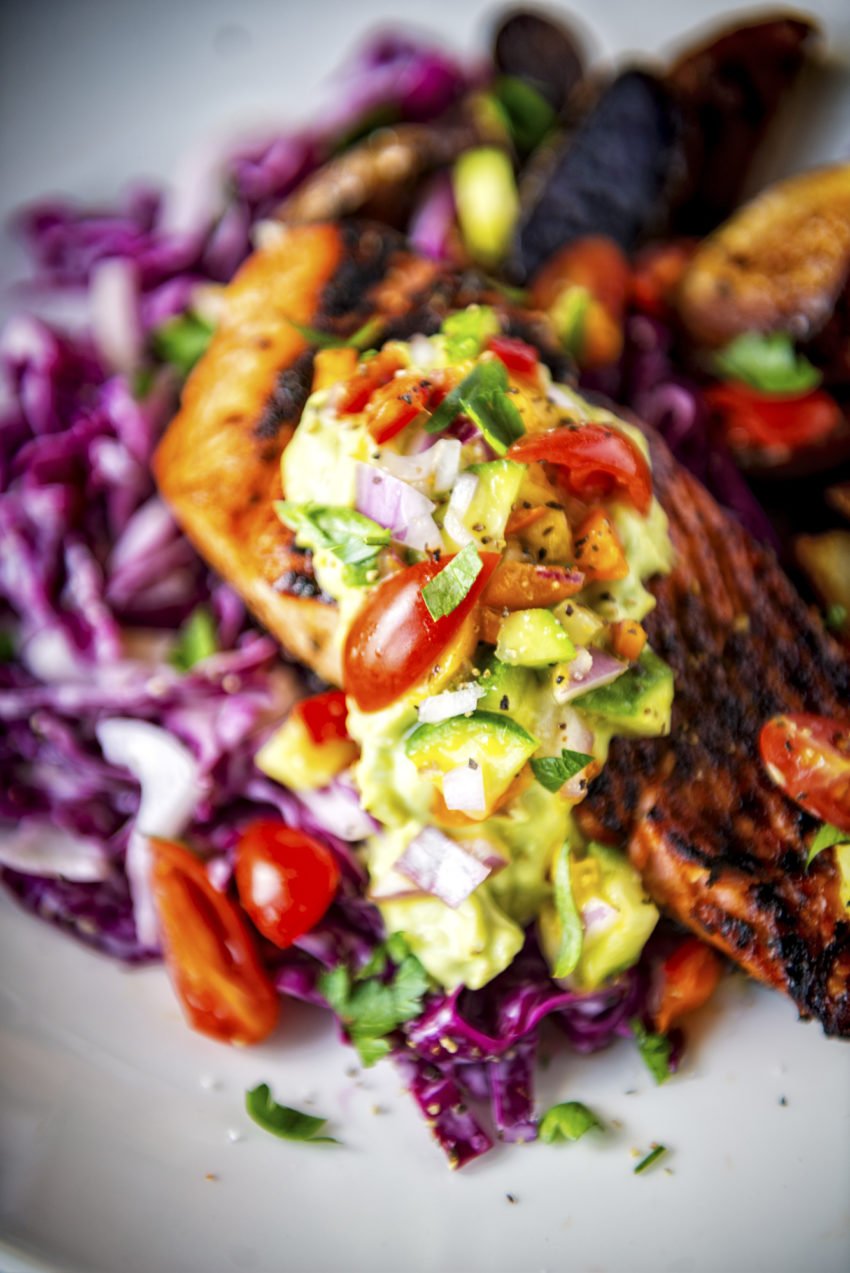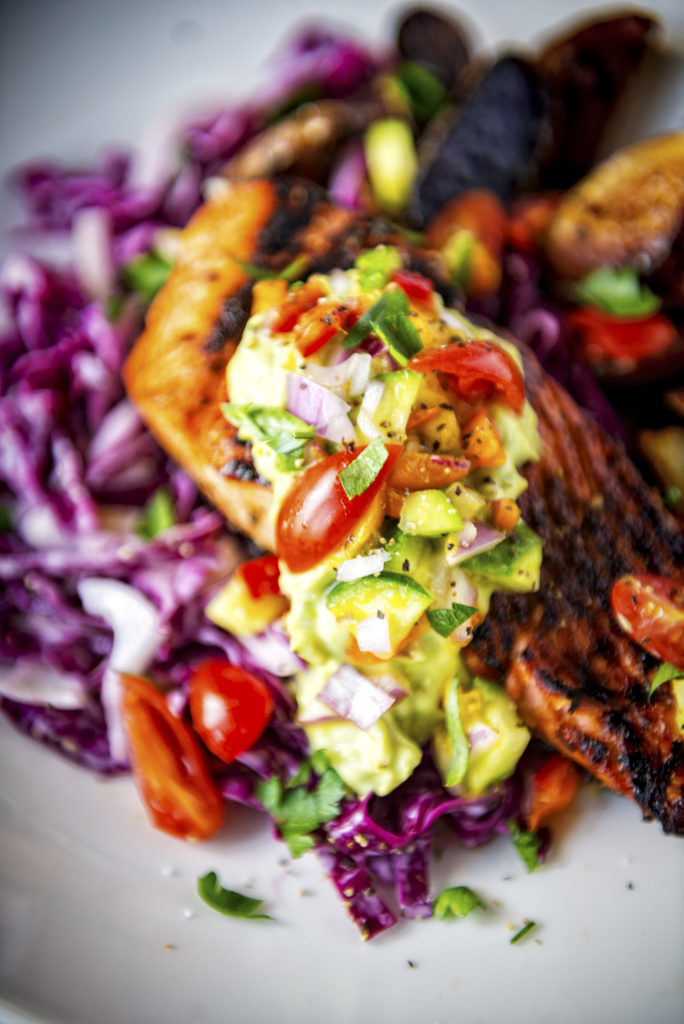 The wonderful people of Copper River Salmon shipped me this beautiful filet, this is not a sponsored post. But I did enjoy the shipment so much that I wanted to share it with you with this Cast-Ironed Blackened Salmon with Cucumber Mango Relish and Avocado Cream. I would love to learn more about the fishing and seafood industry soon and share it with you in the way I've been learning about beef. It's so cool seeing their fishing adventures all year long on Instagram! Check them out!
Cast-Ironed Blackened Salmon with Cucumber Mango Relish and Avocado Cream
This is a beautiful whole 30 approved meal that comes together quickly and looks fancy. Impress and don't even break a sweat.
Ingredients
1

skin on salmon filet

about 2 lbs, sliced into portions to make cooking easier

2

tbs

blackening seasoning

salt and pepper
for the Cucumber Mango Relish
cucumbers

minced

red onion

minced

½

mango

diced

1

teas olive oil

Cherry Tomatoes

chopped

fresh parsley

minced for garnish
For the Crunchy Crabby Slaw
½

red cabbage

sliced thin

½

onion

sliced

1

teas apple cider vinegar

1

teas red wine vinegar

salt and pepper
For the Avocado 'Creama'
1

avocado

1 to 2

tbs

mayo

salt and pepper

½

teas chopped chipotles in adobo sauce
Instructions
Heat a heavy cast iron skillet over medium high heat on the oven until smoking hot. Meanwhile, pat the samon dry and sprinkle a heavy coating of blackening season evenly over it. Season with salt and pepper if desired.

Place the salmon, with the skin side up in the hot pan, and allow the salmon to 'blacken', cooking until there is a solid crust from the seasoning and the salmon pulls from the an without tearing. Flip and allow the salmon to cook through, skin side down.

Meanwhile, toss the minced cucumber, red onion, and mango in a small bowl. Add the olive oil and toss to combine.

Make the slaw by tossing the cabbage and onion. Add the apple cider vinegar and red wine vinegar, season with salt and pepper and toss to combine.

As the salmon comes together, mash the avocado and stir in the mayo, salt and pepper and chopped chipoltes.

Arrange the dish with cabbage slaw, roasted fingerlings (if serving), with the salmon on top. Spoon the avocado creama over each and top with a dollop of the mango salsa.
Nutrition
Serving:
1
g
|
Calories:
111
kcal
|
Carbohydrates:
9
g
|
Protein:
6
g
|
Fat:
7
g
|
Saturated Fat:
1
g
|
Cholesterol:
12
mg
|
Sodium:
315
mg
|
Potassium:
385
mg
|
Fiber:
3
g
|
Sugar:
4
g
|
Vitamin A:
817
IU
|
Vitamin C:
38
mg
|
Calcium:
32
mg
|
Iron:
1
mg
Save this recipe
Sign up to save all your favorite recipes!
Yay, you saved!