Making potstickers has been a favorite recipe of mine for years. Inspired by a beautiful sockeye filet, I used it as the base with ginger, scallions, and other traditional flavors for light, perfectly steamed, and toasted potstickers.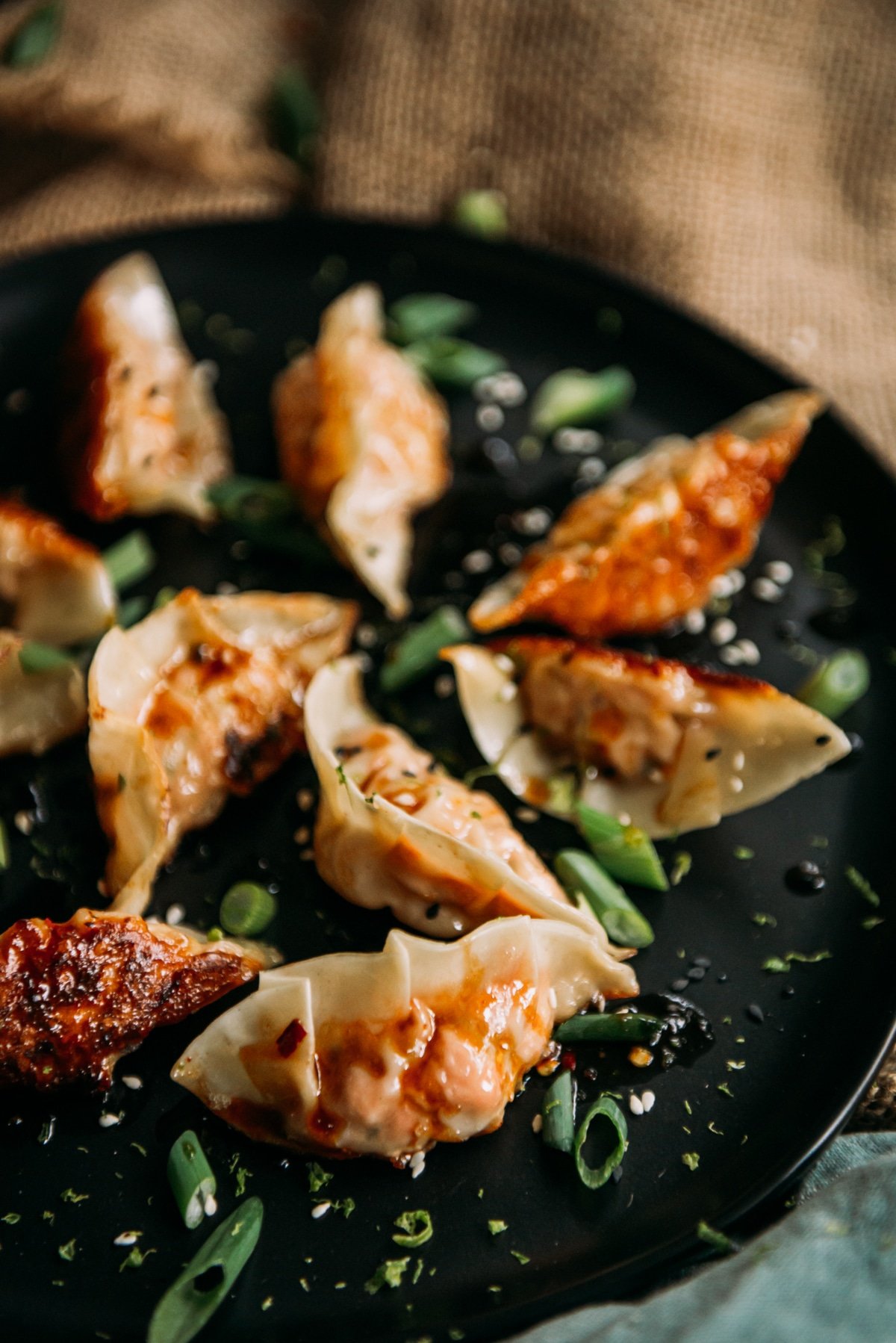 There is something about a really good dumpling. The outer dough has a bit of chew and if it's done the way I like it, the bottom has a nice crisp crunch. The filling is a magical blend of sweet, spicy and savory with a hearty little bite. And of course, there must be a spicy sticky dipping sauce. It's a bite of happy, every time.
The thing is, dumpling making is a project.
Full disclosure, when making potstickers from scratch, it's a bulk process, a few hours in the kitchen, and time best spent with a good friend, who also has clean hands and won't mind pinching shut 452 thousand wrappers with you. (Slight exaggeration there).
With a delivery of fresh salmon to get me craving that Asian inspired flavor combo, I made this last batch while pup sitting in California, and had the joy of sharing my time practicing my Spanish while teaching a woman from Nicaragua how to make these. We swapped notes on cuisines and she was elated to go home with a bag to share with her family. Truth, you can't buy that.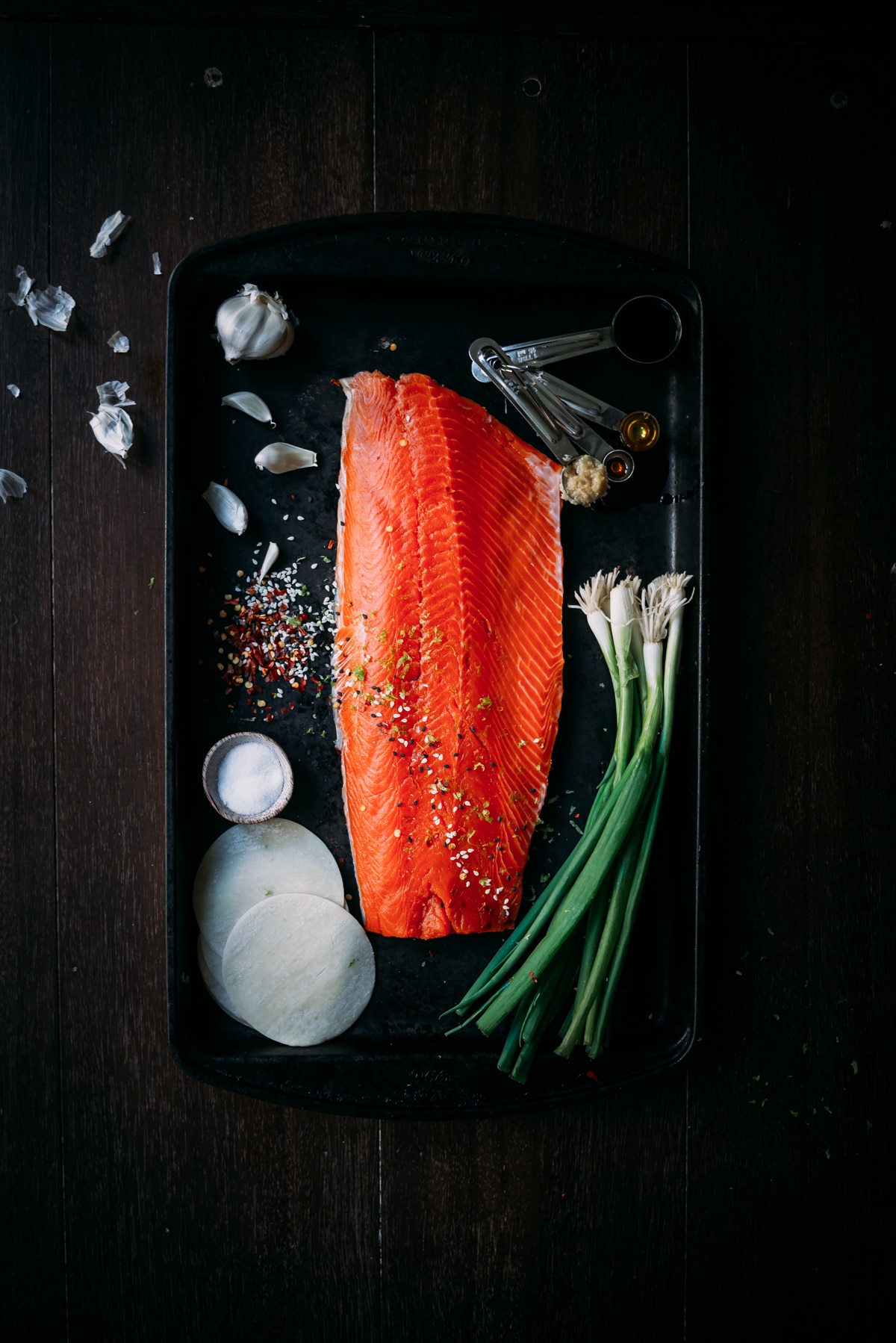 We can get into the debate going if steamed or fried dumplings are better, and this recipe uses both steaming and then frying to achieve the crusty bottom. But the true question to this is…
What's the difference between dumplings and potstickers?
Let's be clear, potstickers are dumplings. So really, you can't have one without the other. The thing that makes a potsticker a potsticker is that they 'stick to the pot while you cook them.' Yep, you nestle them into the pan so that they stand up with their tiny pleated mohawk erect and they will stick to the pan, forming that crust before you steam cook them.
Simply put, a potsticker is a dumpling that has been fried on the bottom to add a little crunch.
If you want to skip the crunch part, just go straight to the steam by adding liquid in the recipe, but you're missing out. Just sayin'.
Making Dumplings
A good workflow is key to making dumplings (that, and a killer Spotify playlist). You want to have everything you need ready to go and laid out. It takes a while the first time you do this, but I promise it does get faster with practice.
Gather your filling ingredients, salmon, garlic, ginger, scallions and some signature flavors like soy sauce, toasted sesame seed oil and mirin (rice wine vinegar – but if you don't have this a splash of white wine and a pinch of sugar are a perfectly fine substitute).
Remove the skin from the fish before mincing and mixing with the filling ingredients.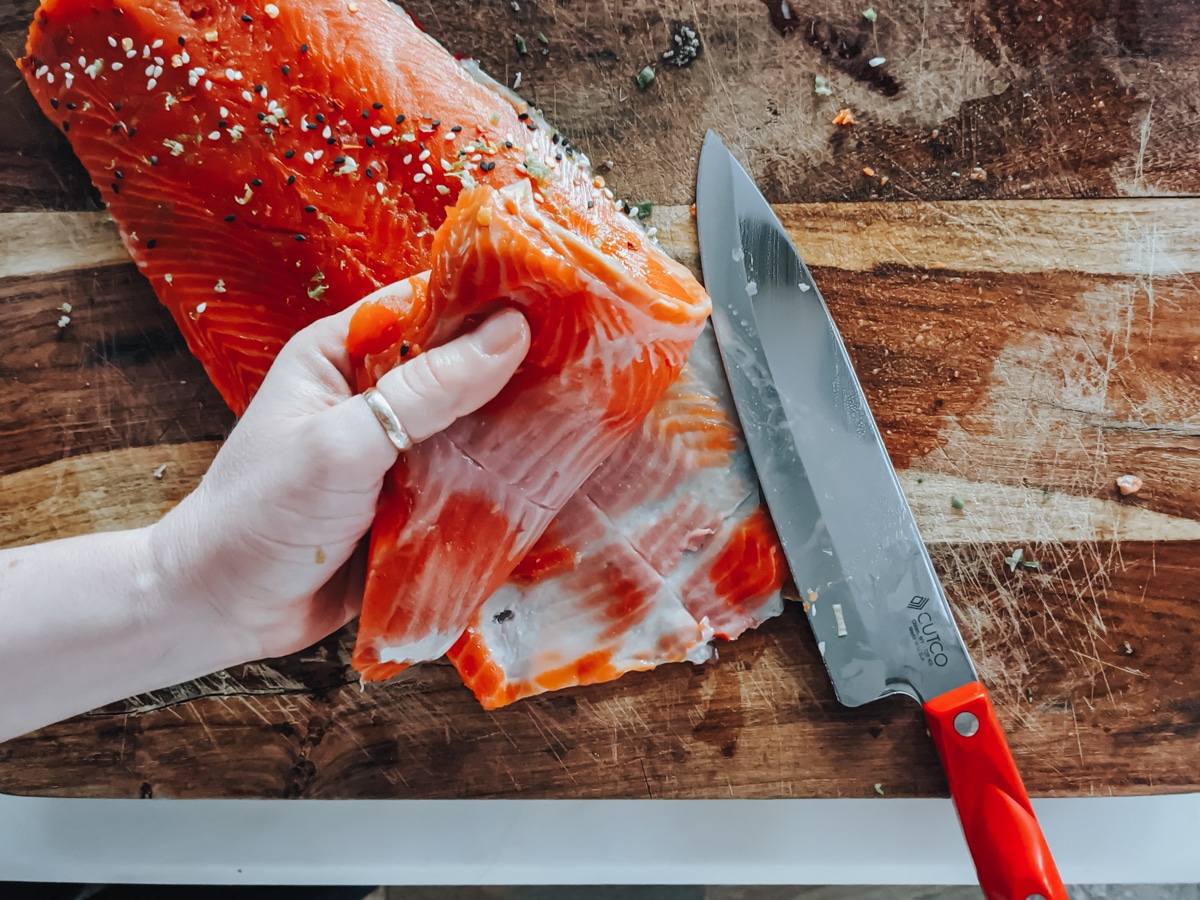 GirlCarnivore Pro Tip: Test the dumplings to check seasonings. Fry up one or two potstickers immediately and cook through. Taste test them to make sure the filling is seasoned well. Make any adjustments you need, like salt, more ginger or extra scallions, at this point. You know, before you wrap 52 perfectly little pillows.
Then whip up the dumplings. Working in batches, layout the wrappers and place a teaspoon of filling in each. Make sure any of the wrappers that are not being used are kept under a lightly dampened cloth. They will dry out if exposed to air, becoming crunchy and brittle.
Seriously, less is more here. Mainly because the wrappers will not stay shut if there is anything in the seams. Or, if they are overfilled, they will burst. So, this is the one exception to life where smaller is indeed better.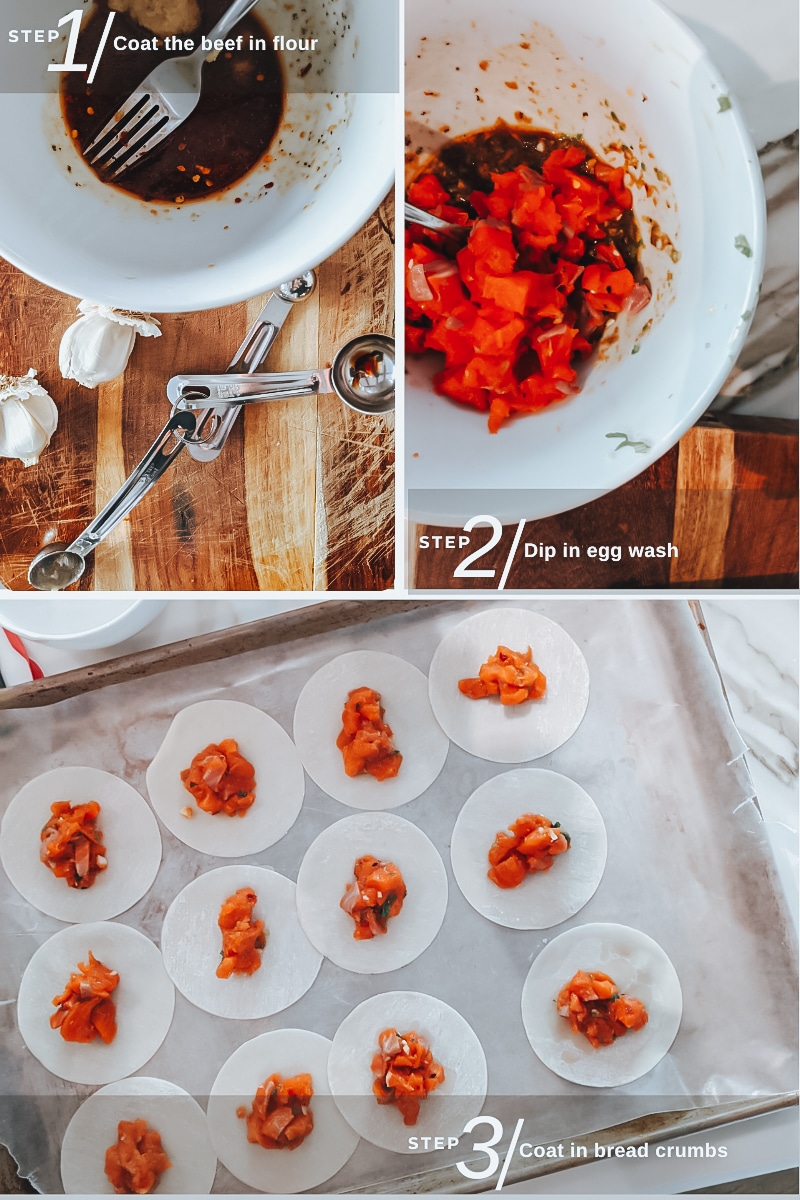 GirlCarnivore Pro Tip: Another trick to that masterful seam is having a small dish of water nearby. Dip a finger in the water and run it along the edge of the wrapper before pinching shut. The tiny layer of water moistens the dough and makes the stick better than a brand new Ziplock.
After all 742 billion dumplings are filled and pinched shut and the playlist needs a fresh shakeup, I freeze them to store them for later.
How to Freeze and store?
Place parchment paper onto a baking sheet and lightly flour. Arrange the dumplings without letting them touch in rows on the baking sheet. Slide into the freezer and par-freeze for 30 to 45 minutes.
Remove them from the freezer and store them in resealable bags until ready to use. Keep in mind, if they are touching when they par freeze you will be left with a giant ball of hate. Just trust me on this one.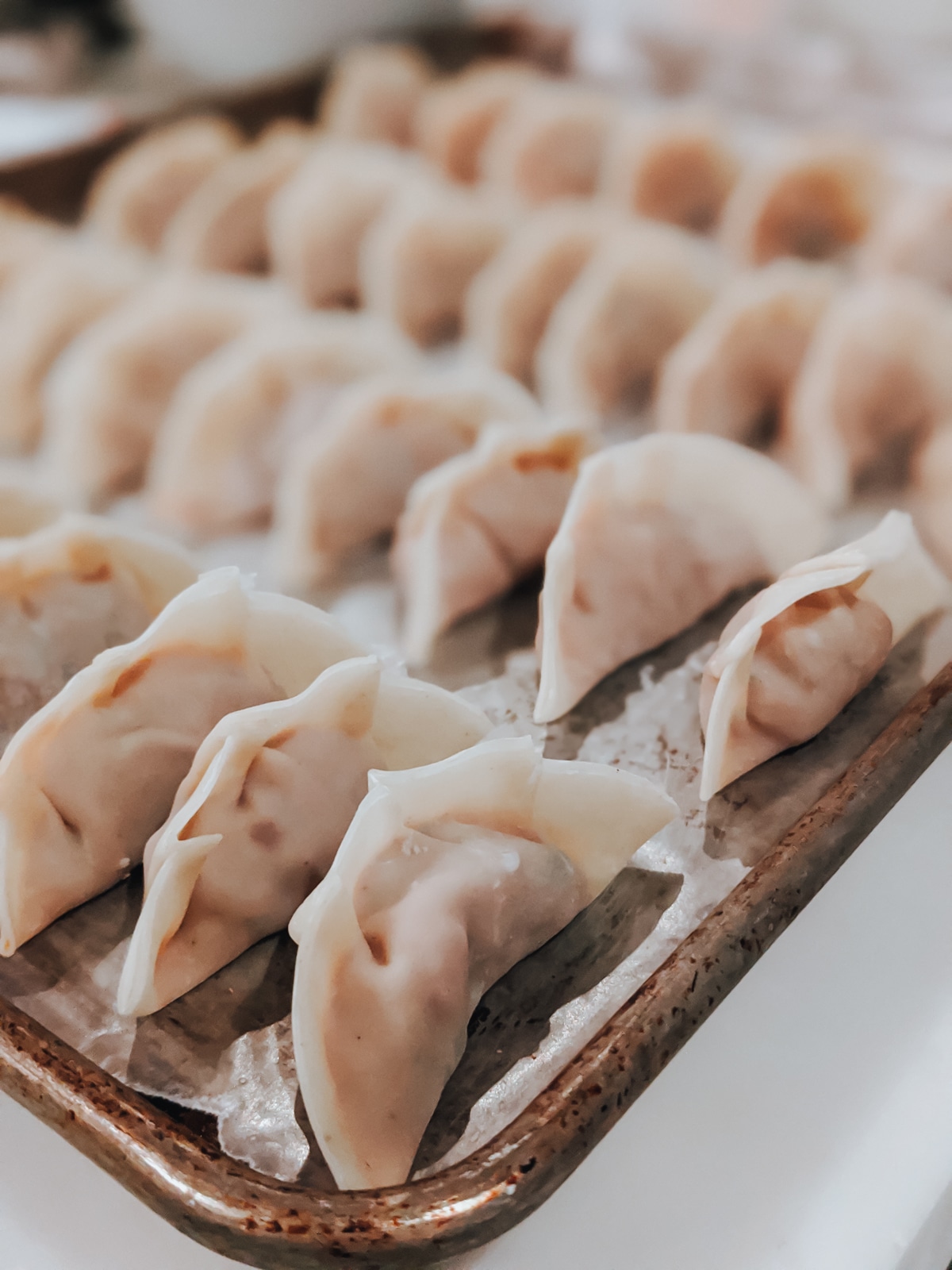 How Long can you Store these?
These can stay in deep freeze in an airtight container for up to 3 months. Pull out as many as you need per serving cooking directly from frozen.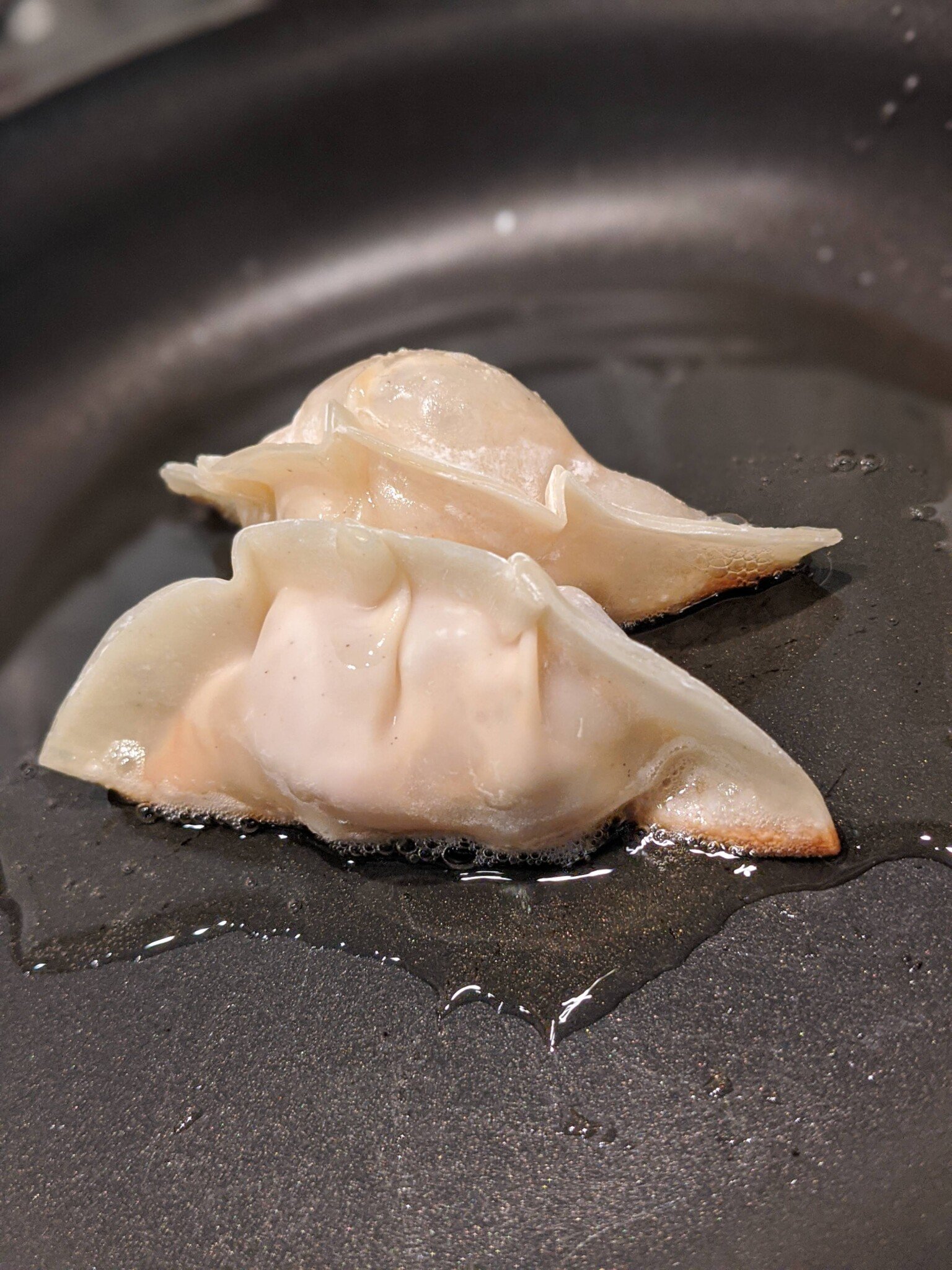 Salmon Substitutes
What if I don't have, like, want to use salmon? This exact recipe works well with any meaty fish like tuna or striped bass, but salmon is my favorite due to its flavor. Good fresh (and particularly Copper River Salmon – and yeah, I am biased) filets have a ton of great Omega 3s and a flavor that isn't overpowering but unique without being, insert eye-roll here, "fishy."
Alternatively, if you've got lots of extra salmon, check it out with this trendy smoked cream cheese!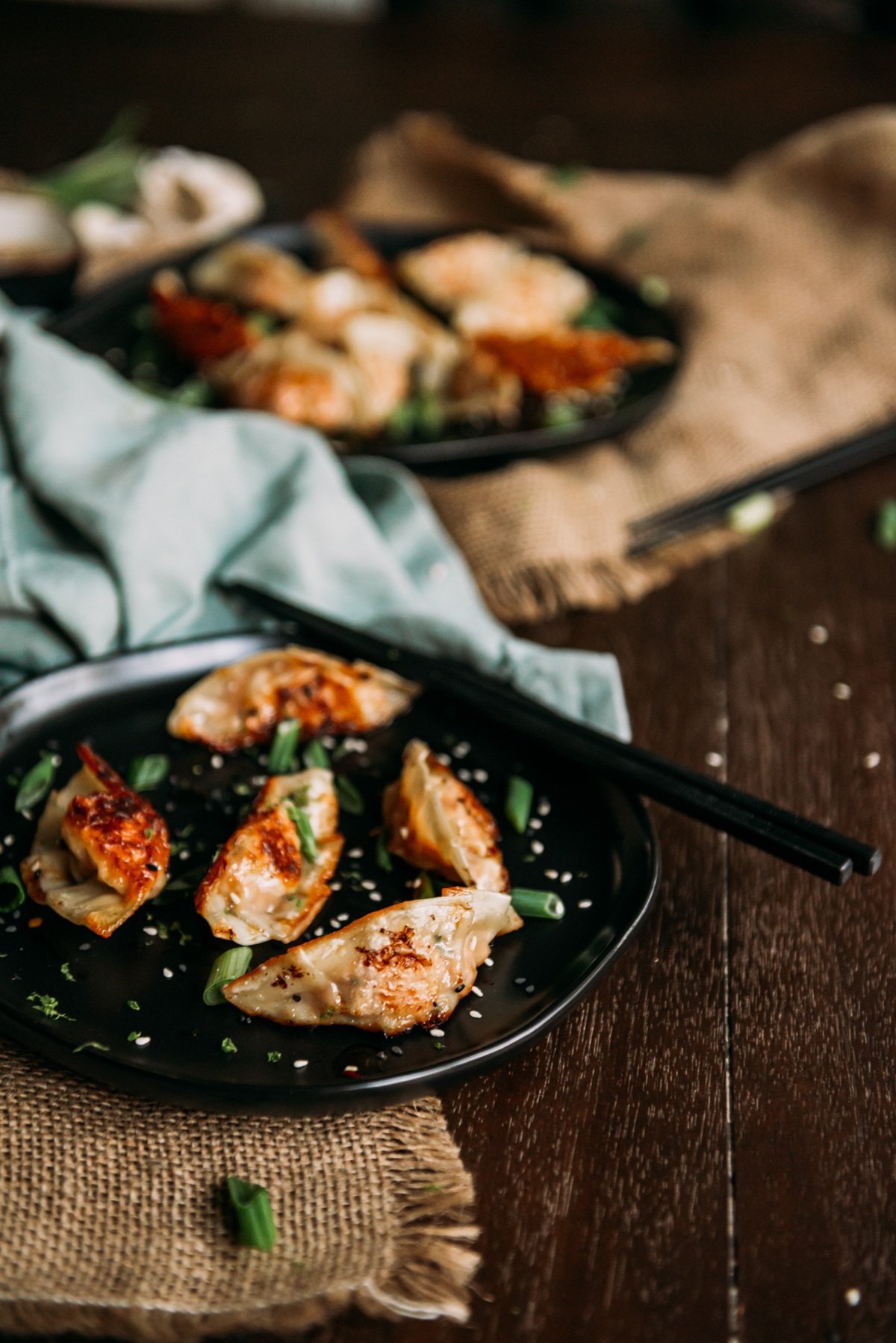 More delicious Salmon Recipes
Homemade Salmon Potstickers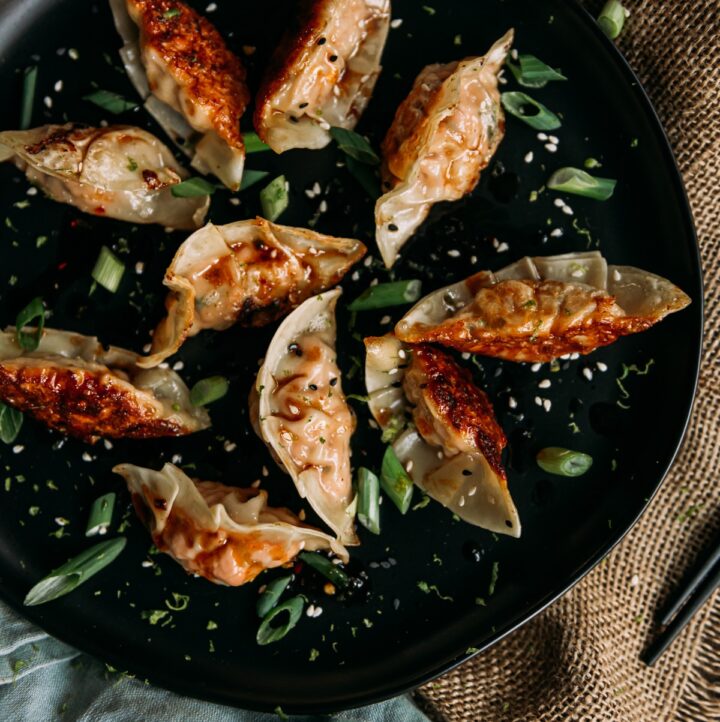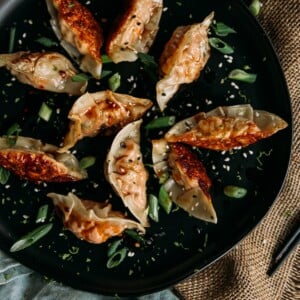 These dumplings are pan-seared and steamed for that perfect crispy bite with umami layered filling of fresh sockeye. They can be made ahead and frozen so you can grab them when the craving hits!
Ingredients
For the Dumplings
1

package Wonton wrappers

about 50 wrappers

2

lbs

salmon filet

I used Copper River Salmon

4

scallions

minced

2

garlic cloves

minced

2

tbsp

soy sauce

2

tsp

ginger

grated

zest of 1 lime

1

tsp

sesame oil

plus more for oiling pan

1/2

tsp

salt

1/8

tsp

red pepper flakes
To Garnish:
1

tsp

Sesame seeds

2

Scallions
For the Dipping Sauce
1/4

cup

Soy sauce

1 – 2

tbsp

Sweet Chili Sauce

1

tsp

Lime juice

1

tsp

Rice Wine Vinegar

1/2

tsp

Chili Oil

1/4

tsp

red pepper flakes

if desired
Instructions
Prep the Salmon
Remove the skin from the salmon if needed.

Finely mince the salmon.

In a bowl, whisk the garlic and scallions with the soy sauce, ginger, lime zest, sesame oil, salt and red pepper flakes.

Fold in these minced salmon to combine.
Prep the Dumplings:
On a clean work surface, arrange wrappers.

Place one teaspoon of filling in the center of each wrapper.

Gently brush the edged of the wrapper lightly with water and fold the wrapper together, pinching to seal, making pleats if desired.

Repeat until all the filling has been used up.
Cook the Dumplings:
When ready to cook, place 1 to 2 tablespoons of sesame oil in an 8″ skillet preheated to medium.

Nestle about 6 dumplings in the skillet, so that they stand with the folded edges pointing up without touching one another. Crisp the bottoms, 3 to 5 minutes.

Carefully, because the oil will pop, pour just enough water to sit about a quarter-inch high, covering only about a quarter of the dumplings, into the skillet along the side of the pan.

Cover and cook another 3 to 5 minutes.

Remove the lid and allow the remaining water to evaporate.
Make the Dipping Sauce
Meanwhile, whisk the dipping sauce ingredients together in a bowl. Season with more chili sauce depending on how hot you like it.

Serve the potstickers with thinly sliced scallions, toasted sesame seeds and dipping sauce.
Notes
These dumplings can be cooked fresh or cooked directly from frozen. Add a little extra time during the steaming process, as needed, if frozen. See notes about on how to successfully freeze in batches.
Pair these dumplings with fried rice, egg rolls or sushi.
Finding dumpling wrappers can be tricky. I often find them in the cold cases near the tofu at local markets or in Asian markets. Make sure you grab the round wrappers, not square ones. 
Nutrition
Serving:
1
g
|
Calories:
131
kcal
|
Carbohydrates:
4
g
|
Protein:
16
g
|
Fat:
5
g
|
Saturated Fat:
1
g
|
Cholesterol:
42
mg
|
Sodium:
616
mg
|
Potassium:
404
mg
|
Fiber:
1
g
|
Sugar:
2
g
|
Vitamin A:
109
IU
|
Vitamin C:
1
mg
|
Calcium:
17
mg
|
Iron:
1
mg