This pan seared salmon is an easy weeknight dinner that's sure to become a staple in your house. With a delightfully crispy texture, its an amazing meaty fish and on a plate with flavorful pairings of leeks, potatoes, and eggs, it's one of the best quick, healthy salmon recipes you'll find.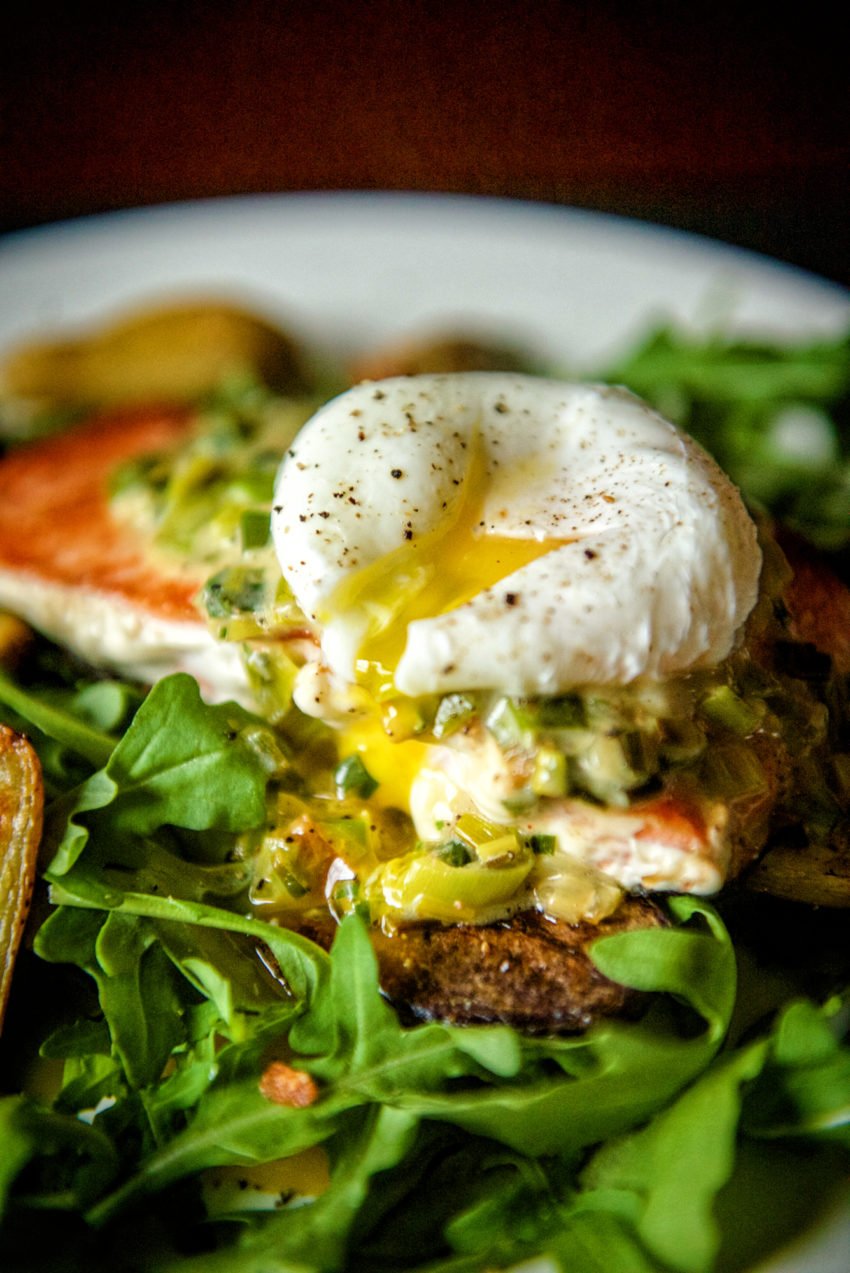 When it comes to a quick fish dinner, a good pan-seared salmon recipe is about as good as it gets. It's great fish for those who are on the fence about that 'fishy taste.' Salmon filets are meaty and delicious and come together for great meals in minutes. They hold up to various spices, like in rich salmon curry, and seasonings, like amazing blackened salmon, and take the heat of the pan without falling apart.
This pan seared recipe starts with crispy salmon skin cooked to perfection with so much flavor. For a meal that's cooked perfectly in just a few minutes, this is it.
Why Salmon?
Salmon is a classic for a reason. It's packed with protein and healthy omega-3 fatty acids, and is proven to benefit your heart and brain function. It's relatively accessible and is widely considered one of the healthiest foods in the world. Wild salmon is even healthier, with less calories and saturated fats per serving than farmed salmon. It's an easy, healthy meal that's a great choice for first-time chefs and a-fish-ionados alike.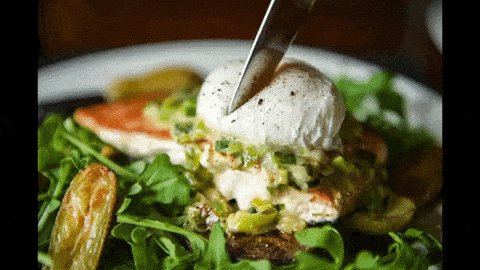 Why You'll Love This Recipe
If you're looking to enjoy a good piece of fish paired with flavor-packed veggies, this recipe is hands down the best choice. Made with simple ingredients via a breezy cooking process, this delicious dish is perfect for unwinding on a weeknight with a glass of white wine. Not to mention, pan searing gives the salmon a deliciously crispy texture and brings out all the dish's complementary flavors.
Then something changed. Maybe it was the mythical 'tigers blood' you read about in the pretext of the book. Or maybe it was just my mindset. I was walking through the market and I suddenly got pissed off at myself. I had been walking around like a slug dreading every single thing I put in the cart when I realized that I was being an ass.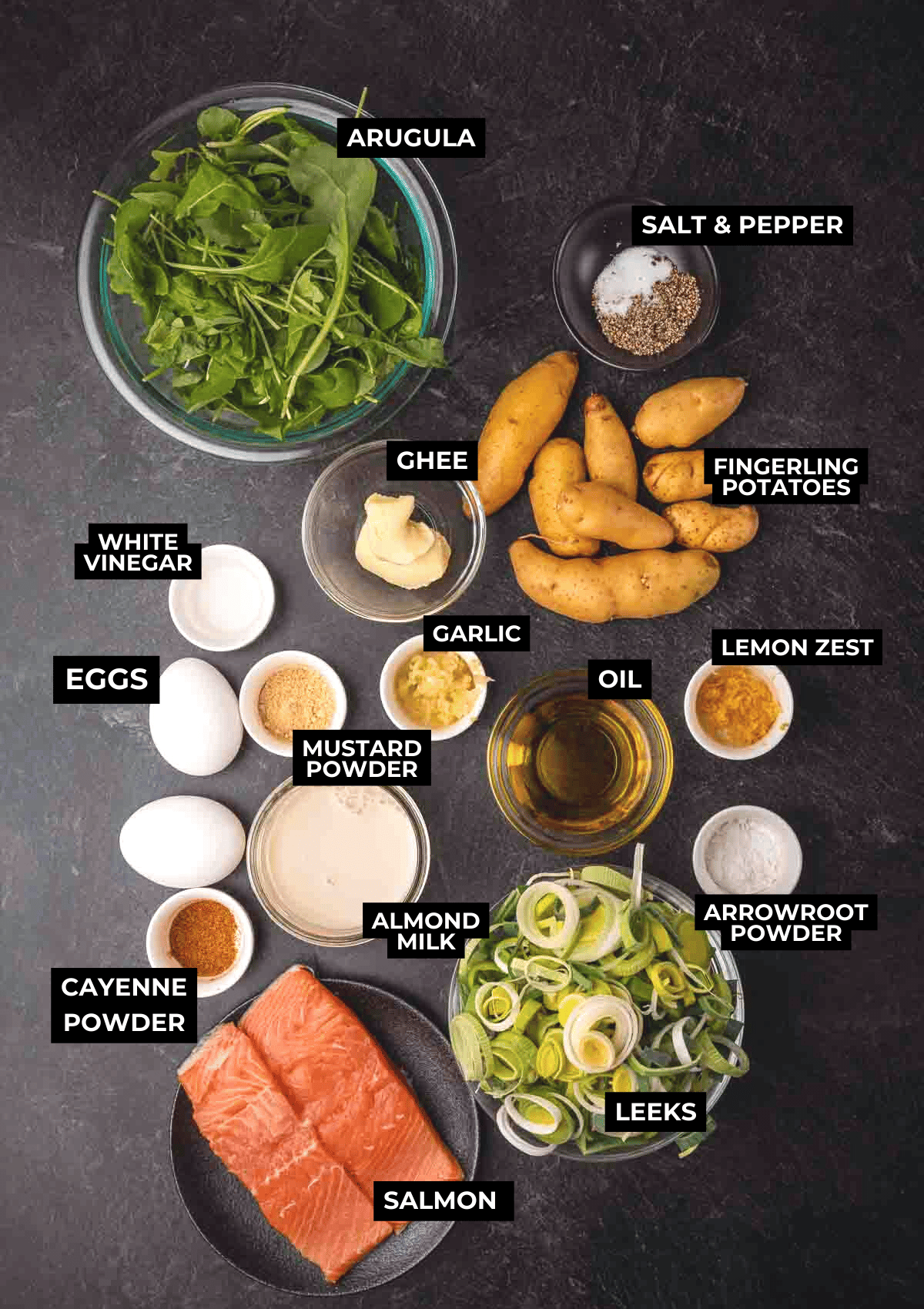 Ingredients
Ghee – or your favorite neutral cooking oil, like avocado oil
Salt and pepper – we use kosher salt and freshly ground black pepper
Fresh Salmon fillets – we love Copper River Salmon when we can get our hands on it. When buying, make sure they are about the same size so the fish cooks evenly.
White vinegar
Eggs
How to Make Pan-Seared Salmon
We deck out this perfect pan-seared salmon with creamy leeks and a poached egg over a bed of peppery arugula. A "salad" that would end up in front of you at the fanciest of places. Crisp golden potatoes, perfectly cooked salmon, creamy leeks, and a sexy poached egg. This recipe looks fancy and complicated, but it really is just a few simple things combined on one plate. Or just work on pan searing the fish to perfection, and pair it with your own desired sides.
Pat the salmon fillets dry with paper towels and season with a pinch of salt and freshly ground black pepper.
Then, fire up a skillet. It's time to pan-sear the salmon. For salmon, a high-quality non-stick pan is wonderful, or my tried and true favorite, cast iron. You want something that has even heat to cook the salmon and that the salmon will release from when ready to flip without pulling or tearing the fish.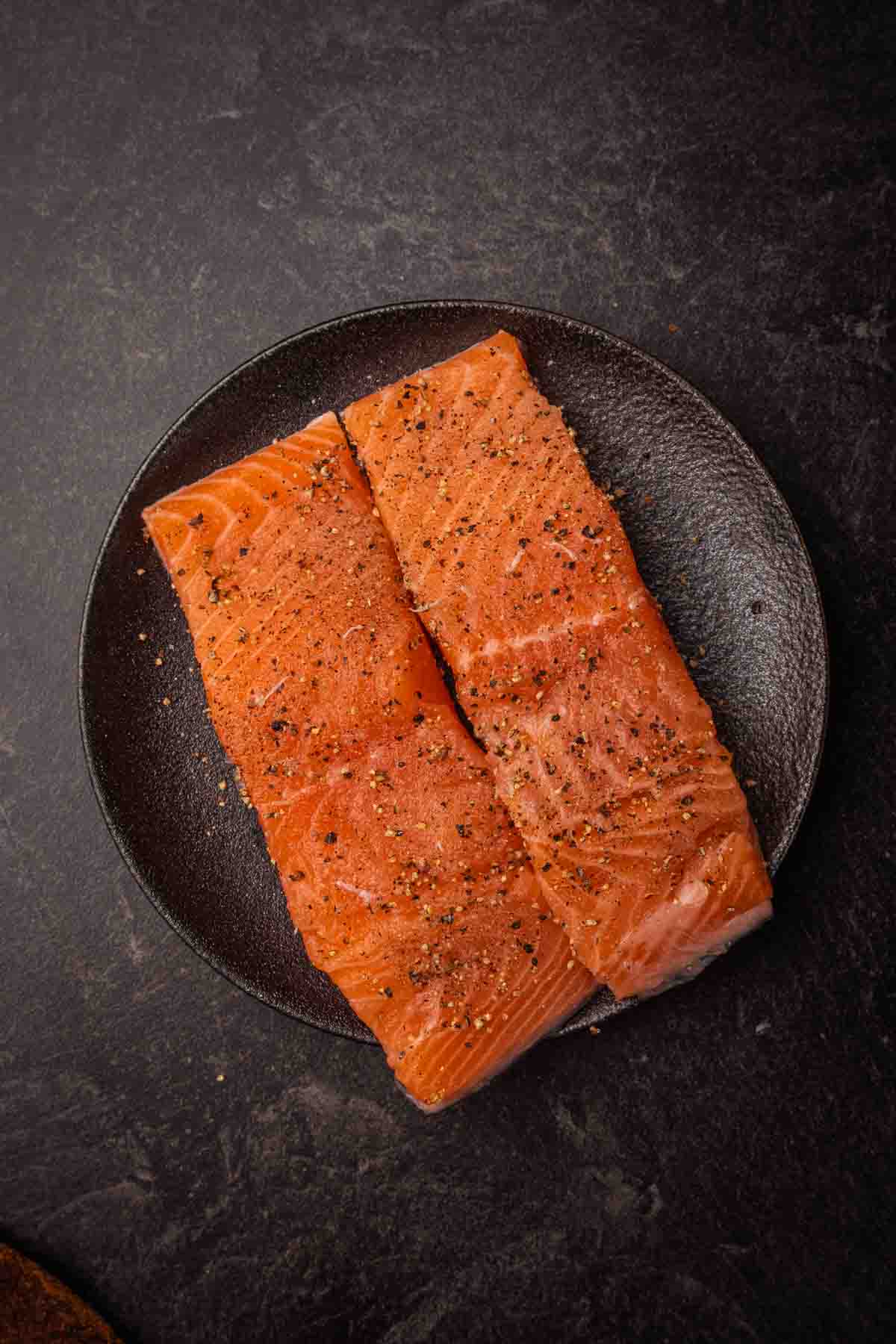 The trick is to let the pan preheat over medium-high heat. When you lay the salmon in, it will sear and cook perfectly without sticking. However, if you wait too long and the pan is smoking, remove it from the heat before adding the fish and let it cool down. It's the sweet spot in between you're looking for to prevent the salmon from sticking. The even heat will pan-fry the salmon and cook quickly without it drying out.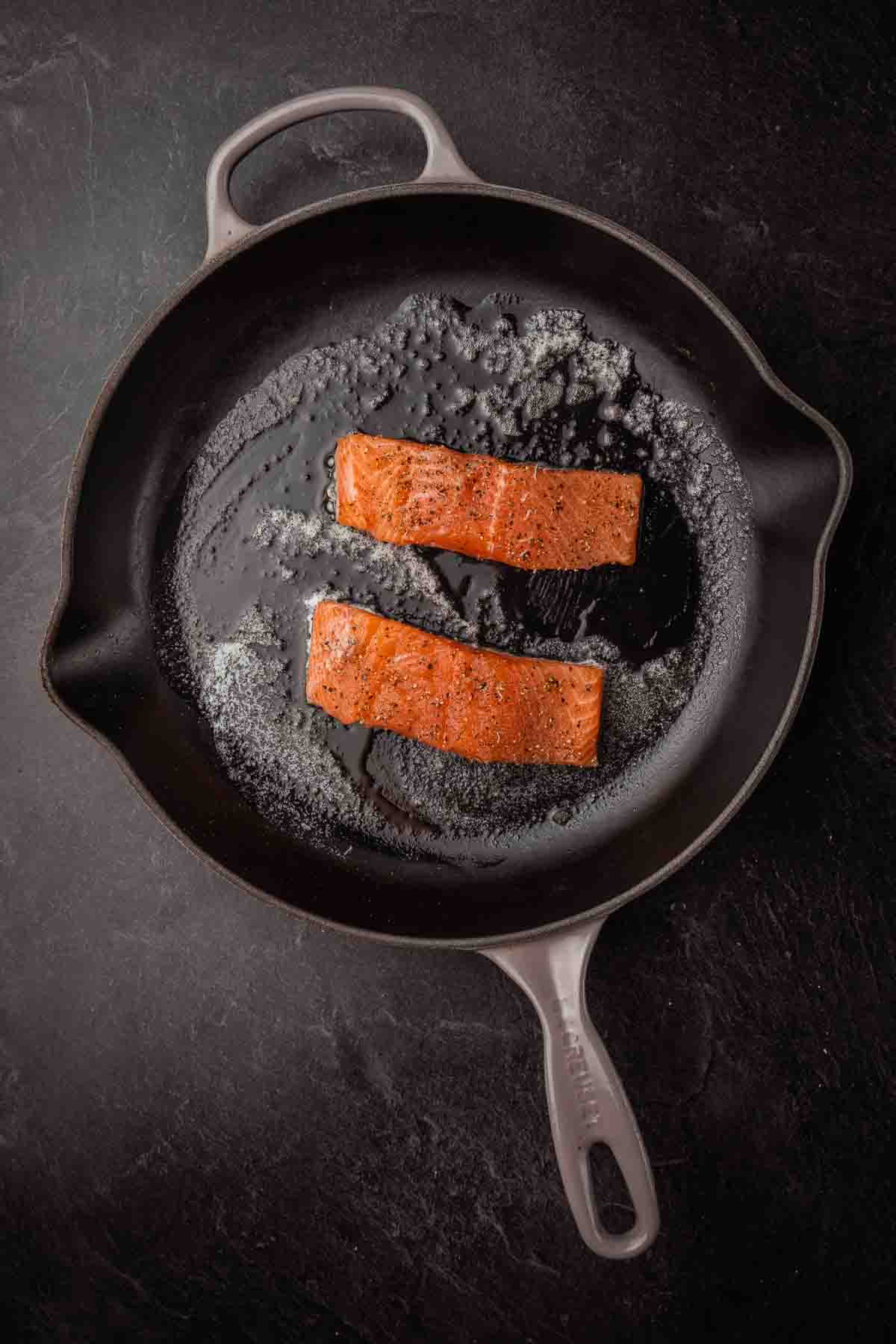 Melt the ghee or cooking oil in the skillet and swirl to coat. Lay the salmon in the hot pan, skin side down, and allow the fish to sear in the pan. Let the skin get golden and crispy.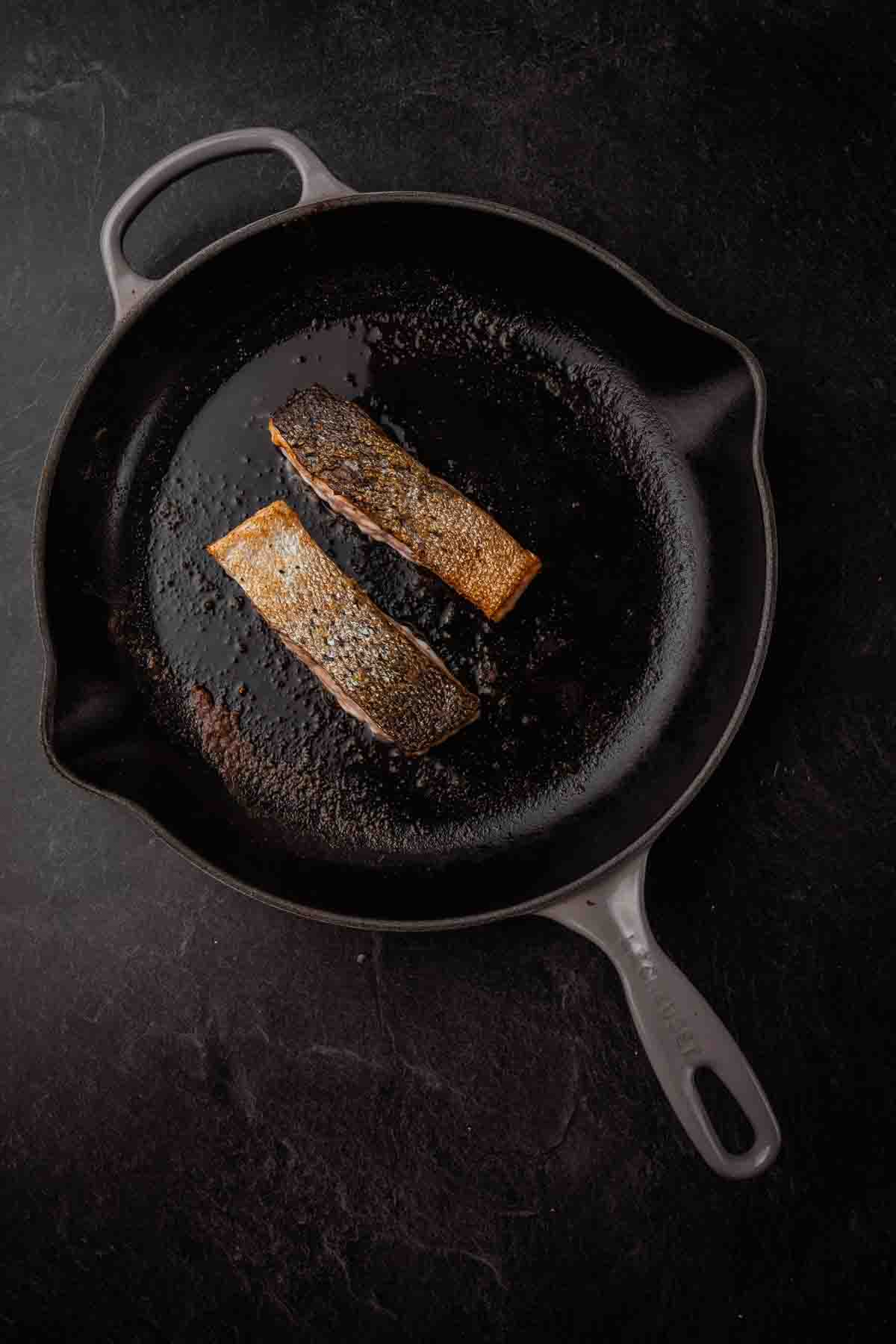 Once the salmon has seared, flip it flesh side down and cook for another 5 to 7 minutes to your desired doneness. The USDA recommends an internal temperature of 145 degrees F on salmon. However, some people prefer salmon more medium rare. Use an instant-read thermometer for the most accurate temp, but generally, a good rule of thumb for testing the doneness of salmon is if it flakes easily with a fork.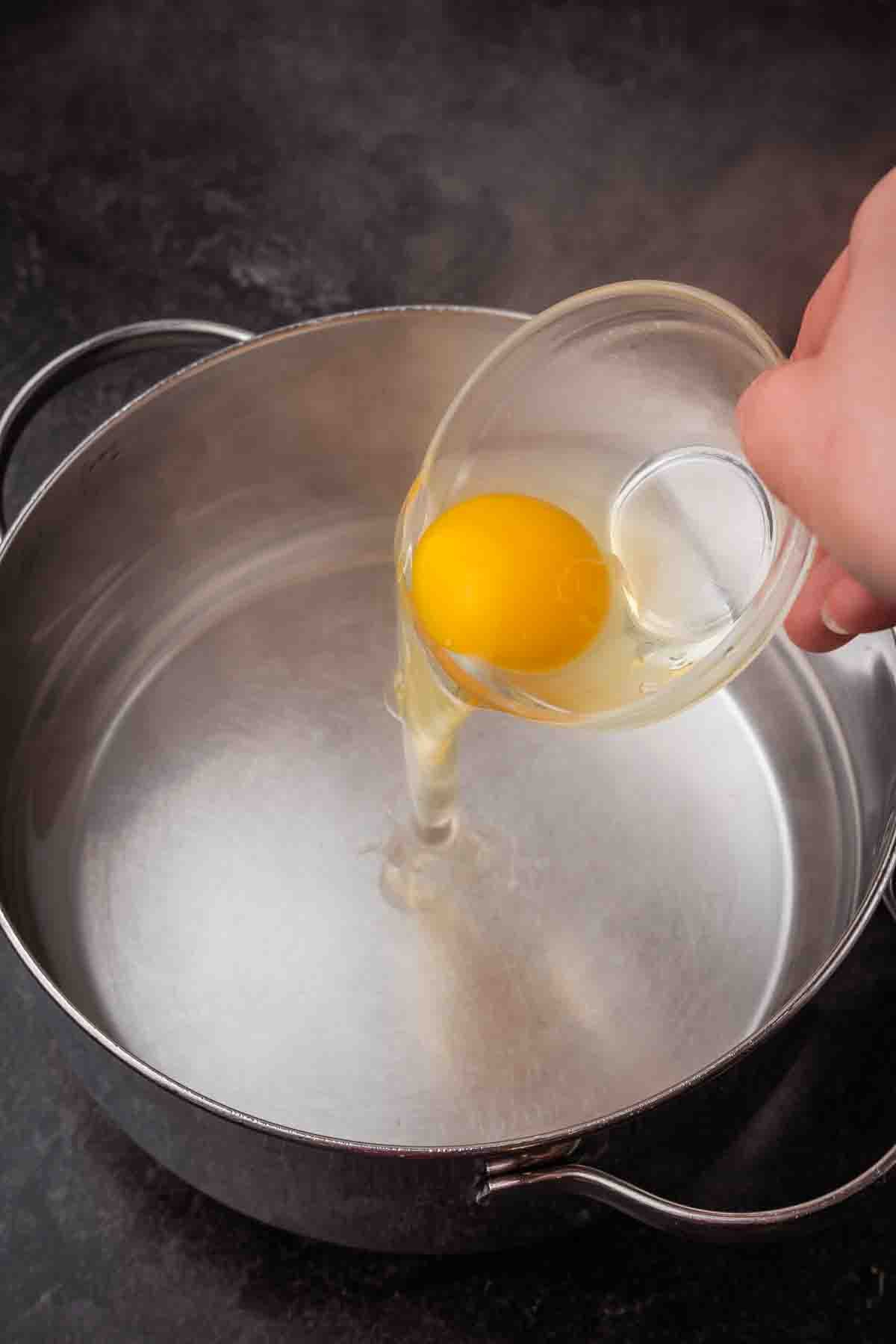 If you're serving this recipe as shown, the key to success is good timing. Have multiple burners running at once. At the same time you will be searing the salmon, you will want to poach the egg. So have a small pot of water going as well to drop the egg into. We recommend poaching the egg at the very last minute so that it is served piping hot over everything with a perfectly runny yolk.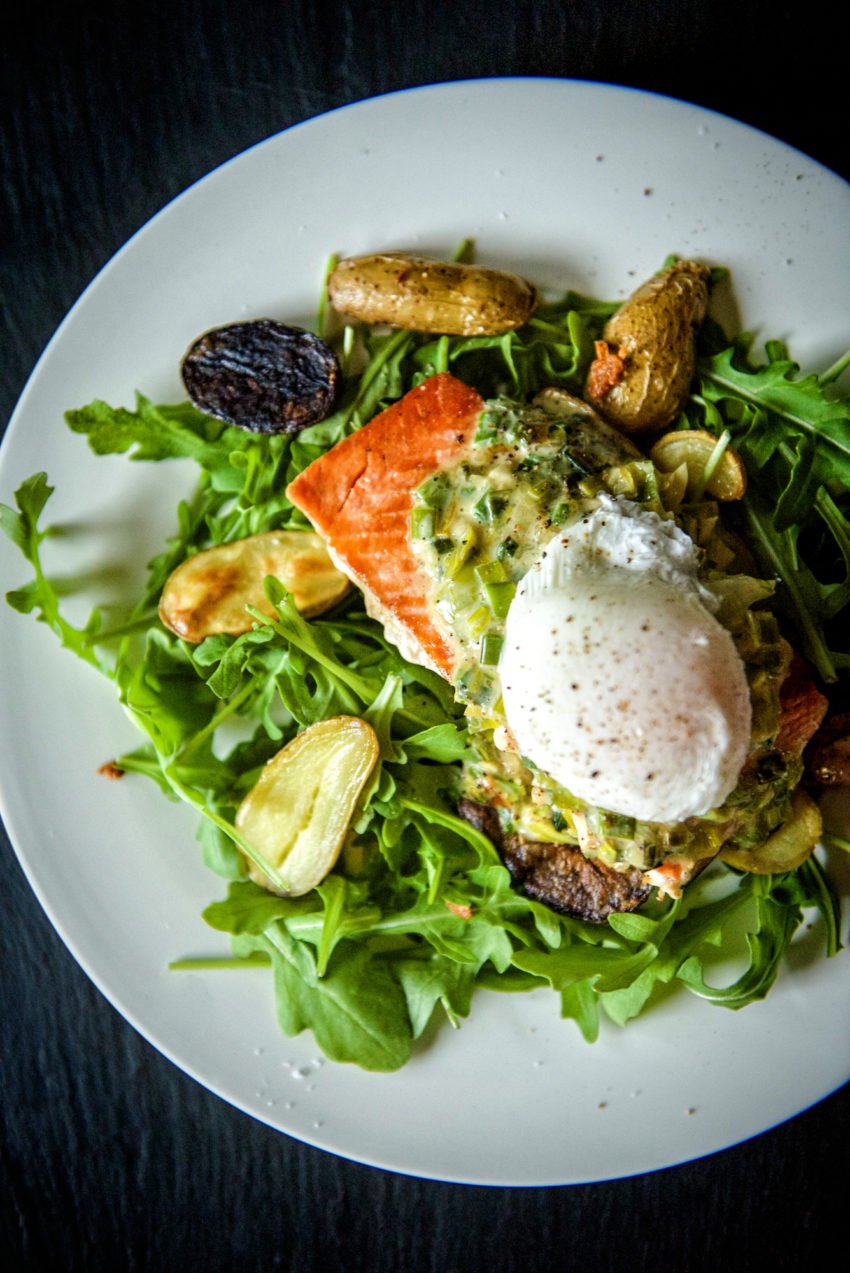 How to Store Leftovers & Reheat
Leftover salmon should last in your fridge in an airtight container for up to two days. Cooked salmon can also be frozen and thawed for the next four to six months, but the texture changes, and we don't recommend it.
You can reheat these tender salmon fillets on the stove or in the oven (or eat it cold over a salad the next day).
What to Serve with Pan-Seared Salmon
This delicious fish is a great recipe to enjoy as-is (with leeks, fingerling potatoes, and egg). It's also perfectly accompanied with a simple side salad or another side dish like balcony asparagus noodles, brown rice, steakhouse creamed spinach, or green beans to complete your meal.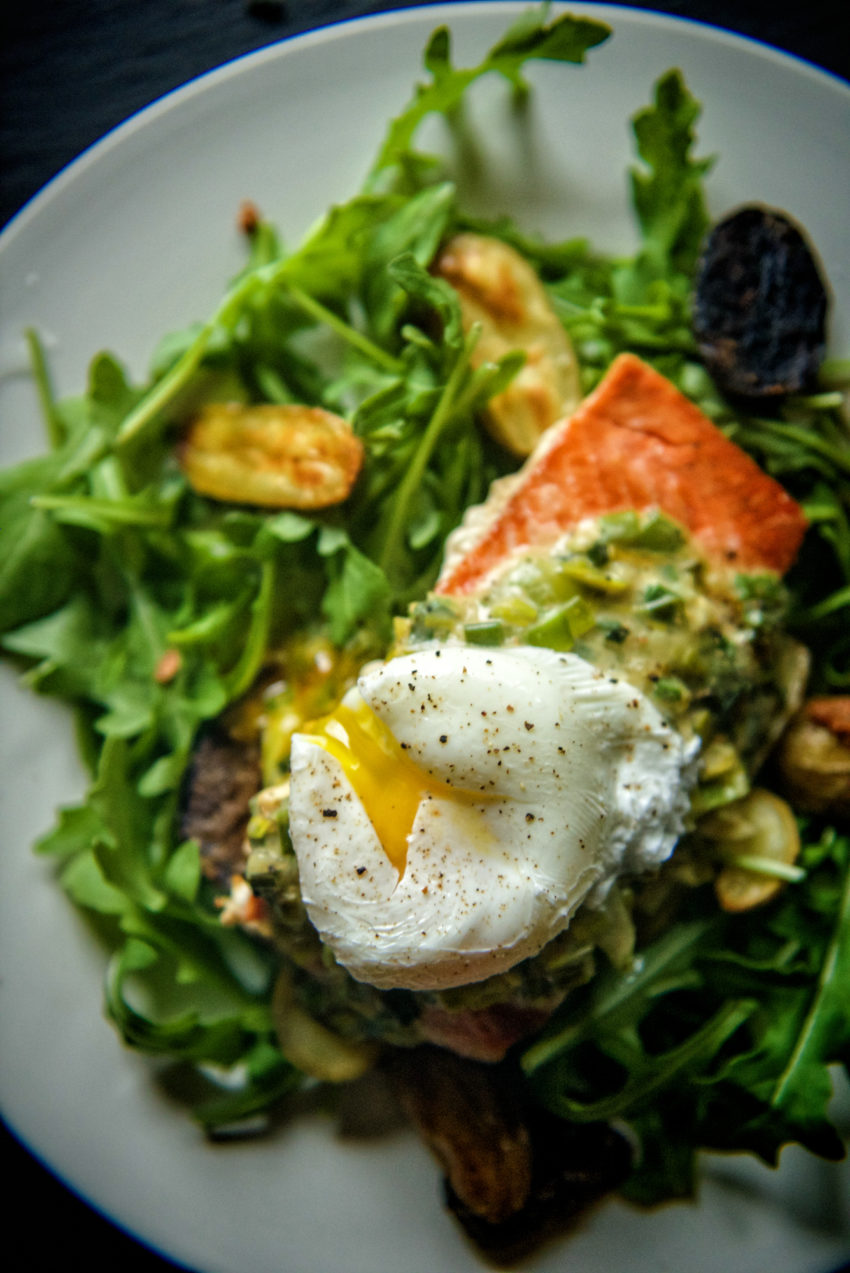 Recipes FAQs
Should You Eat Salmon Skin?
Yes! As long as you don't mind the texture, salmon skin is one of the healthiest parts of the fish. It's rich in omega-3 fatty acids, vitamins B and D, and other nutrients like niacin and phosphorous. It's best to fry your salmon skin side down first to allow it to crisp up (so you can achieve that crispy golden crust).
How Long Should You Fry Pan-Seared Salmon?
Salmon typically takes about four minutes per side to cook in a pan (flip it in between with a fish spatula). This recipe calls for the salmon to finish cooking in the oven, so frying times may vary depending on how well done you like your fish.
What Kind of Pan Should You Sear Salmon In?
You can sear salmon in any stainless steel pan or cast-iron skillet. Don't use a nonstick pan if you want to enjoy some crispy fried bits, but if your bigger priority is keeping the fish intact, a nonstick pan may be the way to go.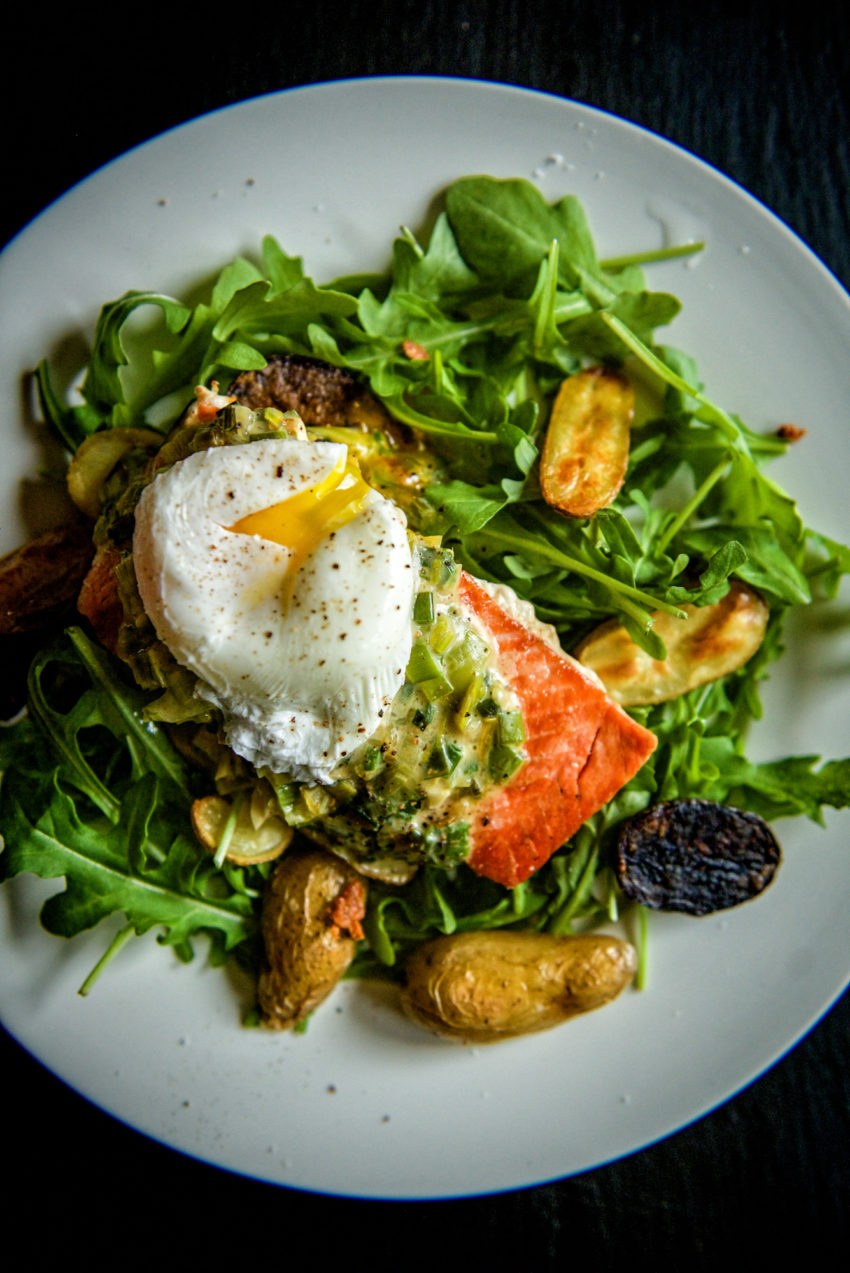 MORE DELICIOUS SALMON RECIPES YOU'LL LOVE:
Did you enjoy this pan seared salmon? Don't forget to rate it and let us know in the comments! Is salmon your favorite fish dinner? What did you pair it with?
Perfect Pan Seared Salmon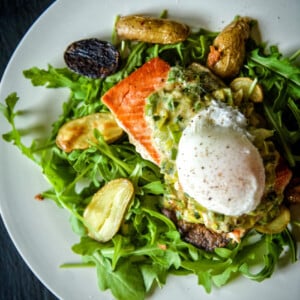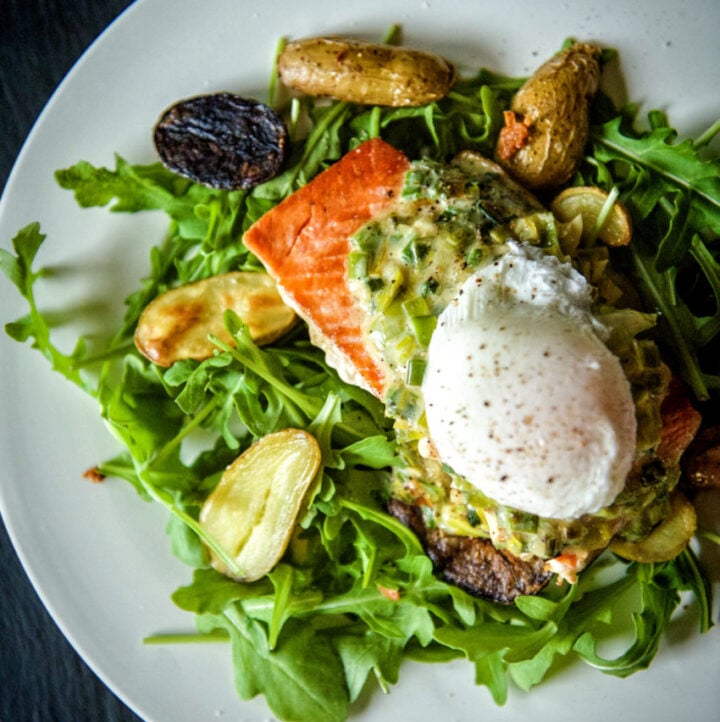 The perfect balance of protein, veggies, and brain-healthy fats, this delicious pan-seared salmon dish is sure to become a household hit.
Ingredients
Fingerling potatoes

2

tbsp

olive oil or other cooking fat

3

garlic cloves

minced, divided

Salt and pepper

2

leeks

rinsed well, tops and bottoms removed, sliced thin

2

tbsp

ghee

1

tsp

Arrowroot powder

1/3 – 1/2

cup

cashew almond milk

use cream if not Whole30

1/4

tsp

Cayenne

1/2

tsp

Mustard powder

1

tsp

fresh lemon zest

2 to 4

salmon fillets

1

tsp

White vinegar

2 to 4

eggs
Instructions
Slice the fingerlings in half lengthwise and toss with oil, 2 cloves minced garlic, and salt and pepper.

Spread evenly onto a baking sheet and cook until golden and crispy, 30-35 minutes, tossing once halfway through cook time.

Meanwhile, coat a medium skillet with 1 tablespoon ghee and heat over medium.

Add the leeks and saute for 5-7 minutes.

Add the remaining garlic clove and cook for 30 seconds.

Season with salt and pepper.

Add the arrowroot powder and stir to coat everything.

Whisk in the nut milk and add cayenne, mustard powder, and lemon zest. Allow to thicken over a low simmer.

In an oven-safe skillet, heated over medium-high heat, add the remaining ghee.

Season the salmon with salt and pepper.

When the skillet is hot, place the salmon, skin side down and cook until the bottom is golden and crispy.

Flip salmon and finish in the oven 5 to 7 minutes longer.

While the salmon finishes, prepare the eggs.

Bring a pot of water with a splash of white vinegar and salt to a low boil.

Crack the eggs into individual small cups to make handling easy.

Hovering just over the water, carefully slide the eggs in, one at a time and gently stir the water.

Allow to cook 3 to 4 minutes. Remove with a slotted spoon and drain excess water.

To serve, toss the potatoes with the arugala. Top with the salmon, a dollop of the creamed leeks, and the poached egg. Serve.
Notes
This recipe was designed to be Whole30 compliant. If on Keto Diet, please omit the potatoes. However, it works as a perfect fish dinner with any side, so please feel free to jazz it up with the sides of your choice. 
The trick to a perfect pan sear is a good cast iron or non-stick skillet and preheating the pan. Allow the pan to pre-heat until it is just starting to smoke. If you notice the pan is really smoking, pull it off the heat and allow it to cool down before starting again. 
Nutrition
Calories:
163
kcal
|
Carbohydrates:
8
g
|
Fat:
14
g
|
Saturated Fat:
5
g
|
Cholesterol:
19
mg
|
Sodium:
9
mg
|
Potassium:
89
mg
|
Sugar:
1
g
|
Vitamin A:
790
IU
|
Vitamin C:
6.7
mg
|
Calcium:
30
mg
|
Iron:
0.9
mg