Get ready to impress. Pan Seared Salmon with Creamy Leeks and Poached Egg Recipe is Whole 30 approved and will show you just how good eating real food can be.

Health food. Let's be honest. If I have to stare down one more label to see if it's whole 30 approved or not, I am going to lose it. See, doing the whole 30 was great. Didn't loose a pound, but felt amazing. But those first few weeks of mulling over every single item in the market, doubling my grocery bill, and stocking the shelves with the little odds and ends that make the diet do-able was a serious pain in the ass.
I scoured the internet for ideas, tried meal prepping, ate like 3 dozen eggs out of recipe burn out.
Then something changed. Maybe it was the mythical 'tigers blood' you read about in the pretext of the book. Or maybe it was just my mindset. I was walking through the market and I suddenly got pissed off at myself. I had been walking around like a slug dreading every single thing I put in the cart when I realized that I was being an ass.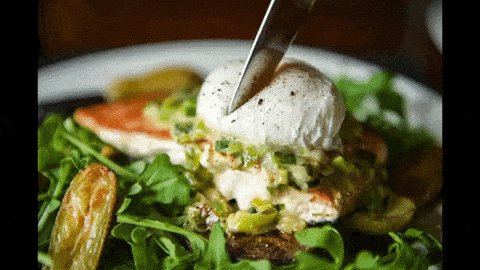 Like magic, things started falling into my cart (and no not Cheezits and Tastycakes). Real ingredients that were fresh and local were suddenly inspiring me. I had a little epiphany of flavors and got to work.
It was the mindset I'd been in.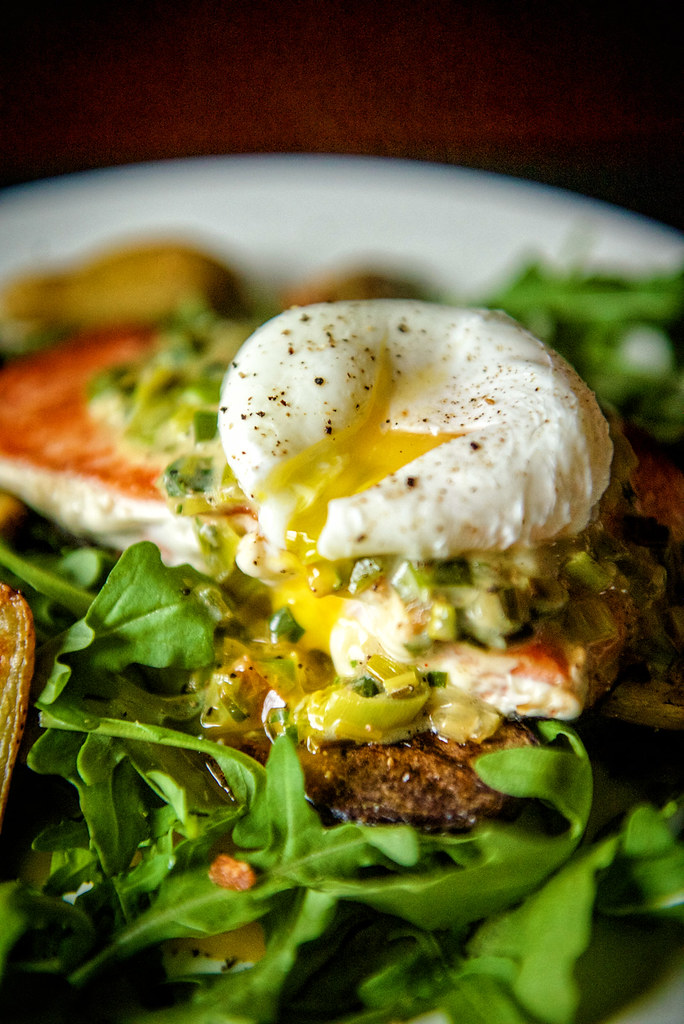 I was focused solely on what I couldn't have. What wasn't allowed.
Which, in case you're curious, is pretty much every single aisle between the dairy section and the produce department.
But, the moment I stopped thinking about what I COULDN'T have, my brain just switched. I remembered I'm a cook (duh) and it's my job to come up with creative kick ass meals every single day, to push boundaries, updated classics and to try new spins. Seriously, that was all it took. Suddenly I was done gnawing on carrots in rage, and whipping up finger licking meals in the kitchen that were also Whole30 approved – and being whole30 approved, pretty much meant they were Keto, Paleo, GF and everything in between, like these smoked stuffed poblanos, Turkish Dolma, smoked ribs, or this serious flank steak with saffron 'rice'. When did I become this hipster? Don't know, don't care. I'm eating good tonight.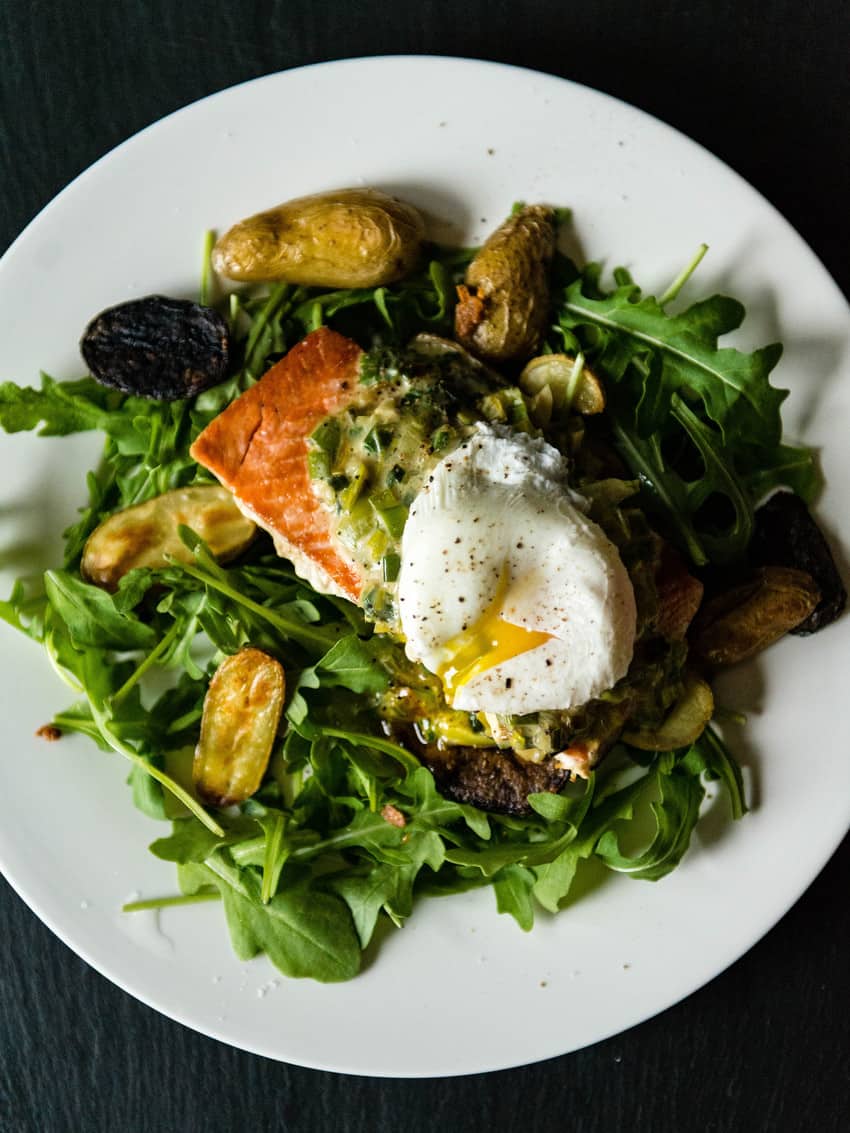 This salad is a prime example of the mindset shift for me. Pan Seared Salmon with Creamy Leeks and Poached Egg. A "salad" that would end up in front of you at the fanciest of places. Crisp golden potatoes, perfectly cooked salmon, creamy leeks, and a sexy poached egg. Sure you could pack 30 days of chopped romaine, carrot sticks and a spoonful of store-made guac, or you could change your thinking and eat like a boss.
Go be a boss and cook up something incredible tonight. Bonus points if ya tag me and show me what you're making! @girlcarnivore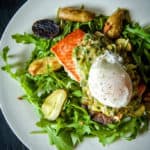 Whole 30 Approved Pan Seared Salmon with Creamy Leeks and Poached Egg
Not doing the Whole30 and don't want to track down any fancy ingredients - totally OK. Use traditional flour instead of the arrowroot powder and cream in replace of the nut milk. This is an excellent meal, whether Whole30 compliant or not.
Ingredients
Fingerling potatoes

2

tbs

olive oil or other cooking fat

3

garlic cloves

minced, divided

Salt and pepper

2

leeks

rinsed well, tops and bottoms removed, sliced thin

2

tbs

ghee

1

teas Arrowroot powder

1/3 - 1/2

cup

cashew almond milk

use cream if not Whole30

1/4

teas Cayenne

1/2

teas Mustard powder

1

teas fresh lemon zest

2 to 4

salmon fillets

1

teas White vinegar

2 to 4

eggs
Instructions
Preheat oven to 425 F. Slice the fingerlings in half length wise and toss with oil, 2 cloves minced garlic, and salt and pepper. Spread evenly onto a baking sheet and cook until golden and crispy, 30-35 minutes, tossing once halfway through cook time.

Meanwhile, coat a medium skillet with 1 tablespoon ghee and heat over medium. Add the leeks and saute for 5-7 minutes. Add the remaining garlic clove and cook for 30 seconds. Season with salt and pepper. Add the arrowroot powder and stir to coat everything.

Whisk in the nut milk and add cayenne, mustard powder, and lemon zest. Allow to thicken over a low simmer.

In an oven safe skillet, heated over medium-high heat, add the remaining ghee. Season the salmon with salt and pepper. When the skillet is hot, place the salmon, skin side down and cook until the bottom is golden and crispy. Flip salmon and finish in the oven 5 to 7 minutes longer.

While the salmon finishes, prepare the eggs. Bring a pot of water with a splash of white vinegar and salt to a low boil. Crack the eggs into individual small cups to make handling easy. Hovering just over the water, carefully slide the eggs in, one at a time and gently stir the water. Allow to cook 3 to 4 minutes. Remove with a slotted spoon and drain excess water.

To serve, toss the potatoes with the arugala. Top with the salmon, a dollop of the creamed leeks, and the poached egg. Serve.