Grilling fish is not hard; it's not complicated. Don't overthink it. The forethought on this delicious grilled salmon recipe is the brown sugar salmon glaze with a hint of mustard.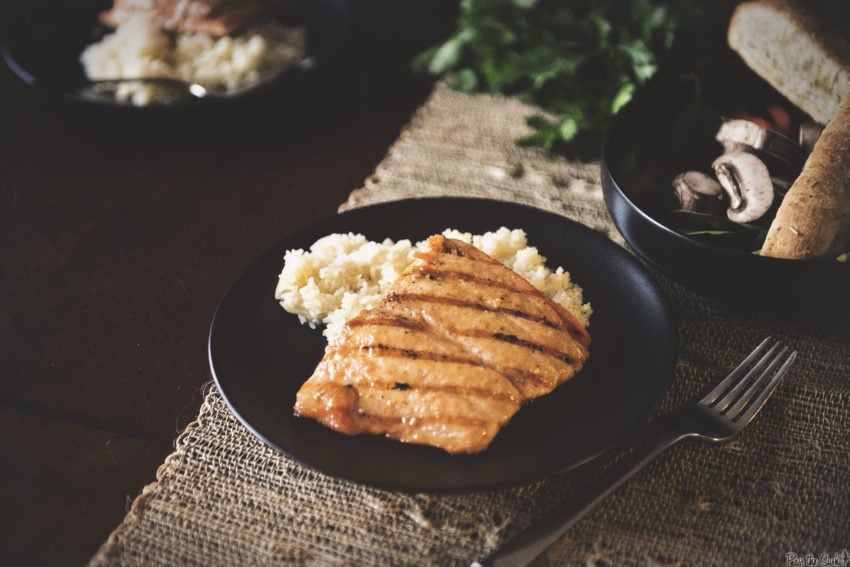 Welcome, salmon lovers! If you're tired of the same old basic salmon recipes, then get ready for a flavor explosion that will leave your taste buds begging for more. This brown sugar mustard salmon recipe is not only delicious, but it's also incredibly easy to make. And trust us, even if you're a grilling newbie or have never cooked salmon before, this recipe will make you look like a pro in the kitchen!
What Is Grilled Salmon?
Grilled Salmon with Brown Sugar Glaze is what happens when sweet and savory collide in the best way possible. It's a dish that'll make you forget about all those bland salmon recipes you've tried before. This recipe combines the sweetness of brown sugar and the tanginess of mustard to create a glaze that'll make your taste buds dance with joy. It's an easy way to make the perfect salmon, even if you didn't go to culinary school! For an in-depth guide on mastering the art of grilling salmon filets, check out this How to Grill Salmon post!
Grilled Salmon Ingredients
Light Brown Sugar and Honey – Sweet and caramelized glaze
Dijon Mustard – Tanginess and a bit of spice
Soy Sauce – Adds umami flavor
Olive Oil and Butter – Keep the fish moist
Ginger – Adds a subtle kick of flavor
Vegetable Oil – Prevents sticking to the grill grates
Salt and Pepper – We use kosher salt and freshly ground black pepper when cooking
Salmon – Use skin-on salmon fillets for the best flavor and tender texture
How to Make Grilled Salmon
Whisk the brown sugar, honey, and butter in a small saucepan over low heat until the butter is melted and smooth.
Off heat, stir in the mustard, soy sauce, olive oil, and ginger.
Heat your gas or charcoal grill to medium heat, making sure to clean the grill grates with a little oil.
Coat the salmon in the vegetable oil and season with salt and pepper.
Place the salmon skin-side down on the hot grill grates, baste with the flavorful marinade, and close the grill lid for even cooking.
Cook for 6-8 minutes per side or until the thickest part of the fish reaches an internal temperature of 145 degrees F when tested with a meat thermometer.
Serve with some lemon juice and some of your favorite sides!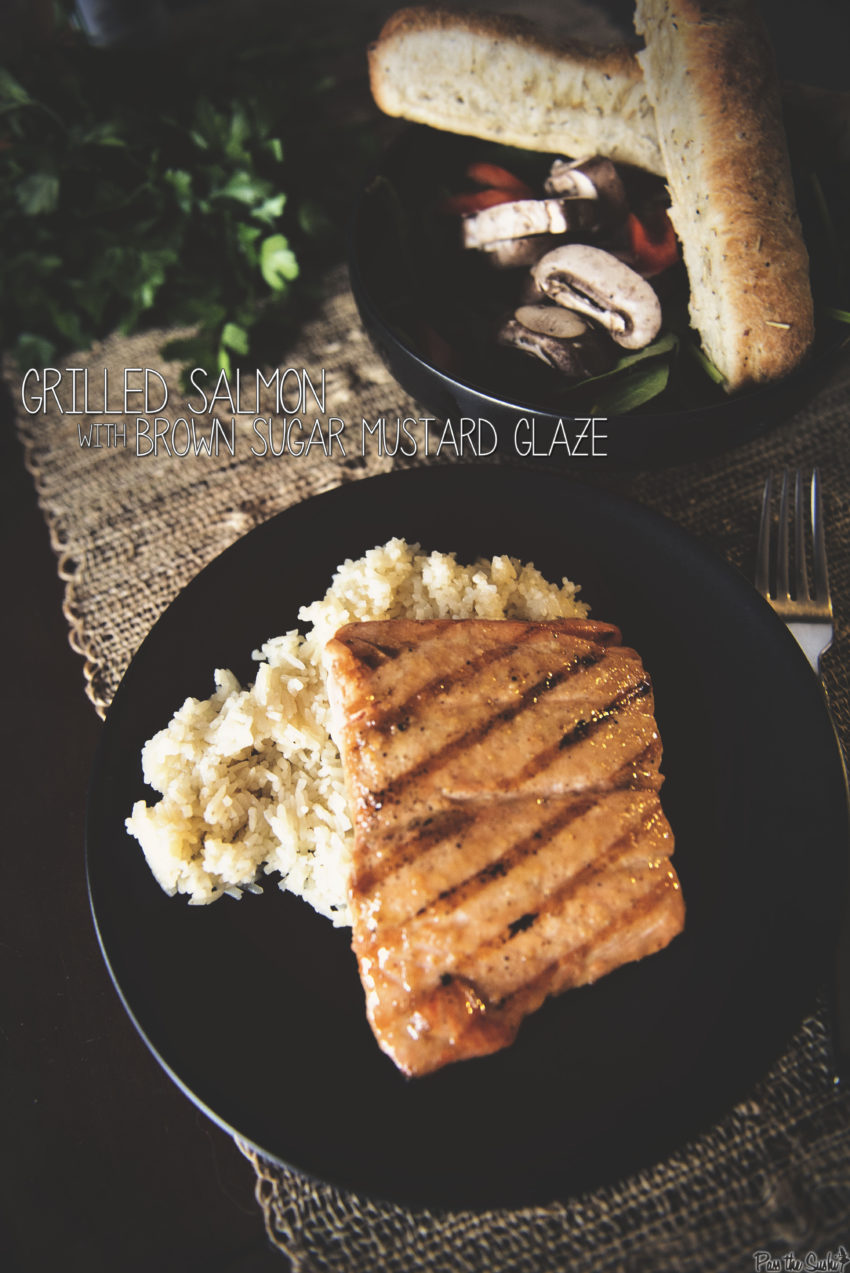 Girl Carnivore EXPERT RECIPE TIPS
Start with a large piece of salmon that has been patted dry with paper towels to ensure even cooking and avoid sticking to the grill grates.
If you prefer, you can grill the salmon in a foil packet or on a cedar plank for an extra layer of flavor.
For great grill marks and a golden brown crust, cook the salmon without moving it for a few minutes on each side.
Use a metal spatula or a fish spatula to carefully flip the salmon over without breaking the skin.
Remember, cooking time may vary based on the heat source and the size of the salmon, so use an instant-read thermometer to ensure the perfect doneness every time.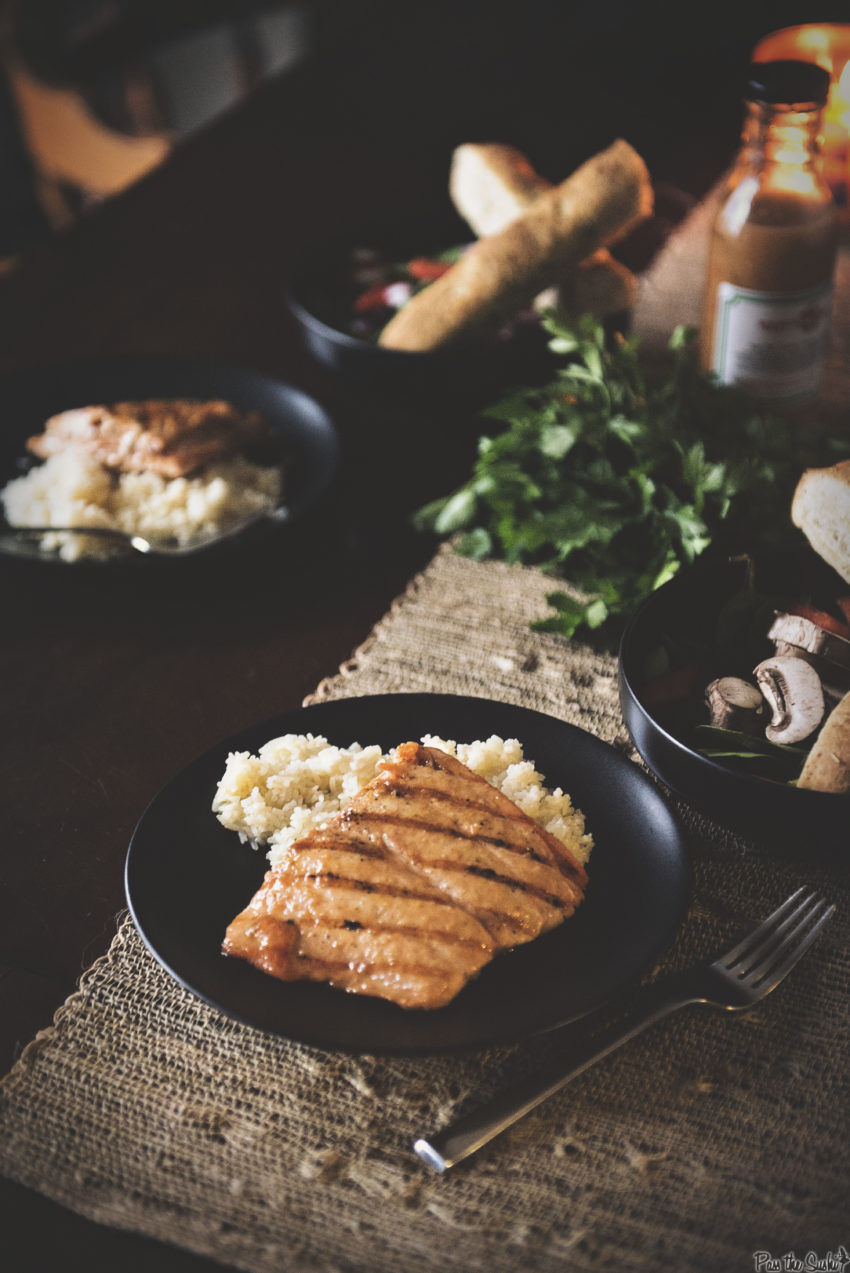 Leftovers & Reheating
Store leftover grilled salmon in an airtight container in the refrigerator for 3-4 days or in the freezer for up to 6 months.
So, you've got some leftover salmon from last night's dinner, and you're wondering how to reheat it without turning it into a dry, rubbery mess? Fear not, my friend! Here are some expert tips on how to reheat your salmon like a pro:
Take the salmon out of the fridge and preheat your oven to 275°F.
Wrap the salmon in foil, making sure it's sealed tight.
Place the foil-wrapped salmon in a baking dish.
Heat the salmon in the oven for 15-20 minutes or until it reaches an internal temperature of 145°F.
Once the salmon is heated through, remove it from the oven and let it rest for a few minutes.
Serve and enjoy your perfectly reheated salmon.
What to Serve With Grilled Salmon
Some of our favorite recipes to serve with our Brown Sugar Salmon are Smoked Cabbage, BBQ Glazed Smoked Brussels Sprouts with Bacon, and Easy Smoked Baked Potato!
Recipe FAQs
WHAT KIND OF SALMON IS BEST FOR GRILLING?
We will be using wild-caught salmon for this recipe, but you can use farm-raised salmon if that's all you have! Wild salmon tastes more fishy, but these days farm raised is much easier to find. People are against farmed salmon for many reasons, but let's face it. Sustainability is critical too.
Sockeye and King salmon are great for the grill. It isn't just the thickness of the meat but also the amount of fatty fish oils too. Those fats help keep the salmon moist – even with the high heat of the grill. 
How long should I grill salmon?
The grilling time for salmon depends on the thickness of the fillet and the heat of the grill. Generally, it takes about 4-6 minutes per side for a 1-inch thick fillet when grilling over medium-high heat (about 400°F).
What temperature should I grill salmon at?
Grill salmon at medium-high heat, which is around 400°F. This temperature allows the salmon to cook evenly while still achieving a nice sear on the outside.

Should I grill salmon with the skin on or off?
Grill salmon with the skin on. This helps to hold the fillet together while cooking and adds extra flavor. The skin also prevents the salmon from sticking to the grill. However, if you prefer skinless salmon, you can remove the skin as soon as it's removed from the grill easily with a fish spatula.


How do I know when the salmon is done cooking?
Salmon is done cooking when it reaches an internal temperature of 145°F according to the USDA. The flesh should be opaque and easily flake with a fork. Use a digital thermomter for the most accurate results. Be careful not to overcook it, as it can become dry.

How can I prevent the salmon from sticking to the grill?
To prevent salmon from sticking to the grill, make sure the grill is clean and well-oiled. Also, oil the salmon fillet itself. When grilling, give the salmon time to develop a sear before attempting to flip it. If it's still sticking, wait another minute and try again. Using a thin spatula (a fish spatula) can also help in gently releasing the salmon from the grill grates.

MORE DELICIOUS Salmon RECIPES
Well, folks, if you want to show off your grilling prowess and make your loved ones drool with delight, this brown sugar grilled salmon recipe is the way to go. The sweet and savory combo of the brown sugar glaze, Dijon mustard, and soy sauce is guaranteed to tantalize anyone's taste buds. So get ready to wow your dinner guests with this mouthwatering dish! Also, please rate the recipe card and leave a comment below to help out the next reader!
Grilled Salmon with Brown Sugar Mustard Glaze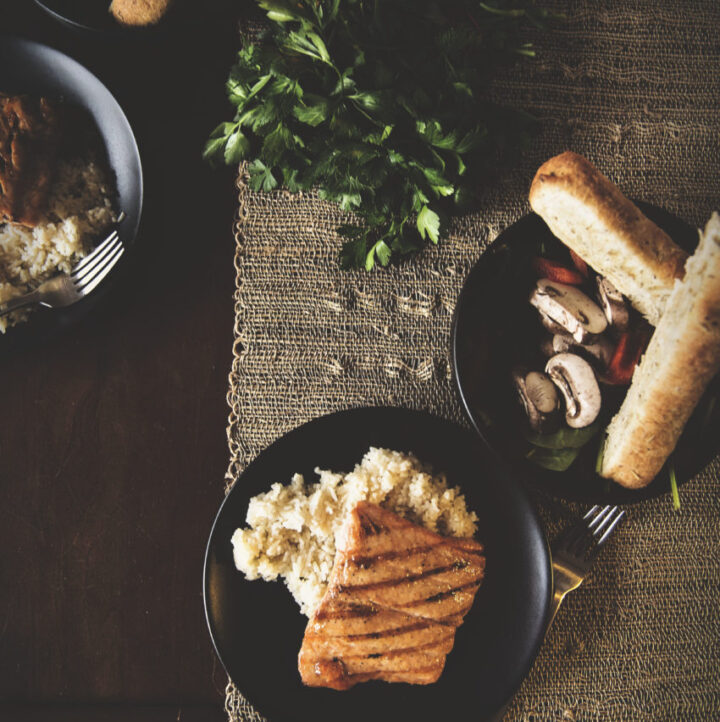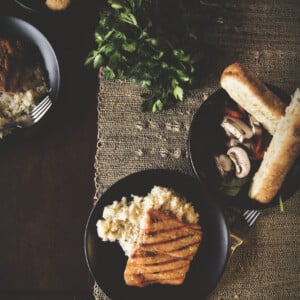 Enjoy a delicious, healthy meal with our simple and flavorful Grilled Salmon recipe, perfect for weeknight dinners or special occasions. Impress your guests with this tender, flaky seafood favorite, featuring a beautiful smoky char that's bursting with flavor.
Ingredients
2

tbs

light brown sugar

1 1/2

honey

1

tbs

butter

2

tbs

Dijon mustard

1

tbs

soy sauce

2

tsp

olive oil

1

tbs

ginger

finely grated

Vegetable oil

salt and pepper

1

lbs

salmon
Instructions
Whisk the brown sugar, honey, butter in a small saucepan over low heat until butter is melted and smooth.

Off heat, stir in the mustard, soy sauce, olive oil, and ginger.

Heat the grill to medium-heat.

Coat the salmon in the vegetable oil and season with salt and pepper.

Place the salmon on the grill and baste with the brown sugar mixture.

Grill 6 to 8 minutes, flipping once and continuing to baste.
Notes
Nutrition
Calories:
237
kcal
|
Carbohydrates:
7
g
|
Protein:
23
g
|
Fat:
12
g
|
Saturated Fat:
3
g
|
Trans Fat:
1
g
|
Cholesterol:
70
mg
|
Sodium:
413
mg
|
Potassium:
592
mg
|
Fiber:
1
g
|
Sugar:
6
g
|
Vitamin A:
138
IU
|
Vitamin C:
1
mg
|
Calcium:
25
mg
|
Iron:
1
mg