Grilling fish is not hard, it's not complicated. It's fish. Don't over think it. The forethought on this dish is the brown sugar salmon glaze with a hint of mustard.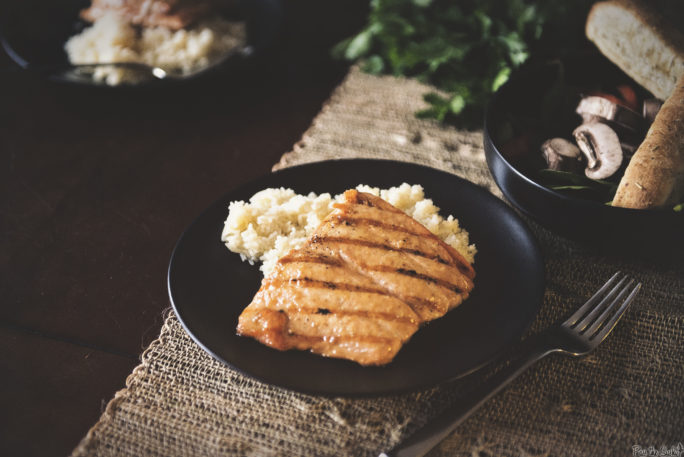 Brown Sugar Salmon Is Simple
Some people fear grilling fish. They think it's hard. They whine that it's complicated. The fish sticks, it flakes apart, I don't like onions. Wah.
But I am hear to tell you, rub a little oil on that grate and get to grilling your fish. It's not hard, it's not complicated. It's fish. Again… Don't over think it, and bring home the weeknight dinner victory with this Grilled Salmon with Brown Sugar Mustard Glaze.
The thing about seafood is, it's simple. The flavors and textures are already there. It doesn't take much work to prepare a satisfying delicious meal. In this case, a quick sear over the grill, the light flavor of the brown sugar mustard glaze, and a side salad turned a busy weeknight into a romantic date night dinner.
Grab the oil, light some candles. We're grilling tonight.
How To Grill Fish Perfectly
If you have always hesitated to grill fish, then here are some handy tips to avoid the anxiety. First off, most people worry about the fish sticking. Then falling apart when you try to turn it.
Prep the grill. You do this by coating the rack with some oil. Put the oil on a paper towel, then rub it on the grill. Let the grill heat, then rub more on. Do it again in a minute or two. In fact, do it about five times to build a coating on the grill.
Then oil up the fish too. You don't have to put the oil on the fish five times though. Once will do the trick.
Make sure the grill is nice and hot. If your salmon has the skin intact, then leave it on. Put the skin side down on the grill. Place the skin down perpendicular to the grate. It will make using a spatula to lift it easier.
When the skin side moves on the grill without sticking, then you are ready to safely flip. Let the other side get grill marks and when it doesn't stick either then you are there.
What Kind Of Salmon Is Best For Grilling?
Sockeye and King salmon are great for the grill. It isn't just the thickness of the meat, but also the amount of fatty fish oils too. Those fats help keep the salmon moist – even with the high heat of the grill.
Wild salmon tastes more fishy, but these days farm raised is much easier to find. I know there are many reason people are against farmed salmon, but let's face it. Sustainability is critical too.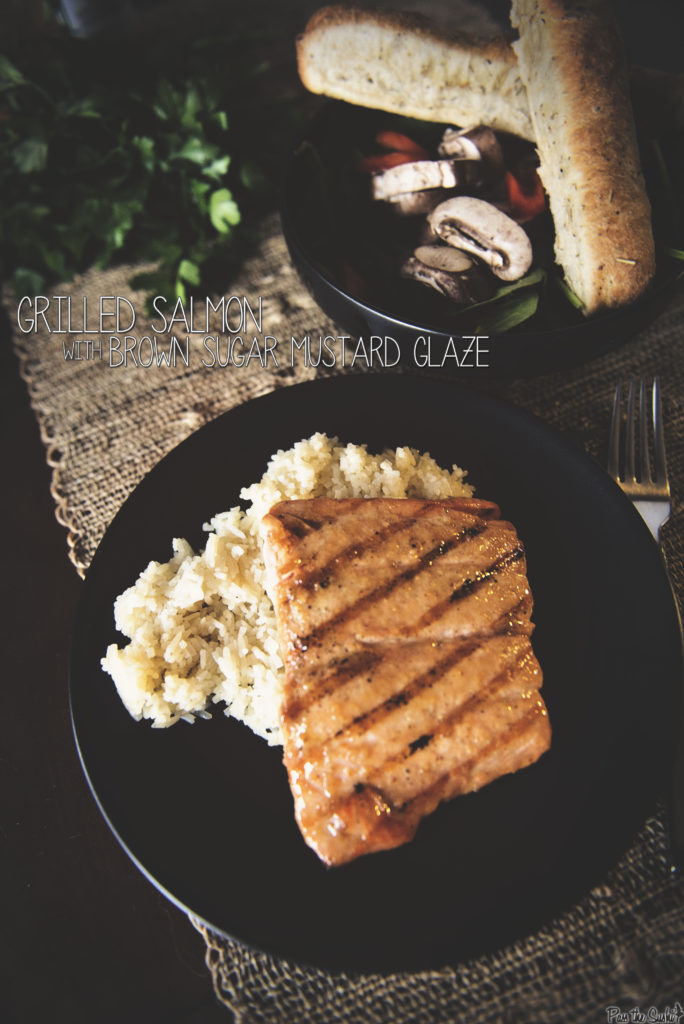 After a week chasing Salmon in Alaska with local harvesters, I may be convinced that it is the perfect seafood. These recipes will keep you coming back for more!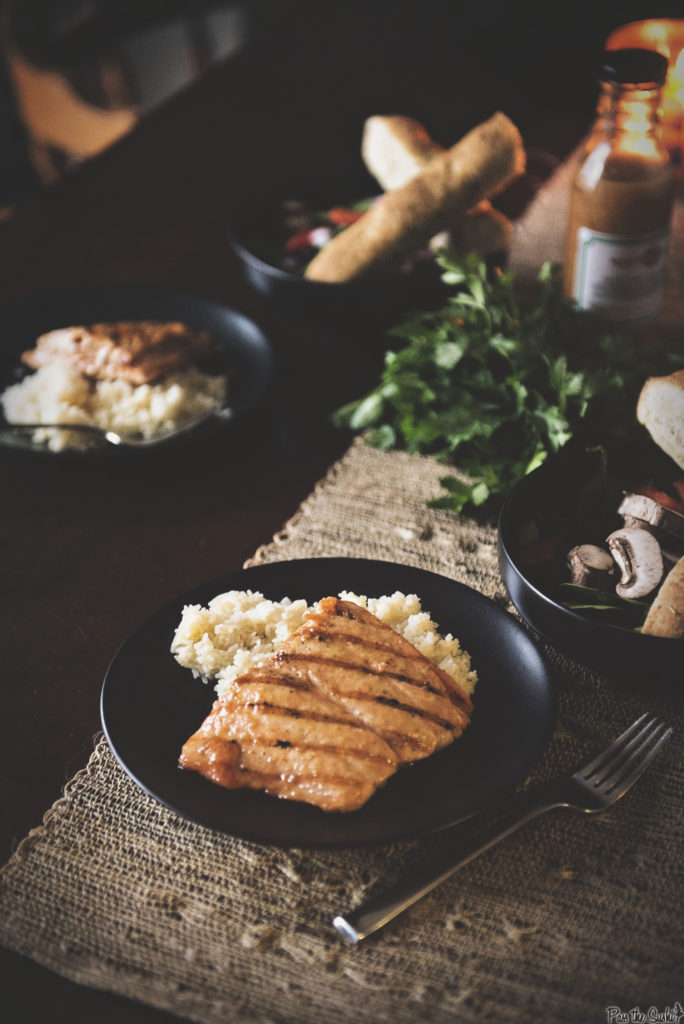 If you've tried my Grilled Salmon with Brown Sugar Mustard Glaze, or any other recipe on GirlCarnivore.com please don't forget to rate the recipe and let me know where you found it in the comments below. I get inspired by your feedback and comments! You can also FOLLOW MEon Instagram @girlcarnivore as well as on Twitter and Facebook.
Grilled Salmon with Brown Sugar Mustard Glaze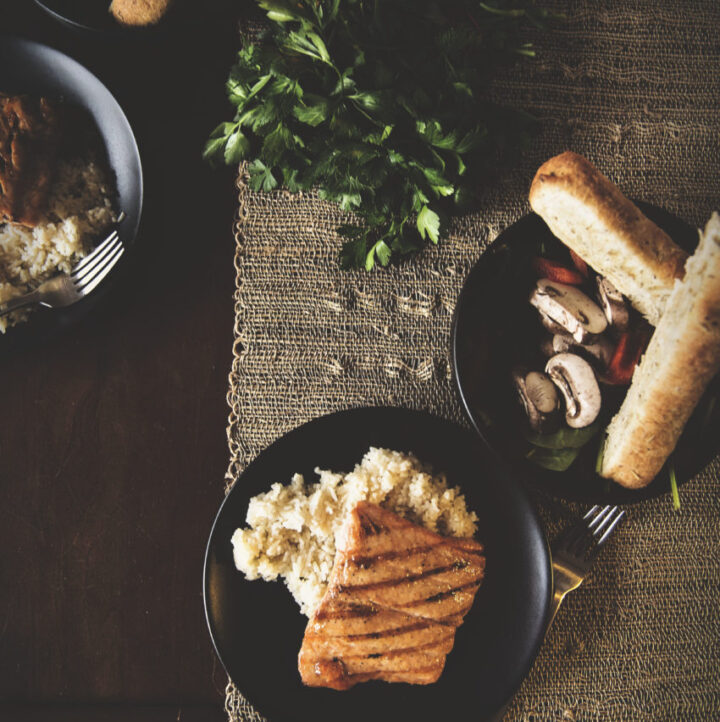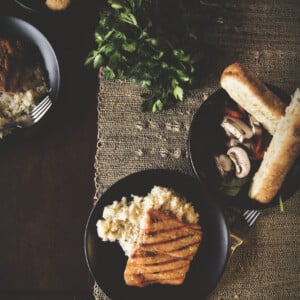 Brown sugar glazed salmon with a hint of mustard spiciness in the glaze.
Ingredients
2

tbs

light brown sugar

1 1/2

honey

1

tbs

butter

2

tbs

Dijon mustard

1

tbs

soy sauce

2

tsp

olive oil

1

tbs

ginger

finely grated

Vegetable oil

salt and pepper

1

lbs

salmon
Instructions
Whisk the brown sugar, honey, butter in a small saucepan over low heat until butter is melted and smooth.

Off heat, stir in the mustard, soy sauce, olive oil, and ginger.

Heat the grill to medium-heat.

Coat the salmon in the vegetable oil and season with salt and pepper.

Place the salmon on the grill and baste with the brown sugar mixture.

Grill 6 to 8 minutes, flipping once and continuing to baste.
Notes
Nutrition
Calories:
237
kcal
|
Carbohydrates:
7
g
|
Protein:
23
g
|
Fat:
12
g
|
Saturated Fat:
3
g
|
Trans Fat:
1
g
|
Cholesterol:
70
mg
|
Sodium:
413
mg
|
Potassium:
592
mg
|
Fiber:
1
g
|
Sugar:
6
g
|
Vitamin A:
138
IU
|
Vitamin C:
1
mg
|
Calcium:
25
mg
|
Iron:
1
mg