Looking to fire up the grill this summer but stay Whole30 approved? This Grilled Tri-Tip Steak with Mushrooms and herb compound butter will knock your socks off and is completely Whole30 compliant! The grilled tri-tip will prove to your friends and family that eating lean and healthy doesn't mean you have to sacrifice flavor.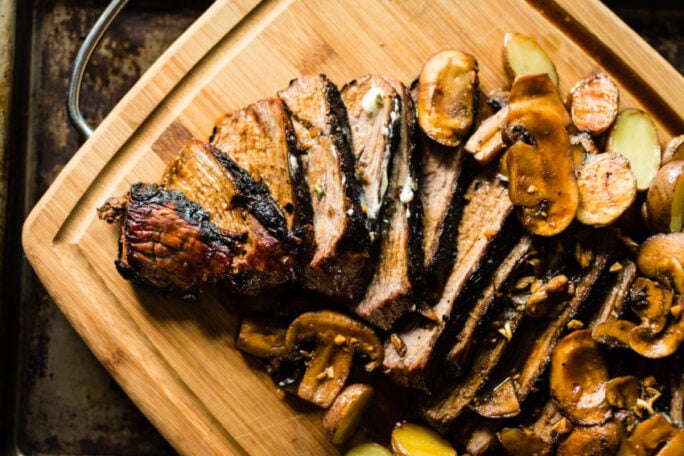 That special something only grilled steak provides
There's something about a grilled steak that nails it every single time in a way that poultry and pork just can't reproduce. A great grilled chicken or pork chop will satisfy me every time and can really be done spectacularly, but beef, beef is where my mouth starts to salivate and I really get excited about the possibilities.
Keep it simple with great beef.
Beef, in my opinion, is the simplest of proteins, needing little to jazz up the inherent flavors. As long as the cut is cared for properly, it holds a perfectly fine flavor all it's own with little more than a sprinkle of salt.
Needless to say, when heading to the butcher for a weeknight grill out, I snagged a fresh 2-pound tri-tip off the counter. I saw them arranging their cuts without asking what else was around back. It's not a cut I get to experiment with in my region due to its lack of popularity. So, rarely do I find it not in a vacuum sealed bag with a Santa Maria seasoning already working it's way in, inspired by its humble rise to fame in California.
What exactly is a tri-tip steak?
We can play with rib-eyes and strips for days, but grilling a fresh tri-tip? Oh, lucky day. For $26.57 I grabbed my chunk of meat and set out to make supper.
The tri-tip is a triangular cut from the bottom sirloin of the cow. It isn't always the most tender of cuts, but is long and lean and with a little love can produce a fantastic meal.
Tri-tip isn't as hot and fast as a thin steak, so give it a little time over the heat to allow the muscle to really break down without seizing up and add time in for a good rest before slicing thin and diagonally on a bias against the grain.
Cutting it against the grain, after it has properly rested, is very important! Otherwise you might wonder why I recommend tri-tip in the first place. And, since the tri-tip has two grains, this is like a pop quiz – the answer, you will need to rotate halfway through cutting to continue to slice across the grain!
What are button mushrooms?
Ok, this is probably a regional thing. Button mushrooms are the same mushroom as crimini and portabella mushrooms. But hold on, why not just say crimini or portabella?
Good question. Because each name describes a different life stage of the mushroom. Crimini are the little babies, buttons the mid-life crisis, and portabella are the grand old dames of the mushroom's life cycle.
Now you know. But just to complicate matters, sometimes the button are just called "brown" mushrooms, or even just called mushrooms, as if they hold the torch for the entire realm of mushrooms.
Can I use other kinds of mushrooms?
If you want to get fancy, and in this case that means stepping up and paying a bit more, then try using other mushrooms like morels or shitakes, chanterelles, and yellow trumpets. Most of those are classified as "wild" mushrooms but truth be told they are grown in controlled conditions as well on farms.
Which means they should be a lot cheaper than they are, but oh well. They do taste great though and will fancy things up a bit if you feel like going there.
Now on to the grilled tri-tip with mushrooms….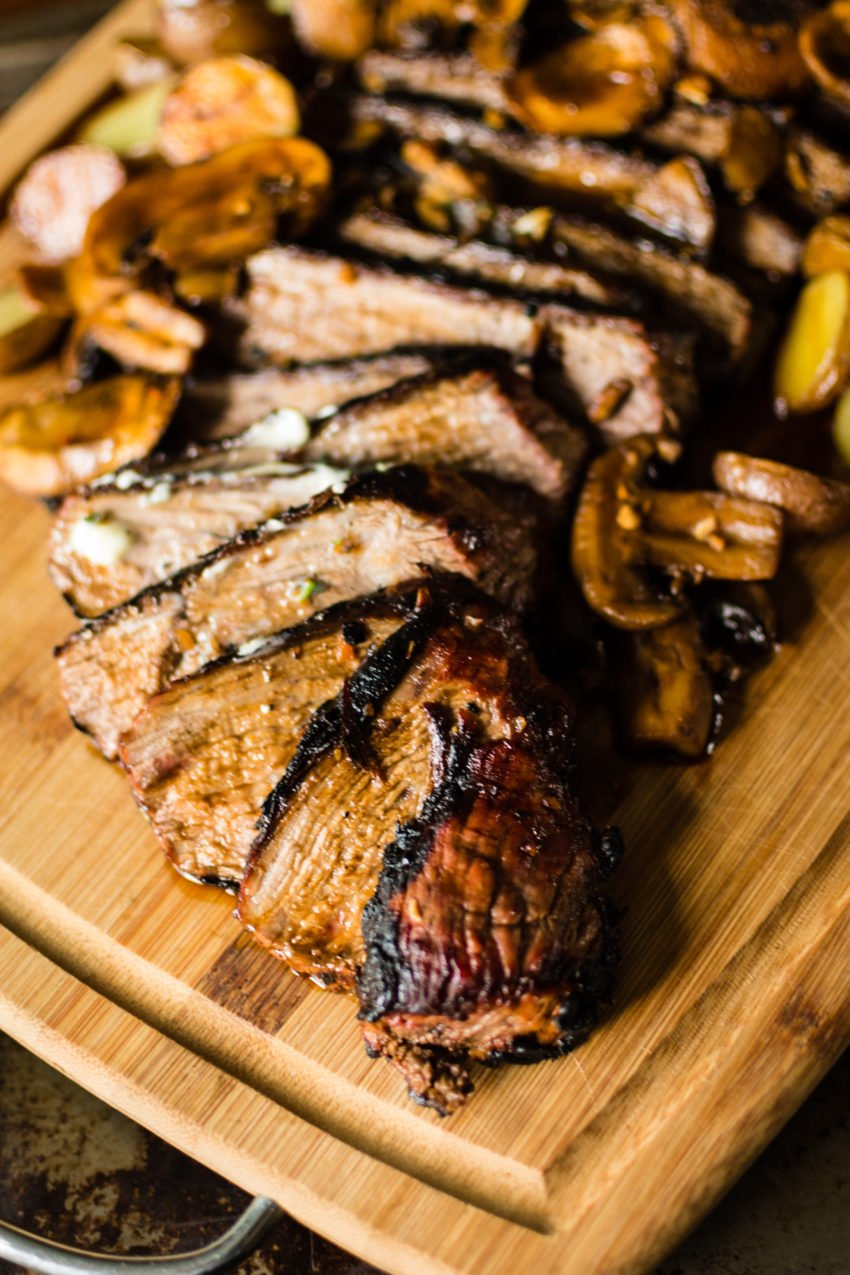 Want more delicious Whole30 inspiration?
Try some of my favorite recipes
If you've tried my Beef Wellington Recipe or any other recipe on GirlCarnivore.com please don't forget to rate the recipe and let me know where you found it in the comments below.
I get inspired by your feedback and comments! You can also join in on the adventures on Instagram @girlcarnivore, Twitter & Facebook.
Grilled Tri-Tip Steak with Mushrooms and Herb Compound Butter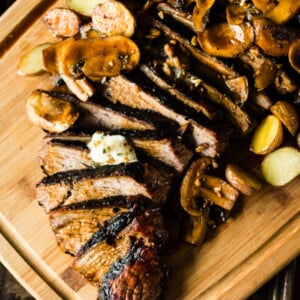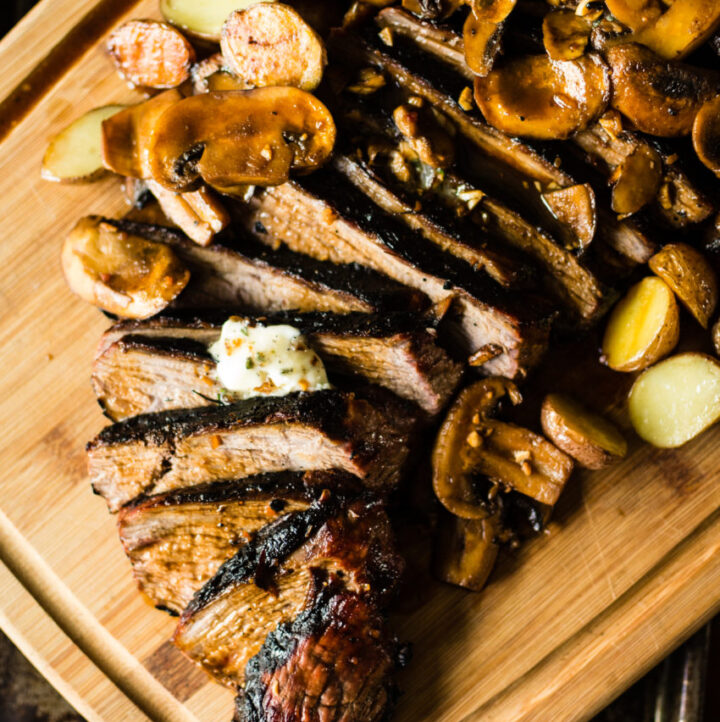 This easy steak and mushroom combo is hearty and delicious with a simple compound butter and delicious oven roasted mushrooms! Not interested in Whole30? This tri tip steak is great with regular soy sauce and Worcestershire in place of the coconut aminos.
Ingredients
1 2 to 4

lbs

tri-tip

trimmed

1/3

cup

coconut aminos

1/2

cup

fresh pineapple juice

5

cloves

garlic

minced and divided

salt and pepper

6

tbs

clarified butter

1

parsley

handful fresh bunch, stems removed and roughly chopped

1

tsp

thyme

fresh and chopped

1

lbs

button mushrooms

cleaned and sliced about 1/4″ thick

2

tbs

olive oil

2 to 3

lbs

potatoes

small, cleaned and cut in to even halves
Instructions
Whisk the coconut aminos, pineapple juice, 3 cloves of garlic in a small bowl.

Pour over the tri-tip steak in a resealable bag and allow to marinate for 6 to 8 hours, flipping once or twice as it sits.

Meanwhile, With a fork, mash the remaining 2 minced cloves of garlic with 4 tablespoons of the butter, parsley, thyme and a pinch of salt and pepper.

Roll into a log in plastic wrap, seal, and place in fridge until ready to use.

When ready to cook, prep a charcoal grill for cooking over indirect heat.

Preheat the oven to 425 degrees F.

In a large bowl, toss the potatoes with olive oil and a little salt.

Spread evenly onto a clean baking sheet and cook until golden brown, flipping once, about 25 minutes.

Prep the mushrooms by swirling the clarified butter in a large skillet over the grill and sauteing until liquid has dissolved and been absorbed.

When ready, cook the tri-tip for 35-45 minutes, depending on thickness, flipping once.

For rare, aim for a temp of 135 degrees before pulling to rest.

Wrap in foil with a large dollop of compound butter and allow a rest of 10 minutes before slicing thinly against the grain on a bias.

Serve slices with fresh compound butter melting over top if desired.
Notes
To keep this recipe Whole30 Compliant – Skip the compound butter! Infuse ghee in a small saucepan with 2 minced cloves of garlic, parsley, thyme and a pinch of salt and pepper. When ready to serve, drizzle over the sliced tri-tip and veggies!
Nutrition
Serving:
1
g
|
Calories:
345
kcal
|
Carbohydrates:
17
g
|
Protein:
26
g
|
Fat:
19
g
|
Saturated Fat:
8
g
|
Polyunsaturated Fat:
1
g
|
Monounsaturated Fat:
8
g
|
Cholesterol:
93
mg
|
Sodium:
218
mg
|
Potassium:
822
mg
|
Fiber:
2
g
|
Sugar:
2
g
|
Vitamin A:
17
IU
|
Vitamin C:
17
mg
|
Calcium:
42
mg
|
Iron:
3
mg