Grilled Coffee Crusted Flank Steak Salad the perfect grilled salad for summertime. With fresh seasonal produce right from the farm stand, this meal comes together in under 30 minutes and will make both your inner grilling enthusiast and health nut happy.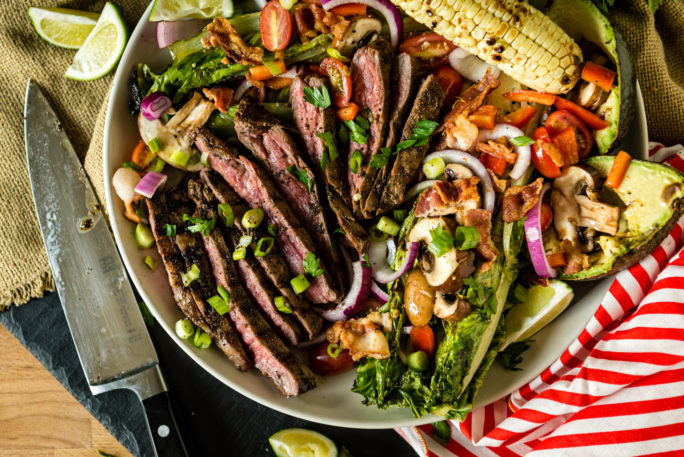 This girl does not appreciate salads. Not one bit. They are usually boring piles of iceberg, just wilting the life out of everything around them, designed to make you feel like you are doing something healthy for yourself. Ultimately going to make you just double down on the loaded baked potato when the time comes.
I loathe salad.
Probably because I had never had good salads. I always saw those house "side salads" and thought that was it. Two slimy slices of cucumber and a cherry tomato with hard croutons and some shredded cheese. Yay. 'Cept not.
This ain't that kind of salad. Grilled Coffee Crusted Flank Steak Salad is here to kick down the doors on the crappy salad movement and expose you to what eating fresh and local veggies piled high on a platter can be. Cram all these flavors onto one forkful and you won't ever go back to the plastic sealed grab-and-go salad again. This is what salad should be, covered in beef.
Special thanks to the family over at Oak Ridge BBQ for hooking me up with their line of seasonings to try. As I was going through the box, this whole idea came to mind. I can't wait to test out the other seasonings in the line to kick up my BBQ flavors.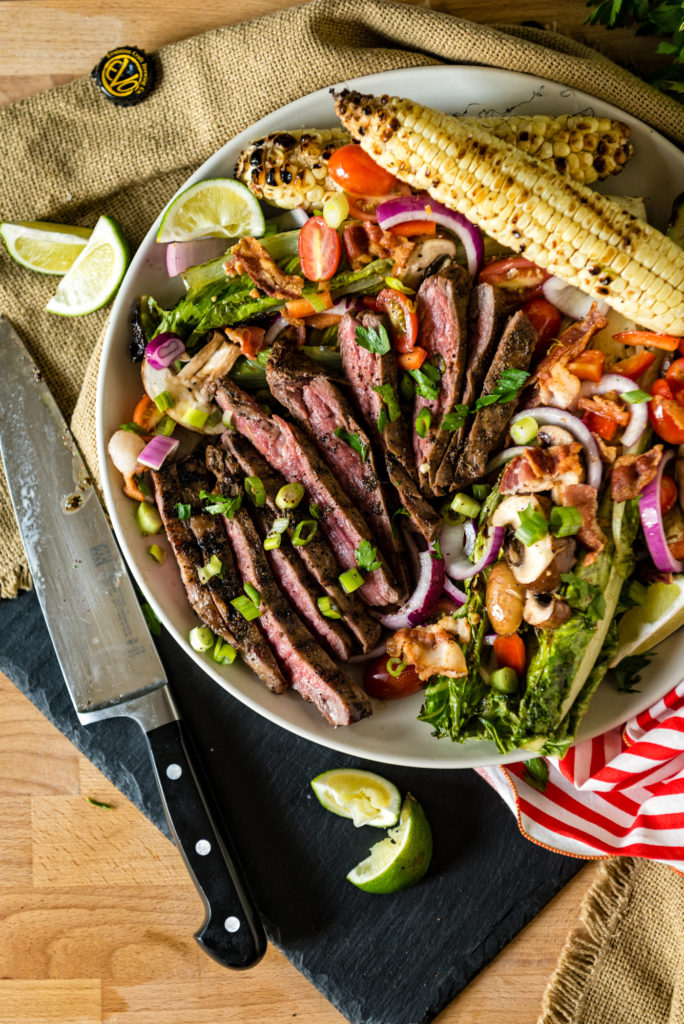 More Recipe Ideas:
Break the mold. Show them what salad can be. Grilled Coffee Crusted Flank Steak Salad
Grilled Coffee Crusted Flank Steak Salad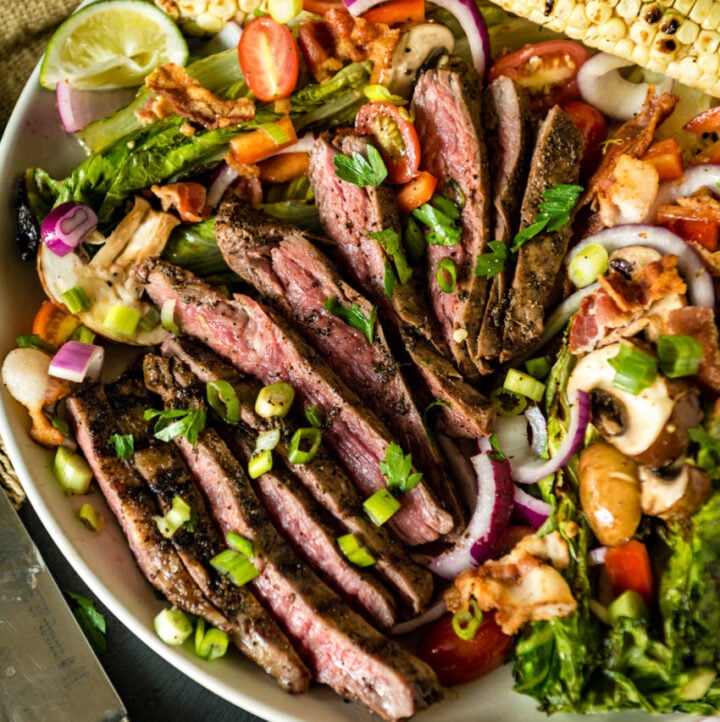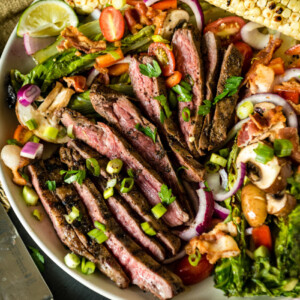 This coffee crusted flank steak is grilled to a perfect medium rare for delicious slices over top of a fresh salad, or however you want to serve it!
Ingredients
4

slices

bacon

cooked, fat reserved

2

lbs

flank steak

2

tbs

steak house coffee rub

salt and pepper

2 to 4

tbs

olive oil

2

heads Romaine lettuce

washed and sliced in half from the core up

1

avocado

sliced in half, pitt removed, skin on for grilling

1/2

cup

cherry tomatoes

sliced in half

1/2

red pepper

diced

1/4

red onion

diced

1/2

cup

mushrooms

sliced

2

scallions

green part only, sliced

fresh snipped cilantro
For the Honey Lime Vinaigrette
2

tbs

local honey

1

lime

zested and juiced

1- 2

tbs

apple cider vinegar

1/3

cup

extra virgin olive oil

2

tbs

bacon fat

salt and pepper

to taste

red pepper flakes

to taste
Instructions
While the grill is coming to temp, and the grate is cleaned and oiled, prep your salad and steak. Everything fires while the steak rests for perfect timing to serve as a whole platter to let your dinner guests create their own plates.

Meanwhile, rub the steak with a thick coat of the coffee rub. When ready, grill for 12 to 14 minutes, a temp of about 140 for medium rare, flipping once half way through. Wrap in foil and allow to rest.

Rub the sliced avocado and Romaine lettuce in olive oil and sprinkle with salt and pepper. Place on the cool side of the grill and grill until nice and charred on all sides, 3 to 5 minutes.

Whisk the vinaigrette ingredients together in a large bowl, season to taste, and toss the sliced tomatoes, peppers, onion, and mushrooms in the vinaigrette.

Arrange the grilled vegetables to a large platter and top with the sliced veggies, and vinaigrette. Slice the flank steak, against the grain, on an angle against the grain and place over the salad. Sprinkle with crushed bacon, scallions and cilantro for a pop of color. Serve and allow people to create their own platter.
Notes
*I also grilled some fresh sweet corn and basted it in the vinaigrette
Nutrition
Serving:
1
g
|
Calories:
411
kcal
|
Carbohydrates:
9
g
|
Protein:
27
g
|
Fat:
30
g
|
Saturated Fat:
7
g
|
Polyunsaturated Fat:
3
g
|
Monounsaturated Fat:
17
g
|
Trans Fat:
0.01
g
|
Cholesterol:
79
mg
|
Sodium:
144
mg
|
Potassium:
631
mg
|
Fiber:
2
g
|
Sugar:
6
g
|
Vitamin A:
963
IU
|
Vitamin C:
18
mg
|
Calcium:
38
mg
|
Iron:
2
mg