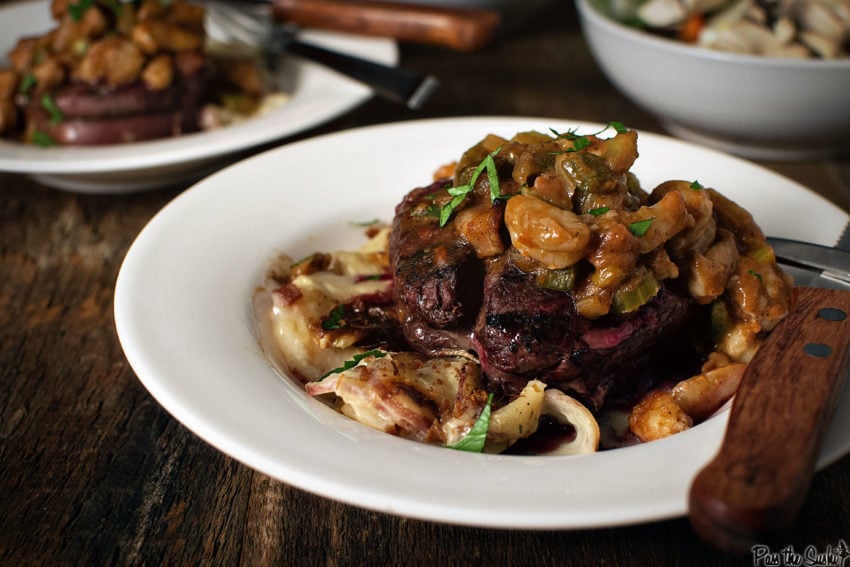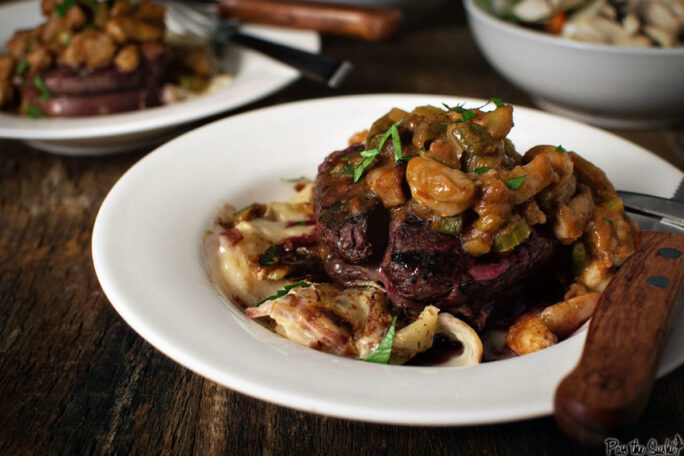 Maybe you are in the mood for something extravagant. Maybe you have something to prove in the kitchen. Maybe you are just looking to impress. Whatever your motivation, these juicy thick cuts of beef filled with a little flavor from the south is the perfect solution. Talk about a show stopper, I am not sure what was more appealing here, the 2 inch choice cut or the fresh seafood filling. Over some perfect gratin potatoes or maybe even a wild rice combo, consider this dinner one for the money.
Personally, I wouldn't pick filet as my first draft if I was looking to just grill a steak and serve it naked. But for stuffing and serving, these stout fork tender cuts are perfect for getting the job done. And there's nothing wrong with a little extravagance from time to time.
Who ever said it wasn't the size that counts?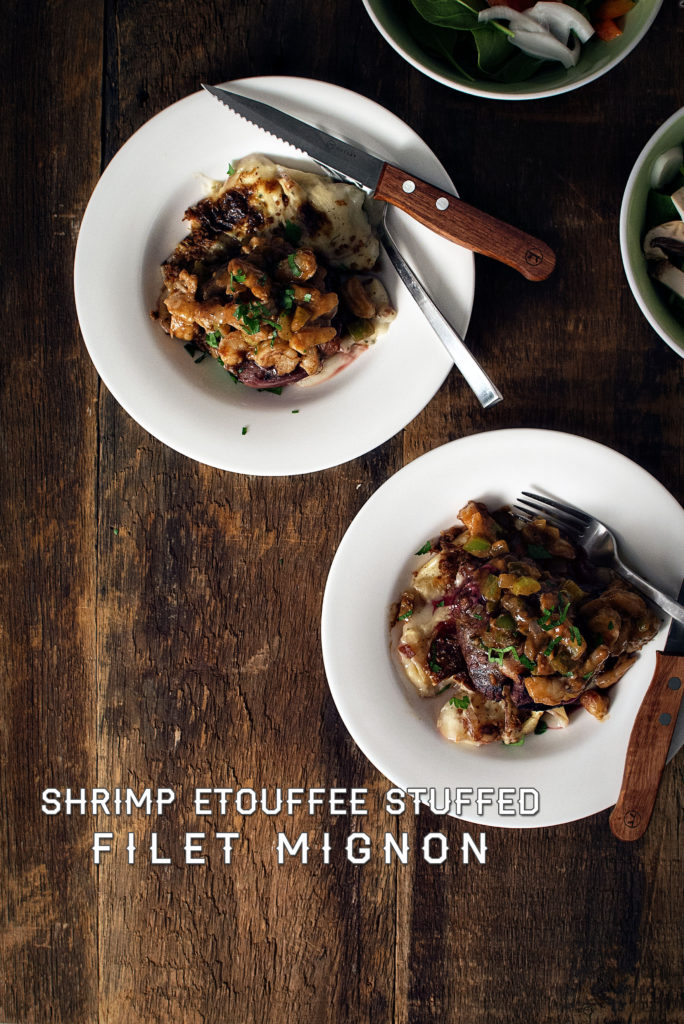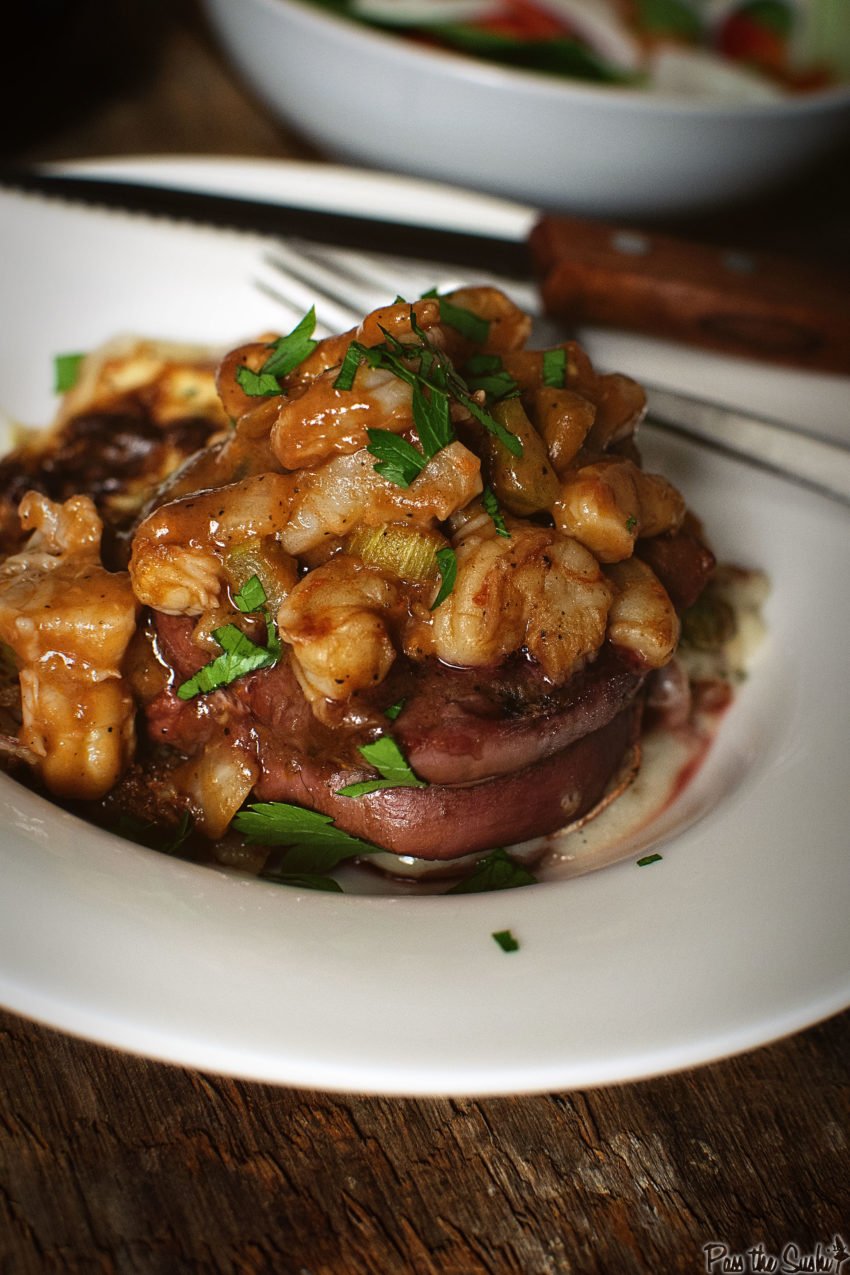 Ingredients
8

oz

medium shirmp

peeled, deviened, and chopped

2

slices

thick cut bacon

chopped into 1/4" pieces

1/4

onion

diced

1

celery stalk

chopped

1/4

green onion

chopped

2

tbs

flour

1

tbs

tomato paste

2/3

cup

beef broth

1

teas Worcestershire sauce

1/4

teas fresh thyme

minced

2

tbs

chilled butter

diced into small cubes

salt and pepper

4 8

oz

filets

cut 2" thick

1/4

cup

fresh Italian parsley

for garnish
Instructions
Preheat your grill to medium high heat. Clean and prep grill grate.

In a large skillet over medium heat, cook the bacon pieces for 3 minutes. Stir in the onion, celery, and pepper. Cook for 5 minutes longer, until the onion is soft and the bacon is crisp.

Sprinkle the flour over the veggies and bacon and stir in the tomato paste. Cook for 1 minute until thick and coating everything. Stir in the shrimp, broth, Worcestershire sauce, and thyme. Stir and cook for 3 minutes, until the shrimp are turning opaque.

Remove the pan from heat and stir in the butter. Season with salt and pepper and set aside.

Tie each filet with kitchen twine and season liberally with salt and pepper.

Arrange the steaks on the grill, cover and cook over direct heat for 6 to 10 minutes.

Carefully remove the steaks from the grill and arrange on heavy duty foil over the grill grates. Reduce the heat to medium-low.

Carefully, cut a X into the top of each steak, seared side up. Gently open the steaks and fill each with the shrimp mixture.

Place the shrimp filled steaks back on the grill and cover. Cook for another 10 to 12 minutes or until steak has reached desired doneness.

Allow to rest before serving. Top fresh parsley for garnish.