Bring back a stunning holiday tradition with the crown roast. Smoked Pork Crown Roast with a Sage Pan Gravy is a classic feast to feed a crowd – just make sure to order it from your butcher ahead of time to be in the smoker in time for the holidays.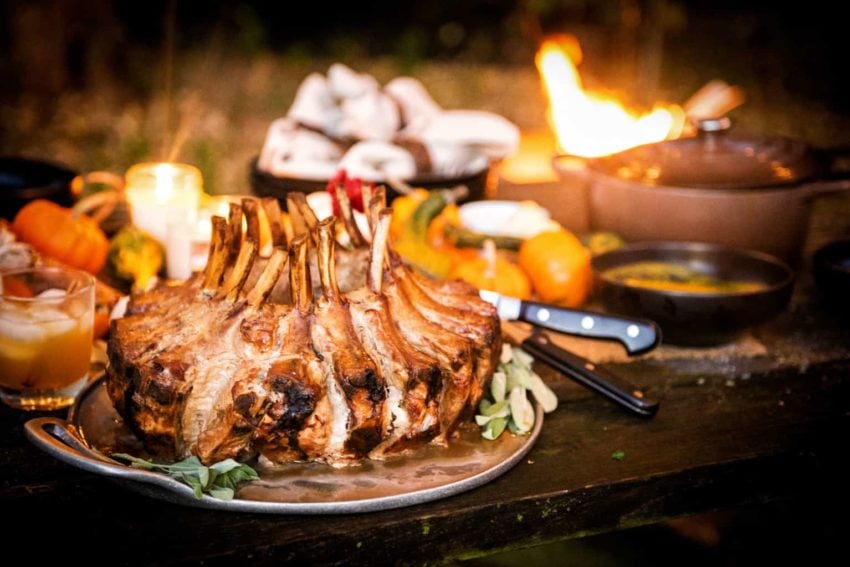 This is a sponsored post for Char-Broil – the pork and party were my own.
Anyone can smoke a bird (though, we highly recommend it and would love for you to try it), but how many times have you seen a stunning crown roast outside of childhood cartoons.
This holiday classic is cut from the loin of the pork, the ribs, with the rib bones carefully frenched and cut to form a circle, with the bones pointing upwards for a beautiful presentation. It's iconic cap covered bones are the things of childhood cartoons, but I am here to show you that it's just old TV episodes. That with some prep you can smoke a beautiful crown roast and serve it to your guests this holiday.
But First,
First, make sure to speak with your butcher a few weeks before ordering. Each butcher does their ordering differently, and having a rack waiting in the case is unlikely.
However, if you special order a crown roast from your butcher, they can not only give you a good weight for the number of guests you plan to entertain, but also trim and tie it for you as well.  Be sure to ask them for the leftover trimmings to use in future grinds.
Once home, don't let the beauty of this dish intimidate you, a pork crown roast is easy to prepare, especially when you are using an electric smoker. Once smoked, fill the center of the roast with a homemade sausage stuffing made from the pork trimmings.
This Smoked Pork Crown Roast with a Sage Pan Gravy takes a simple rub, ready in 5 minutes. While the crown roast smokes, make the pan sauce and your signature side dishes. Bonus, smoking the crown roast saves a ton of room in the oven for everything else!
The Sage Pan Gravy is a light gravy perfect to compliment the roast and drizzle over mashed potatoes.
See, you got this. Now, go get all old fashioned on this crown roast, you wild thing you.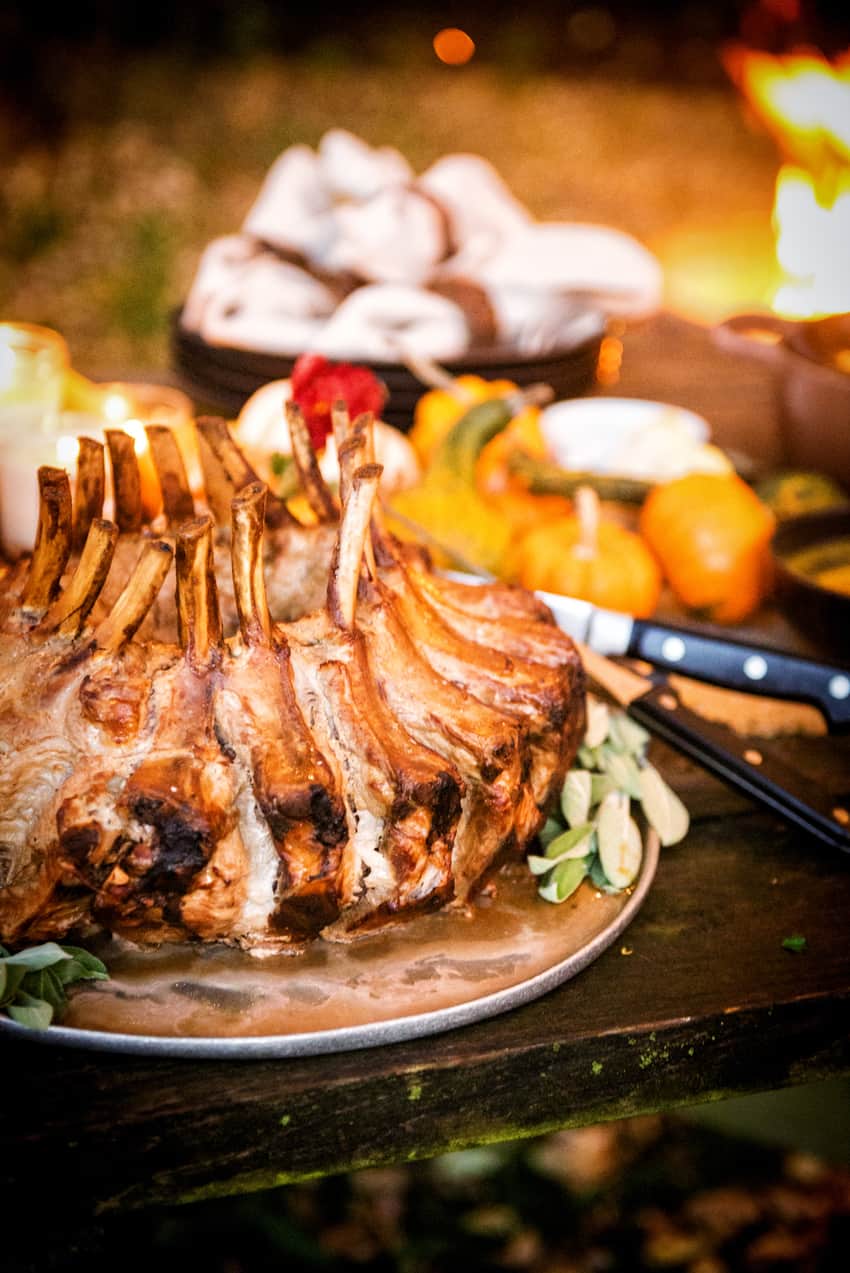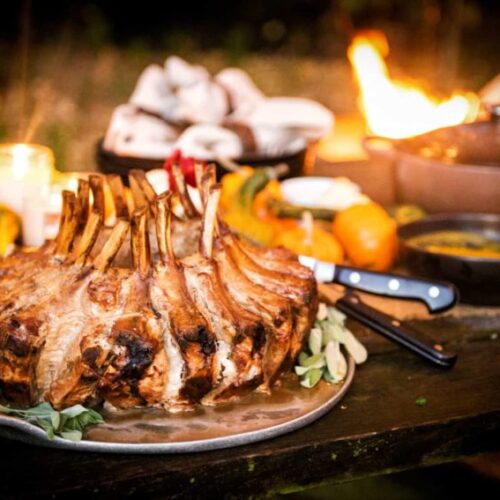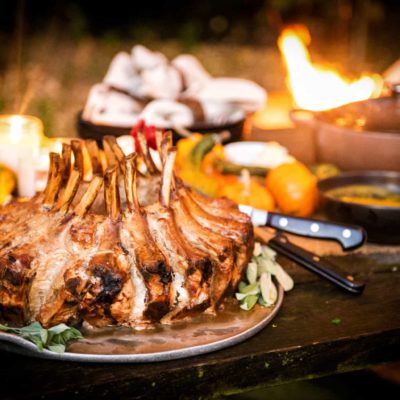 Cook Time:
3
hours
35
minutes
Total Time:
3
hours
45
minutes
Ingredients
For the Crown Roast
1

12-rib pork crown roast

salt and pepper

5

garlic cloves

minced

3

tbsp

honey dijon mustard

1

tbsp

apple cider vinegar

1

tbsp

brown sugar

pecan wood chips
For the Pan Gravy
fresh sage

1/4

cup

butter

handful fresh sage leaves

2

cloves

garlic

minced

1/4

cup

flour

1/2

cup

white wine

1/2

cup

chicken broth

1

tbsp

fresh parsley

minced

salt and pepper

to taste
Instructions
Special order your crown roast from your butcher no less than one week before your celebration. Have the butcher assemble the roast for you and grind the trimmings and save them for another project.

Prep your smoker for 225F with the rack at the lowest position and the water pan filled. Have your wood chips ready to go.

Season your pork with a healthy dose of salt and allow the pork to rest at room temperature, covered, for one hour.

When the smoker is heated, mix the minced garlic, Dijon and honey mustard, apple cider vinegar, brown sugar and a dash of black pepper in a small bowl. Brush the mixture all over the pork.

Place a digital thermometer along one section of the pork, making sure to not press against the bone, as this will lead to a false reading. Place the crown roast in the smoker and smoke until the roast reaches 145 degrees Fahrenheit.

Remove from the smoker and cover. Meanwhile, preheat your charcoal or gas grill. Finish the roast over the flames to add a bit more texture to the outer layer, about 5 minutes. Remove and wrap with foil. Allow the roast to rest for 15 minutes.
Make the Pan Gravy
In a large skillet over medium heat, melt 1 tbs of the butter and add any reserved drippings from the resting crown roast.

Fry the sage until crispy. Add the minced garlic and cook for 30 seconds. Add the remaining butter and melt.

Sift the flour over the melted butter and mix to combine, cooking about 30 seconds. Slowly whisk in the wine, making sure the flour doesn't lump. Add in the broth and bring to a boil. Reduce heat to a simmer, whisking constantly, and allow to thicken about 5 minutes.

Add in the fresh minced parsley and season with salt and pepper.

Place the crown roast on a serving platter and garnish with fresh sage. Slice at each rib bone and serve, removing any cooking twine as needed. Serve the pan gravy on the side.