When was the last time you sank your teeth into simple oven-baked pork chops? But, can a pork chop in the oven actually have good flavor and still be juicy and tender? Yes, and this quick weeknight recipe is the no-fuss rescue the sheet pan chops have been begging for.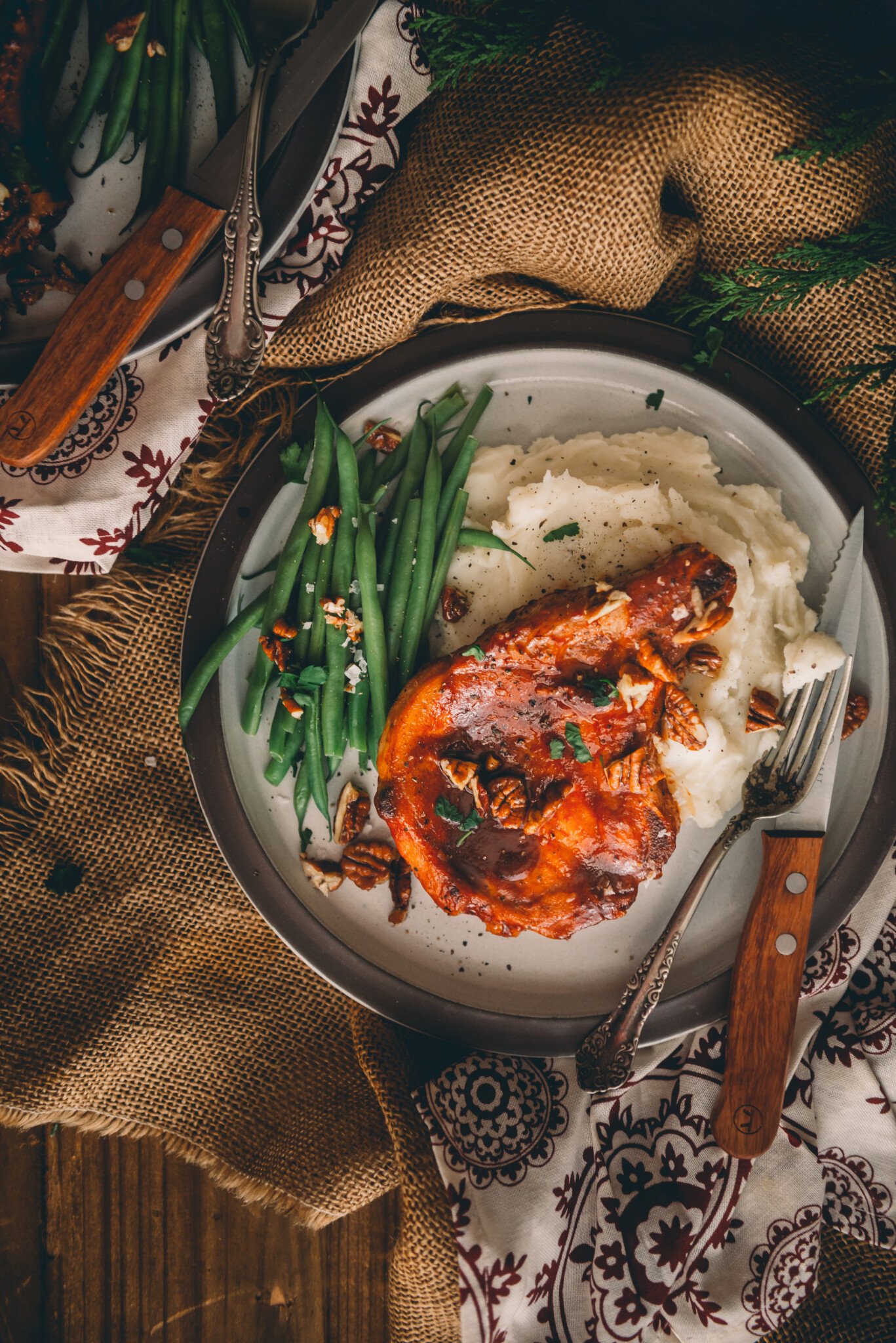 Oven-baked pork chops bring back memories of shake-and-bake pork chop dinners with boil-in-a-bag veggies paired alongside (and every kid loved that every veggie came with a cheese sauce). But, the meat was always dry and tough, and as an adult, recipes like oven-roasted pork tenderloin became best for flavor on busy nights.
But, the standards exist for a reason. So, this old-school dinner has been given a face-lift that can succeed with the ease of the box kits but with a quick cook time, tender port, and tons of flavor.
With a simple rub and a quick barbecue baste, this recipe checked all the boxes. Simple meal? Check! Flavorful pork? Check!
These are not your mama's pork chops. They are so much better.
What is Oven Baked Pork Chops?
Oven-baked chops are simply that, pork chops baked in the oven. Pork chops in the oven make for a simple, yet delicious dinner on a busy night. Oven-baked bone-in chops are flavored with simple ingredients that make for tons of flavor. They are typically baked at about 400 degrees Fahrenheit for seven minutes per 1/2 inch of thickness. As long as you watch your chops, don't overcook, and use an instant-read thermometer, you'll have juicy and tender pork chops in no time.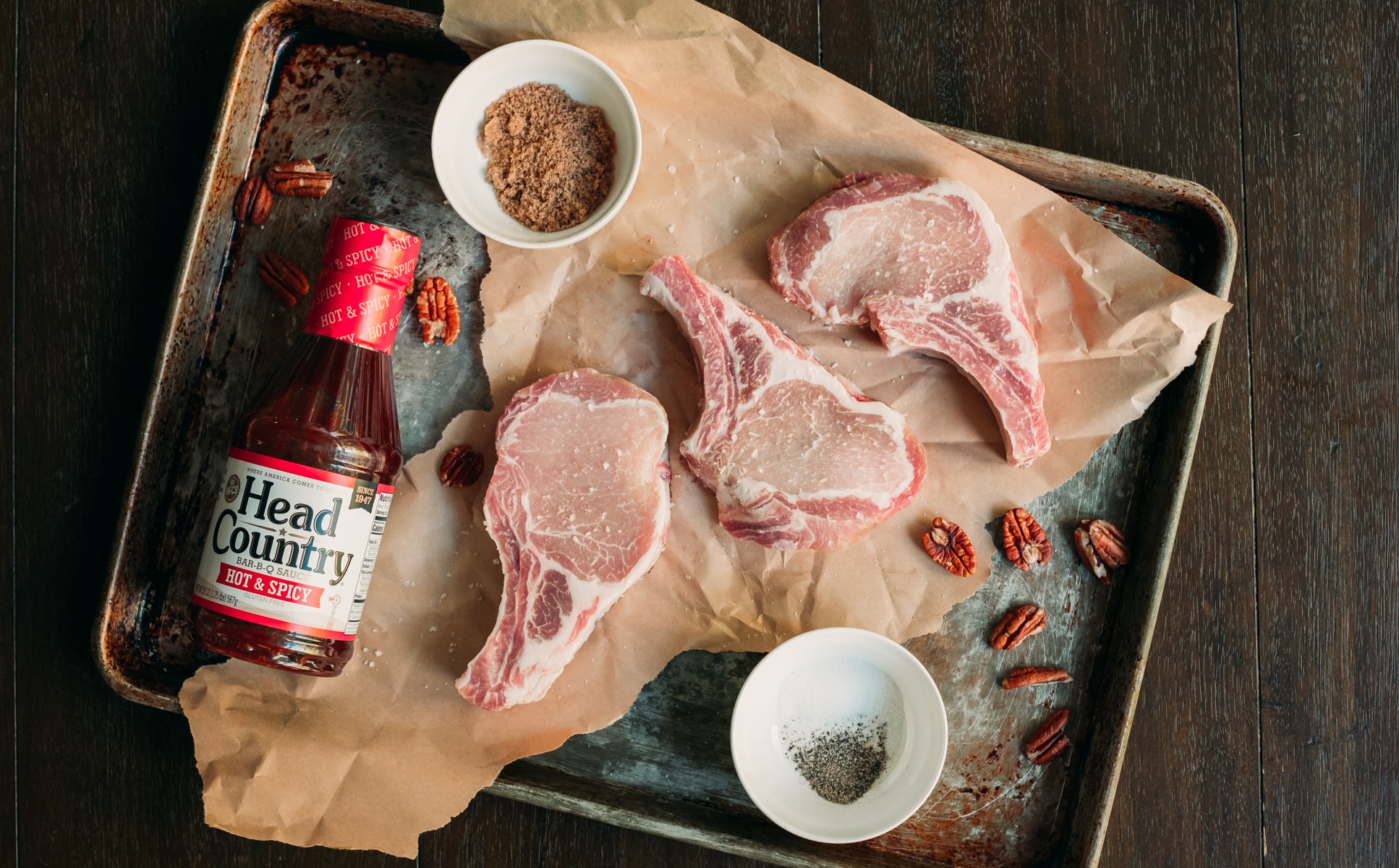 Ingredients for Delicious Oven Baked Chops
This is a basic 'what I've got in the pantry' recipe. All you need are:
Bone-in pork chops – about an inch thick
Brown sugar
Salt
Paprika – add smoked paprika for a subtle touch of smoked flavor
Cumin
Ground black pepper
Hot and Spicy Head Country Bar-b-Que Sauce – The heat cuts the sweetness from the brown sugar.
For the added Quick Spicy Pecans
Brown sugar
Salt
Cayenne
jalapeno infused olive oil – you can swap regular olive oil for this
water
How to Make Easy Baked Pork Chops
This easy baked pork chop recipe comes together quickly. So grab everything you need to make sure you pull it off seamlessly and don't overcook the pork. The flavor combination in this easy pork chops recipe is mouth-watering!
First, preheat the oven and prep a baking sheet with foil.
Rub the pork with the brown sugar and spices and place on the baking sheet or in a baking dish.
Bake the chops until they reach 130 F internally, just 15 minutes or so, depending on the thickness of the chops.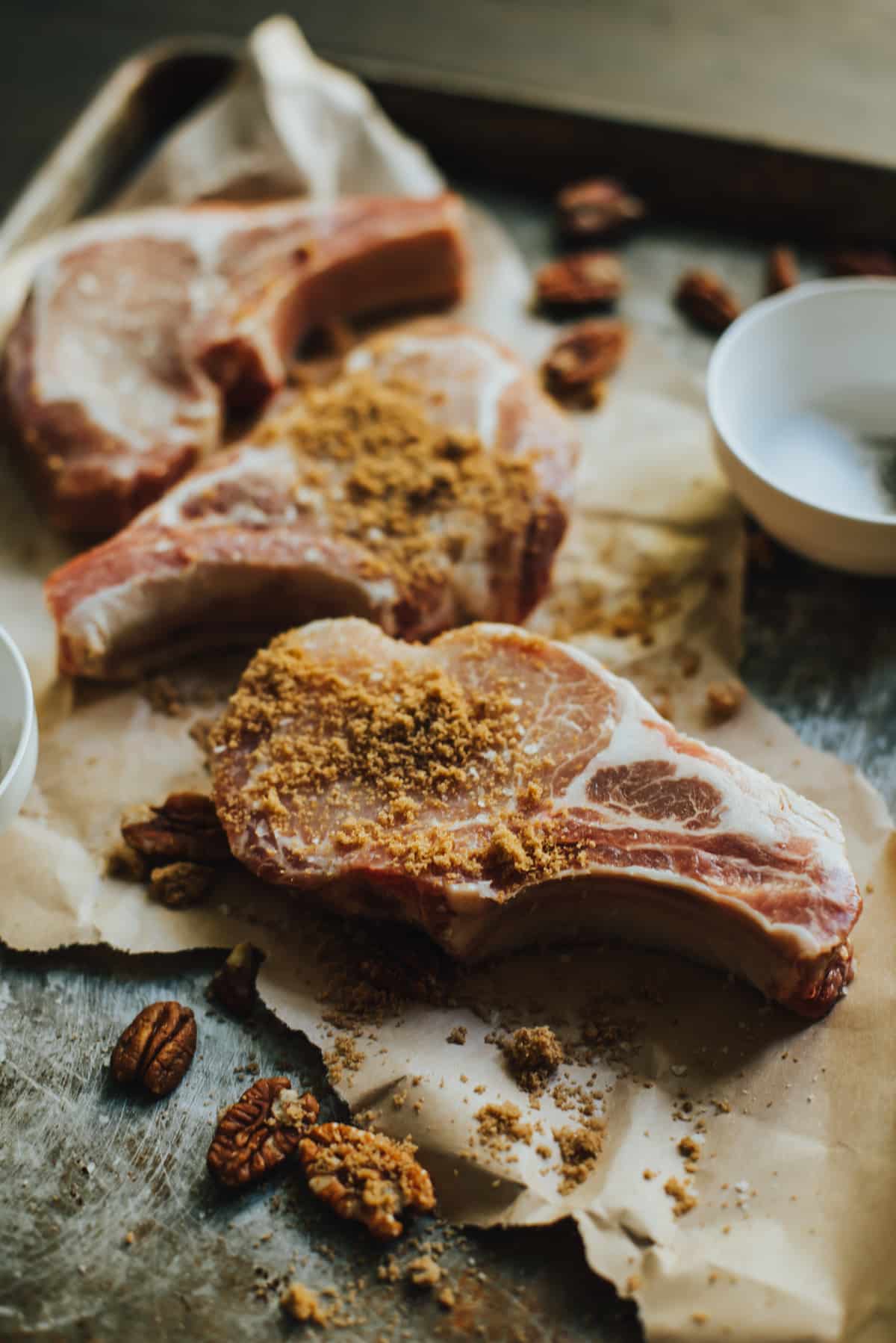 Then, pull the chops from the oven and set it to broil.
Baste the chops in a thick layer of barbecue sauce and add the pecans before placing them under the broiler.
Broil both sides, flipping once until the BBQ sauce is tacky and the pork reaches 140.
Next, let the pork rest to reach 145F and make the quick spicy pecans.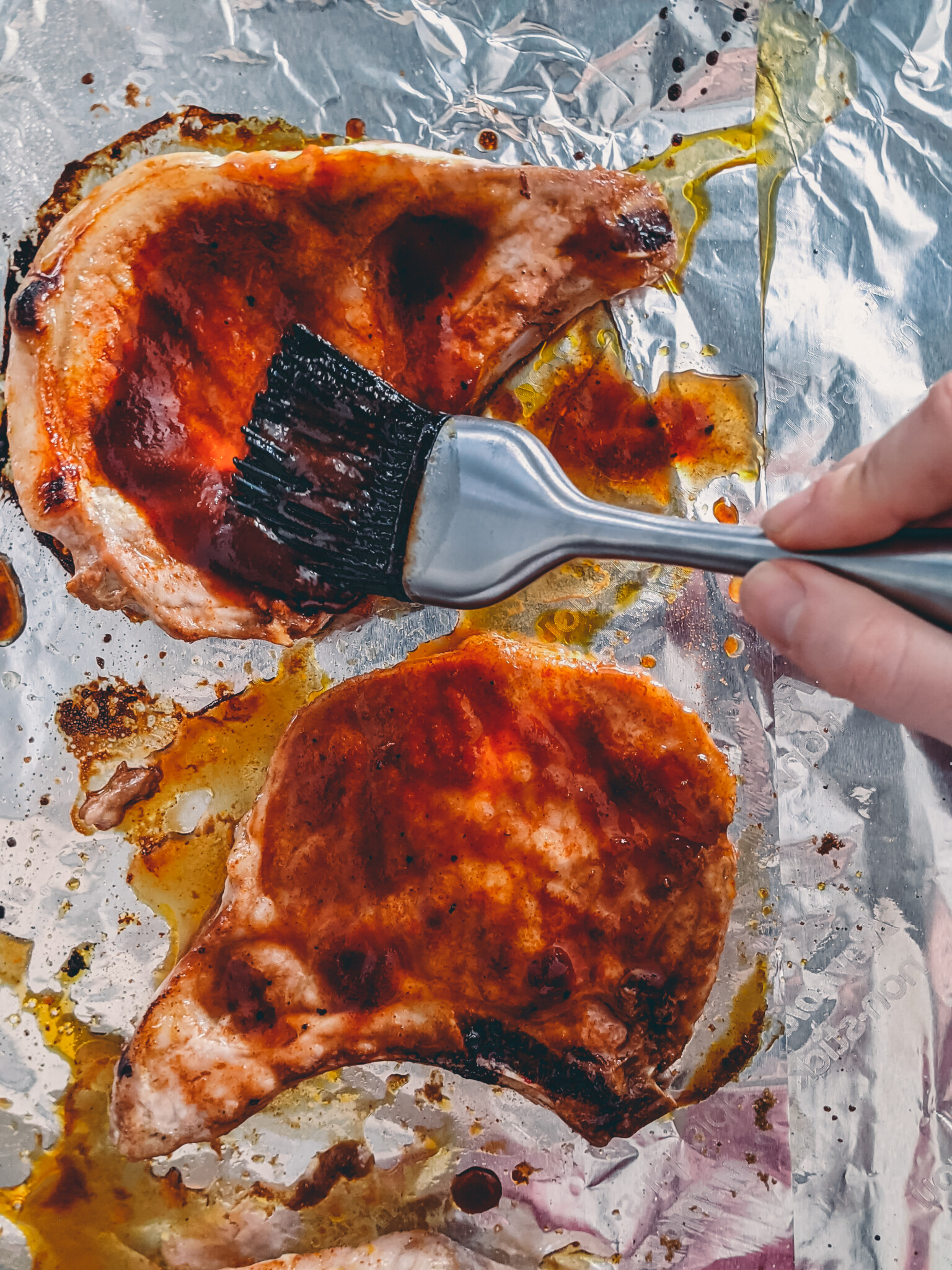 Whisk the brown sugar, spices, oil, and water in a small saucepan and allow to just begin to bubble before adding the pecans to coat.
Lastly, turn the pecans out to cool before a rough chop.
Finally, serve the bbq pork chops with your favorite sides and garnish with chopped pecans over top as garnish.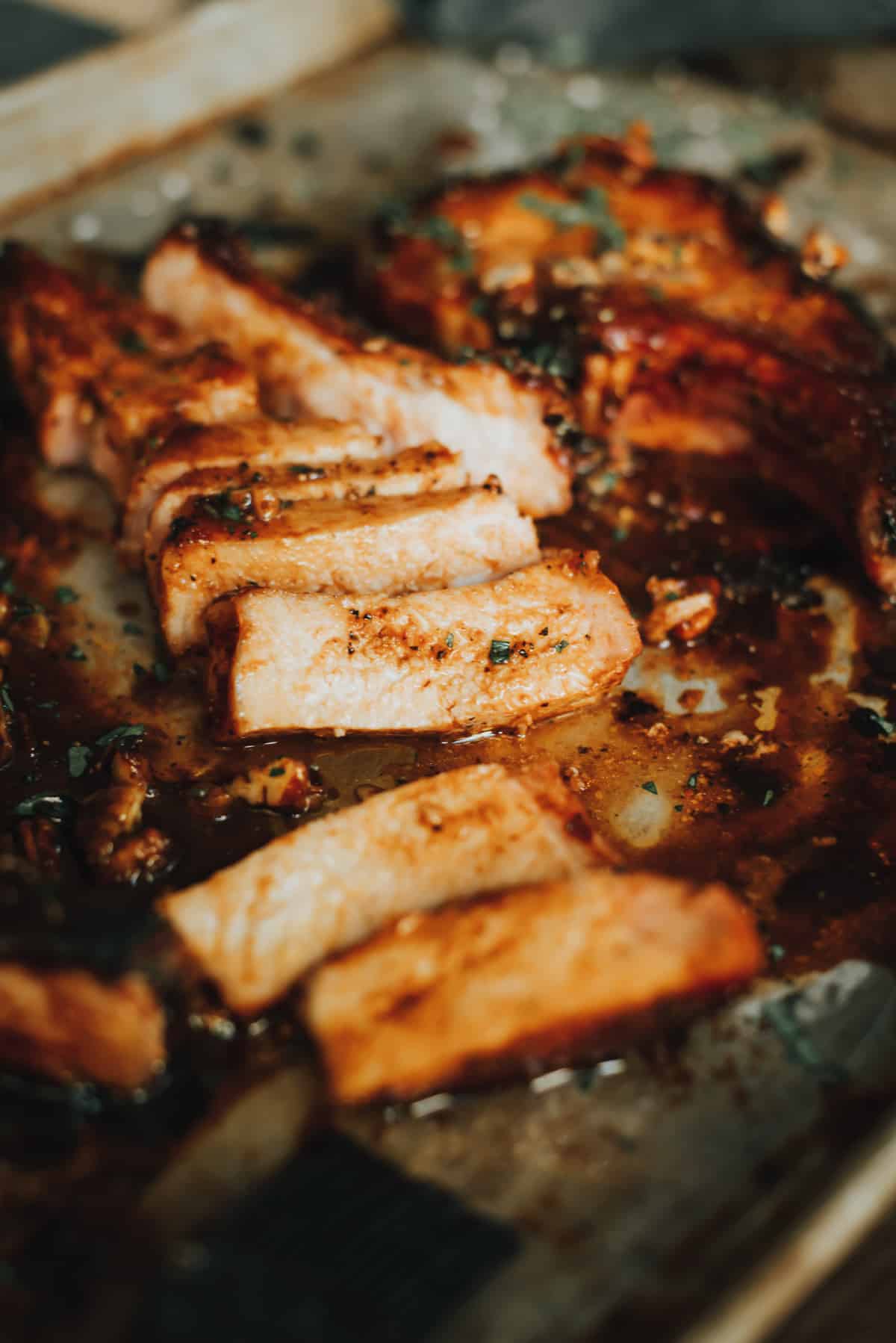 Girl Carnivore EXPERT RECIPE TIPS
Brine the pork chops
To get super juicy chops, try basting your pork before you bake them. If you have the time, baste them with the BBQ sauce for about 30 minutes (or longer) before baking. You can marinate them overnight if needed.
Use thick chops
The thicker chops will help keep moisture in the meat as they cook. They will require a slightly longer cooking time, but thinner cuts dry out much faster. If you want moist chops, opt for thicker cuts of meat.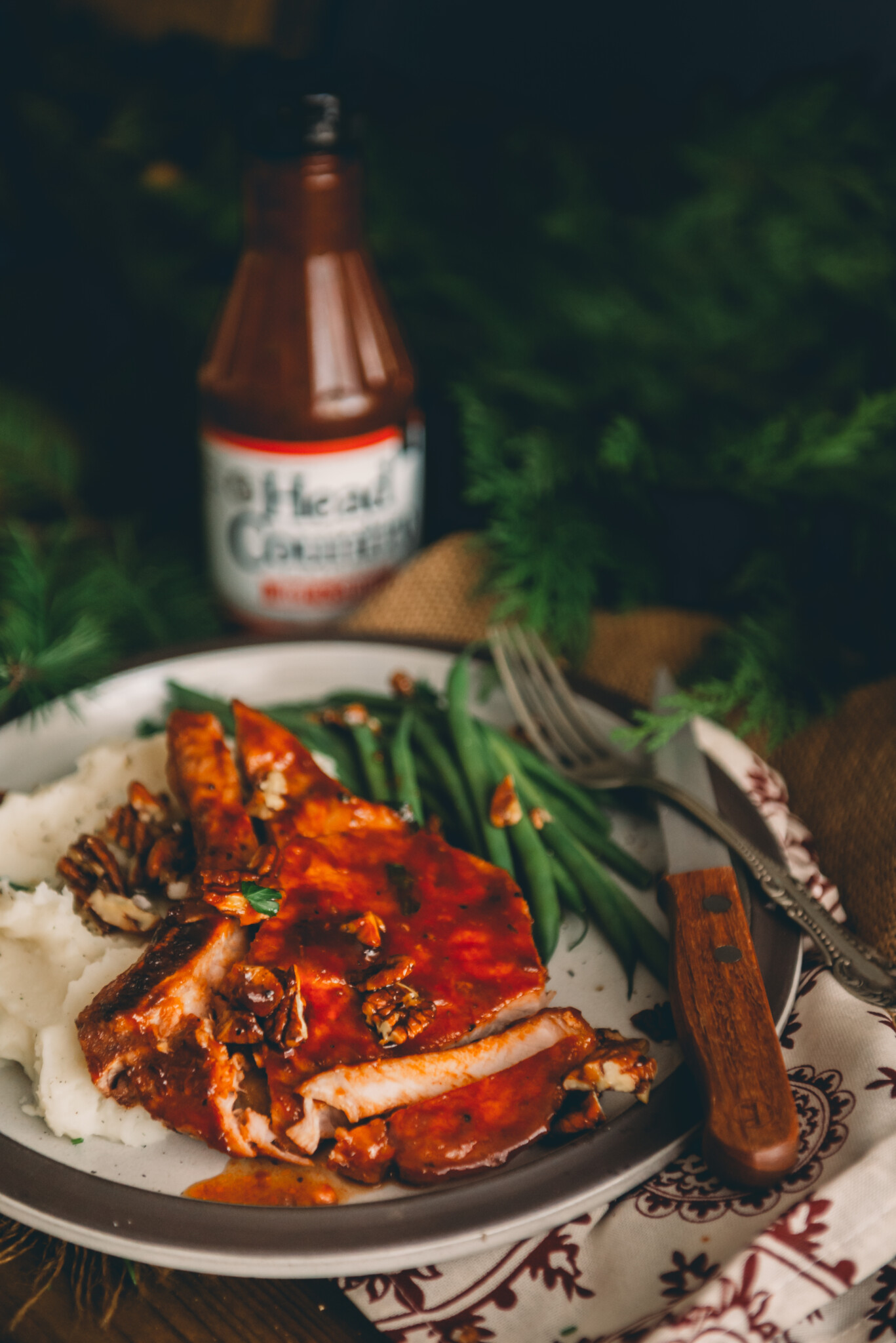 Leftovers and Reheating
When storing your leftover pork chops, place them in an airtight container or wrap them in foil. Refrigerate for up to 4 days, do not store at room temperature.
One of the best ways to reheat your pork chops is by wrapping them in foil and placing them in the oven at 350. Leave them in there for about 10-12 minutes or until they are heated through. Leave thick pork chops in longer if needed.
What to Serve with Pork Chops
Pair these chops with creamy mashed potatoes, blanched green beans, or a fan favorite, smoked brussels sprouts. The crunch from the pecans goes well with each of these too. Side dishes are what make the meal better, so play around with your favorite veggies and starches!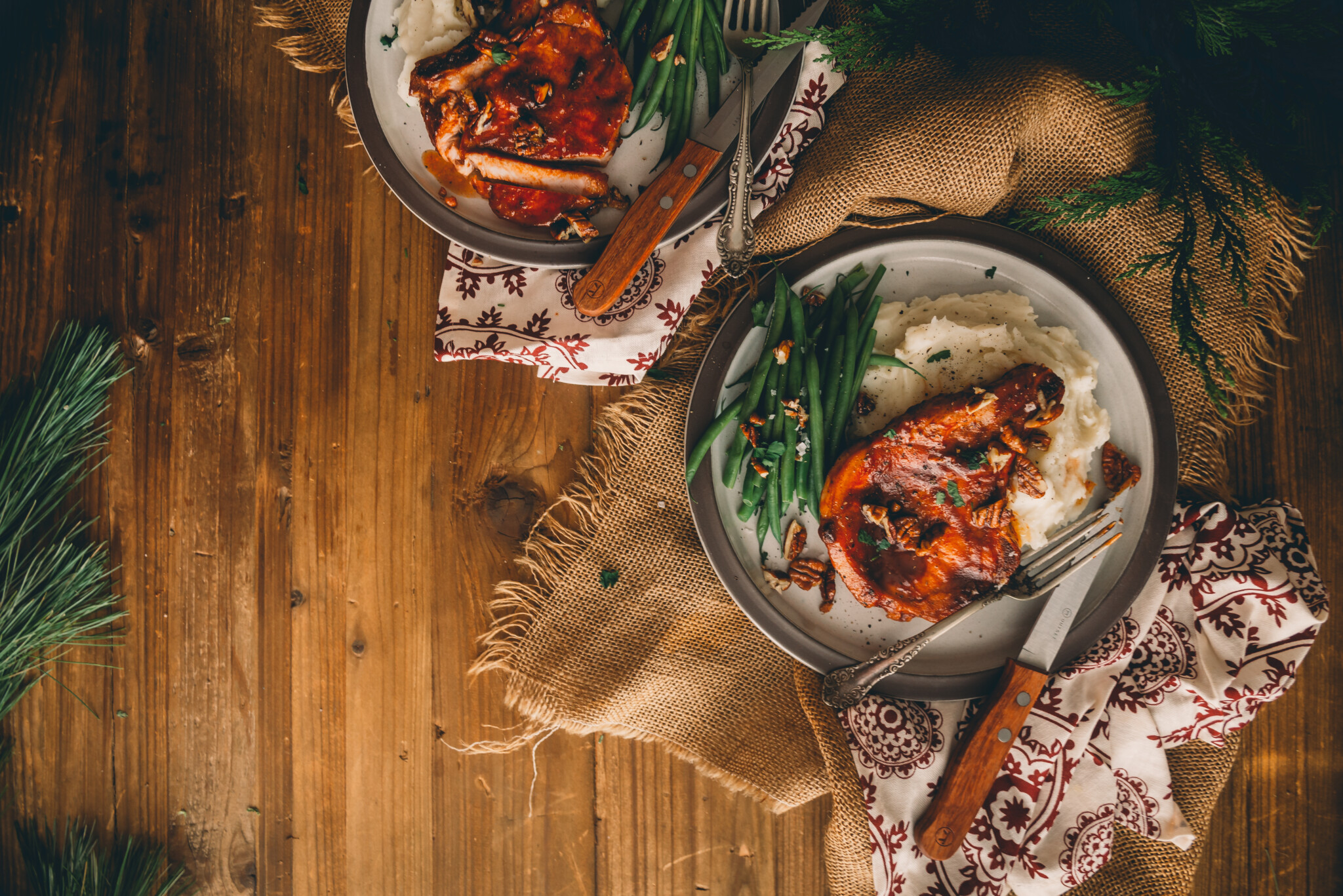 Recipe FAQs
Can I use boneless chops?
Yes, if you have boneless chops, you can absolutely use them. Boneless meat cooks quicker than bone-in, so adjust your cook time accordingly. If you can, find thick boneless pork chops, so your meat is juicier.
Can I change the bbq sauce?
Swap the Hot and Spicy Bar-b-q sauce for their original or hickory smoke if you're worried about too much heat. Or, if you're feeling bold, try their chipotle bbq sauce. No matter the sauce you use, these thick-cut pork chops are sure to delight.
Can I make these ahead of time?
No, these pork chops are best served fresh. if you don't finish them all right after they are cooked, consider slicing them thin and using them in a toasted sandwich or omelet the next day. Every time you reheat the pork chop, though, you'll be cooking it further and losing the juices.
MORE EASY Pork Chop RECIPES
No more serving up plain pork chops after you use this recipe. It will only be easy oven-baked pork chops from here on out. Grab some pork chops at the grocery store this week and enjoy these baked pork chop recipes with your family. They are some of the best pork chops you'll taste!
If you try this recipe be sure to drop a comment below and rate the recipe. This helps out the next guy and keeps fresh content coming out from the Girl Carnivore Meat Labs!
Easy Oven-Baked Pork Chops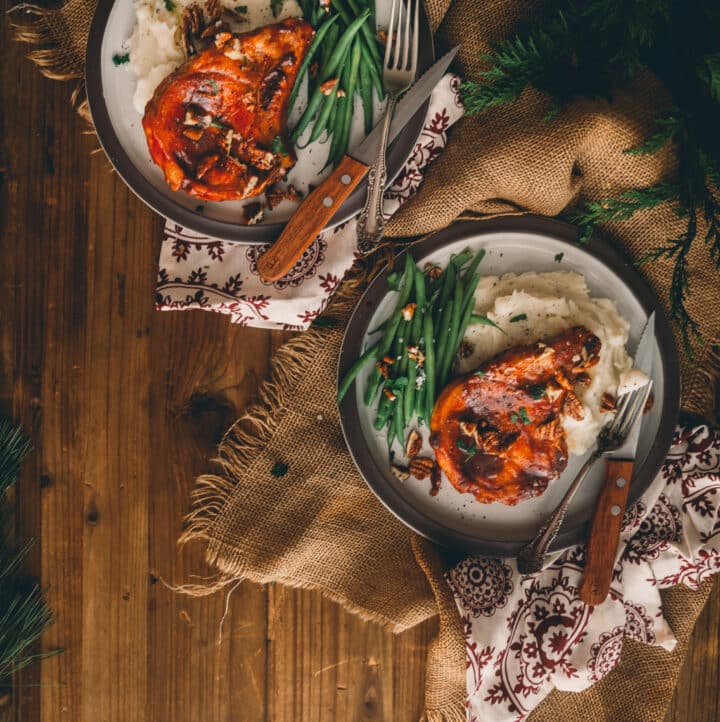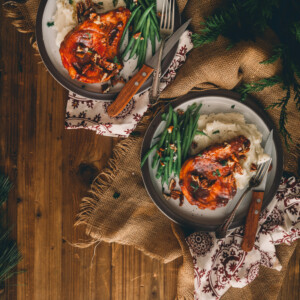 Juicy tender oven baked chops slathred in spicy bbq sauce and topped with quick spicy pecans for a bonus crunch. This recipe pays homage to my childhood memories of sheet pan pork chops with modern updates!
Ingredients
For the Quick Spicy Pecans:
2

tbsp

Brown sugar

Salt

Cayenne

½

tsp

jalapeno infused olive oil

1

tsp

water
For the Pork Chops :
1.5 – 2

lbs

bone-in pork chops

1

tbsp

Brown sugar

1

tsp

salt

½

tsp

Paprika

½

tsp

cumin

¼

tsp

pepper

1/2

cup

Head Country Hot and Spicy Bar-B-Q Sauce
Instructions
Prep the chops
Preheat the oven to 425F.

Pat the chops dry and line a baking sheet with foil.

Place the chops on the baking sheet.

Whisk the brown sugar, salt, paprika, cumin, and pepper together in a small bowl.

Pat the brown sugar-spice mixture all over the chops on both sides.
Bake the Pork Chops
Bake for 15 minutes until the pork reaches 135 degrees F.

Remove from oven, and set the oven to broil. Move the rack to the second highest slot.
Broil the Pork Chops
Baste the chops in Head Country hot and spicy sauce, coating both sides.

Add the pecans around the pork, and place under the broiler.

Cook for 2 minutes.

Remove from the oven, flip the pork chops.

Return to the oven and broil another 2 to 4 minutes, until sauce is tacky and pork chops temp at 140F.

Let rest, covered, for 5 minutes. The pork should rise to 145F while resting.

Place the pecans in a small bowl.
Make the Quick Spicy Pecans
Meanwhile, in a small saucepan whisk together the brown sugar, salt, and cayenne with the jalapeno-infused olive oil and water.

Set over medium heat until the sugar just begins to bubble.

Add the pecans that you toasted with the pork chops and stir to coat.

Allow the brown sugar to just bubble as you stir the pecans to coat.

Turn them out onto parchment paper in a single layer.

The pecans will quickly become tacky.

Once they are dry, give them a rough chop.
Serve
Plate the oven-baked pork chops with desired sides and garnish with the chopped pecans and minced parsley.
Notes
You can use boneless pork chops for this recipe as well, reduce the time to 10-12 minutes of baking for chops under 1" thick and adjust as needed for thicker chops.
Depending on where your oven racks sit in proximity to the broiler, adjust the time as needed to finish the cook on the meat and set the sauce.
This recipe calls for jalapeno-infused olive oil. Swap with regular olive oil if needed.
If you're worried about the Hot and Spicy being too much for your family, try Head Country original sauce instead. Alternatively, for a bold smokey flavor, try their Chipotle sauce.
Nutrition
Serving:
1
g
|
Calories:
547
kcal
|
Carbohydrates:
9
g
|
Protein:
62
g
|
Fat:
27
g
|
Saturated Fat:
9
g
|
Polyunsaturated Fat:
4
g
|
Monounsaturated Fat:
11
g
|
Trans Fat:
1
g
|
Cholesterol:
205
mg
|
Sodium:
748
mg
|
Potassium:
1045
mg
|
Fiber:
1
g
|
Sugar:
9
g
|
Vitamin A:
145
IU
|
Vitamin C:
1
mg
|
Calcium:
68
mg
|
Iron:
2
mg