There is something incredibly comforting about the simplicity of a classic pasta dish. In this iconic classic carbonara recipe, all you need are some fresh quality ingredients and your minutes away from a romantic meal!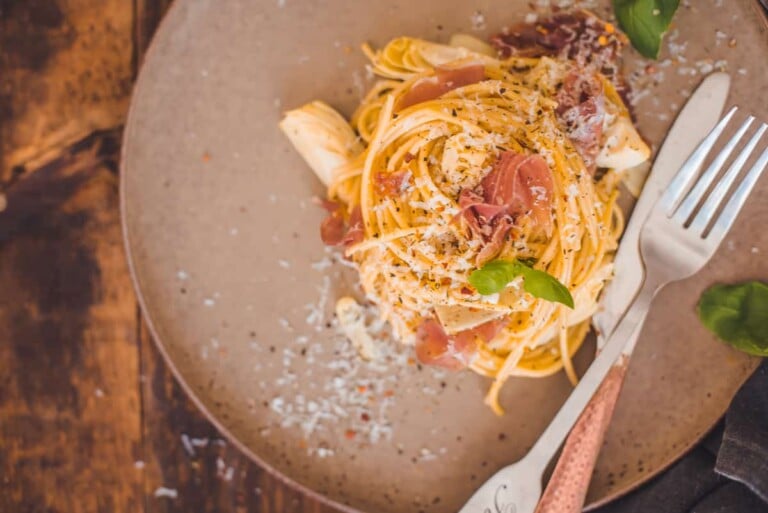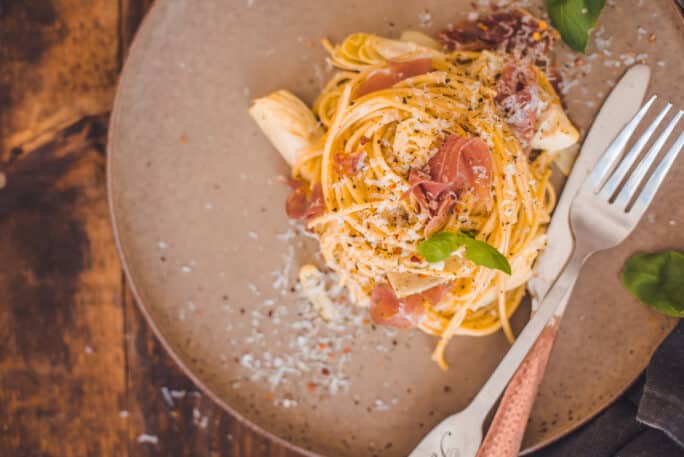 This post was sponsored by Honest Cooking. All thoughts and opinions are my own.
Classic Carbonara
Carbonara is a timeless dish, and the simplicity of it is the key to why it's so incredibly comforting and satisfying every time.
Essentially, the recipe is mixing an egg yolk into hot pasta.
The heat from the pasta 'cooks' the egg while the yolk, when tossed quickly, creates the velvety rich coating over the al dente pasta.
Adding some cured meat, shaved hard cheese, and freshly ground black pepper all enhance the luxury of this recipe.
But, with all simple things, it is the investment of ingredients that creates the stellar quality of the dish. In its pure humble nature, it's the ingredients that shine. So, I made sure to work with nothing short of the best.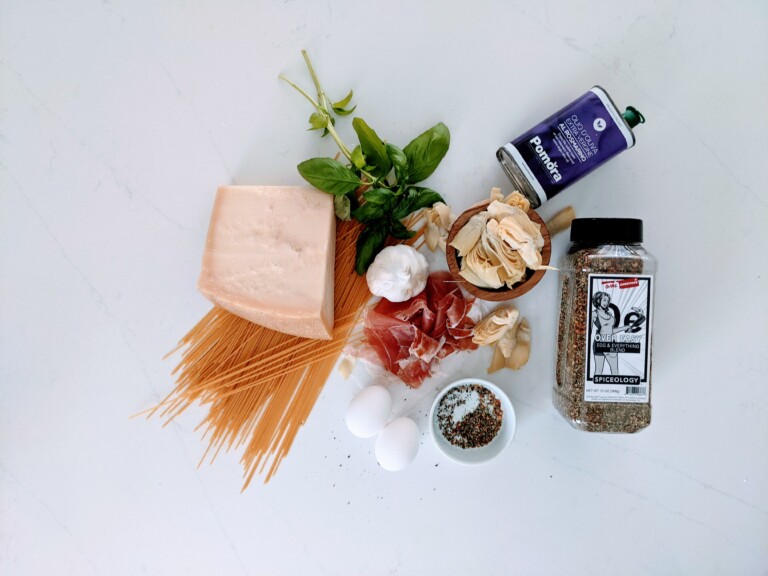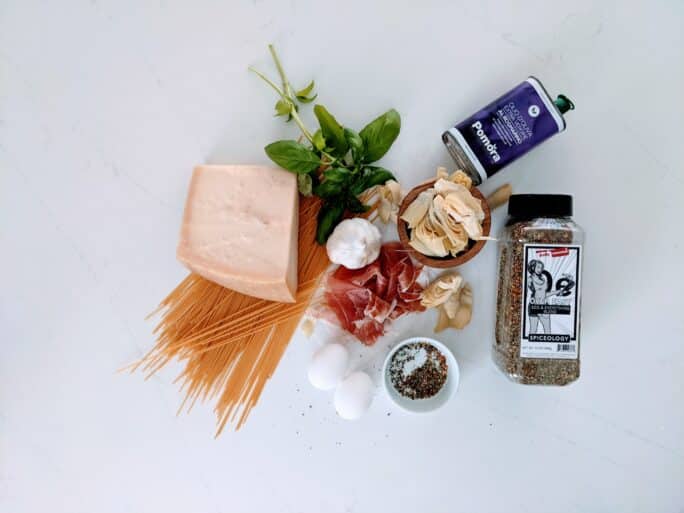 What you need to make Carbonara
For iconic carbonara, you only need pasta, egg yolks, cured ham, quality cheese, black pepper, and salt. Ingredients you may have on hand.
For this recipe though, I added a bit to the dish by tossing in rinsed artichoke hearts. And then I selected Prosciutto di San Daniele and Grana Padano to be the meat and cheese.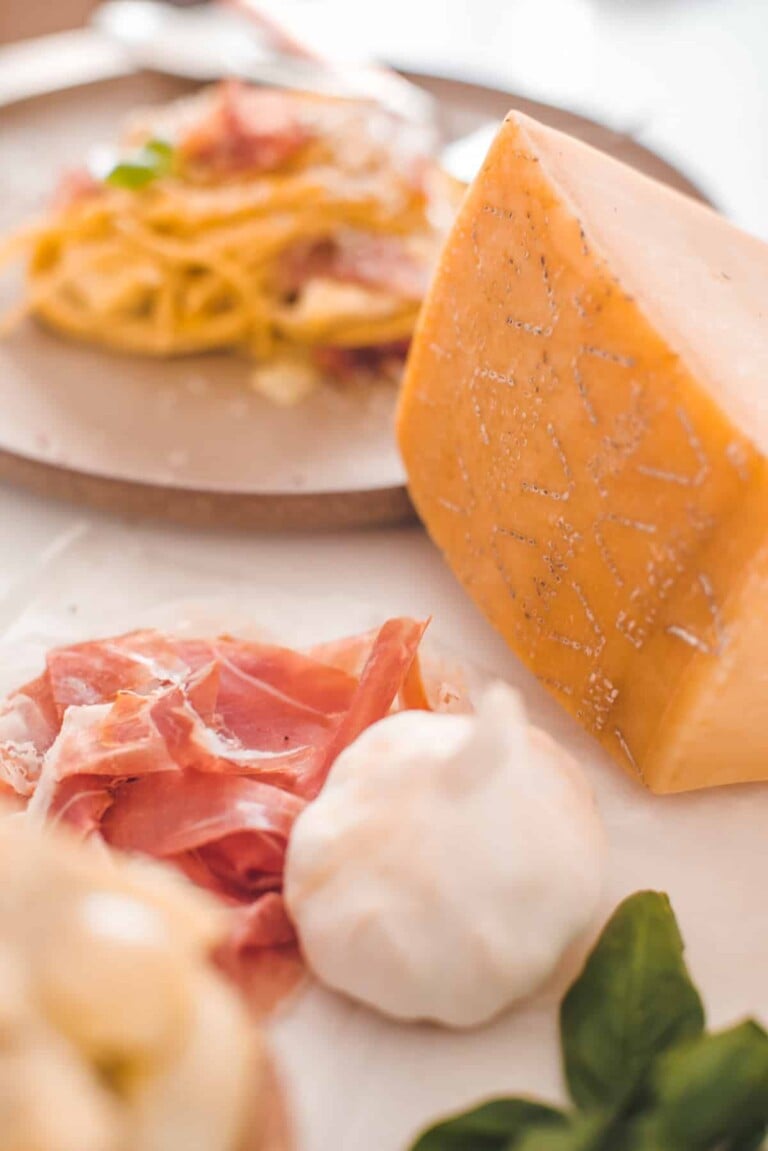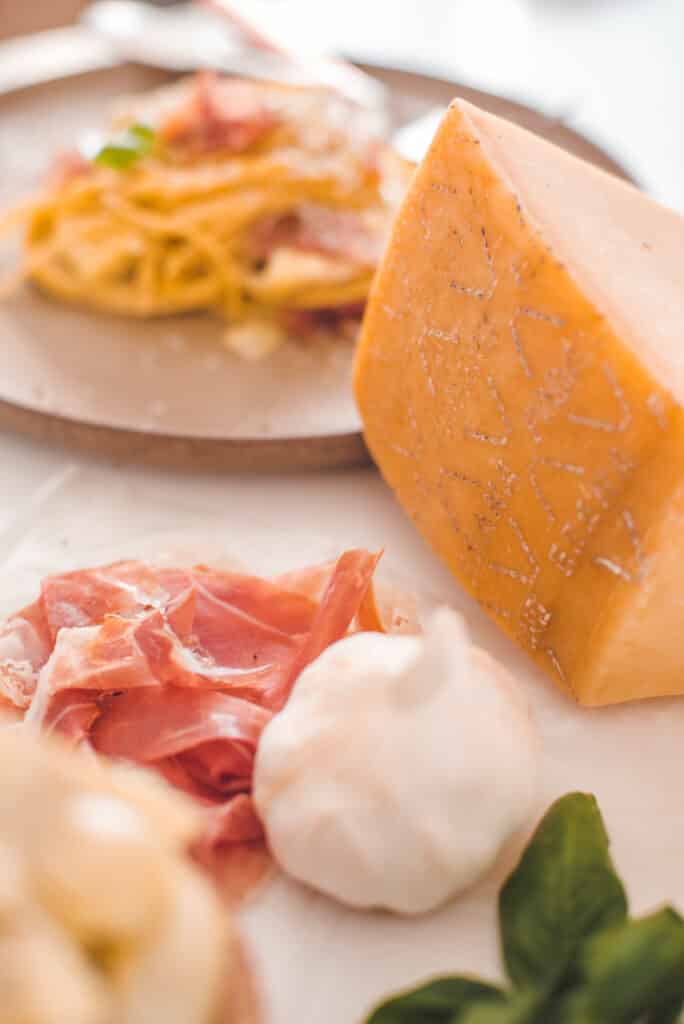 Not Just any Prosciutto.
Prosciutto is simply dry-cured ham. Sliced paper-thin and usually served uncooked on charcuterie boards, occasionally wrapped for saltimbocca, or crisped as over eggs as part of my daily ritual in life (try it, I dare you).
But for this, I used Prosciutto di San Daniele, a 13-month dry-aged ham that only exists in the picturesque climate of San Daniele del Friuli from Italian breeds. The only ingredients used in their process is ham, salt, and time.
The pigs are specific breeds, and they eat a tightly controlled diet, then salted with a specific sea salt for the cure. The entire process is highly monitored to ensure the quality and consistency of the final cured product.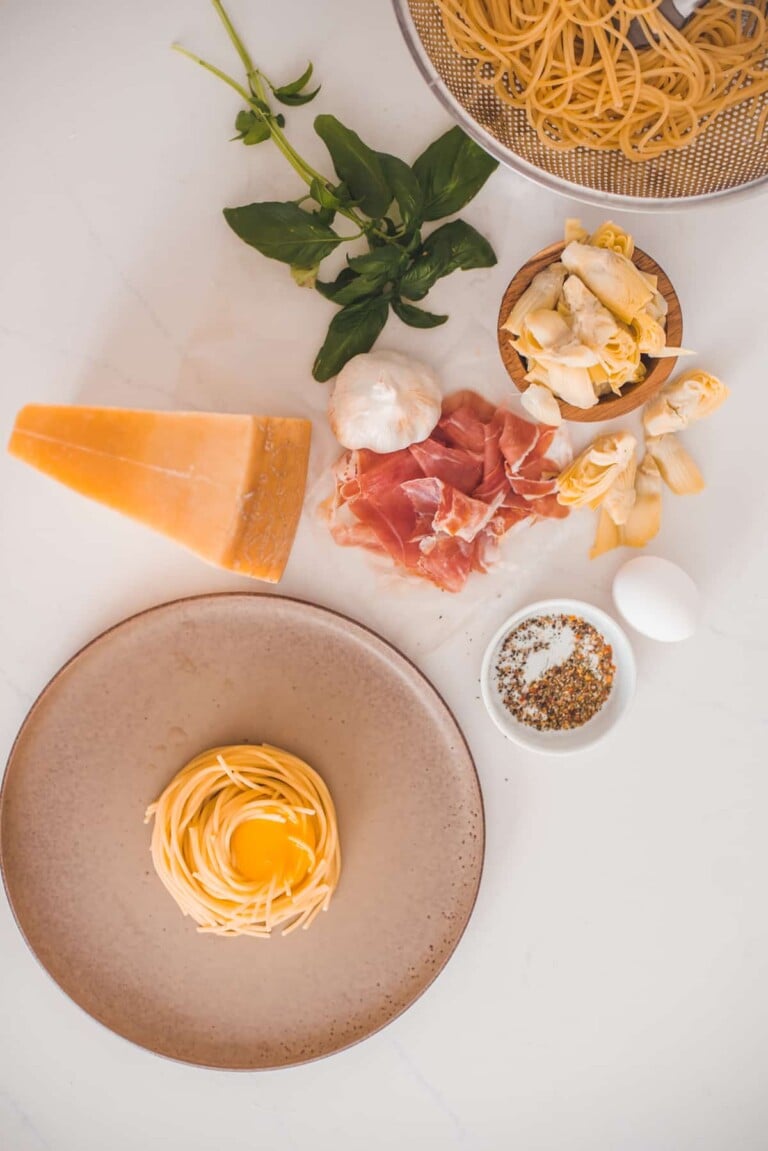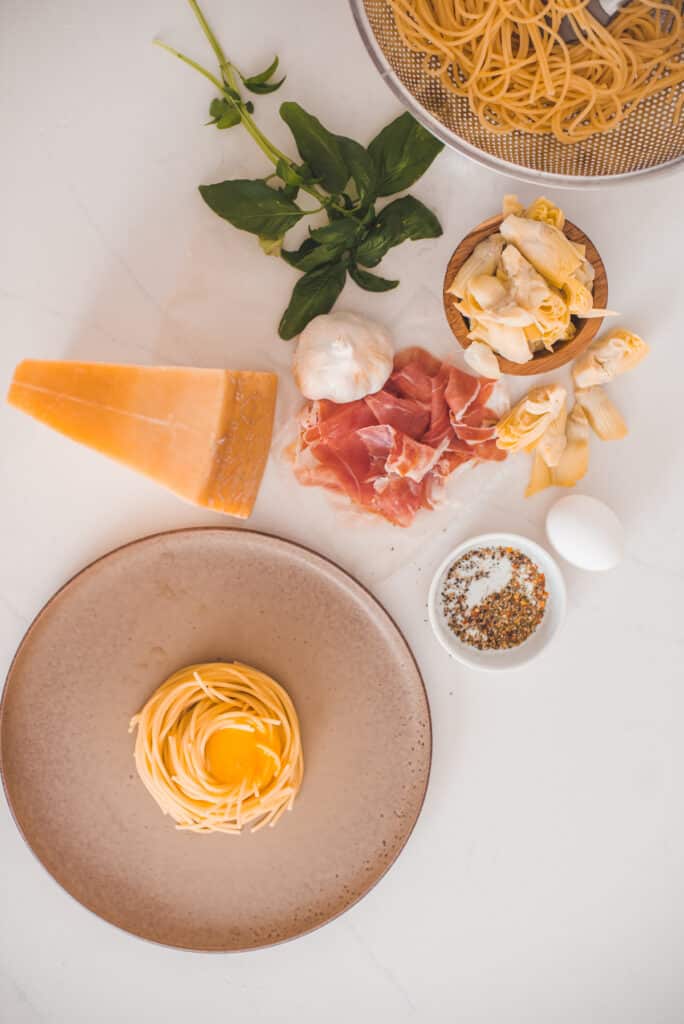 And not just any cheese.
For the freshly shaved cheese, Grana Padano was the choice.
Grana Padano is a delicacy from northern Italy, which was originally created almost 1,000 years ago, in the historic abbey of Chiaravalle, and ages for a minimum of 9 months to over 24 months. It is recognizable by the marks of origin, small lozenges with "Grana" and "Padano" written in them.
Perfect for shaving, Grana Padano has a mature nutty flavor that creates a creamy lavish layer into the pasta as it melts.
For me, investing in the Prosciutto and Grana Padano make sense as they have a long shelf life, so there is no fear of wasting them as I elevate dishes with their heritage and flavors. Also, I'm a sucker for a good talking point at the table, as these certainly spark conversation.
How To Blend The Yolk Into Carbonara
Blending in the yolk is the crux of great classic carbonara. You want to create a silky creaminess, not end up with scrambled egg crumbles in your pasta.
Take the pan off the heat to add the egg yolk. The temp comes down quickly and helps to avoid over cooking the yolk too quickly.
Add the yolk slowly but surely and don't stop folding it into the pasta. As long as you keep things moving not only do you get an even coat, but it also prevents over heating.
Use eggs brought to room temperature. That helps avoid "shocking" the egg yolk and causing the cooked curdled effect.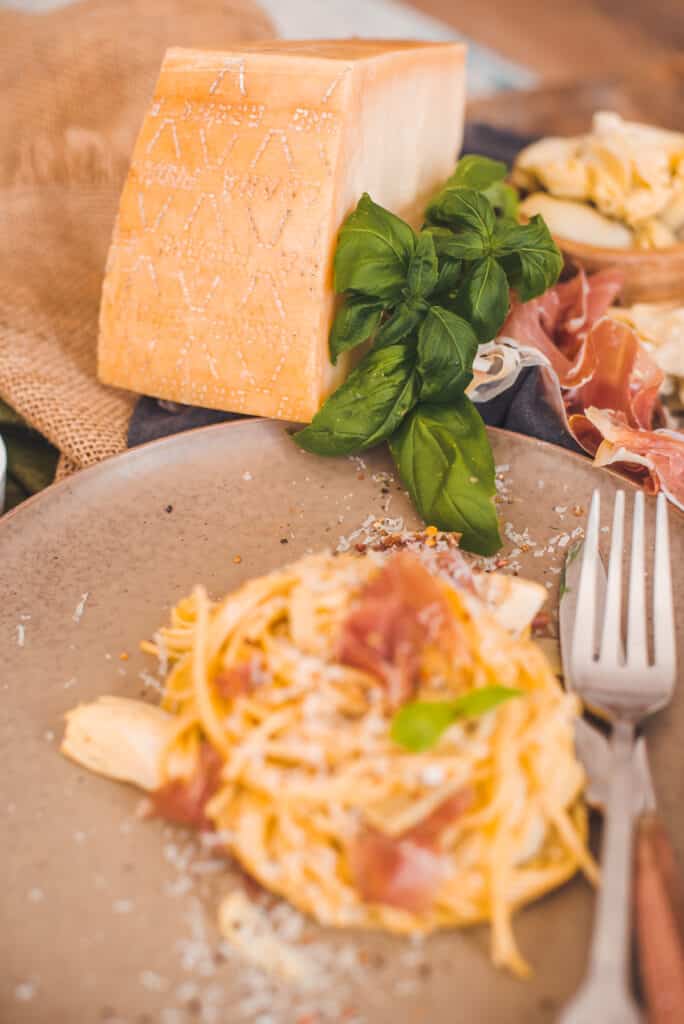 The trick to Perfecting Carbonara
The trick to perfecting carbonara is setting up your 'mise en place'. Yep, that means, getting all cheffy and having your ingredients lined up and ready to go.
Have all of the ingredients you are going to use waiting for the moment the hot pasta is drained. It is the heat from the pasta the creates the smooth and creamy layer from egg yolk as it is tossed to coat.
From there, you want to work fast, to fold in everything and get the pasta plated before it cools.
Girl Carnivore Pro Tip: Warm your heat-resistant plates in an oven set to 180 degrees, or as low as it will go, for a few minutes before serving to help keep the pasta warm.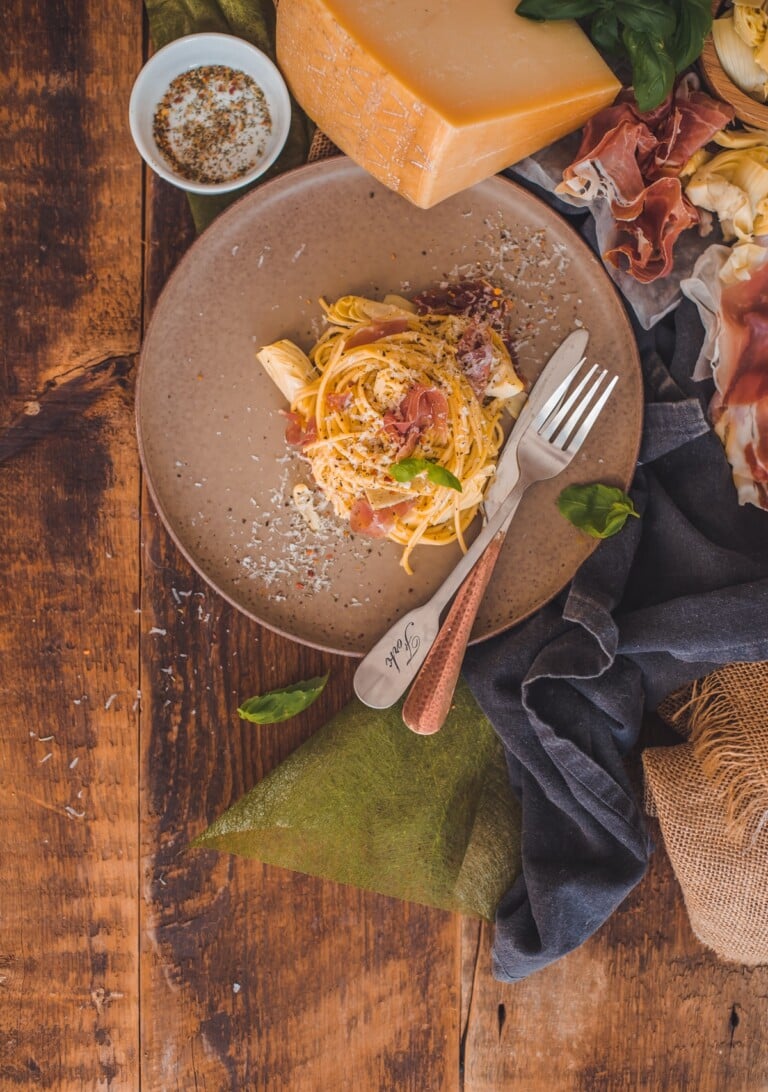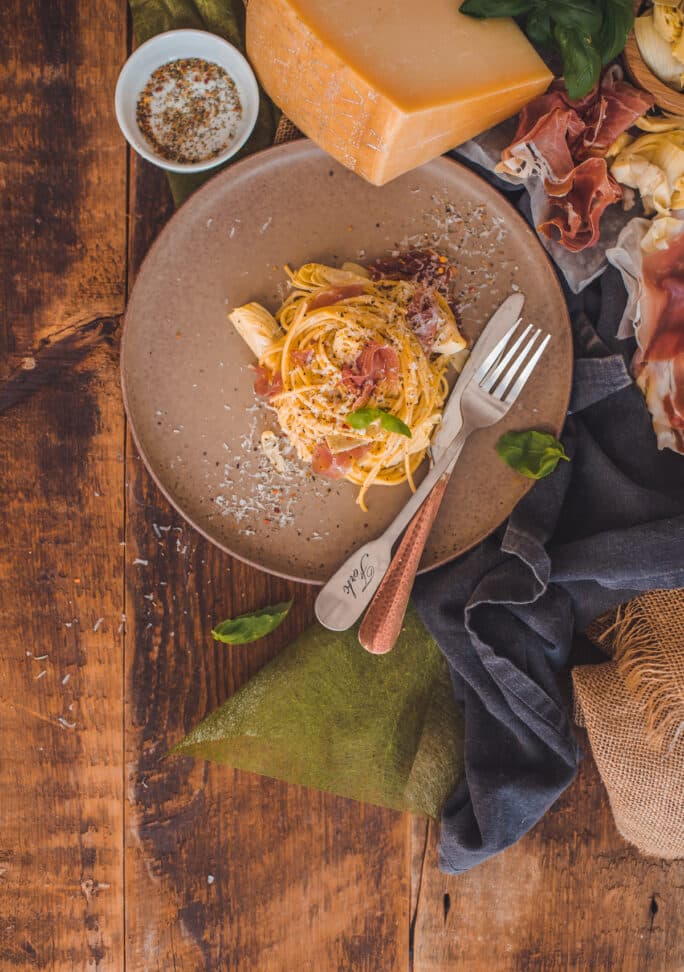 Want more inspiration? Try some of my favorite recipes
If you've tried my Classic Carbonara Recipe or any other recipe on GirlCarnivore.com please don't forget to rate the recipe and let me know where you found it in the comments below. I get inspired by your feedback and comments! You can also FOLLOW ME on Instagram @girlcarnivore as well as on Twitter and Facebook.
Classic Carbonara with Prosciutto
This classic Italian recipe is so incredibly simple – but it's the beauty of it's simplicity and a quick hand working the egg yolk into the hot pasta that procuses the luxurious velvety coating for timeless carbonara.
Ingredients
8

oz

pasta

2

eggs yolks

2

tablespoon

Olive oil

¼

teaspoon

Salt

½

teaspoon

freshly ground black pepper

1

tablespoon

Girl Carnivore Over Easy Spice Blend

14

oz

Artichoke hearts

drained and rinsed

3

oz

Prosciutto di San Daniele

cut into strips

2

oz

Grana Padano
Instructions
Boil the Pasta
Boil the pasta to just al dente as per the package instructions.

Drain.
Stir in the Egg
Quickly add the egg yolks to the hot pasta and toss to coat.

Add the oil, salt, pepper, and GirlCarnivore Over Easy blend and continue to toss until the pasta is evenly coated and speckled throughout with the spices.
Fold in
Fold in the artichoke hearts and Prosciutto di San Daniele.
Serve
Divide evenly on serving plates.

Grate the fresh Grana Padano directly over each plate.

Garnish with fresh herbs such as basil if desired.
Notes
To ensure success at making the carbonara, have all of your ingredients prepped and ready. Known as "mise en place," this will help you quickly work through each step without pause. 
If you do not stir the egg yolk in while the pasta is piping hot, you will not achieve the creamy texture you desire. It is the heat of the pasta that creates the smooth layer from the yolk, coating the pasta.
Store leftovers in an airtight container for up to 3 days.
Reheat in small portions with a sprinkle of water in small bursts in the microwave. 
This recipe uses GirlCarnivore Over Easy Egg and Everything Blend, however, a standard Italian Spice blend works as a substitute. 
Nutrition
Nutrition Facts
Classic Carbonara with Prosciutto
Amount Per Serving (1 g)
Calories 565
Calories from Fat 279
% Daily Value*
Fat 31g48%
Cholesterol 121mg40%
Sodium 899mg39%
Potassium 241mg7%
Carbohydrates 51g17%
Protein 18g36%
Vitamin A 1305IU26%
Vitamin C 21mg25%
Calcium 273mg27%
Iron 3mg17%
* Percent Daily Values are based on a 2000 calorie diet. Nutrition information provided is an estimate. For specific health concerns, please put the recipe into your Dr recommended nutrition calculator.