This Traditional Carboanara with Prosciutto di San Daniele is a simple yet decadent dinner. Tender pasta is tossed in a rich, velvety sauce then finished off with prosciutto, artichoke hearts, and a sprinkle of Grana Padano cheese.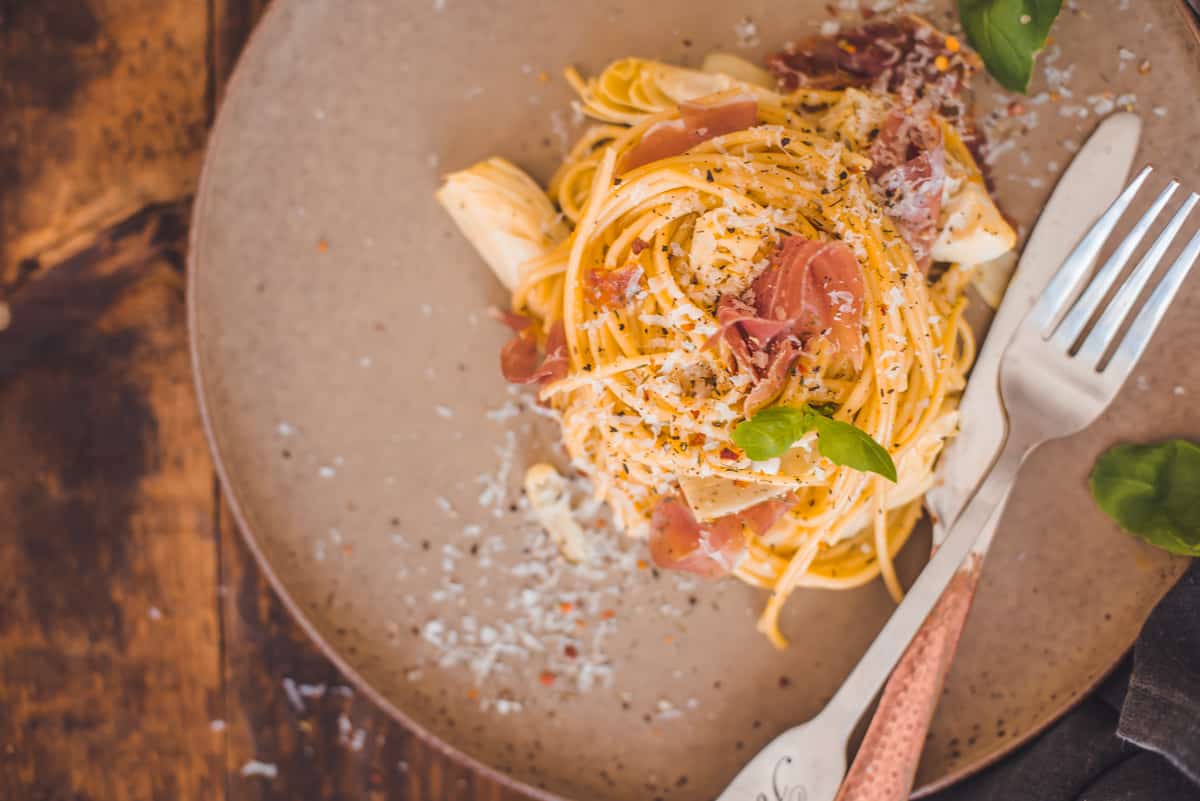 Pasta carbonara is one of those simple, timeless dishes that will just always be in style. It's comforting, delicious, and satisfying every time!
Essentially, the recipe involves mixing egg yolk into hot pasta to create a velvety-rich coating. Adding some cured meat, shaved hard cheese, and freshly ground black pepper enhances the luxuriousness of the dish.
Traditional pasta carbonara consists of pasta, egg yolks, cured ham, cheese, black pepper, and salt. For this recipe though, I added a bit to the dish by tossing in rinsed artichoke hearts and using prosciutto di san Daniele and grana Padano cheese.
And it is so darn good!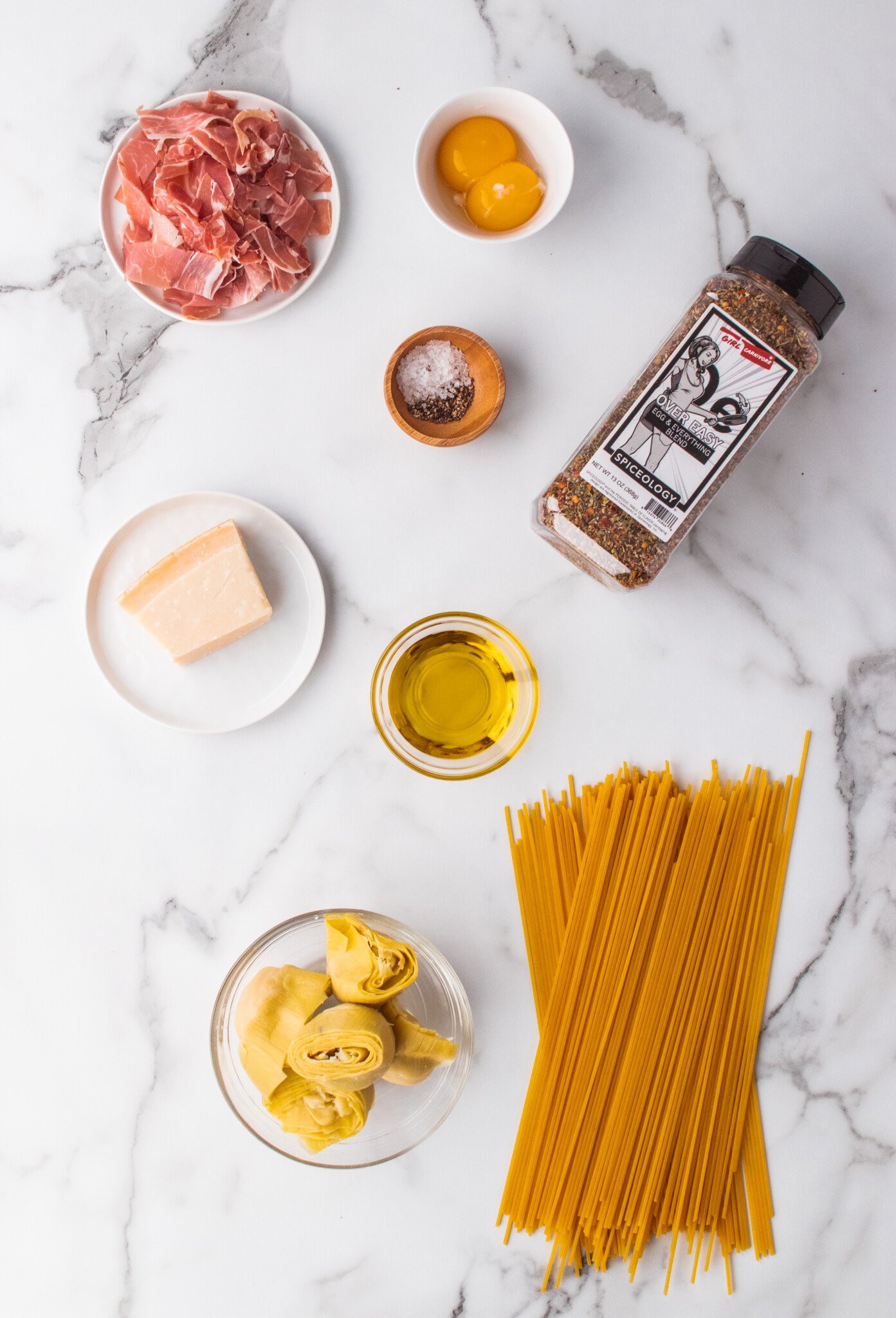 Ingredients Needed
Since this carbonara recipe is so simple, the key is to use ingredients that shine! I make sure to work with nothing short of the best.
Pasta – I use spaghetti pasta for this recipe, but you can use whatever pasta shape you prefer. The thickness of spaghetti allows the yolk to coat the pasta perfectly. Other shapes and thicknesses will change results.
Egg Yolks – the yolk is what creates the classic rich and light yet creamy sauce for carbonara.
Olive Oil – the oil mixes with the egg yolk to create the sauce.
Seasonings – I use a simple blend of salt, black pepper, and Girl Carnivore Over-Easy Spice Blend, but salt, pepper, and classic Italian seasoning will work as well.
Artichoke Hearts – be sure to drain and rinse before adding to the pasta.
Prosciutto di San Daniele – cured ham, pancetta, or even cooked bacon would work as well.
Grana Padano – I love the Grana Padano in this recipe, but any hard cheese like romano or parmesan will work. You can find grana padano at the cheese counter in small wedges.
How to Make Traditional Carbonara with Prosciutto di San Daniele
This carbonara recipe takes a quick 15 minutes to come together!
Start by cooking the pasta al dente according to box directions. Drain, then quickly add the egg yolks and toss to coat.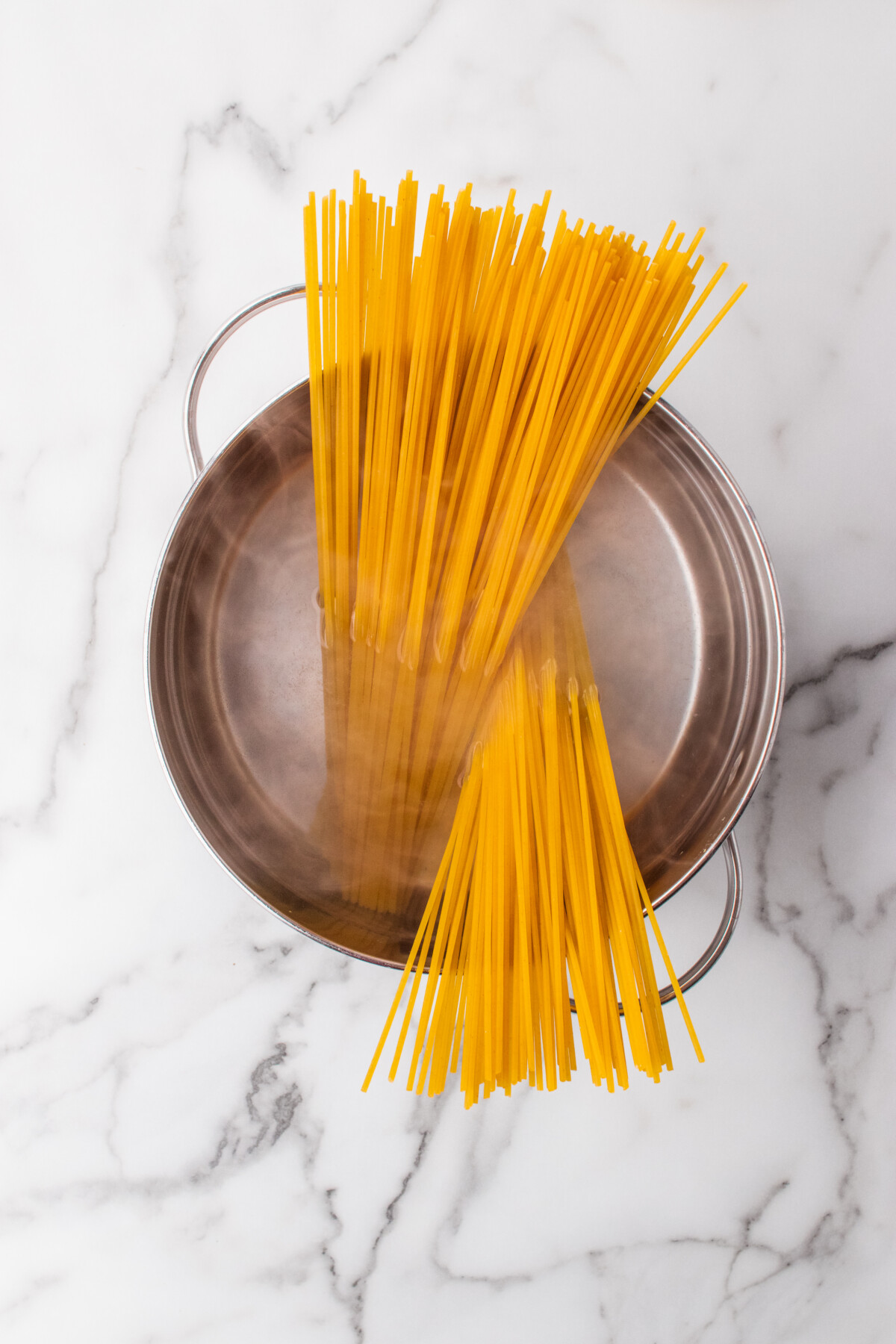 Add in the oil and seasonings, then stir to until the pasta is evenly coated with spices. Fold in the artichoke hearts and prosciutto, then serve with freshly grated Grana Padano and fresh herbs.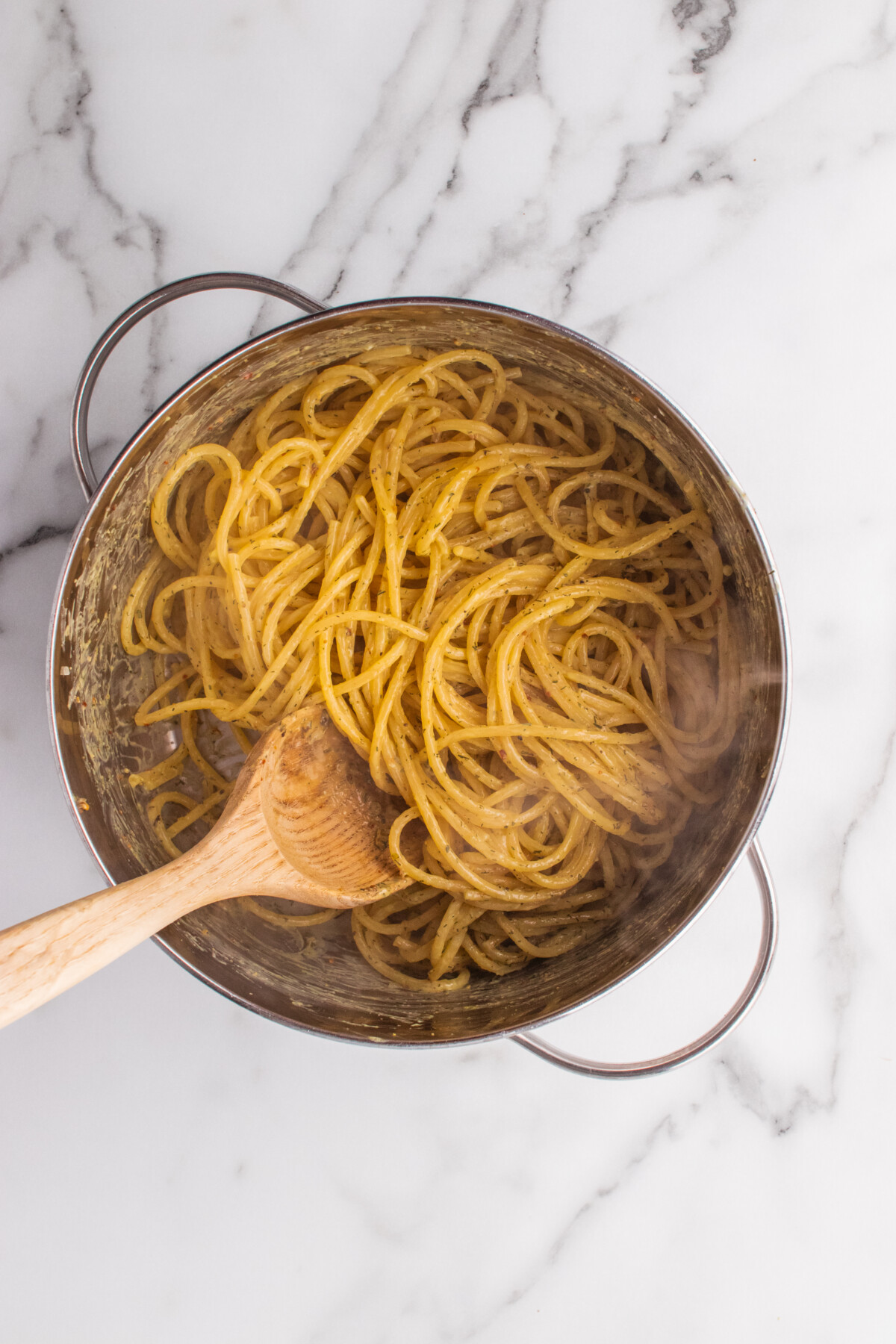 Does Pasta Carbonara Have Cream?
Nope! The rich and creamy sauce is created using just egg yolk and seasonings. No cream needed.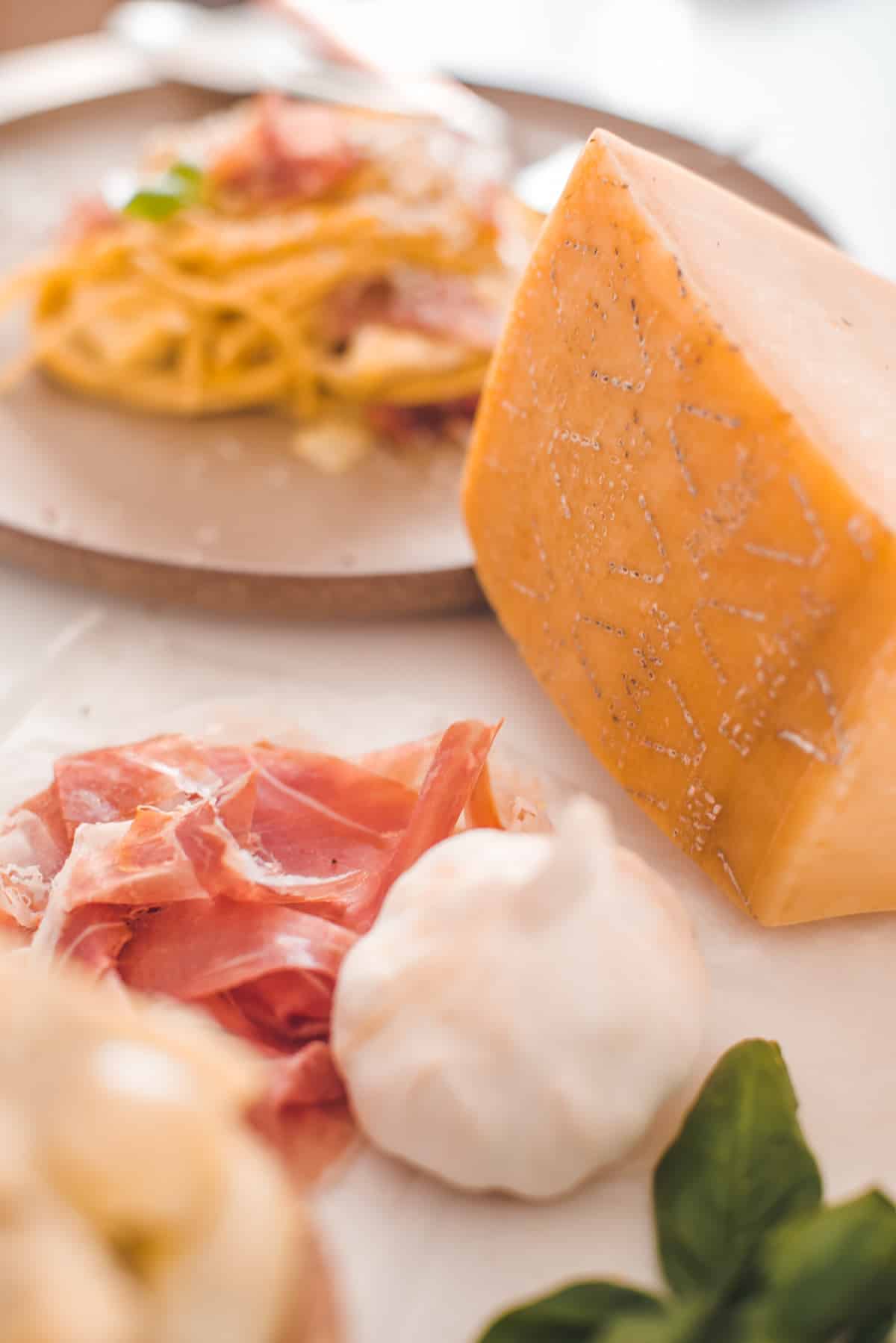 Is Pasta Carbonara Safe?
Yes! Adding the eggs into the hot pasta forms the sauce and cooks the eggs at the same time. So, as long as you're using pasteurized eggs, it's perfectly safe to eat.
Recipe FAQs & Tips
Prep ahead of time.
The trick to perfecting carbonara is setting up your "mise en place". Yep, that means getting all cheffy and having your ingredients lined up and ready to go so you can fold everything into the pasta before it cools.
Blend the yolk quickly for smooth pasta.
When adding in the egg, stir immediately and constantly until the pasta is coated. Mixing immediately as the yolk is added to the hot pasta is key. The heat from the pasta helps the yolk to smoothly coat everything. If you don't work quickly, you risk cooking the yolk. We want a smooth sauce, not chunks of scrambled egg!
Warm your plates.
I recommend serving the pasta on heat-resistant plates that you can warm ahead of time. I set mine in the oven at 180ºF for a few minutes before serving. This helps keep the pasta warm.  
Don't use shredded or jarred shake cheese.
Use freshly grated cheese. Freshly grated cheese has better flavor and texture than pre-shredded varieties. Trust me, this meal is made by using great ingredients. Don't skimp.
Use freshly ground black pepper
Skip the bulk pepper and grind your own. The flavor just can't be beat.
Add veggies
I love this recipe as-is, but feel free to bulk it up with some veggies if you like. Try onion, peas, mushrooms, broccoli, peppers, you name it. 
Serving Suggestions
I recommend serving your carbonara pasta topped with freshly grated Grana Padano cheese and a sprinkle of fresh chopped herbs (fresh chopped basil us best).
If you want to bulk your meal up a bit, serve the pasta with a side of roasted broccoli, smoked brussels sprouts, or a simple green salad.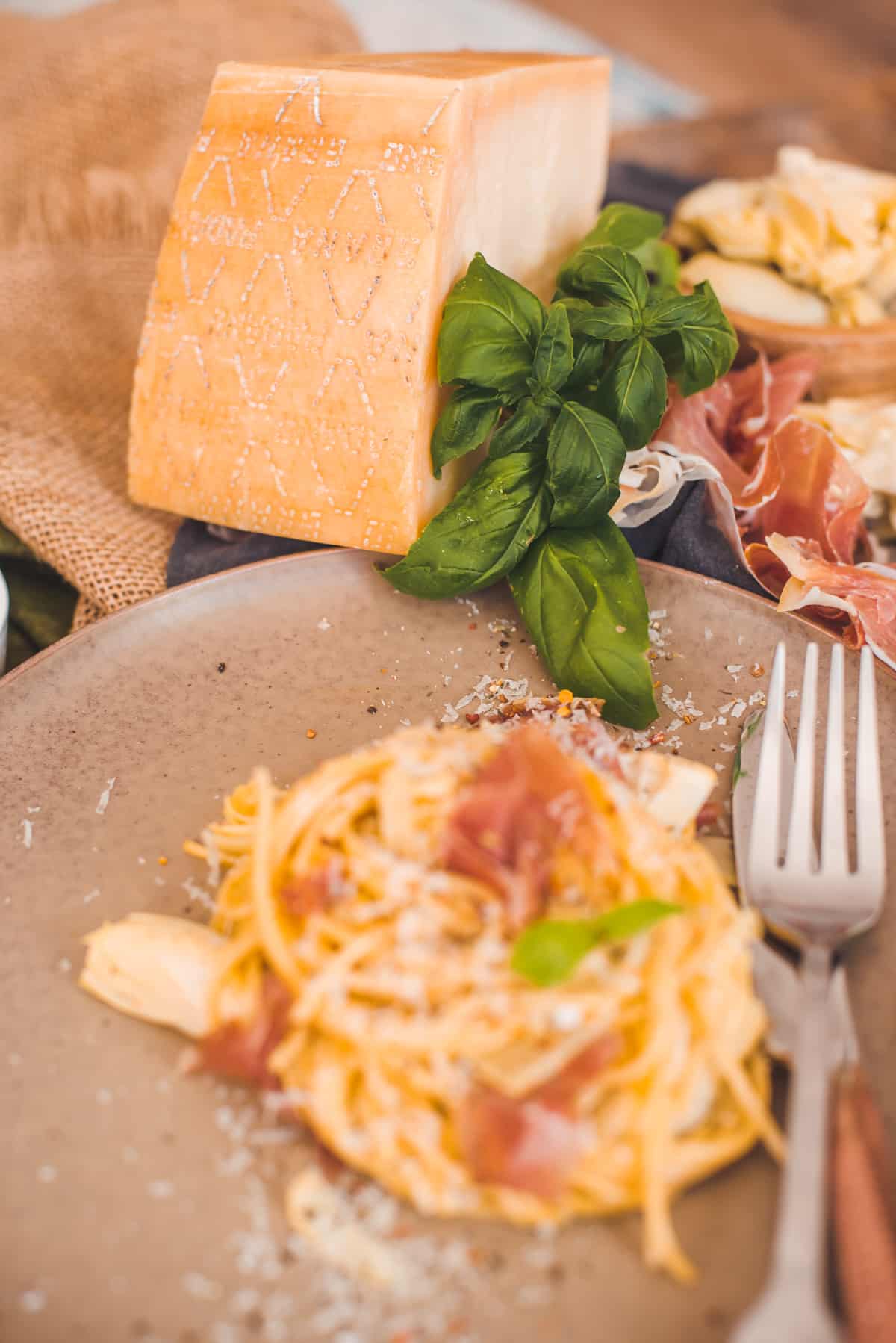 How to Store
While pasta carbonara is definitely best served right away, leftovers will last in an airtight container in the fridge for up to 3 days.
To reheat, warm on the stove with a splash of water to thin or in small bursts and small portions in the microwave with a sprinkle of water.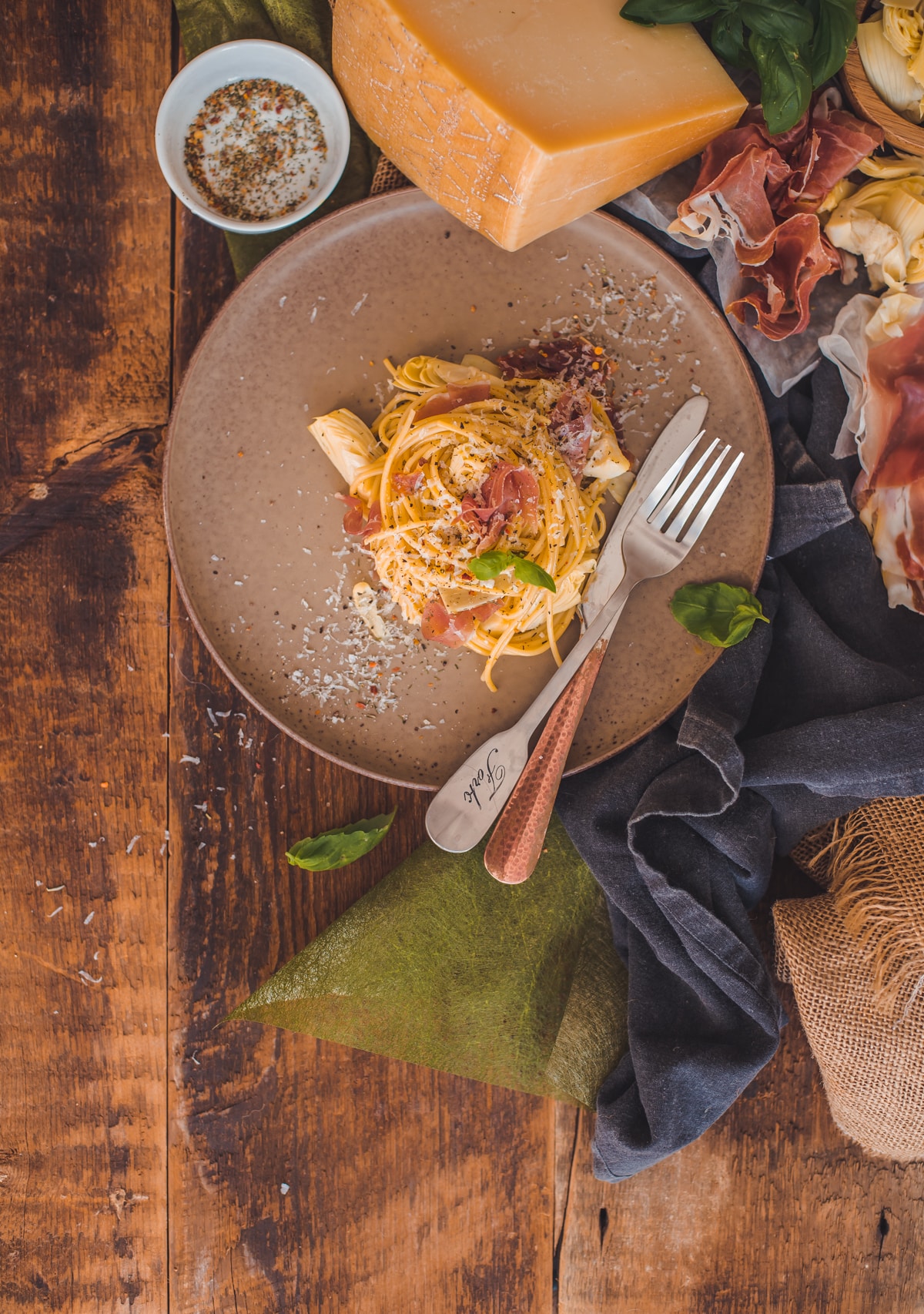 More Decadent Recipes
If you've tried my Classic Carbonara Recipe or any other recipe on GirlCarnivore.com please don't forget to rate the recipe and let me know where you found it in the comments below. I get inspired by your feedback and comments! You can also FOLLOW ME on Instagram @girlcarnivore as well as on Twitter and Facebook.
Traditional Carbonara with Prosciutto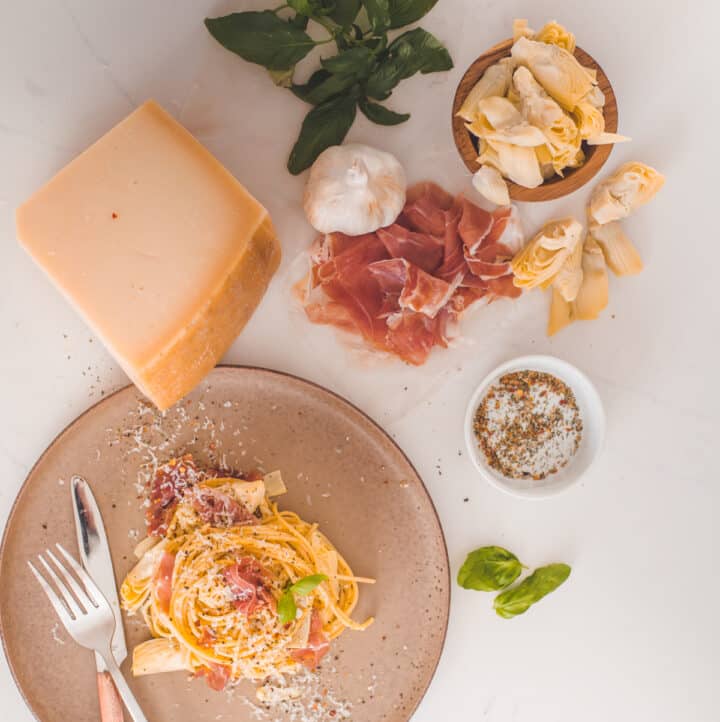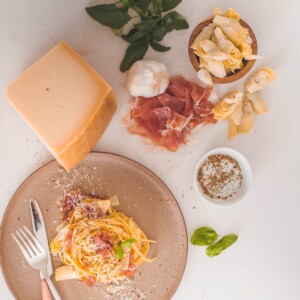 This classic Italian recipe is so incredibly simple! But it's the beauty of it's simplicity and a quick hand working the egg yolk into the hot pasta that creates the luxurious velvety coating for timeless carbonara which makes it perfect!
Ingredients
8

oz

pasta

2

eggs yolks

2

tbsp

Olive oil

1/4

tsp

Salt

½

tsp

freshly ground black pepper

14

oz

Artichoke hearts

drained and rinsed

3

oz

Prosciutto di San Daniele

cut into strips

2

oz

Grana Padano
Instructions
Boil the Pasta
Boil the pasta to just al dente as per the package instructions.

Drain.
Stir in the Egg
Quickly add the egg yolks to the hot pasta and toss to coat.

Add the oil, salt, pepper, and GirlCarnivore Over Easy blend and continue to toss until the pasta is evenly coated and speckled throughout with the spices.
Fold in
Fold in the artichoke hearts and Prosciutto di San Daniele.
Serve
Divide evenly on serving plates.

Grate the fresh Grana Padano directly over each plate.

Garnish with fresh herbs such as basil if desired.
Notes
To ensure success at making the carbonara, have all of your ingredients prepped and ready. Known as "mise en place," this will help you quickly work through each step without pause. 
If you do not stir the egg yolk in while the pasta is piping hot, you will not achieve the creamy texture you desire. It is the heat of the pasta that creates the smooth layer from the yolk, coating the pasta.
Store leftovers in an airtight container for up to 3 days.
Reheat in small portions with a sprinkle of water in small bursts in the microwave. 
This recipe uses GirlCarnivore Over Easy Egg and Everything Blend, however, a standard Italian Spice blend works as a substitute. 
Nutrition
Serving:
1
g
|
Calories:
565
kcal
|
Carbohydrates:
51
g
|
Protein:
18
g
|
Fat:
31
g
|
Saturated Fat:
8
g
|
Trans Fat:
1
g
|
Cholesterol:
121
mg
|
Sodium:
899
mg
|
Potassium:
241
mg
|
Fiber:
5
g
|
Sugar:
3
g
|
Vitamin A:
1305
IU
|
Vitamin C:
21
mg
|
Calcium:
273
mg
|
Iron:
3
mg