The fried chicken sandwich is a classic Southern favorite, but we wanted to kick things up a notch! This easy version adds a kick of Creole flavor to the batter for a hint of spice combined with a creamy ranch slaw to cool things off.
There is nothing like the crisp crunch of good fried chicken. It's a savory bite that satisfies the salty umami flavor we crave. It's rich and indulgent, and when done right, this crispy chicken sandwich is magic in every single finger-licking bite.
The creamy ranch buttermilk brine soaks the chicken thighs and locks in tons of moisture while giving it a subtle kick of flavor. By seasoning the breading with Tony Chachere's Original Creole Seasoning, it adds that heat without overpowering it with too much heat.
The secret ingredient is baking powder in the coating too. This helps with that crunch by drying out the skin of the chicken and adding an extra snap to the bite. The dryer your chicken is, the better the batter crisps, and let's be honest, that's what we're really here for. Get ready for the best chicken sandwich you've ever had.
What is Fried Chicken Sandwich?
Take tender chicken breasts and coat them in a flour mixture, fry them until golden brown in hot oil, and you have delicious fried chicken. Add those tenders to soft buns with your favorite toppings, and you've created fried chicken sandwiches. These tasty creations are typically topped with coleslaw and pickles. Other favorite toppings include lettuce, tomato, hot sauce, mayonnaise, and onions.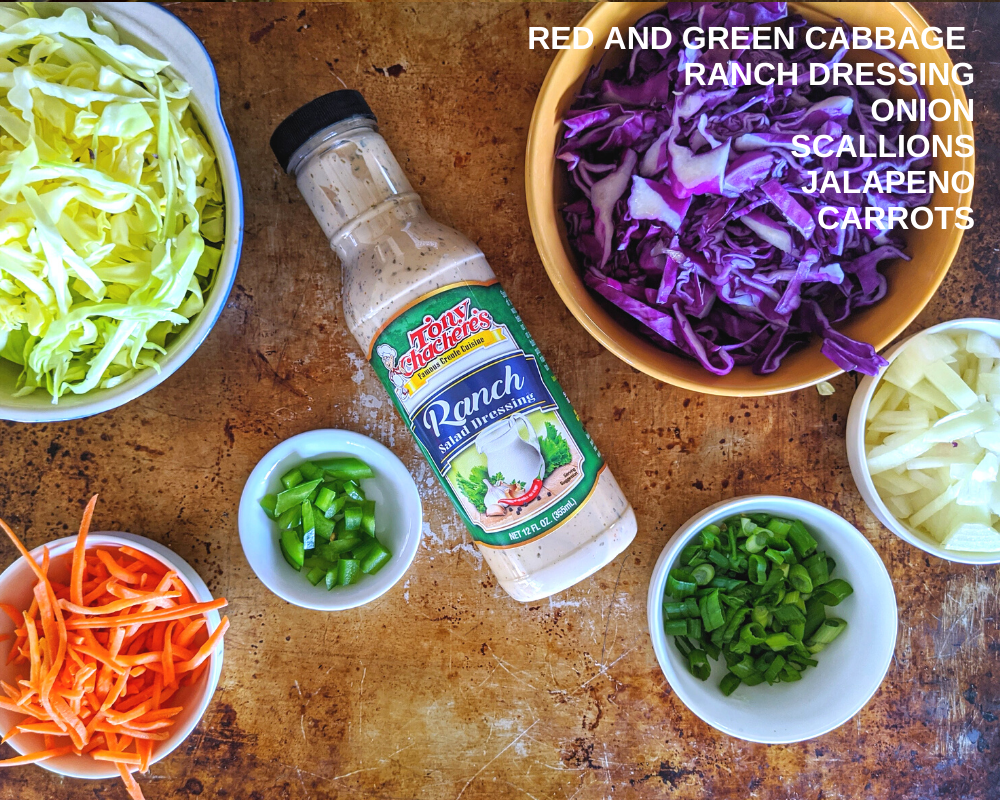 Ingredients Needed for Fried Chicken Sandwich
For the Brine
Boneless skinless chicken – this is the best variety to give you that savory crunch when the sandwich is complete.
Buttermilk
Tony Chachere's Creole-style Ranch Dressing
For the Batter
Flour
Tony Chachere's Original Creole Blend
Baking Powder
For the Slaw
You'll be mixing together red and green cabbage, carrots, scallions, onions, jalapenos, and ranch dressing.
To put everything together, you'll need brioche buns and pickles! Dill pickles or butter pickles are top choices.
How to Make Fried Chicken Sandwich Recipe
For success with this recipe, marinate the chicken in the Ranch buttermilk mix overnight. And you can make the slaw ahead of time and let it sit in the fridge for up to a day until ready to eat.
When you are ready to cook, you want to make sure your oil is hot enough to deep fry the chicken. If the oil temperature isn't 350 – 375 degrees, things will become soggy as it takes longer to cook. Testing a small piece or using a deep-fry thermometer is a way to ensure success. Use a Dutch oven for best results.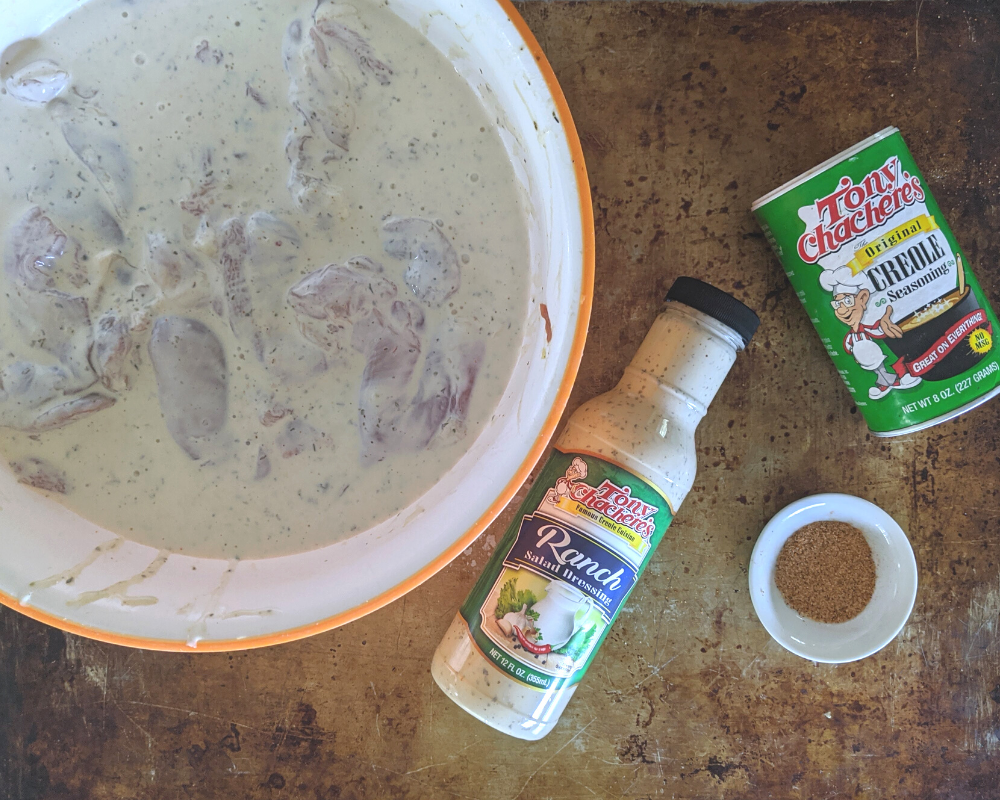 Prep the Chicken
Setting up a "batter station," like a battle station, but less intense, to make the workflow easy and less messy helps too. Working from left to right, arrange a shallow bowl with the flour mix next to a baking sheet with a wire rack set over it.
This is the order you will dip the chicken, and having it all in a row makes for less mess and easy work before you move on to frying.
Finish by placing the chicken on a wire rack over a baking sheet to transfer to the oil.
These steps may seem silly but serve a purpose in making this dish come together quickly and with minimal mess.
Fry the chicken
Place the chicken in the hot oil for about 5 minutes until it turns golden brown.
Remove from the oil with a slotted spoon and repeat with the remaining chicken. The internal temperature should be 160 degrees for safe consumption. Place the fried chicken on a wire rack or paper towels to get rid of excess oil.
Sprinkle Tony Chachere's Original Creole Seasoning on top of the chicken.
Make the Slaw & Assemble
In a large bowl, toss your vegetables together. Add ranch dressing on top and toss to coat evenly. Cover with plastic wrap and store in the fridge until you are ready to serve.
When you are ready to serve, toast your buns if you wish. Toasted buns will give you a simple crunch! Place a heaping portion of slaw on the bottom bun and top with fried chicken. Add pickle slices and the top bun. Serve while hot! Additional toppings and variations can of course, be substituted if you don't prefer slaw.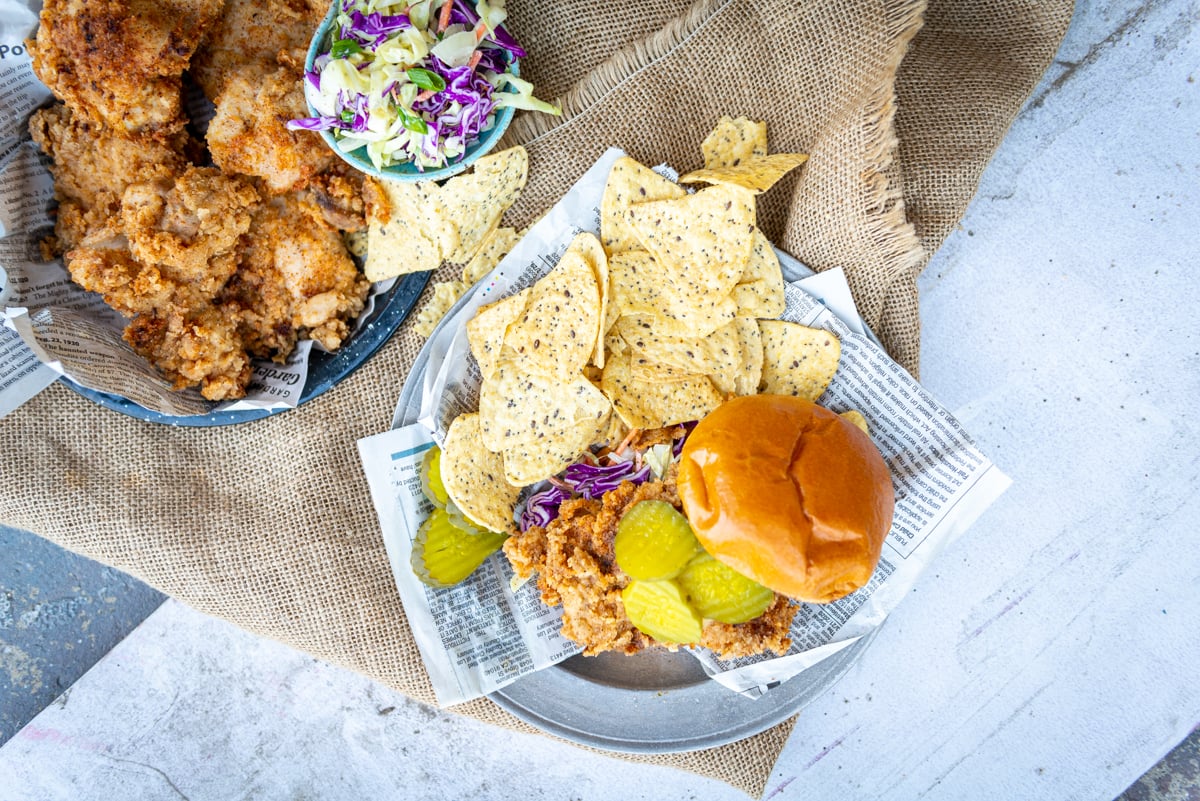 GIRL CARNIVORE EXPERT RECIPE TIPS
Leave the oven on set at 200 degrees while you work through the frying process to keep the chicken hot but not overcook it so that you can serve hot sandwiches to everyone. 
What to Serve with Fried Chicken Sandwich
It's hard to beat a crisp potato chip with a fried chicken sandwich. But a large salad, some delicious rice and beans, or just baked beans are pretty good too. And if you are really feeling up to it, smoked mac and cheese cools off that spicy thigh pretty well too. You can also skip the bun and put the chicken atop the mac and cheese with the slaw piled on top. If you love french fries as much as the next person, these are a staple as well.
Leftovers and Reheating
Wrap your leftover chicken patties in foil or place them in an airtight container. Store the coleslaw and chicken in the fridge for 3 to 4 days and assemble them when you are ready to eat. Just reheat the chicken in the oven or microwave for a short time.
Recipe FAQs
What is the best oil to use for frying?
Peanut oil is the best for frying, however, if you have a nut allergy, canola oil is great for frying.
Why should I use a buttermilk marinade?
The buttermilk has a slight acidity that is able to tenderize the chicken; we also love it on our favorite grilled chicken wing recipe. When left overnight, your chicken pieces become less chewy and extremely soft when bitten into.
Can I use chicken cutlets?
Chicken cutlets will work, but they are white meat and more likely to dry out, and you may need a few on the bun to create a full sandwich. One piece of chicken may only cover a third of the bun. Regardless, placed on a toasted bun, the cooked chicken will taste amazing.
More Delicious Chicken Recipes
This simple recipe will give you the best fried chicken sandwich you've ever tasted. Golden crispy chicken with a hint of heat. Topped with coleslaw and butter pickles, your taste buds are in for a treat! If you've tried this recipe, be sure to help the next guy out by rating the recipe and leaving a comment below!
Cajun Fried Chicken Sandwich with Creamy Ranch Slaw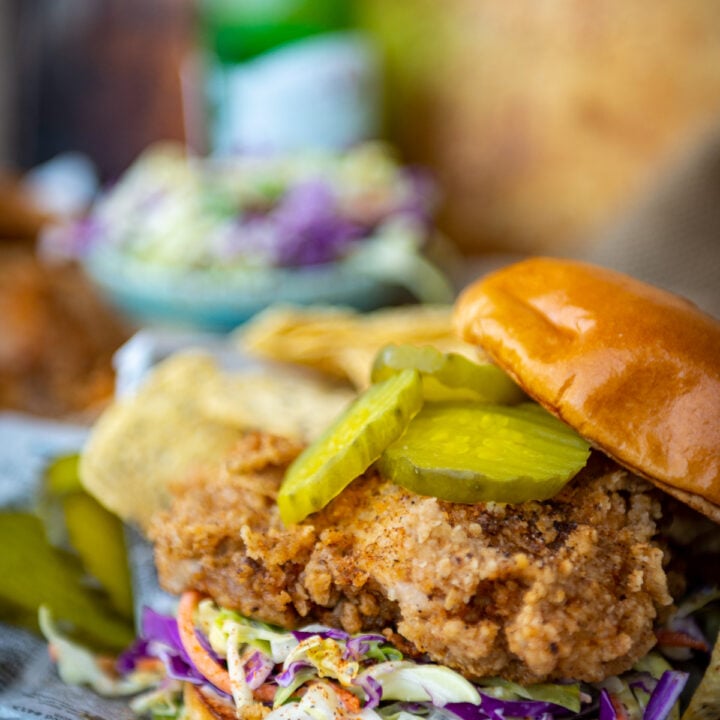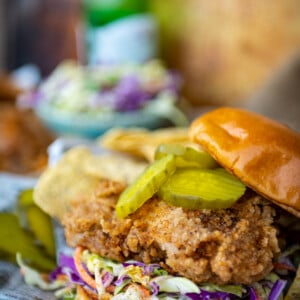 Discover the secret to making a sensational Fried Chicken Sandwich with our easy-to-follow recipe, featuring crispy, juicy chicken with a zesty Cajun kick nestled in a soft bun. Customize your sandwich with your favorite toppings for a truly satisfying meal that'll impress family and friends alike.
Ingredients
For the Brine:
1

lbs

Boneless Skinless Chicken Thighs

2

cups

Buttermilk

1

cup

Tony Chachere's Creole Style Ranch Dressing
For the batter:
1 1/2

cup

Flour

2

tbsp

Tony Chachere's Original Creole Blend

1

tsp

Baking powder
For the Slaw
1

cup

Red Cabbage

1

cup

Green Cabbage

1

Carrot

shredded or julienned

2

Scallion

chopped

¼

Onion

minced

1

Jalapeno

finely diced

¼

cup

Ranch Dressing
Instructions
Marinate the chicken:
Place the chicken in a resealable container with the buttermilk and Ranch dressing. Seal and allow to chill in the fridge overnight.
Make the Slaw:
In a large bowl, toss the cabbages, scallions, onion and jalapeno together.

Pour the Ranch dressing over top and toss to combine.

Cover with plastic wrap and store in the fridge until ready to serve.
Batter and Fry:
When ready to cook the chicken, heat 3 – 4 inches of oil in a Dutch Oven making sure not to fill beyond 2 to 3 inches from the top for safety.

Set an oil or candy thermometer in the oil and heat it to 375 degrees.

Test a small piece of chicken to make sure it cooks, turning golden brown on the outside, in about 5 minutes.

Remove from the oil with a slotted spoon and repeat with the remaining chicken, making sure to maintain the oil temperature.

Check the internal temperature of the chicken to 160 degrees for serving.

Place the fried chicken on a wire rack over a baking sheet to allow any excess oil to drip off.

Gently sprinkle a little Tony Chachere's Original Creole Seasoning atop the fresh chicken.
Assemble the Sandwich:
When ready to serve, toast the buns if desired.

Place a heaping portion of the slaw on the bottom bun. Top with hot chicken and add a pickle if that strikes your fancy and top with the remaining bun half. Serve hot.
Notes
The fried chicken reheats well in an oven set to 350. Place the chicken on a wire rack and bake until heated through, about 12 minutes.
Nutrition
Serving:
1
g
|
Calories:
877
kcal
|
Carbohydrates:
74
g
|
Protein:
31
g
|
Fat:
51
g
|
Saturated Fat:
17
g
|
Cholesterol:
241
mg
|
Sodium:
1098
mg
|
Potassium:
565
mg
|
Fiber:
3
g
|
Sugar:
7
g
|
Vitamin A:
3519
IU
|
Vitamin C:
20
mg
|
Calcium:
216
mg
|
Iron:
4
mg