Sweet, spicy, creamy, and crunchy, Keto Air Fryer Bang Bang Shrimp is the taste sensation you've been waiting for! With an amazing sauce and perfectly cooked shrimp, this easy shrimp recipe can be a snack, appetizer, or main dish!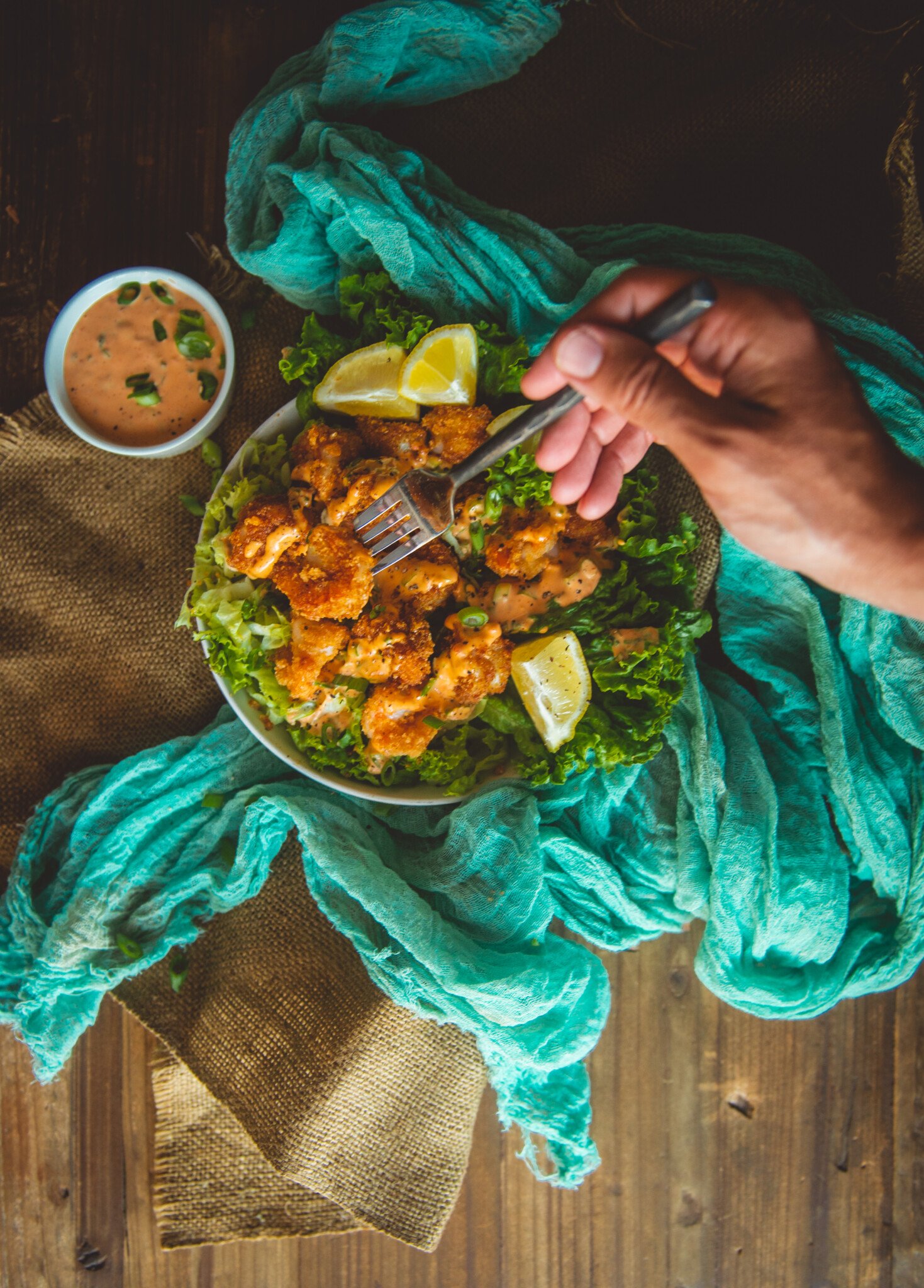 When you're craving a quick, easy, and flavor-packed keto shrimp recipe, Air Fryer Bang Bang Shrimp is the dish for you. There's unbelievable flavor in this recipe, and the crave-worthy sauce is so good that you'll want to lick your plate clean. Not keto? No worries – I'll tell you how to make this the conventional way.
Skip the deep-fat fryer and make this bang bang shrimp recipe in your air fryer! With less mess, less fat, and less time, you can be noshing on something delish in a jiffy.
I love this recipe for dinner, but it's also a great snack and appetizer. I'll make it for friends when they come to visit, and they always think I've been working away in the kitchen for hours! The genius behind this recipe is that the sauce can be made ahead of time and the shrimp cook in minutes. Love shrimp? Give it a try!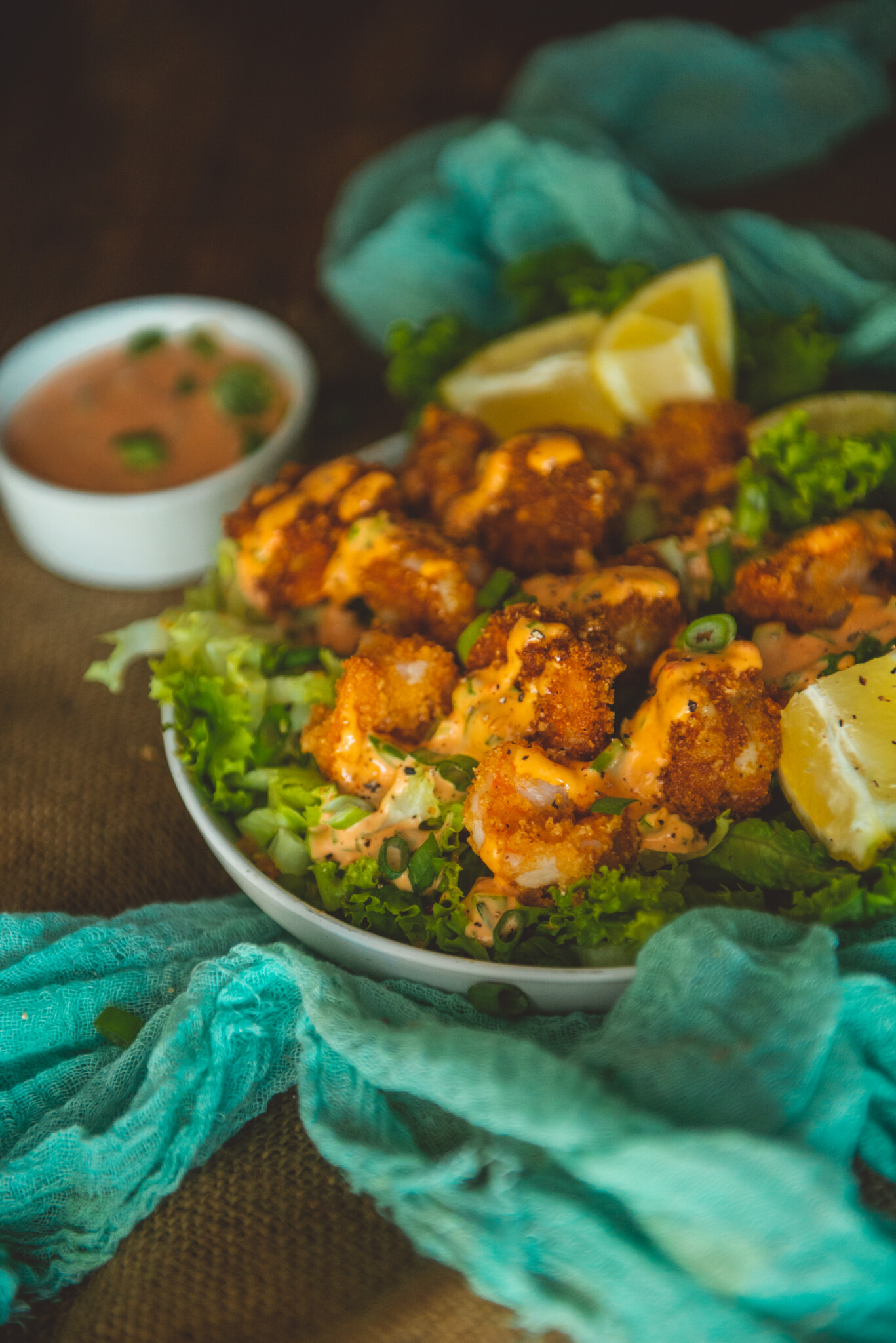 What Is Keto Bang Bang Shrimp?
Made famous by chain restaurants across the USA, Bang Bang Shrimp is a dish of breaded and fried (or in this case, air-fried) shrimp with a crispy breading, served with a sweet and spicy sauce. Made with Sriracha and sweet chili sauce, the mayo-based sauce is at once spicy, sweet, creamy, and addictive.
You can serve the sauce on the side or drizzle it over the top of the shrimp before serving, but I always put out extra sauce because it's just that darn good.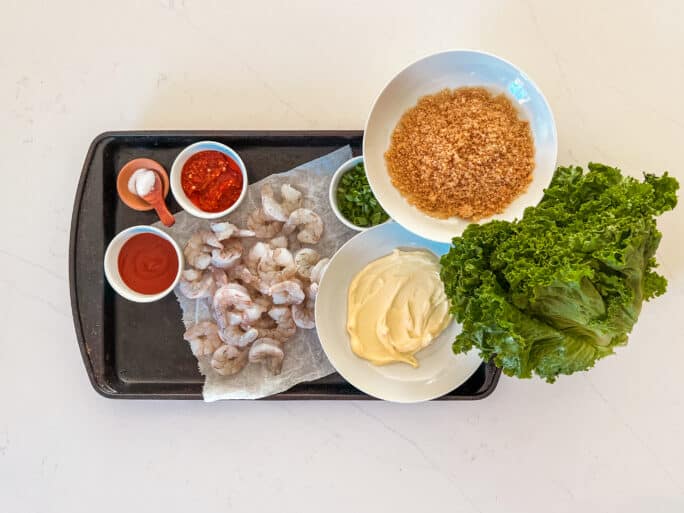 What You Need To Make Air Fryer Bang Bang Shrimp
Shrimp – See my notes below on the best shrimp to make bang bang shrimp.
Mayonnaise – I like using avocado mayo, but use what you have.
Sriracha sauce – This fiery hot Thai condiment is a key ingredient in bang bang sauce.
Sweet Thai chili sauce – You can find this in the Asian food section of most supermarkets. Chili garlic sauce will also work.
Vinegar – White vinegar is fine.
Ginger – Grated fresh ginger, NOT dried.
Sugar substitute – If you're not worried about the carbs, use regular granulated white sugar.
Scallions – AKA green onions; sliced thinly.
Pork Panko crumbs – Purchase them or make your own – see below. If you're not worried about the carbs in breadcrumbs, use regular Panko.
Salt and pepper
Optional garnishes
Lettuce leaves – Bibb or green leaf lettuce.
Parsley – Fresh parsley chopped finely.
Lemon – Cut into wedges.
What Kind Of Shrimp Do You Need To Make Keto Bang Bang Shrimp in the Air Fryer?
Do yourself a favor and start with peeled and deveined shrimp, or you'll be standing over the sink doing the tedious job of peeling and deveining them.
EzPeel shrimp are another great option – they're cut down the back and deveined, so all you need to do is slip off the shell.
Shrimp reduces dramatically when cooked so look for large (31/35) or extra-large (26/30) sized shrimp. The number refers to the number of shrimp per pound.
I prefer using wild-caught shrimp, but use what you can find.
What Is Pork Panko?
Panko breadcrumbs are Japanese-style bread crumbs that have lots of crunch. To keep this a low-carb bang bang shrimp dish, use pork Panko made from finely ground pork rinds. Pork rinds are keto and have no carbohydrates.
You can purchase pork Panko or make your own by pulsing pork rinds in a food processor until they are finely ground.
How To Make Keto Air Fryer Bang Bang Shrimp
To make the sauce:
Whisk the mayonnaise with the Sriracha, Thai chili sauce, vinegar, ginger, and sugar or sugar substitute until smooth.
Add the scallions (chopped green onions) and combine. Keep in the fridge until ready to use.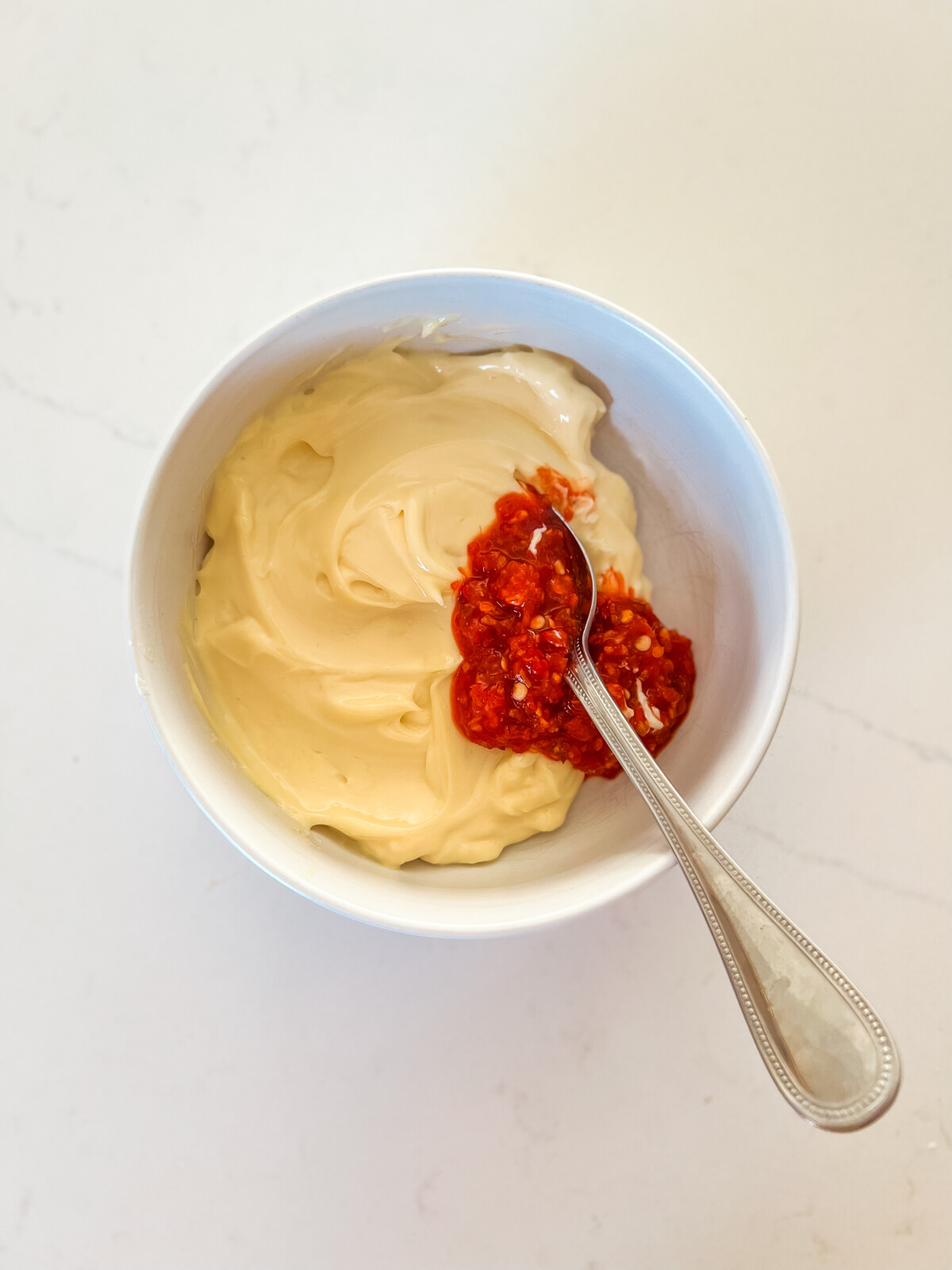 For the shrimp:
Pat the shrimp dry with paper towels.
Place the remainder of the mayo in a shallow bowl. Then add the pork Panko to a second bowl and season it with salt and pepper.
Add the shrimp to the mayo to coat well, then press them into the pork Panko.
Transfer the breaded shrimp to a wire rack until they're all breaded.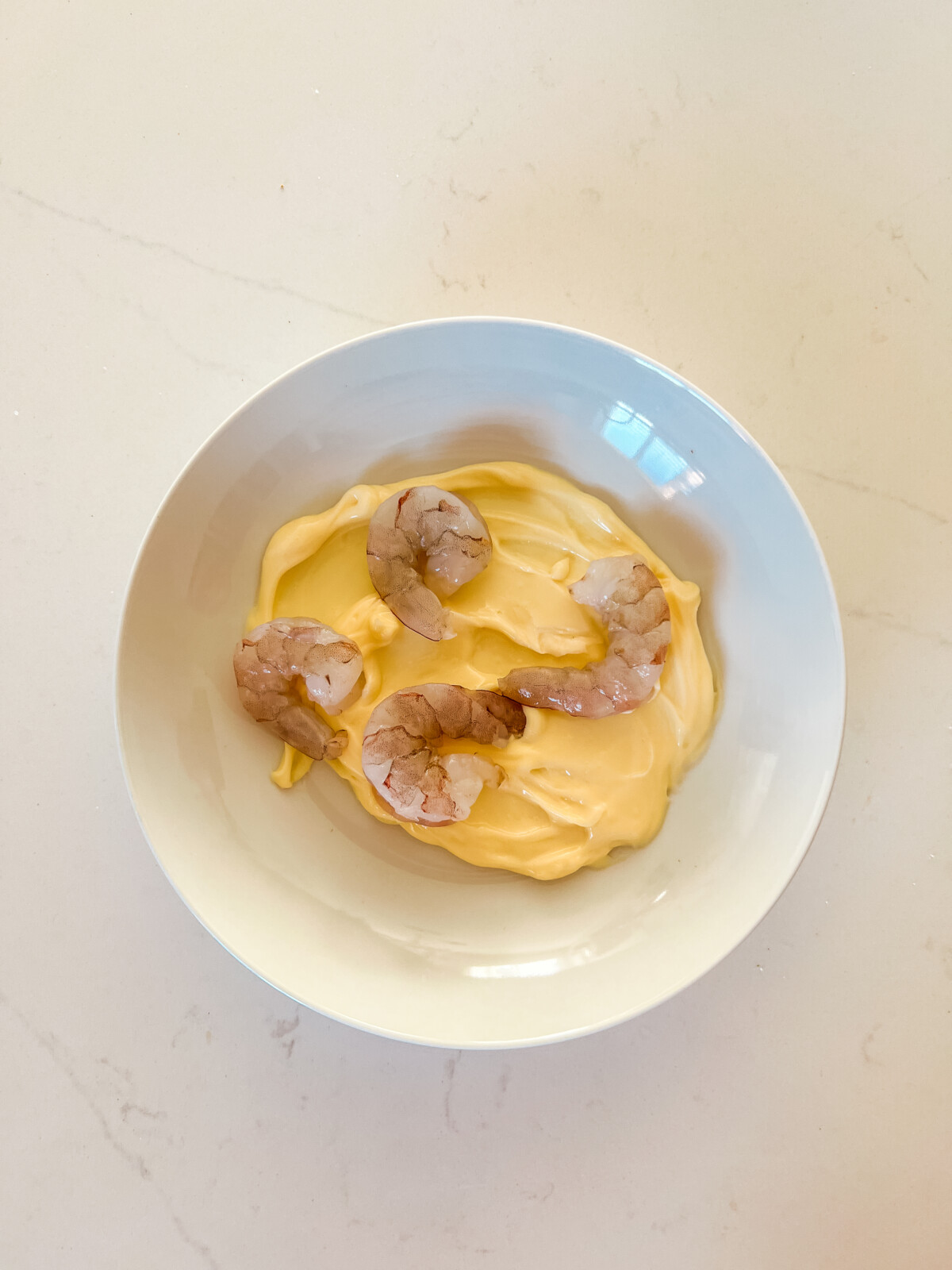 Refrigerate the coated shrimp for 15 minutes before air frying, so the breading sets up.
Preheat your air fryer to 400-F.
Arrange the shrimp in a single layer in the air fryer basket or on the air fryer tray and cook for about 5 minutes. You may have to work in batches if all the shrimp don't fit without overlapping.
Flip the shrimp and air fry another 5 minutes or until the shrimp are cooked through.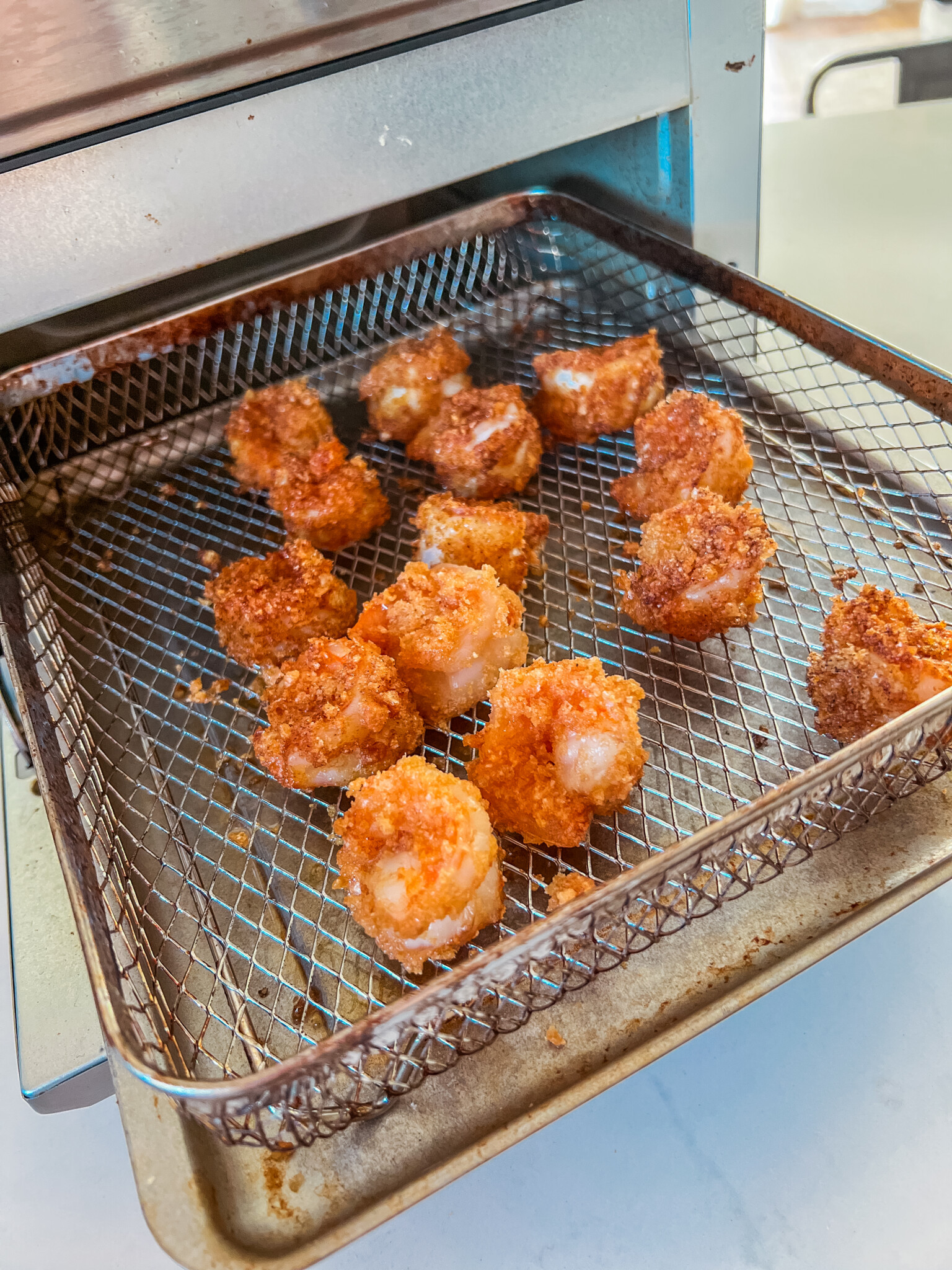 Serve immediately over thinly sliced lettuce with extra leaves to act as lettuce cups for serving. Drizzle the shrimp with the creamy sauce, sprinkle with parsley, and set out lemon wedges.
Recipe Tips:
Ginger isn't traditional in a keto bang bang sauce, but it adds so much flavor. Try it – I bet you'll love it!
If you're not worried about the carbs, you can use regular Panko breadcrumbs and white sugar.
Make sure your shrimp are pretty dry before breading them, so you don't get the breading soggy.
Don't overcrowd your air fryer so that the shrimp can get nice and crispy.
Preheat your air fryer, so you don't overcook the shrimp.
Every air fryer cooks differently – be sure to follow the manufacturer's instructions and suggested cooking times.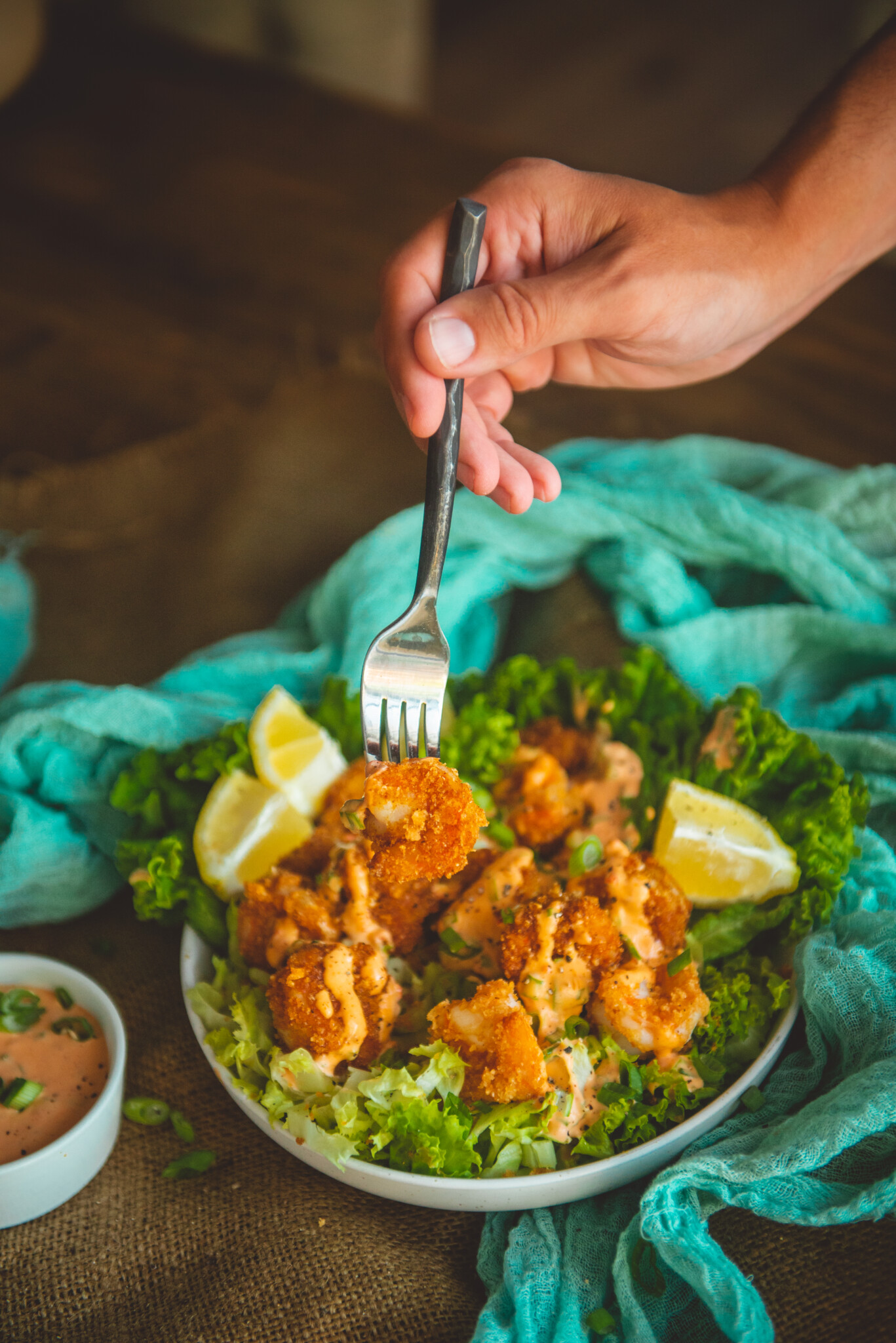 What To Serve With Low-Carb Air Fryer Bang Bang Shrimp
I love noshing down on this zesty dish by piling the shrimp and sauce into a lettuce cup. You could also serve them in a tortilla or dig into a bowlful or plateful of them. Since you have your air fryer out, pair them as a side dish to Panko Chicken.
Sides are optional, but if you want to include the shrimp as a part of a heartier meal, pair them with a salad, a side of fried rice or cauliflower rice to keep this meal low in net carbs. Want to mix this meal up but still serve crispy air fryer shrimp? Try this savory tiger sauce instead!
Storage Instructions
Keto Air Fryer Bang Bang Shrimp are best eaten fresh. You can pack up the leftovers and put them into the fridge for a day or two, and crisp them back up in the air fryer before serving.
Frequently Asked Questions
Can you reheat bang bang shrimp?
If you think you're going to have leftovers, don't put any sauce on them. Once sauced the breading will start to get soggy. Unsauced bang bang shrimp can be reheated in the air fryer for a minute or two to warm.
Is Keto Bang Bang Shrimp spicy?
No, the shrimp aren't spicy and while there's a bit of heat in the sauce, it's not very spicy. However, if you like it spicy, feel free to add more Sriracha!
Is Bang Bang Shrimp in the air fryer easy to make?
Yes! This is an easy recipe. Make the sauce, set up your breading station, and then cook the shrimp. That's all there is to it!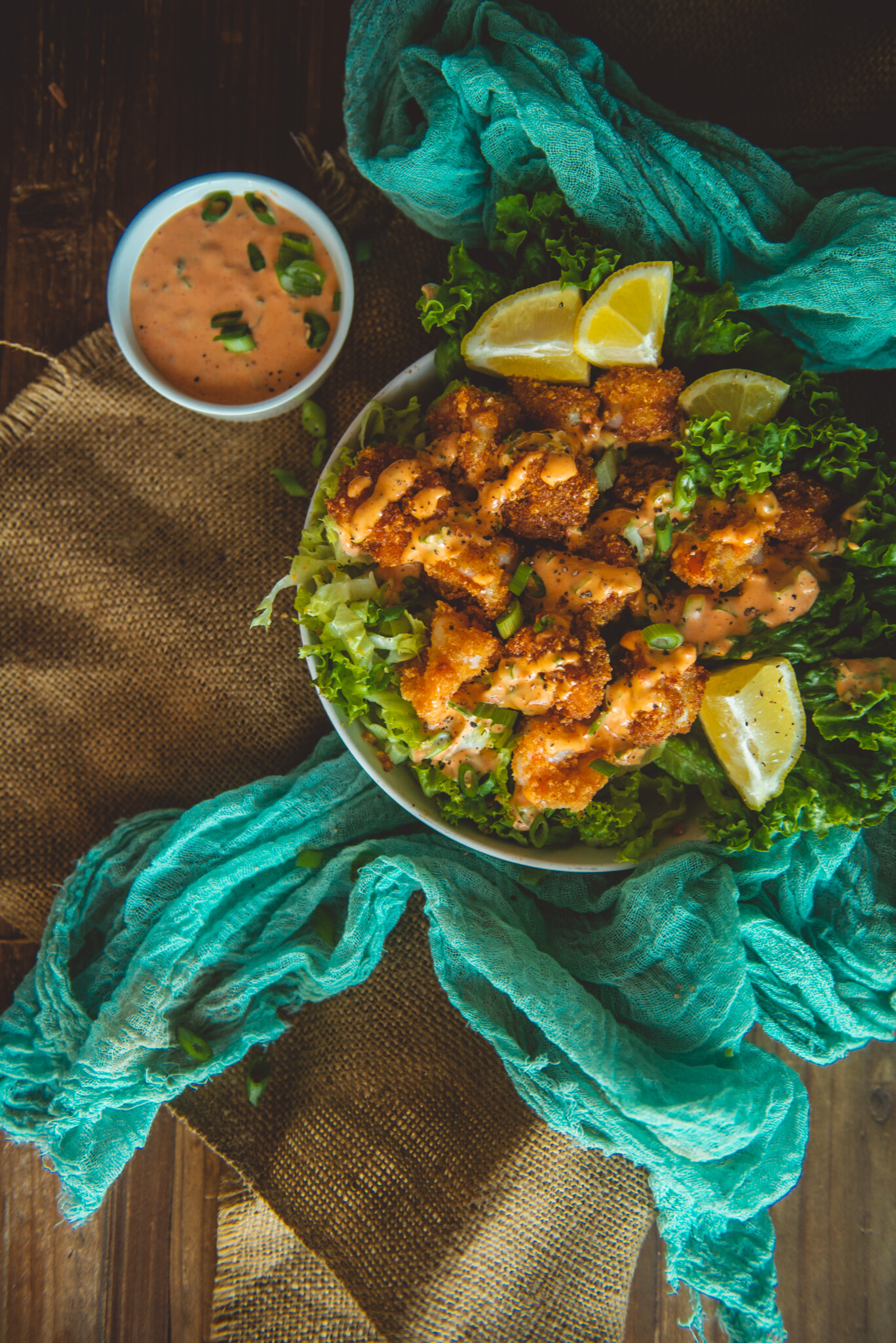 MORE GREAT SHRIMP RECIPES
Keto Bang Bang Shrimp in the Air Fryer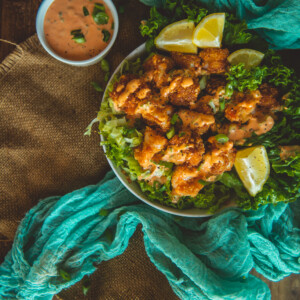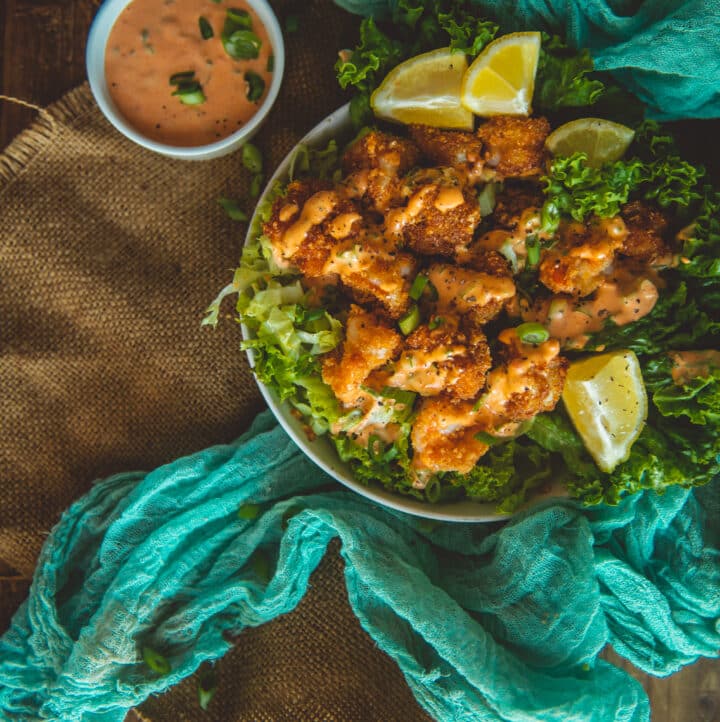 Crispy crunchy perfectly cooked shrimp drizzled with that addictively good bang bang sauce is a meal you have got to make at home! Adapted from the famous restaurant version for a lighter keto friendly version in your air fryer at home!
Ingredients
For the Air Fryer Shrimp Shrimp
2

lbs

shrimp

thawed, peeled, and deveined

1

cup

avocado mayo

divided

1 1/2

cups

Pork Panko crumbs
For the Bang Bang Sauce
2

tbsp

Sriracha sauce

1

tbsp

Sweet chili sauce

1

tsp

distilled vinegar

1

tsp

freshly grated ginger

1

tsp

erythritol or sugar

2

tbsp

scallions

thinly sliced

Salt

Pepper
Garnish:
Green leaf or bib lettuce for service

Freshly minced parsley

Lemon

sliced into wedges
Instructions
Prep the shrimp
Make sure the shrimp are thoroughly thawed and peeled completely.

Pat dry with paper towels.
Make the bang bang sauce
Whisk ½ cup mayo with the sriracha, Thai chili sauce, vinegar, ginger, and erythritol until smooth.

1 cup avocado mayo,

2 tbsp Sriracha sauce,

1 tbsp Sweet chili sauce,

1 tsp distilled vinegar,

1 tsp freshly grated ginger,

1 tsp erythritol or sugar

Add the scallions and stir to combine.

Set aside until ready to serve.
Bread the Shrimp
Set up your workflow for ease and minimal mess.

Place ½ cup mayo in a shallow bowl

Place the pork panko in another bowl. Season with salt and pepper and stir to combine.

1 1/2 cups Pork Panko crumbs,

Salt,

Pepper

Place a wire rack over a baking sheet neat by.

Working with a few shrimp at a time, add to the mayo and coat both sides.

Transfer the shrimp to the panko and press gently to coat both sides with a thick layer of pork panko crumbs.

Transfer the shrimp to the wire rack and repeat until all the shrimp are coated.

Place the shrimp on the wire rack in the fridge for 15 minutes.
Air fry the Shrimp
Preheat the air fryer to 400F.

Arrange the shrimp in the basket and air fry for 5 minutes. You may need to work in batches to not overcrowd your basket.

Using tongs, flip the shrimp and cook the shrimp another 5 to 6 minutes longer until the shrimp are cooked through and the coating is nice and crispy.

Carefully Remove from air fryer onto a clean wire rack.
Serve
Serve the shrimp over thinly sliced lettuce with additional lettuce as a garnish or to act as lettuce cups for eating.

Green leaf or bib lettuce for service

Sprinkle freshly minced parsley on top and drizzle with the bang bang sauce.

Add lemon wedges if desired and serve hot.
Notes
Shrimp sizes vary so check the package to see what size you're getting. For these look for shrimp that are large or, also labeled 31/35 or extra large 26/30, will do. The size of the shrimp reduces dramatically when cooked.
We added ginger to the sauce, which isn't true to a bang bang sauce, but the fresh pop really gave depth
We use avocado mayo, but this recipe works with regular mayo.
We used erythritol but feel free to use sugar instead.
Substitute panko for pork panko.
Nutrition calculations are an estimate and do not consider keto-friendly substitutes like avocado mayo or pork panko.
Nutrition
Serving:
1
g
|
Calories:
674
kcal
|
Carbohydrates:
19
g
|
Protein:
49
g
|
Fat:
44
g
|
Saturated Fat:
7
g
|
Polyunsaturated Fat:
26
g
|
Monounsaturated Fat:
10
g
|
Trans Fat:
1
g
|
Cholesterol:
389
mg
|
Sodium:
1005
mg
|
Potassium:
674
mg
|
Fiber:
1
g
|
Sugar:
4
g
|
Vitamin A:
77
IU
|
Vitamin C:
5
mg
|
Calcium:
194
mg
|
Iron:
2
mg