Spicy sizzling chicken wings loaded with flavor and grilled to perfection. This is a classic wings recipe, perfect for game day – and so easy to make you won't believe it. With that classic spice in every bite.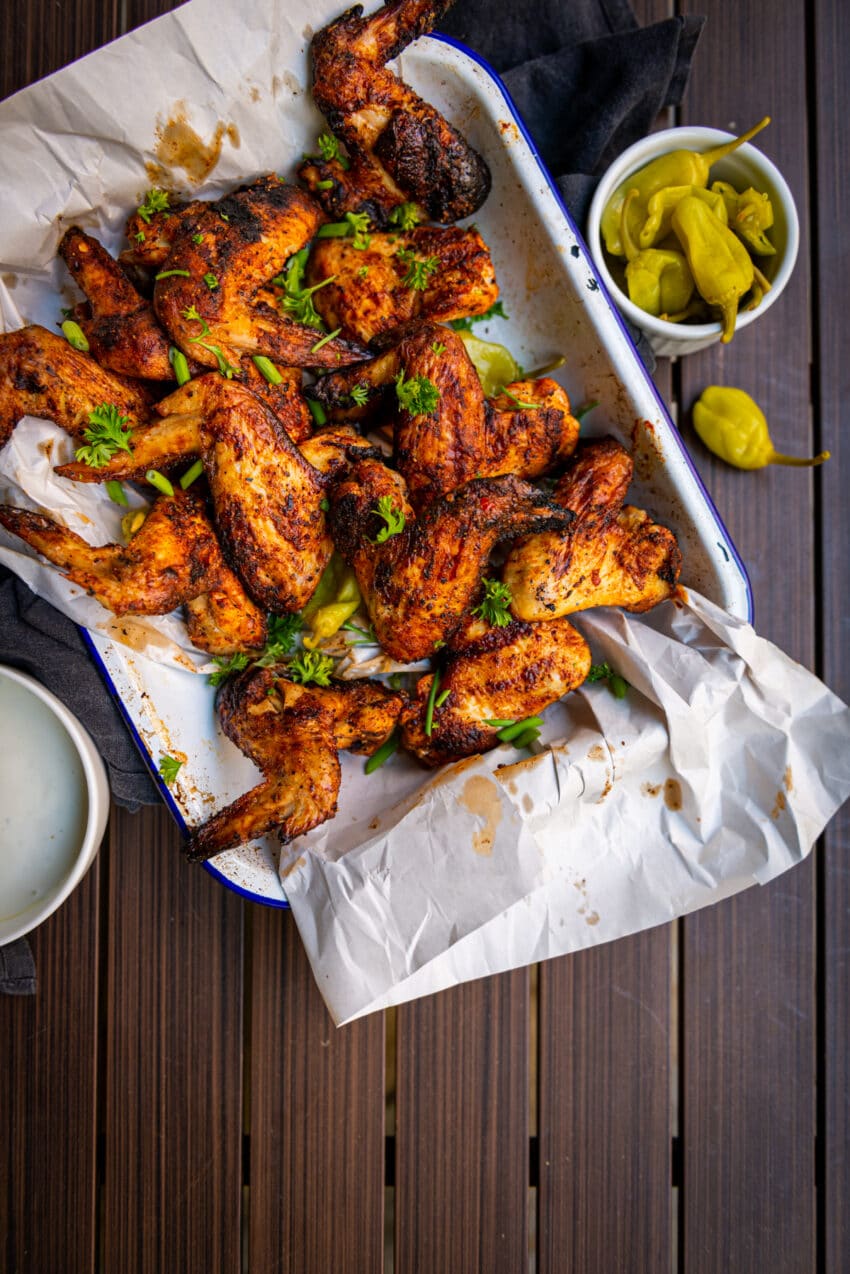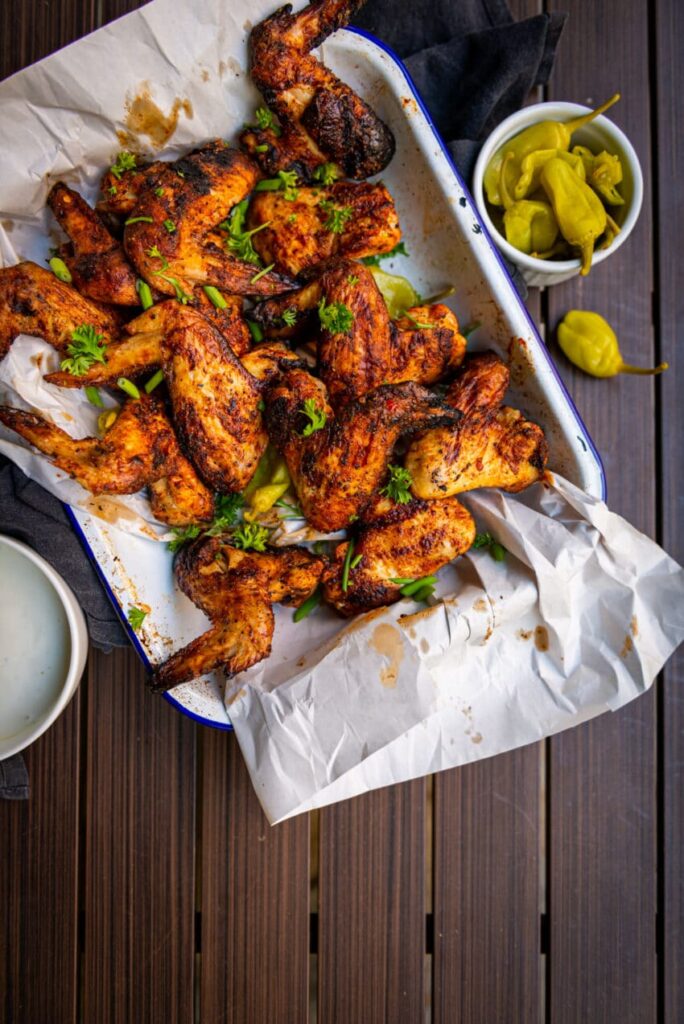 It's pretty rare that a recipe sends me over the top. Especially a simple one like chicken wings. But whoa, this recipe did just that. I decided to make smoked chicken wings for the game the other day. You know, something basic that gets back to my roots.
So, I set out to jazz up some chicken at a friend's house while we waited to see who was making it to the next playoff game. Once I pulled these off the grill, nothing else mattered.
Do you ever have a moment when you bite into something, and everything goes to the voice of the teacher in the Peanuts specials? That low whomp whomp whomp – because you are totally focused on the pure bliss. This was one of those moments. They were that freaking good! 
Check out the Web Story for these Wings!
What you need for these
For this recipe, I seasoned buttermilk with a spice blend, lime juice and oddly, pickle juice. Truth be told, I am not a fan of pickles. But it's magic in a buttermilk brine. Let the wings marinate in that for at least 8 hours.
Then let them sit out and dry. As they get tacky, I sprinkle them with more of that spice blend before tossing them on the grill (see my notes about how I grill these on everything from a charcoal to a pellet grill.).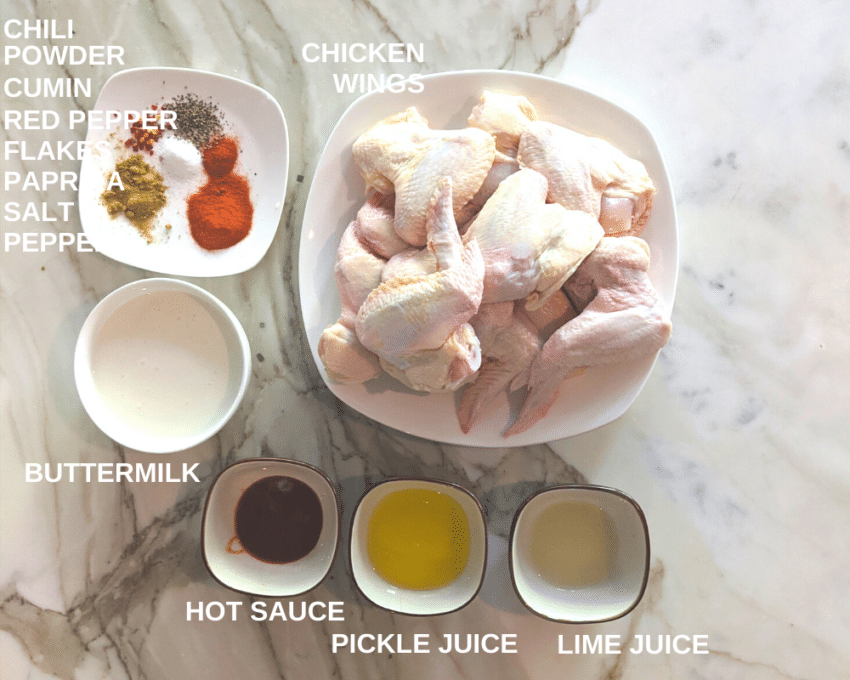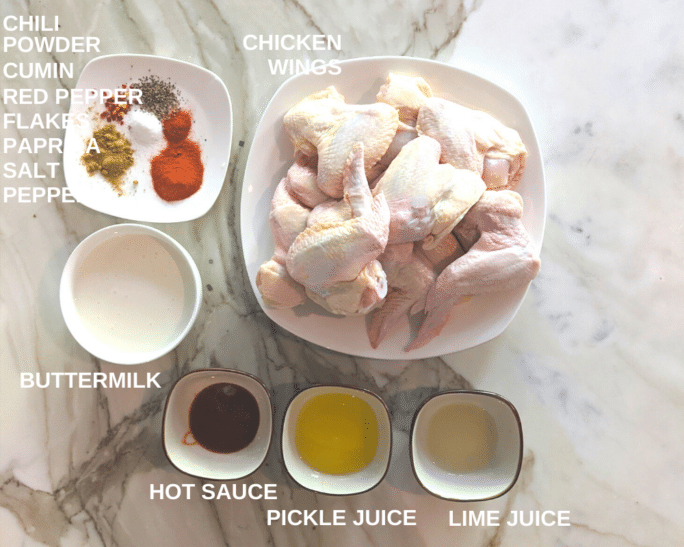 How to Smoke Chicken Wings
What I love about smoking chicken wings is you can do it on any grill you have. Whether it's an electric smoker, a kettle, gas grill, or a pellet smoker, they all get the job done. You just need a little smoke.
Because wings are, well, small, they don't take long at all to cook. So the smoke flavor won't be intense. But it is good.
I like to cook my wings over a medium-hot fire, mainly because I love a good crispy skin. The trick though, is to ignore all of the rules you know about grilling. Because if you are cooking wings over a hot fire, you are going to have to check on your wings and make sure they aren't setting themselves ablaze.
I will put them in with the meatier side down and close the lid. Then when I think they are ready to turn, I give them a gentle nudge. If the skin sticks, I don't flip. When they are ready, I will usually dance them around the grill a bit, moving the ones from the back to the front and vice versa.
If you are using an electric smoker or pellet smoker, pop the chicken in and let it do its magic. I have always had great success with crisp skin in my electric smoker so no need to do anything after they have temped. If you feel like they could be better, pop them on a hot grill and get a little char on the skin.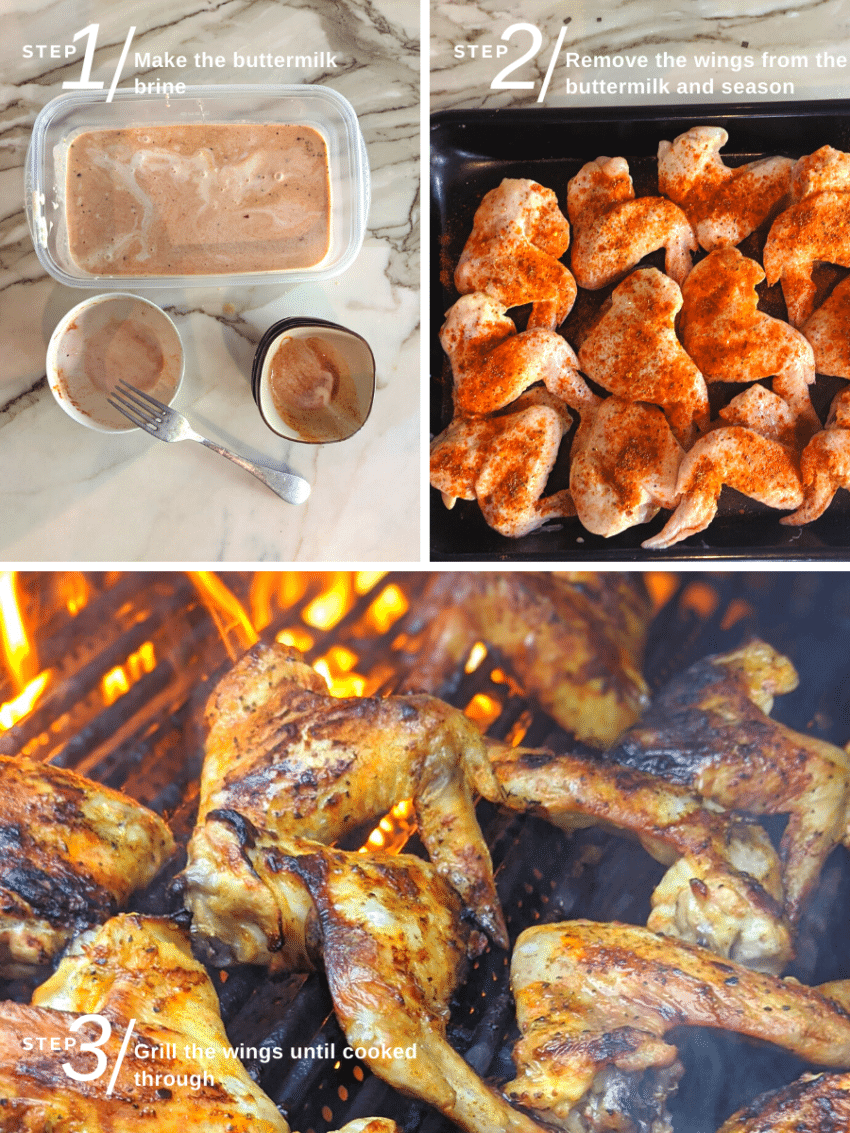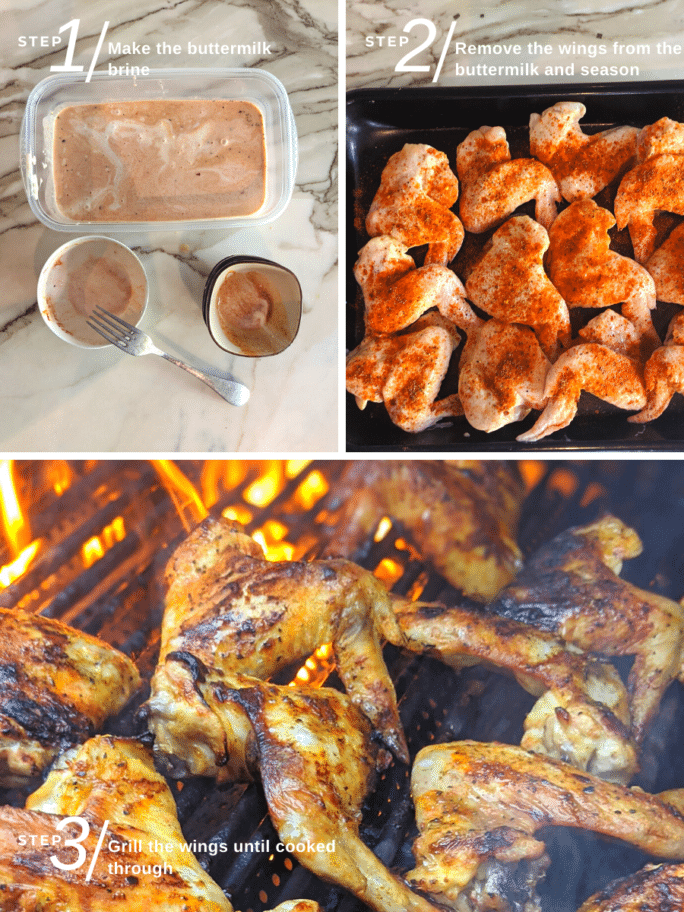 Can you smoke on a gas grill?
Yep. And it's don't tell anyone, but it's super easy. All you have to do is build a smoker packet (or use a smoker box).
For these wings, I turned a traditional gas grill into the perfect smoker by using a little pro trick. Making a smoke box out of aluminum foil to infuse that smoky flavor even with a gas grill.
To build a smoker packet, I laid down a piece of aluminum foil and placed a handful of dry chips in the center, then I wrapped it, much like you would a burrito, fold the edges over and pinch the ends shut, leaving a pocket where air, or in this case smoke, could escape. Toss that baby on the grill and let it sit for 20 minutes and tell me a gas grill can't smoke.
See the ultimate guide on how to smoke on a gas grill here.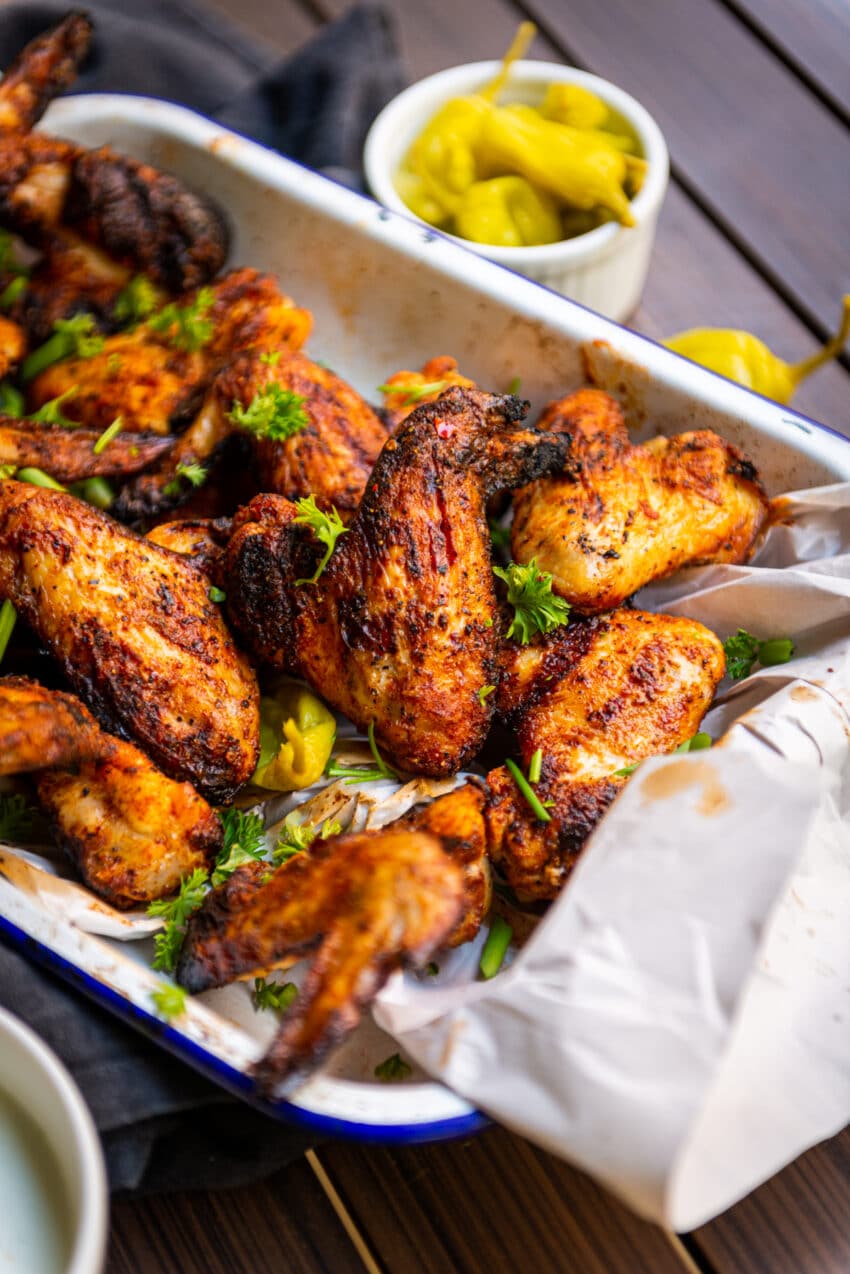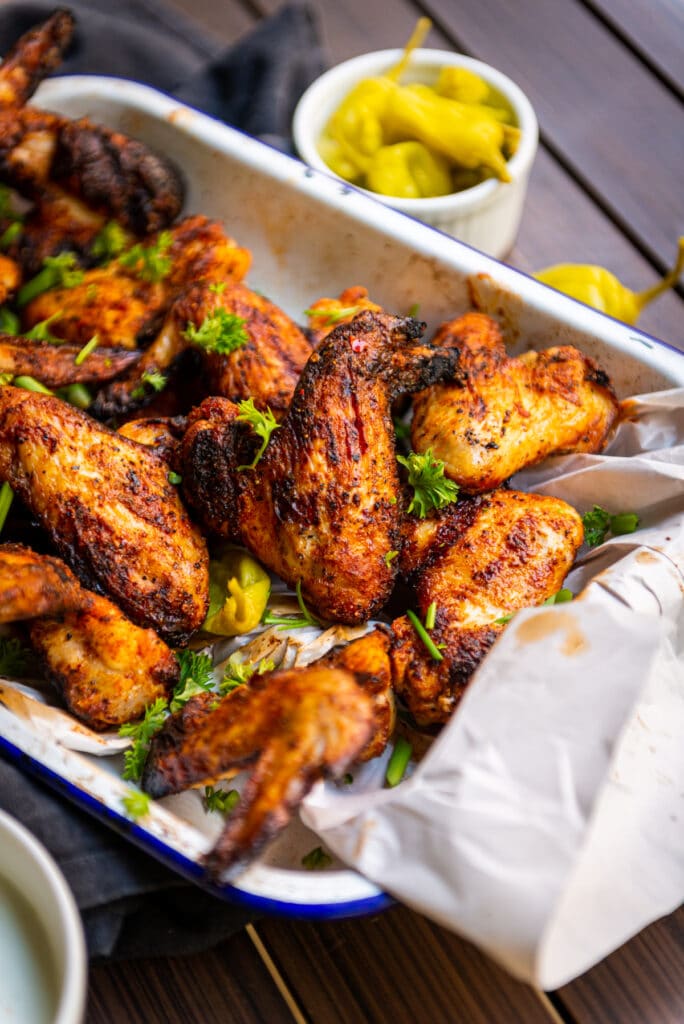 Want more kicking wing inspiration? Try some of my favorite recipes
If you've tried these smoked wings or any other recipe on GirlCarnivore.com please don't forget to rate the recipe and let me know where you found it in the comments below.
I get inspired by your feedback and comments! You can also join in on the adventures on Instagram @girlcarnivore, Twitter & Facebook.
Buttermilk Brined Grilled Chicken Wings
Ain't nothing like a classic wing with an amazing spice rub. And this is just that. Buttermilk brined smoked chicken wings with a spice-rubbed kick.
Ingredients
3

lbs.

chicken wings

4

tbsp.

Paprika

1

tbsp.

cumin

1

tbsp.

Salt

1

tsp.

Chili Powder

½

tsp.

ground Black Pepper

½

tsp.

Red pepper Flakes

4

cups

Buttermilk

4 – 6

tbsp.

Hot Sauce

2

tbsp.

Pickle juice

1

tbsp.

Lime juice
Instructions
Pat the chicken wings dry. Set aside.

Whisk the paprika, cumin, salt, chili powder, black pepper, and red pepper flakes together in a bowl.

Whisk ½ of the spice mix into the buttermilk.

Add the hot sauce, pickle juice, and lime juice.

Place the chicken in a large resealable container, or a large Ziplock bag and add the buttermilk mix.

Let the chicken sit in the buttermilk 6 to 8 hours in the fridge. If you are using a Ziplock bag, be sure to place it in another dish, no need for leaks.

Remove the chicken from the buttermilk brine and allow excess liquid to drip off.

Sprinkle ¼ of the remaining seasoning blend over the chicken, coating evenly.

When the grill is hot, arrange the chicken wings in an even layer over the grate.

Allow them to cook with the lid closed, 10 – 12 minutes.

When the chicken pulls easily from the grate, flip and rotate the wings as needed to avoid burning or flare-ups.

Cook until the skin is crispy, another 7 – 10 minutes, moving the wings as needed to cook evenly.

The wings are done when they read a temperature of 165 degrees F with an instant-read thermometer.

Remove the wings from the grill and place them in a big bowl. Add the remainder of the seasoning and a little hot sauce if you dare and toss the whole bowl to coat. The seasoning will stick to the hot chicken wings.

Serve with ranch or blue cheese on the side. And napkins.
Notes
It's important to temp the chicken off the heat of the grill for an accurate reading. I use an instant read themometer, like a Thermopen to temp all of my meat for accurate reading. 
These keep for 3 days stored in an airtight container in the fridge. Eat cold, or reteah in the oven on 325 for 15-20 minutes. 
Nutrition
Nutrition Facts
Buttermilk Brined Grilled Chicken Wings
Amount Per Serving (1 g)
Calories 649
Calories from Fat 396
% Daily Value*
Fat 44g68%
Cholesterol 192mg64%
Sodium 2044mg89%
Potassium 898mg26%
Carbohydrates 16g5%
Protein 49g98%
Vitamin A 5887IU118%
Vitamin C 21mg25%
Calcium 263mg26%
Iron 6mg33%
* Percent Daily Values are based on a 2000 calorie diet.