Everyone loves a meal where you can get messy. This Tailgating Pull Apart BBQ Chicken Bread is crazy fun! A delicious grab and go meal that's a hit with everyone!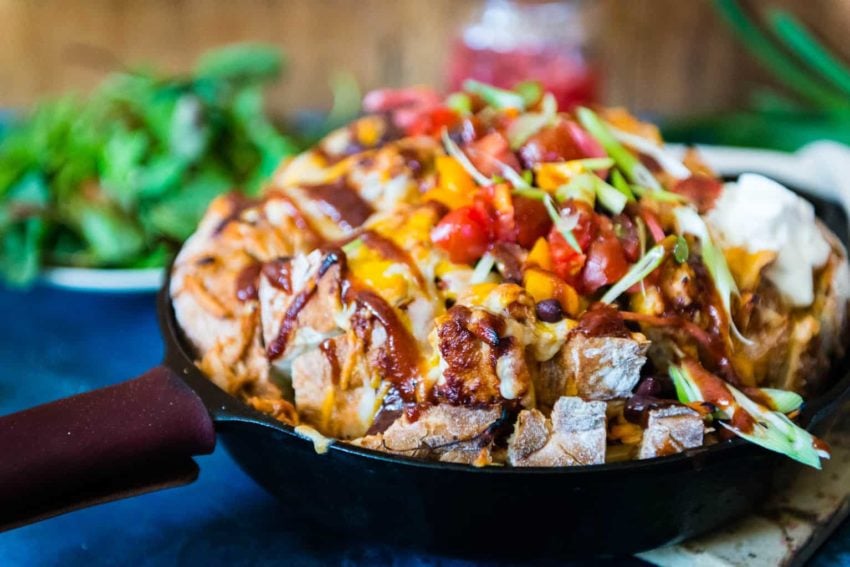 Ok, if you have been reading girl carnivore for more than a minute, you know I love to play with my food.
Welcome To Girl Carnivore!
Hi, if you are new here, first Welcome! Grab a drink. I'm Kita, the meat maven behind GirlCarnivore. Your resource for the best down-home delicious recipes and crazy foodie themed travels and I believe in playing with your food.
Reeling In Real
Whew, now that we have that out of the way. Let's get real. I am always looking for the next recipe to make for a big crowd. Something fun, fast, and loaded with flavor.
I am all for manning the grill all day long, but sometimes, you just need a recipe in the back pocket that can work for a make-ahead toss on the grill pre-game party or a, 'oh, snap, you invited the whole block over for the game.' I am a boss at those fast but crazy good recipes.
And I love them.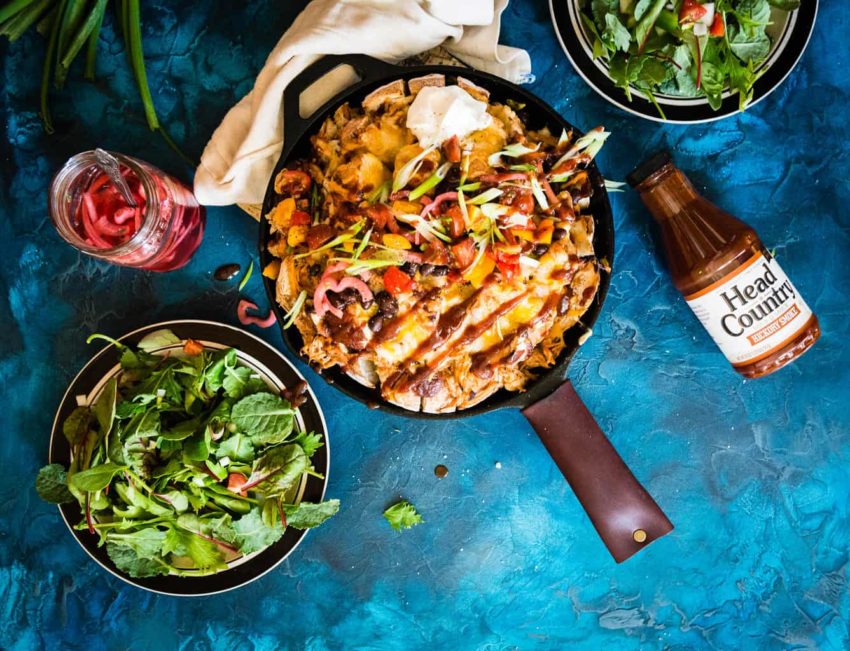 Sure, I roast bone marrow sometimes too. But that's for fancy nights. Most of the time I am thinking fast, inexpensive and on the go. Just like the rest of the real world.
Hit up the comments section below if you are totally getting what I am saying.
Meanwhile, stock your cabinets with some grab and go supplies like Aluminum foil and proven hits like these Head Country barbecue sauces.
Not ashamed to say either… Having a selection on hand is my secret weapon for always having savory eats on the fly for all of my random company. Because having a go-to sauce as a short cut to great food is a turn worth taking sometimes.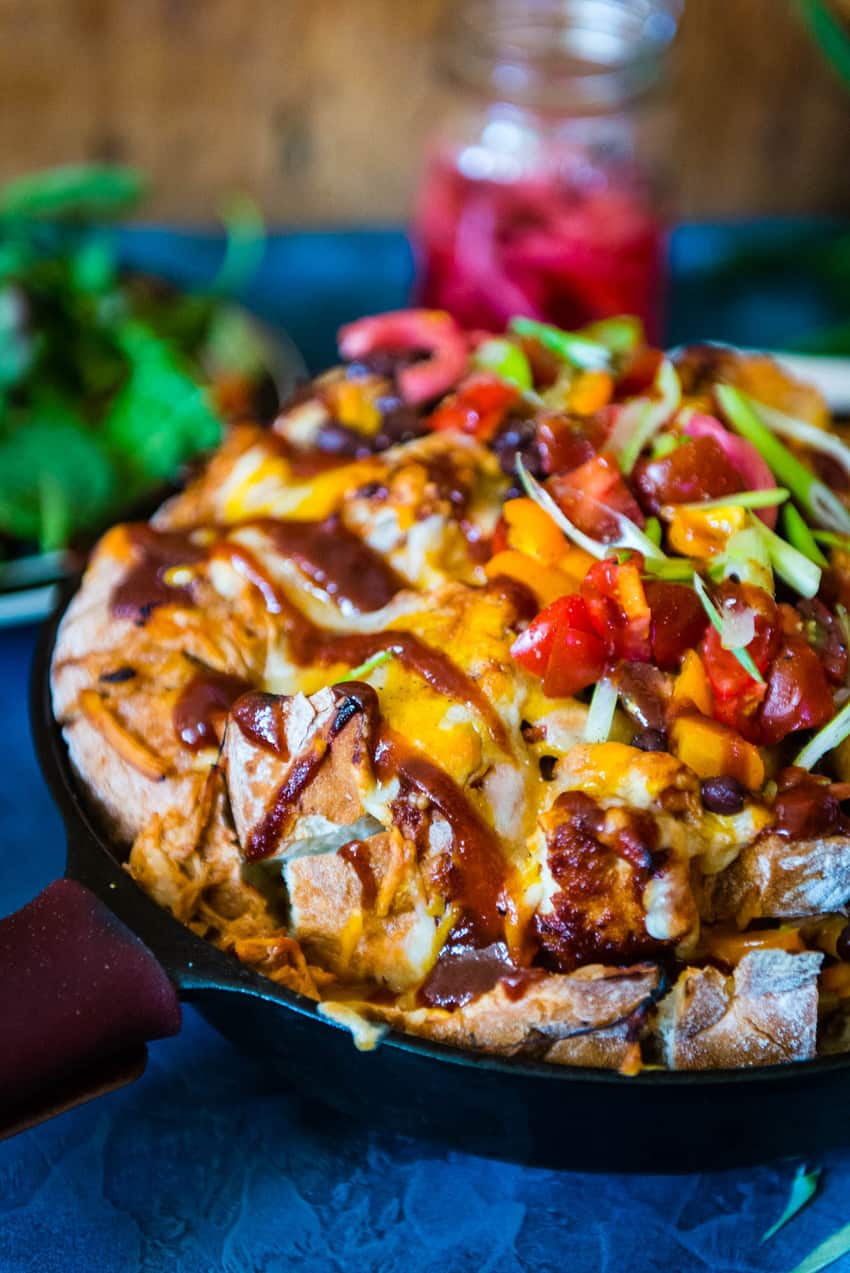 Tailgating Pull Apart BBQ Chicken Bread
This pull apart BBQ Chicken Bread is a hit. But disclosure, only for friends you are willing to get dirty with. There's no way to dig in and not get a little BBQ sauce under your nails and cheese on your fingers. With the right group of friends, it's a hit! The pull apart chicken bread is perfect for a pre-game tailgate or to serve coffee table style for your next game party.
Gather the right group of friends, and make this. Because you need an excuse to toss this recipe down in front of them and make them think you are a total BBQ genius.
What Kind Of Bread Is Best For Pull Apart Barbecue Bread?
Personally, the best bread for this is one of those hearty thick crusted round breads. Usually, you can find them at the bread counter freshly made and oftentimes as a sourdough style bread. Or, you might see one with stuffed baked in and on top like olives, shredded cheese, and jalapenos.
You know what I am talking about.
If you don't find any, then you could literally use a baguette sliced lengthwise too. Just make sure to use a nice, thick crusted, chewy textured bread. You need something that holds up to everything and won't be a wet ball of dough by the time you serve.
Where Do I Find Head Country Sauces?
You can find them online easiest either at their site, or on Amazon, plus a few other online retailers. You can find it at the grocery too, but considering how many sauces typically get stocked, just looking for it can be a chore.
The company is pretty cool and goes all the way back to 1947. Any company that survives that long must have a decent clue what they are doing.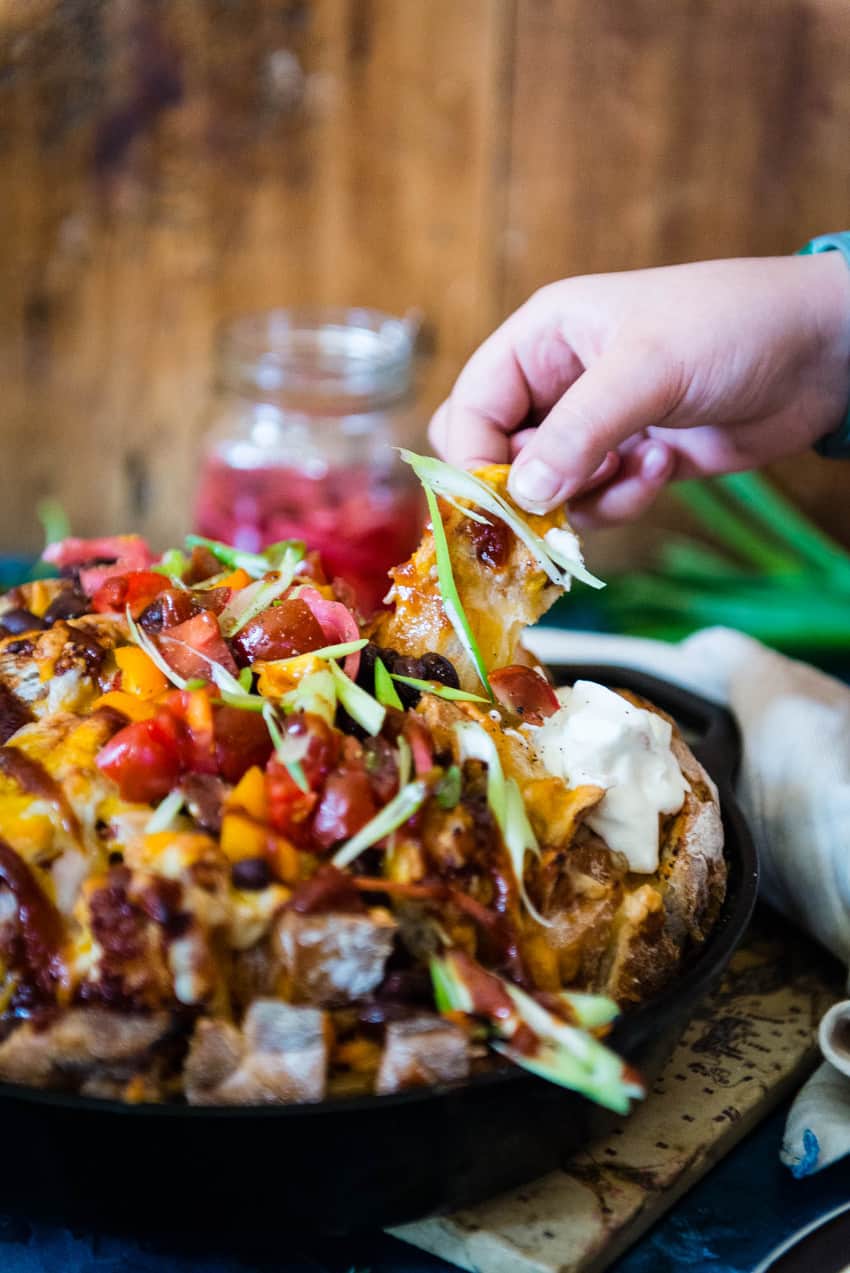 If you've tried my Tailgating Pull Apart BBQ Chicken Bread recipe, or any other recipe on GirlCarnivore.com please don't forget to rate the recipe and let me know where you found it in the comments below. I get inspired by your feedback and comments! You can also FOLLOW ME on Instagram @girlcarnivore as well as on Twitter and Facebook.
Tailgating Pull Apart BBQ Chicken Bread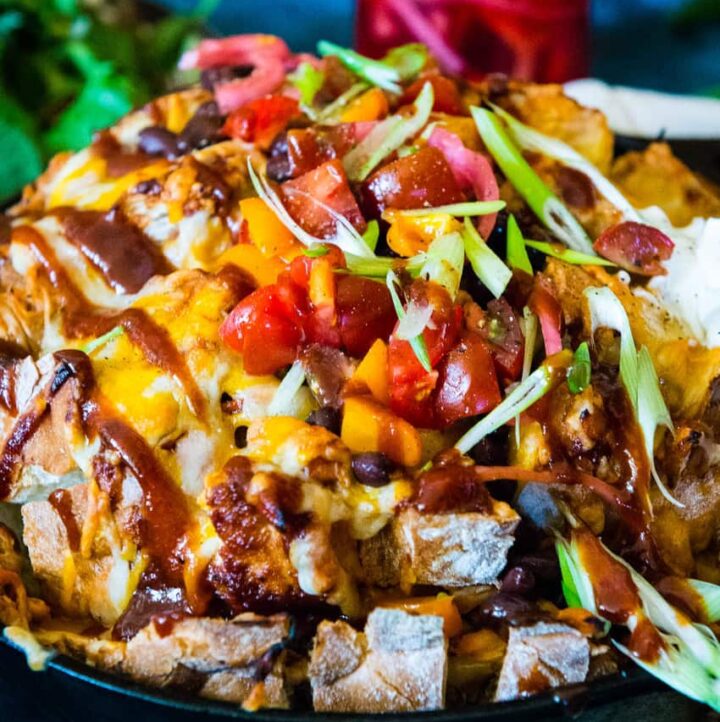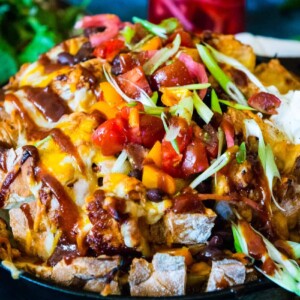 Everyone loves a meal where you can get messy. This Tailgating Pull Apart BBQ Chicken Bread is crazy fun!
Ingredients
1

lbs

boneless chicken breast

skinless chicken breast is best

½

cup

Head Country Chipotle Bar-B-Que Sauce

plus 2 tbsp set aside

1

tsp

Head Country Original Championship Seasoning

1

onion

chopped

1

loaf

bread

hearty round loaf

8

oz

Cheese

shredded

2

Scallions

chopped

¼

cup

Black Beans

rinsed and drained

½

cup

cherry Tomatoes

chopped

4

tbsp

Sour Cream

Pickled Red Onions
Instructions
Place the chicken in the slow cooker with ½ cup Head Country Chipotle Bar-B-Que Sauce, Head Country Original Championship Seasoning. Add the onion and season with salt and pepper.

Cook on low for 5 to 6 hours, until the chicken shreds easily with 2 forks.

Shred the chicken and set aside.

Preheat the oven to 400 degrees F.

Slice the bread almost through to the bottom from one side to the other being careful to not cut through. Rotate the bread and slice, making a crosshatch, carefully not slicing all the way through again.

Pull the bread apart gently. And place into a large cast iron skillet.

Slide the bread in the oven and toast 5 to 7 minutes.

Sprinkle a thin layer of cheese of the bread, making sure the cheese falls into the slices.

Place back in the oven to melt the cheese another 5 minutes.

Remove from oven and spoon the shredded chicken over top and cover with cheese.

Place back into the oven and toast the cheese again for another 5 minutes.

Drizzle with the remaining barbecue sauce.

Top with the scallions, black beans, cherry tomatoes, a dollop of sour cream and pickled red onions.

Serve with napkins.
Notes
All the oven instructions can be replaced with a grill.
Nutrition
Calories:
935
kcal
|
Carbohydrates:
107
g
|
Protein:
58
g
|
Fat:
30
g
|
Saturated Fat:
15
g
|
Trans Fat:
1
g
|
Cholesterol:
138
mg
|
Sodium:
1747
mg
|
Potassium:
1035
mg
|
Fiber:
10
g
|
Sugar:
25
g
|
Vitamin A:
933
IU
|
Vitamin C:
9
mg
|
Calcium:
709
mg
|
Iron:
8
mg