Talk about crispy wings! We've been on the hunt to perfect a basic chicken wing and after dozens of tests, these pickle brined chicken wings in the air fryer check every box for us. Keto, quick, and loaded with flavor! Oh, and of course, incredibly crisp chicken skin!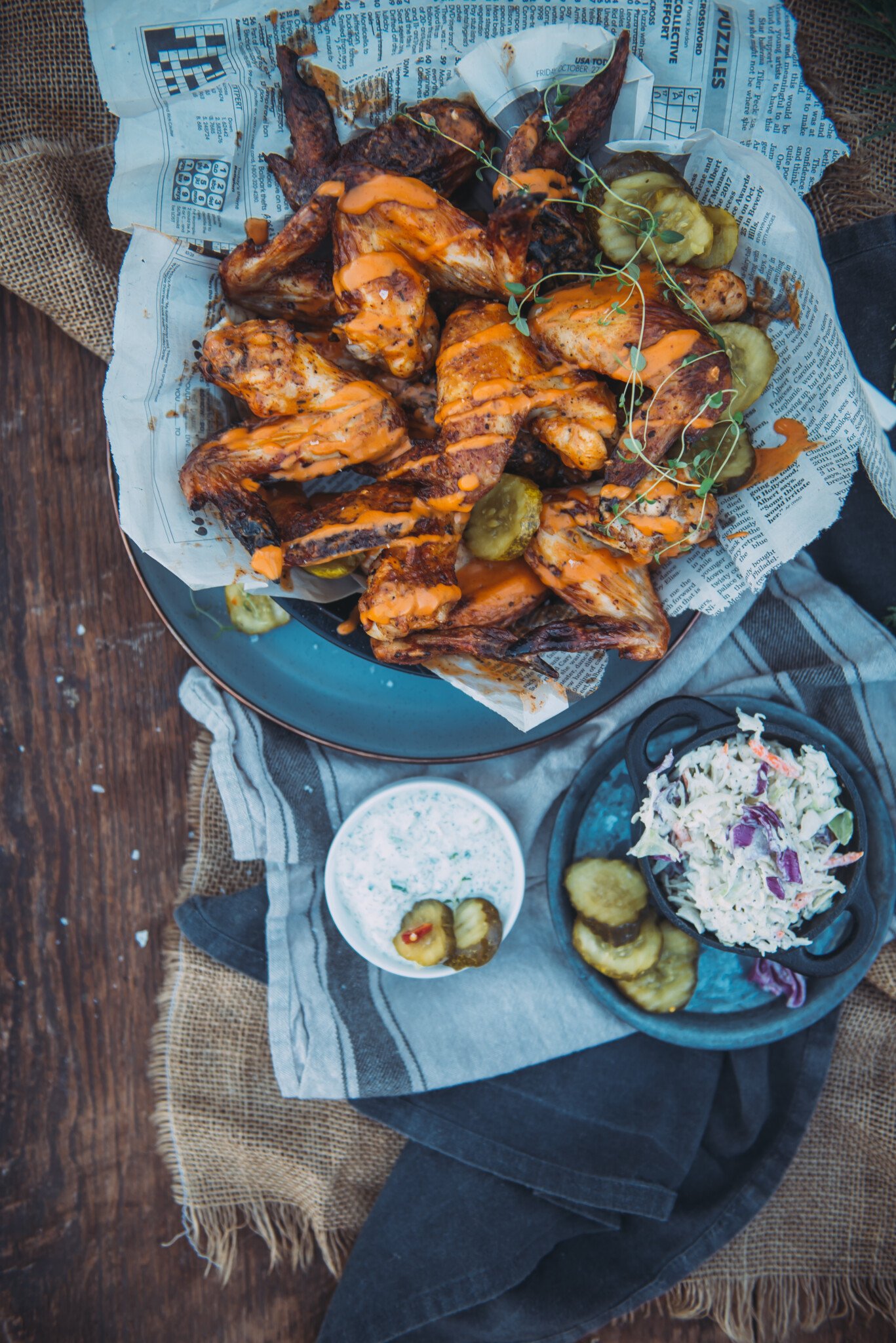 If you think that brining chicken wings in pickle juice is just another internet hoax, we get it. How could the wings not absorb too much pickle flavor and leave you with soggy vinegary wings?
But having tested a buttermilk brined chicken wing that was spectacular, we wanted to give this version a go.
It turns out, if left too long, your wings are a vinegary bust. But, if you time things just right, the combination of a dill pickle brine and air fryer for cooking is a great way to make wings. So much so, we decided to run wings through a myriad of tests to see if it truly was as good as we thought or if we just got lucky. Nope, this chicken wings recipe has become our favorite with amazing flavor
Our work = you're reward on this one, and we're guessing this is going to be your new favorite wing too.
What you need for this recipe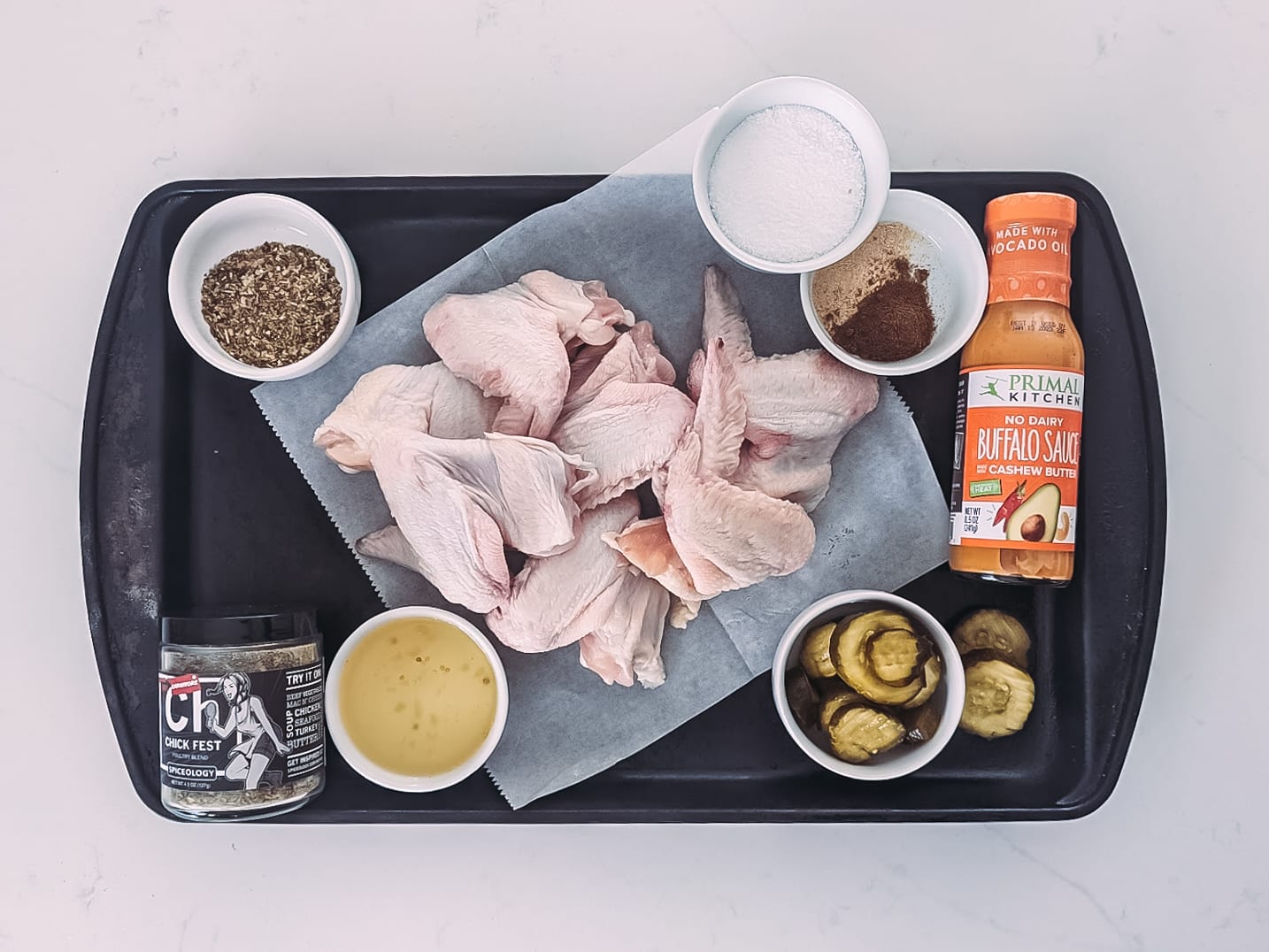 For the pickle brined chicken wings
Chicken wings – drums and wingettes or whole wings work for this recipe
Girl Carnivore Chick Fest blend – this light blend adds a pop to the brine
Pickle Juice – which means just buy extra pickles. Dill pickles to be exact
Pickles – which should come with the above
Baking Powder
Salt, Cumin, and Paprika for a very light and basic spice rub
Garlic powder
Buffalo sauce – we use Primal Kitchen No Dairy Buffalo sauce, a thick creamy sauce that has so much flavor (trust me cynics, it's really good) or use your favorite hot sauce
For the herb dipping sauce
Mayo & Crema – crema can be found in the refrigerated section near the queso fresco
Lemon juice & Pickle juice
Scallions
Salt & black pepper
Fresh Dill, chives, and oregano
Parmesan cheese – the grated kind in a shake jar.
Celery seeds
How to make these air fryer pickle brined chicken wings
Start by brining the dill pickle wings. Make sure the wings are patted dry with paper towels and trimmed of any loose skin. This step helps to make sure they are ready to be popped into the air fryer.
Season the chicken pieces with a light coating of the GirlCarnivore Chick Fest spice blend and place the wings in a resealable ziplock bag. Pour the pickle juice into the bag and add the pickles. The pickle juice acts as the brining liquid.
Seal the bag well, and place in a 9×13 baking dish in case of spills.
Allow the wings to marinate for only 1 to 2 hours max. It's not a lot of meat, and pickle juice packs a punch, so a quick marinade is all that is needed.
Next, prep your work area and pat the wings dry. Arrange the wings on a wire rack. Whisk the salt, baking powder, cumin, and paprika together. Add in the garlic powder and mix.
Sprinkle the seasoning mixture over the wings flipping to lightly coat all sides.
Place the wings in a single layer in the basket of the air fryer and cook at 400 for 20 – 22 minutes, flipping halfway through. If you have a large air fryer flipping isn't necessary but for small models, it's needed.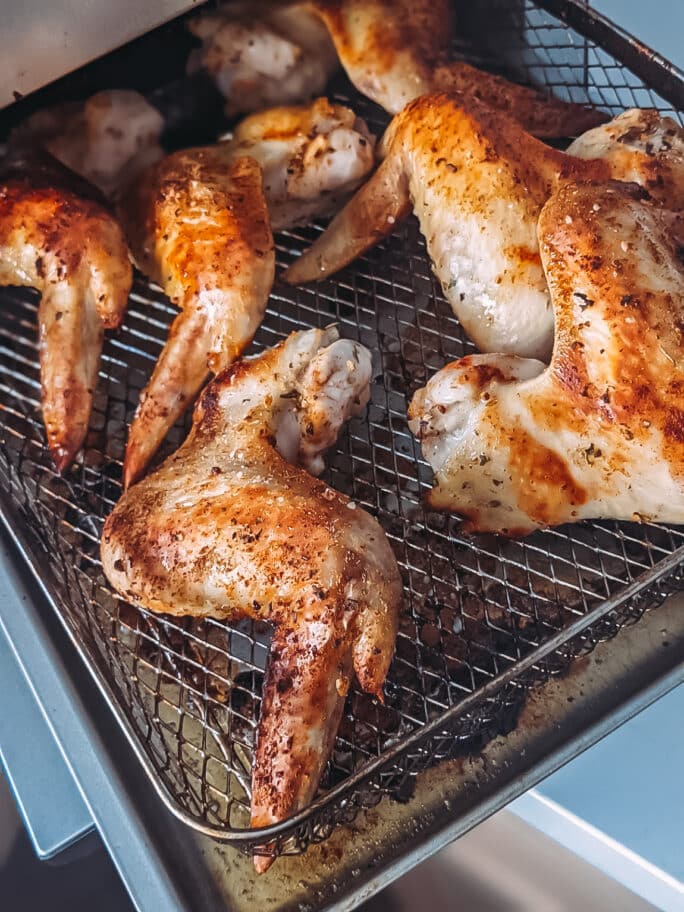 While the chicken cooks, mix together the dipping sauce ingredients.
Check that the chicken has temped to 165 °F and immediately place in a large bowl and coat with buffalo sauce to serve.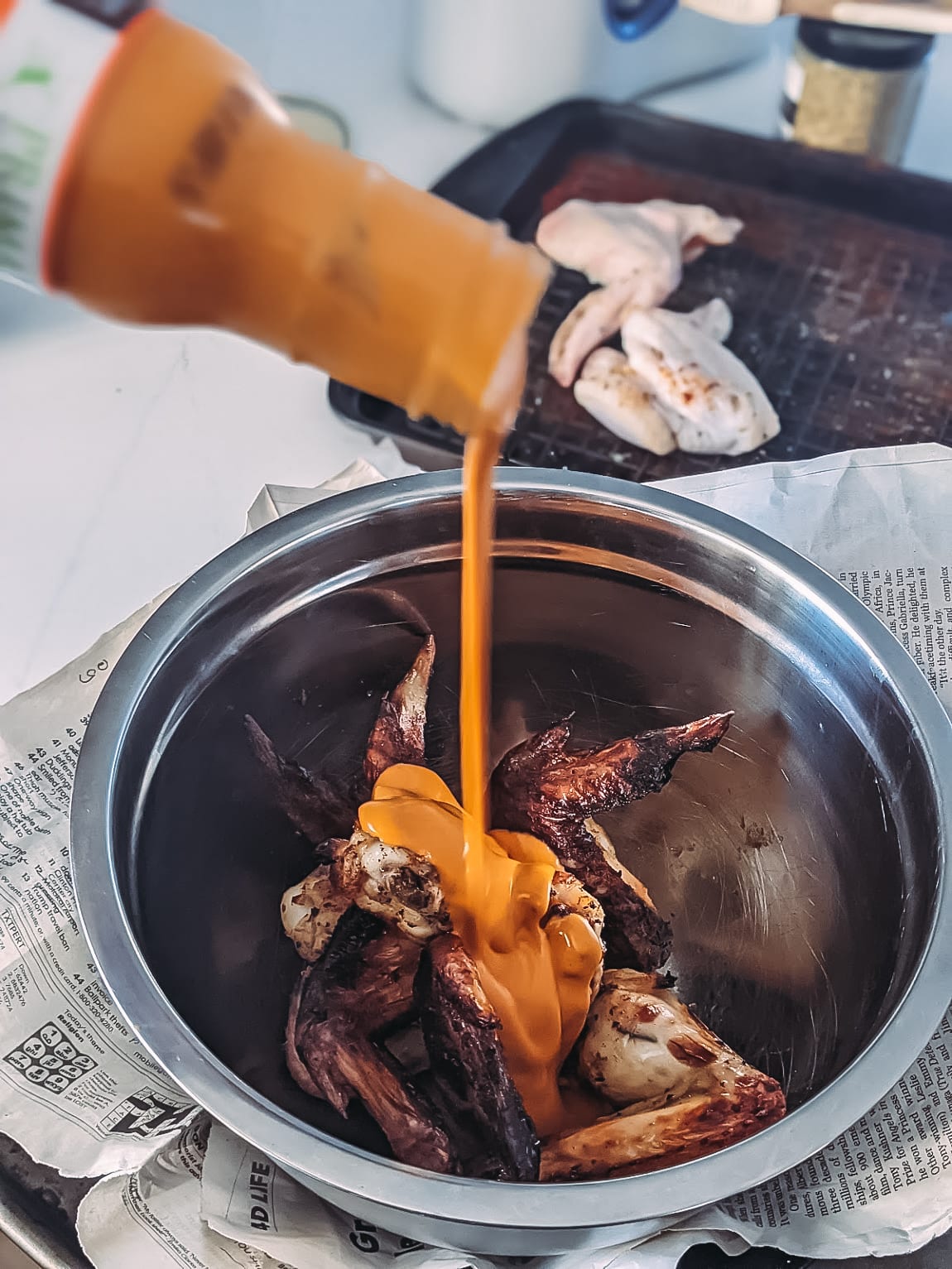 Why air fryer for chicken wings
First, no one wants a soggy wing. That's just gross. But we weren't convinced that an air fryer was all that it was cracked up to be. We tested hot and fast in the oven. Low and slow in the oven. Slow cooker. Smoked. And grilled.
For ease and crunchy skin, the air fryer beat all of the above out. You get crispy skin and amazing flavor in under 30 minutes.
Even though the grill will always be the best way to layer in subtle smoked flavors, the simplicity of the air fryer makes this the best way to get homemade wings on the table quickly.
And if you want a spicy and creamy combo, pair these with my garlic parmesan wings for a delicious game-day combo!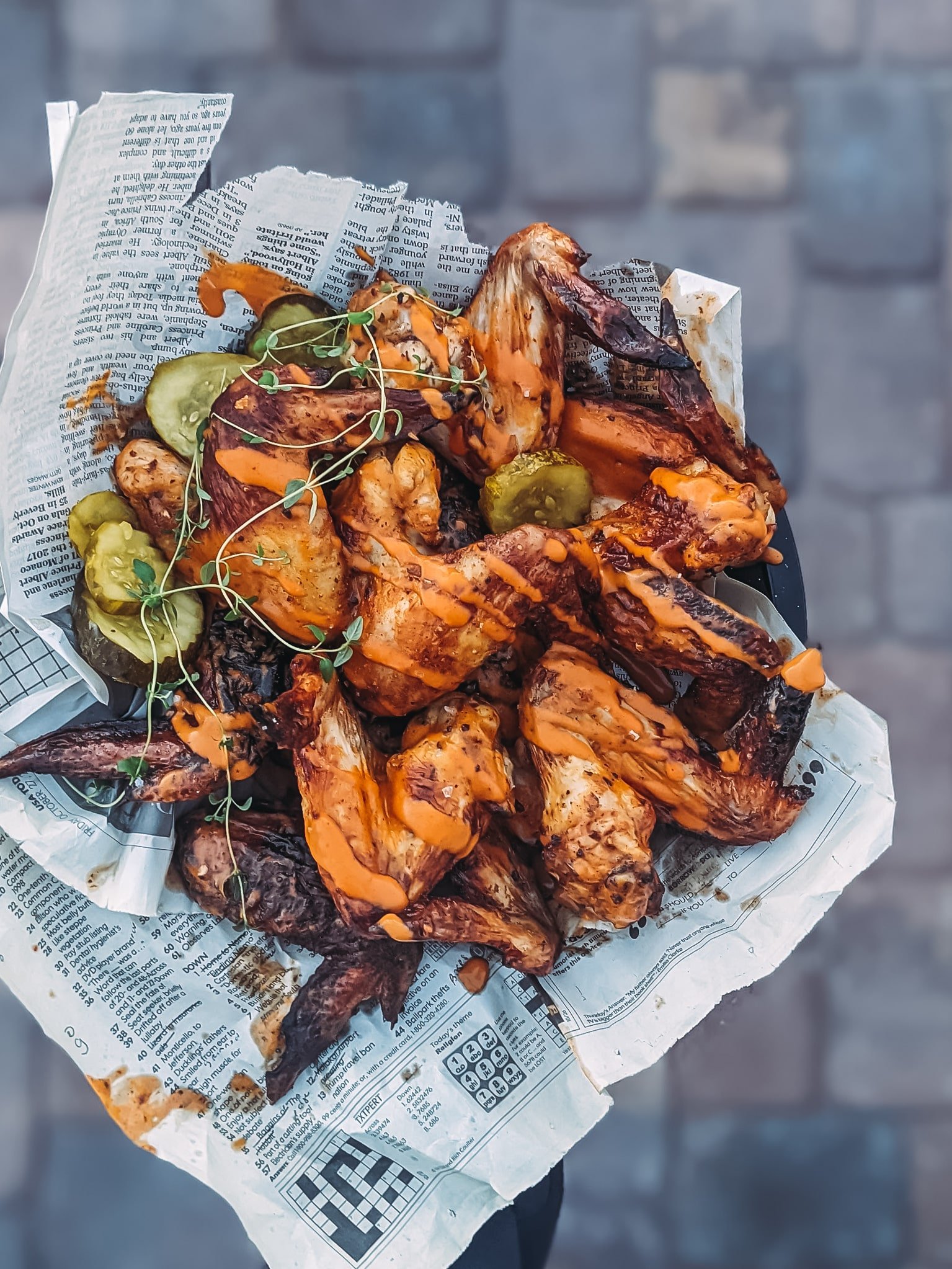 How to buy chicken wings
Not all chicken wings are the same. Often bulk chicken wings in the frozen department are plumped with water. Testing these we felt that the chicken never got as crispy, and the meat always seemed soggy.
However, they are far more affordable. If using, make sure to thaw completely on a wire rack over a baking sheet, and don't skip our tip on baking powder below.
For the best wings, check the fresh meat area for whole wings. We find bang for the buck, a whole wing (not broken into drums and wingettes are the best.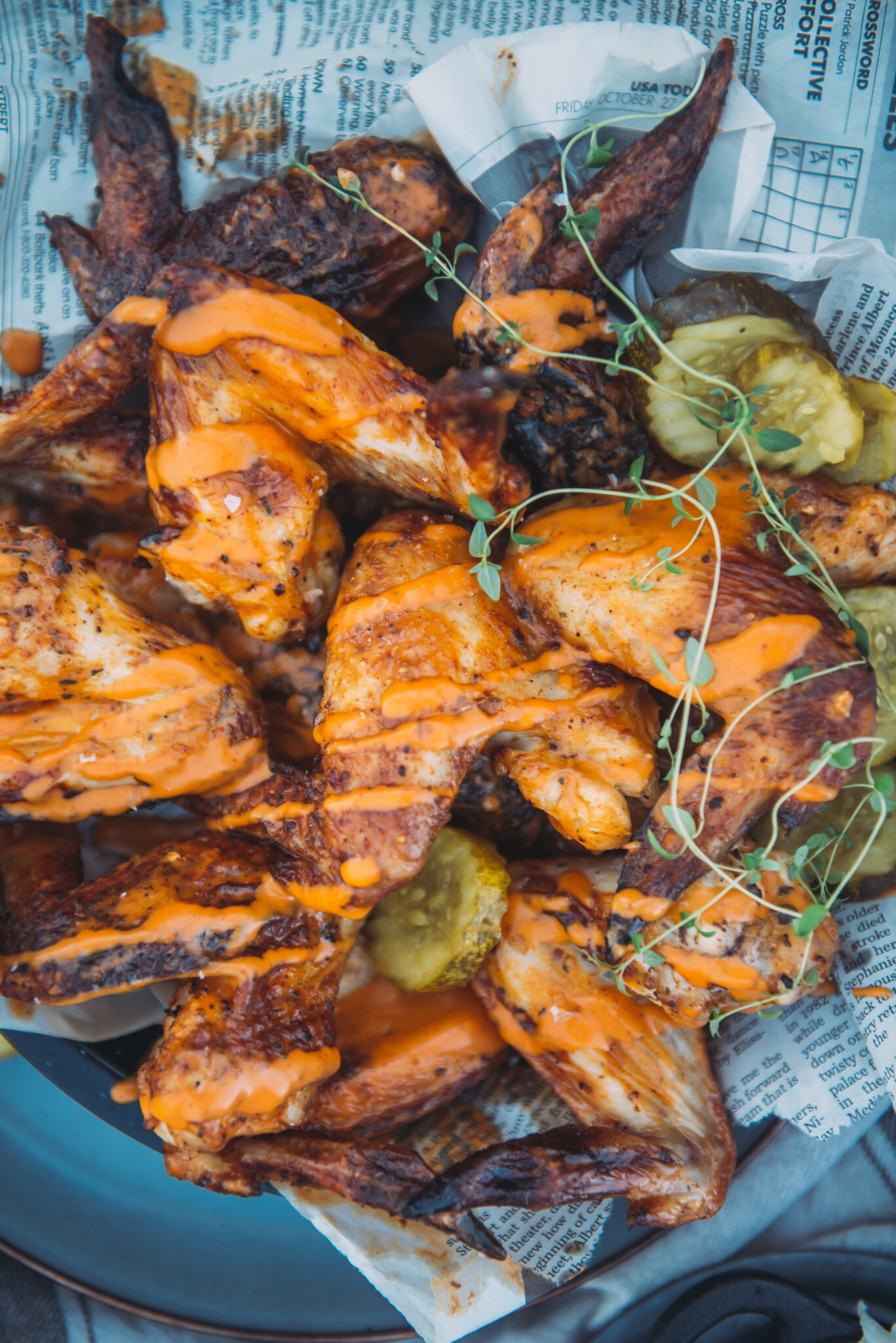 Recipes Tips Tricks and FAQs
For the best results, use refrigerator dill pickles, not the glass jars of pickles in the condiments aisle. Find these near the deli cheese or near the cheeses and cold cuts at your local markets. We have tested this recipe with a variety of pickles as well, and the leftover pickle juice really does bring the best flavor, vinegar punch, and note of herb.
Our favorite brand was Grillo's Pickles. And now we make it a point to hunt those out and splurge on them. When we finish the pickles, we pour the pickle juice through a strainer to use for
How to make chicken wings crispy? Baking Powder. Just a tiny hint of baking powder really brings out the crunch in the chicken wings and is even a trick we use on smoked turkeys from time to time.
This recipe has been tested with and without the baking powder and both versions work. But if you have the moment add the baking powder for crunch for crispier skin.
Leftovers & Reheating:
Store leftover chicken wings wrapped in foil in the fridge until ready to reheat.
To reheat: place chicken wings, on a baking sheet in a single layer and reheat in the oven at 325 for 10 minutes. Add additional buffalo sauce if needed.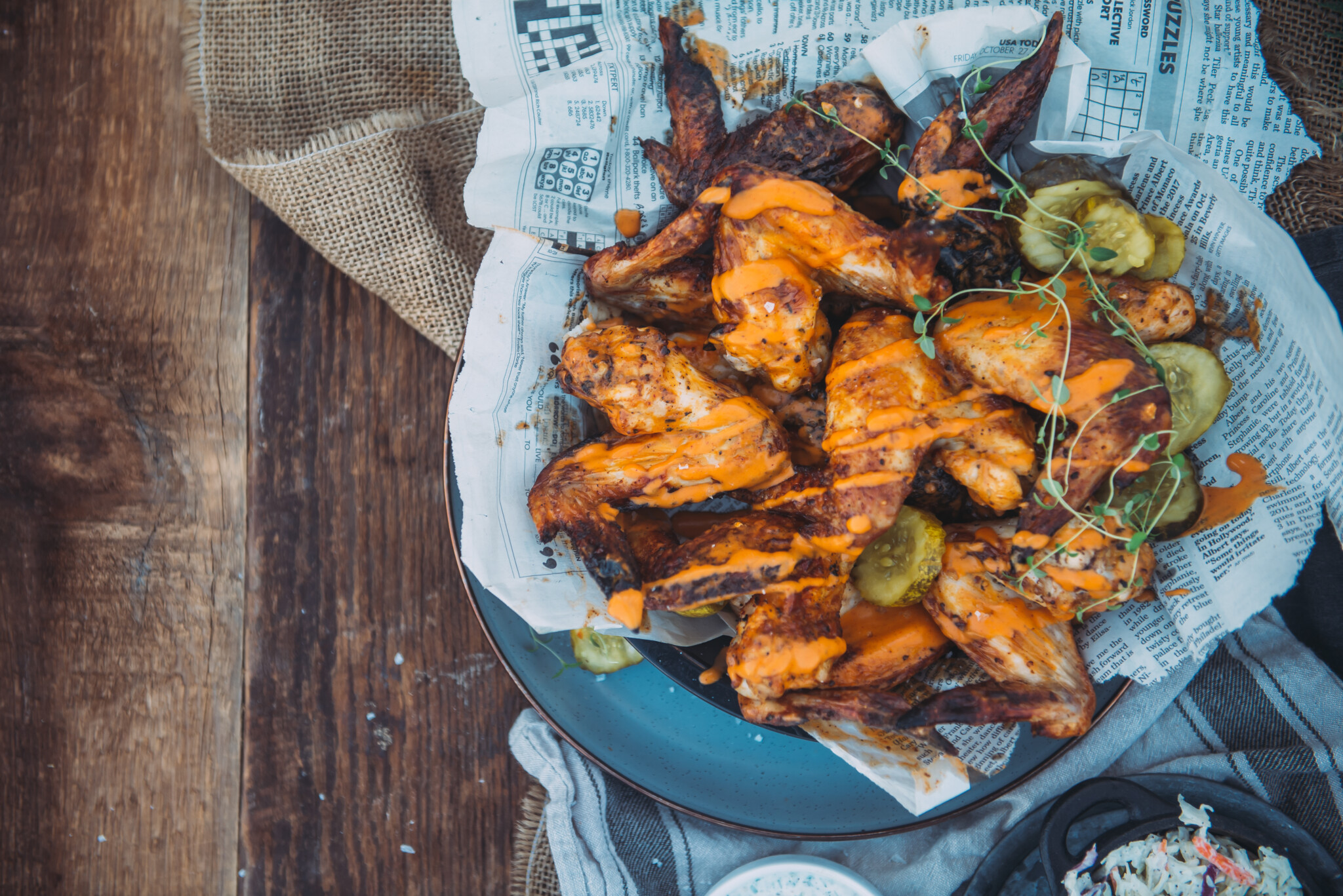 A note about Air Fryers:
The size of the air fryer matters. Make sure when you place your chicken wings in the basket, they aren't overlapping one another. Depending on the size of your air fryer, this may mean multiple batches.
To keep things hot in-between batches, preheat the oven to 200 F and place chicken wings on a wire rack placed on a baking sheet once removed from the air fryer while the next batch cooks.
More delicious appetizer recipes
If you made these wings, please be sure to rate the recipe in the recipe card or comments below ⭐⭐⭐⭐⭐ and show off your cook by tagging #girlcarnivore on @GirlCarnivore
Pickle Brined Buffalo Chicken Wings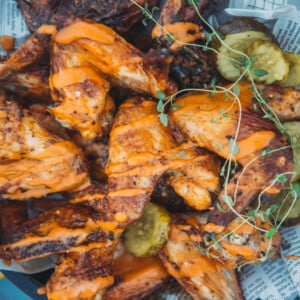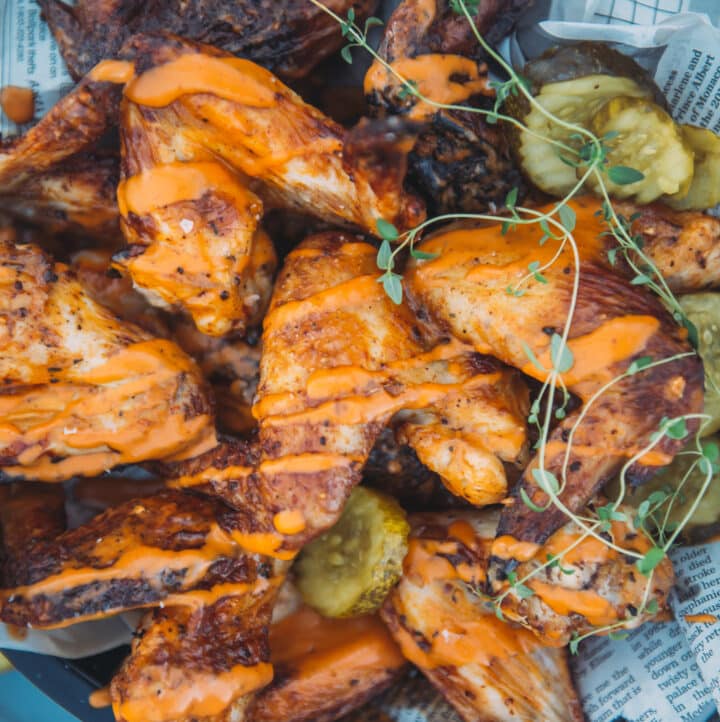 These wings are quickly brined in dill pickle juice, duested with spices and cooked in the air fryer for maximum crispy skin and juicy meat all before being smothered in buffalo hot sauce and served with a creamy herb dip.
Ingredients
For the Chicken Wings
4

lbs

Chicken wings

1

tbsp

Girl Carnivore Chick Fest

2

cups

Pickle Juice

1/4

cup

Pickles

1

tbsp

Salt

1

tsp

Baking Powder

1

tsp

Cumin

1/2

tsp

Paprika

1/2

tsp

Garlic powder
To Serve
1

cup

Buffalo sauce

Additional pickle chips
For the Herb Dipping sauce
1/4

cup

Mayo

1/4

cup

Crema

1

Lemon

1

tbsp

Pickle juice

2

scallions

chopped

1/2

tsp

Salt

1/4

tsp

Pepper

1

tsp

fresh Dill

1

tsp

Chives

1/2

tsp

fresh Oregano

1

tsp

Parmesan cheese

grated

1/4

tsp

Celery seeds
Instructions
Brine the Chicken
Pat the chicken dry and trim any loose skin.

Season the chicken with the GirlCarnivore Chick Fest

1 tbsp Girl Carnivore Chick Fest

Place the chicken wings in a gallon sized resealable zip lock bag. You may need to use two bags.

Pour the pickle juice into the bags and add the pickle.

2 cups Pickle Juice,

1/4 cup Pickles

Seal the bags, removing excess air and wiggle the chicken wings to coat all.

Place in a baking dish in the fridge and brine for 1 hour.
Season the Wings
Remove the wings from the marinade and pat dry.

Arrange the chicken on a wire rack.

Whisk the salt, baking powder, cumin paprika and garlic powder together.

1 tbsp Salt,

1 tsp Baking Powder,

1 tsp Cumin,

1/2 tsp Paprika,

1/2 tsp Garlic powder

Dust the chicken wings, front and back with the spice blend to coat.
Air Fry the Chicken Wings
Prep the air fryer for 400°F.

Lay the chicken in the air fryer basket in a single layer.

Air fry the chicken wings for 20 to 25 minutes, flipping once half way through.
Make the Herb Dipping Sauce:
Meanwhile, whisk the mayo and crema in a bowl.

1/4 cup Mayo,

1/4 cup Crema

Add the juice from 1/2 of a lemon and the pickle juice.

1 Lemon,

1 tbsp Pickle juice

Add the remaining ingredients and stir to combine.

2 scallions,

1/2 tsp Salt,

1/4 tsp Pepper,

1 tsp fresh Dill,

1 tsp Chives,

1/2 tsp fresh Oregano,

1 tsp Parmesan cheese,

1/4 tsp Celery seeds
Sauce the Wings:
When the wings reach an internal temperature of 165°F remove them from the air fryer.

Place the wings in a large bowl and pour the buffalo sauce over top. Shake the bowl to evenly coat the wings.
Serve:
Serve the wings how with the dipping sauce and additional pickles.
Notes
Rotate the chicken (swap pieces from front to back ) in the air basket when you flip it as well to avoid any overcooking from hot spots in the air fryer.
To make in a traditional oven, bake the wings at 375 for 40 to 45 minutes, flipping once halfway through cooking. 
Store leftovers loosely wrapped in foil in the fridge for up to 3 days. 
Reheat on a baking sheet lined with foil in an oven preheated to 325 for 10 to 15 minutes until heated through.  Sauce the wings again if needed. 
Nutritional value does not calculate the Primal Kitchen Buffalo Sauce 
Nutrition
Serving:
1
g
|
Calories:
724
kcal
|
Carbohydrates:
15
g
|
Protein:
46
g
|
Fat:
52
g
|
Saturated Fat:
13
g
|
Polyunsaturated Fat:
15
g
|
Monounsaturated Fat:
18
g
|
Trans Fat:
1
g
|
Cholesterol:
202
mg
|
Sodium:
6119
mg
|
Potassium:
484
mg
|
Fiber:
2
g
|
Sugar:
2
g
|
Vitamin A:
671
IU
|
Vitamin C:
18
mg
|
Calcium:
96
mg
|
Iron:
4
mg