This is a no bean super healthy whole 30 approved (and I dare say) paleo chili recipe.
Turkey and Butternut Squash Chili is a forever favorite of mine that is quick to put together and quiets my comfort food craving every time.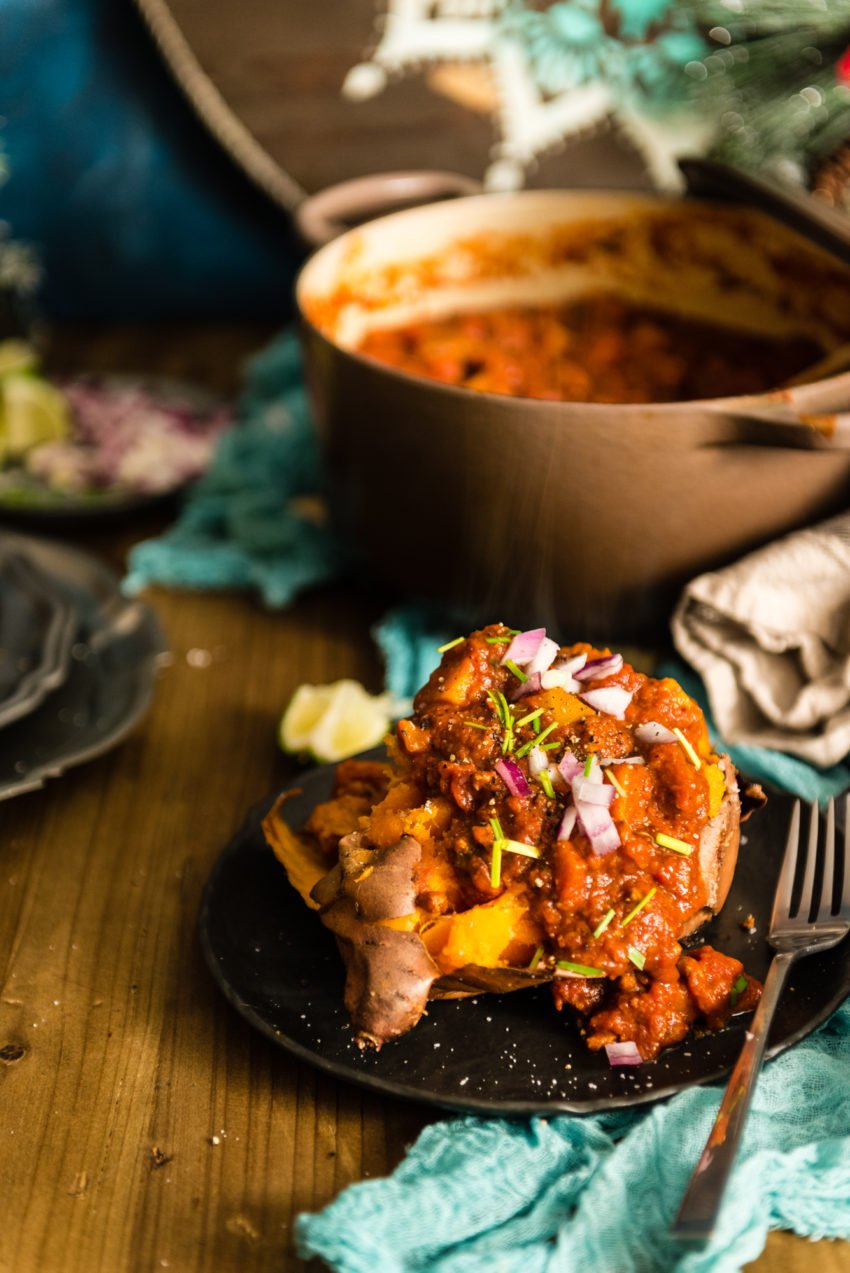 Turkey and Butternut Squash Chili may seem like a far cry from a bowl full of ground beef simmering away. But whether you are trying to eat healthily or just looking up a new recipe for chili, it's fun to play around with this classic comfort dish.
I love mixing things up with taco chilis or cranking up the heat with classic simmered dishes. Hell, one of my favorites is this huge batch slow cooker chili I make every year for the big game.
But today, I was feeling inspired by my local market. There were buckets of winter squash for a reasonable price. Scooping a few up, I snagged some ground turkey on sale too, knowing just what I was going to make.
Butternut Squash Chili
Chili is a favorite of mine. Hearty big batches get reduced to portions, sealed and frozen for busy weeknights. I love that I can just heat it and eat it by the spoonful or top potatoes, nachos, or cauliflower rice with it.
This chili recipe is a go-to for when I want to sedate my inner health junkie, but also still feel satisfied. It's packed with healthy protein and I usually load mine with beans or veggies to fill me up longer. However, this recipe is a no bean chili recipe. If you are a fan of Texas style chilis, then you know this is a good thing.
There are places in Texas where they will kick you in the butt with spurs on their boots if you ask about beans in the chili.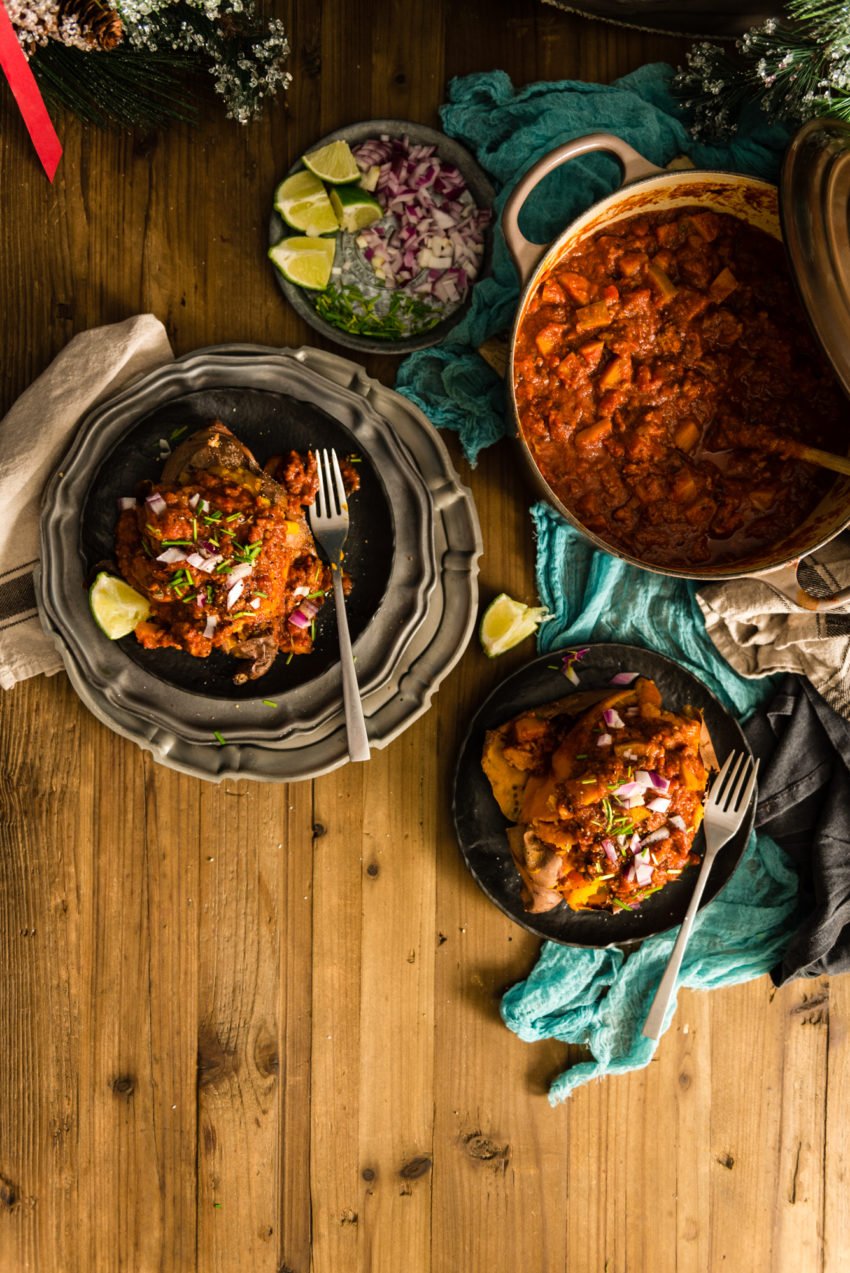 Butternut Squash in Chili
Hearty winter squash, acorn, buttercup, and butternut are my go-tos for chili. Where they will soften when simmered for hours, they don't become mush and still make chili feel incredibly filling. The only one I won't use as chili filler is spaghetti squash. Although, it is great for topping with chili!
Spaghetti squash have too stringy a texture though otherwise.
Winter squash are loaded with dietary fiber, vitamin A and C along with a slew of other health benefits. And fun fact, they are a fruit. Not a veggie. I know that might be hard to wrap your head around, but if you can accept that tomatoes are fruits too then you can handle it.
My simple rule of thumb for squash in chili is if there aren't beans, add squash. Otherwise, I tend to keep my bean chilis just meat and beans.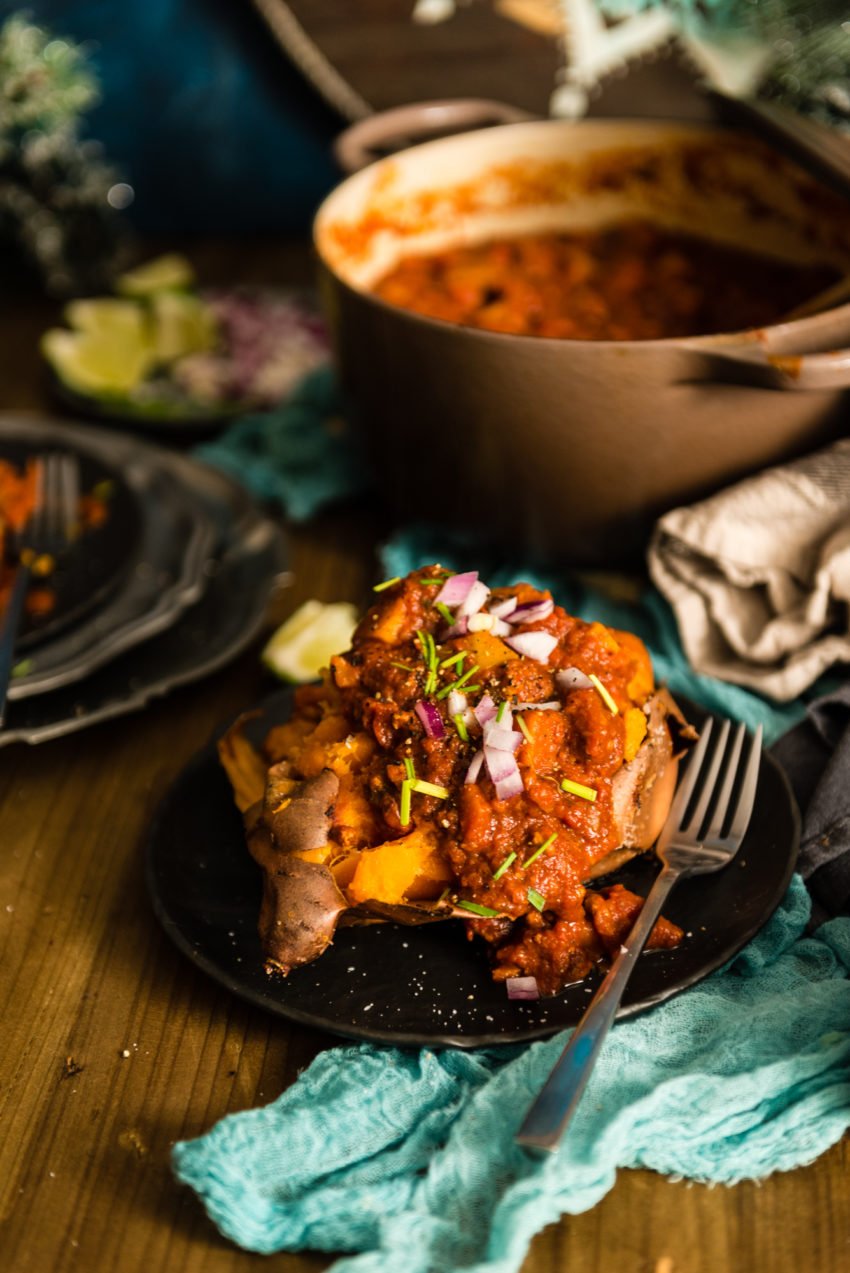 If you are looking to hurry this dish, and don't have hours to simmer the chili, try roasting the squash first. The caramelization the squash gets from oven roasting adds a robust depth to chili deepening the flavors.
A Little About Whole30 Recipes
The Whole30 approach to dieting is not too complex. Better still, the Whole30 diet is based on actually eating food, not starving yourself. With Whole30, you can eat most everything and the stuff you should not eat makes sense nutritionally speaking.
For example, added sugar is off the menu. Also, many complex carbohydrates, which is another form of complex sugars, should be avoided. That means grains and most legumes.
The tough part there is that includes booze, bread, and most beans. I know that can be tough for some, but having tried it, I can vouch for it. Sure, I am not a total convert, because let's face it, a good IPA now and then isn't the end of the world.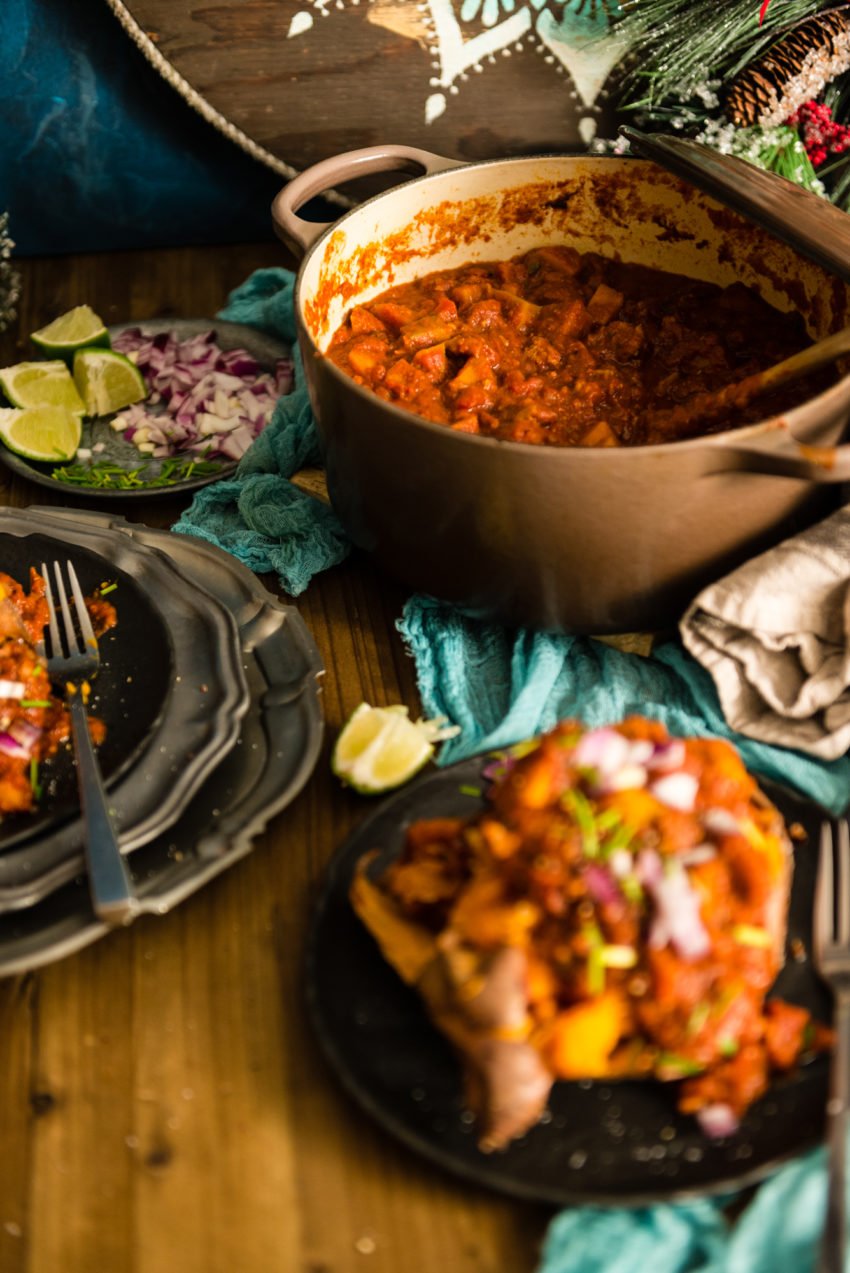 NEED MORE WHOLE30 INSPIRATION? CHECK OUT THESE RECIPES:
WHOLE30 APPROVED Turkey and Butternut Squash Chili
If you've tried my Whole30 Approved Turkey and Butternut Squash Chili Recipe or any other recipe on GirlCarnivore.com please don't forget to rate the recipe and let me know where you found it in the comments below. I get inspired by your feedback and comments! You can also FOLLOW ME on Instagram @girlcarnivore as well as on Twitter and Facebook.
Turkey and Butternut Squash Chili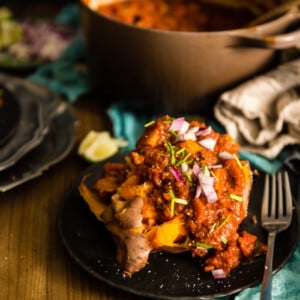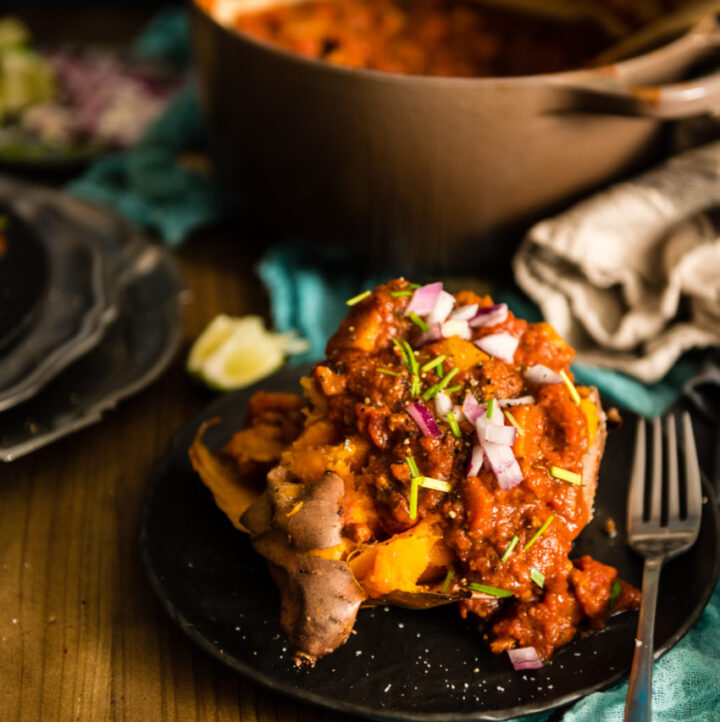 This is a perfect make-ahead batch of whole 30 approved chili. Use any winter squash you have on hand to fill it out and serve over baked sweet potatoes for a full meal!
Ingredients
1

tbsp 

olive oil

1

lb

ground turkey

1 1/2

onion

chopped

1

bell pepper

stemmed, seeded and chopped

1

jalapeno

stemmed, seeded and minced

6

cups

butternut squash

chopped into 1/2" cubes, any winter squash works well except spaghetti squash

2

garlic cloves

minced

2

tbsp

tomato paste

2

tbsp

cumin

2

tbsp

chili powder

1

tbsp

salt

1

tbsp

pure cocoa powder

1

tsp

paprika

1/2

tsp

cayenne

1/2

tsp 

mustard

1/2

cup

chicken broth

2

bay leaves

1

tbsp

balsamic vinegar

1

tbsp

coconut aminos

1 28

oz

crushed tomatoes

One can

1 15

oz

cMarzano tomatoes

1

lime

Juice for a single lime

1

red onion

chives, and minced scallions for topping
Instructions
In a large heavy duty Dutch Oven, heat the olive oil over medium heat.

Add the turkey and brown, 5 to 7 minutes.

Add the onion, bell pepper, and jalapeno. Saute until softened, 3 minutes longer.

Stir in the chopped squash and garlic.

Add the tomato paste, cumin, chili powder, salt, cocoa powder, paprika, cayenne, and mustard to coat.

Add in the broth, a bit at a time, scraping up any browned bits.

Add in the bay leaves, balsamic vinegar, coconut aminos, and tomatoes.

Bring to a simmer over low heat, covered, for 2 hours.

Off heat, squeeze in the juice of one lime.

Serve with minced red onion, chives, or scallions for garnish.
Nutrition
Calories:
204
kcal
|
Carbohydrates:
29
g
|
Protein:
18
g
|
Fat:
4
g
|
Saturated Fat:
1
g
|
Trans Fat:
1
g
|
Cholesterol:
31
mg
|
Sodium:
1211
mg
|
Potassium:
1075
mg
|
Fiber:
7
g
|
Sugar:
10
g
|
Vitamin A:
12755
IU
|
Vitamin C:
60
mg
|
Calcium:
126
mg
|
Iron:
4
mg