The Timeless One Pot Classic Beef Chili Recipe – make this recipe and master a tried and true favorite for the ages while feeding everyone for days!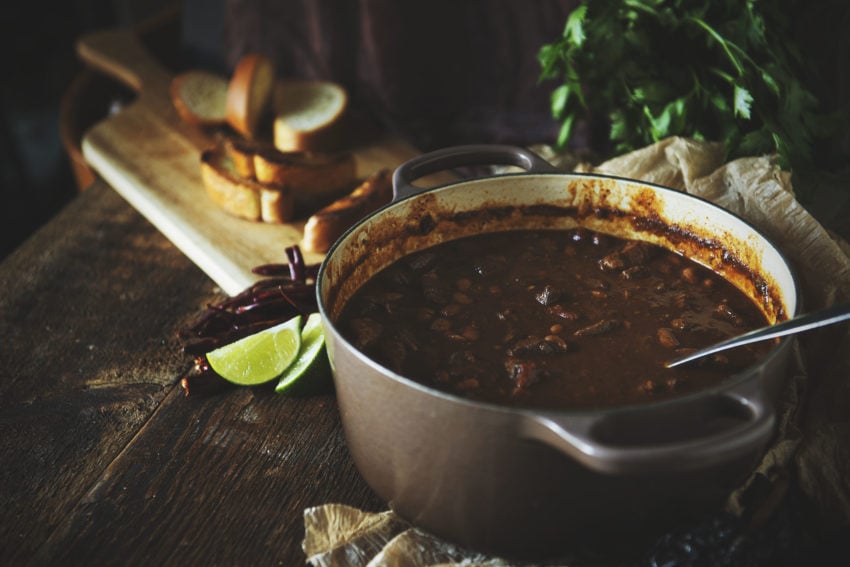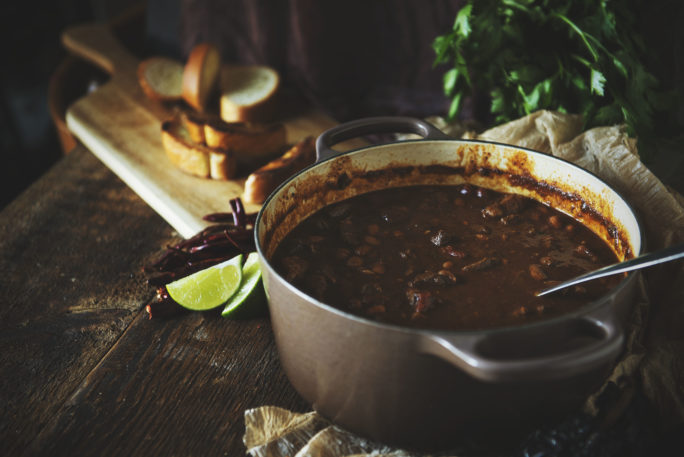 There is quick and easy meat, a quick sizzle and sear of a tender cut of choice prime rib that leaves it butter smooth and melt-in-your-mouth perfect. Then there is the long developed flavor of a rougher cut that has stewed long and lovingly with a mix of herb and spice. They are both wonderful to enjoy when prepared well and yet, often, the tough cuts aren't given the attention they need to produce that rich fork tender bite. We all need a little slow and low loving from time to time, right?
The time and slow cooking of a sup-prime cut of beef is just what it needs to ensure that the meat is flavourful and breaks apart with the slight tug of a fork. The stewing gives the right temperature and time for the beef to break down the collagens so that these less expensive cuts can be savored and are fork tender when you bite into them. I enjoy using a chuck roast in my kitchen, as a cut is often inexpensive and has a nice amount of fat for making ground beef or roasting.
For this Classic Beef Chili Recipe – make this recipe and master a tried and true favorite for the ages while feeding everyone for days! , I grabbed a 3-pound chuck and got to work cutting it down into smaller pieces and removing any fat that would just be gross if chewed on and let the dried chilis lead the way for a savory meal worth the wait.
Turn on the music, get back to basics, and let's slow things down tonight.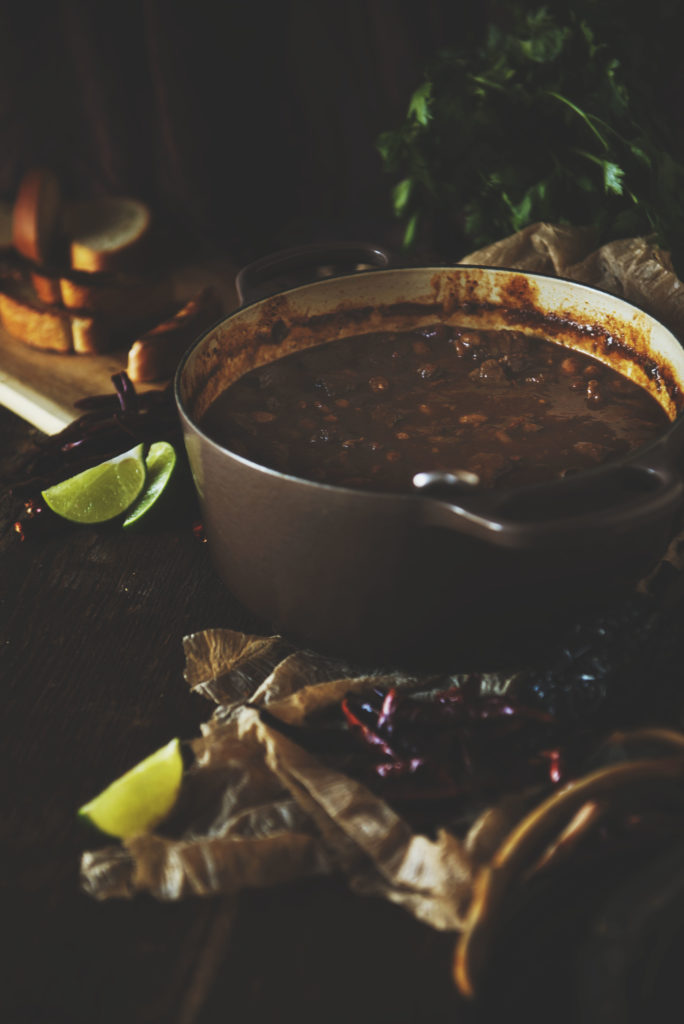 Now for the Timeless One Pot Classic Beef Chili Recipe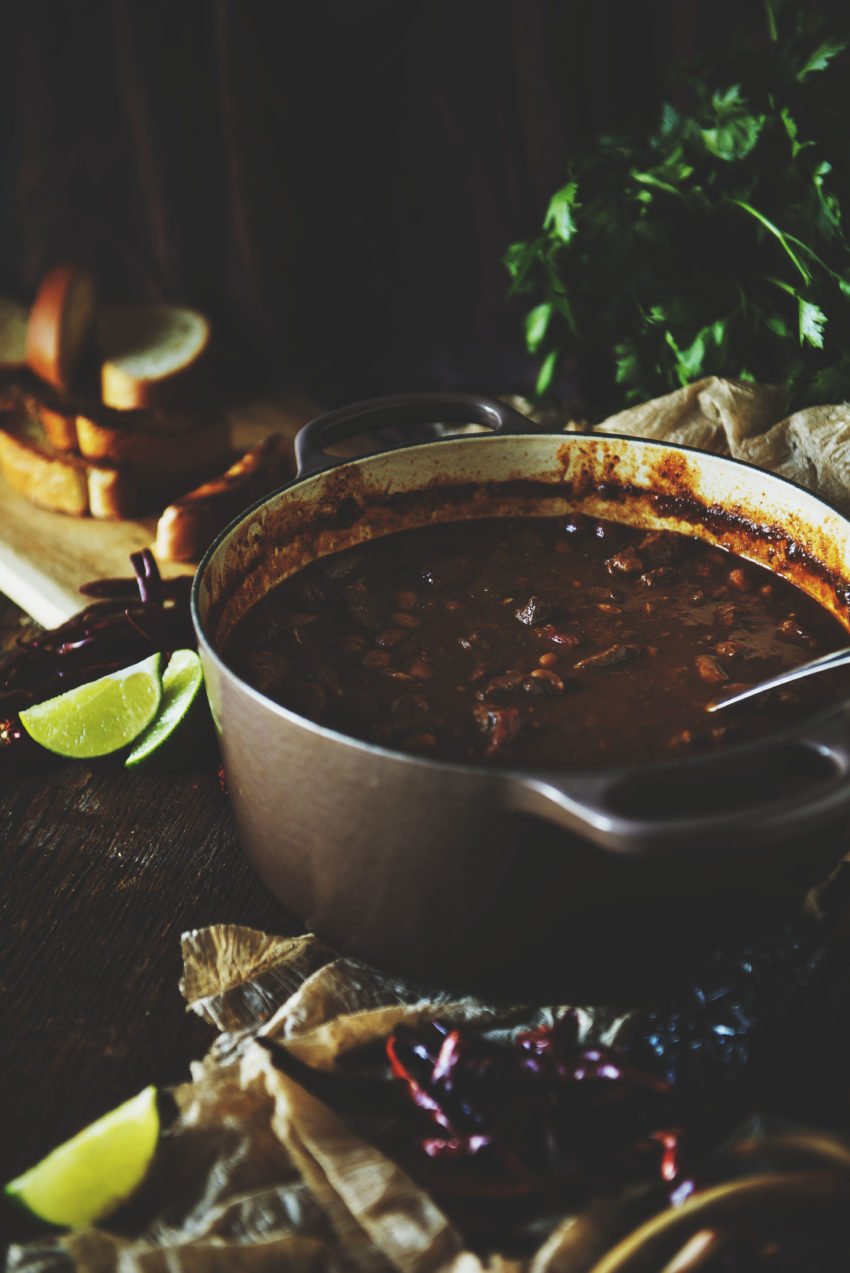 Ingredients
8

oz

dried pinto beans

rinsed and picked over

salt

6

dried ancho chilies

stemmed, seeded, and cut into 1" pieces

4

arbol chilies

stemmed, seeded, and cut in half

3

tbs

cornmeal

2

teas oregano

2

teas cumin

2

teas unsweetened cocoa powder

2 1/2

cups

chicken broth

2

onions

diced

3

jalapenos

stemmed, seeded, and diced

3

tbs

vegetable oil

1 14.5

oz

diced tomatoes

2

teas molasses

3

lbs

chuck roast

cut into large bite sized pieces

1 1/2

mild lager

I used Fordham's Gypsy Lager

Sour cream

lime, scallions for garnish
Instructions
Dutch oven beans 3 tbs salt - broil to boil. remove from heat. stand 1 hour. drain rinse.

Oven to lower middle. 300

Roast the ancho peppers in a dry skillet over medium high heat, toasting for 4 to 6 minutes. Toss the chilies in a food processor. Add the arbol chilies, cornmeal, oregano, cumin, cocoa and 1/2 teas salt to the food processor and pulse until everything is powdery. Slowly add in 1/2 cup chicken broth, scraping down the sides once or twice and pulsing again. Set paste aside.

Mix the onions and the jalapeno.

Heat 1 tbs oil in a Dutch oven over medium-high heat and cook the onions and jalapenos, about 7 - 9 minutes. Lower the heat to medium and add the garlic and cook one minute longer. Stir in the tomatoes, molasses and the chili mixture you previously set aside. Stir to mix well. Add the beans and the remaining chicken broth. Bring to a boil then reduce heat to a low simmer.

Heat a skillet with 1 tablespoon oil over medium-high heat. Sprinkle the beef with salt and cook half in the skillet until browned on all sides, about 10 minutes. Add the beef to the Dutch oven. Deglaze the pan with half of the beer, scraping up any browned bits. Bring to a simmer and transfer liquid to pot. Repeat with the remaining meat and beer. Stir to combine.

Place the lid on the Dutch oven and carefully transfer to the preheated oven. Cook for 1 1/2 to 2 hours, until meat is fork tender. Carefully remove from the oven and allow to cool before ladling into bowls and topping with desired garnish.