Satisfy your taste buds while keeping your carb count in check with our simple keto thousand island dressing recipe. With its creamy texture, tangy kick, and keto-friendly ingredients, this creamy dressing will become your go-to condiment for all your healthy and delicious meals—or just cuz you want a good homemade salad dressing.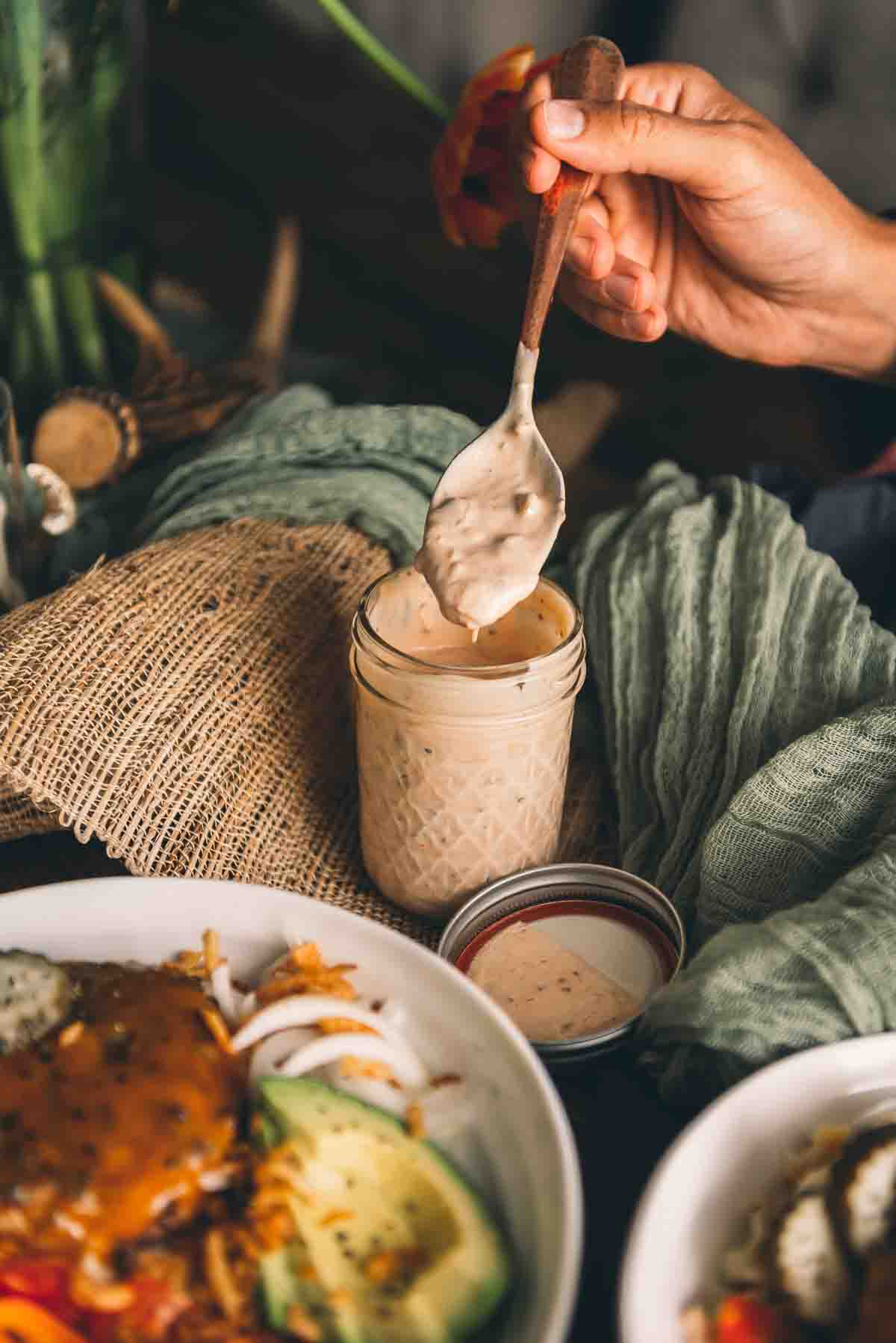 This homemade dressing recipe is a staple on our weekly meal plan. It's an easy salad dressing for keeping things keto and dangerously delicious. Because in the GirlCarnivore Meat Labs, keeping a low-carb diet doesn't mean giving up flavor. We love it on:
tossed over tuna salad
a good wedge salad with shrimp
with smoked corned beef for a killer Reuben sandwich
But most of all, for us, just like our homemade barbecue sauces and condiments, having easy-to-grab pantry staples so we stay on track with low-carb recipes is essential for success. Plus, we know exactly every ingredient in them, unlike some of the ones at the grocery store. That way, no matter how busy the work week gets, we can whip up an easy dinner or refreshing lunch without having to think about it.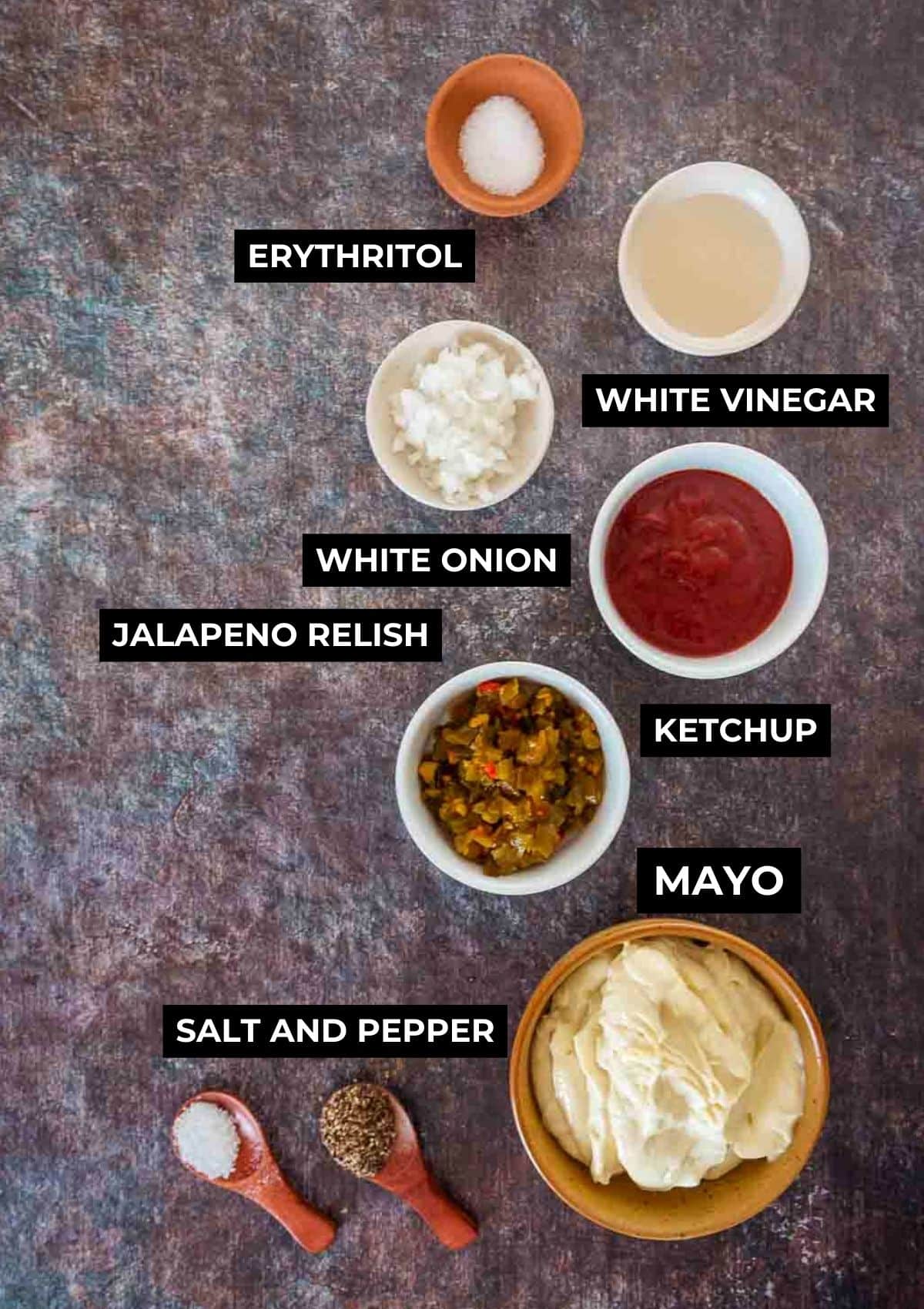 Ingredients
Grab a few of our essential keto pantry staples for this easy recipe:
Mayo – we use this avocado oil mayonnaise to keep the carb count in check.
Kosher salt and freshly ground black pepper
Minced white onion and spicy jalapeno relish
Ketchup and white wine vinegar
And for a touch of sweetness, erythritol or your favorite keto sweetener
How to make thousand island dressing
Making this recipe couldn't be simpler. All you need to do is combine a few simple ingredients into one small bowl and stir until well incorporated.
From here, adjust to taste by adding a pinch or dash more of any of the ingredients.
Cover and store it in the fridge for at least 2 hours before using it so the flavors deepen.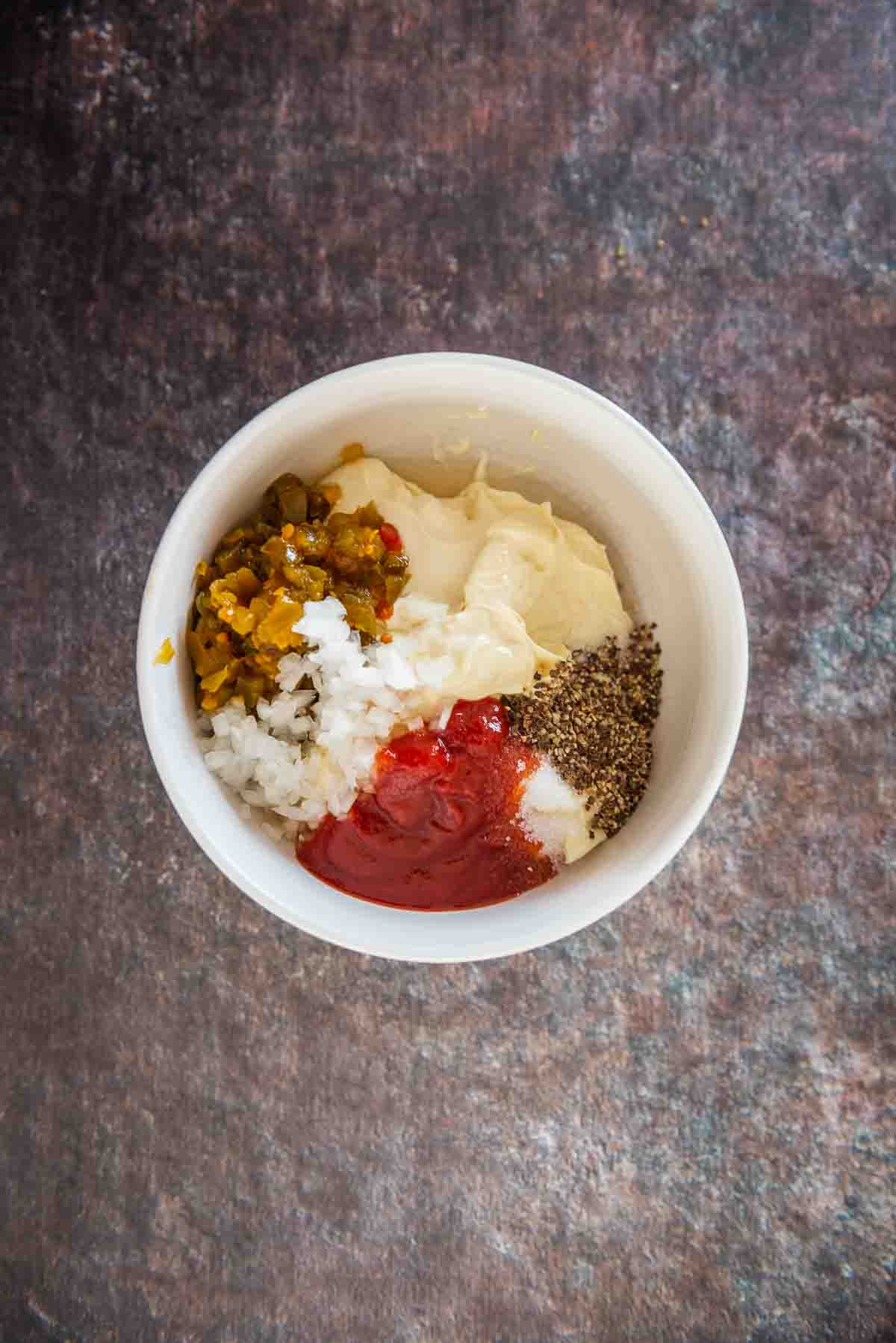 Girl Carnivore Expert Recipe Tip
We've discovered using spicy jalapeno relish is the key to a sweet and tangy balance with this recipe. You could use a traditional dill pickle relish or sweet relish with a bit of chili sauce if you can't find jalapeno relish.
If your dressing tastes flat, consider a splash of fresh lemon juice.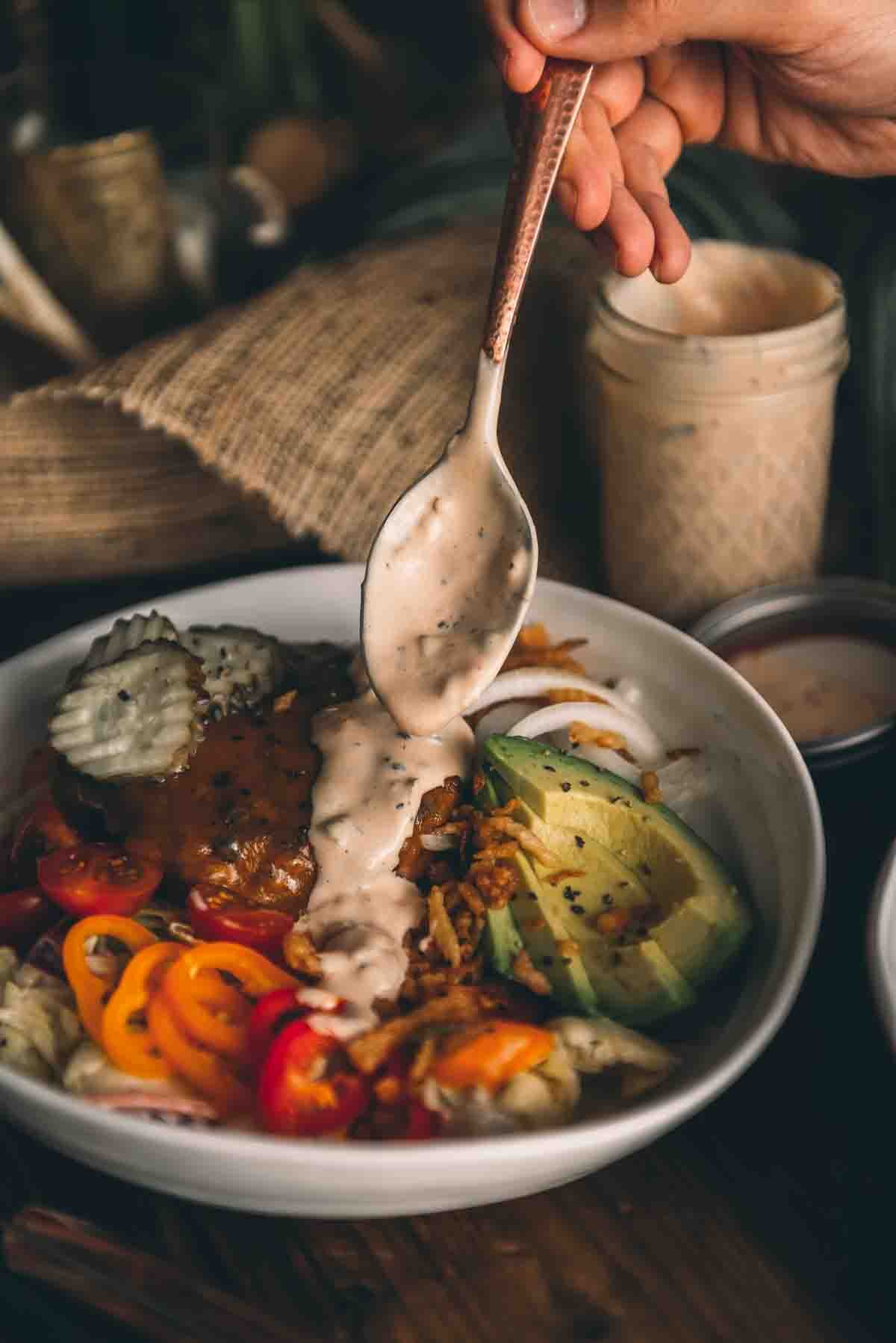 How to use / What to serve this with
We love this dressing over all of our salads, especially those with crisp iceberg or romaine lettuce. The thickness of this coats everything well. Our seasonal go-to is our cheeseburger salad, but we also use it with leftover steak salad or just as a refreshing chef's salad packed with hard-boiled eggs. We stick with our blue cheese dressing or classic oil and vinegar for rich deep green salads.
You can also use this homemade keto thousand island dressing as a veggie dip for carrots, celery, broccoli, cucumbers, and sliced peppers or as a dipping sauce and condiment with burgers, grilled seafood, or even chicken.
Leftovers and Storage
Store the low carb thousand island dressing recipe in a mason jar/glass jar or a resealable airtight container for up to 4 days. When ready to use it again, shake the jar (after you make sure the lid is on) or stir the sauce and then use as desired.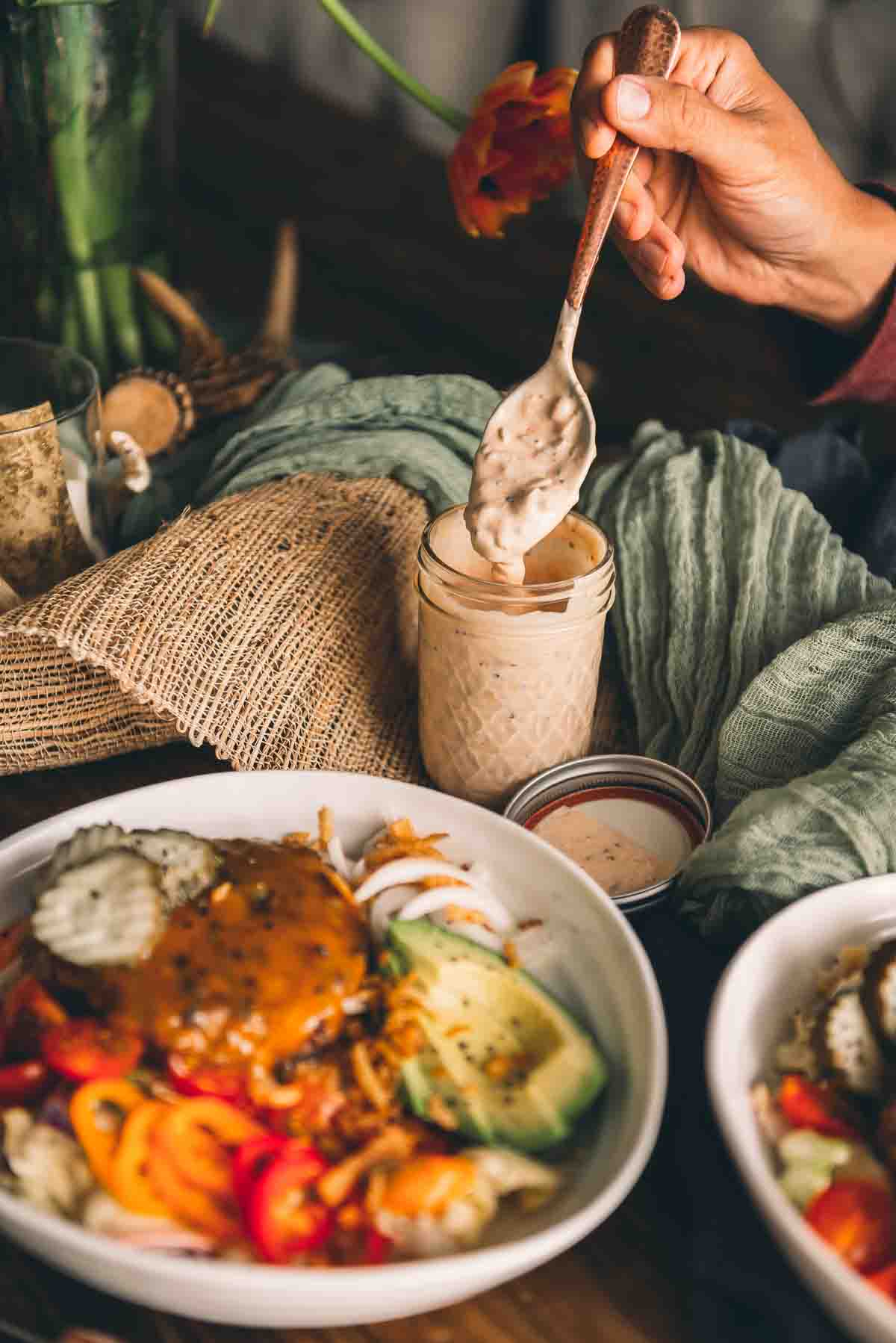 Recipe FAQs
Can I substitute any ingredients in the recipe?
Absolutely! Feel free to make adjustments based on your personal preferences or dietary restrictions. You can experiment with different sweeteners, vinegar types, or spices to customize the flavor to your liking while still keeping it aligned with our keto diet.
Can I use this dressing for other recipes besides salads and burgers?
Definitely! Our easy keto Thousand Island dressing is versatile and can be used as a dip for veggies, a topping for grilled meats like grilled chicken legs, or a spread for low-carb sandwiches. Let your creativity flow and explore various ways to enjoy this flavorful dressing.
Can I adjust the consistency of the dressing?
Yes, you can! If you prefer a thicker dressing, you can add a little more of the mayo. On the other hand, if you like it thinner, you can add a bit of water or a splash of cream. Adjust the consistency to your desired thickness by gradually adding or reducing the liquid ingredients.
Sauces, Mops, & Condiments
Now that you have one of our favorite keto dressing staples for easy low carb recipes, you're one step closer to a meal plan that doesn't suck. This is our 'secret sauce' that packs a subtle sweetness and just the right punch from the jalapeno relish to be unlike any store-bought versions! Try it on your favorite salad, and if you do, be sure to drop a comment and rate the recipe card to help out the next guy.
Keto Thousand Island Dressing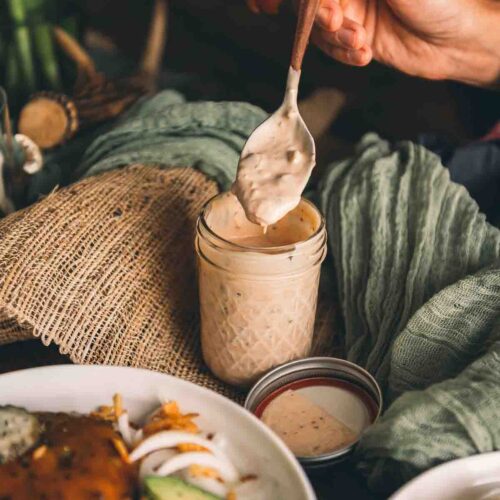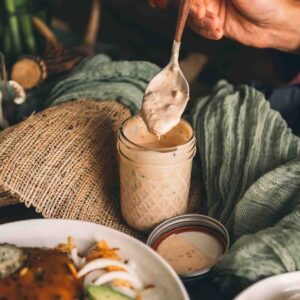 Say goodbye to store-bought dressings and hello to a keto-friendly flavor explosion! Our homemade keto thousand island dressing is here to level up your salads, burgers and veggie dips. Its got a perfect creamy texture and zesty tang, while still being low-carb; the ultimate condiment for your healthy and delicious meals.
Ingredients
1

cup

mayo

1/3

cup

ketchup

1

tbsp

White vinegar

1/2

tsp

salt

1/2

pepper

1/4

onion

minced

2

tbsp

Jalapeño relish

1/2

tsp

erythritol

or your desired sweetener of choice, like Monk fruit sweetener
Instructions
Combine the mayo, ketchup and vinegar in a bowl.

Add the salt, pepper, minced onion, jalapeño relish and erythritol

Stir until everything is well mixed.

Cover and chill it in the fridge for at least 2 hours befor adding it to salads, using it as a burger topping or veggie dip.
Notes
Store this in an airtight container in the fridge for up to 4 days. Simply give it a quick stir before using. 
Nutrition
Serving:
1
g
|
Calories:
69
kcal
|
Carbohydrates:
1
g
|
Protein:
0.2
g
|
Fat:
7
g
|
Saturated Fat:
1
g
|
Polyunsaturated Fat:
4
g
|
Monounsaturated Fat:
2
g
|
Trans Fat:
0.02
g
|
Cholesterol:
4
mg
|
Sodium:
152
mg
|
Potassium:
14
mg
|
Fiber:
0.1
g
|
Sugar:
1
g
|
Vitamin A:
25
IU
|
Vitamin C:
0.2
mg
|
Calcium:
2
mg
|
Iron:
0.1
mg