Ever wanted to try making your own homemade pastrami? This recipe uses corned beef for a shortcut to homemade delicious pastrami! So good, you'll eat it without bread.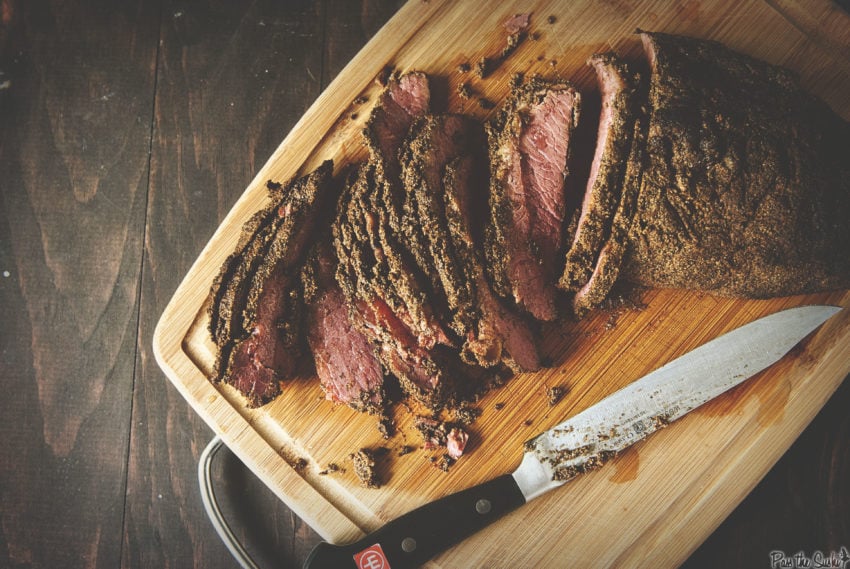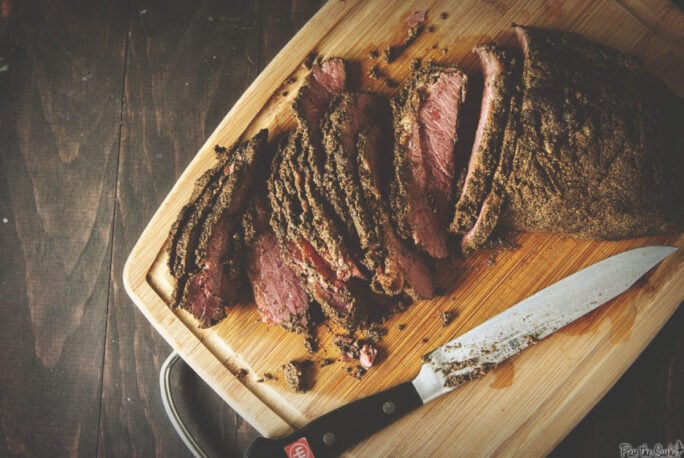 Disclaimer: I have never had pastrami in New York. I don't know what a Katz's is. Really, I can't think of ever ordering pastrami out… But there is this 'chain' that I've been taken to that serves a 'New York Steamer' that I was determined to show up three ways from Sunday in the girl carnivore kitchens.
Why? Because it involved my smoker and a terribly underused cut of meat that I happen to love – the brisket.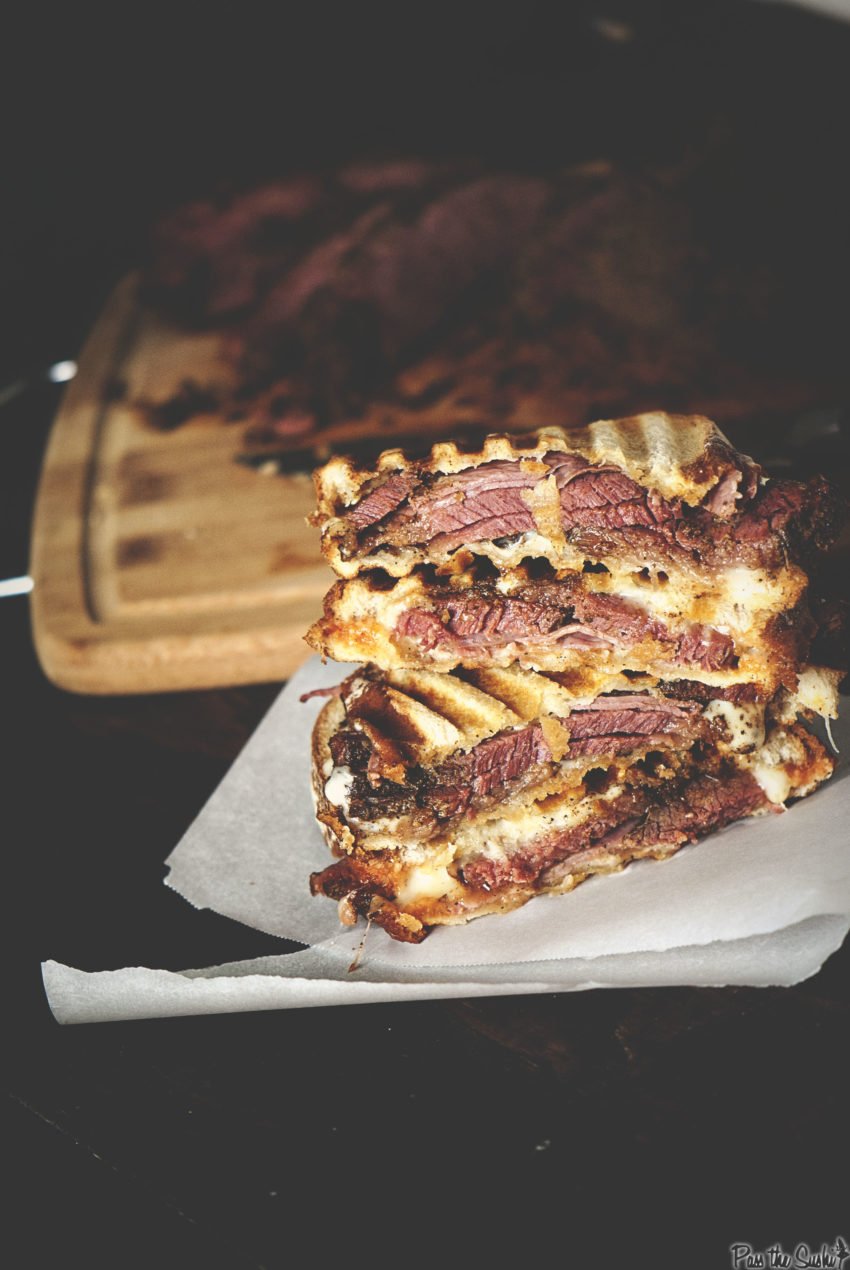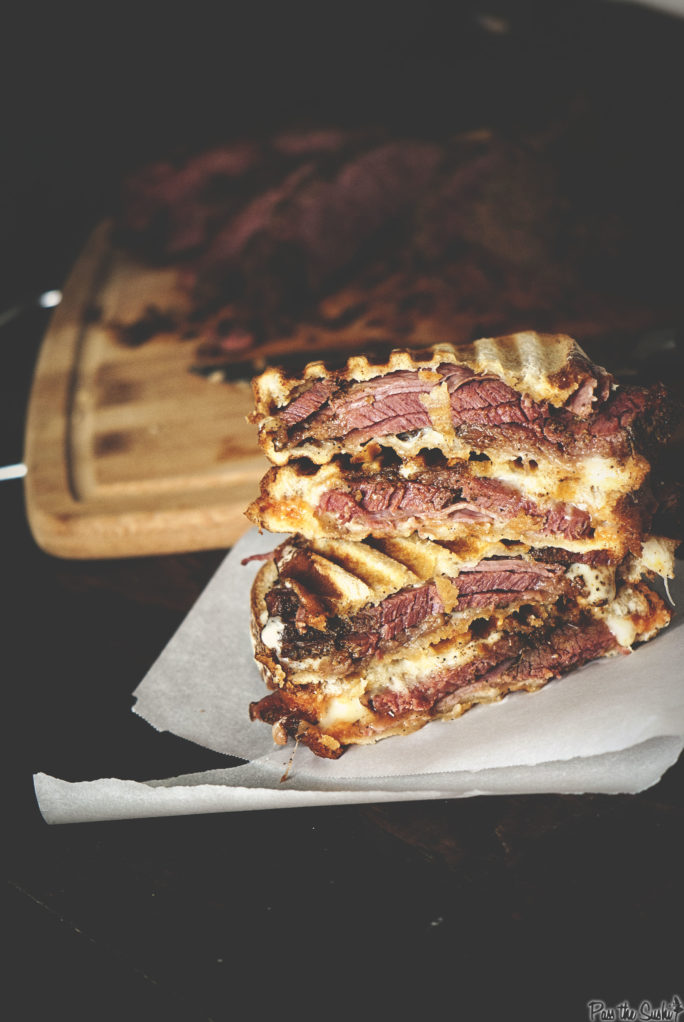 Today we're "cheating" though, and starting with an already prepped brisket – aka Corned beef.
What is corned beef?
Corned beef is brisket that has already been cured. Or rather, soaked in salt. There are usually spices added or when you purchase one, it comes with a package of spices to use.
You will see an abundance of corned beef for sale around St. Patrick's Day in most US markets and is typically boiled and served as corned beef with cabbage. That's comforting and all, but there are so many more uses for corned beef that are hard to think of when cabbage is on sale for $0.30 a head.
If you pick up a few corned beef's while they are super cheap, make sure to try these nachos out (because the whiskey fondu is legit). Or give then corned beef sandwich a try!
The curing process is pretty intense, so soaking the corned beef before smoking it is essential to making this easy pastrami at home.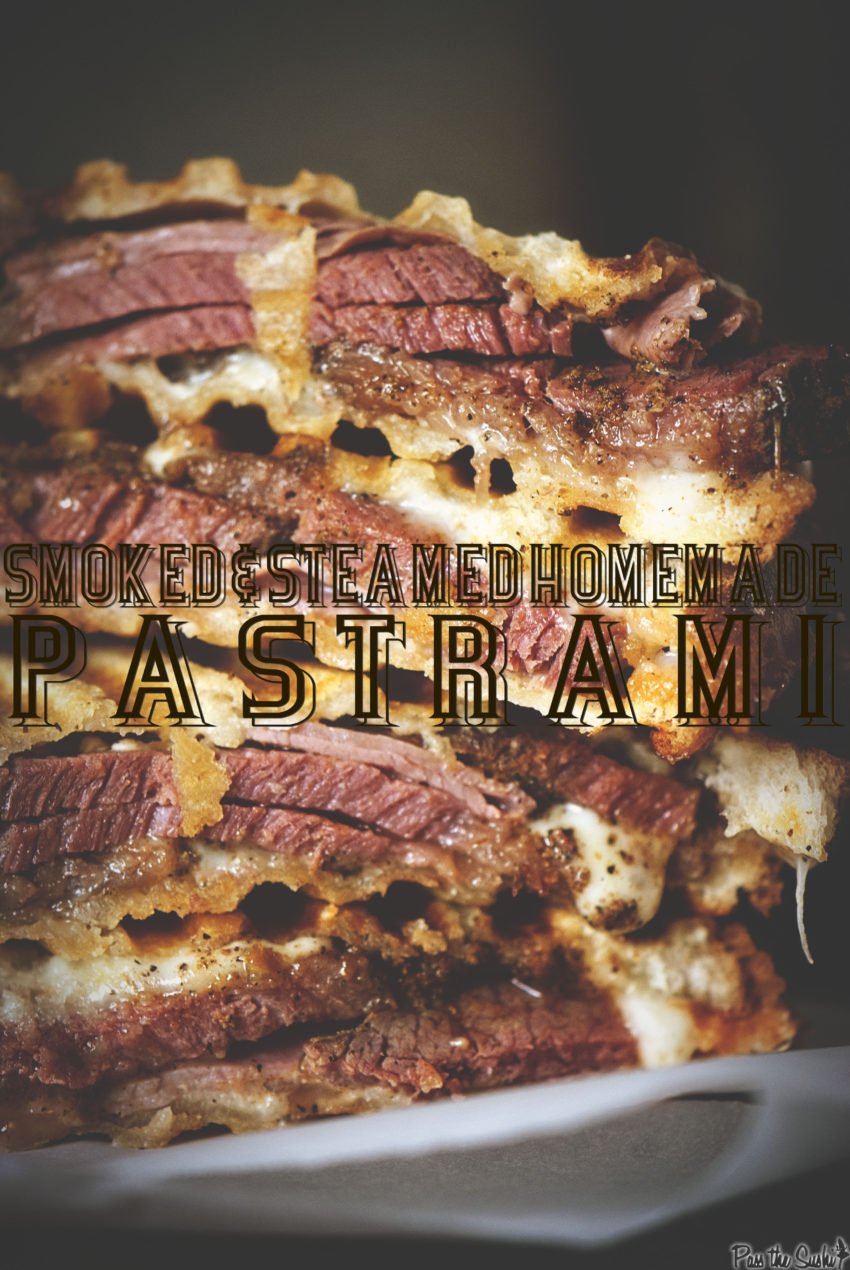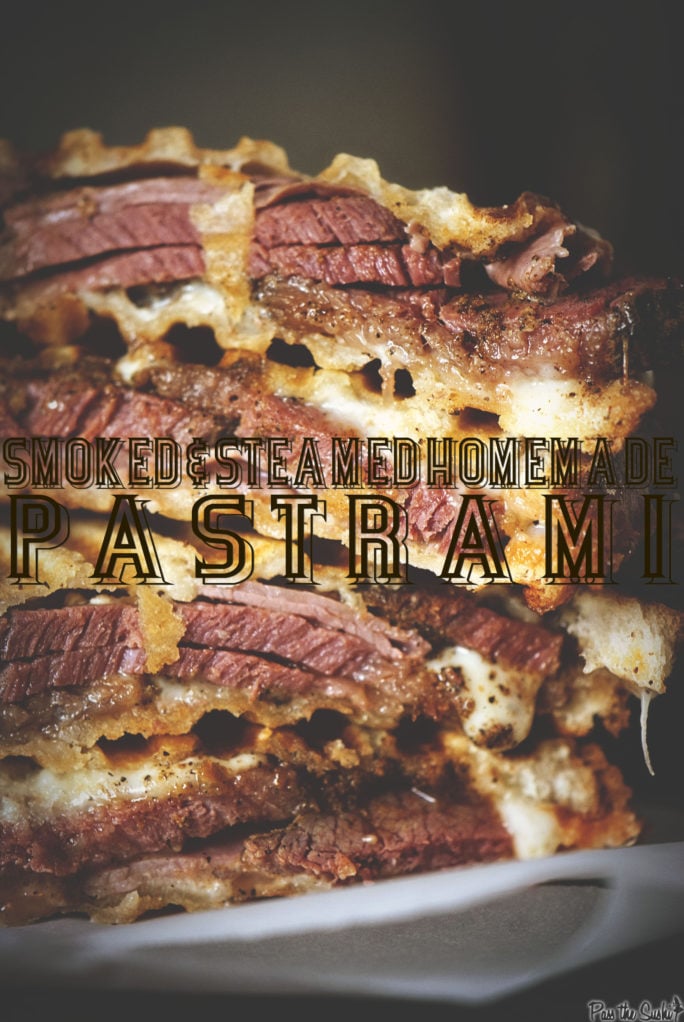 How to make Pastrami from Corned Beef
Making pastrami from corned beef is really simple. Since the brisket has already been cured, you are simply coating with a great layer of peppery seasoning mix, with hints of coriander and mustard and smoking it.
I love this method because it really speeds up the process for making pastrami by leaning in on the corned beef. However, I only find corned beef at the market in 2 to 3 pounds, so this never makes as much pastrami as I think I want. But then, maybe I need to slow down a bit there.
What's The Difference Between Corned Beef And Pastrami?
The difference between regular old corned beef and pastrami is the smoke. Think of pastrami as double cured. Like chardonnay aged in oak, pastrami benefits from two processes that render magic unto the brisket. Corned beef cures in the flavorful brining like a wine ferments in the cask. However, in this case, instead of sugar, its the salt that's doing all the work.
Those large kernels of salt are where corned beef gets the "corned" moniker. The mustard seeds, and peppercorns and all the other spices are drawn into the meat as the salt draws in their flavors to the meat.
In the brine, the brisket gathers nuances of flavors. It takes something ordinary into extraordinary.
Because brisket is a tough cut of meat and full of gristly tissue it needs a low and slow cook to become magic. Through the joy of brining then smoking, it becomes pastrami. The bacon of beef.
After the brine curing, the smoke works its wonders just like that oak barrel imparts upon the chardonnay. It spins everything in a whole new flavor direction.
The best wood for smoking corned beef into salami
Everyone has their preferences for woods when it comes to smoking meat. Truth be told, any kind works. But if you are ready to get serious about your smoking and I know you are… then you want to pair the best smoke flavors with whatever you happen to be smoking.
Mesquite, apple, oak, hickory, cherry, maple… so many choices. What are you going to choose? Ok, you might be looking at that bag of mesquite briquettes you still have left over from the Labor Day party.
Fine to look, but do yourself a favor and take a pass. Grab the keys and head out to grab a sweeter wood like alder, maple, or cherry. Those have a much more subtle flavor than woods like mesquite. Hickory and oak I consider the best of both. They bring a bit more flavor but don't overpower the meat like mesquite.
You want all the flavors to pull through in the pastrami. If you go with a more savory and slightly acrid wood smoke like mesquite it tends to overshadow everything else.
With those fruit woods or sweet wood like maple, you get a smoke that carries all the brining flavors through. The smoke is like a cloud where the silver lining is made from those brining spices like peppercorns and mustard seeds and bay leaves…
But those woods can be hard to find easily. So if choices are limited, then go with what you can get. Usually, you can always find hickory and mesquite and if the selection is limited to those two, go with the hickory.
A Brief Yet Timely History Of Pastrami
How does a smoke-cured beef made from the corned beef usually associated with Irish St Patty's Day meals get popular in Jewish Kosher Delis earn a name that sounds like it came from Italy?
The plot only thickens when you find out it came from Romanian immigrants in the 1800s. Corning beef to keep it from going bad was just a fact of life in the days before refrigeration. So that is not particular to Ireland.
The Romanian immigrant that gets credit for inventing the pastrami sandwich did happen to be Jewish, so that is where that angle comes in. Also, the name "pastrami" does have roots in the Romanian language, but the word "pastrami" was pure marketing to make it sound Italian.
Here's the twist though…
Originally, pastrami was made from goose breasts. Beef just happened to be a lot cheaper than goose in the US in the 1800's. The brisket portion of the belly just happened to work like a goose breast with a similar fat layer.
You can still find goose pastrami if you're lucky. You will find it right next to the gold bullion. If you want to make your own though, have at it. Cure it the same way you would brine a brisket, then smoke it the same way too. Then call me, because I am coming over to help taste test it.
How to Steam Pastrami
Once smoked, reheating pastrami can be a hard thing to figure out. But there is nothing as tender or delicious as shaved pastrami warmed on a fresh hoagie roll. That right there, heaven.
I use the steam method to reheat the meat but keep everything from drying out. Then I heat slowly at a low temperature for a few hours, to not overcook the meat. 200 for 2 or so hours depending on how much I am reheating.
By adding a pot of bubbling water to the oven, I'm are creating a moist enviroment that allows everything to warm back up and remain juicy and flavorful.
Give your own homemade pastrami a try and let me know how it comes out!
Want more easy smoker recipes inspiration? Try some of my favorite recipes
If you've tried my Easy Homemade Pastrami with Cayenne Recipe or any other recipe on GirlCarnivore.com please don't forget to rate the recipe and let me know where you found it in the comments below. I get inspired by your feedback and comments! You can also follow me on Instagram @girlcarnivore as well as on  Twitter and Facebook.
Smoked & Steamed Homemade Pastrami
The process of making homemade pastrami can take up to a week between soaking, marinating, smoking and steaming. But the payoff is worth it. Totally worth it.
Ingredients
4

lbs

corned beef

4

tbs

fresh coarsely ground black pepper

2

tbs

coriander powder

1

tspn

mustard powder

1

tbs

light brown sugar

1

tbs

smoked paprika

2

tspn

garlic powder

2

tspn

onion powder
Instructions
Soak the Corned Beef
Two nights before ready to smoke: place the corned beef in a large pot of cold water and place in the fridge to draw out excess salt.
Rub the Corned Beef
Combine the black pepper, coriander, mustard, brown sugar, paprika, garlic powder, and onion powder in a bowl.

Remove the corned beef from the water and pat dry.

Rub the corned beef with a thick layer of rub, wrap tightly with plastic wrap and refrigerate overnight.
Smoke the Meat
When ready to cook: prep wood chips by soaking in water at least 2 hours. Prep smoker for 225 degrees F.

Add water to the water pan and let the corned beef sit at room temperature for 30 minutes.

Place corned beef, fat side up in smoker and smoke until internal temperature reaches 190 degrees F.

Remove from smoker, wrap in aluminum foil and cool completely (I placed in the fridge overnight).
Steam the Meat
When ready to serve: Steam the pastrami by placing the meat on a steamer rack, or metal wire rack above simmering water in a large pan on the stove top, making sure the meat does not touch the water.

Cover with lid or aluminium foil and steam for 2 hours, adding water as needed, or until the meat reaches 200 degrees F.
Notes
I smoked with hickory wood due to what I had on had but would smoke with a post oak or pecan next time for a more subtle flavor. 
From: the ever awesome AmazingRibs
Nutrition
Nutrition Facts
Smoked & Steamed Homemade Pastrami
Amount Per Serving (1 g)
Calories 317
Calories from Fat 207
% Daily Value*
Fat 23g35%
Cholesterol 82mg27%
Sodium 1842mg80%
Potassium 517mg15%
Carbohydrates 4g1%
Protein 23g46%
Vitamin A 306IU6%
Vitamin C 41mg50%
Calcium 33mg3%
Iron 3mg17%
* Percent Daily Values are based on a 2000 calorie diet.