Everyone loves quick tips for feeding large parties of people in their homes. There's no sense in making individual plates when you can work smarter, not harder. These ham and cheese sliders are perfect for large gatherings because they are simple, require minimal effort, and taste amazing. They're perfect for game day, an easy weeknight dinner, birthday parties, a trip to the beach, or a social function.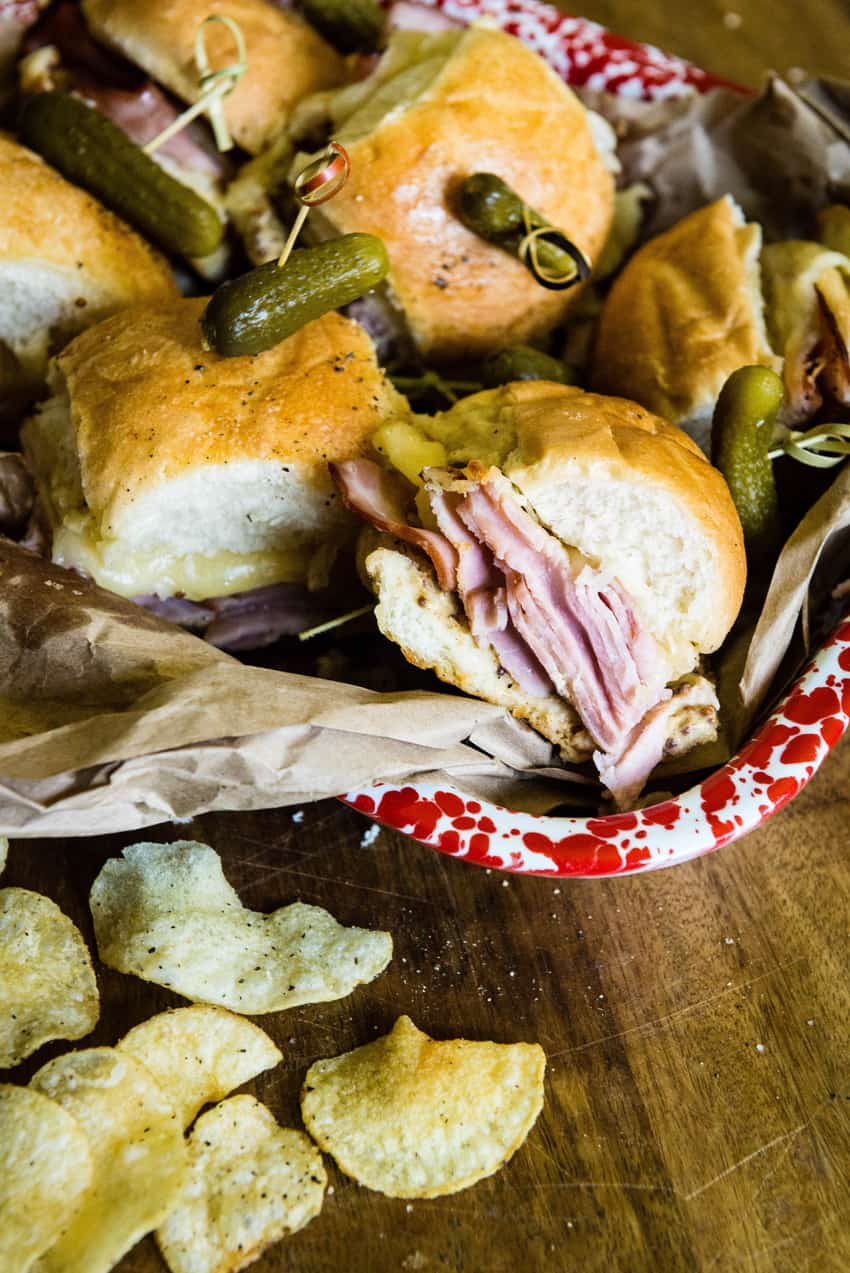 This is an easy appetizer that's sure to become a family favorite, it's quick, and there are a few tricks you'll love to use to make sure each bite is loaded with flavor. So fire up your oven and follow along.
What are ham and cheese Sliders?
Sliders are small sandwiches that typically have a meat and cheese combo. Think hot ham with swiss sliders. The Hawaiian roll buns have poppy seeds on top, literally, any sauce makes them amazing. They're easily served as horse d'oeiuvres, delicious finger foods, and snacks at large family functions. People use soft Hawaiian rolls or small buns to create their melted cheese and ham sliders. They don't have to be ham and cheese either; any deli meat will do! No ones turning down these little ham and swiss cheese sandwiches!
Why You'll Love This Recipe
These ham and cheese sliders are sure to be universally beloved and are a relatively quick and easy way to win over party guests and even the picky eaters. The sweet Hawaiian rolls and boldly tangy lemon tarragon mustard add a whole new dimension to a classic sandwich. And when served warm and buttery with smoked ham, Swiss cheese, and freshly ground cracked pepper, these sandwiches can't lose (even if the football team you're rooting for at the tailgate does). Not to mention, you'll have leftovers for lunch!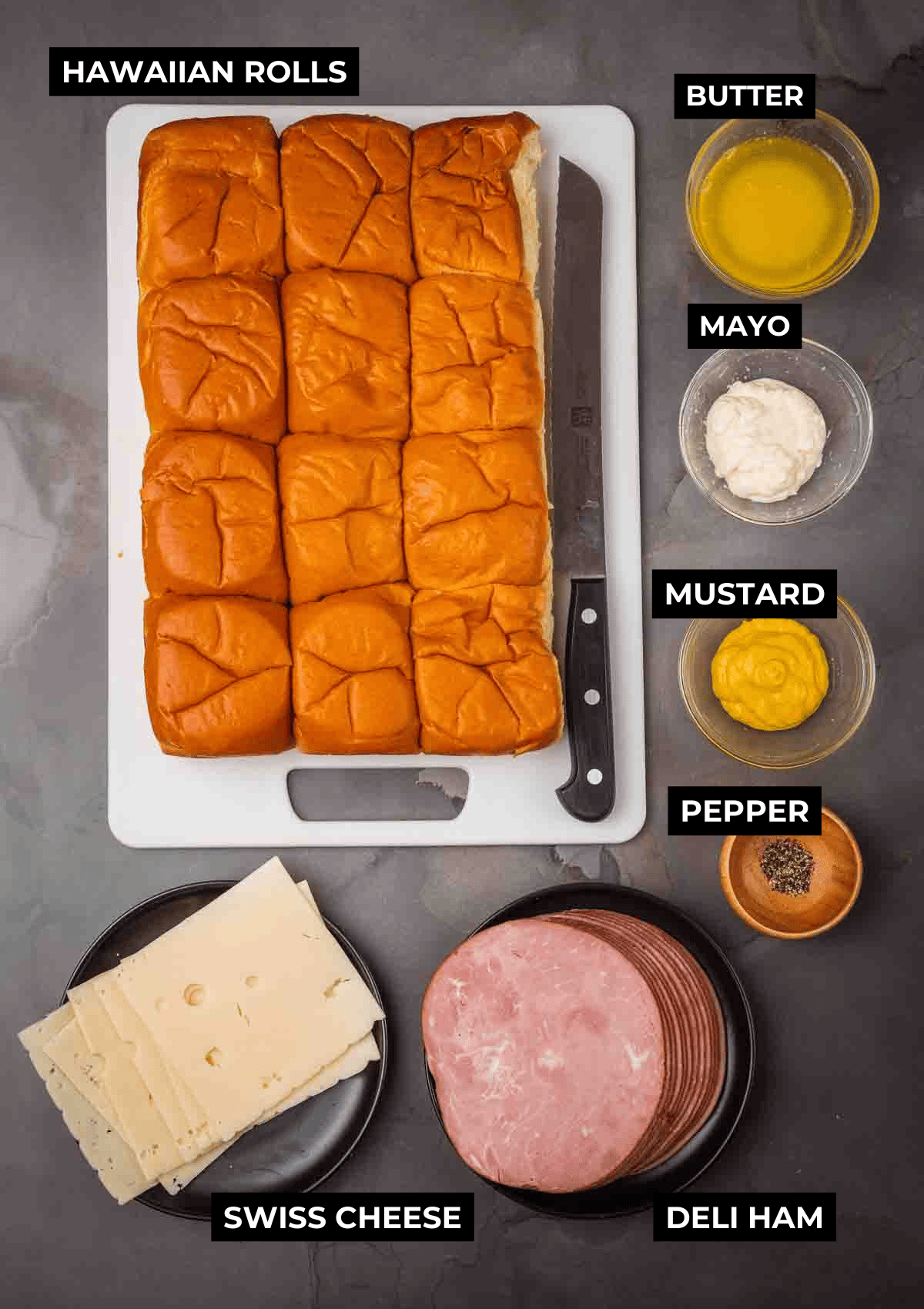 Ham and Cheese Slider Ingredients
Hawaiian dinner rolls – use Hawaiian sliders for extra UMPHF, and because they are one sheet until you separate them, making this recipe a breeze.
Lemon tarragon mustard – or any other fun mustard you have on hand, i.e., Dijon mustard.
Mayo
Sliced smoked ham – use fresh, high-quality deli cuts or a sliced ham steak.
Sliced swiss cheese – we love swiss cheese in this recipe, but cheddar cheese, Colby, or good melting any cheese works.
Melted butter – this melts on top of the rolls for extra flavor and deliciousness.
Freshly ground black pepper – if you've got it Everything bagel seasoning is a great addition too.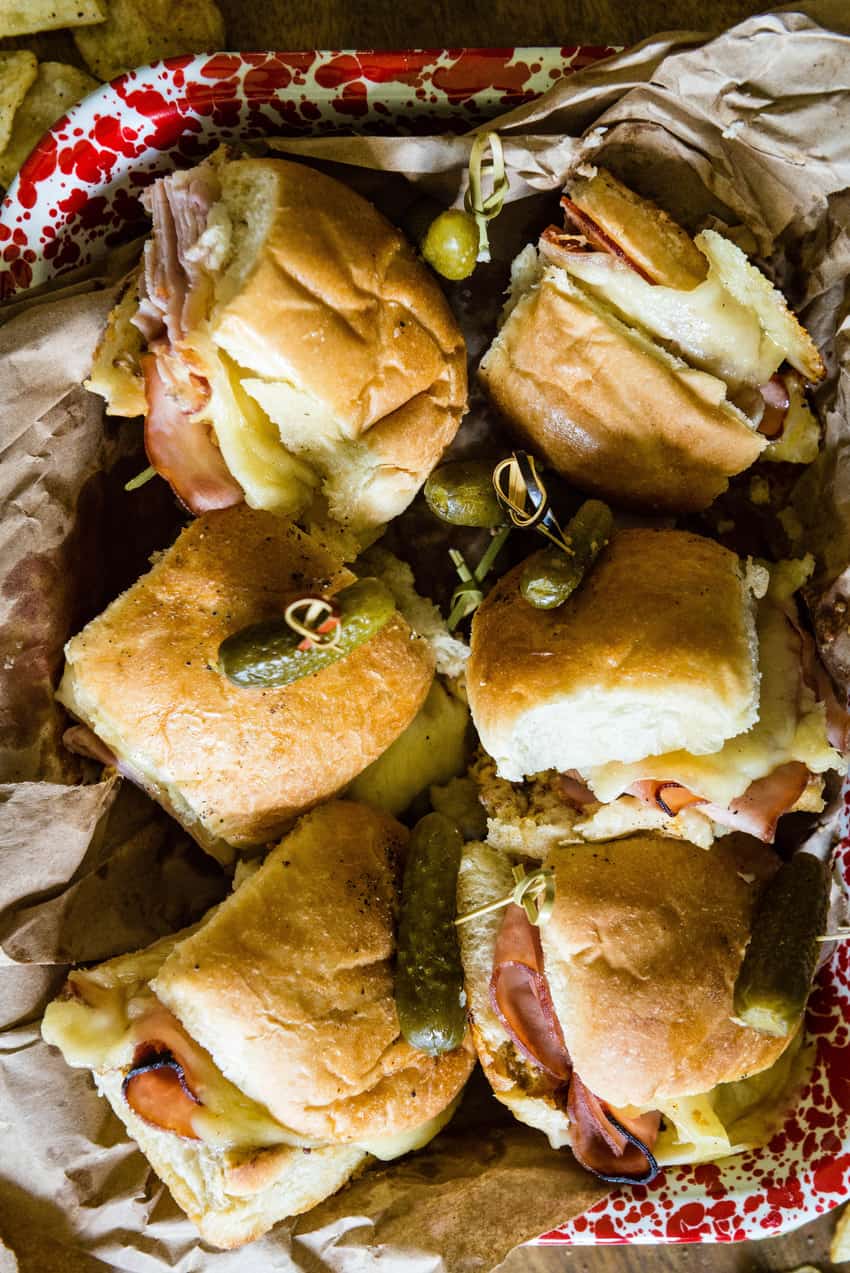 How to Make Ham and Cheese Sliders
Start by preheating your oven to 350 degrees F.
Slice your Hawaiian rolls in half and place them on a baking sheet or prepared baking pan.
In a small bowl, whisk together the mustard and mayo and spread the sauce on the bottom of the rolls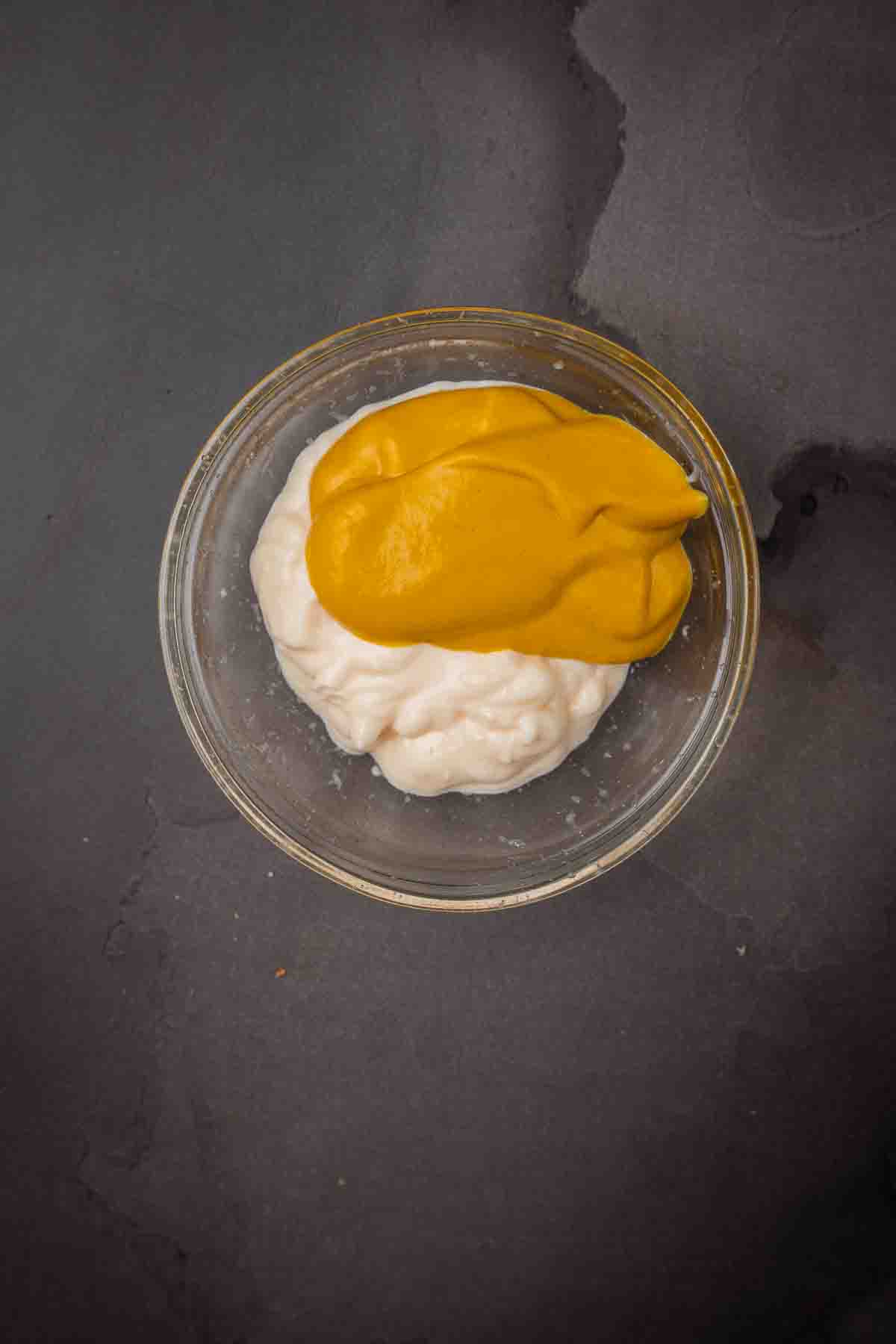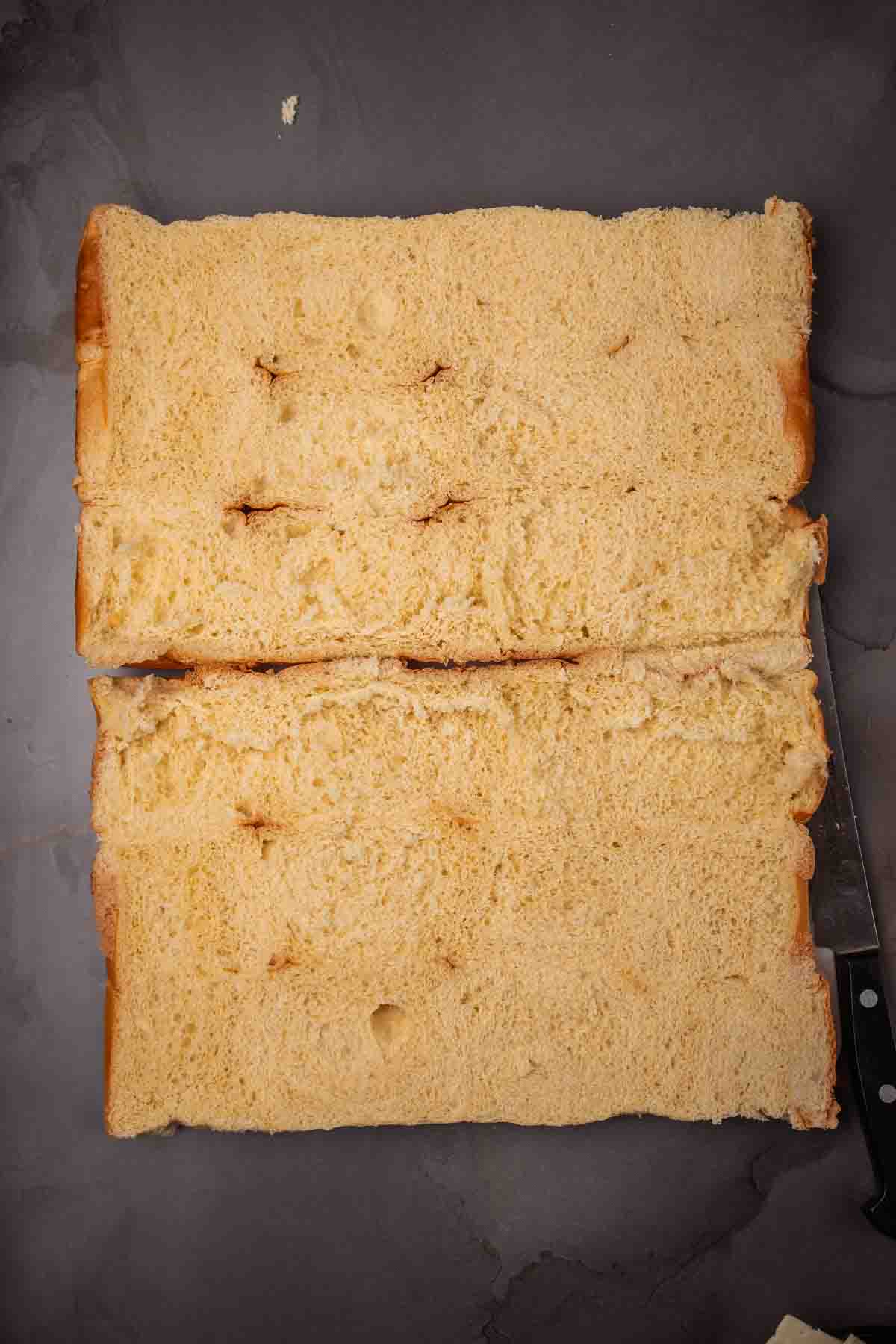 Fold and stack the juicy ham onto the bottom half and add a layer of cheese, then top them off with the top half of each roll.
Then, whisk the pepper into the melted butter and brush the butter mixture in an even layer over the tops of the rolls.
Bake the sliders for 10 to 15 minutes until the buns are golden brown and the cheese gets melty. Let them cool before carving each sandwich and dig in!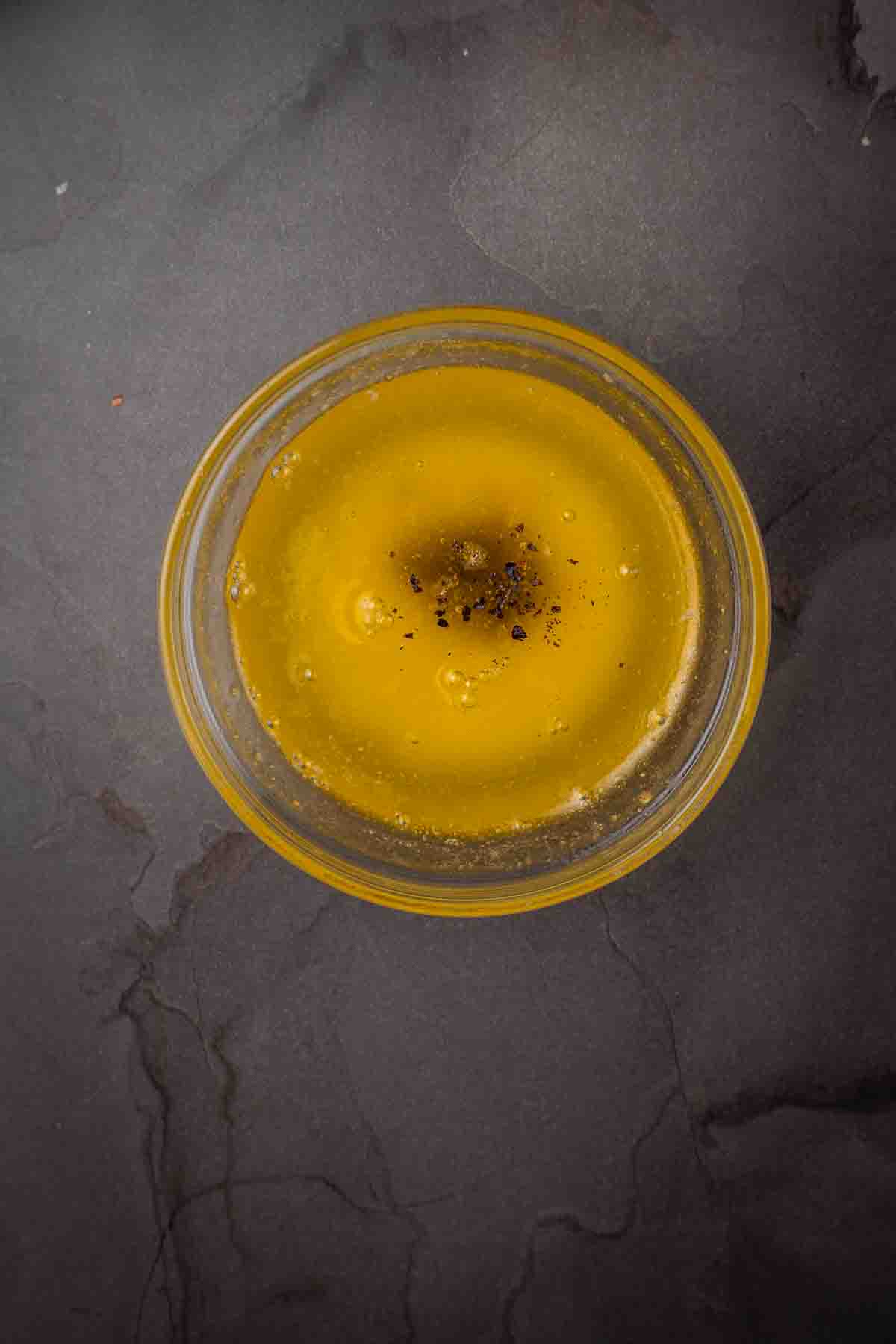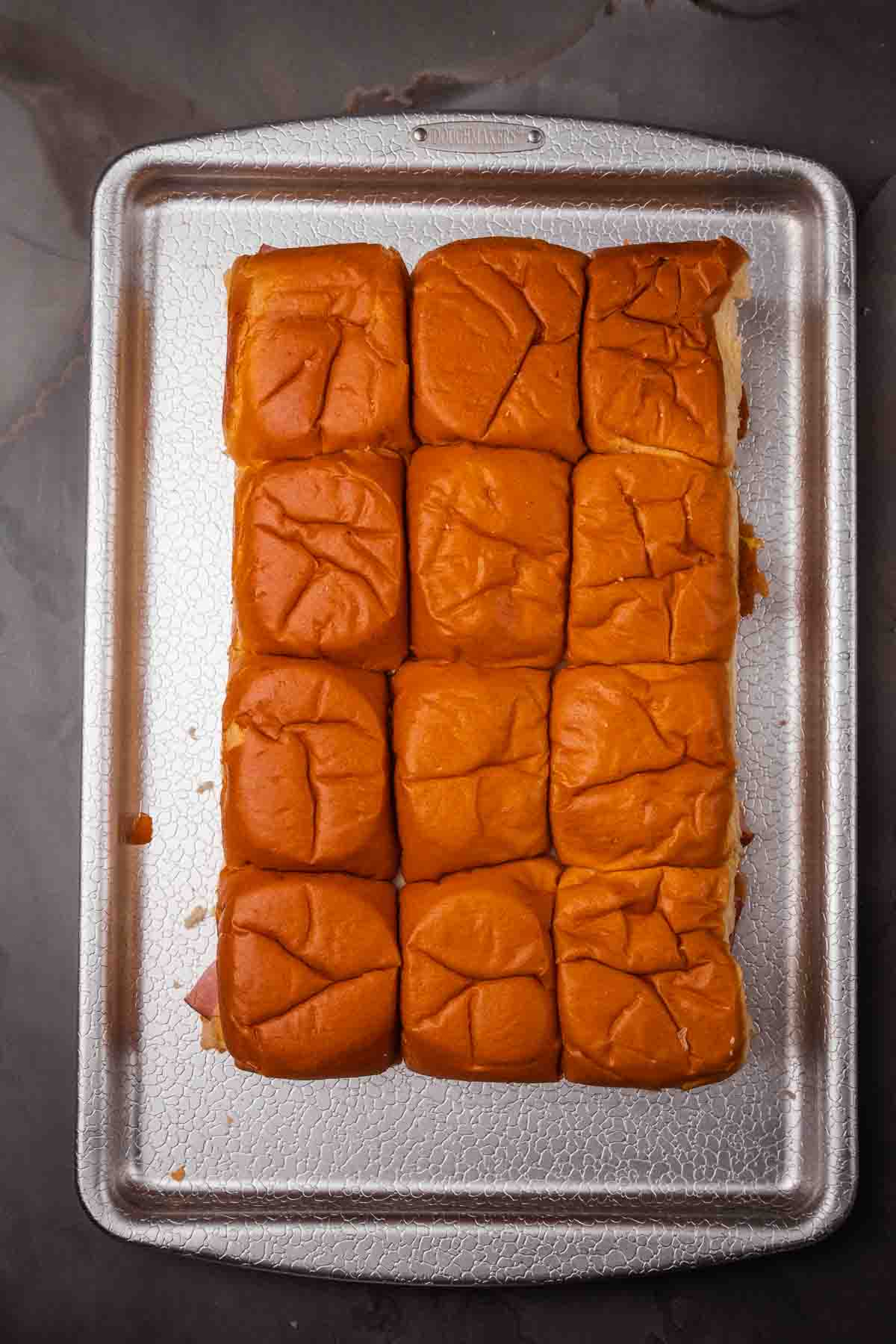 The cool thing about using Hawaiian sweet rolls is that everything is done in a single layer, but when you cut them apart, you still have individual sliders.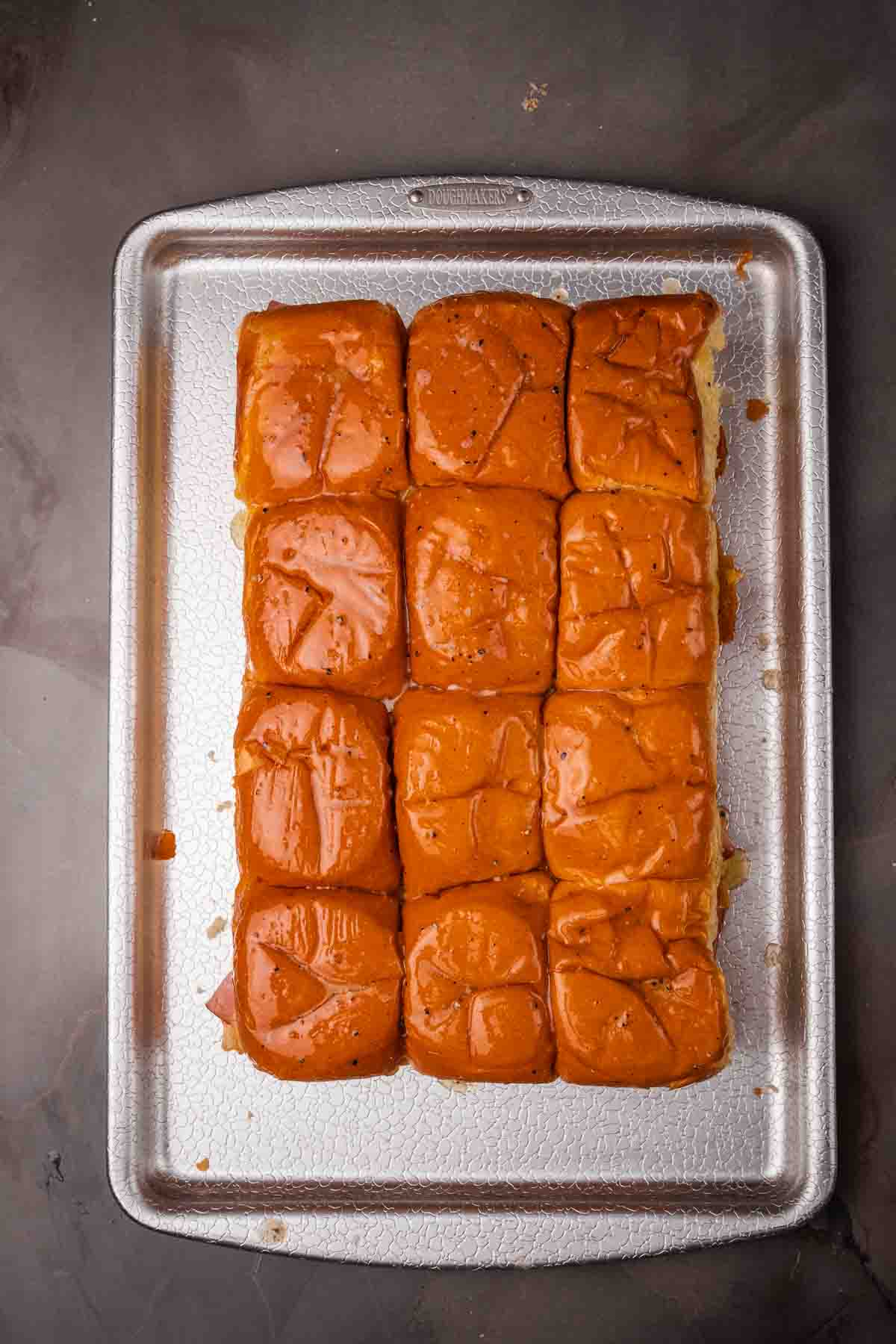 GirlCarnivore Expert Tips
Use fancy mustard and flavors
Mix a tablespoon of 'fancy' mustard into your mayo. Find seasonal mustards and fresh herbs at the market and stir them into your mayo to level things up (seriously, people were begging for the sauce 'recipe' when I served these!)
Fold your lunchmeat
Folding the lunchmeat into piles, instead of laying on thin strips, makes the sandwich meaty. Nothing is more disappointing than being hungry after you eat. Folding and stacking the meat makes the sandwich pretty and stacks layers of meaty goodness into every bite—no more sad sandwich blues for you.
Salt your tomatoes
Yep, this is an old-school trick Grandma used all of the time. A pinch of salt on a freshly sliced tomato changes everything! It's such a simple thing, but give it a try! Salted tomatoes will be your new favorite summertime snack.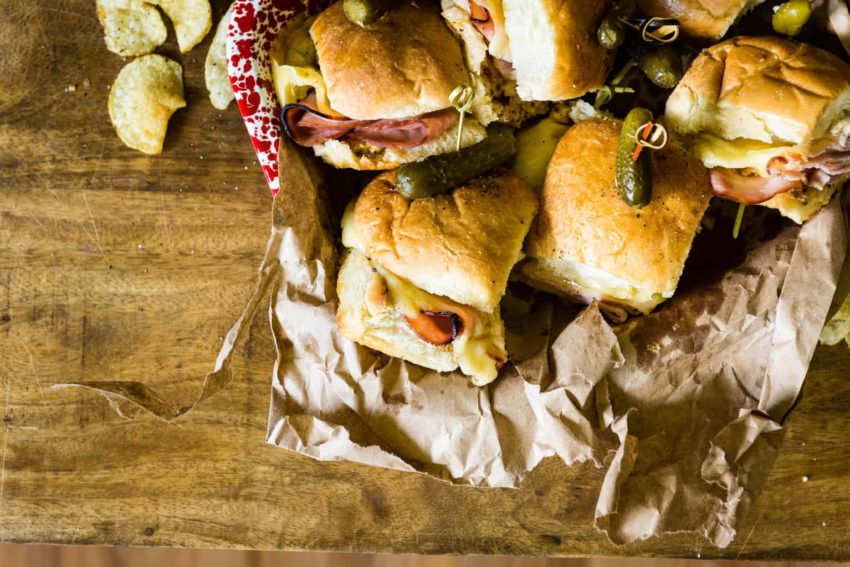 Leftovers and Reheating
Any leftover ham and cheese sandwich should stay in the fridge in an airtight container for 3-5 days. You can also wrap them in plastic wrap. You're good for an easy lunch for the rest of the week!
These sliders are delicious reheated in the oven (or in the microwave or toaster oven in a pinch)! Preheat your oven to 350 degrees F and let the sliders sit there long enough to be heated. They are easiest reheated on a 13-inch baking dish or oven-safe pan.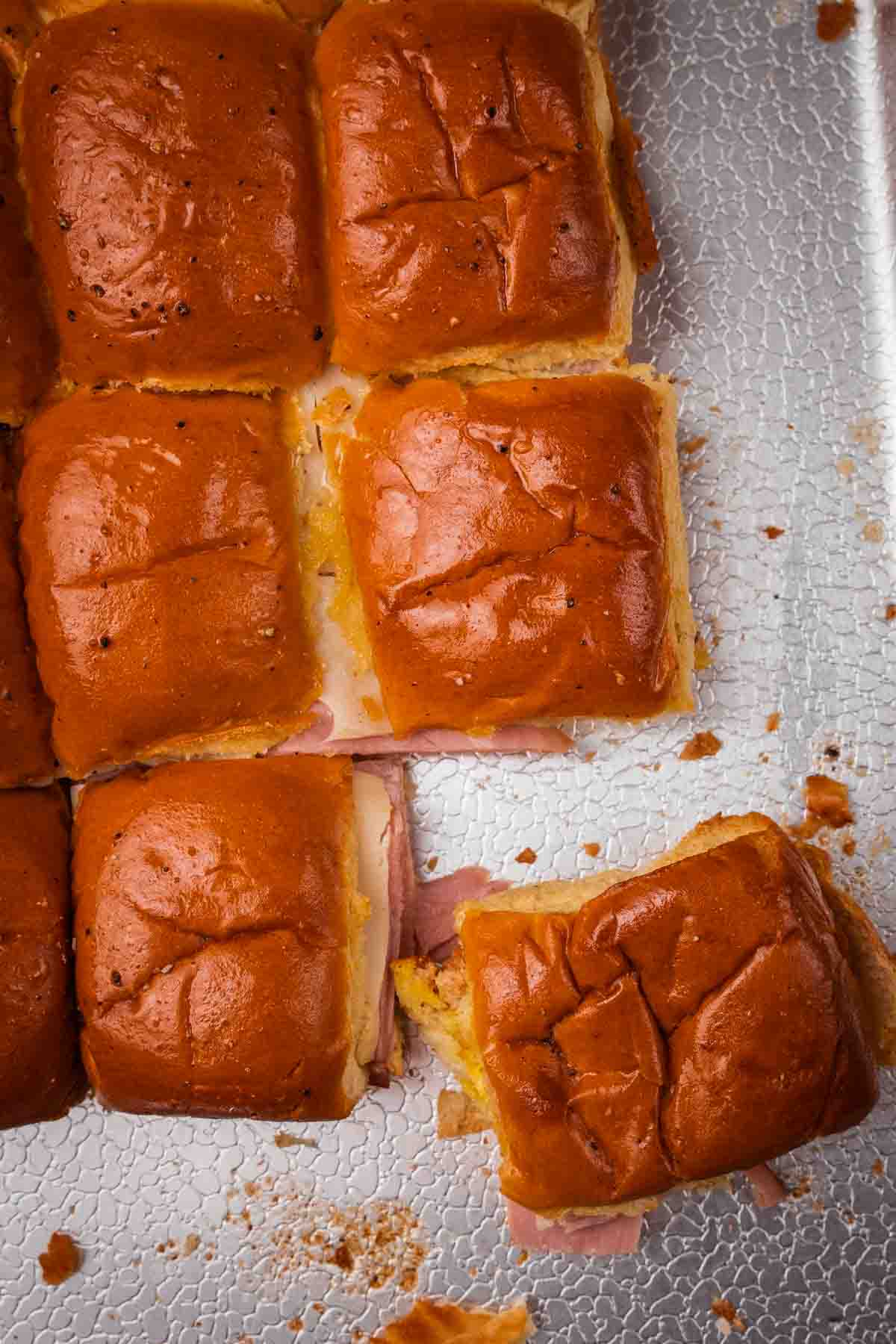 What to Serve with Ham and Cheese Sliders
Any classic American picnic sides go perfectly with these sliders. Try these Hawaiian roll sliders with potato salad, pasta salad, chili, beef tallow fries, chips, and dip, or if you're feeling a little more adventurous, grilled pineapple!
FAQs
What Makes Hawaiian Bread Rolls Perfect for Sliders?
If you have never used Hawaiian bread before, then you might not know why it is so perfect for sliders. First, Hawaiian-style bread is light, fluffy, and slightly sweet. You are on the right track if it reminds you of great brioche bread. Not only are the Hawaiian rolls perfectly sized for sliders, but they come in convenient to cut rows. So with a long bread knife, you can make a very even cut. That comes in very handy when you have it in hand, and you don't want it falling apart on you.
What Are Good Ham Alternatives?
So maybe you have reasons why ham is not an option. That doesn't mean you can't do a substitution that offers similar culinary pleasures. If you don't want to use ham, then smoked turkey or even smoked pastrami is also an option. Our favorites include Hawaiian ham, sliced turkey breast, roast beef, and honey ham.
How Do You Keep Ham and Cheese Sliders Warm for a Party?
Your best bet for keeping these ham and cheese sliders warm throughout your party or tailgate is to wrap them in aluminum foil to trap heat and moisture (either the whole plate or, better yet, individually). If you wrap them individually in foil, you can also place them in a slow cooker on the "warm" setting and leave them for a few hours throughout your gathering.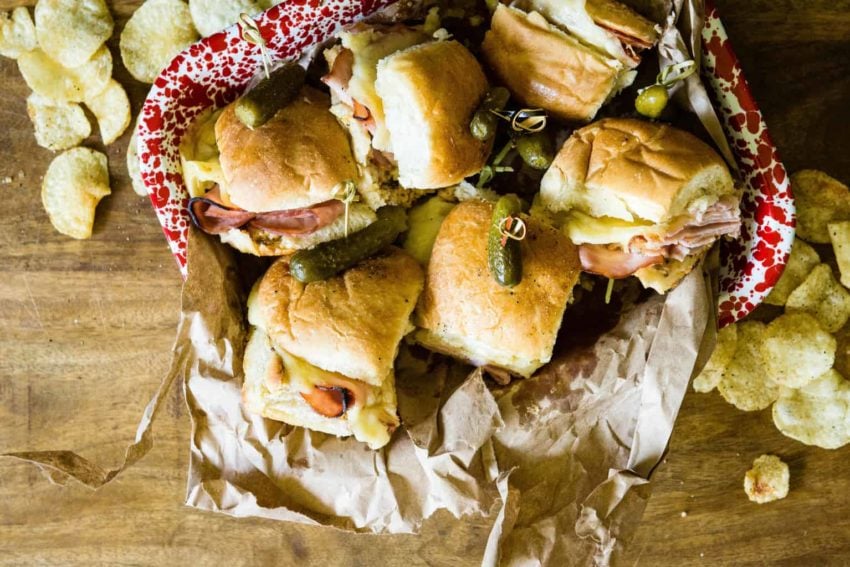 Did you enjoy this ham and cheese sliders recipe? Don't forget to rate the recipe and let us know in the comments below–were they a hit at your latest party?
Party Time Hot Ham and Cheese Sliders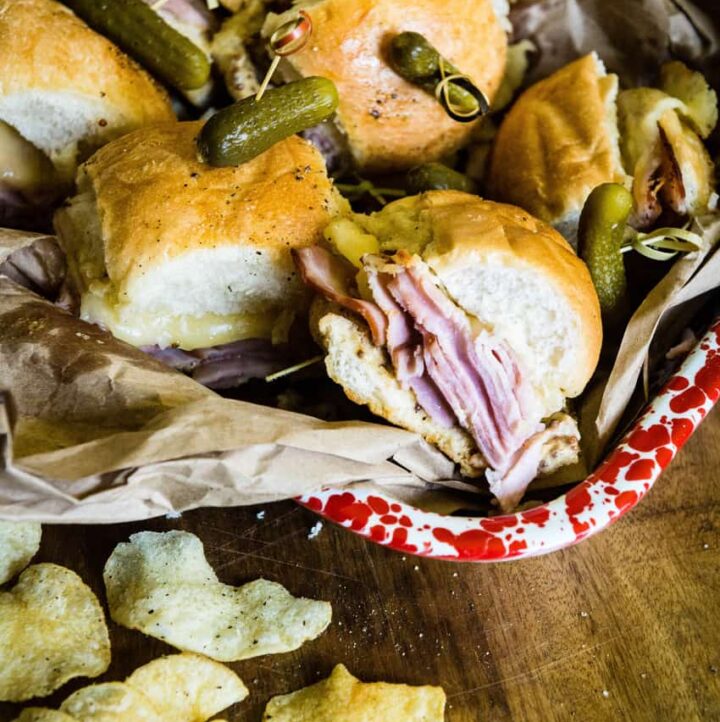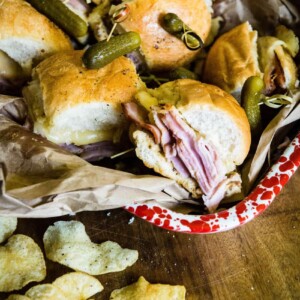 These hot ham and cheese sliders are quick and easy to make and will bring an elvated classic to your next game day party or footaball tailgate (or an easy family friendly dinner).
Ingredients
1

Hawaiian dinner rolls

Use Hawaiian rolls for extra uphf

2

tbsp

lemon tarragon mustard

or any other fun mustard you have on hand

2

tbsp

mayo

12

slices

Smoked Ham

Use fresh quality deli cuts or a ham steak

6

slices

swiss cheese

2

tbsp

melted butter

1/2

tspn

freshly ground black pepper
Instructions
Slice the rolls in half and place on a baking sheet.

Whisk the mustard and mayo together in a small bowl.

Spread evenly over the bottom layer of the rolls.

Fold and stack the Prime Fresh Smoked Ham onto the rolls.

Add the layer of cheese.

Place the top half of the rolls back on top.

Whisk the pepper into the melted butter and brush evenly over the top.

Bake for 10 to 15 minutes until the buns are toasted and the cheese has melted.

Serve.
Notes
Ham and cheese sliders work with any kind of cheese you have on hand. If you want to substitute with smoked turkey, then all good. A nice slice of pickle goes well with ham and cheese sliders too. 
Nutrition
Calories:
206
kcal
|
Carbohydrates:
2
g
|
Protein:
11
g
|
Fat:
16
g
|
Saturated Fat:
8
g
|
Cholesterol:
41
mg
|
Sodium:
124
mg
|
Potassium:
32
mg
|
Vitamin A:
350
IU
|
Calcium:
332
mg
|
Iron:
0.1
mg