Quick, easy and loaded with flavor. These Party Time Hot Ham and Cheese Sliders are perfect for feeding any crowd.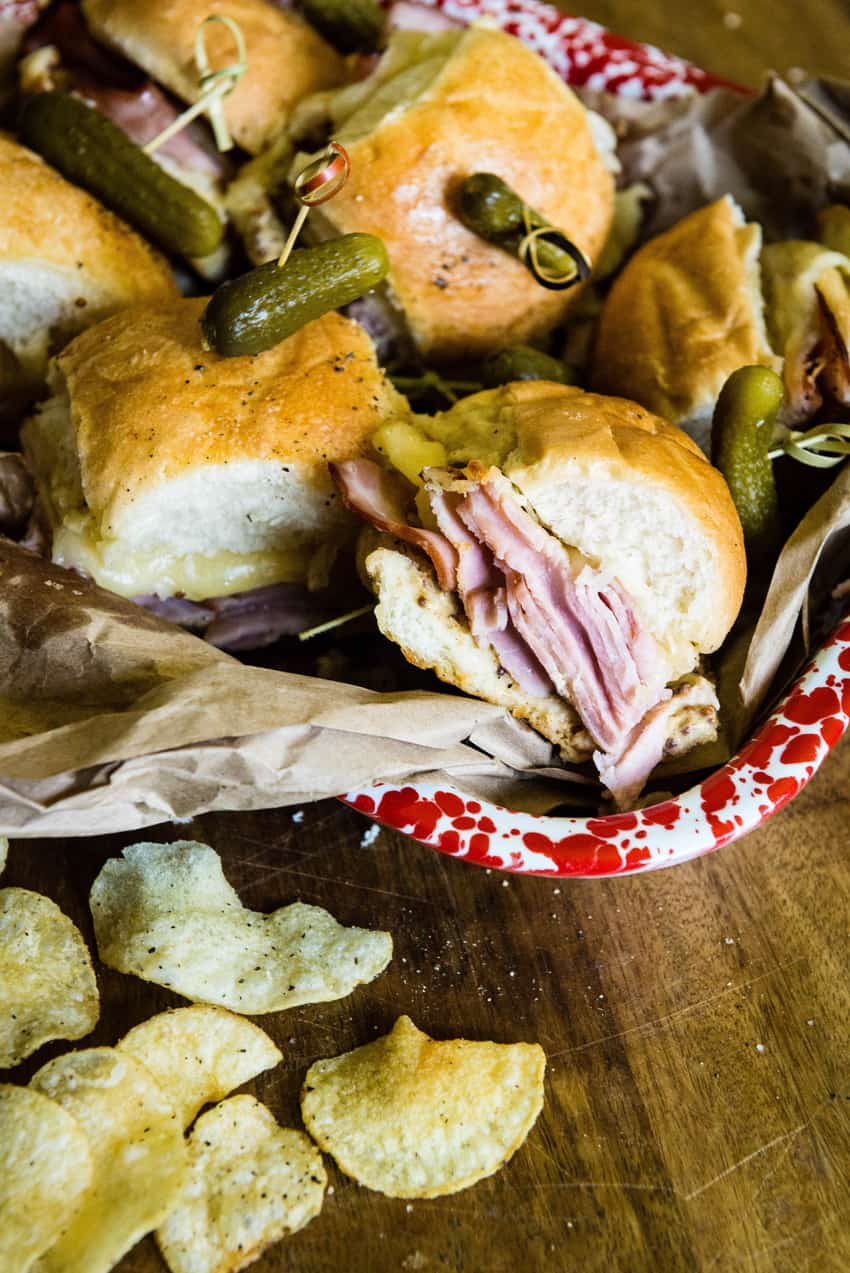 This post was sponsored by Prime Fresh for their new deli meat line. The thoughts and opinions are my own. 
Who else loves quick tricks to feeding a ton of people without having to make individual plates? Me. And I am guessing pretty much every other busy home cook on the planet. (Even if they don't want to admit it.)
Well guess what, this big batch party time hot ham and cheese slider recipe is the perfect kind of on the fly recipe to make for tailgating, games, or even just a mid-day snack for the whole team. It's quick and easy and has a few tricks I love to use to make sure each bite is loaded with flavor. So fire up your oven and follow along.
Here are some of my go-to tricks for perfect ham and cheese sliders every time!
Mix a tablespoon of 'fancy' mustard into your mayo. Find seasonal mustards and fresh herbs at the market and stir them into your mayo to really level things up (seriously, people were begging for the sauce 'recipe' when I served these!)
Fold your lunchmeat. Folding the lunchmeat into piles, instead of laying on thin strips, makes the sandwich meaty. Nothing is more disappointing than being hungry after you eat. Folding and stacking the meat not only makes the sandwich pretty, it stacks on layers of meaty-goodness into every bite. No more sad sandwich blues for you.
Salt your tomatoes. Yep, this is an old school trick grandmas used all of the time. A pinch of salt on a freshly sliced tomato changes everything! It's such a simple thing, but go on, give it a try! I bet salted tomatoes will be your new summertime snack.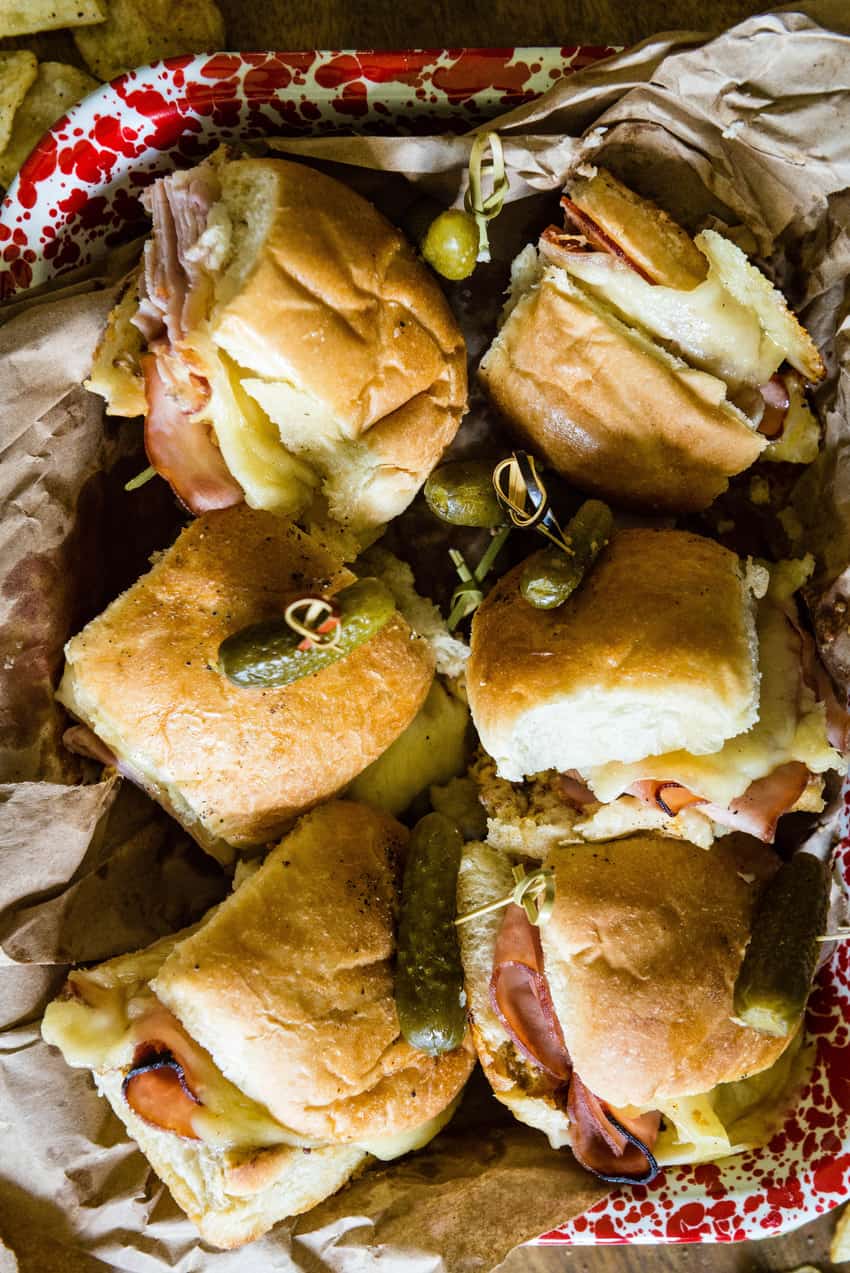 A few months ago I was on the road across Ohio and Michigan to hit the morning news and showcase these little sandwiches to new taste testers and I wanted to share with you guys that I am proud to partner with Prime Fresh as they become a new hit all across the country! I totally enjoyed the region we were in before and am thrilled to be coming back for more as we share Prime Fresh across the country!
Prime Fresh is the Fastest Growing Lunchmeat Brand in the United States and it's not at all what you expect.
You know the grab and go section of the market now with tubs of pre-sliced meat? This is where you can find the Prime Fresh selection. But it comes in traditional deli-meat bags. The moisture and flavor are locked in and easily resealed without having to wait (or in some cases, schedule your trip to the market) for the deli counter to be open. You can grab and go any time you shop with Prime Fresh in the Meat Department.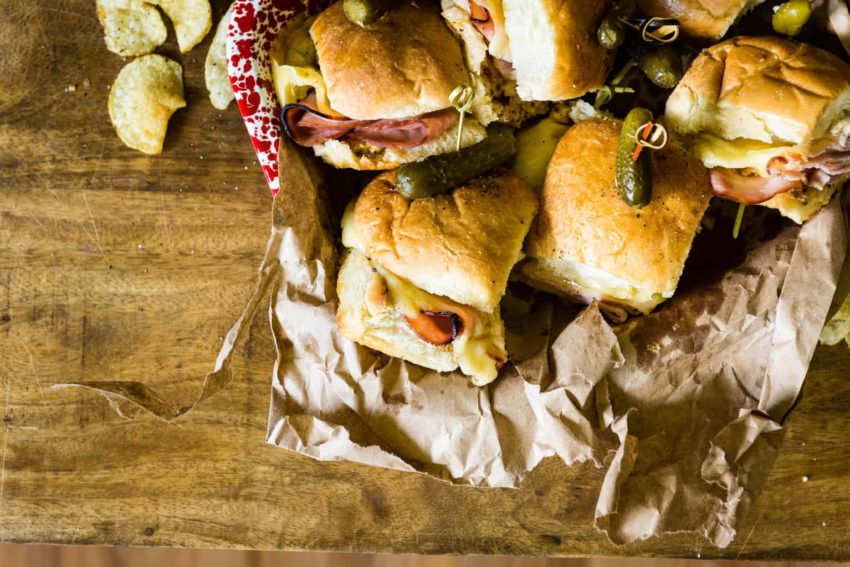 As part of their successful launch, and to get you to try Prime Fresh in your own kitchen, you can find a High Value "$1.00 Off any One Package" Coupon in this Sunday's Newspaper! I checked and this will be in papers across the country, but we can't promise it will be in every one, soooo I made sure I had a little something something for those of you who may not get a paper. Here's a coupon for $1.00 off two packages of Prime Fresh!
Alternatives to using ham
So maybe you have reasons why ham is not an option. Doesn't mean you can't do a substitution that offers similar culinary pleasures. If you don't want to use ham, then smoked turkey or even pastrami are always an option as well.
The smokier the better. And if you can't find any smoked meat alternative, then using just a tiny bit of liquid smoke mixed with a couple tablespoons of water will work. Add it to a mister or spray bottle then very lightly coat the cold cut of your choice.
What makes Hawaiian bread rolls perfect for sliders
If you have never used Hawaiian bread before then you might not know why it is so perfect for sliders. First of all, Hawaiian style bread is light and fluffy and a slightly sweet.
If it reminds you of great brioche bread, then you are pretty much on the right track.
Not only are the Hawaiian rolls perfectly sized for sliders, but they come in convenient to cut rows. So with a long bread knife you can make a very even cut.
That comes in very handy when you have it in hand and you don't want it falling apart on you.
More slider recipes
Not sure when sliders became a thing. Couldn't tell you what little hole in the wall bar with a nice pub menu put them out first. All I can say is sliders make the ideal sandwiches even better.
You can eat a quite a few before anyone catches you looking like a glutton. This is not possible with a big sloppy double decker burger now is it?
Next, you can serve many with out any extra effort. And finally, every one is like the best bite from a regular sized sandwich or burger.
Here are some more slider recipes to check out when you have a chance.
Hot Ham and Cheese Sliders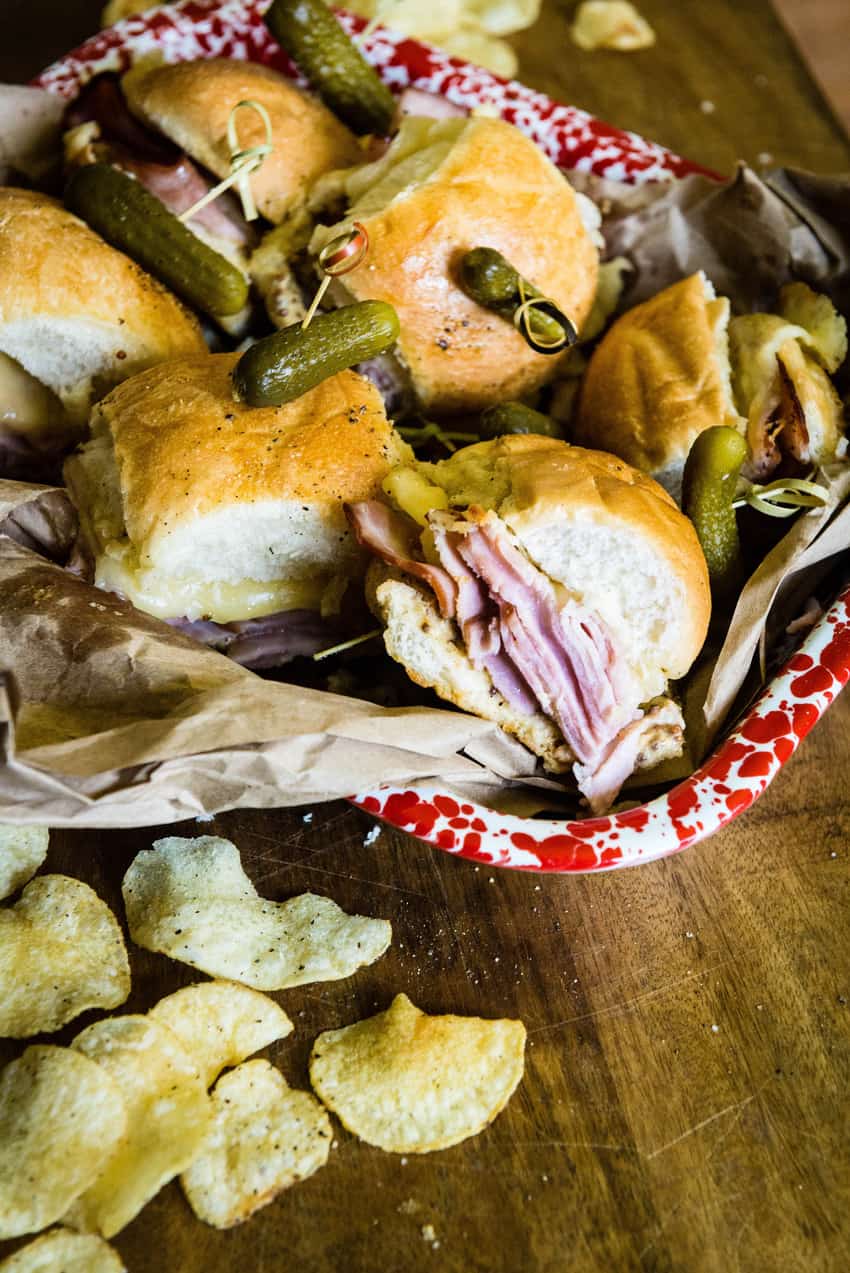 If you've tried my Hot Ham and Cheese Sliders recipe, or any other recipe on GirlCarnivore.com please don't forget to rate the recipe and let me know where you found it in the comments below. I get inspired by your feedback and comments! You can also FOLLOW ME on Instagram @girlcarnivore as well as on  Twitter and Facebook.
Party Time Hot Ham and Cheese Sliders
Quick, easy and loaded with flavor. These Party Time Hot Ham and Cheese Sliders are perfect for feeding any crowd.
Ingredients
1

Hawaiian dinner rolls

Use Hawaiian rolls for extra uphf

2

tbsp

lemon tarragon mustard

or any other fun mustard you have on hand

2

tbsp

mayo

12

slices

Smoked Ham

Use fresh quality deli cuts or a ham steak

6

slices

swiss cheese

2

tbsp

melted butter

½

tspn

freshly ground black pepper
Instructions
Slice the rolls in half and place on a baking sheet.

Whisk the mustard and mayo together in a small bowl.

Spread evenly over the bottom layer of the rolls.

Fold and stack the Prime Fresh Smoked Ham onto the rolls.

Add the layer of cheese.

Place the top half of the rolls back on top.

Whisk the pepper into the melted butter and brush evenly over the top.

Bake for 10 to 15 minutes until the buns are toasted and the cheese has melted.

Serve.
Notes
Ham and cheese sliders work with any kind of cheese you have on hand. If you want to substitute with smoked turkey, then all good. A nice slice of pickle goes well with ham and cheese sliders too. 
Nutrition
Nutrition Facts
Party Time Hot Ham and Cheese Sliders
Amount Per Serving
Calories 206
Calories from Fat 144
% Daily Value*
Fat 16g25%
Cholesterol 41mg14%
Sodium 124mg5%
Potassium 32mg1%
Carbohydrates 2g1%
Protein 11g22%
Vitamin A 350IU7%
Calcium 332mg33%
Iron 0.1mg1%
* Percent Daily Values are based on a 2000 calorie diet.