Want finger-licking good ribs with just the right sweet heat rub? These Memphis-style smoked spare ribs don't require any fancy grill tools and pair perfectly with the smoked jalapeno mac and cheese for a perfect barbecue.
When it comes to an amazing smoked ribs recipe, each region of barbecue has its signature spin and flavor. but nothing may be as widely debated as whether to sauce or not to sauce. For these Memphis-inspired ribs, we keep it limited to a spicy, smoky dry rub, and low and slow smoke, letting those who devour them decide to dip them in sauce or not.
The Cut: What are Spare Ribs?
Spare ribs are the meaty larger ribs you see at the market. They are cut from the side, closer to the pork belly, near the breastbone. They differ from baby back ribs, which are leaner and more tender which are cut from higher up on the loin. And even St. Louis-style ribs, as those are trimmed versions of these are short squat meaty ribs compared to these. Spare ribs are long, and often have the brisket flap still attached.
All are tasty, but we love smoking spare ribs because they tend to be less expensive at the grocery store. We use spare ribs when testing rubs, and flavors like this delicious recipe, so when they are on sale, we stock up.
Why You Will Love These Smoked Ribs
Easy to prep: The smoked ribs are simple to prepare with a dry rub that sits over night. They are also easy to cook up in a smoker. The cooking process is not extensive, and even beginners can smoke ribs and feel confident.
Packed with flavor: The ribs are loaded with intense flavor that is sure to get your mouth watering. The recipe creates the most amazing ribs you'll ever taste. You won't even need your favorite sauce. But it's also a basic spice rub, so you can adjust it to your families tastes with confidence.
Looking for a great beginner rib? Try these 3-2-1- Ribs – it's a foolproof method for tender ribs and a little less hands-on than these char-grilled Memphis-style ribs. We break it all down and go over how to smoke ribs perfectly every time, no matter what cut you've got.
In this particular little experiment, meaty racks of spare ribs are perfect. You should be able to fit two market racks, cut in half at the 6th rib, onto your Weber kettle grill or drum smoker and grill them perfectly.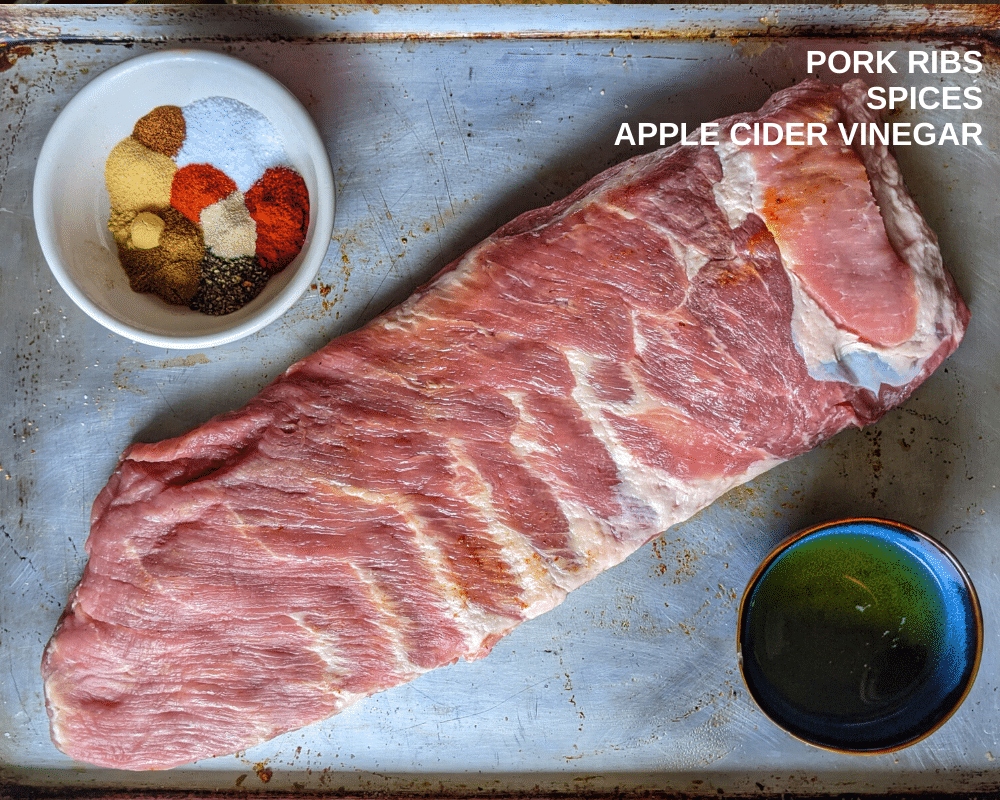 Ingredient for Smoked Pork Spare Ribs
Pork spare ribs
Brown sugar – if you're keeping it keto, try golden monk fruit sweetener.
Paprika
Black pepper
Salt – we always use kosher salt
Garlic salt
Cumin
Onion powder
Chili powder
Ground mustard (mustard powder)
Apple cider vinegar – or apple juice or our vinegar-based bbq sauce for the mop and serving.
How to Make smoked spare Ribs
Prep the ribs
Begin by mixing the brown sugar, paprika, black pepper, salt, garlic salt, cayenne pepper, cumin, onion powder, and ground mustard in a large bowl. If you want a sweeter rib, add an extra tablespoon of brown sugar.
Set aside a heaping tablespoon of the spice mix to use later.
Use a butter knife to slide under the thin membrane on the back of the pork ribs. Lift and wiggle the knife carefully to pull it off. You'll need a good grip. After a few initial swipes, the membrane should easily pull off the back with a tug. To make it easier to pull, use a paper towel instead of your
Once the membrane is fully removed, cut the racks in half if needed to fit in your grill.
Liberally season all sides of the meat well with the spice mix.
Wrap the meat in plastic wrap or foil and refrigerate for 8 – 12 hours.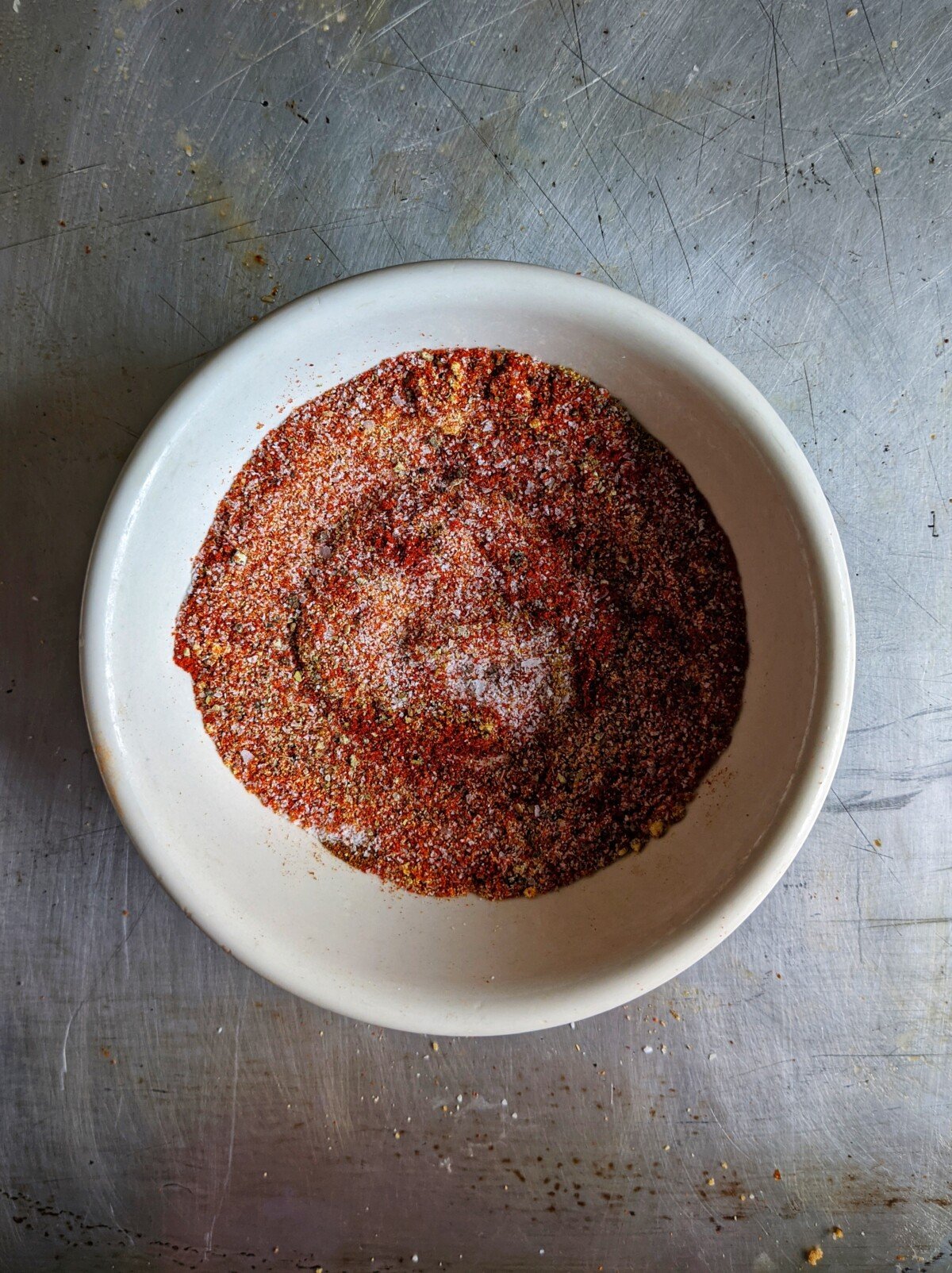 Smoke the ribs
When you are ready to cook, prep your smoker by arranging the coals for indirect heat. Preheat to 250 degrees. Place a drip pan below where the meat will sit.
Add a few chunks of lump hardwood over the hot coals and wait for the dirty smoke to cook off before moving on. Thin blue smoke creates a delicious smoked flavor, but the dark white or grey smoke (dirty smoke) can make meat taste acidic.
When the grill is ready to go, add the racks of ribs directly over the water pan.
Cover and cook your meat for about an hour. Keep an eye on the temperature during the smoking process.
Baste, or spritz, the ribs with apple cider vinegar.
Return the cover and cook for another hour to an hour and a half. Continue to watch the grill's temperature and adjust the air vents if needed.
Baste or spritz the meat with more apple cider vinegar or mop throughout the cooking process.
When the ribs are close to done, baste them one last time and sprinkle the spice mix you set aside over the meaty side of the ribs just to add a bit more kick to the smoky bark.
Your meat is done when it is fork-tender and has pulled back from the bones, and the internal temperature reaches 190 degrees F with a digital meat thermometer.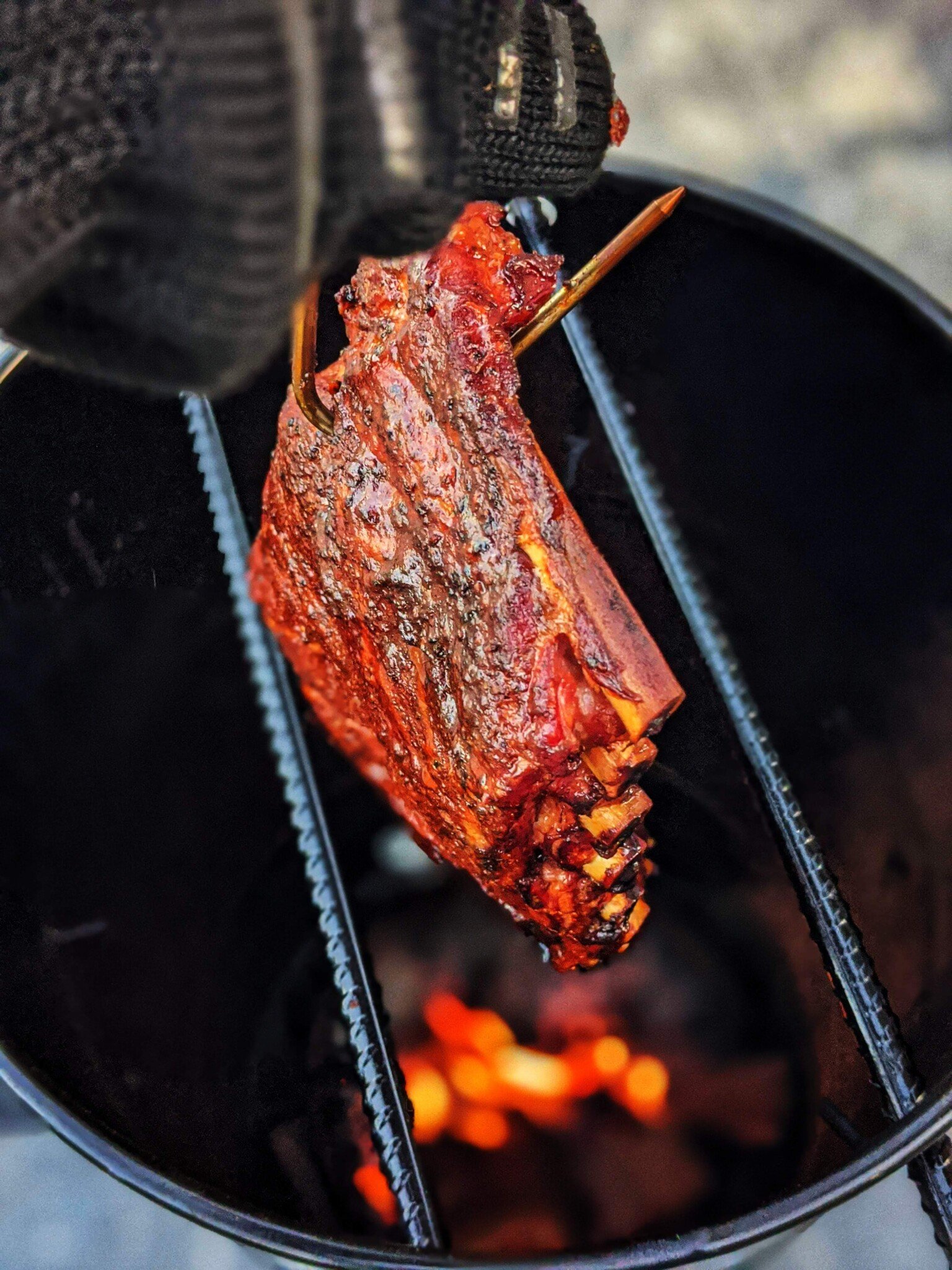 GirlCarnivore Expert tips for this spare ribs recipe
These Spare ribs cook best at a low temperature for a long period of time. Whether using a charcoal grill, electric smoker, or pellet smoker, cook them at 225 to 250 degrees F. These will cook for about 3 – 4 hours, but keep your eye on them periodically. Set a timer if this is your first time, so you don't forget about them.
Use a spray bottle to spritz your apple cider vinegar mop onto the bone ribs. It's the best way to coat the meat evenly and spread that smoky flavor around well. Spritz the meat multiple times for extra moisture and flavor based on personal preference. The mop helps to keep the meat moist and add humidity to the cooking environment.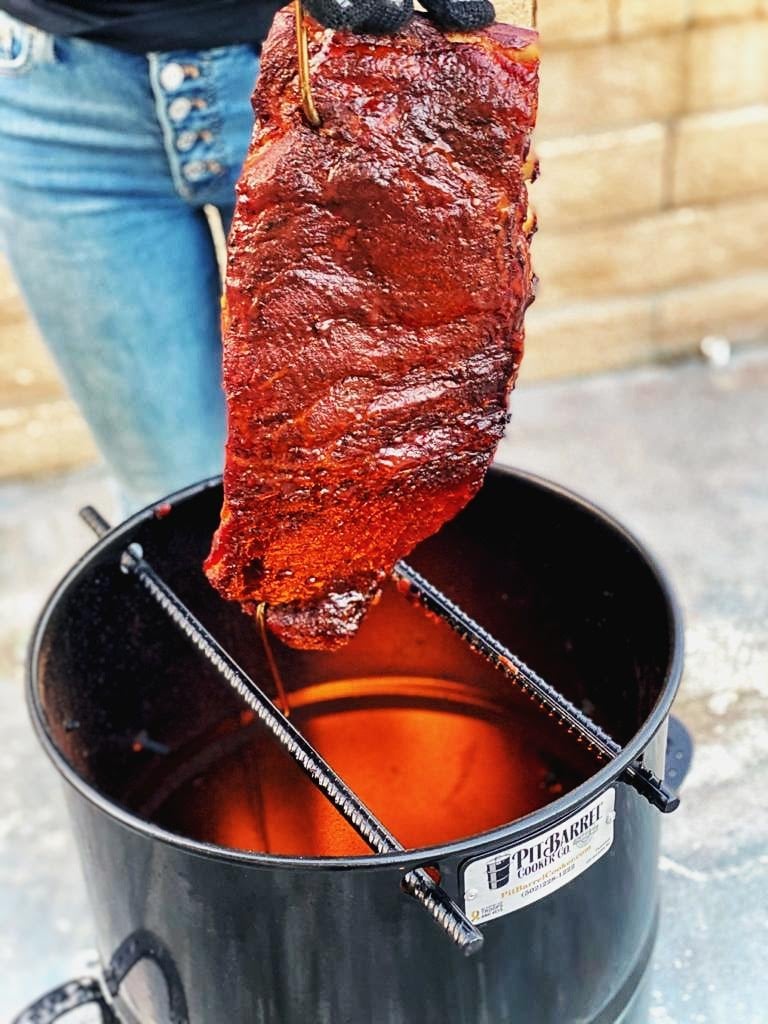 What to serve with smoked spare ribs
White bread and a pickle go a long way with these finger-licking ribs, but we also love our smoked mac and cheese, slaw, beef tallow fries, or smoked pulled pork and beans. All of these options are perfect sides for the rib rack! You'll have plenty of time to whip them up during the smoking process.
How to store Leftover ribs and reheating
Store leftover spare ribs wrapped in foil in the refrigerator for up to 4 days. To reheat, preheat the oven to 325 and, still wrapped in foil, place the ribs in the oven until heated through, 10 to 15 minutes.
Alternatively, scrape the pork from the bones and enjoy the meat in various dishes. The leftovers are also pretty amazing for breakfast the next morning in hash! Who doesn't love a tasty and filling breakfast packed with flavor?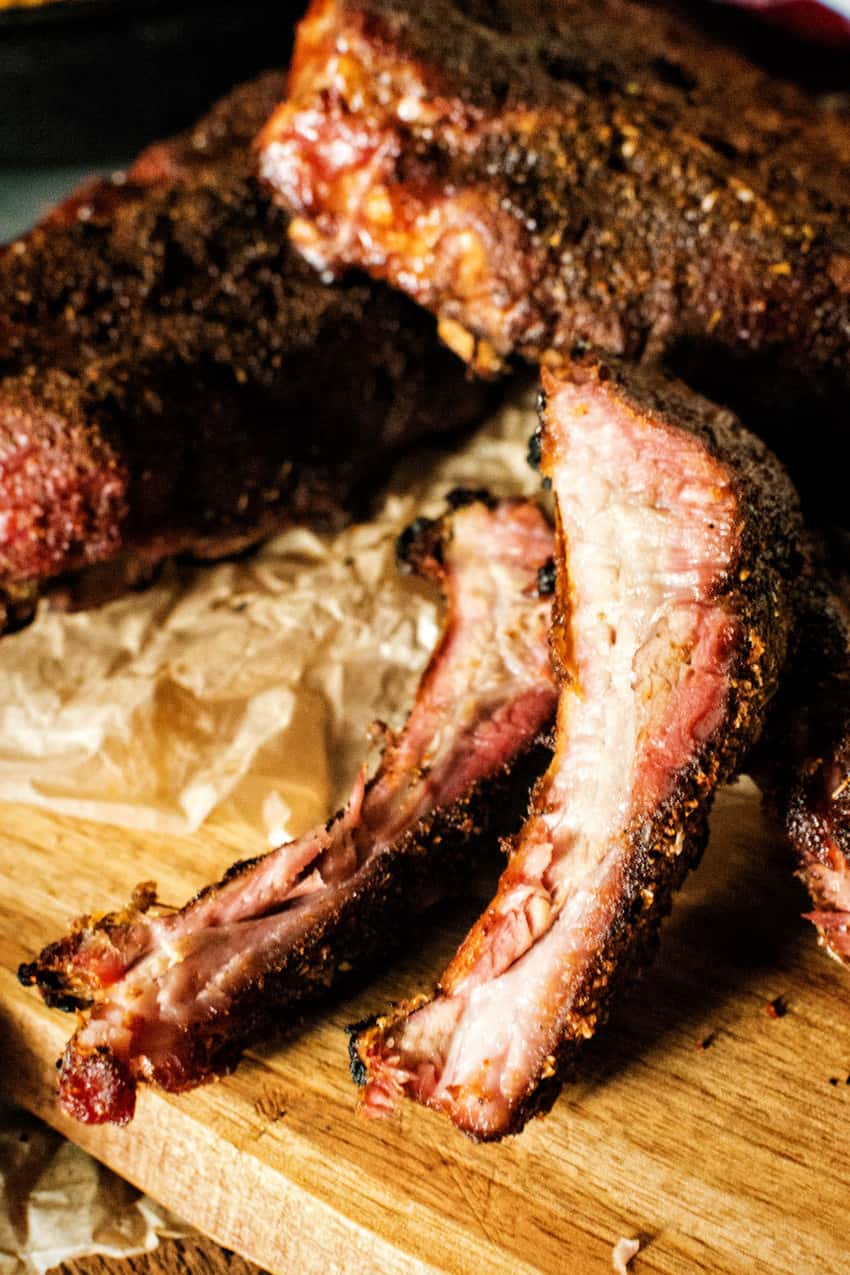 When it comes to ribs, what's your favorite? Is it a spicy dry rub or a sauce smoked rib? We love these Memphis-style smoked spare ribs just as they are. The spice rub hits all the right notes, but if we're feeling like it, we will add in our homemade keto bbq sauce, or try your own favorite barbecue sauce. If you've tried this recipe, be sure to rate the recipe card and drop a comment below, letting us know how you liked it.
Memphis-Style Smoked Spare Ribs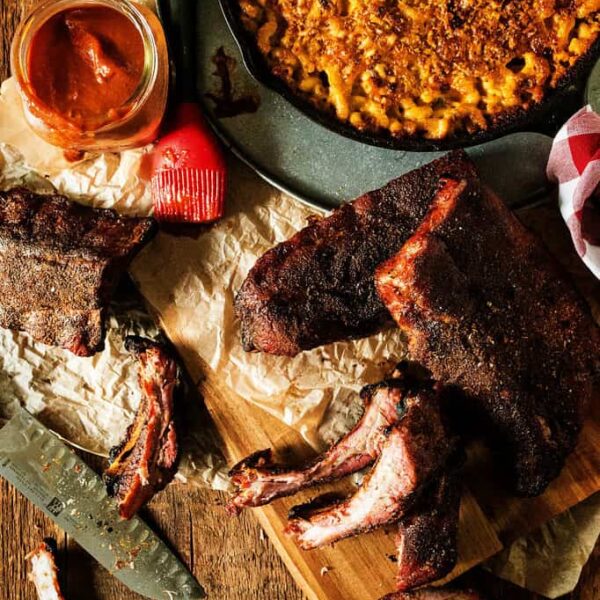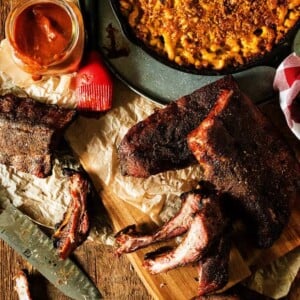 These Memphis Style Smoke Spare Ribs are the only recipe you'll need to try out in your new smoker. They are loaded with delicious flavor and extremely tender!
Ingredients
Dry rub
2-3

tbsp

brown sugar

1

tbsp

paprika

1

tbsp

black pepper

1

tbsp

salt

1

tsp

garlic salt

1/2

tsp

cayenne pepper

1/2

tsp

cumin

1/2

tsp

onion powder

1/2

tsp

chili powder

1/4

ground mustard
Instructions
Make the dry rub
Mix the brown sugar, paprika, black pepper, salt, garlic salt, cayenne pepper, cumin, onion powder, chili powder, and ground mustard in a large bowl.

Add one tablespoon more of brown sugar for a sweeter rib.

Remove one heaping tablespoon or the spice mix to be used later and set the rest aside.
Prep the spare ribs
Trim the membrane from the back of the pork ribs using a sharp knife and a good grip. After a few initial swipes, the membrane should pull off the back with a little tug. Use a paper towel to grip, making it easier to pull.

Trim the flap of meat hanging from the ribs, if needed or desired.

When the membrane has been removed, cut the racks in half, if needed, to fit on the grill.

Season all sides liberally with the spice mix.

Wrap and refrigerate for 8 to 12 hours before smoking.
Prep the grill
When ready to cook, arrange lit coals for indirect heat with a drip pan positioned below where the ribs will be placed.

Allow the grill to preheat to 250 degrees F.

Throw a few chunks of lump hardwood over the hot coals to create a delicious smoked flavor and allow the dark smoke to burn off, about 10 minutes, before cooking.

Place the ribs on the grill, over the drip pan.

Cover and cook for about 1 hour, keeping an eye on the temperature.

Baste, or spritz, the ribs with a bit of apple cider vinegar.

Cover and cook for another two or so hours, spritzing as needed, every 30 monutes. Rotate the racks to avoid overcooking one side.

Continue to keep an eye on the temperature of the grill, adjusting the air vents as needed to maintain an even controlled temp.

Spritz the ribs once or twice more with the vinegar while cooking.

Ribs are done when the meat starts to pull back from the bone, and the internal temp reaches 190 degrees F with an instant read thermomter.

When ribs are close to done, spritz the ribs one last time and sprinkle the tablespoon of spice mix you set aside over the flesh side of the ribs to finish the cook.
Rest
Carefully remove the spare ribs from the smoker and allow them to rest 5 to 10 mintues before slicing them along the bone into individual ribs for servinf.
Notes
We have used both a Weber Kettle and a Pitt Barrel Cooker for this recipe.
We cook over Cowboy All Natual Hardwood Lump Charcoal and use Wester Wood Hickory wood chunks.
Nutrition
Calories:
191
kcal
|
Carbohydrates:
8
g
|
Protein:
9
g
|
Fat:
13
g
|
Saturated Fat:
4
g
|
Cholesterol:
45
mg
|
Sodium:
2380
mg
|
Potassium:
195
mg
|
Fiber:
1
g
|
Sugar:
6
g
|
Vitamin A:
1030
IU
|
Calcium:
24
mg
|
Iron:
1.2
mg
FAQs
How long to smoke spare ribs at 250F
It is best to smoke ribs for about 3 to 4 hours at 250 degrees Fahrenheit. Leave them unwrapped to let the smoke flavor the full rack of ribs. It will slowly get rid of excess fat. After cooking, remove the perfect rack of ribs and wrap them in foil before cutting and preparing.
What is the internal temperature recommendation for spare ribs?
Use a digital thermometer to check the temperature of your juicy ribs. They are ready when they reach a temperature of about 190 and 200 degrees.