Ham steaks are one of my favorite comfort meals. And I am reinventing a classic brunch recipe for a modern gathering with these maple-glazed ham steaks with red-eye gravy.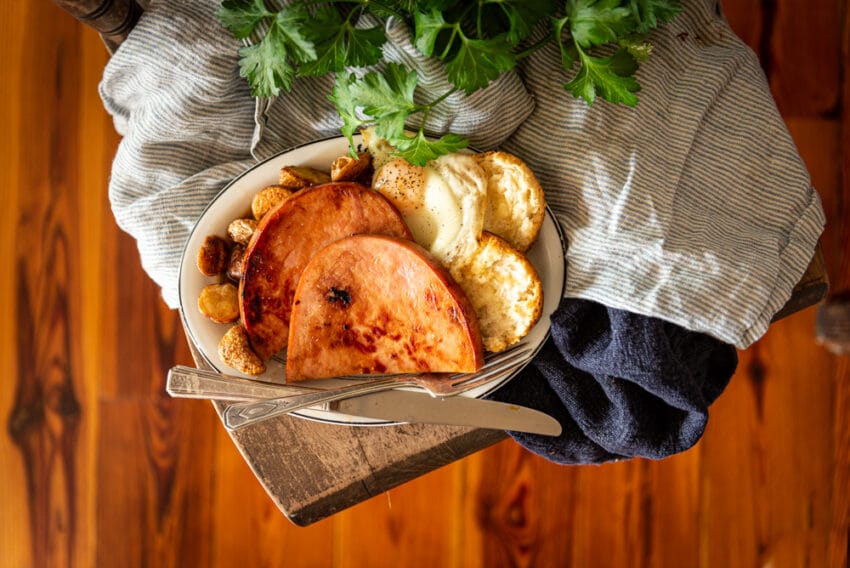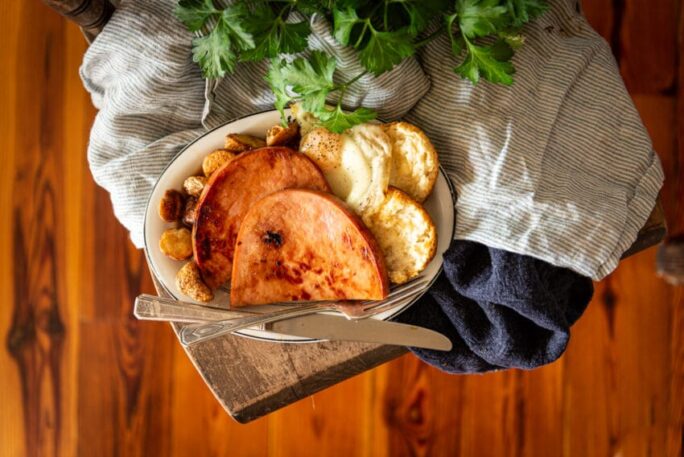 This post was sponsored by Smithfield® Anytime Favorites®. Thoughts and opinions are my own. 
This is one of those recipes that is SO easy to make you can spend more time with friends. But it's also a classic comfort meal that I am reinventing for a modern brunch. As a huge fan of coffee and an even bigger fan of ham steaks, this is a 15-minute recipe designed to bring everyone around the table for a fun meal together. 
Let's get real. Ham steaks recipes are a lifesaver when you don't have a leftover baked ham waiting around! They always remind me of my mom, and I absolutely love how simple they are.
That they are already cooked and I can whip a single one up for myself without having to bake an entire ham makes waiting for big holiday leftovers that much easier. Smithfield Anytime Favorites come in a variety of cuts, from diced to sliced, and even my favorite steaks to make when you want a ham but don't have the time to roast the whole thing a breeze. And it's a great way to add a bonus layer of protein into fast meals and recipes. Win win.   
The one-pan maple glaze makes these sticky and the perfect palette for the red-eye gravy.
This red-eye gravy with hints of maple and a pinch of heat isn't a classic diner red-eye gravy (but I do love me some of that too) but a quick elevated version that is going to knock the socks off your company. And certainly, wake everyone up.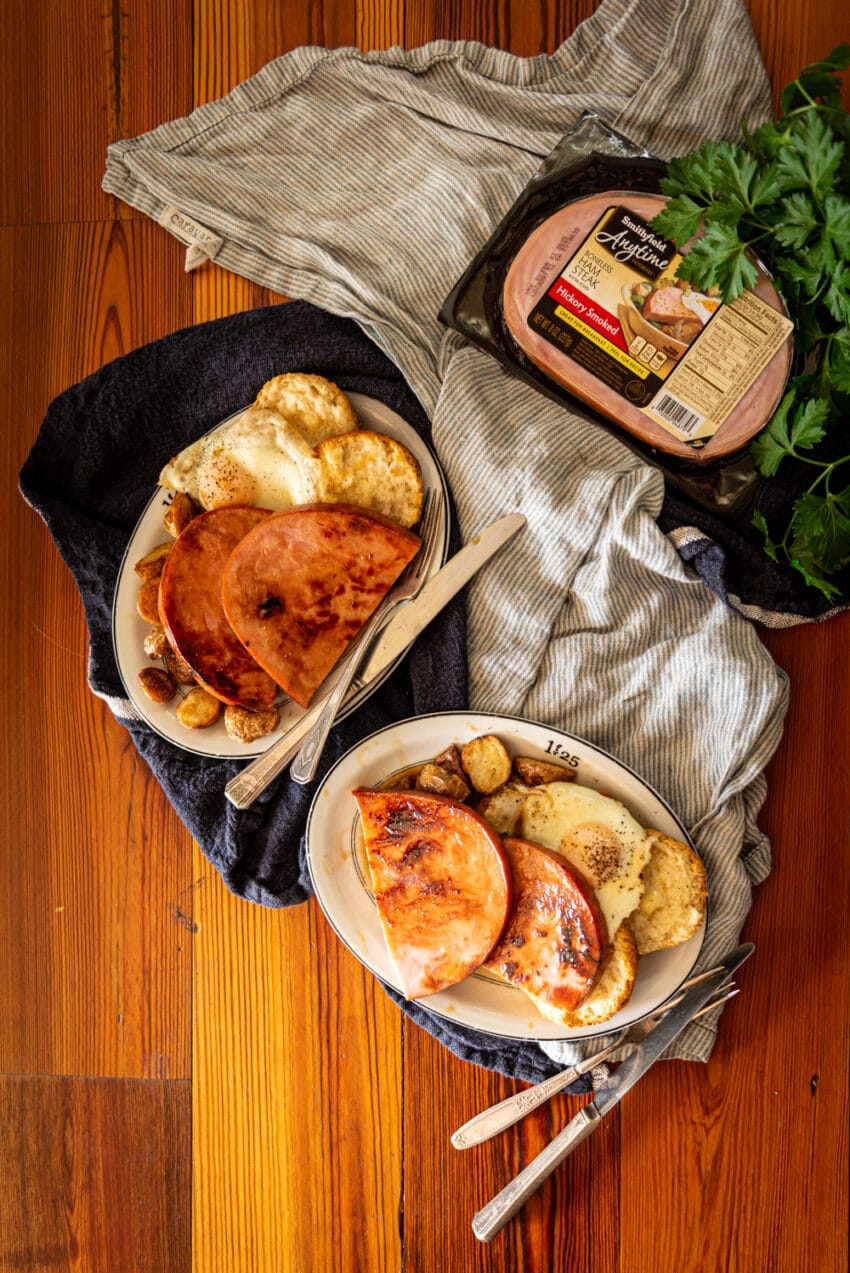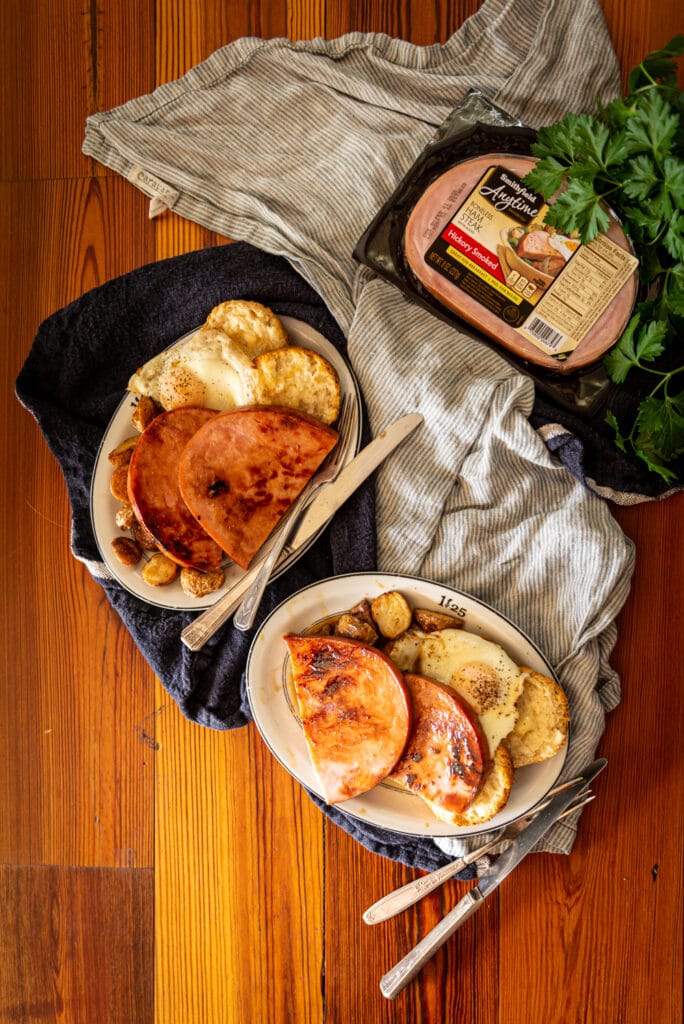 What is Red-Eye Gravy?
Red-eye gravy is an incredibly simple gravy made from a few ingredients, butter and coffee being the two big ones. And with those in mind, you can imagine why it's called red-eye! Cuz it is sure to wake you up. For this one, I added a layer of maple to sweeten things and a hint of chili powder for that sweet and spicy combo. 
This is buttery creamy and smooth and so good as a brunch favorite. 
Are Smithfield ham steaks pre-cooked? 
Yes! The single, by the slice, packaged ham steaks you find at the market, near the packaged meats area, are already cooked – which means they truly are as simple as opening and eating. I LOVE using these because I don't make a whole ham often but it's one of my favorite meats to nibble on.
Whether you chop them up for omelets or go wild and crazy and use them in ramen or egg rolls, they are fun and easy to use for brunch or dinner ideas. And perfect for smaller meals.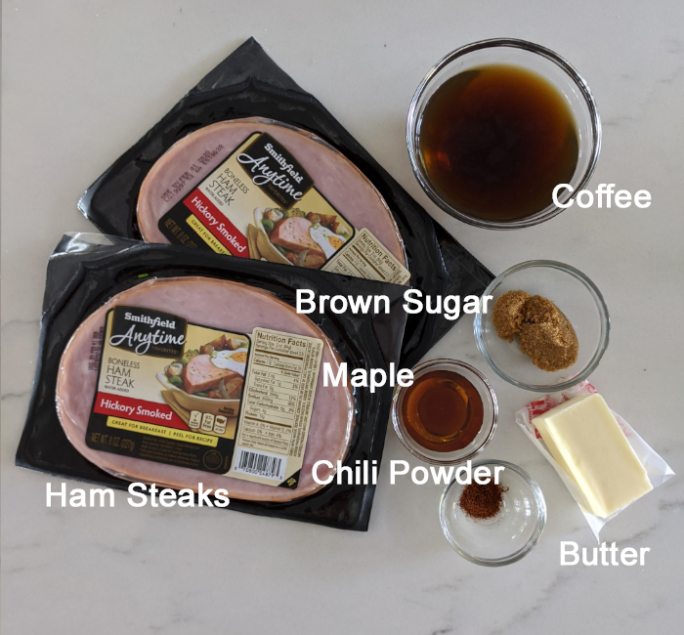 What you need to make red-eye gravy:
Everything you need to make this recipe you can find in your pantry, or with a quick trip to the local market. I love ham steaks – they remind me of my favorite childhood meal. And using them for big holiday brunch gatherings is my favorite. 
All you need is: 
Smithfield® Anytime Favorites® Ham Steaks
leftover coffee
Butter
maple syrup
brown sugar
and a pinch of chili powder
How to make this recipe:
Red-eye gravy is incredibly simple to make and uses up leftover black coffee (which may mean brewing an extra cup or two just for this cuz really, who has leftover coffee. That's just a sin).
Add the leftover coffee to a pan of simmering butter, syrup, brown sugar, and chili powder or cayenne for the tasty blend of sweet and spicy and let it reduce while you finish everything else.
Pan sear the ham steaks in maple syrup for that bonus crust of sweet flavor over the smokey meat. Fry some eggs. And heat up some biscuits.
If you are feeling wild you can even add some tender pan-fried potatoes to the platter for a real hearty meal. Bonus points if you go all in and make grits.
Want more inspiration? Find recipes and more info at www.Smithfield.com.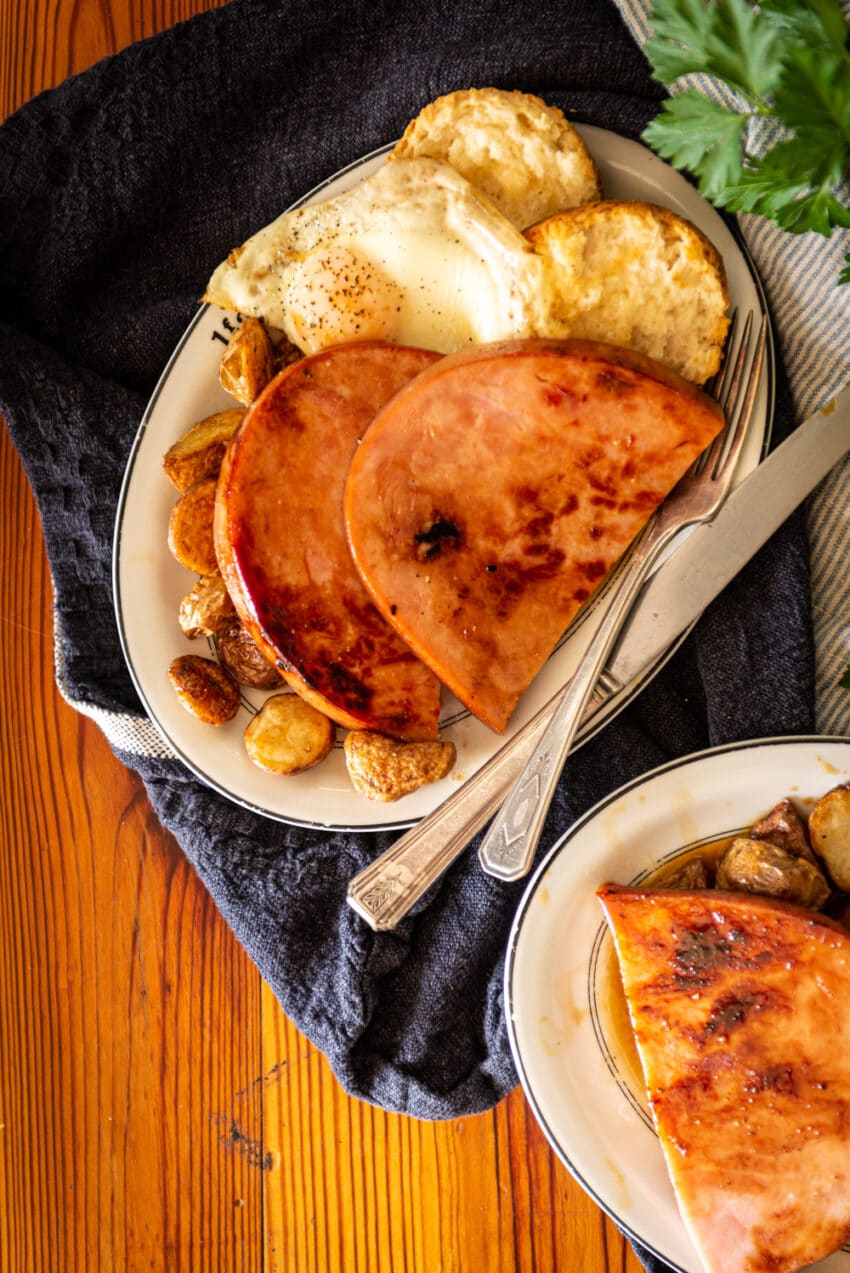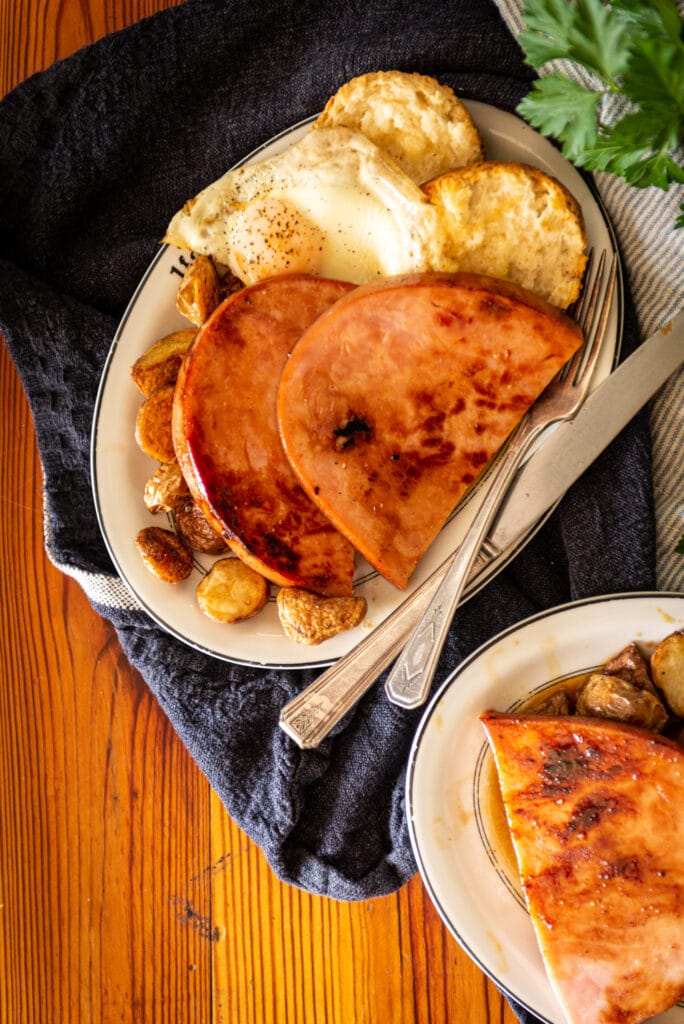 Want more easy breakfast inspiration? Try some of my favorite recipes
If you've tried my Red Eye Gravy (and you totally should if you have made it this far into the post) or any other recipe on GirlCarnivore.com please don't forget to rate the recipe and let me know where you found it in the comments below.
I get inspired by your feedback and comments! You can also join in on the adventures on Instagram @girlcarnivore, Twitter & Facebook.
Maple Glazed Ham Steaks with Red-Eye Gravy
This is a quick and easy red-eye gravy that isn't thick or heavy. It can be made with a few pantry staples in a kick-butt brunch under 20 minutes.
Ingredients
2

ham steaks

4

tbsp

butter

2

cups

leftover strong black coffee

4

tbsp

maple syrup

1

tbsp

brown sugar

¼

tsp

chili powder
Instructions
Heat a small pan over medium heat and melt the butter

Stir in the coffee, 2 tablespoons of the maple syrup, brown sugar and chili powder to combine.

Simmer over medium-low heat, stirring often, to thicken.

Meanwhile, heat a large skillet over medium-high heat.

Add the ham steaks and brush them with the remaining 2 tablespoons of maple syrup.

Heat the ham steaks, flipping as needed, as the syrup becomes thick and sticky and coats the ham and browns.

Remove the steaks from the pan and place in the oven to keep warm.

In the same pan where you fried the ham, fry a couple of eggs to serve with the ham steaks.

When the eggs are fried, slice the ham steaks into portions and serve with the fried egg and drizzle the red-eye gravy over top.

Serve with pan-seared oven-roasted potatoes and fluffy biscuits if desired.
Notes
Tip: When making brunch, I always preheat the oven to 200 to keep things warm as I cook. Make sure any dishes you place in there are heatproof. 
You can find ham steaks in the pre-packaged meat department. They are often near bacon and those easily heated pre-made potatoes and other sides. They are individually wrapped and have extended 'best by' dates. 
If you don't have leftover coffee to use for this, fresh coffee works great too. I just can't imagine not drinking it…. 
Nutrition
Nutrition Facts
Maple Glazed Ham Steaks with Red-Eye Gravy
Amount Per Serving (1 g)
Calories 305
Calories from Fat 144
% Daily Value*
Fat 16g25%
Cholesterol 81mg27%
Sodium 1541mg67%
Potassium 470mg13%
Carbohydrates 16g5%
Protein 22g44%
Vitamin A 387IU8%
Vitamin C 37mg45%
Calcium 30mg3%
Iron 1mg6%
* Percent Daily Values are based on a 2000 calorie diet.