This Herb-Rubbed Top Round Roast Beef recipe is the perfect way to cook top round roast. It's slathered in a flavorful herb and mustard rub, braised to get that crispy exterior, then cooked low and slow until fall-apart tender.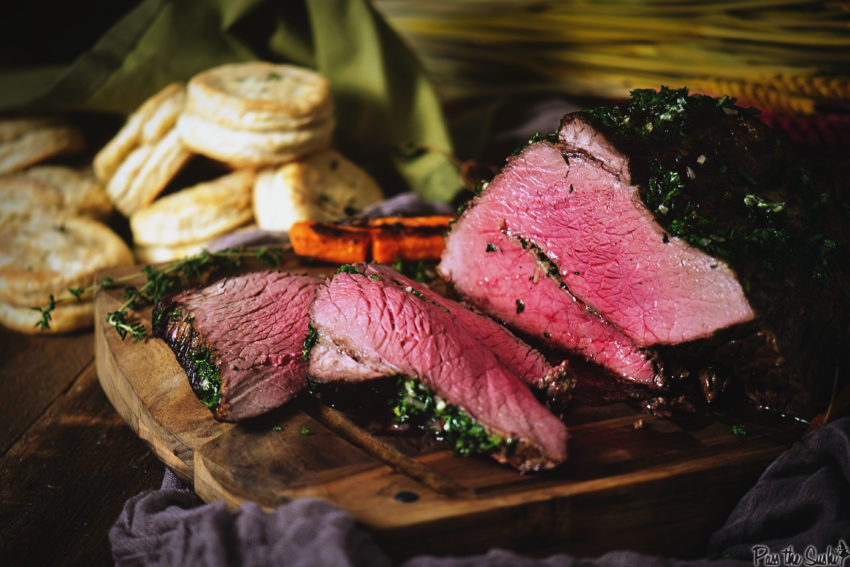 Want a perfect feast that tastes like it was made by the best professional chefs but that's actually made by you, super affordable, and about as simple as it gets? This herb-rubbed top round roast beef is the answer to your prayers.
This recipe is ridiculously easy to make, super simple with just a few pantry staples, and will leave your guests totally impressed!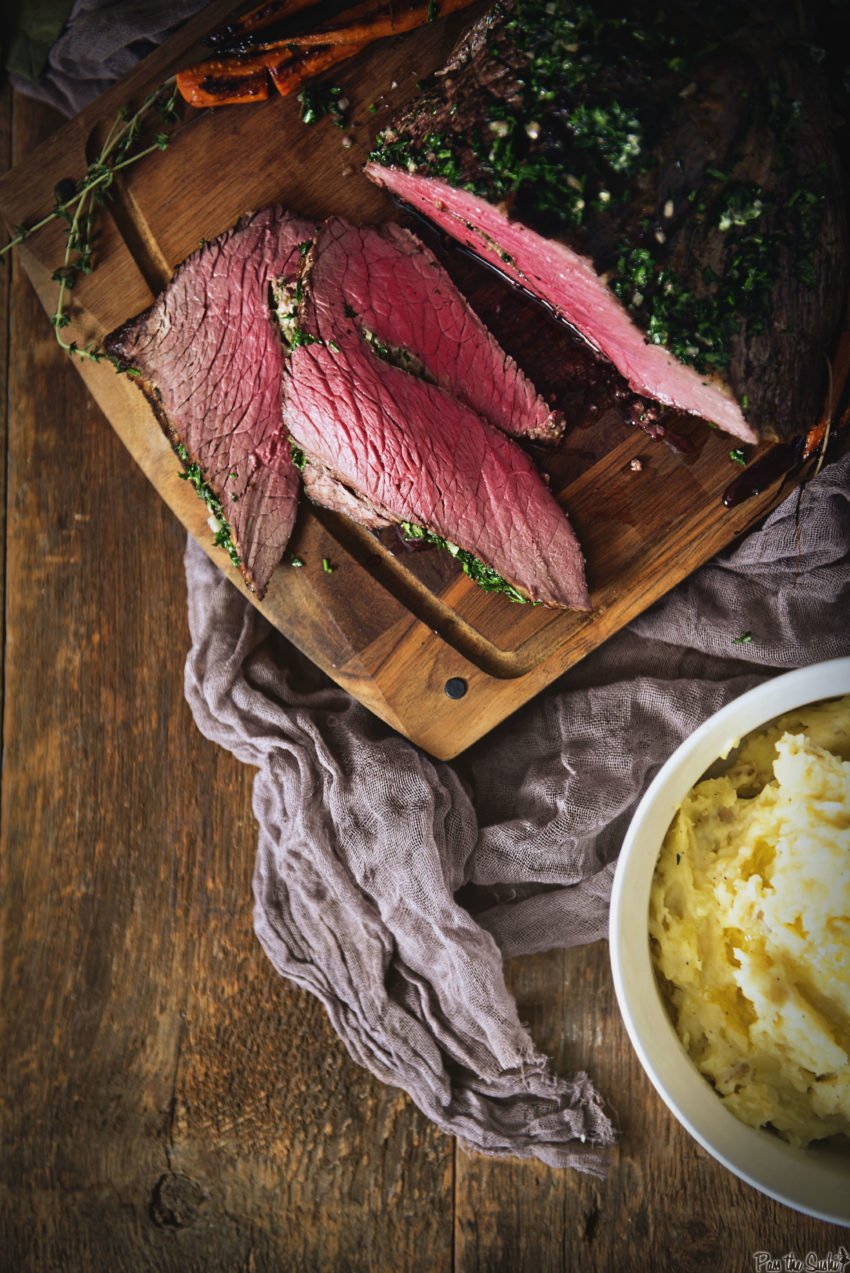 What is top round roast beef?
Top round roast beef is a leaner cut of meat that comes from the rear leg of the cow. The great thing about a top roast is that it's more affordable than other cuts of beef. However, since it is lean with connective tissue, it also has a reputation for being a tough cut of meat.
The good news? Even a leaner cuts of beef like top round can rival the best filet mignon in flavor, juiciness, and tenderness… And the key is in the preparation! Taking the time to cook these budget friendly cuts makes them flavorful roast perfect for dinner.
Just like with our perfect eye of round roast recipe or smoked chuck roast, we love the challenge of these cheap cuts of beef becoming easy recipes your whole family will love.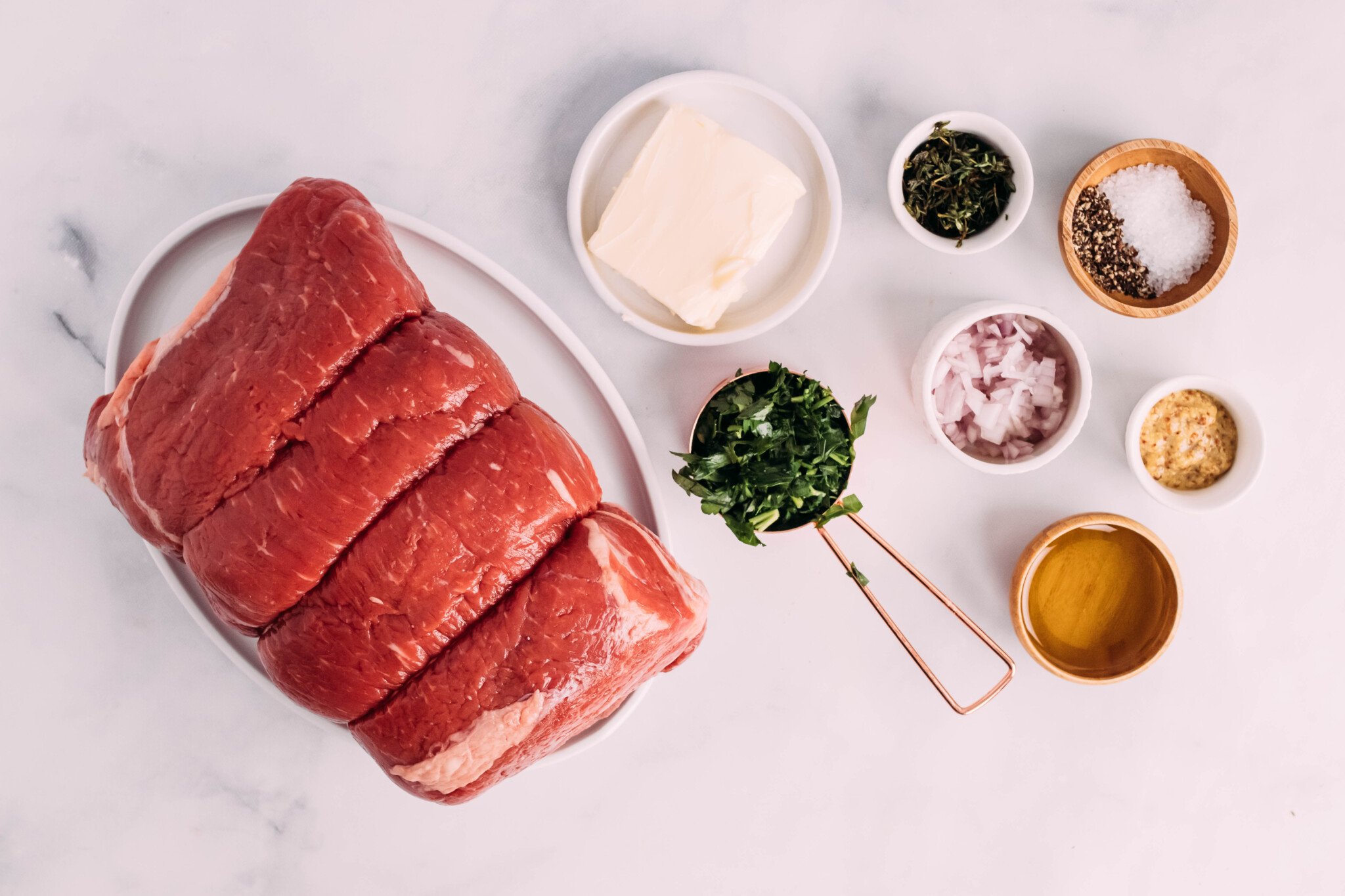 What you need to make this recipe
Parsley, Thyme, and Shallot – the herbs/aromatics used for the herb rub. I highly recommend using fresh herbs for the best flavor. However, dried will work as well if that's all you have.
Dijon Mustard and Olive Oil – the base for the herb rub. Olive oil adds moisture while dijon mustard adds a kick of spice.
Unsalted Butter – mashed with a portion of the fresh herbs to make homemade herb compound butter. Be sure to bring the butter to room temperature so it can be incorporated with the herbs easily.
Top Round Roast – trim the fat first if needed. We use a 4 to 5 pound roast. Adjust the cooking time for the size of your roast.
Salt and Pepper – enhances flavor and gives the meat a subtle kick of heat. We always use kosher salt and freshly ground black pepper.
How to make herb-rubbed top round roast beef
First, you'll mix the parsley, thyme, and shallot together in a small bowl. Remove two tablespoons of the herbs, then set aside.
To the main herb mixture, add in dijon mustard and olive oil, then stir to combine. To the two tablespoons of reserved herbs, add in butter and mash with a fork until mixed well.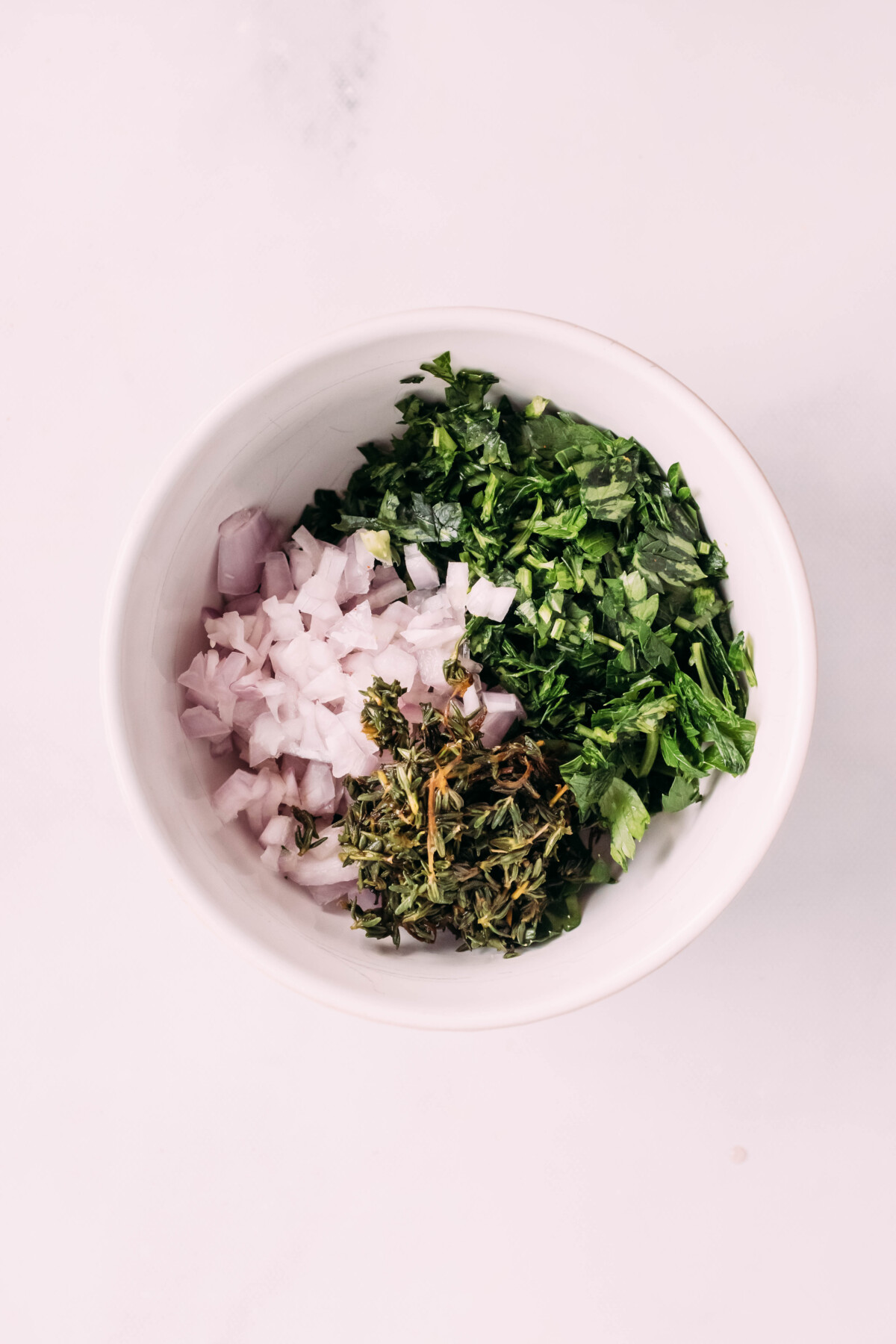 Next, pat the beef dry with paper towels. Butterfly the roast on a cutting board by cutting down the center and folding the cut end back, flattening it until you have cut almost entirely through.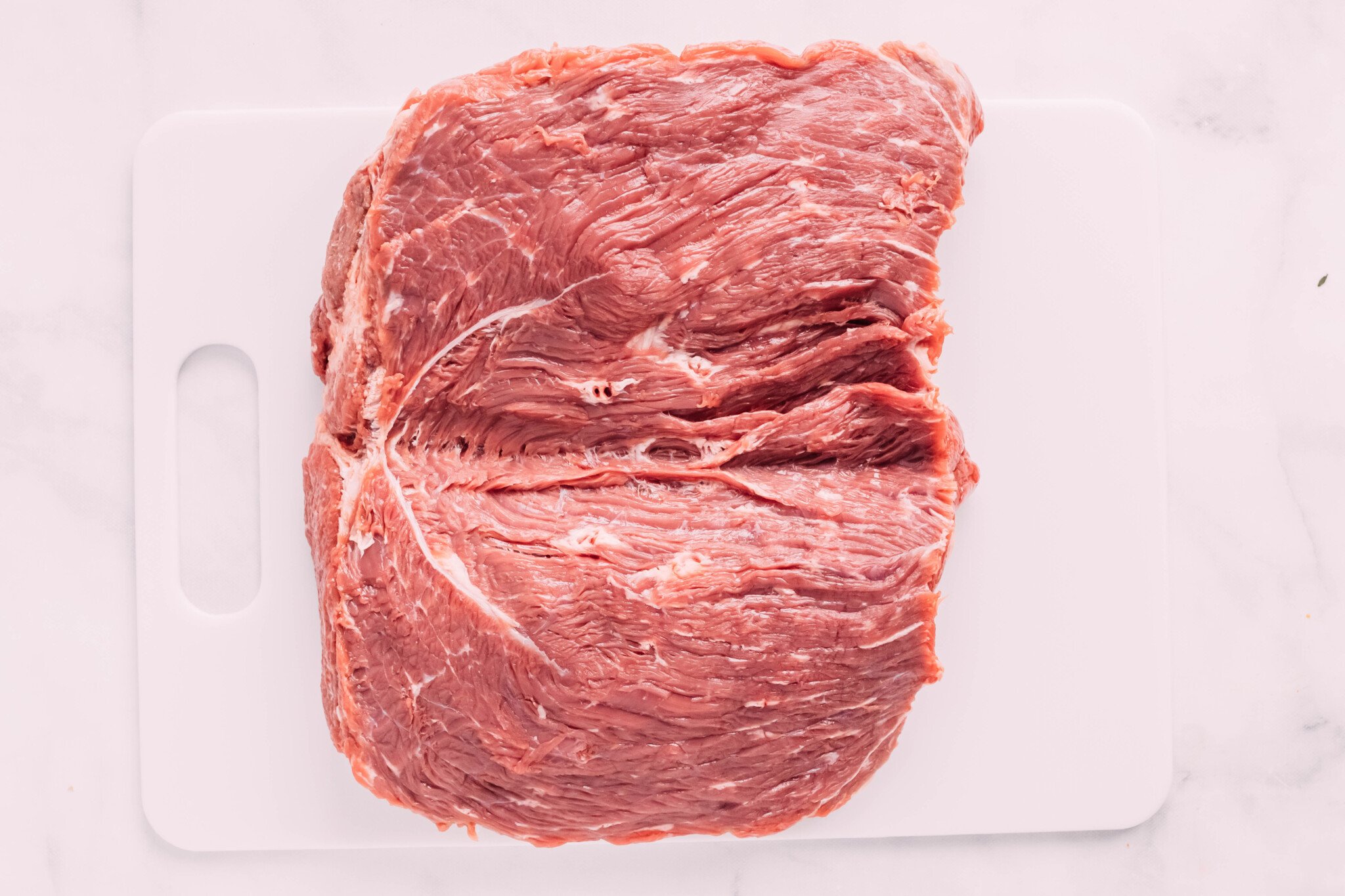 While spread flat, season the whole roast with salt and pepper on all sides. Then use your fingers to spread the mustard mixture evenly over the interior of the meat.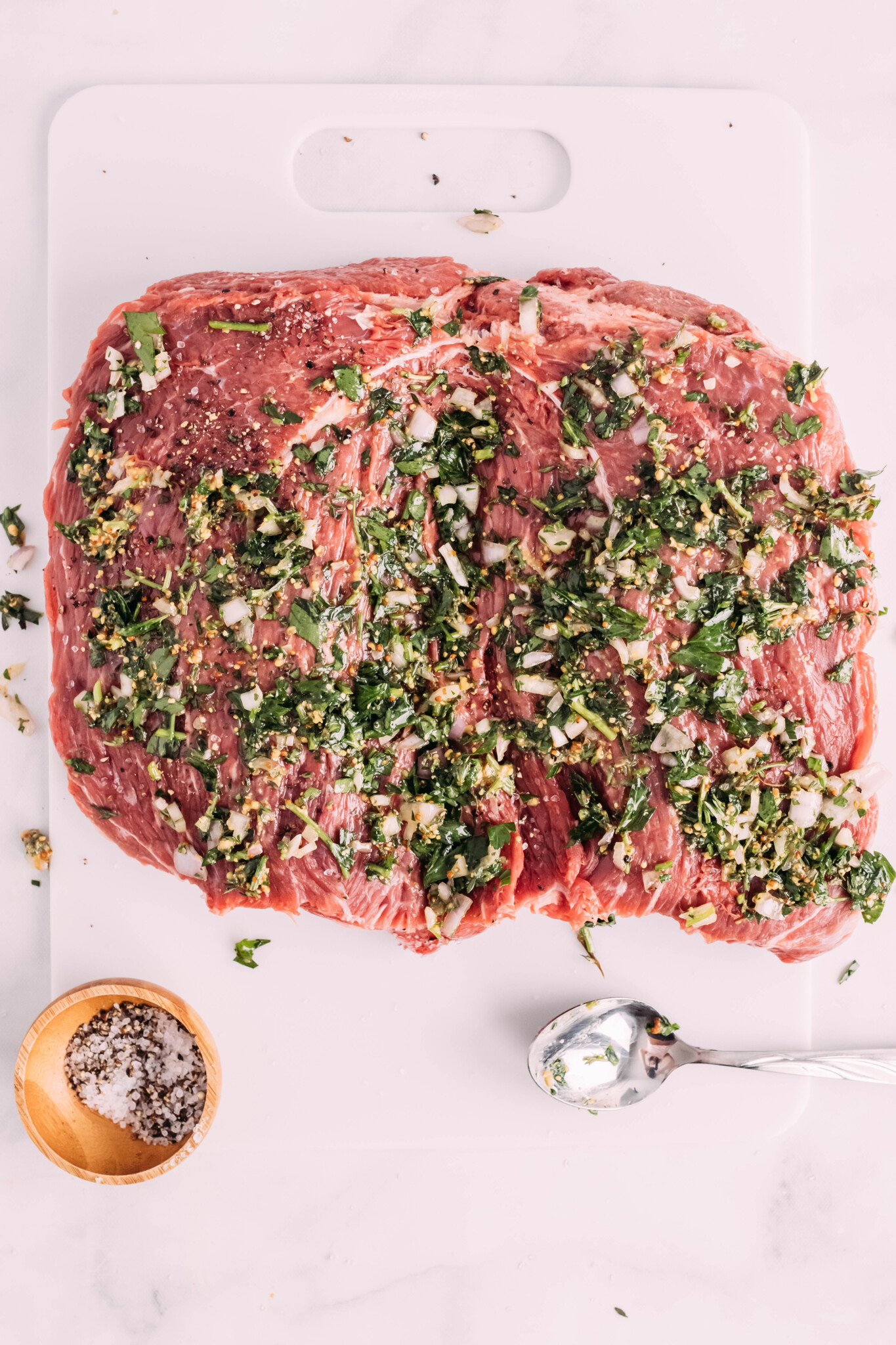 Fold the meat up and tie with kitchen twine, then cover and let rest in the fridge for at least 4 hours.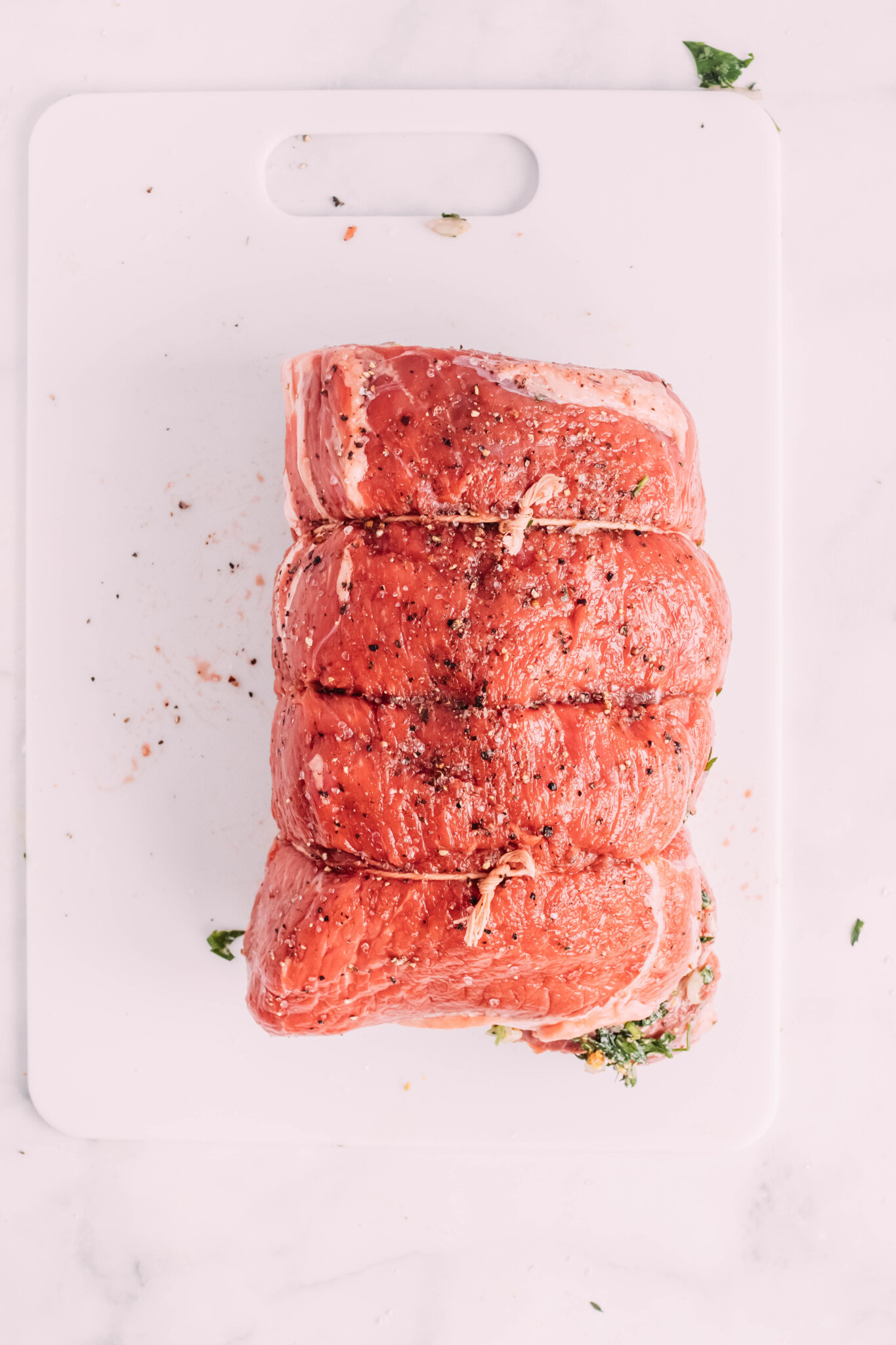 When you're ready to cook, sear the beef on all sides until just browned, in a Dutch oven or roasting pan, then transfer to the oven and cook for 1.5-2 hours or until the internal temperature reaches 125 degrees F, or your desired temperature, with an instant-read thermometer inserted at the thickest part.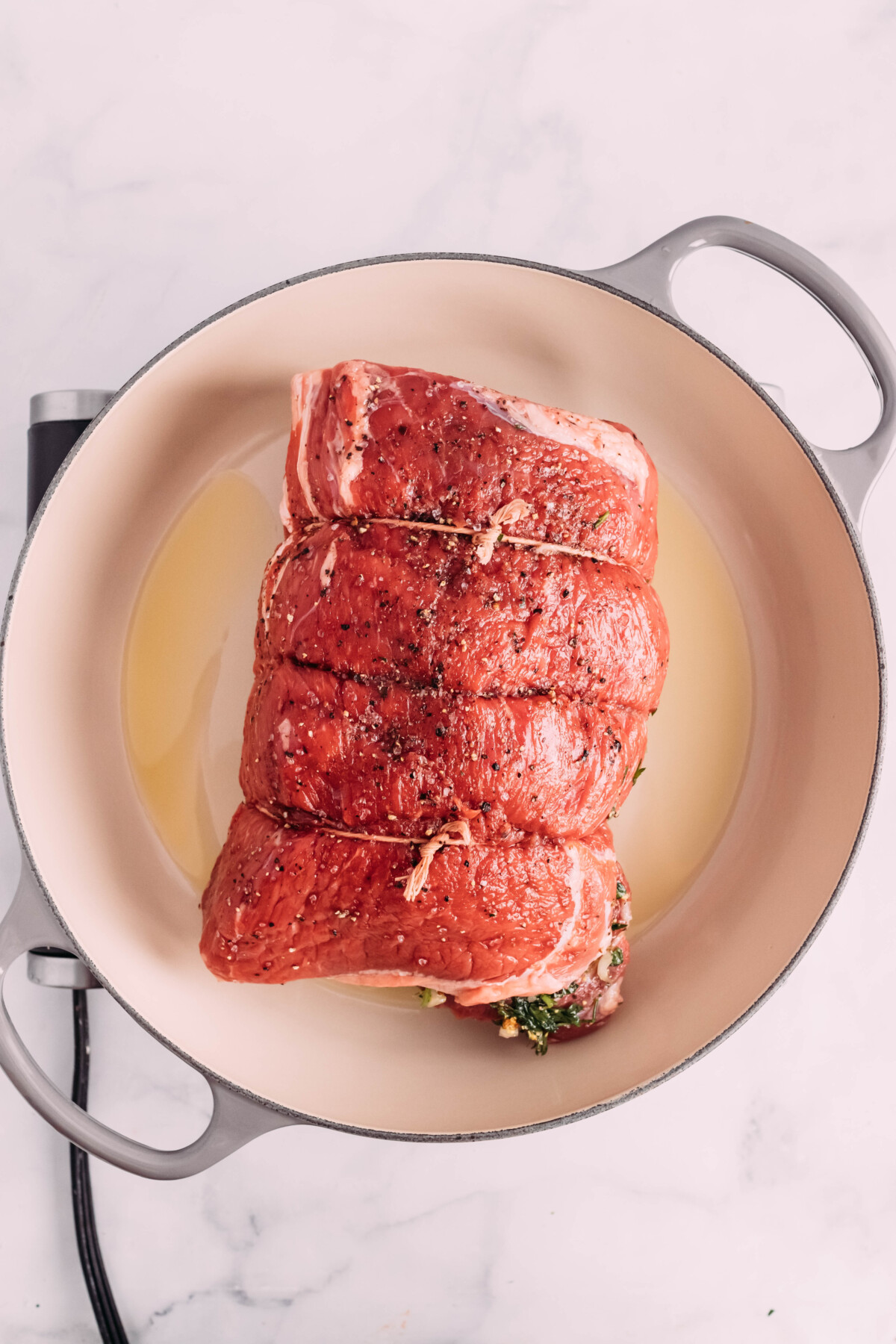 Once it's done cooking, transfer the beef to a cutting, spread a generous dollop of herb butter over the roast, cover with foil, and let it rest for 20 minutes before slicing and serving.
An optional step would be to deglaze the bottom of the pan while the roast rests with red wine. Over medium-low heat, using a wooden spoon to scrape up the stuck-on browned bits. Then adding a bit of homemade beef broth or stock and allowing the remaining liquid and pan drippings to simmer to a delicious au just to serve with this every tender and juicy slice of this top round roast recipe.
After you've mastered this amazing herb stuffed roast beef, give our stuffed pork belly porchetta a try!
Should you sear roast beef before cooking?
Yes! I definitely recommend searing the beef on all sides before cooking it in the oven. This locks in the moisture and creates that delicious crispy exterior.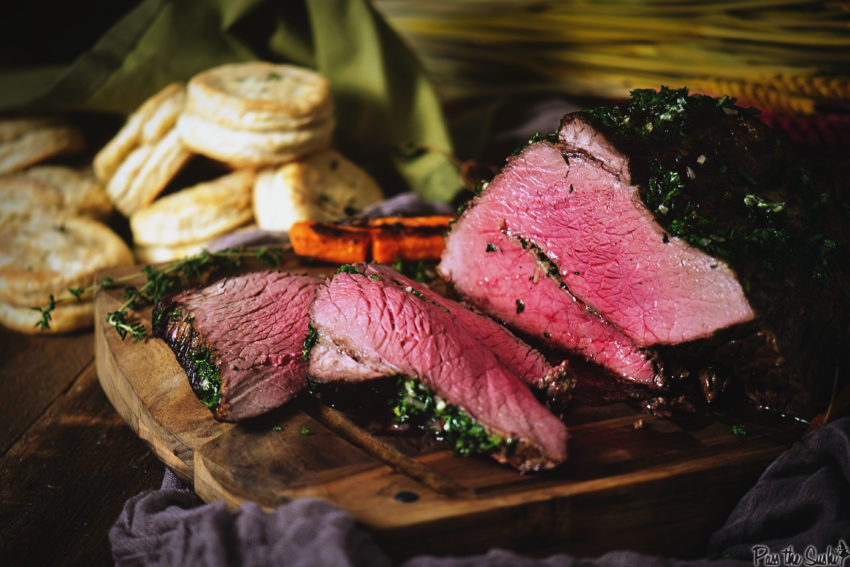 How do you tenderize a top round roast?
The key to a tender top round roast is to cook it low and slow. In this case, 1.5-2 hours at 275 degrees F . The slower cook time helps infuse flavor into the touch cut of meat while it becomes an ultra-tender perfect roast.
If you want to take an additional step to tenderize your top roast, try marinating it in buttermilk for 30 minutes to 2 hours. The acidity helps break down the meat so it's extra tender. I don't recommend going longer than 2 hours because you risk losing the texture and the meat might become too tender. (Yes, there is such a thing.)
Tips, tricks, and notes for this recipe
Let it rest before cooking. Make sure you let your meat rest for 4 hours in the fridge after you add the herb rub and before you cook it. This gives it time to soak in the flavor from the mustard and herbs and the moisture from the olive oil.
Let it rest after cooking. After the beef is done cooking, top it with the herb butter and let it sit for 20 minutes of resting time before slicing into it. This gives the juices and flavor a chance to redistribute throughout for a juicy piece of meat. If you cut into it too soon, the moisture will seep out.
Use other herbs. I use a combination of parsley, thyme, and minced shallot for the herb rub, but if you prefer other herbs, like rosemary, sage, basil, cilantro, etc., go for it! Use your favorite herbs for other flavorful combinations.
Check the internal temperature. I recommend using a meat thermometer to verify that the internal temperature of the meat is at least 130ºF, a perfect medium-rare roast, before serving it.
Don't overcook. After the beef is fully cooked, take it out of the oven right away to avoid overcooking it. Since top round roast is lean meat, it can dry out very quickly and where we respect everyone's desired internal temp, we recommend not cooking this past medium rare for a tender slice of meat.
What to serve with herb-rubbed top round roast beef?
Once the main dish is in the oven, you can use that time to whip up a couple of quick and easy sides! I love mashed chipotle cheddar potatoes, easy thyme-infused biscuits, BBQ glazed smoked brussels sprouts with bacon, or roasted root vegetables!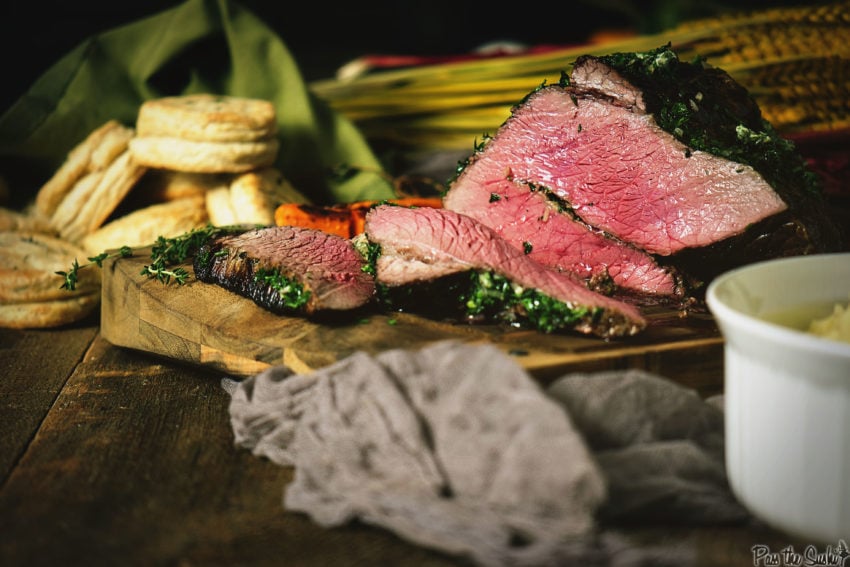 How to store
The cooked round roast will last in an airtight container in the fridge for 3-4 days or in the freezer for up to 3 months. To reheat, thaw in the fridge if frozen, then reheat wrapped in foil in the oven at 275ºF until warmed through.
Turn thin slices of leftover roast beef into sandwiches, French Dips with au jus, pit beef sandwiches, and more!
More roast beef recipes to try
If you've tried my Herb Rubbed Top Round Roast recipe, or any other recipe on GirlCarnivore.com please don't forget to rate the recipe and let me know where you found it in the comments below. I get inspired by your feedback and comments! You can also FOLLOW ME on Instagram @girlcarnivore as well as on Twitter and Facebook.
Herb Rubbed Top Round Roast Beef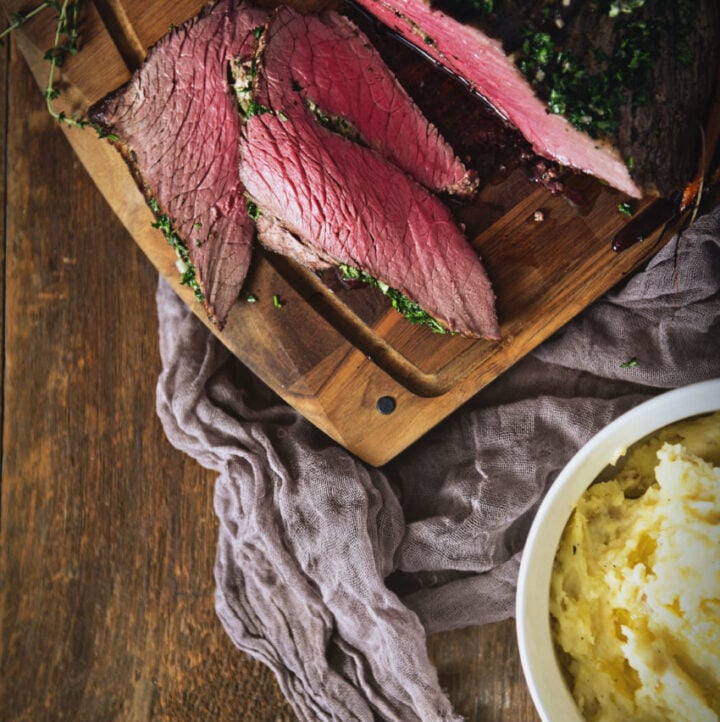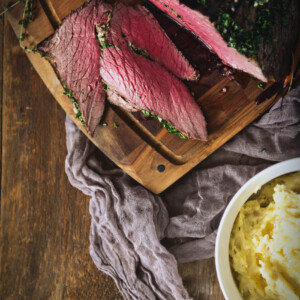 This is one of my favorite recipes. It's easy and so affordable and leaves everyone asking for seconds. I love using inexpensive cuts to showcase just how much flavor you can get out of your meat!
Ingredients
1/3

cup

fresh parsley

chopped fine

2

tbsp

minced fresh thyme

1

shallot

minced

1

tbsp

Dijon mustard

2

tbsp

olive oil

4

tbsp

unsalted butter

room temperature

1 4-5

lbs

top round roast

fat trimmed if needed

1

tbsp

salt

1

tbsp

pepper
Instructions
Mix the parsley, thyme, and shallot in a small bowl.

Remove 2 tbs of the herb mix to another bowl and set aside.

Add the mustard add 1 tbs of the oil to the remaining herb mix and stir to combine.

With the previously reserved herbs, mash in the butter with a fork to mix everything well.

Butterfly the roast by carefully cutting down the center of the roast, folding the cut end of the beef back, flattening, until you have cut almost entirely through. This allows for a better seasoning application throughout the beef.

While spread flat, season liberally with salt and pepper on all sides.

Using your fingers, spread the mustard mixture evenly over the interior of the meat.

Fold the meat back up and tie with kitchen twine.

Cover and allow the beef to rest in the fridge at least 4 hours.

When ready to cook, preheat the oven to 275 degrees F.

In a large oven-safe skillet, heat the remaining oil.

Sear the beef on all sides, until just browned, about 5 minutes per side.

Transfer to oven and allow to cook 1 1/2 to 2 hours, or until the meat temps at 125 degrees F.

Carefully transfer the beef to a cutting board to rest.

Spread a generous dollop of the herb butter over the roast and cover with foil.

Allow to rest for 20 minutes before slicing and serving.
Notes
From Cook's Country Sampler Magazine
Nutrition
Calories:
485
kcal
|
Carbohydrates:
1
g
|
Protein:
63
g
|
Fat:
23
g
|
Saturated Fat:
8
g
|
Cholesterol:
191
mg
|
Sodium:
1054
mg
|
Potassium:
1000
mg
|
Vitamin A:
390
IU
|
Vitamin C:
3.5
mg
|
Calcium:
62
mg
|
Iron:
6.1
mg