Want a perfect feast? This Herb Rubbed Top Round Roast Beef is the cheap cut with tons of flavor that will leave your guests totally impressed!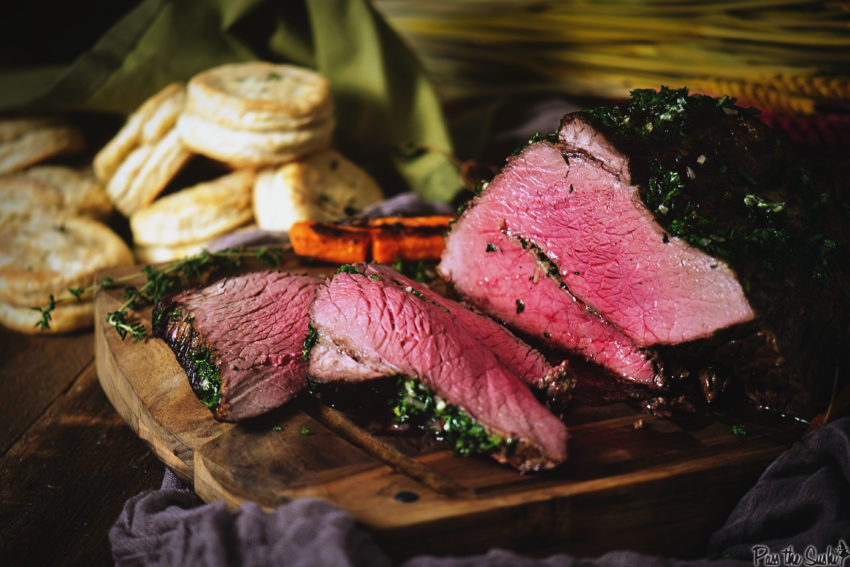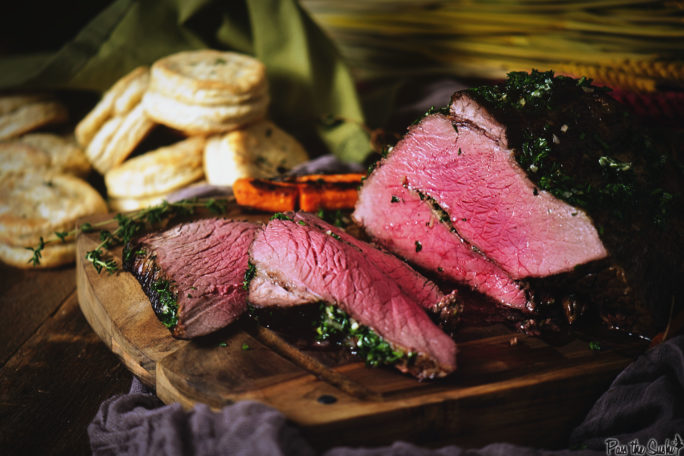 What is top round roast?
Ever wonder what the perfect cut for supper is when you are looking to feed a crowd but not break the bank? Wanting something that isn't just another roasted turkey.
Top round is a cut from the round section, meaning the top hind quarter. Think glutes, a worked but an essential part of the body. However, without a slow cook in the oven, this cut can become tough.
How to prevent a top round from being tough
Top round is already going to be more tender than bottom round roasts. But that only solves part of the problem. Because it is still a tougher cut than cuts off the ribs like filets. However, you can avoid overly chewy bits by slicing top round roast against the grain. Avoid making the cuts too thick. Top round is the cut favored for roast beef sliced for deli style sandwiches. So, thin slices are best, like a half inch or less.
More tips to keep your top round tender
So even if the leaner cuts do require a bit more love and tenderness, that doesn't mean they aren't worthy. In fact, a well cooked top round can rival even the best filet mignon in flavor, juiciness, and tenderness.
Salting your meat first is a good idea. That helps draw moisture into the meat. You can also marinate the meat too. Thirty minutes to two hours in some buttermilk is great. Don't go longer or you risk losing the texture and becoming too tender. (Yes, there is such a thing…)
But is top round roast tender?
Short answer, yes, when prepared correctly. Because top round is a muscle without much fat, there is minimal marbling to melt and create that perfect juice slice.
So, you have to cook it properly to give the beef time to become fork tender.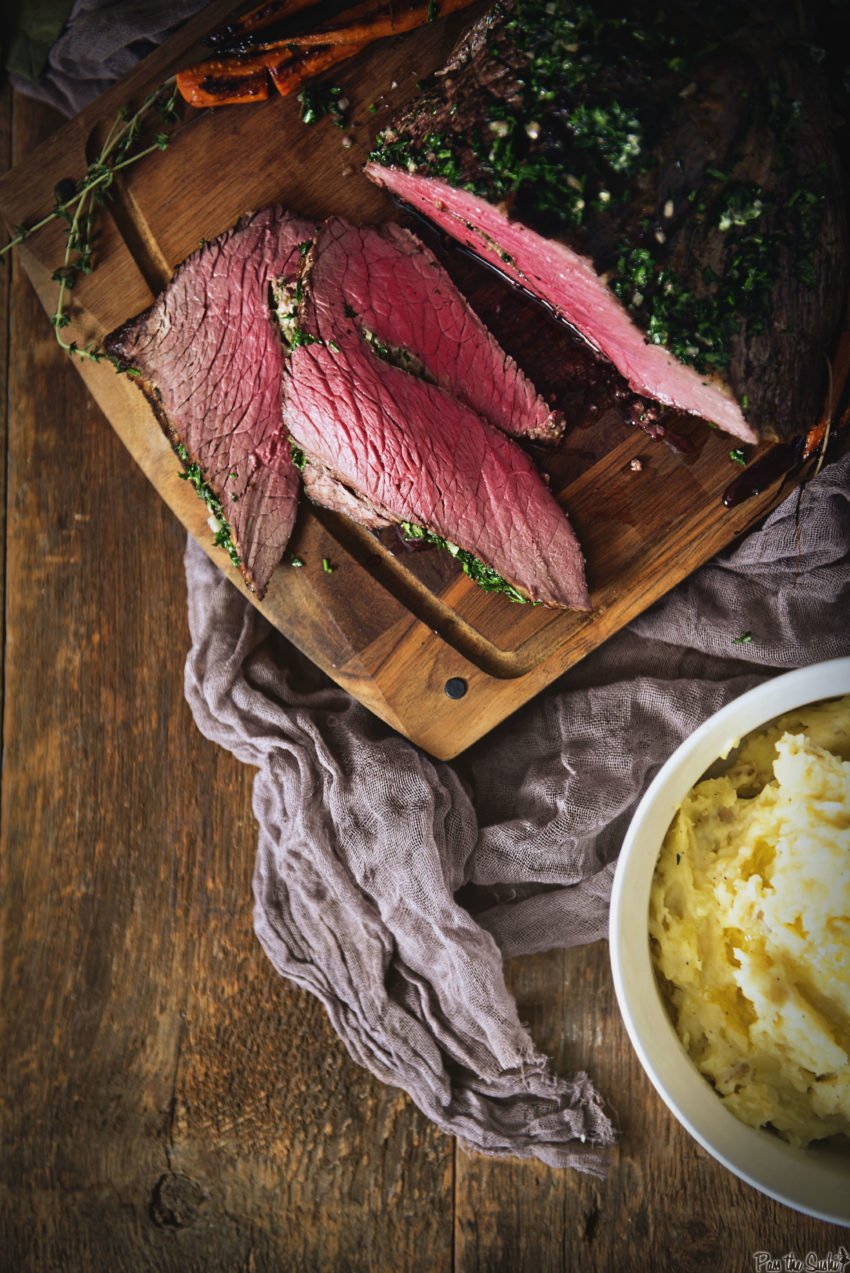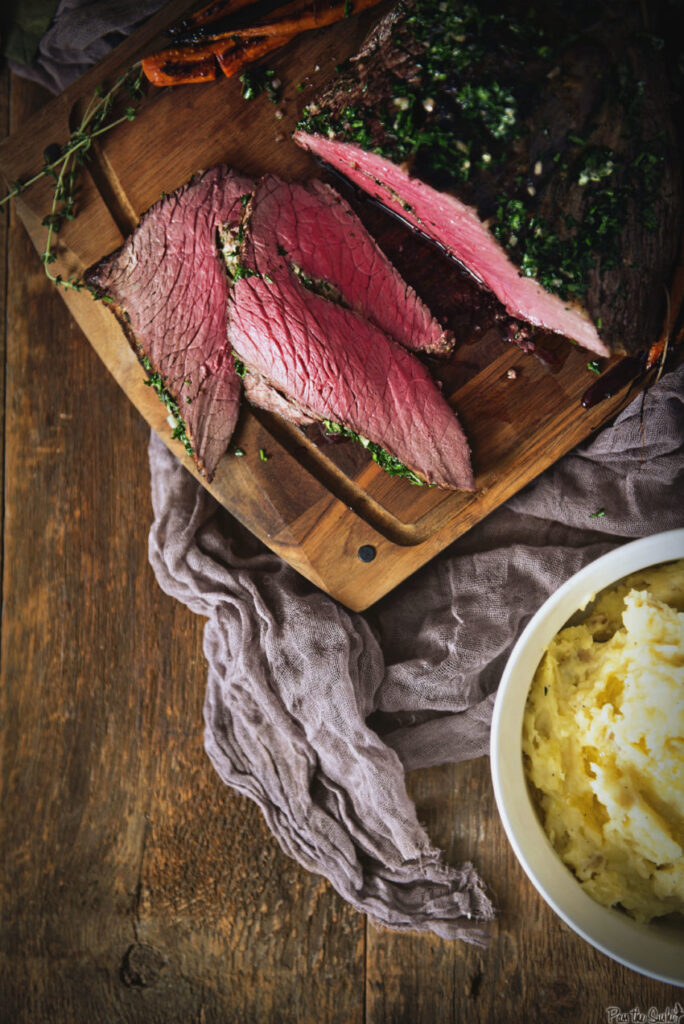 How to cook a top round roast?
All cuts from the round section are perfect for roasting and braising. The slow long cook methods help infuse flavor into the top round while the beef becomes tender.
Both braising and roasting allow the beef to cook at a gentle temperature to produce a tender bite. This recipe is a perfect example of oven roasting top round.
My pro tip? make sure to have a thermometer on hand to not overcook the beef. A beautiful medium-rare is what you are aiming for. Cook the top round roast between 135 and 140 degrees and allow a proper rest of at least 15 minutes before slicing to guarentee that tender, flavorful bite.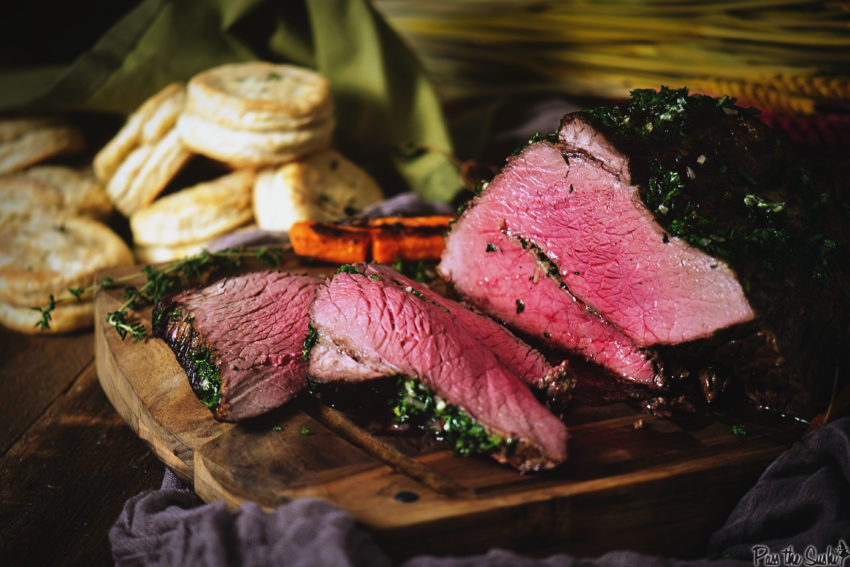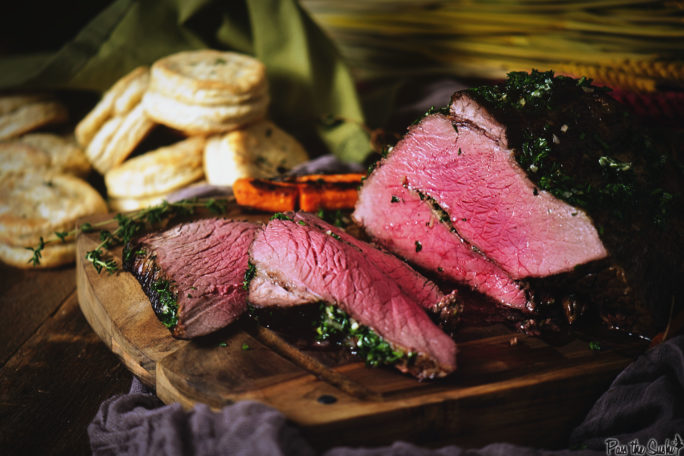 Grab an inexpensive one and a bunch of fresh herbs and let's get to making something that your dinner guests will rave about. (I am all about being savvy with my cash and getting the most bang for my buck when it comes to entertaining).

This roast recipe is hard to mess up, quick to prep, and is perfect all dressed up to entertain or shaved thin for sandwiches later.
What to serve with top round roasts
Now that you have the main dish all sorted out, check out these mashed chipotle cheddar potatoes and easy thyme infused biscuits to serve up alongside. Be a regular Martha Stewart with your bad self.

I find that with red meat, it really is simple. Not a lot of fuss or frills beforehand and you will serve the best slice of beef to eager and salivating guests. From start to finish, breeze through a big holiday meal like a boss, leaving plenty of time and energy for sipping wine and laughing the night away with friends.

Because at the end of the day, that's what it's all about.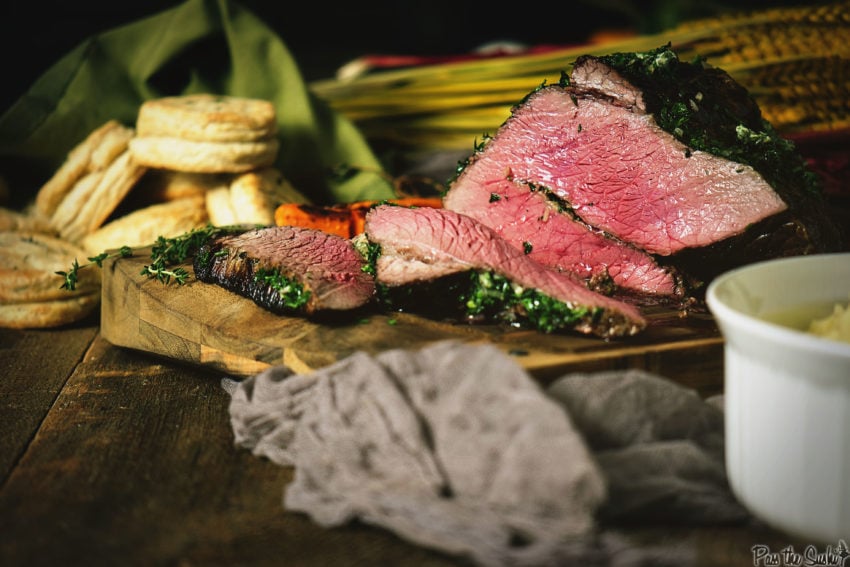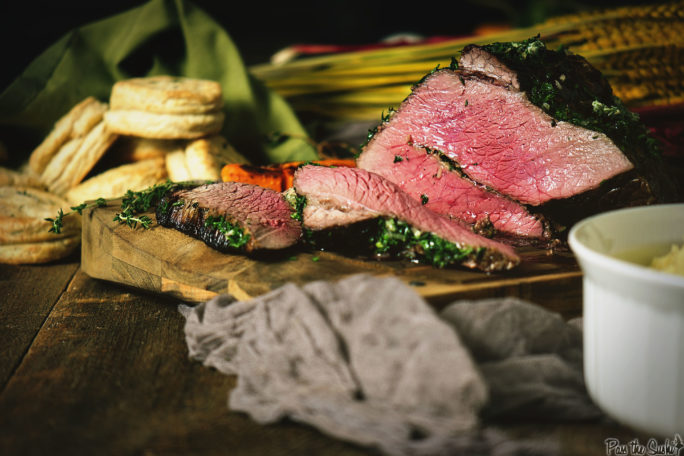 Want some big recipe Inspiration? Try my favorite recipes!
If you've tried my Herb Rubbed Top Round Roast recipe, or any other recipe on GirlCarnivore.com please don't forget to rate the recipe and let me know where you found it in the comments below. I get inspired by your feedback and comments! You can also FOLLOW ME on Instagram @girlcarnivore as well as on Twitter and Facebook.
Herb Rubbed Top Round Roast Beef
This is one of my favorite recipes. It's easy and so affordable and leaves everyone asking for seconds. I love using inexpensive cuts to showcase just how much flavor you can get out of your meat!
Ingredients
⅓

cup

fresh parsley

chopped fine

2

tbsp

minced fresh thyme

1

shallot

minced

1

tbsp

Dijon mustard

2

tbsp

olive oil

4

tbsp

unsalted butter

room temperature

1 4-5

lbs

top round roast

fat trimmed if needed

1

tbsp

salt

1

tbsp

pepper
Instructions
Mix the parsley, thyme, and shallot in a small bowl.

Remove 2 tbs of the herb mix to another bowl and set aside.

Add the mustard add 1 tbs of the oil to the remaining herb mix and stir to combine.

With the previously reserved herbs, mash in the butter with a fork to mix everything well.

Butterfly the roast by carefully cutting down the center of the roast, folding the cut end of the beef back, flattening, until you have cut almost entirely through. This allows for a better seasoning application throughout the beef.

While spread flat, season liberally with salt and pepper on all sides.

Using your fingers, spread the mustard mixture evenly over the interior of the meat.

Fold the meat back up and tie with kitchen twine.

Cover and allow the beef to rest in the fridge at least 4 hours.

When ready to cook, preheat the oven to 275 degrees F.

In a large oven-safe skillet, heat the remaining oil.

Sear the beef on all sides, until just browned, about 5 minutes per side.

Transfer to oven and allow to cook 1 ½ to 2 hours, or until the meat temps at 125 degrees F.

Carefully transfer the beef to a cutting board to rest.

Spread a generous dollop of the herb butter over the roast and cover with foil.

Allow to rest for 20 minutes before slicing and serving.
Notes
From Cook's Country Sampler Magazine
Nutrition
Nutrition Facts
Herb Rubbed Top Round Roast Beef
Amount Per Serving
Calories 485
Calories from Fat 207
% Daily Value*
Fat 23g35%
Cholesterol 191mg64%
Sodium 1054mg46%
Potassium 1000mg29%
Carbohydrates 1g0%
Protein 63g126%
Vitamin A 390IU8%
Vitamin C 3.5mg4%
Calcium 62mg6%
Iron 6.1mg34%
* Percent Daily Values are based on a 2000 calorie diet.