Chicken gnocchi soup with kale is for these lingering chilly days, when chicken soup sounds pretty darned good 🍲. For this one, I kicked the noodles out back for gnocchi and dressed it up with some fresh kale. Good for you and tasty? Yes.
In the parlance of a day trader closing a sale before the bell rings, that's a win-win.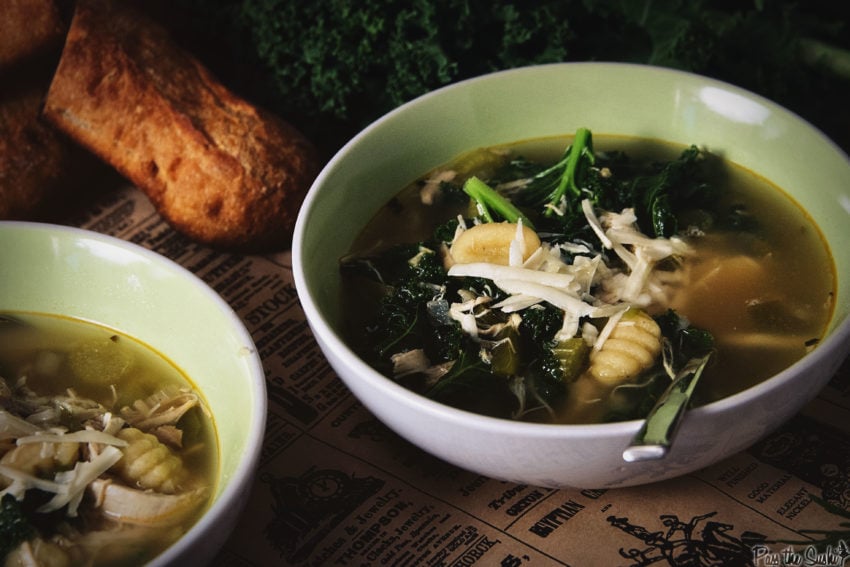 Winning big with chicken, gnocchi, and kale soup
I can tell you how many times I have come running to the table because of soup. Like…. zero. Soup. It's all fodder up there with free breadsticks before you get the real meat and potatoes of the bit. But, what if you can zest up a bowl of boring chicken soup…
Like, infuse some deep flavors and add a hint of kick. Suddenly the whole chicken soup idea doesn't sound so bad. Actually, for these lingering chilly days, it sounds pretty darned good.
Is gnocchi pasta or dumpling?
For this one, I kicked the noodles out back for a hearty gnocchi instead and dressed up the health aspect with some fresh kale. Good for you and tasty? This Chicken, Gnocchi and Kale soup is that.
Now that's Mmm mmm delicious.
But perhaps there is some confusion. Because what is gnocchi anyway? In some respects, it is like pasta, but others it sits on the dumpling side of life. So which is it?
If you want to get technical about it, then gnocchi is more dumpling than pasta. But that doesn't prevent it from being sold by the pasta.
Of course, I could have said "chicken and dumpling soup" but, one, chicken gnocchi and kale soup just sounds more interesting. And two, gnocchi are a lot smaller than typical dumplings.
How is gnocchi different from pasta?
Although both pasta and gnocchi contain durum wheat flour, gnocchi also contains potato. In practical terms, this means that gnocchi cooks much faster than pasta.
This is important to remember if you don't want your gnocchi to fall apart when you boil it.
Light meat or dark for chicken soups?
With any chicken soup, there is always a crossroads where a decision must be made. This is serious business. Light meat or dark? Sure, the light and white meat of the breast works. But it is also less tasty and more prone to becoming stringy.
At least with dark meat, you get more flavor and while the fibers are typically longer, the bite stays more pleasant regardless. Of course, if you are dieting, then stick with the breast meat, but otherwise try using some of the dark meat from the thighs.
(By the way, if you like a rich soup, then you might want to check out my bone marrow French onion soup.)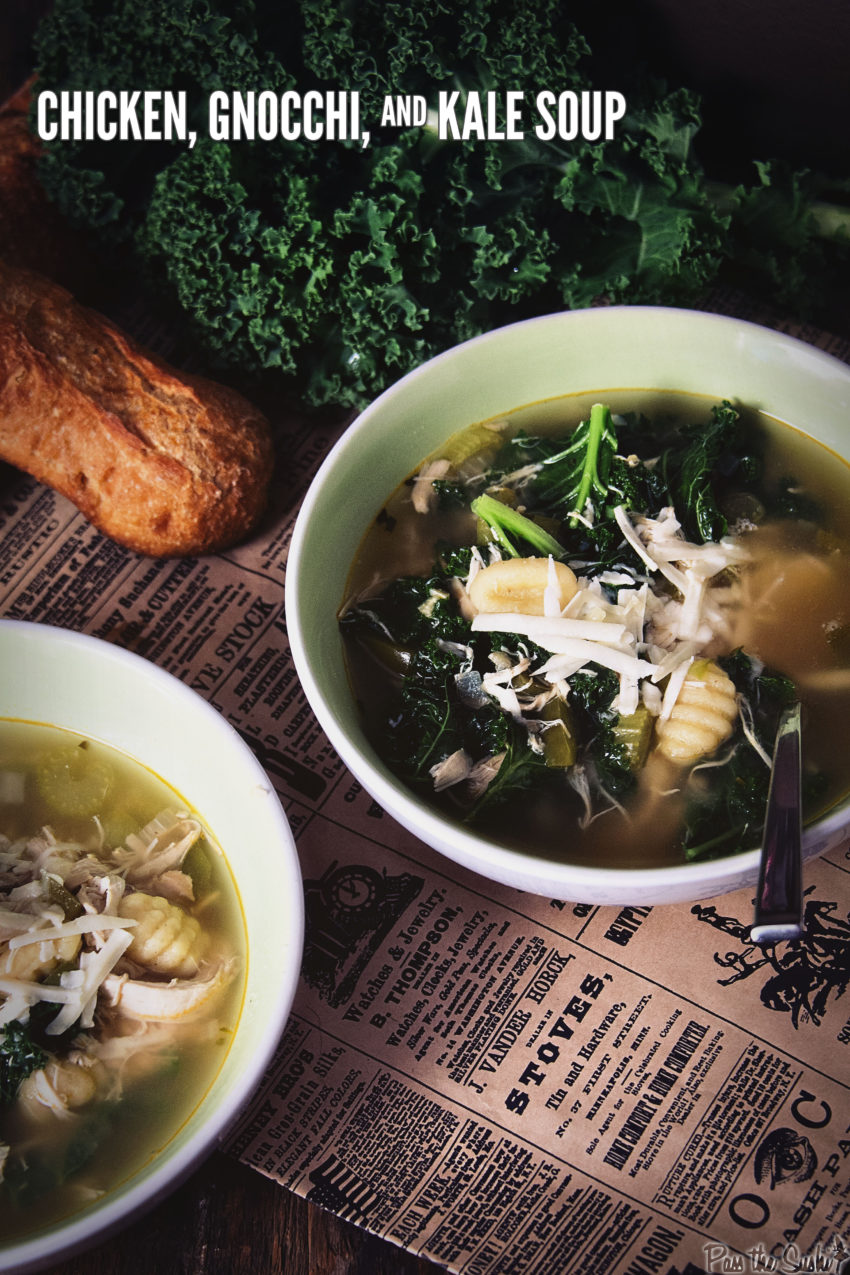 Want more comforting soup ideas? Try some of my favorite recipes
If you've tried this Chicken, Gnocchi and Kale Soup, please rate the recipe and let me know where you found it in the comments below.
I get inspired by your feedback and comments! You can also join in on the adventures on Instagram @girlcarnivore, Twitter & Facebook.
Chicken, Gnocchi and Kale Soup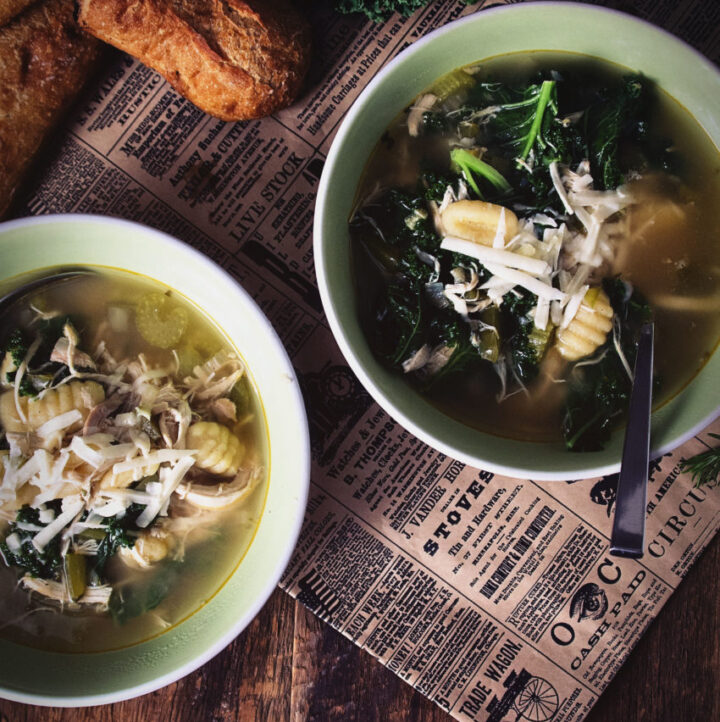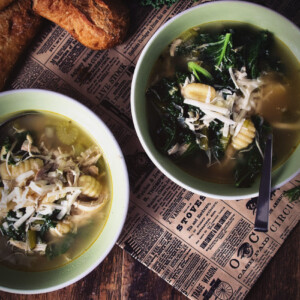 Chicken gnocchi and kale soup is a very hearty chicken soup chock full of gnocchi – nice little dumplings – and kale is something we all need to eat more of.
Ingredients
2

tbs

olive oil

1

onion

diced

2

celery stalks

diced

1/2

green pepper

diced

3

garlic cloves

3 or 4 to taste, minced

1

tbs

tomato paste

1

red pepper flakes

1/2

rosemary

5

cups

low-sodium chicken broth

salt and pepper

2

cups

chicken

cooked and chopped

gnocchi

1

kale

one bunch, stems removed and chopped

Parmesan cheese

for garnish
Instructions
In a large Dutch oven, saute the onions, celery and pepper in the olive oil until soft, 5 to 7 minutes. .

Stir in the garlic, tomato paste, red pepper flakes and rosemary. Cook for 1 minute

Add the broth and season with salt and pepper.

Add the chopped chicken and bring to a boil. Reduce heat and simmer for 20 minutes.

Stir in the gnocchi and return to a boil 3 to 5 minutes, until the gnocchi is tender.

Reduce heat to low and stir in the kale to wilt.

Ladle into bowls and serve with fresh Parmesan cheese on top.
Nutrition
Serving:
2
cups
|
Calories:
132
kcal
|
Carbohydrates:
6
g
|
Protein:
8
g
|
Fat:
9
g
|
Saturated Fat:
2
g
|
Polyunsaturated Fat:
1
g
|
Monounsaturated Fat:
5
g
|
Trans Fat:
0.02
g
|
Cholesterol:
14
mg
|
Sodium:
114
mg
|
Potassium:
318
mg
|
Fiber:
1
g
|
Sugar:
2
g
|
Vitamin A:
1070
IU
|
Vitamin C:
20
mg
|
Calcium:
53
mg
|
Iron:
1
mg