These lamb meatballs are super simple, versatile, and go well on their own with pita or folded into an orzo or zucchini pasta salad. Seasoned with a simple rosemary dijon blend, lots of lemon, and a few other ingredients, the possibilities are up to you, poppable little bites of flavor are just a few steps away.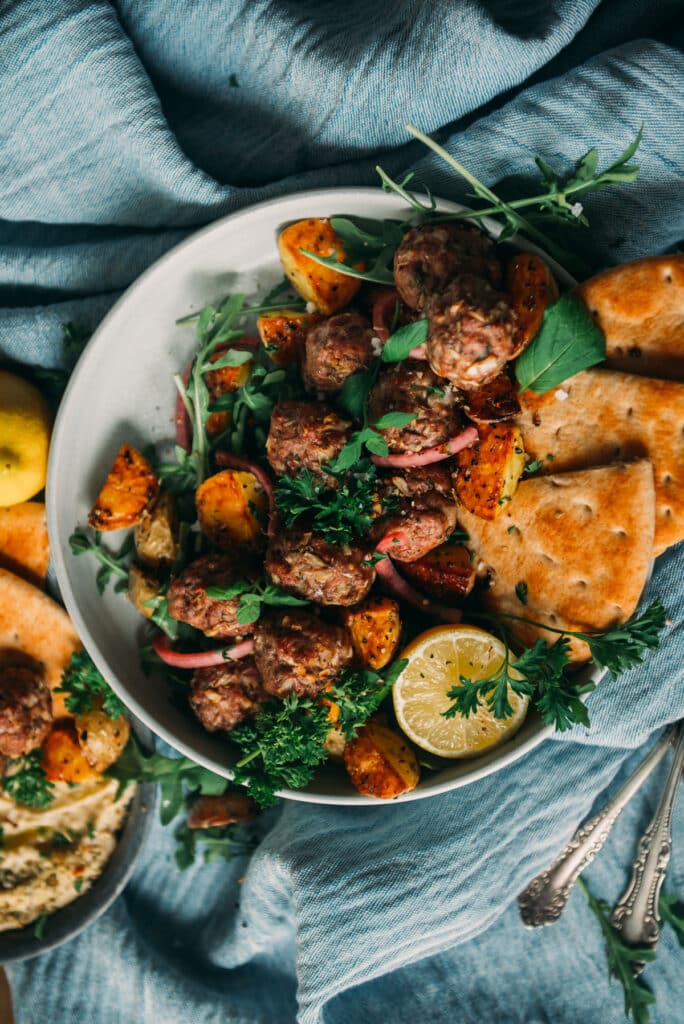 When it comes to easy meals, the meatball is my go-to. I can make them ahead of time and cook them as needed for quick meals. For this one, I wanted to play with the rosemary dijon blend from Spiceology.
Rosemary-dijon is a classic marriage of flavors with the earthy fragrant rosemary and the peppery vinegar of the dijon blending as a base for everything from prime rib to rack of lamb. It's an iconic French culinary duet.
Then there's the inspiration from other European regions, like Greece or Medetarianian with fresh citrus for these lamb meatballs to keep the flavors light and bright without anything feeling heavy.
But, could this regional dynamic duo also work on something as light and easy as the humble ground lamb?
It just so happens, yes. And with just a few simple ingredients, these lamb meatballs will show you the classics hold up to the test of time.
What you need for lamb meatballs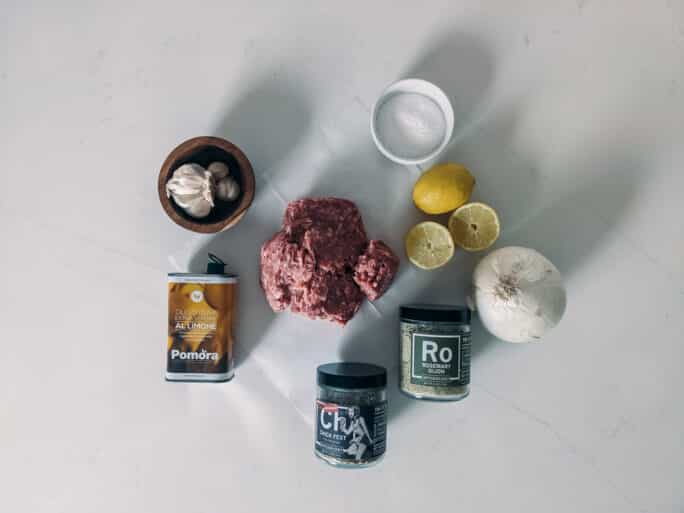 This recipe is a powerhouse of classic flavors, with ground lamb as the base, it's just a few other ingredients to make them pop. Lemon-infused oil, lemons, minced onion and garlic, salt, pepper, and my GirlCarnivore Chick Magnet along with Spiceology's Rosemary Dijon blend are all you need.
Alternatively, you could use Dijon mustard and fresh rosemary in lieu of the spice blend, but this was easier.
GirlCarnivore Pro Tip: Ground lamb is a great way to introduce people to lamb. It picks up the flavors it's accompanied with and doesn't overpower with the distinct lamb flavor people often associate with as 'gamey'. I go into that more here.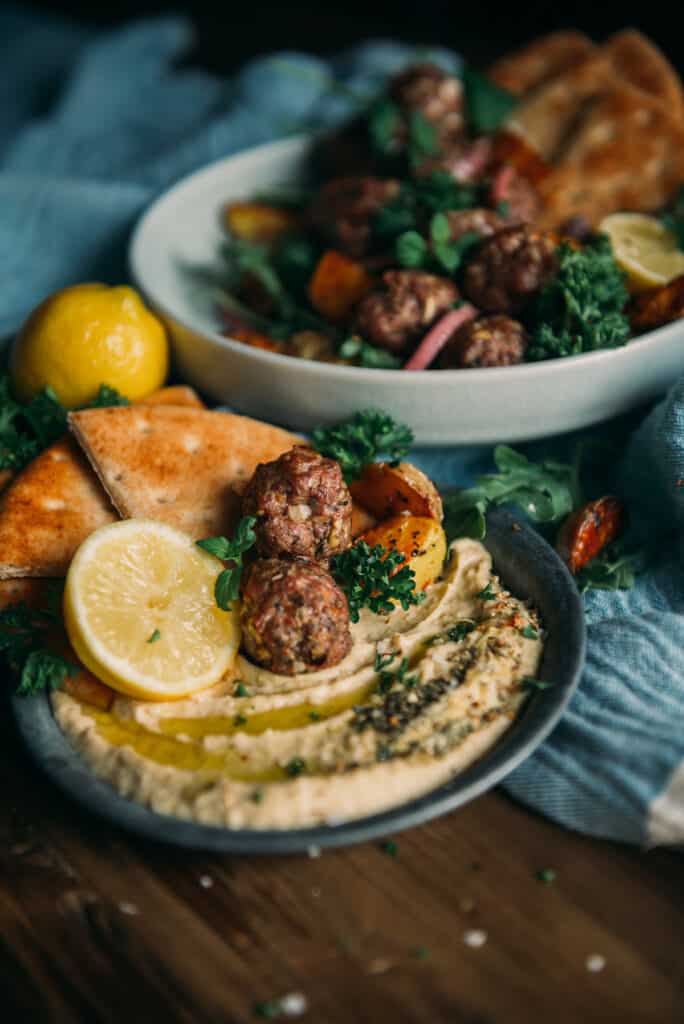 With the earthiness from the rosemary, the tangy from the dijon, lemon is an easy pairing to brighten the dish with a splash of citrus.
These meatballs are a well-balanced combination of salty, sweet, sour, and savory. Chick Fest brings a little more citrus and vinegar to the recipe rounding out the ground lamb in a mild way.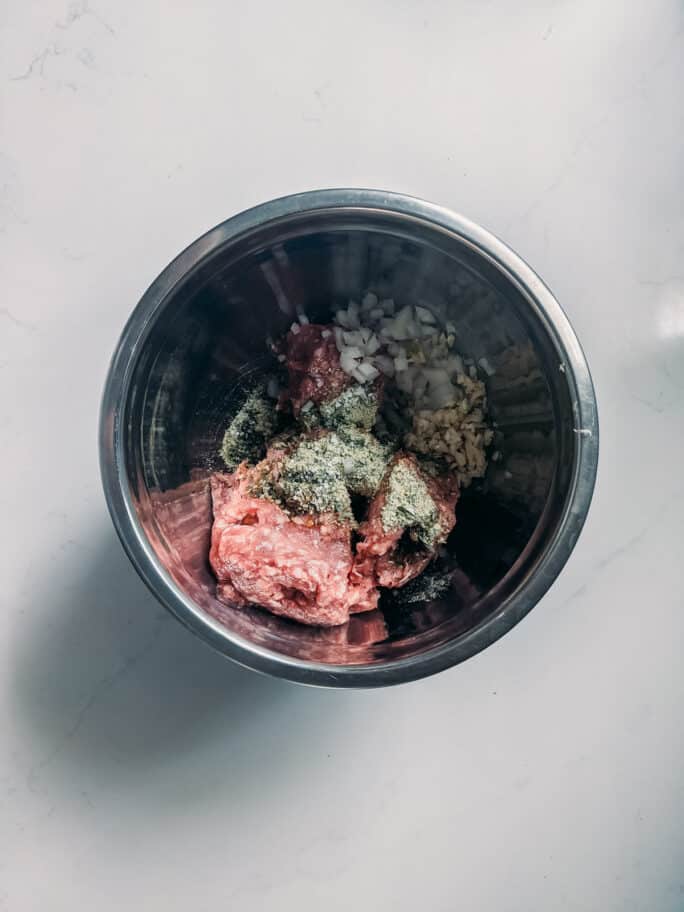 How to make rosemary dijon lamb meatballs
These are one of the easiest things to make. And often the most overthought. Let's move away from dense little golf balls and towards the light, airy, and savory bites.
Simply toss all of the ingredients in a bowl and mix with your hands. Form into even balls, pinching and rolling the meat gently between your palms. Work quickly so the fat doesn't become too warm while sitting out, this makes it stickier and harder to work with.
From there, cooking them is all that you need to do, which can be done by baking them in the oven (as shown in the recipe below) or pan-fried in a skillet. Just make sure the ground lamb is cooked to 160° F according to the USDA, which for 1″ balls only takes 15 to 20 minutes. At 160° the meatballs will not be pink inside.
The key to evenly cooked meatballs is making sure they are all the same size and weight. If you want use a small cookie scoop or kitchen scale to make sure all the are even.
For this recipe, I prefer to bake the meatballs, instead of my normal pan fry method. This allows any excess fat to drain out, leaving each one cooked through without feeling soggy.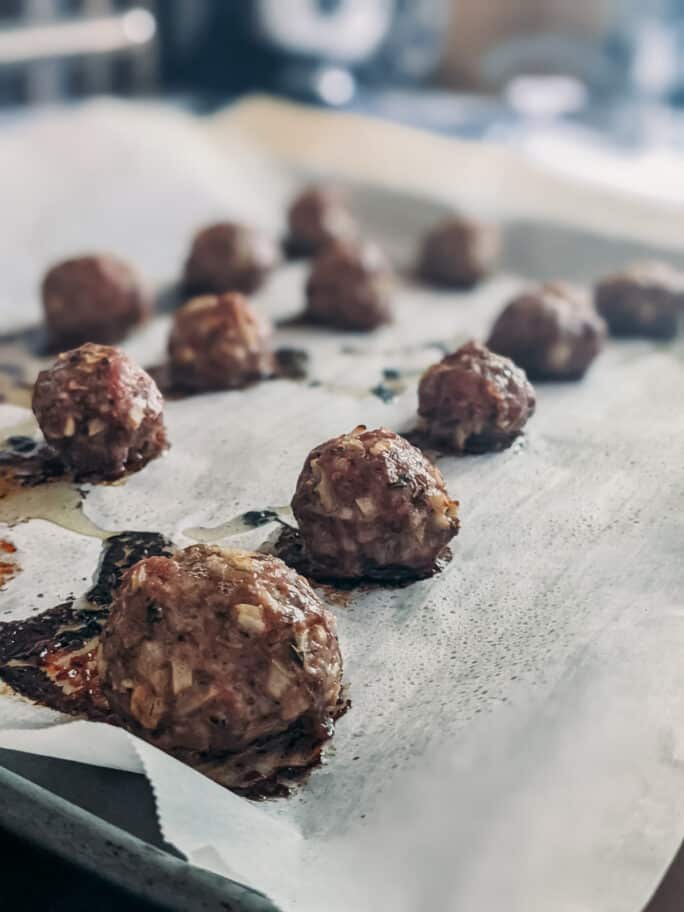 Meatballs without eggs or bread crumbs.
Just to keep things a little more on the healthy side, I try to minimize what goes into my recipe mix. However, you can always work with a leaner mix of 90% or 95% to really lean things out.
If your ground lamb is too lean, you may want to toss an egg in to moisten the whole batch, but I find with a good 85% lean, 15% fat content, ground lamb often doesn't need the egg.
Traditional meatballs often have breadcrumbs or crumbled bread but I omit this to keep these as keto-friendly as possible as well as avoiding any complex carb-heavy pairings. Which is another benefit of this recipe, they are easy to pair with, well everything….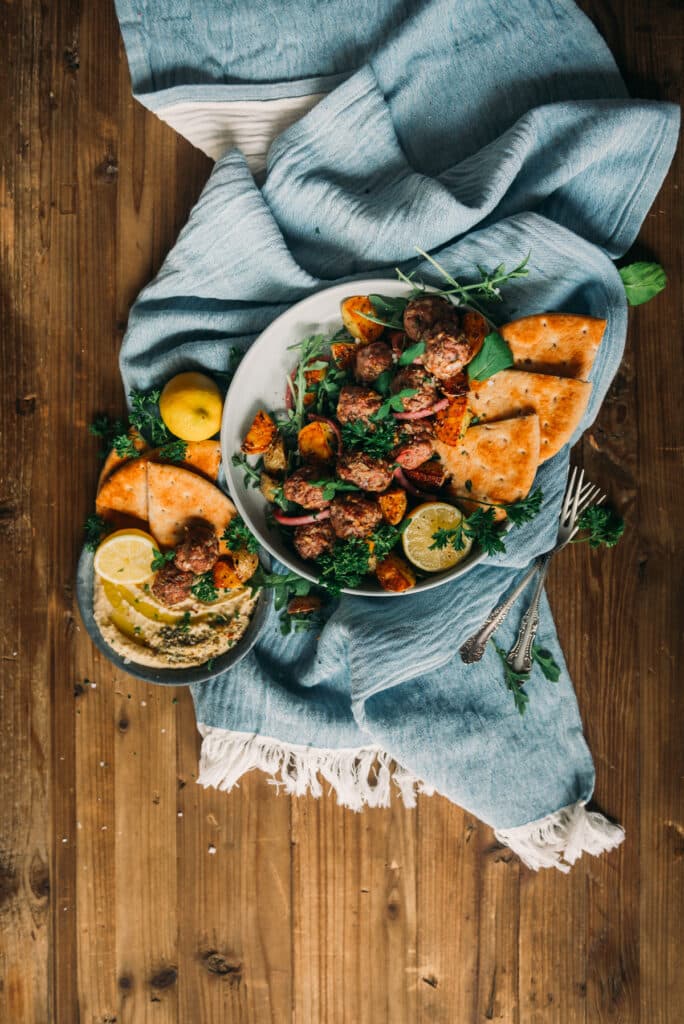 Freezing Lamb Meatballs
Another tip for this recipe is to make in big batches and so you can freeze ahead of time to make future meals a breeze.
To do this, I make mine ahead of time from start to finish and par freeze them on a baking rack after they have cooled before storing them in a resealable ziplock bag with the air removed for up to 2 months.
This way you can reheat from frozen without any safety concerns.
To cook the lamb meatballs from frozen, you simply pre-heat the oven to 350, place as many as you want on a parchment-lined baking sheet, and bake until heated through about 15 minutes. I will often brush with fresh pesto, oil, or chimichurri if reheating this way to add a little extra moisture back to the frozen lamb.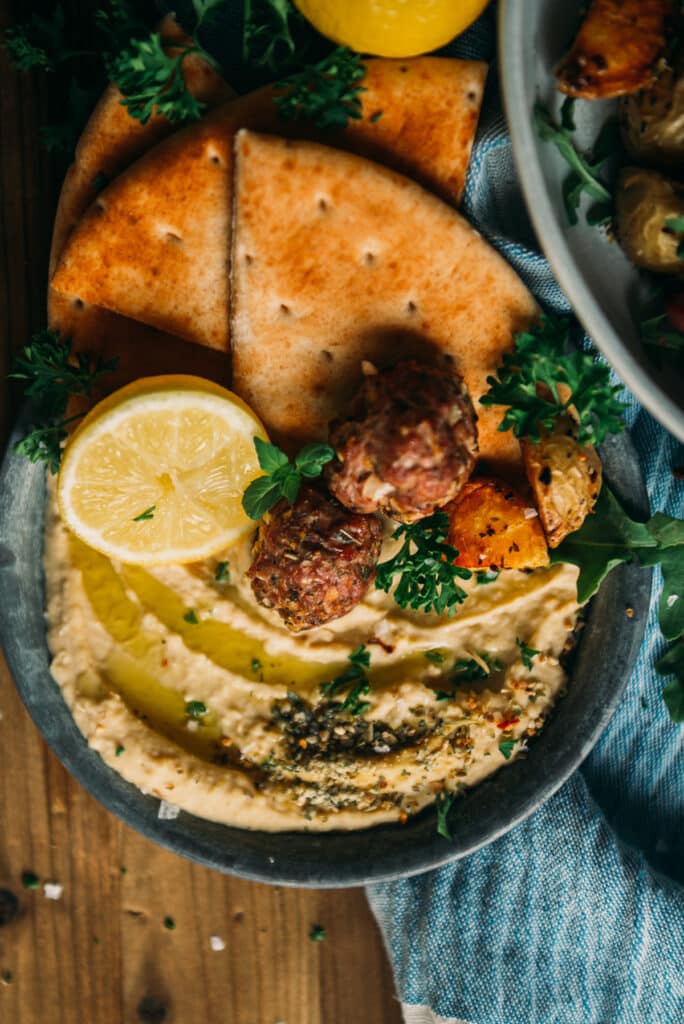 What to serve with this recipe
These rosemary-dijon lamb meatballs are a perfect make-ahead recipe. You can pair them with
zucchini noodles tossed in a light pesto
over fresh orzo with a tomato salad
over traditional pasta with pan sauteed peppers and onions
in a pita pocket as a sandwich with tzatziki and tahini drizzle
and as a personal favorite, over light dressed arugula with a fried egg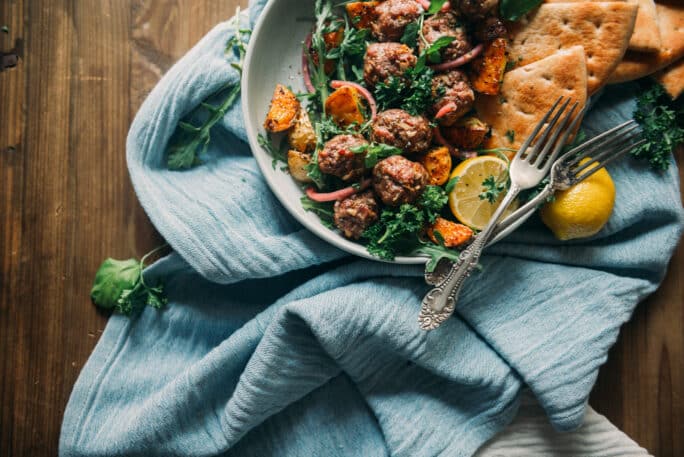 Want more tasty bite-sized inspiration? Try some of my favorite recipes
If you've tried my rosemary-dijon lamb meatballs recipe or any other recipe on GirlCarnivore.com please don't forget to rate the recipe and let me know where you found it in the comments below. I get inspired by your feedback and comments!
You can also FOLLOW ME and show off what you're cooking on Instagram @girlcarnivore as well as on Twitter and Facebook.
Rosemary Dijon Lamb Meatballs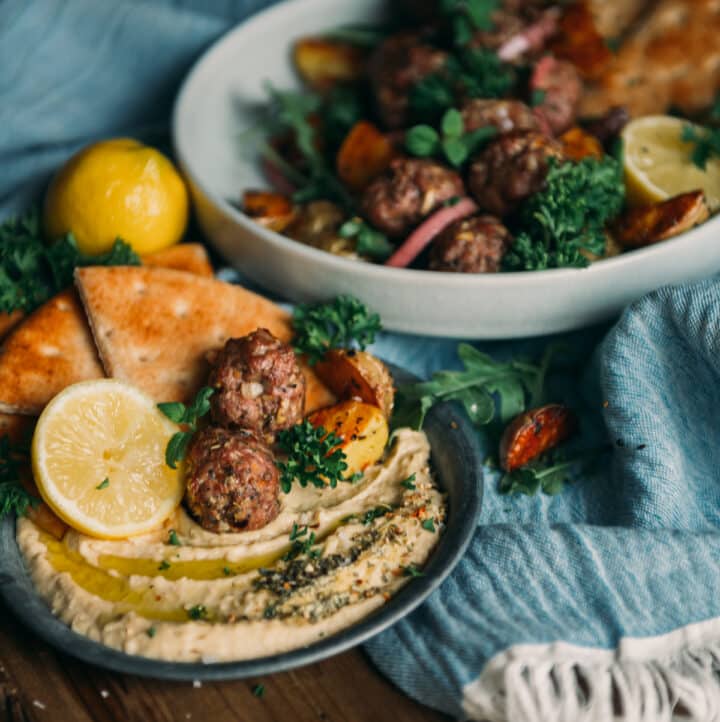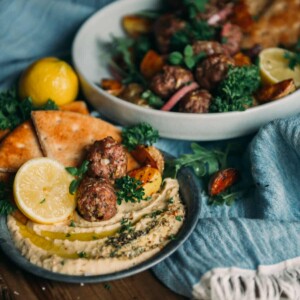 These little lamb meatballs are light and airy while bursting with bright flavors from lemon to subtle earthy rosemary-dijon base. They are a perfect make-ahead recipe for keeping meals easy and pair with a variety of options from orzo to zucchini noodles.
Ingredients
3

garlic cloves

minced

1/4

white onion

minced

1

lbs

ground lamb

1

tbsp

rosemary-dijon spice blend

1

lemon

1

tsp

lemon-infused olive oil

see note*

salt & pepper
Instructions
Prep the Meatballs
Place the minced garlic and onion in a bowl.

Add the ground lamb, rosemary-dijon spice blend, Chick Fest spice blend, 1 tspn juice from the lemon and 1 tspn lemon zest. Lastly, add the oil.

Season with salt and pepper, if desired.

Mix with your hands until everything is evenly distributed.

Using a small 1″ cookie scoop, or your hands, portion the lamb out into even meatballs.

Place in the fridge for 30 minutes before baking.
Bake the meatballs
Preheat the oven to 350 degrees F.

Line a baking sheet with parchment paper.

Arrange the meatballs evenly over the sheet, with 1″ between each meatball.

Bake for 15 to 20 minutes, until the meatballs have cooked to 160° F internally.

Remove from the oven and let rest for 3 to 5 minutes before serving.
Serve
Serve the meatballs as desired. See my notes in the post above about what to pair them with.

For this recipe, I paired these meatballs with roasted golden potatoes, tossed arugula, lemon hummas and pickled red onions.
Notes
Makes about 16 meatballs.
Pro tip! You can grate the onion using a cheese grated for even finer mince.
Substitute 1 tsp dijon and freshly minced rosemary if you do not have the spice blend
Regular olive oil works as a substitute for lemon-infused oil. Alternatively, any herb-infused oil would be a great addition to this recipe such as rosemary or basil-infused oil.
These meatballs are perfect to make ahead and freeze to reheat later.
Once cooked, store in an airtight resealable bag in the freezer for up to two months or in the fridge for up to 3 days.
To reheat leftovers from the fridge, microwave in 30-second blasts until heated through or in an oven preheated to 325. for 10 to 15 minutes.
This recipe is shown with pita, if you are practicing keto or any other diet, consult your list of can and can't have and carb counts when choosing what to pair these lamb meatballs with.
Nutrition
Serving:
4
g
|
Calories:
356
kcal
|
Carbohydrates:
9
g
|
Protein:
20
g
|
Fat:
27
g
|
Saturated Fat:
12
g
|
Polyunsaturated Fat:
2
g
|
Monounsaturated Fat:
11
g
|
Cholesterol:
83
mg
|
Sodium:
70
mg
|
Potassium:
401
mg
|
Fiber:
4
g
|
Sugar:
1
g
|
Vitamin A:
132
IU
|
Vitamin C:
16
mg
|
Calcium:
149
mg
|
Iron:
5
mg