Rosemary smoked meatballs, now we're talking hearty – like the lion in Wizard of Oz after he gets his roar back. This girl ain't going hungry. I work hard and play hard. Then I come home and hand-make all of my food. I am damn well going to enjoy it.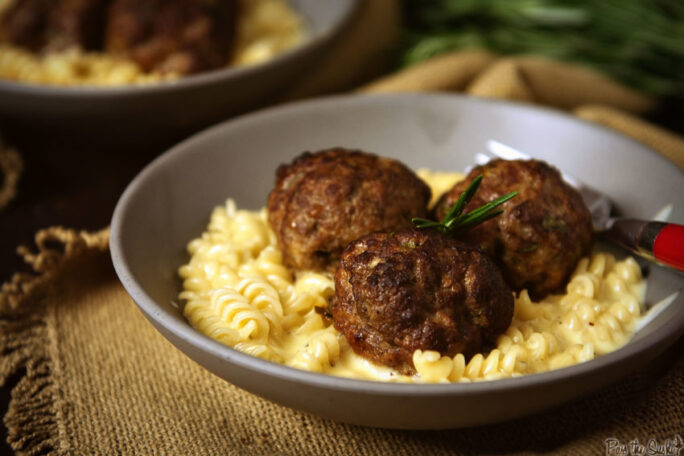 Now that's a savory rosemary smoked meatballs!
There's a lot of talk on the world wide webs lately for portion sizes. Smaller, healthier plates, tiny portions, get skinny tricks and fast track plans to your resolutions. Welp, this Girl Carnivore isn't buying it. I am not saying that anything more than one cheeseburger should be considered a single serving. But a few rosemary smoked meatballs? Now that's a meal!
Because like I said… This girl ain't going hungry.
I work hard and play hard. Then I come home and hand-make all of my food. I am damn well going to enjoy it. No, this is not a skinny meal.
And no, every meal from the GC kitchen isn't slathered in a rosemary cheese sauce or piled high with smoked meatballs. I do practice moderation from time to time (a personal resolution of mine is even to mix up our meals a bit more in this house).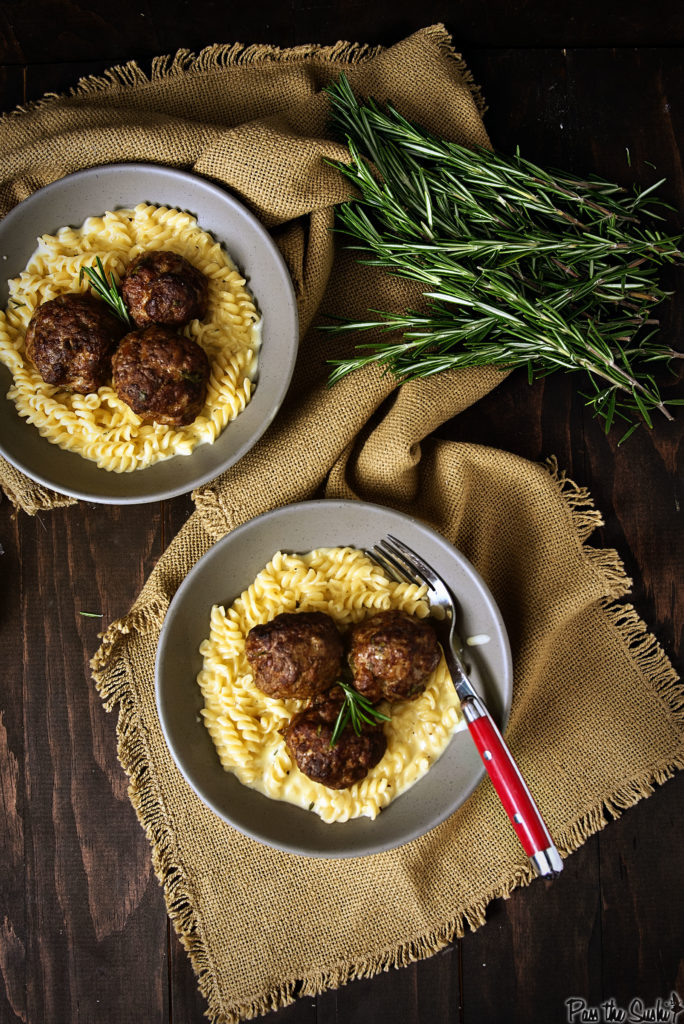 But I won't be guilted into the foodie fitness fad. I don't eat that way, and I don't think a lot of you do either.
Yes, we should all use common sense about what we eat. Veggies and fruit are important. Nothing I write here is going to drive that further home.
Not binging on carbs all day every day and wondering why those slim fast shakes aren't working is just silly. A healthy amount of exercise, heck on some days, any exercise, it's all important for the balance of things.
Great meatball recipes
The heart and soul of great meatballs typically is not based on one type of meat. No, to really get the most out of your meatballs, a mix of meats works best. That is why I favor the mix of Italian sausage and ground beef.
Truth be told, you could mix other types of meats if you want, even chicken and pork for example. But if you really want a big savory and hearty meatball, go with the beef and savory and a bit spicy Italian sausage.
Work hard, play harder for meals like smoked rosemary meatballs
But tonight after the blood sweat and tears I put out today (lies, it was cold, I stayed inside wrapped in comfy sweaters and avoided the icy roads even though I really wanted to go to the rock gym), these smoked rosemary meatballs are pretty important. And the pile of creamy mac and cheese they are piled atop of.
If you've earned it, chow down and enjoy.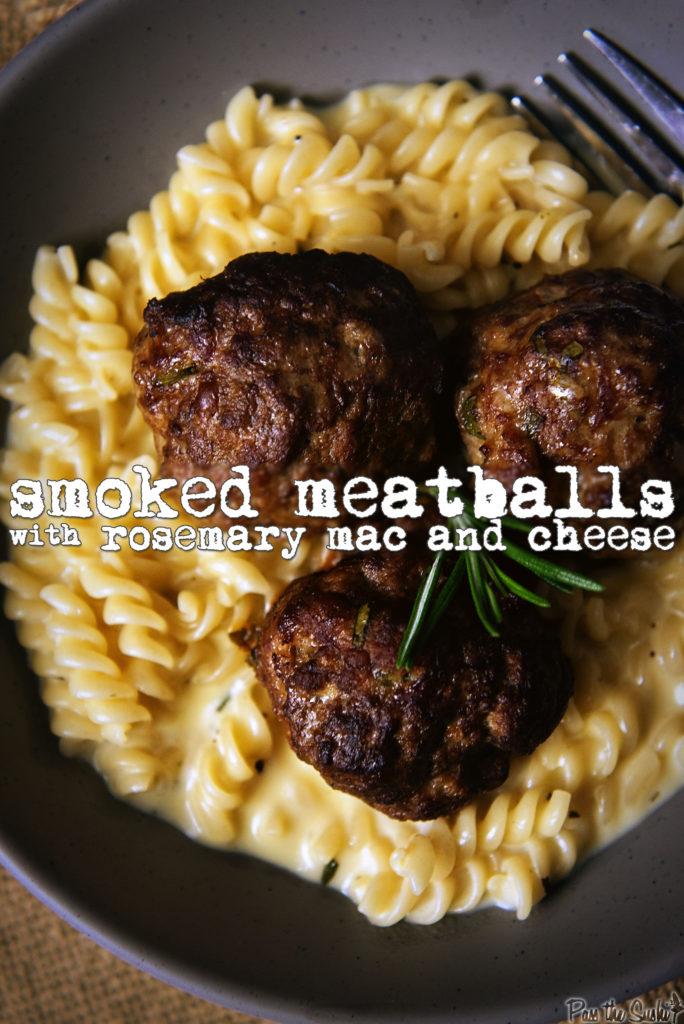 Mac and Cheese doesn't need to come out of a box. And it can be served with something other than cut up hot dogs (not that I am against that). Check these out and be inspired to ditch the blue box!
If you've tried my Smoked Meatballs with Rosemary Mac and Cheese Recipe or any other recipe on GirlCarnivore.com please don't forget to rate the recipe and let me know where you found it in the comments below. I get inspired by your feedback and comments! You can also FOLLOW ME on Instagram @girlcarnivore as well as on Twitter and Facebook.
Rosemary-Smoked Meatballs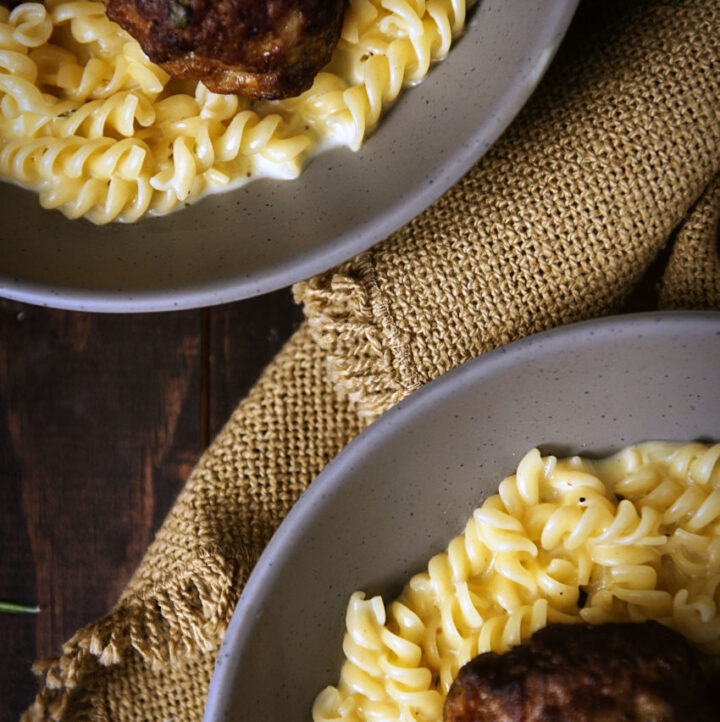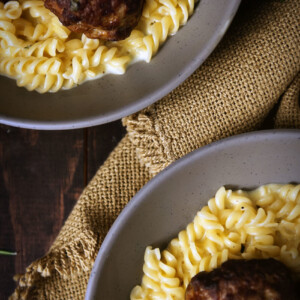 Rosemary smoked meatballs pack serious savory and smoky flavors into a very bold flavored meatball, also enhanced by using spiced Italian sausage
Ingredients
8

rosemary

fresh sprigs

1

egg

lightly beaten

1/2

cup

bread crumbs

Seasoned or plain

1/4

cup

Parmesan cheese

grated

1/4

cup

parsley

fresh snipped

1/4

cup

milk

1

tsp

Italian seasoning

1

tsp

salt

1/4

tsp

ground pepper

1

lbs

ground beef

Lean works well

12

oz

Italian sausage

spicy or mild according to taste

4

cups

water

8

cloves

garlic

unpeeled, crushed
for the Rosemary Mac and Cheese
6

oz

pasta

salt and pepper

to taste

2

cups

milk

1

rosemary stalk

plus1 tbs chopped rosemary

1/2

cups

Velveeta cheese

diced

4

oz

creamy chevre

2

oz

Parmesan cheese

grated

2

oz

fontina cheese

grated
Instructions
Combine the rosemary sprigs in a bowl with just enough water to cover. Let sit for 2 hours.

Combine the egg, bread crumbs, Parmesan cheese, parsley, milk, Italian seasoning, salt, and pepper min a large bowl.

With your hands, stir in the ground beef and sausage. Mix well to combine. Shape into 16 meatballs.

Cover and chill for at least 2 hours.

When ready to cook, toss the rosemary sprigs with wood chunks in your smoker and preheat. Add water to a drip pan with the crushed garlic according to manufacturers directions.

Cook meatballs for 1 and a half hours or until internal temperature reaches 160 degrees F.

Meanwhile, boil the pasta and drain in salted water for al dente noodles per the instructions on the box.

Heat the milk in a large sauce pan with the rosemary stalk over medium heat. Add the Velveeta and stir gently to melt.

Remove the rosemary after 7 to 10 minutes, when the Velveeta is melted through. Stir in the remaining chevre, Parmesan, and fontina until melted.

Add the chopped rosemary and allow to thicken 5 to 8 minutes over a low simmer. Season with pepper and pour over prepared pasta. Toss to coat.

Serve rosemary-smoked meatballs over creamy rosemary mac and cheese for extra umph!
Notes
Meatballs :: BHG Special Interest Magazine Grilling 2013