Hummus lamb burger begins off the beaten burger path and ends in a world of finest dining. A little hummus, fresh veggies, and herbs, and this became more than a gluttonous savory meal. It became something altogether different.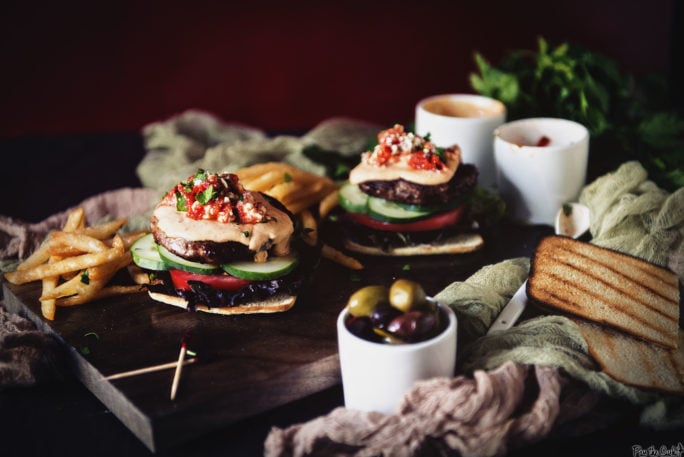 An amazingly juicy hummus lamb burger
A lamb burger.
Something about it seems so outrageously over the top. Indulgent. The Magnum Ice Cream of the burger world. And then, with the addition of hummus on it, something about it is just so right. It makes you want to pull out all the stops.
Dress her up and take her out on the town.
It makes you want to get spicy and fire up all the flavors for the full mouthfeel experience.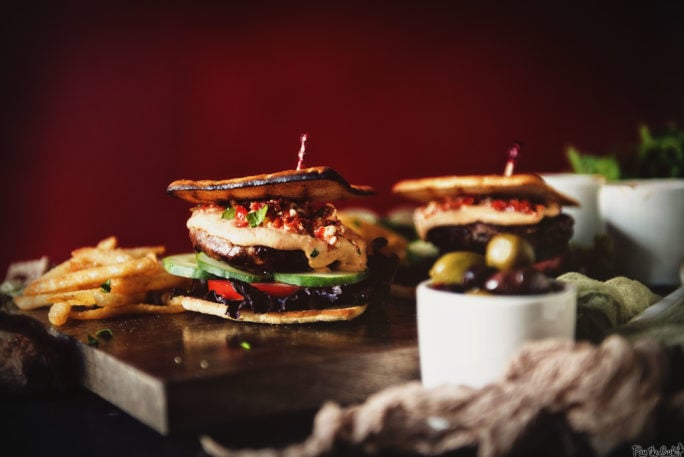 Inspiration for the hummus lamb burger
For this creation, I was heavily influenced by a burger I had down in Cambridge MD by the head chef for a gastropub. Mediterranean zest really accentuated the whole flavor profile and brought this together in an unexpected way.
So the Roasted Red Pepper Hummus lamb burger was inspired, coming to me like a white sail boat on an azure sea, serene and blissful.
What is not to love about it? High fat, great flavor. Lamb, I mean, is it not the perfect patty for your burger?
You tell me.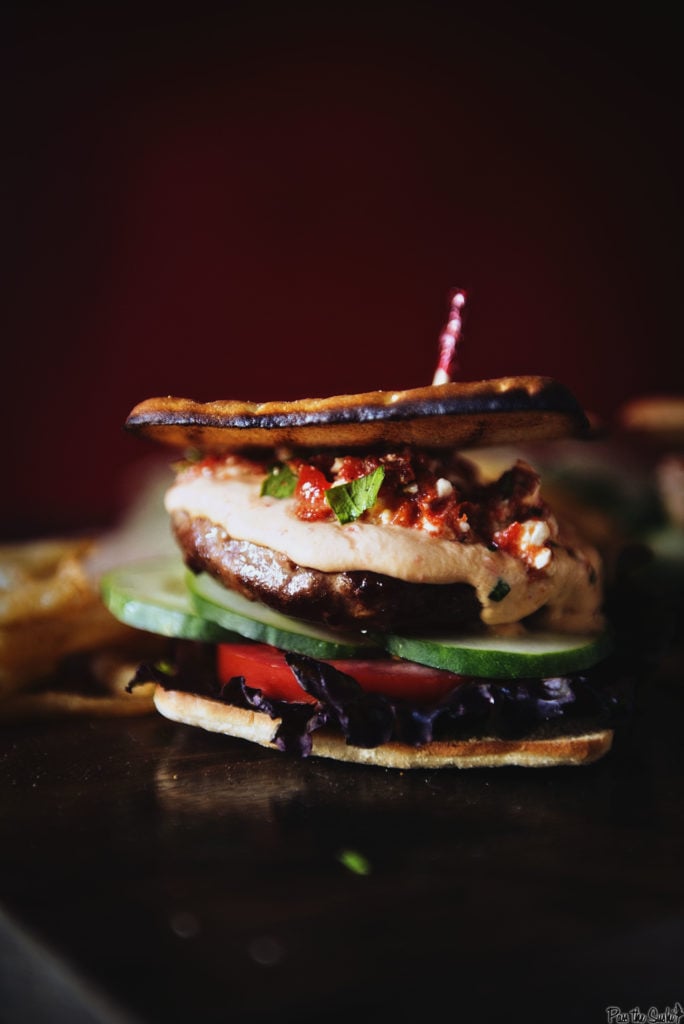 Where to find Ground lamb for hummus lamb burgers?
Ok, I know you don't always see lamb, much less ground lamb at the supermarket. Lamb tends to be a little bit seasonal or else you only see things like lamb chops or leg of lamb.
I know it sounds like it shouldn't be that hard. And it shouldn't, because lamb is delicious any time of year. So, if you have any issues finding ground lamb just ask the butcher at the meat counter.
The butcher may have to grind some up for you, but then you know you are getting the right meat for the job. Lamb is wonderfully juicy and worth the effort.
Also, if you are averse to lamb, ground lamb tends to have a less gamey flavor and is an easy introduction to the protein. Bigger cuts, like leg of lamb or even chops tend to hold a lot more of the signature lamb flavor which can turn newcomers away.
What exactly is hummus you ask?
Everyone loves hummus but not everyone actually knows what it is. Understanding what hummus is helps make sense of why it should go nicely with a lamb burger patty.
Typically, hummus is made with mashed garbanzo beans (aka chickpeas), olive oil, and lemon juice with a bit of tahini. (Tahini is the paste made from ground roasted sesame seeds). Then seasoned as well with paprika, garlic, and cumin.
The sesame tahini happens to go great with lamb. So do rich spices like paprika, cumin, garlic, and lemon juice. The thick smear of garbanzo just adds richness and nuttiness to put it over the top.
What can I substitute for the lamb?
If you are not a lamb fan, which I get, and accept, but not necessarily understand… There are options.
If you don't want to use lamb then veal might be an issue as well. If the gaminess of lamb is your issue, then the mildness of veal works nicely.
If eating veal is also an issue, then I would suggest using ground pork mixed with a bit of ground beef. Now if that is going to be a problem as well…
Then you might as well just stick with regular old beef patty burgers. We will shed a long lonely tear for you, but then take another bite of our delicious lamb with hummus burgers.
More unique burger recipes
As the Online Queen of all things Burger related (and humble too), I wanted to make sure that you knew that this recipe is only scratching the surface of the amazing things that you can do with a decadent lamb patty. Here are some more of my masterpieces!
And if we're going lamb, why not throw a little veal into the mix 😉
If you've tried my Roasted Red Pepper Hummus Lamb Burger or any other recipe on GirlCarnivore.com please don't forget to rate the recipe and let me know where you found it in the comments below. I get inspired by your feedback and comments! You can also FOLLOW ME on Instagram @girlcarnivore as well as on Twitter and Facebook
Roasted Red Pepper Hummus Lamb Burger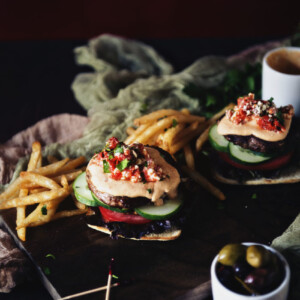 Savory lamb patties pair perfectly with hummus, herbs and the crunch of fresh veggies for a different spin on everyone's classic patty favorite.
Ingredients
For the Lamb Burgers
4

lamb burgers

2

large flat breads

cut in half
For Garnish
2

roasted red peppers

minced

1/4

cup

feta cheese

1/8

cup

freshly snipped parsley

1

cucumber

sliced thin

1

tomato

sliced thin

red leaf lettuce

1/4

cup

roasted red pepper hummus

1/4

cup

plain Greek yogurt
Instructions
Prep the grill
Prep your grill, clean and oil the grates.
Prep the Red Pepper and Hummus
In a bowl, toss the red pepper, feta and parsley together.

Whisk the hummus and yogurt together; set aside.
Grill the burgers
Grill the burgers to desired doneness, 160 degrees F according to the USDA.

Meanwhile, toast the flat breads.
Assemble the burgers
Arrange the lamb burgers over lettuce, cucumbers, and tomatos on the flat bread. Spoon hummus sauce over top and sprinkle a hefty portion of the red pepper feta mix on top.

Serve and enjoy.
Notes
You can shape your own ground lamb burgers with bulk ground lamb. Aim for a patty about 6oz in weight.
Place the patties in the fridge until ready to grill to keep the fats cold. 
If you don't have lamb, or want a variation without lamb, then consider mixing ground pork and beef in equal parts.
Nutrition
Serving:
1
g
|
Calories:
132
kcal
|
Carbohydrates:
18
g
|
Protein:
7
g
|
Fat:
5
g
|
Saturated Fat:
2
g
|
Cholesterol:
10
mg
|
Sodium:
514
mg
|
Potassium:
299
mg
|
Fiber:
4
g
|
Sugar:
3
g
|
Vitamin A:
604
IU
|
Vitamin C:
18
mg
|
Calcium:
93
mg
|
Iron:
2
mg