These Tennessee Whiskey Pork Chops are an easy and healthy one-pan dinner that's perfect for busy weeknights or date nights! Tender and juicy pork chops are pan-fried and slathered in a sweet and spicy whiskey sauce.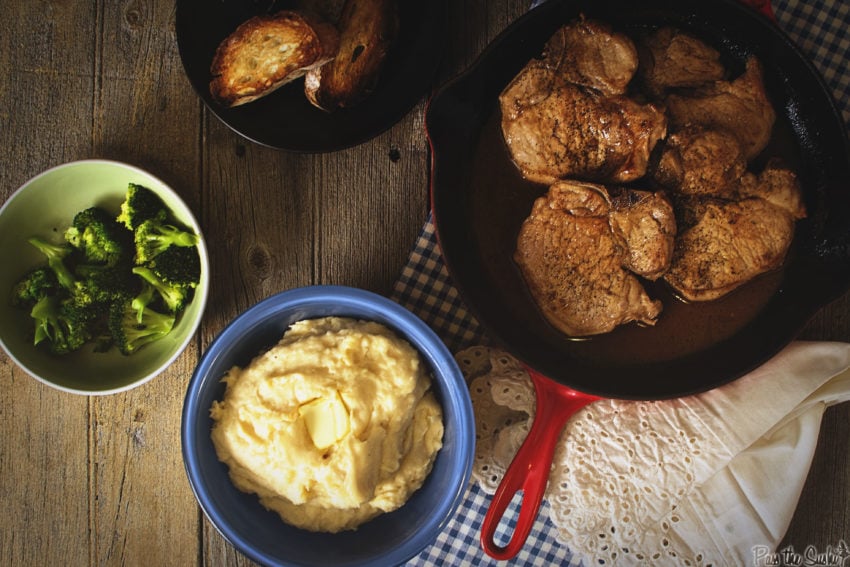 How much do you love a good juicy pork chop? Probably not as much as you're about to love these good juicy pork chops.
One of the main reasons people shy away from pork chops is they expect them to be dry, grainy, and chewy. But trust me on this: when they're done right, pork chops can have the same texture as a juicy steak.
These Tennessee whiskey pork chops are perfect for crazy busy weeknights, but taste like you spent the whole evening cooking away in the kitchen. They're moist and tender and simmered in a flavorful brown sugar dijon whiskey sauce.
Let's do this!
What you need to make this recipe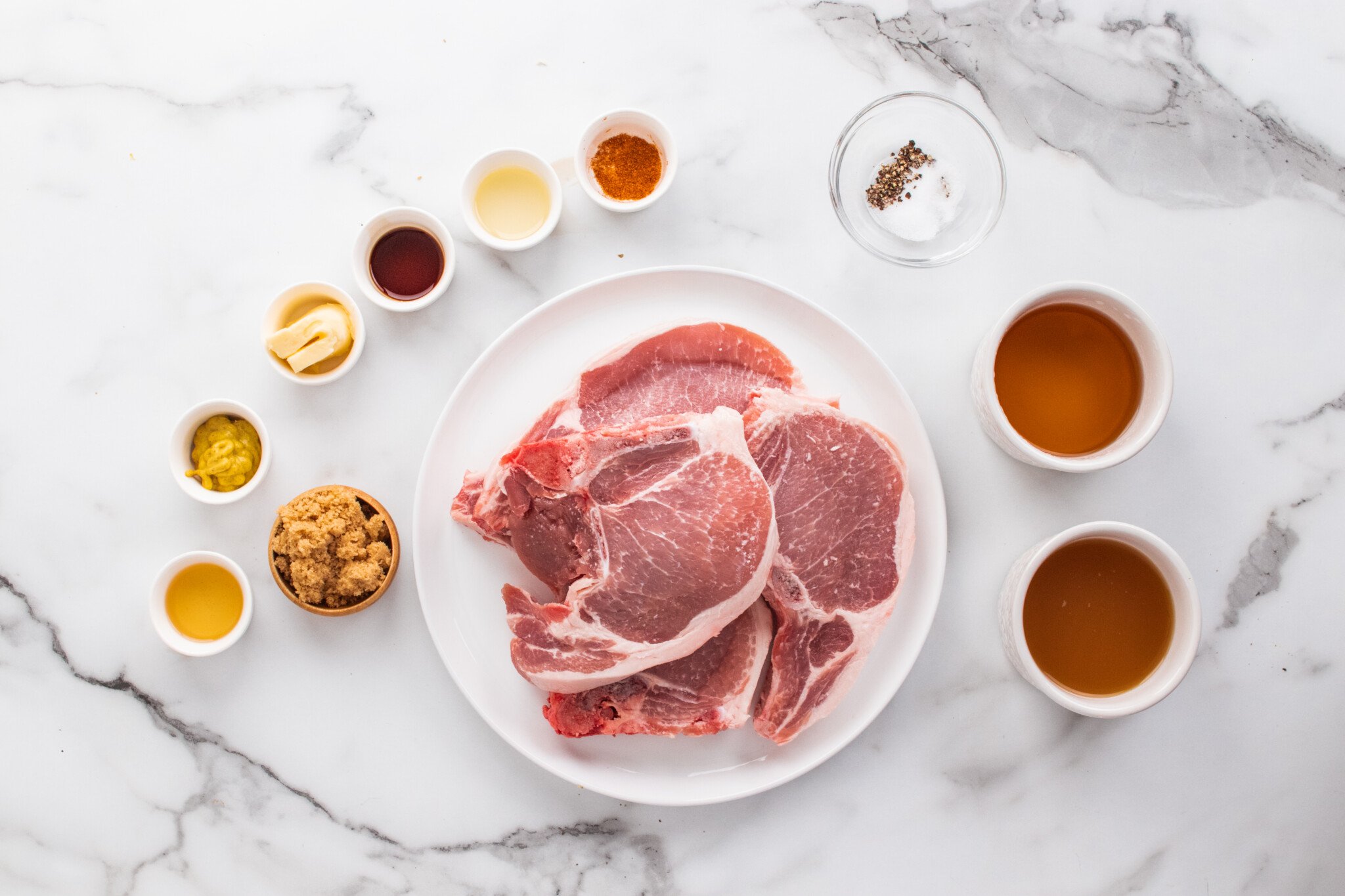 Whiskey and Apple Cider – the base for both the marinade and the sauce. You can use whiskey or bourbon!
Brown Sugar, Apple Cider Vinegar, Dijon Mustard, Vanilla, and Cayenne Pepper – these ingredients are whisked together with the whiskey and cider to form a marinade for the pork. That same marinade is also used as the sauce for serving!
Pork Chops – use bone-in, 1" thick pork chops for the best results.
Salt and Pepper – a simple way to season the pork chops after they marinate.
Vegetable Oil – used to fry the chops.
Butter – I use unsalted butter so I can control the saltiness of the sauce. You can always add salt to taste!
How to make Tennessee whiskey pork chops
These pork chops could not be easier to make.
Make the marinade by whisking together bourbon or whiskey, cider, sugar, vinegar, mustard, vanilla, and cayenne.
Measure out ¼ cup of the marinade and pour it into a ziplock bag. Add the pork chops and rotate to cover. Marinate for 1-2 hours. Reserve the remaining bourbon mix for later.
Pat the pork chops dry, season with salt and pepper, and preheat vegetable oil over medium-high heat. Add in the chops and cook until browned. Transfer to a plate and cover.
In the same skillet, add the rest of the whiskey mixture. Bring to a boil and cook until thickened.
Reduce the heat, add any juices from the chops to the pan, then add in additional vinegar and butter. Simmer until thickened, then remove from that.
Add the pork chops back into the pan, and flip to coat. Rest for 5 minutes, then serve!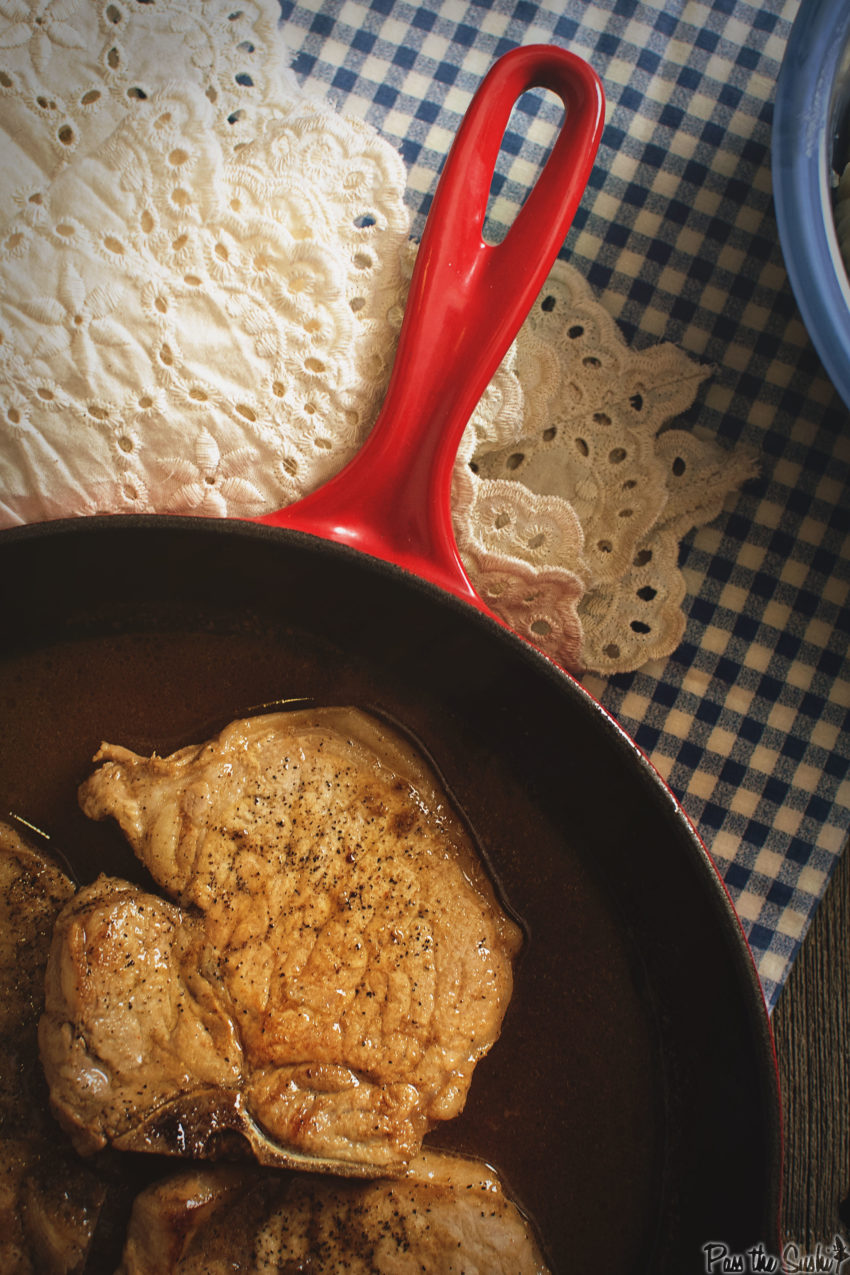 What kind of pork chops to use
I use bone-in pork chops that are 1-1½" thick. I always go with bone-in because the bone actually helps the meat cook evenly. It also helps preserve some of the moisture of the meat. Anything to keep a pork chop from drying out is a good idea.
If you really do prefer boneless, you can go that route, it will just be more susceptible to drying out.
How long should you cook pork chops?
I cook the pork chops in oil for anywhere from 6-8 minutes on each side. The chops should be pretty well browned all-around before you take them off the heat.
Keep in mind that these guidelines are for 1-1½" thick chops. If you're using pork chops of a different size, the cooking time will be different.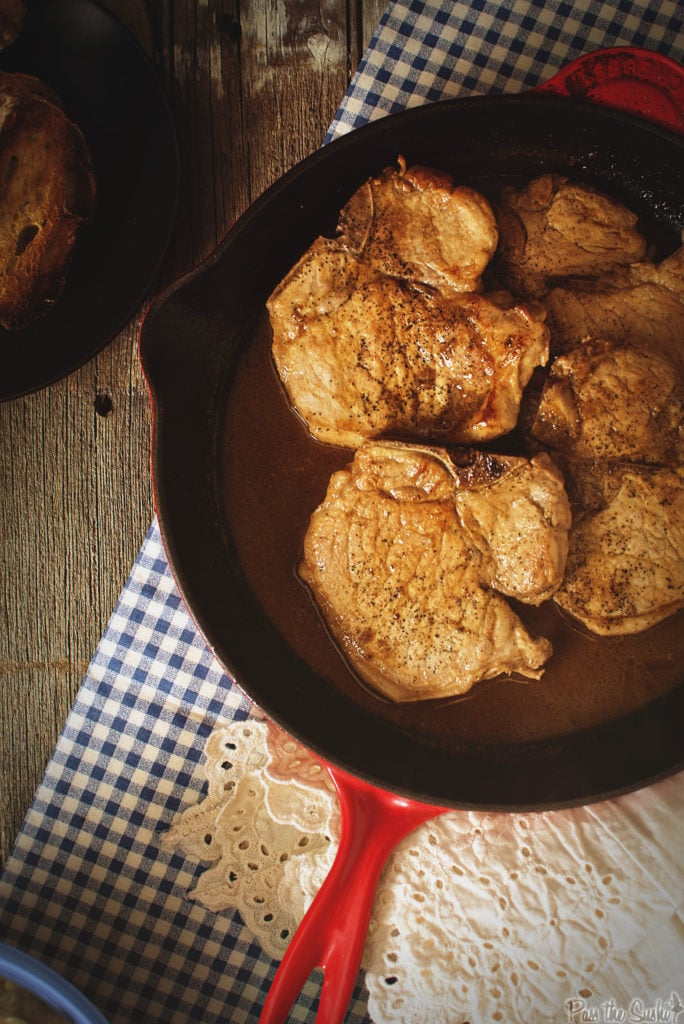 Why are my pork chops dry?
The number 1 reason that pork chops come out dry is they're overcooked. I get it. No one wants to catch any foodborne illnesses. However, as long as the inner temperature of the pork is 145ºF, the meat is totally fine! 
There may still be a hint of pink when you cut into it, but that also means more moisture which makes a huge difference.
Tips
Bring to room temp.
I always set the pork out on the counter 30 minutes before I cook it. This helps it cook more evenly.
Pat it dry.
After the pork chops soak in the marinade, gently pat them dry with paper towels to remove any excess moisture. This helps them get that crispy exterior.
Heat the oil.
The oil should be hot before you add in the pork chops.
Cook two at a time.
But don't overcrowd the pan. I don't recommend cooking more chops than that at once. The pork chops will cool the oil temperature too much and they won't get as crispy.
Let them rest.
Let the pork chops rest for at least 5 minutes before slicing into them so the juices can settle. If you slice into them too soon, the moisture will run out and the meat will be dry.
Serving suggestions
These Tennessee whiskey pork chops are delicious with a side of rice, mashed potatoes, or roasted veggies!
How to store
Leftover pork chops will last in an airtight container in the fridge for 3 days. They can also be stored in the freezer for up to 3 months. To reheat, thaw in the fridge if frozen then warm on the stove until heated through.
More pork chop inspiration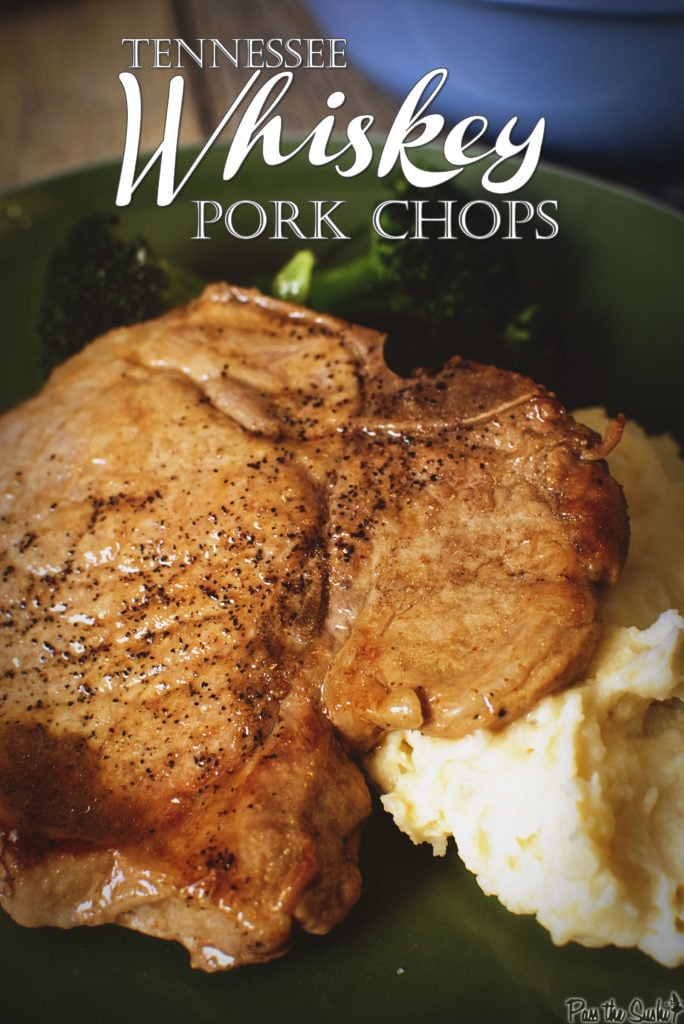 More pork chop inspiration
If you've tried these pan-seared chops please rate the recipe and let me know where you found it in the comments below.
I get inspired by your feedback and comments! You can also join in on the adventures on Instagram @girlcarnivore, Twitter & Facebook.
Tennessee Whiskey Pork Chops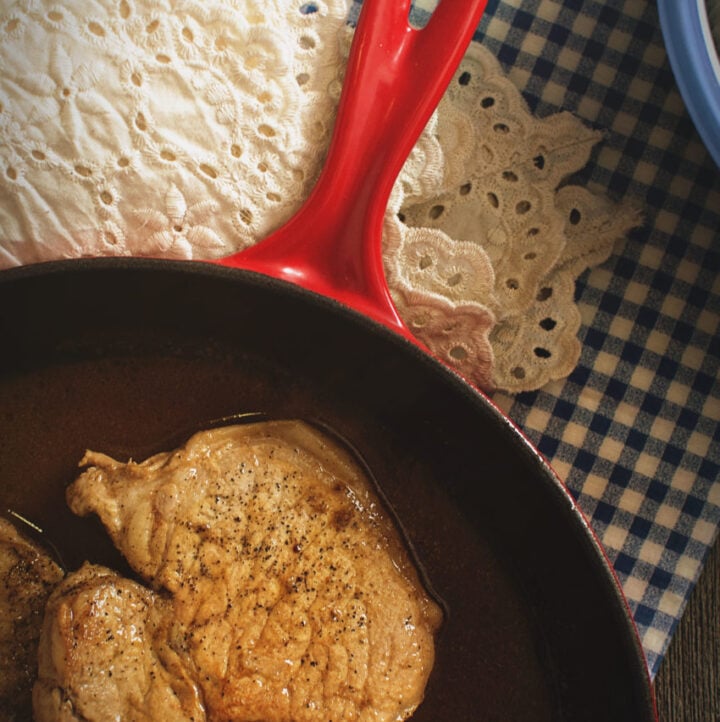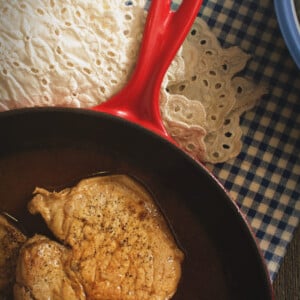 Make a Tennessee whiskey sauce for pork chops. Preferably, use bone in pork chops for best results.
Recommended Equipment
small bowl

resealable 1 gallon sized zipped locking bag

large skillet
Ingredients
1/2

cup

whiskey or bourbon

1/2

cup

apple cider

2

tbs

light brown sugar

packed

4

tsp

apple cider vinegar

1

tbs

Dijon mustard

1/2

tsp

vanilla

1/8

tsp

cayenne

4 8 – 10

oz

bone in pork chops about 1″ thick

salt and pepper

2

tsp

vegetable oil

1

tbs

unsalted butter
Instructions
In a small bowl, whisk the bourbon (or whiskey if using), cider, sugar, 2 teas vinegar, mustard, vanilla, and cayenne.

Measure out 1/4 and transfer to a large resealable bag.

Add the pork chops and turn to cover. Let marinate for 1 to 2 hours.

Reserve the remaining bourbon mixture for later.

When ready to cook, pat the pork chops dry, season with salt and pepper

Discard the marinade in the bag. 

Preheat a large skillet with the vegetable oil over medium-high heat.

Place the chops in the skillet 2 at a time and cook until well browned, about 6 to 8 minutes on each side.

Move to a plate and cover to keep warm.

In the now empty skillet, add the reserved whiskey mixture.

Scrape up any browned bits and bring to a boil. 

Cook until thickened, 3 to 5 minutes.

Reduce the heat to low and add any juices from the chops to the pan, along with the remaining 2 teas vinegar, and butter.

Allow to simmer until thickened, 2 to 3 minutes.

Return the chops to the pan, and flip to coat.

Allow the chops to rest for 5 minutes in sauce before serving.
Notes
From: Cook's Hometown Favorites 2014.
Any style of whiskey will work if you don't have a Tennessee bourbon or similar handy. The alcohol cooks out of the dish. 
Nutrition
Calories:
447
kcal
|
Carbohydrates:
9
g
|
Protein:
35
g
|
Fat:
20
g
|
Saturated Fat:
8
g
|
Cholesterol:
125
mg
|
Sodium:
139
mg
|
Potassium:
613
mg
|
Sugar:
8
g
|
Vitamin A:
110
IU
|
Vitamin C:
0.2
mg
|
Calcium:
37
mg
|
Iron:
1.1
mg