Looking for a way to pack in a lot of veggies and in one flavor-packed bowl? This Whole30 Grilled Steak Bibimbap Bowl recipe has your back. Like whoa.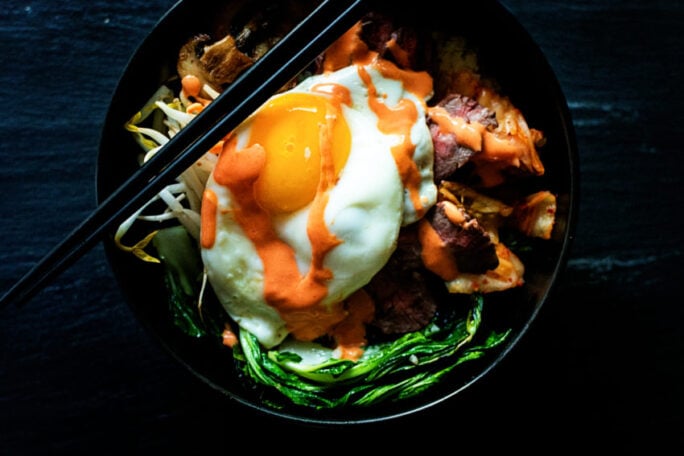 The first time I had bibimbap I was cruising over the fridged arctic tundra at something like 30,000 feet int he air. The flight attendant brought by a fragrant cart of food and offered me several choices. I can't recall what the options were, but without hesitation, I chose the bibimbap. She smiled, handed it to me, and moved along the row passing out meals to the patient guests.
My first taste of steak bibimbap
I'd laid out the components of the meal on my tray, trying not to rush through any moment on my first international flight, and stared at the tube and sorted rice and veggies and honestly, wasn't too terribly sure what I'd gotten myself into. But, as I am sure all of you can probably tell, I am not one to shy away from a new meal.
Moments later, the fight attended appeared next to my seat. She knelt down and offered to show me how to traditionally devour the meal. I let her mix the gochujang (that tube was magical delicious chili paste) and stir it all up. I was incredibly grateful that the components together had just become a delicious meal.
And oh, the wine. There was plenty of that on my flight too (so yes, someday – long post – Whole 30 – I will fly Korean Air again).
(Insert bad 2014 photo here from aboard my Korean Air flight as visual proof of this experience from my sassy other site.) ?
My twist on the classic bibimbap bowl
For my Whole30 Grilled Steak Bibimbap Bowls I wanted to mix in the fun experience of chomping down on bibimbap. All while having fun with Whole30 (cuz we know, salads are boring). So I replaced the traditional rice with cauliflower rice and went to town with cleaning out my veggie bin.
It started with a little of this and that and ended up with literally all of the veggies I had on hand. The perfect meal to really work on filling up with healthy goodness… But without sacrificing flavor!
(Because you can't deny the pleasure of umami – am I right?). Caution for the committed, be sure to check your sriracha sauce and don't just use whatever you have on hand. As it's probably not condoned by the Whole30 rule book. So don't risk it if you have any questions.
Or else.
You will sent back to day one without passing "Go" or collecting $100.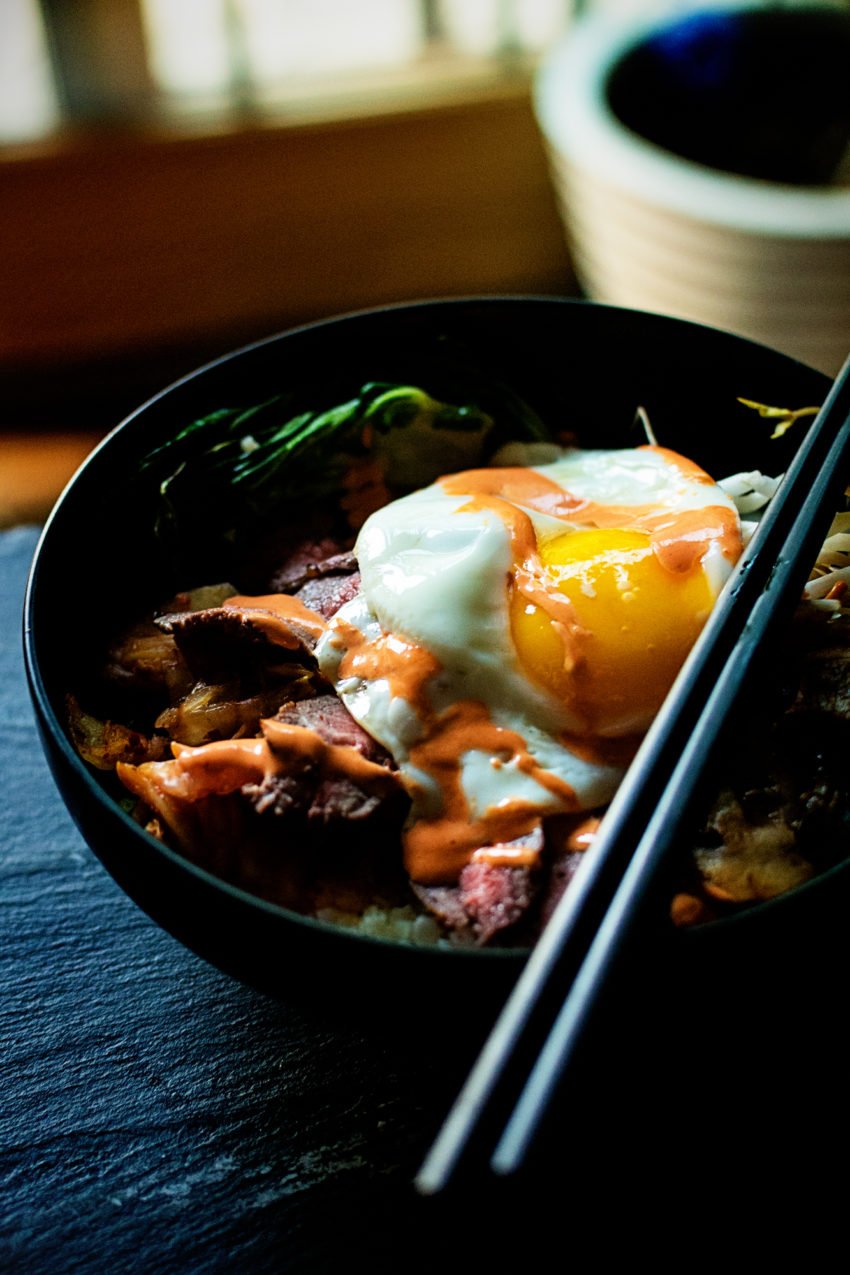 What exactly is bibimbap anyway?
Simply put, bibimbap is the Korean take on a rice bowl. The name translates to roughly "mixed ingredients with rice". So, there are really tons of way to juggle this dish into a very satisfying meal.
I know I am not being traditional with using riced cauliflower instead of rice. But, forgive that because I did find a way to make it Whole30 friendly, so there is best of intentions there, right?
What can I use instead of steak in my bibimbap?
You can go with fish or fowl. Chicken or shrimp or even both at the same time will work nicely too. Sriracha is literally able to work well with all of them it is such a versatile sauce.
What about storing the leftovers?
If you do have any leftover, then all good. Store it right and you are all set with a meal two or three days later. Just make sure it is stored in an airtight container. Ideally one that can go in the microwave or the toaster oven to reheat. You might need to add just a tablespoon or so of water to restore the rice a bit.
Yes, freezing is possible, but rice reheated from being frozen has a weird texture so it is kind of blah.
Have you ever tried bibimbap?
I'd love to hear if you loved it! If not, give this Whole30 version a shot, but please, when those 30 days are up, find yourself some old school Koren restaurant and enjoy the full experience just once.
It's worth it.
Want even more kick-ass Whole30 inspiration? Check out my How not to Starve on the Whole30 recipe archives to keep yourself from being stuck in the hardboiled egg cashew butter loop of hell.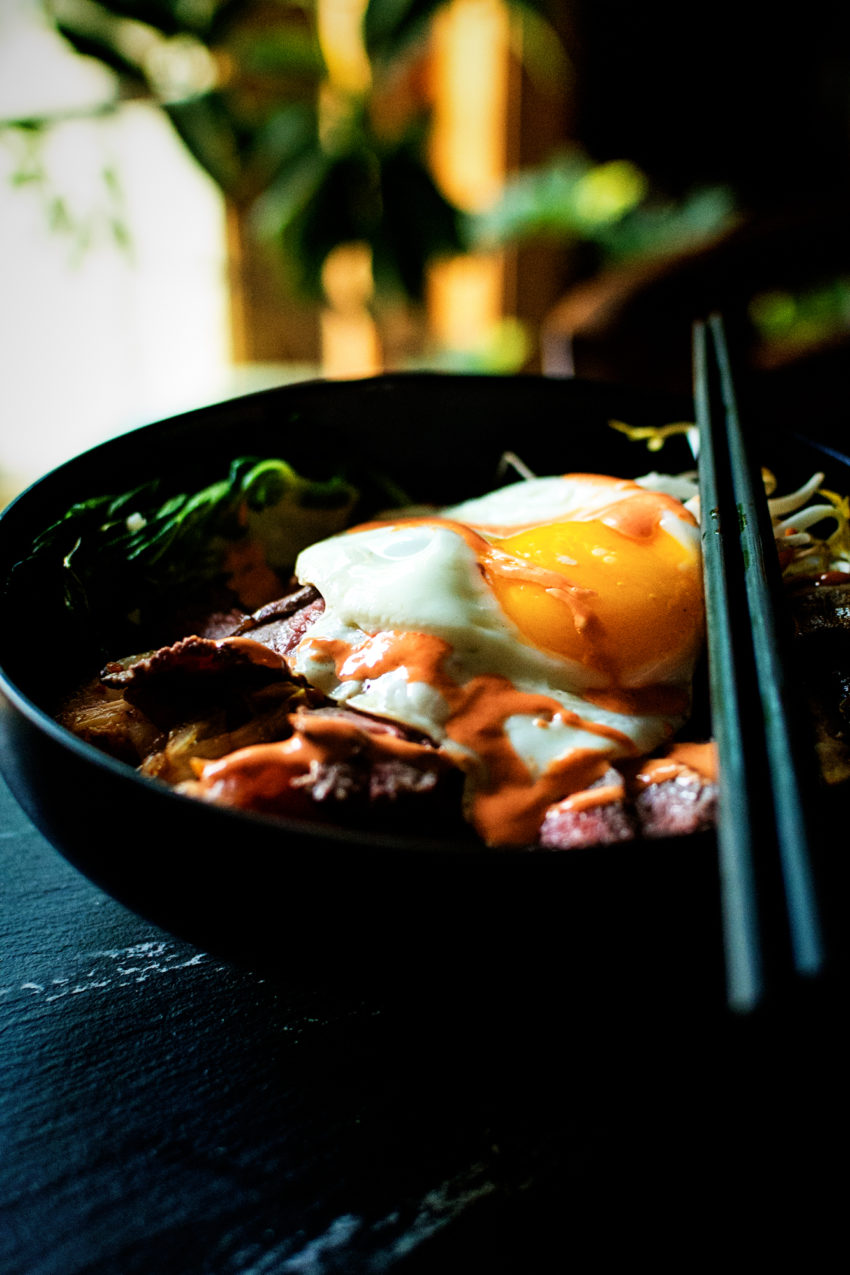 And for more incredible Power Bowls, check these out!
If you've tried my Whole 30 Grilled Steak Bibimbap Bowls, or any other recipe on GirlCarnivore.com please don't forget to rate the recipe and let me know where you found it in the comments below. I get inspired by your feedback and comments! You can also FOLLOW ME on Instagram @girlcarnivore as well as on Twitter and Facebook.
Whole30 Grilled Steak Bibimbap Bowls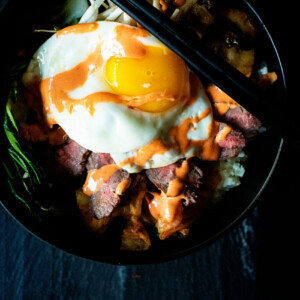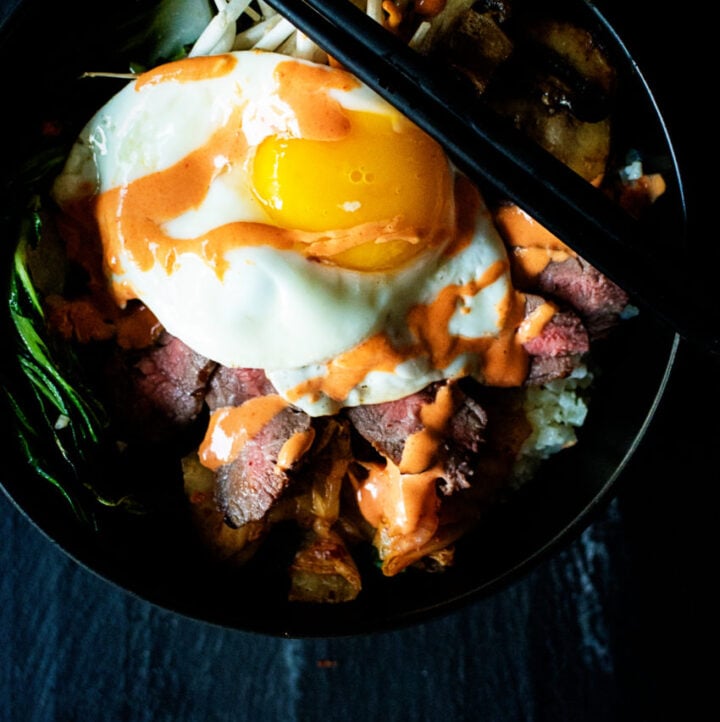 This is a steak bibimbap tweaked to work in a Whole30 meal plan. You will need to find a Whole30 friendly sriracha style sauce or gochujang which is a Korean hot soy bean paste.
Ingredients
2

tbs

oil

8

oz

flank steak

Top sirloin, London Broil, flat iron, and really, any steak you have on hand all work well for this recipe

1

cup

baby bok choy

1/2

cup

bean sprouts

1/2

cup

mushrooms

sliced

1

squash

sliced

1

carrot

sliced

1 1/2

cup

cauliflower rice

cooked and covered to keep warm

2 – 4

eggs

salt and pepper to taste
for the Sauce
1

tbs

sriracha

Home-made Whole 30 Approved Sriracha **See note above. Or try using gochujang paste if Whole30 is not required

1

tbs

mayo
Instructions
Season your steak with salt and quickly grill your steak over a pre-heated grill to rare and wrap in foil to rest.

OR Heat 1 teas oil in a large non-stick or cast iron skillet until just smoking. Add the steak and cook until browned, 4 minutes depending on thickness, flip and finish cooked another 4 minutes (pull sooner if thinner, longer if thicker – always use a meat thermometer to temp your meat).

Wrap the steak and set aside. Whether grilling or pan searing the steak, complete the recipe as follows with a large skillet.

Reduce the heat to medium and add the remaining oil, swirling to coat the pan.

Cook the baby bok choy, bean sprouts, mushrooms, and squash.

Set aside.

Meanwhile, quickly fry the eggs (one per bowl) until just set with a nice runny yolk.
Make the Sauce – whisk the mayo and home-made sriracha together in a small bowl. Add more sriracha if you can handle more heat – I did.
Build the bowls. Place the cauliflower rice in your bowl and arrange piles of vegetables around it. Top with slices of the cooked steak and any reserved juices.

Place a fried egg on top and drizzle with the sriracha sauce to taste.

Season with salt and pepper if needed.
Nutrition
Calories:
378
kcal
|
Carbohydrates:
29
g
|
Protein:
25
g
|
Fat:
19
g
|
Saturated Fat:
4
g
|
Cholesterol:
281
mg
|
Sodium:
307
mg
|
Potassium:
1230
mg
|
Fiber:
6
g
|
Sugar:
8
g
|
Vitamin A:
25467
IU
|
Vitamin C:
100
mg
|
Calcium:
222
mg
|
Iron:
4
mg