Truth be told, Garlic and Steak Strata is a hearty breakfast. Filled with meaty goodness and packed with protein, it is perfect for after a morning run.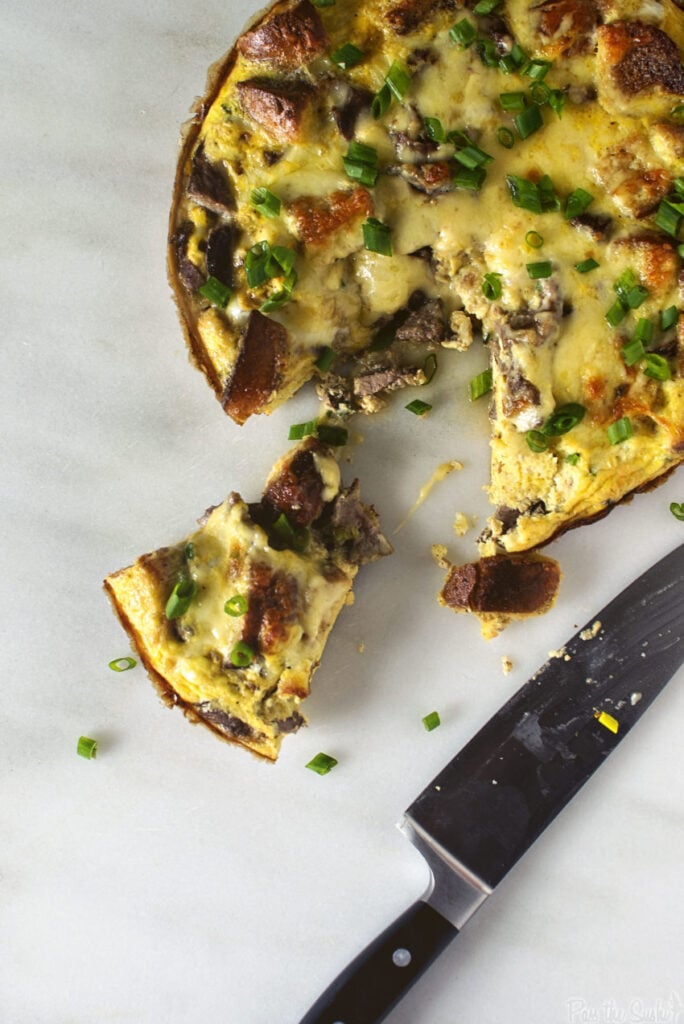 Beef Strata Sure Beats A Smoothie For Protein
It takes more than a smoothie to keep this girl going all day long. More than a shake of slim powder or magic oats that are supposed to leave me full and satisfied until a light sensible lunch. Right. None of that sticks on me in a way that doesn't have me going full on green Hulk at the vending machine before most people have checked Facebook for the newest viral cat video.
No, I need fuel. Real food. Lean mean protein, and piles of it. A hearty breakfast made of eggs is the only thing that doesn't leave me feeling like I'm going to chew my arm off after a run in the morning and hours before the lunch bell rings.  Whether it's a simple fried egg with avocado for when I am trying to appease the fitness gods or this weekend binge of leftovers and cheese. It's what I am begging for to get the morning rolling right. Eggs. Simple, packed with protein, designed by nature.
You can argue their merits all day long, (oh, the cholesterol war) but eggs are where it's at in the top-tier of good for you foods. No, I am not telling you to indulge on egg yolks while enjoying other artery clogging fat laden foods. But for smart meals, eggs are one of the most inexpensive power foods you can get your hands on. So grab a dozen and wilt some spinach along side this.  Call it a fancy pants savory sort of brunch or dinner.
You can always just use egg whites if you want to forego the yolks anyway.
Fact, Garlic And Steak Strata Is A Complete Meal
You get the starch carbs in the bread, protein in the steak and eggs, some veggies chopped in with the onions. All the major food groups. Except chocolate. But you can always add that too with a bit of syrup on top if you like.
What Exactly Is A Strata?
Not everyone knows what a strata is. We won't make fun of anyone for not keeping up. The name actually describes exactly what it is. "Strata" refers to the layers of the dish. Bread, cheese, meat, veggies,  then all of that gets soaked in an egg batter then baked.
You achieve breakfast or brunch perfection. It is somewhere between an omelette and bread pudding.
Amazing texture and hefty bite.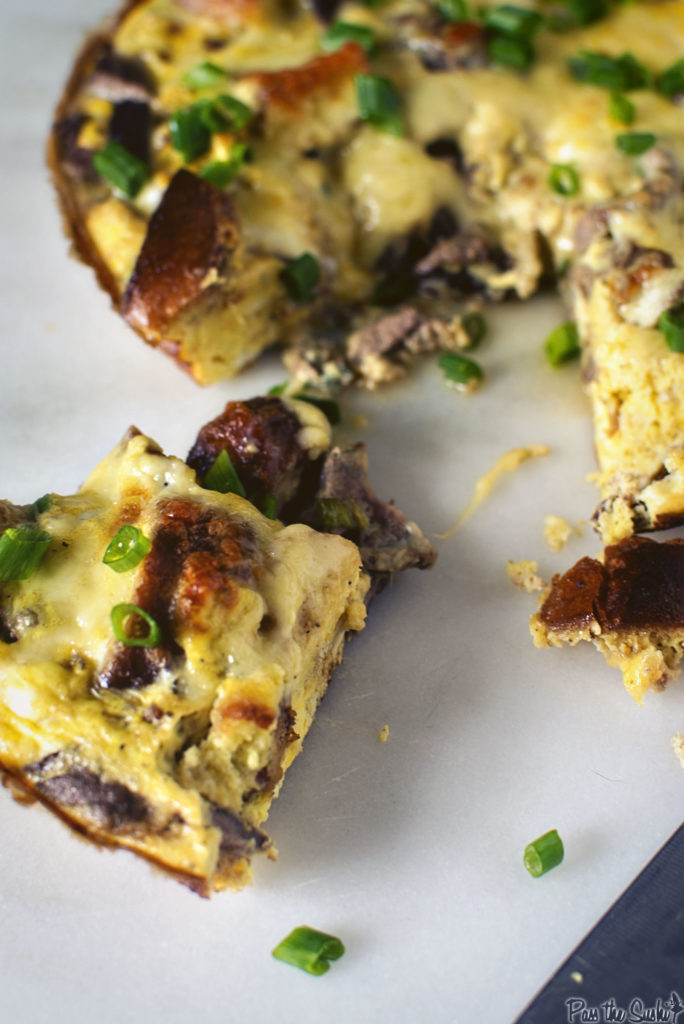 Some Strata Recipes Soak The Ingredients A While Before Baking
This version of garlic and steak strata is made to order, cook and eat, no time to wait. However, you can also soak your ingredients first in the egg batter for a few hours or overnight if you choose.
For a brunch where you might be serving guests too, then making it ahead does have its perks. You prep all the ingredients, but don't cook the eggs. Instead, cool and pour the egg batter over the other ingredients then refrigerate for a few hours.
When you are ready to bake, just toss it back in the skillet to bake it.
More Brunch Ideas
If you like steak and garlic strata for brunch, then you might like a few of the other dishes I recommend too…
If you've tried my Garlic and Steak Strata recipe or any other recipe on GirlCarnivore.com please don't forget to rate the recipe and let me know where you found it in the comments below. I get inspired by your feedback and comments! You can also FOLLOW ME  on Instagram@girlcarnivore as well as on  Twitter and Facebook.
Garlic and Steak Strata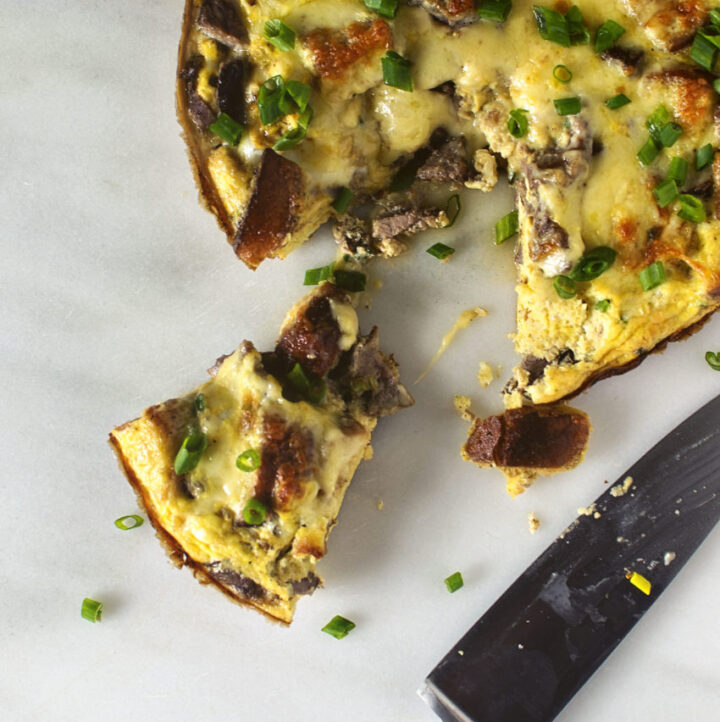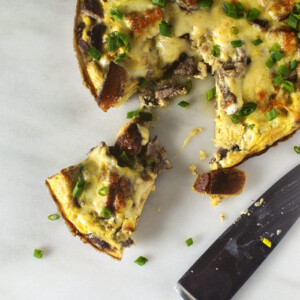 A layered egg dish that is the best parts of bread pudding and an omelette combined. This is an ideal dish to serve for brunch.
Ingredients
1

tbs

olive oil

divided

4

slices

of hearty white bread

cut into 1" cubes

12

eggs

1/2

cup

half and half

salt and pepper

2

garlic cloves

minced

1

cup

leftover steak

chopped

3

oz

shredded Blarney Castle Cheese

2

scallions

chopped
Instructions
Preheat the oven to 450 degrees F.

In a large bowl, whisk the eggs and half and half until pale yellow and smooth. Season with salt and pepper and set aside.

Heat 1 tbs oil in a large oven-safe skillet over medium-high heat.

Toast the bread chunks until light brown on all side.

Slide the bread to the edges of the skillet and toss in the chopped steak and garlic. Cook one minute until fragrant.

Carefully pour in the eggs.

Allow to cook a minute and then slide a rubber spatula along the bottom a few times to break up any curds forming.

Cook 3 to 5 minutes, running a spatula through the whole time.

Allow to cook another 3 minutes untouched. Sprinkle the cheese on top.

With an oven glove, carefully slide the skillet into the oven and bake for 7 to 10 minutes. The eggs will be puffy and lightly golden on the edges.

Remove from oven and let cool 5 - 10 minutes before turning out onto a serving tray.

Sprinkle with sliced scallions.
Notes
Cook's Country Dec/Jan 2015
Prep ahead of time by not cooking the egg and let the ingredients soak together until you are ready to bake it. 
Nutrition
Calories:
355
kcal
|
Carbohydrates:
10
g
|
Protein:
24
g
|
Fat:
23
g
|
Saturated Fat:
9
g
|
Cholesterol:
372
mg
|
Sodium:
323
mg
|
Potassium:
292
mg
|
Sugar:
1
g
|
Vitamin A:
730
IU
|
Vitamin C:
1.2
mg
|
Calcium:
223
mg
|
Iron:
2.9
mg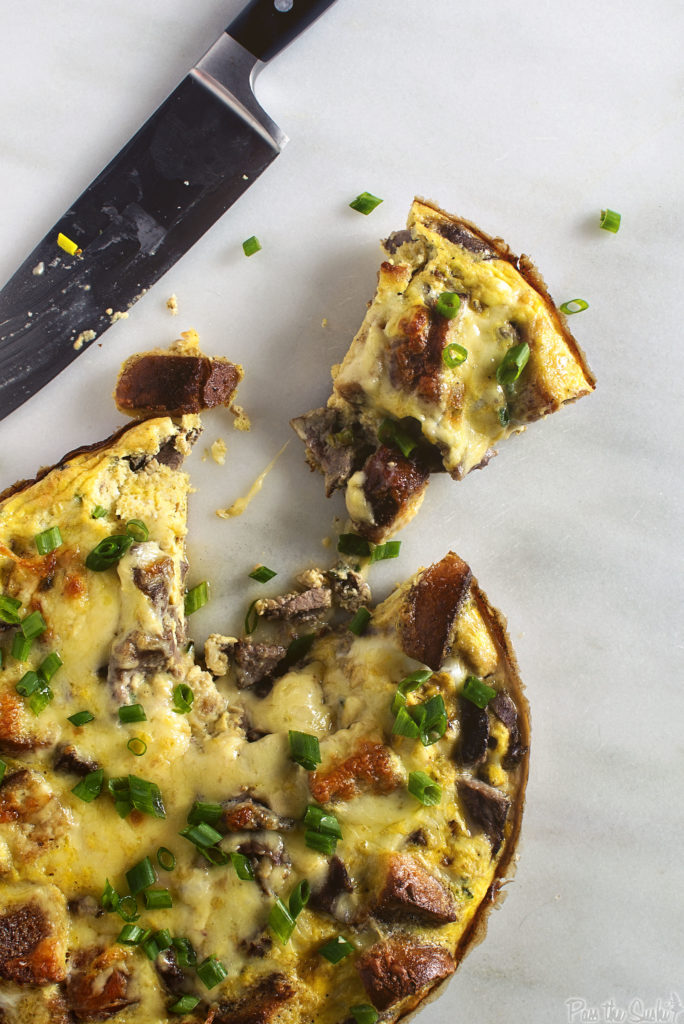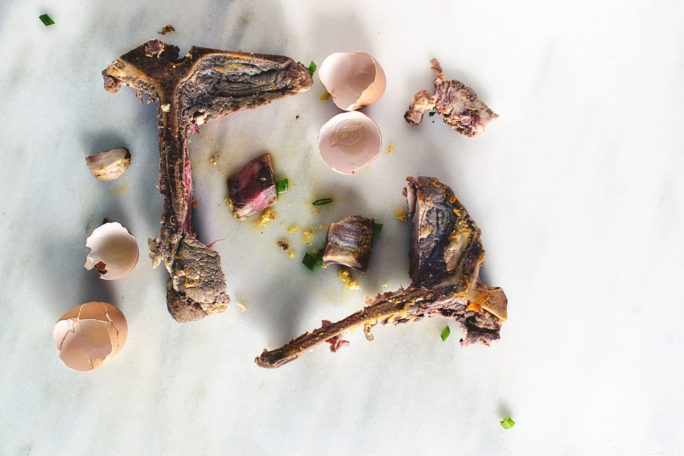 Want another great egg recipe for a hungry crowd?