If you don't like your steak rare, this isn't the cut for you. A teres major steak is hard to come by, but worth the hunt! This bold, beefy cut is similar to a tenderloin but smaller and best cooked hot and fast to a beautiful medium-rare for the best texture and robust flavor.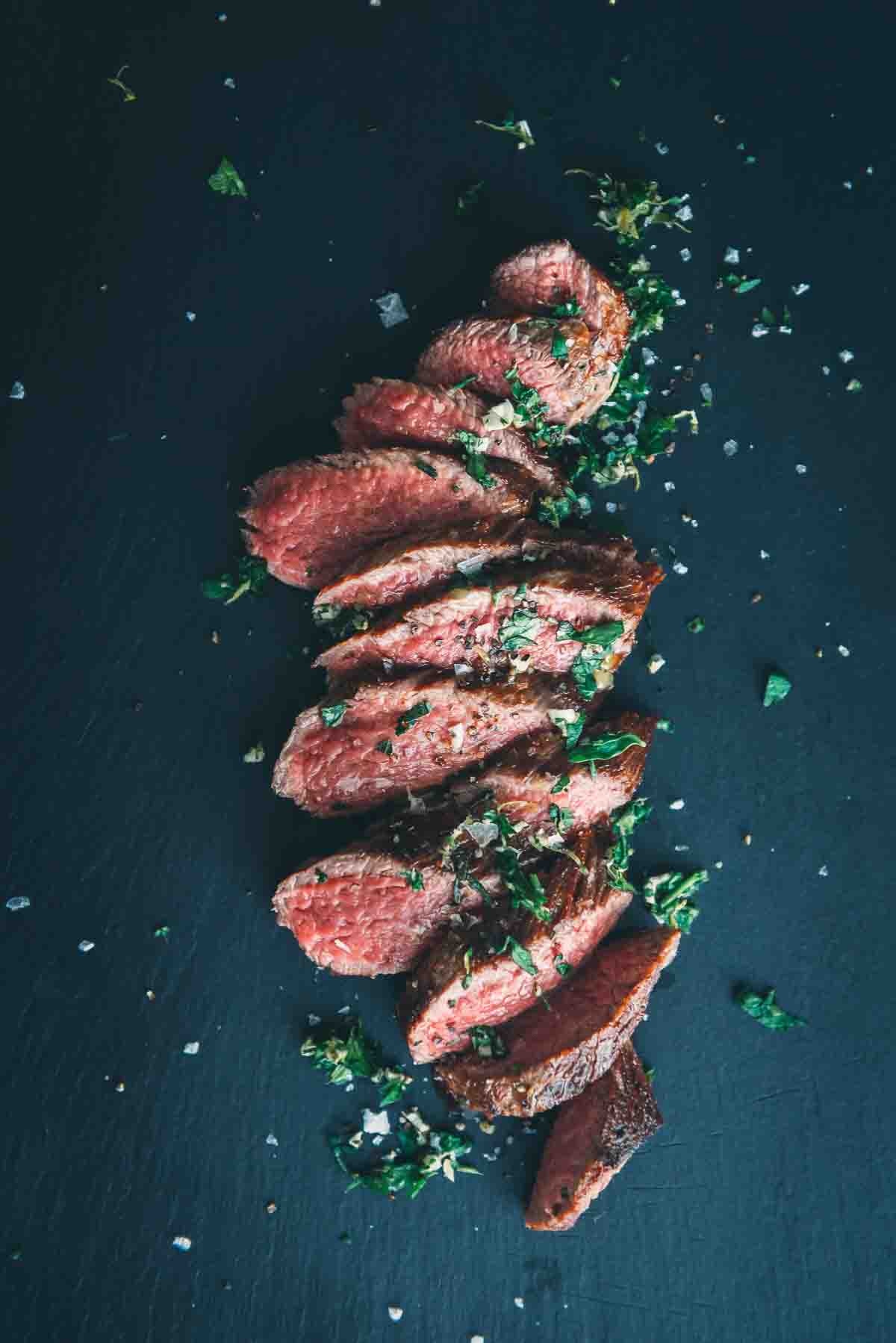 When you think of a chuck roast, a mouthwatering steak isn't exactly what comes to mind. But look a little further into the shoulder blade, and you'll find the small teres major muscle, one of the most delicious cuts of beef.
Want a show-stopping dinner? This tender cut of beef is where it's at. The teres major steak is one of the lesser-known cuts, and for good reason. It takes an incredibly skilled butcher some extra work to produce this tiny cut. But for those who know, know. This is why it's called the prized 'butcher's cut;' often the reward for the extra work that had to be done to carve these small steaks from a major muscle; they are cooked immediately and savored as an easy meal, rarely making it to the market for sale.
But if you're lucky enough to get your hands on this bistro filet, be sure to keep it simple and cook it properly; you'll be in for a fantastic meal.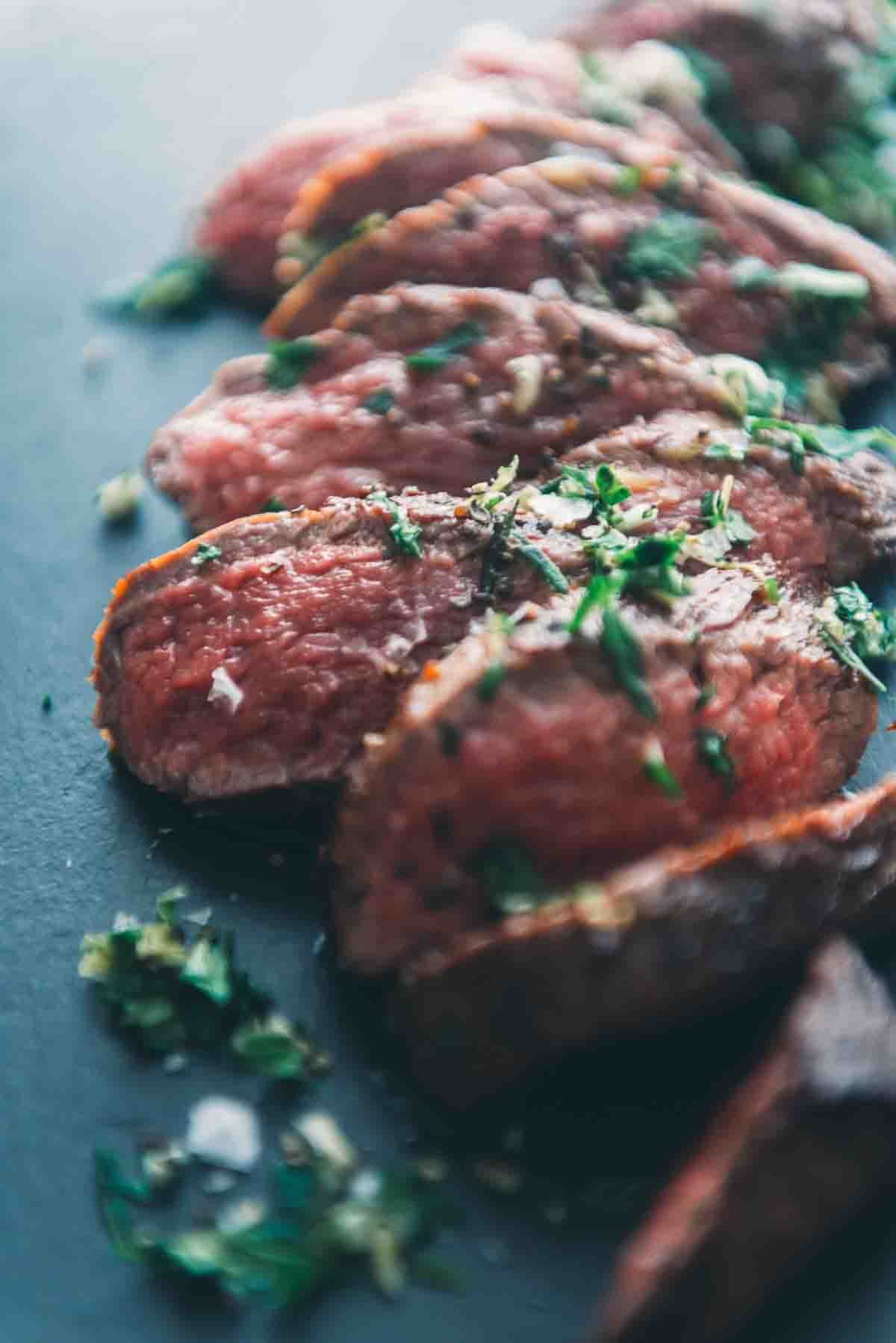 🥩 The Cut: what is a teres major steak
Also known as petite tender, this cut of steak comes from the shoulder, the chuck area of the cow, and is a fantastic steak. Cut from below the flat iron steak, known for its deep meaty taste, the teres major steak has a rich beefy flavor too. And, similar to the fork-tender filet mignon, it is best cooked hot with a quick sear, served rare to medium rare. In other words, this steak is the total package. Fork tender texture and loaded with rich umami flavor.
With an appearance similar but smaller than a whole tenderloin, this butcher's steak is coveted amongst true meat connoisseurs. However, it is a small piece of meat, coming in around a .5 to 1 pound (about the size of a pork tenderloin); it won't feed a crowd but is perfect for a small romantic dinner or special occasion. And because of its size, you won't find this rare cut stocked at your local grocery store. It's an ask a skilled butcher, know a guy, special request only tender steak. Which makes it that much more enticing.
If you're curious about where to get this cut, you can ask at your local butcher shops or check out Porter Road, one of our favorite trusted places to buy meat online.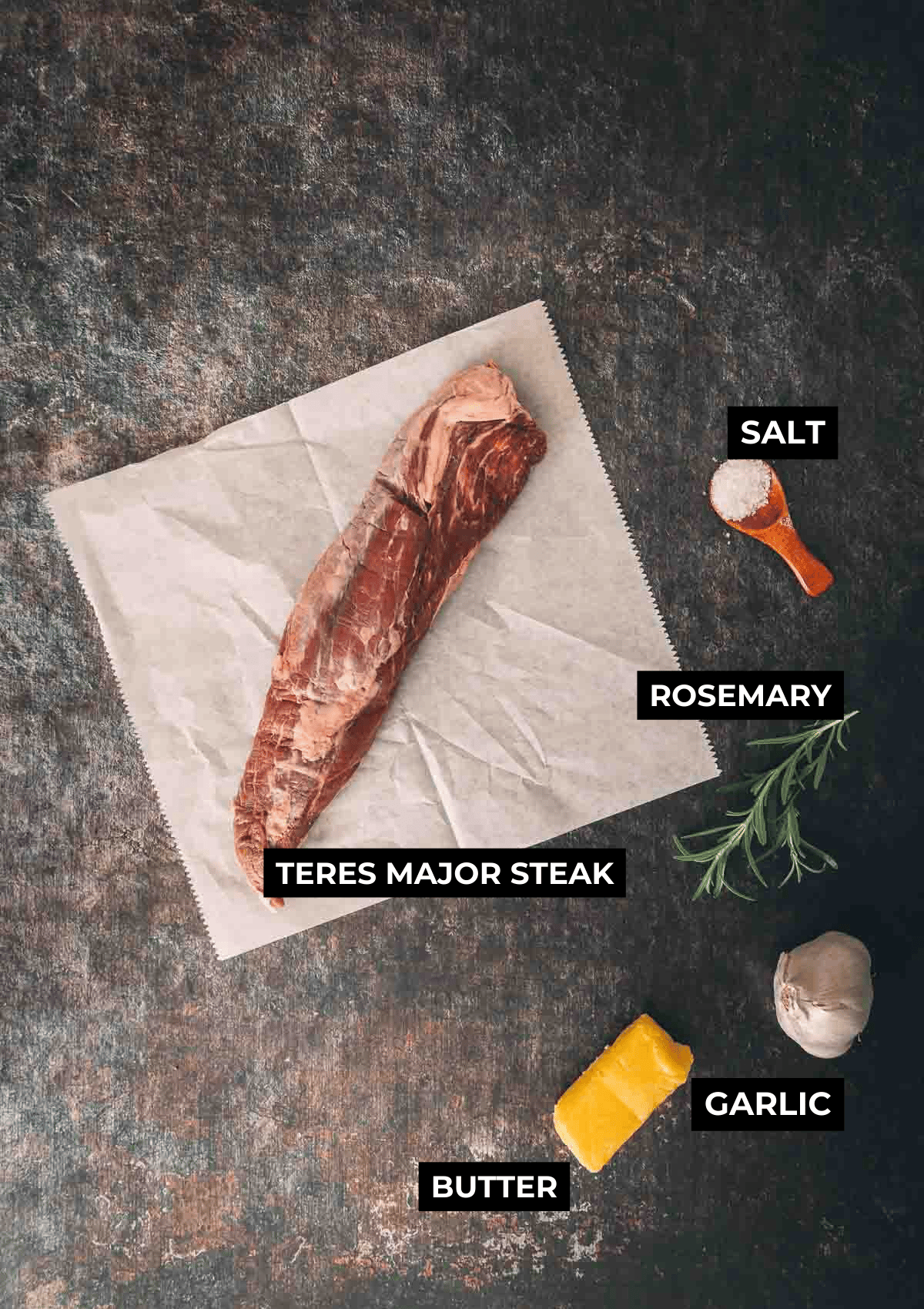 Ingredients
Teres Major Steak – these steaks are small; expect to feed 2 people
Salt – we always use kosher salt
Butter – we always use unsalted butter
Fresh rosemary
Fresh garlic cloves.
Finishing salt and freshly ground black pepper
How to cook a teres major steak
There's not much to cooking a petite tender steak perfectly; it's more about not overcooking it. A quick hot and fast sear or grill is perfect for achieving this.
Start by patting the beef dry with paper towels and trimming your teres major steak of any silverskin or extra fat. We love this flexible fillet knife for trimming meat. Then season it liberally with salt. Let the steak sit on a baking sheet in the fridge for 2 to 4 hours to air dry/dry brine.
When ready to cook, let the teres major sit at room temperature for 20 minutes.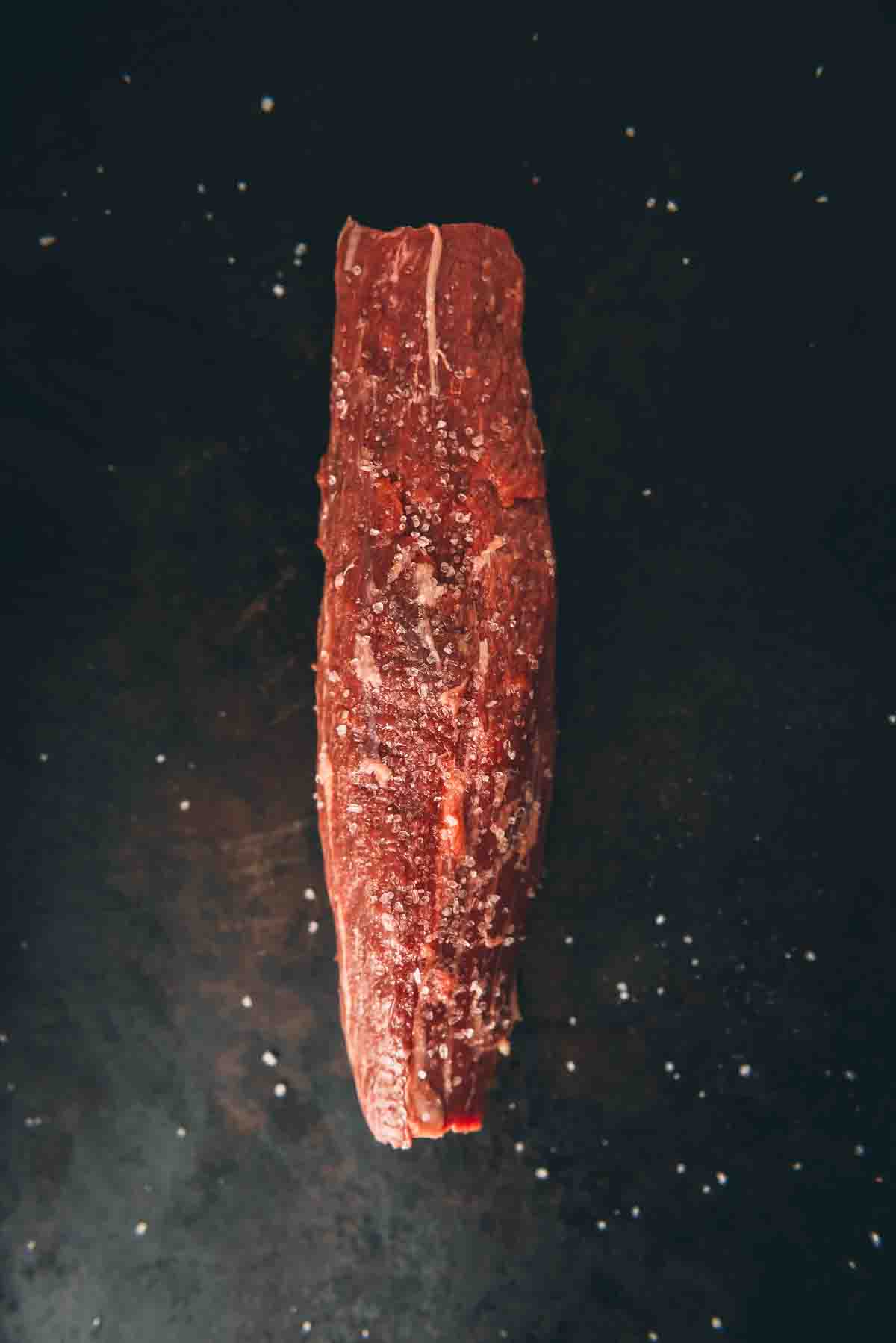 Then preheat a large cast iron skillet over medium-high heat until just smoking. If you have it, sprinkle a liberal coating of Girlcarnivore umami powder over the entire shoulder tender.
Melt 2 tablespoons of butter in the hot pan, and as soon as the butter is done frothing, add rosemary and smashed garlic.
Next, add the steak to the pan. Allow it to sizzle and sear to create a nice crust for 2 to 3 minutes a side, rotating with long tongs as needed. Using a spoon, baste the steak as you sear it in the melted aromatic butter.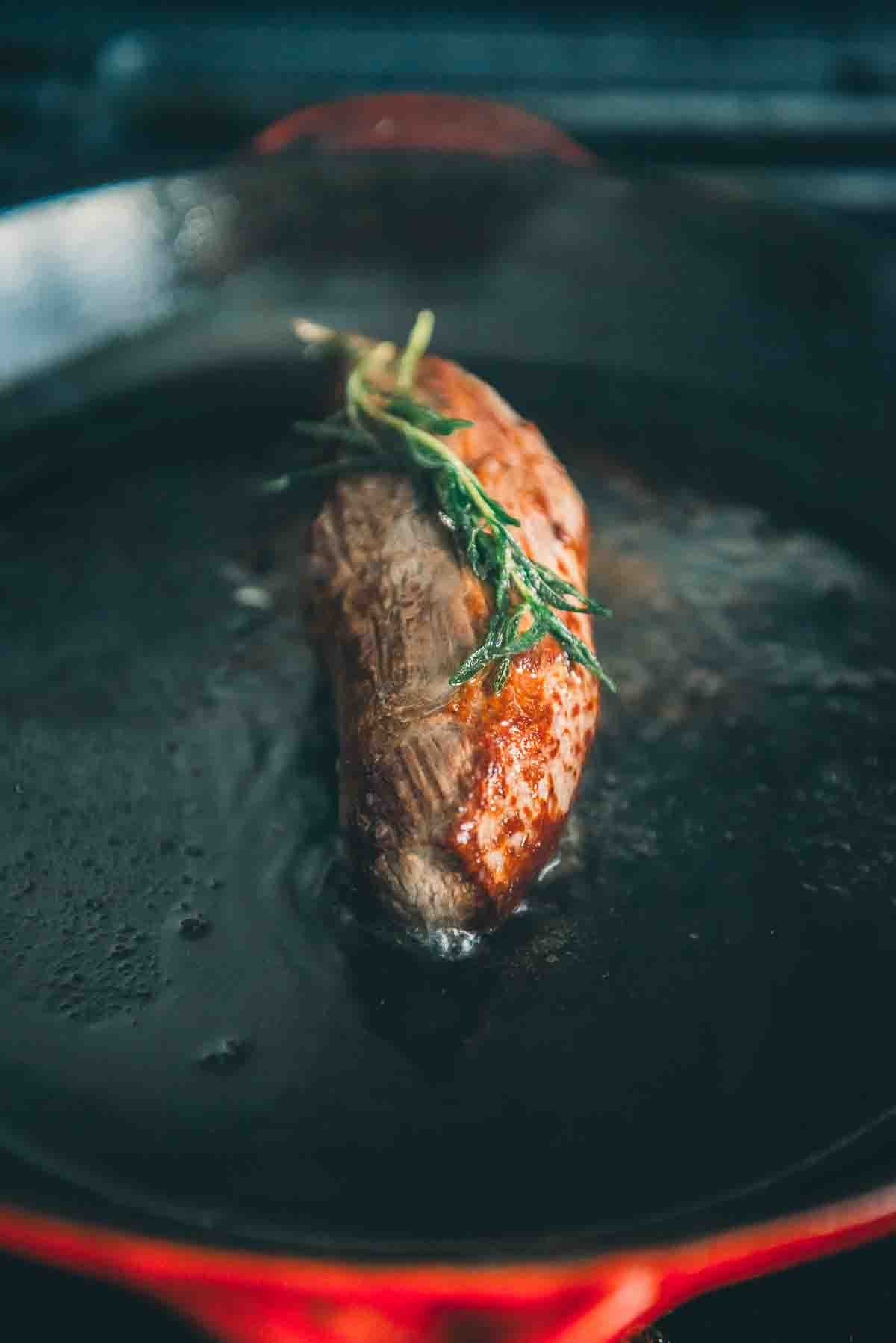 Cook the steak to 125 degrees F. It's imperative to use an instant-read thermometer to guarantee it's cooked to the perfect internal temperature. Insert it at the thickest part of the teres major steak for an accurate reading.
When the steak has reached the perfect internal temperature, set it on a clean cutting board to rest for 5 to 7 minutes with the rosemary from the pan. Add the remaining tablespoon of butter to the top of the steak as it rests and tent loosely with foil. Alternatively, take your perfectly cooked teres major to a whole new level by using homemade compound butter to top the steak as it rests for another layer of great flavor.
After the steak has rested, slice the steak, on a bias and against the grain, into thin strips to serve.
We served this with a sprinkle of coarse salt, black pepper, and homemade gremolata for a pop of herbaceous freshness. A cilantro chimichurri would also be a great choice.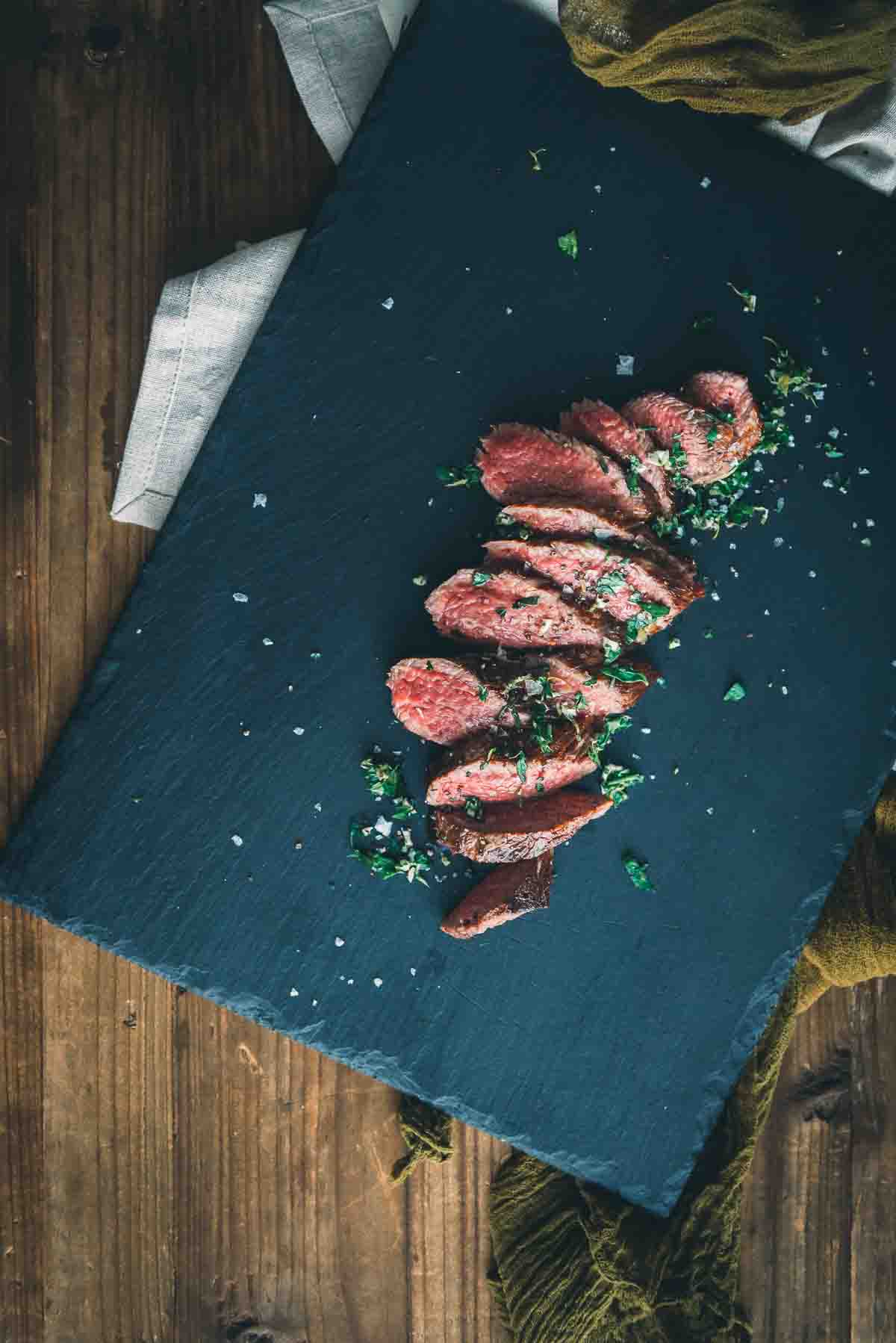 GirlCarnivore Expert Tips
If your steak is over a half pound, consider preheating the oven to 400 degrees F. After you sear all sides, finish cooking the steak in the oven to 125F.
We believe that everyone should cook a steak to their desired temperature, but some steaks truly suffer when cooked past medium rare. The teres major is best-served medium to medium rare with an internal temperature of 130 to 135 degrees F when serving. Remember, as the steak rest it will continue to cook, raising the temperature by 5 degrees F or so. We suggest cooking this delicious steak to 125F for a perfect medium rare bite after rested.
The best way to guarantee accurate temperatures is to use a good meat thermometer. It's the easiest way to get juicy, tender, flavorful steak every time! Always cook to temperature; times are just an estimate.
For a perfect steak crust, use a cast iron pan. Whether on the grill or gas range, cast iron heats evenly and will help the sear get a good sear on all sides.
Leftovers and Reheating
This is a small cut of meat, perfect for grilling or pan-searing and feeding 2 people. There probably won't be any leftovers. But if there are, wrap them in foil and store them in the fridge for 2 to 3 days. We enjoy leftovers cold, but they also work pan-seared in butter quickly just to warm through.
We do not recommend freezing leftovers for later.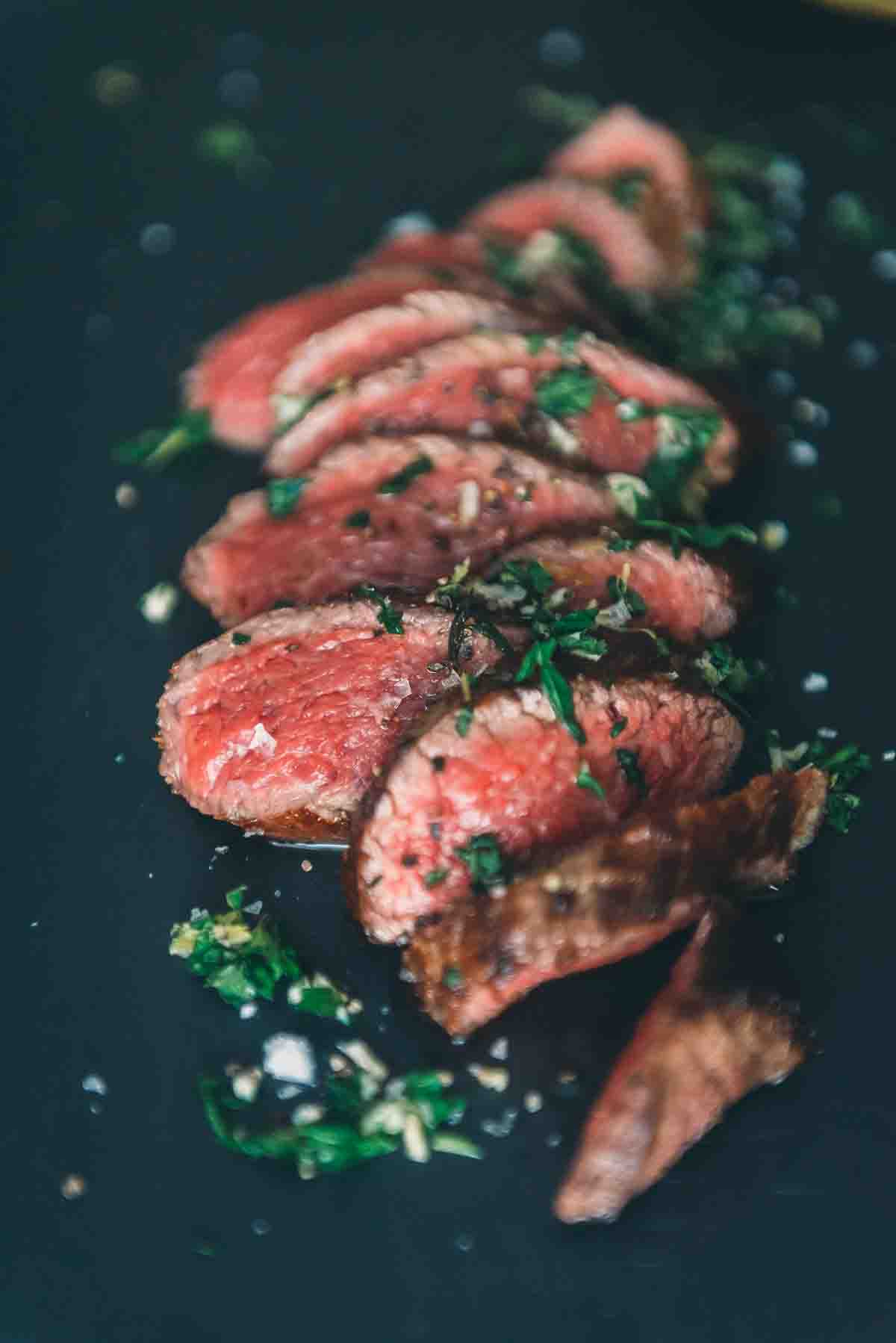 More perfect pan-seared steak recipes
Have you tried a teres major steak? What did you think? Let me know in the comments below, and be sure to rate the recipe to help the next person lucky enough to get their hands on one!
Pan-Seared Teres Major Steak Recipe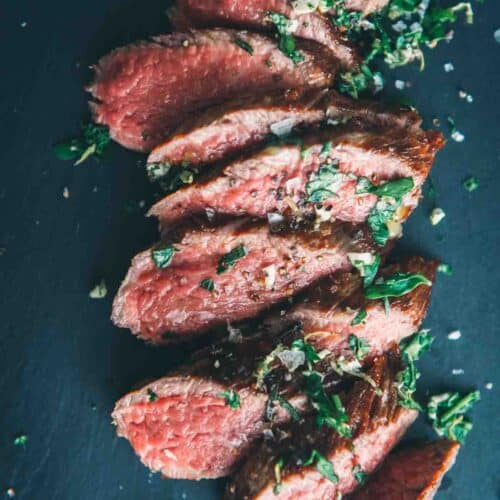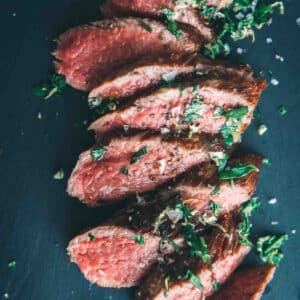 This amazing steak recipe is a rare treat because it isn't sold at local markets. The teres major is just as tender as a filet mignon but has a meatier flavor, making this Butcher's cut a true prize. Serve pan-seared to a perfect medium-rare for an amazing dinner expriance.
Ingredients
1/2

lb

teres major steak

1

tsp

salt

3

tbsp

unsalted butter

2

fresh rosemary sprigs

2

garlic cloves

smashed
Instructions
Prep the steak:
Pat the teres major dry and, if needed, trim any silver skin or fat from the meat.

Seaon the steak liberally with salt and arrange it on a baking sheet in the fridge for 2 to 4 hours to air dry.
Pan Sear the teres Major
When ready to cook, let the steak sit at room temperature for 20 or so minutes.

Preheat a large cast iron skillet ro medium-high heat until just smoking.

Add 2 tablespoons of butter to the pan and swirl to coat.

As soon as the butter has finished frothing, add the rosemary and smashed garlic to the pan.

Then add the teres major. You should immediately hear a sizzle.

Allow the steak to cook, forming a crust, undisturbed for 2 to 3 minutes. Rotate to sear all sides, basting in the melted butter as it cooks.

Cook the teres major steak to 125 degrees F, using an instant-read thermometer to check the internal temperature accurately.
Rest and serve
Remove the steak from the heat and place the remaining butter on top. Tent loosely with foil and rest for 5 to 7 minutes.

To serve, slice the steak into thin strips on a bias against the grain for the best bite.
Notes
If you have it, before searing the steak, add a dusting of GirlCarnivore Ooomami, umami powder for an even deeper beefy flavor.
If you're steak is over a half pound, consider preheating the oven to 400 degrees F. After you sear all sides, finish cooking the steak in the oven to 125F.
Take this steak to the next level by using homemade compound butter when resting for an added layer of flavor. We love our Steakhouse Herb compound butter recipe for this petite tender steak.
Nutrition
Serving:
1
g
|
Calories:
319
kcal
|
Carbohydrates:
1
g
|
Protein:
25
g
|
Fat:
24
g
|
Saturated Fat:
14
g
|
Polyunsaturated Fat:
1
g
|
Monounsaturated Fat:
8
g
|
Trans Fat:
1
g
|
Cholesterol:
123
mg
|
Sodium:
1249
mg
|
Potassium:
464
mg
|
Fiber:
0.2
g
|
Sugar:
0.04
g
|
Vitamin A:
562
IU
|
Vitamin C:
1
mg
|
Calcium:
31
mg
|
Iron:
3
mg