Talk about quick and easy, this Crunchy Pork Belly Burger recipe is a classic, with a seriously crispy pork belly upgrade and can be on the table in under 30 minutes. Yeah, that's winning.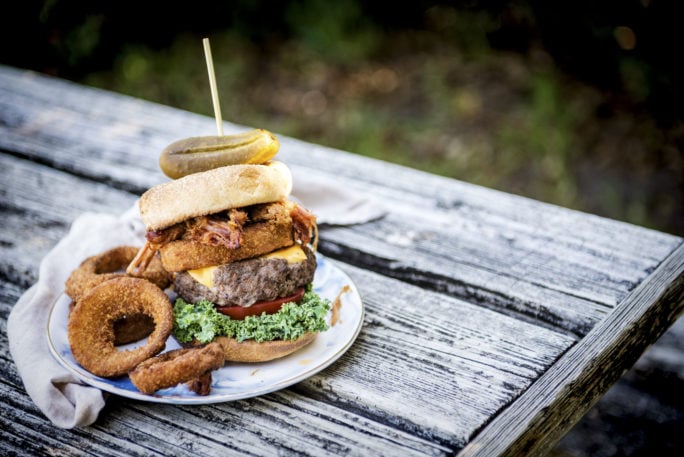 This post was sponsored by Curly's but as always my love of burgers comes from a very pure place in my heart that also hates cardio and loves cheese.
This post is part of my annual BURGER MONTH celebration, a fun little shindig for burger lovers with lots of swag and tasty recipes. Make sure to check it out!
We are full on into burger season and nothing is more rewarding than tossing a patty on the grill for a quick and easy finger licking good kind of dinner.
As much as I love making my own bacon jam from time to time, some nights I am just craving quick and easy (and we won't even go down the deep dark path of what I absolutely must have indulgences are there), but reaching into the fridge and knowing dinner will be done in under 20 minutes is a damned lifesaver some nights. Mainly because we can't start with wine until there's a little something in our tummies.
So, thinking about all the burgers coming out for #BURGERMONTH and being more than a little spent from a long day at the studio, I was craving a hearty meal, girl carnivore approved, but knew that I had a 30 minute window before I gave up and went right in for a bowl of cereal and to my pillow. (truth, am I right?)
Luckily, I get to team up with some pretty rad brands, and Curly's had just shipped me some of their pulled pork belly in their ready to go containers. I pulled it out and my mind lit up with an idea.ar
We all love bacon, why not toss some of that pulled pork belly on a burger in its place?
Yeah, go big or go home.
Talk about dressing up the pig (come on, that was funny), we know pork belly is trending across the country as the hot thing to use. And let's be honest, it's delicious, so I hope this trend stays on point for a while.Feeling fancy,  I crisped up the Curly's pulled pork belly in the Alabama sauce and used it, along with a crunchy onion ring and some sharp cheddar, to make a burger you'd pay a premium for dining out.
And I was still able to get into my PJs and snuggle up for an Archer marathon all within an hour of getting home.
I call that winning. Or being an adult.
Ish.
Now, for more on the Curly's, click here to head over to their RoadTrip Eats site (they are rolling out some new flavors this year and they are looking tasty). To stock up your own fridge with this easy grab and go alternative, check your local refrigerated meat case (usually near the grab and go sides, snuggled somewhere between bacon and sausages). 

Crunchy Pork Belly Burger
Ingredients
1

package Curly's Pulled Pork Belly Alabama Style

1

bag frozen crispy onion rings

4

ground beef burger patties

Buns

Cheddar Cheese slices

Lettuce

tomato, onion, and other desired fixings
Instructions
Cook the onion rings according to the package for crispy hot deliciousness.

Meanwhile, heat the Curly's Pulled Pork in a skillet over medium heat, tossing, until lightly crispy.

Grill your burgers to your desired doneness. Lay a slice of cheese over top to melt once off the heat.

Arrange the burgers over lettuce and tomato dressed bun bottoms. Add an onion ring (or two) atop the patty and scoop the crispy pork belly into the center.

Top with a bun and serve with the remaining onion rings on the side.