Cast Iron Roasted Chicken with Strawberry Rhubarb Balsamic Glaze is the perfect rustic recipe for sharing moments with friends and family.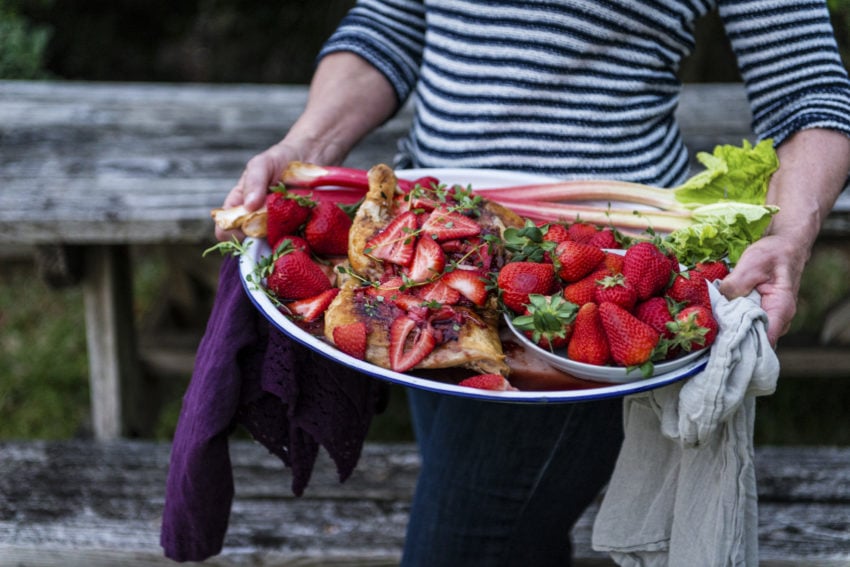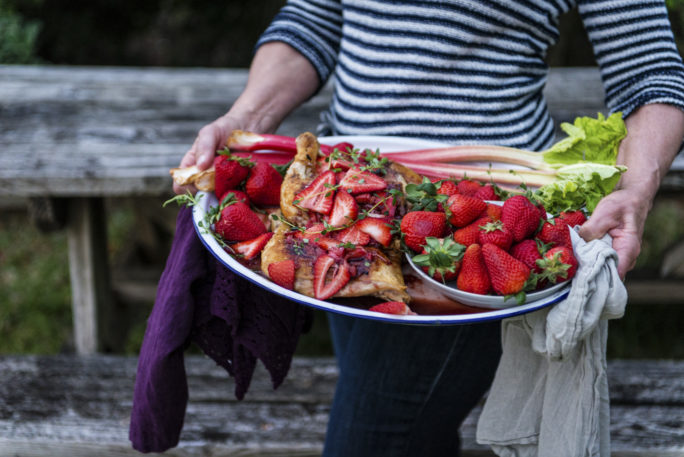 This post is sponsored by Honest Cooking on behalf of Bonne Maman's Preserves. However, the deliciousness inspired below is all my own.
There is something about a shared rustic meal that is comforting. The way you can walk into a home and immediately know someone has been working the in the kitchen to create a meal to share together. The was there is a familiarity in the old cast iron skillet, a faded recipe handed down over time, or a special treat that they have waiting just for you.
This to me is what the core of cooking is, sharing moments with one another. Yes, food and flavors have become a huge part of my life, along with everything that runs in correlation to that – from farming all the way to mass production in American foodways – but it will always be the meals, the ones I never photograph, the moments around a table with the persons who matter most to me, that will be the thing that fuels this why.
So as we step back and focus on the people who are important in our lives, let's raise a glass to those impactful women who have helped shape us.
This Cast Iron Roasted Chicken with Strawberry Rhubarb Balsamic Glaze recipe is the perfect mix of sweet and savory that brings out the best in one of the most classic dishes you can prepare. Using humble ingredients, and delicious Bonne Maman Strawberry preserves, I was able to create a recipe that is perfect for sharing around a table with great laughter and conversation. Just like every meal should be. Say it with Homemade and share something more than fast food with your family tonight.
Bet your momma would be proud. 
Be sure to hop over to enter Bonne Maman's Say It With Homemade giveaway!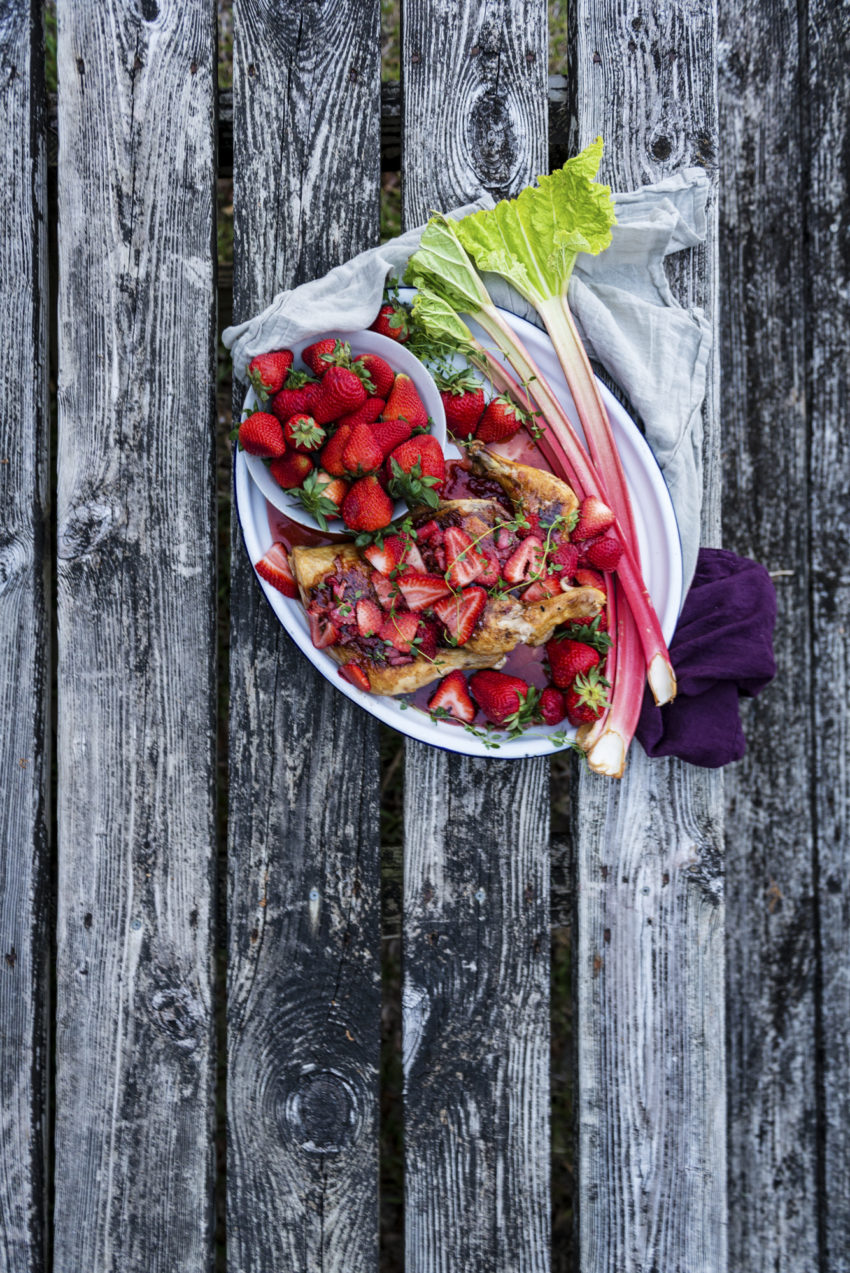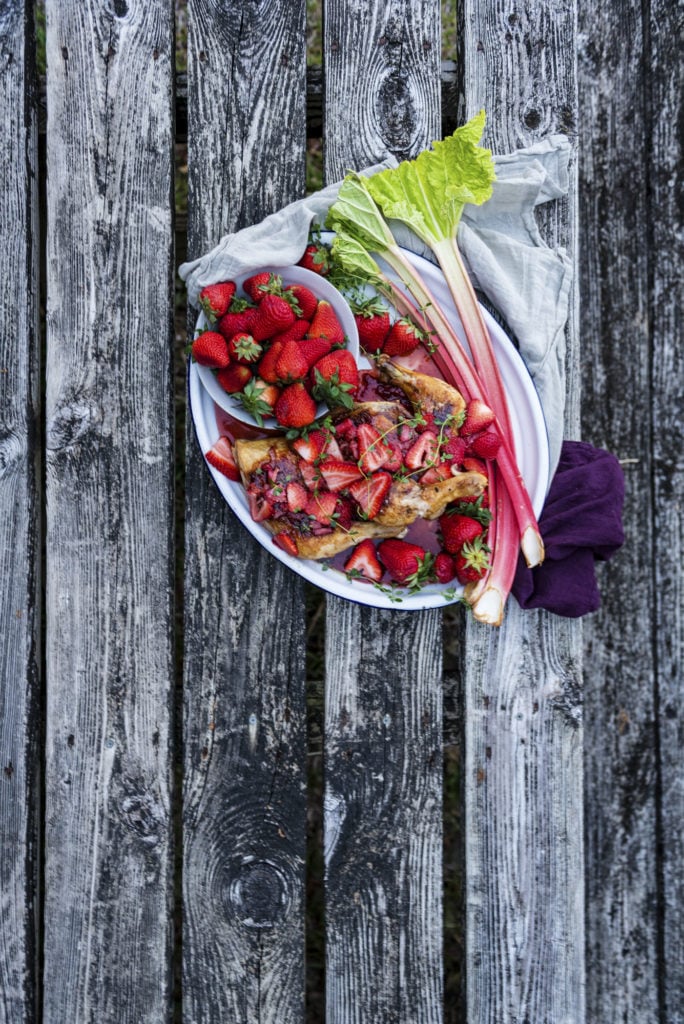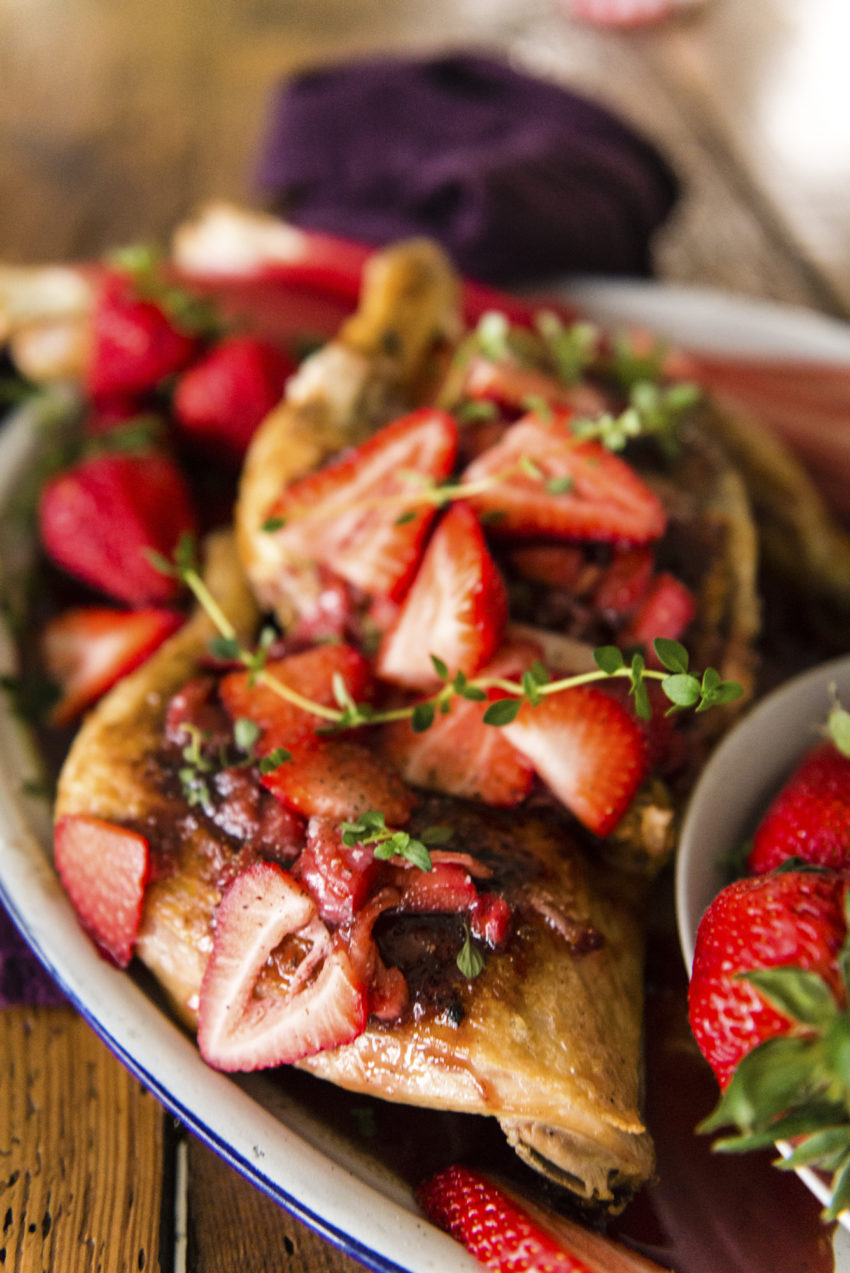 Ingredients
For the Strawberry Rhubarb Glaze

3/4

cup

Bonne Maman Strawberry Preserves

1/2

cup

chopped onion

1

tbs

balsamic vinegar fig reduction

1

tbs

red wine vinegar

salt and pepper

2

stalks rhubarb

trimmed and chopped
For the Chicken
2

tbs

grape seed oil

4

lbs

bone in skin on chicken quarters

fresh thyme and sliced strawberries for garnish
Instructions
Preheat the oven to 425 degrees F.

In a small saucepan, combine the strawberry rhubarb glaze ingredients. Bring to a boil, stirring, then reduce heat to a simmer over low heat and allow the sauce to thicken over time. Keep an eye on it and remove from heat if needed. If sauce thickens too much, add a bit more of the strawberry preserves.

Meanwhile, heat the grape seed oil in a large cast iron skillet until very hot. Pat the chicken dry and season with salt. Place the chicken skin side down and allow to crisp and golden,7 to 10 minutes. Flip the chicken carefully, cover, and place in the oven, cooking for another 20 minutes. Remove the lid and spoon a bit of the sauce over the chicken. Place in the oven and cook another 5 to 7 minutes.

Serve the chicken on a platter with additional sauce on the side to spoon over the top.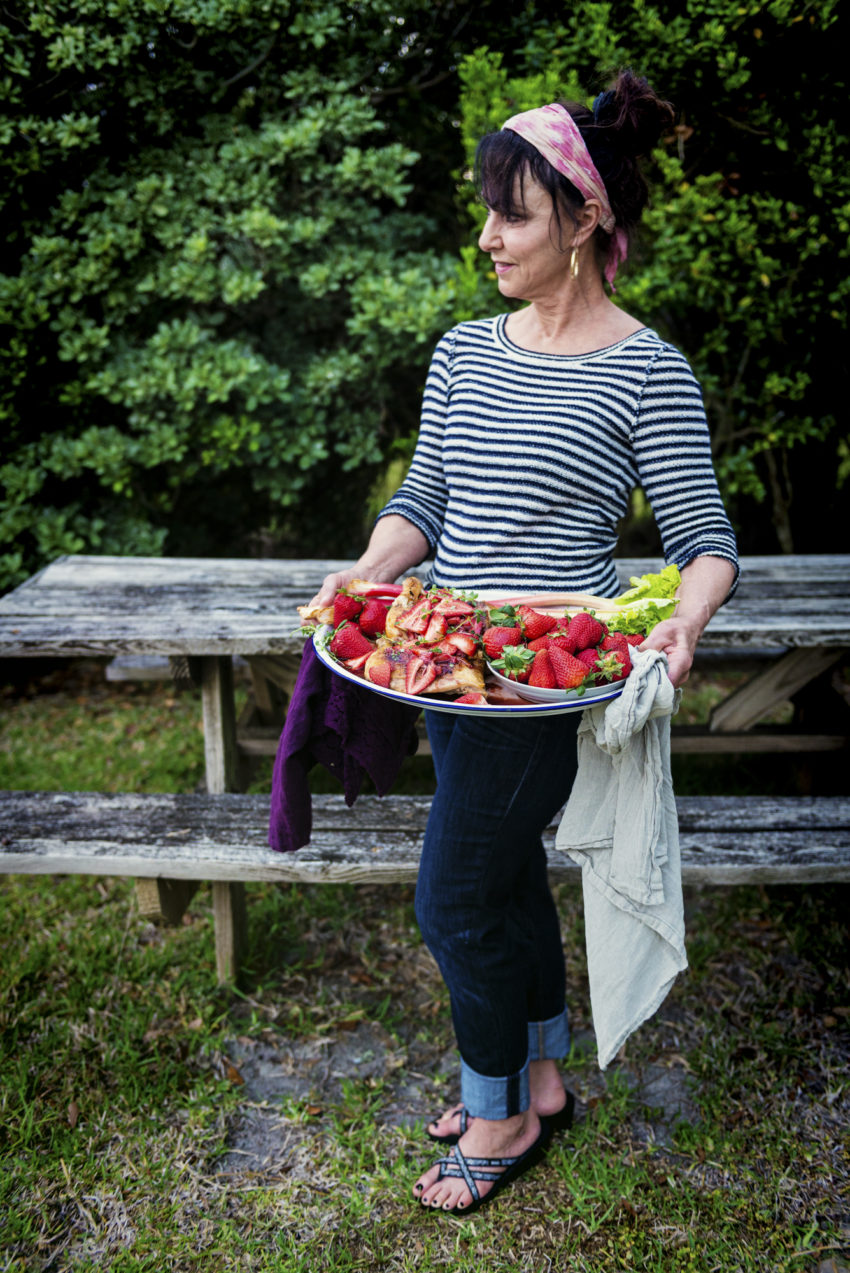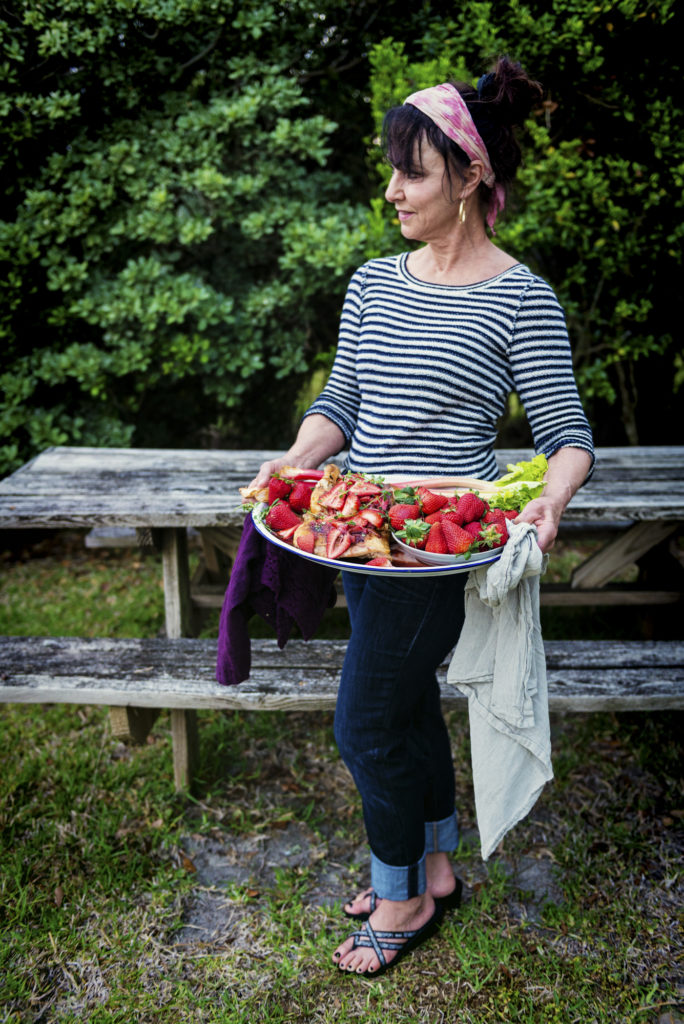 Model Credit the ever boho Alice Phillips of Ally's Kitchen