Thick umami and peppercorn crusted New York strips and a rich whisky pan sauce come together to take the classic steak au poivre from fine dining to a must make cast iron campfire recipe.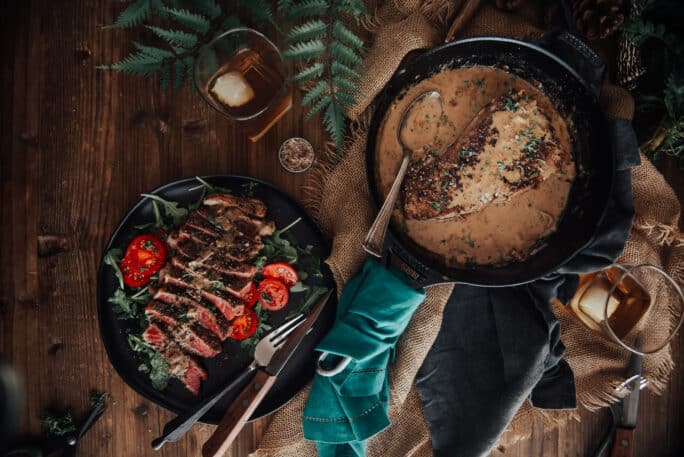 The name Steak au Poivre translates to steak with pepper, or pepper steak, and is synonymous with steakhouses everywhere.
One of fine dining's timeless recipes, steak au poivre is a standard recipe of traditionally, a fork-tender pan seared filet mignon coated in peppercorns, seared and served with a luxurious cream peppercorn sauce. It's also a stove top recipe I have been fine-tuning for years.
But, could is it possible to take the white table recipe and turn it into a campfire must make?
You bet it is. And this recipe hit all the marks to become one of my favorite camping recipes ever.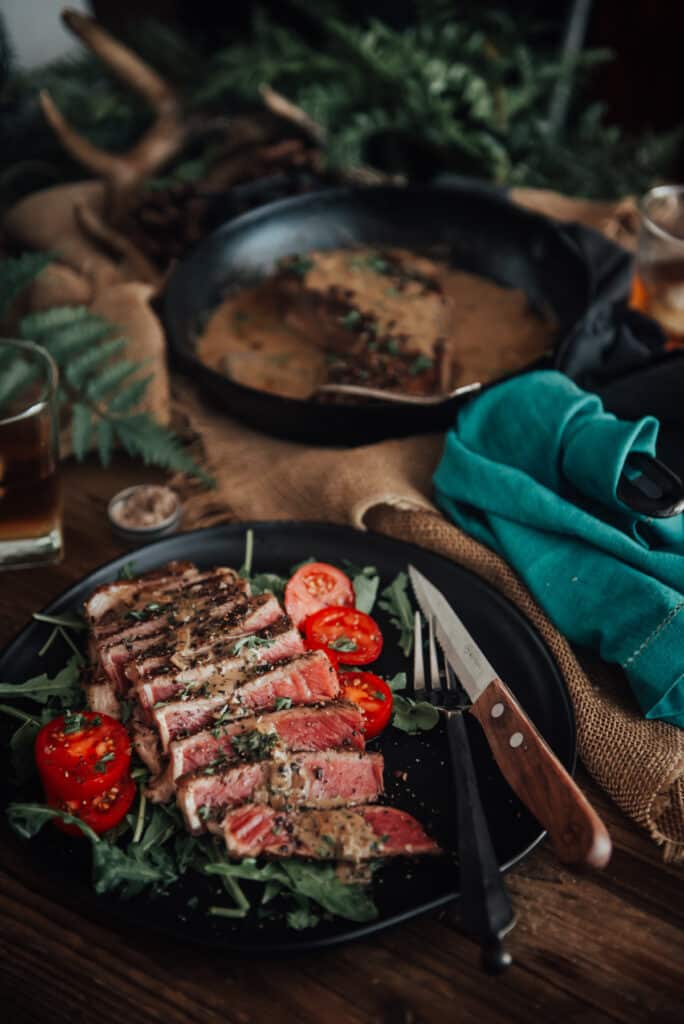 What you need for this cast iron steak au poivre recipe: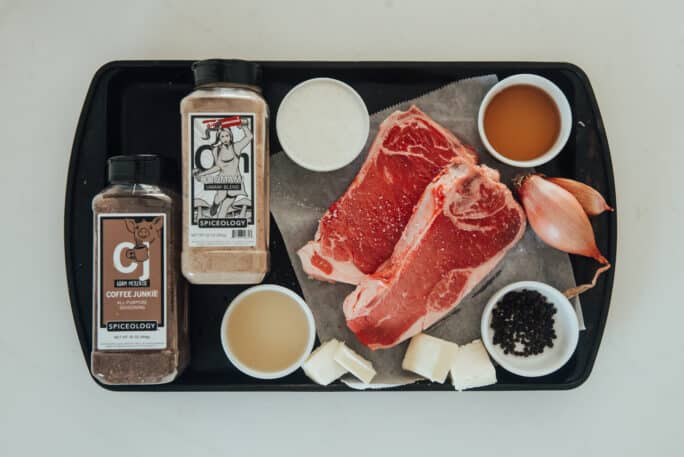 To get started, you need
Steaks – we used New York Strip steak for size and thickness
Salt – always.
Ooomami Powder, Coffee Rub, and peppercorns – this is the savory coating that goes on the beef making you wish you bought more steaks. What's ooomami powder? Its a fine mushroom powder for adding richness. Read more about what is umami and how to use it in your cooking.
Butter – Cook with unsalted butter.
Shallots – or garlic.
Beef broth – homemade roasted beef bone broth or stock
Whiskey or bourbon – always use one good enough that you would drink it.
Heavy Cream
Fresh herbs – chives, thyme, and parsley are my go to for this recipe.
If you are preparing this over a campfire, you will need a solid cast iron pan large enough to hold your steaks without crowding the pan.
Why Cast Iron for steaks?
Cast iron is my go-to choice for cooking. It moves from range top to oven, grill grate to open fire without worry. Over time, with good maintenance, it remains non-stick and because it's well an iron-carbon alloy, I never worry about random chemicals peeling off into my food.
But, what makes cast iron ideal for steaks? It's the way it holds and distributes heat. When cast iron heats, it heats evenly. Meaning, edge to edge becomes hot (that includes the handle, so get yourself a good heat-resistant glove too). The consistent even heat produces the perfect sear on meat, allowing the entire surface that's touching the cast iron to get a beautiful solid crust.
Because cast iron holds heat, you can move it on and off the flame (or heat source) to regulate the temp but the pan will still maintain heat.
How to make campfire steak au poivre:
Cooking over a campfire always requires a little prep work. Gather all of your ingredients and have them readily available along with long tongs, a spatula, and heat-resistant cooking gloves before starting.
Ready a campfire for indirect heat, building a fire to one side of the fire ring or camp grill, and allow your cast iron pan to sit on it until just smoking.
GirlCarnivire Pro Tip: If the cast iron gets too hot, and starts rolling smoke, remove it from heat and let it cool. Adding anything when a pan is that hot will just result in burning food and having to start over again with a clean pan.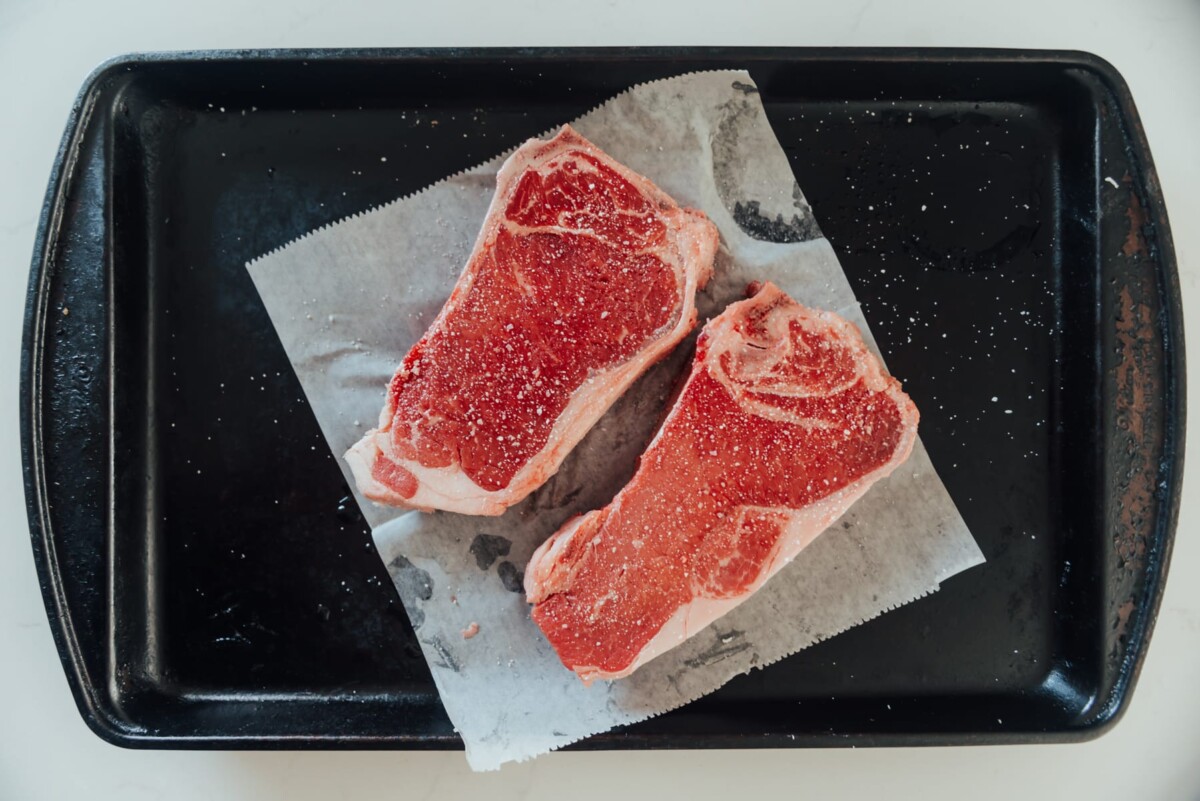 First, season the steaks with a liberal coating of salt, Ooomami powder, coffee rub, and a thick coating of freshly cracked peppercorns.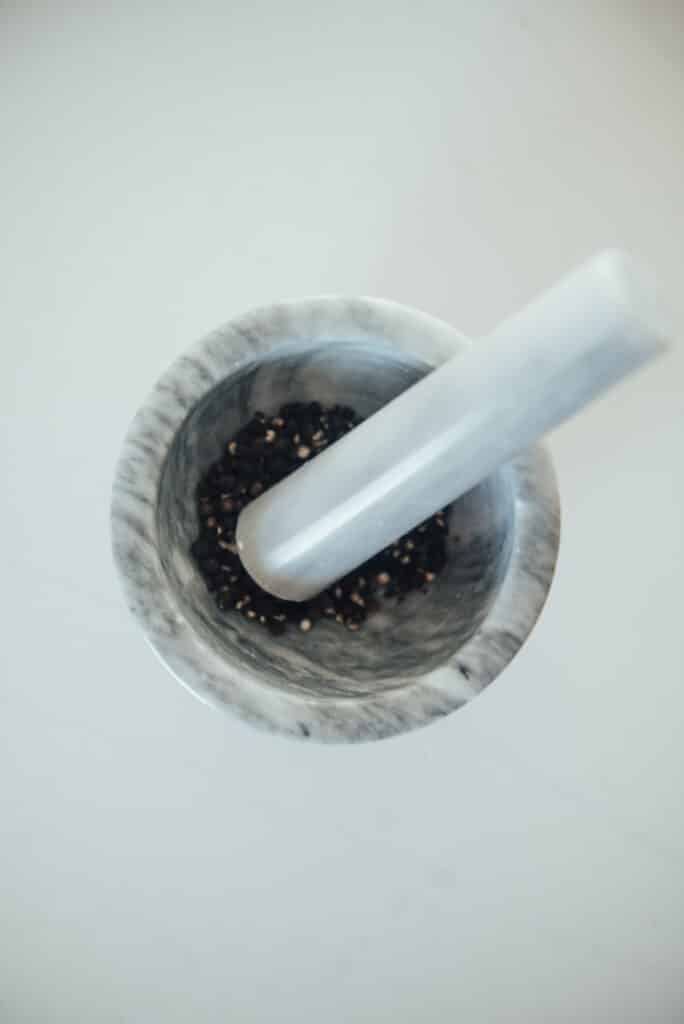 After the cast iron pan has preheated over the flame, add a little butter and swirl to coat. Place the steaks in the hot pan and don't touch them until a solid crust has formed 3 to 4 minutes. Flip only when they release without a fight and the crust has formed.
Size matters; depending on the thickness of the steak, this process will take less or more time.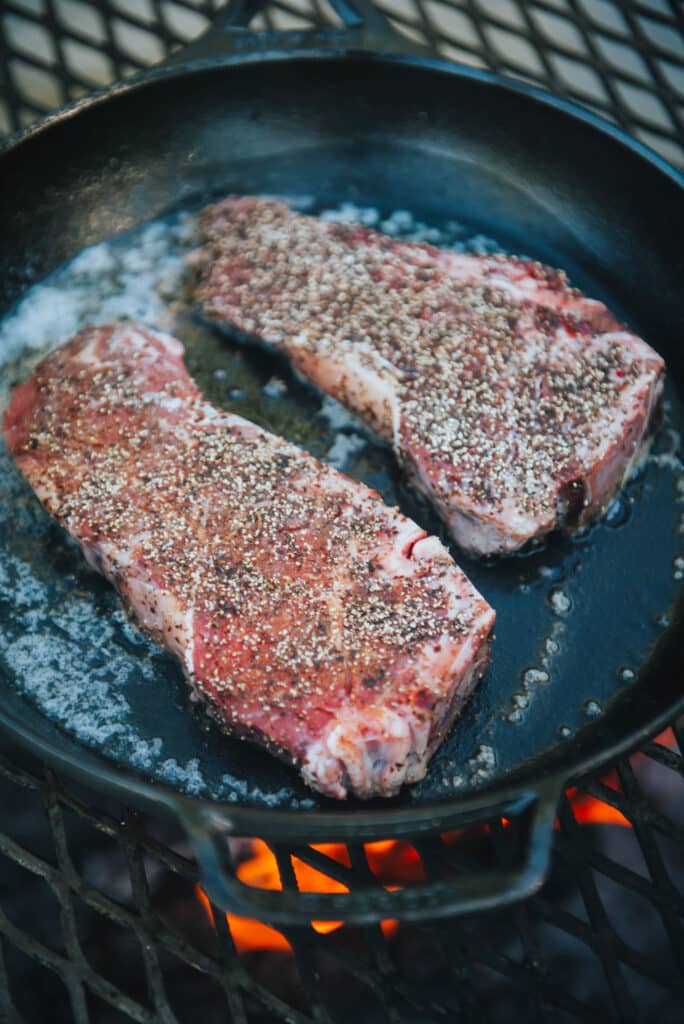 Once the steaks have cooked to your desired internal temp, minimum 125 to 130, remove them from the pan to rest.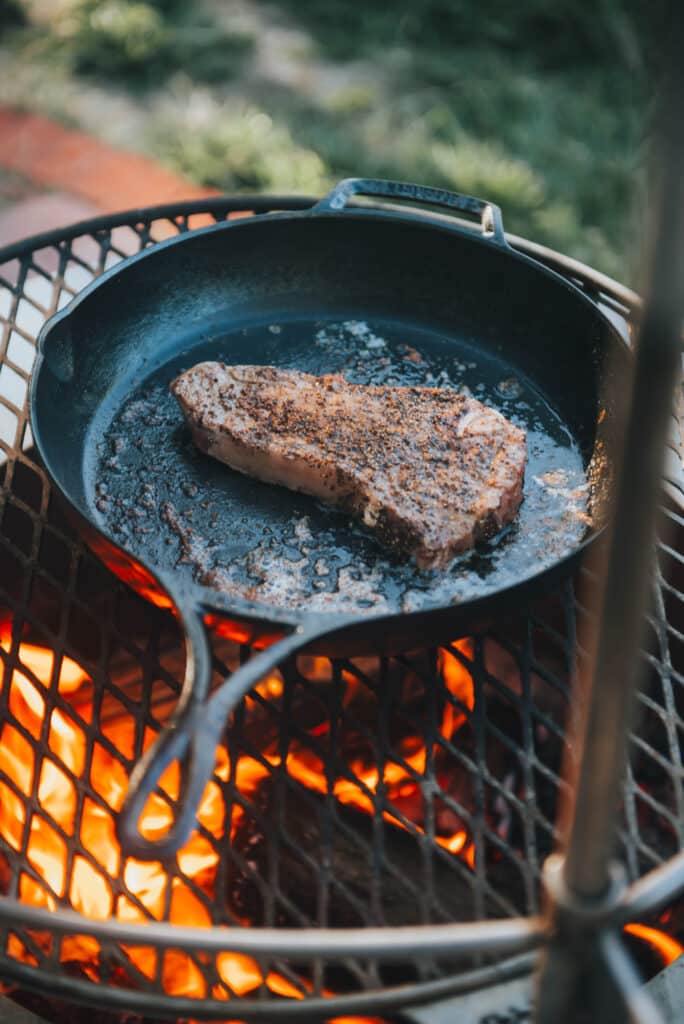 Next, make the sauce. Maneuver the pan to maintain a medium heat and add the shallots and another tablespoon of butter to the pan. Allow the shallots to sautee before deglazing the pan with a splash of the broth.
Then, work in the whiskey, allowing the liquid to simmer for 3 to 5 minutes, and the heavy cream. Let the liquid thicken over low heat (the cooler side of the campfire or grill).
Finally, once the liquid coats the back of a spoon, remove the pan from the heat and stir in the remaining butter and herbs to create the smooth sauce.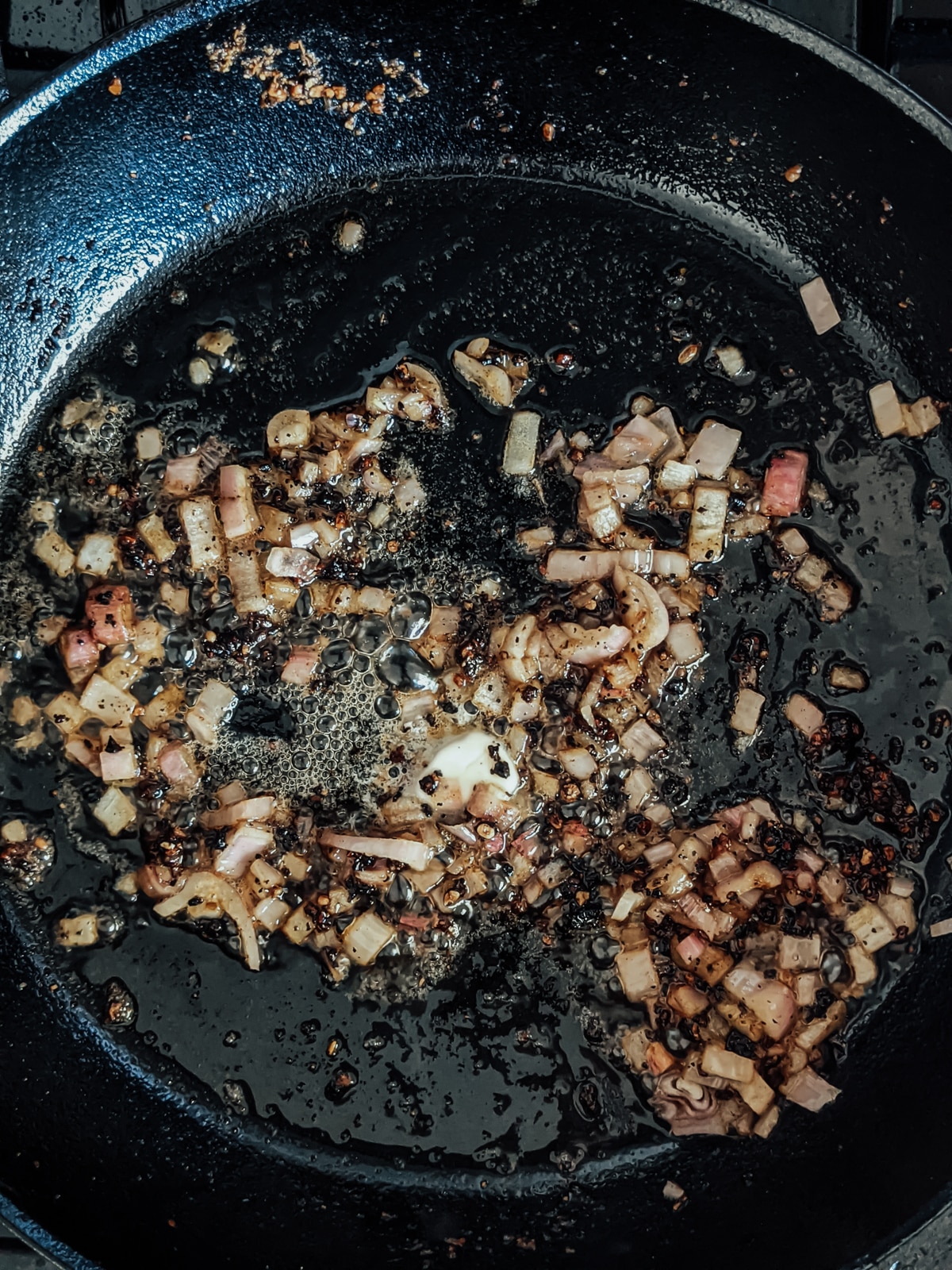 Lastly, return the steaks to the pan to serve. Spooning the sauce over each.
Another good note about cast iron is that it will hold heat, keeping dinner warm while you continue to find reasons to dip bread into the sauce and come back for more.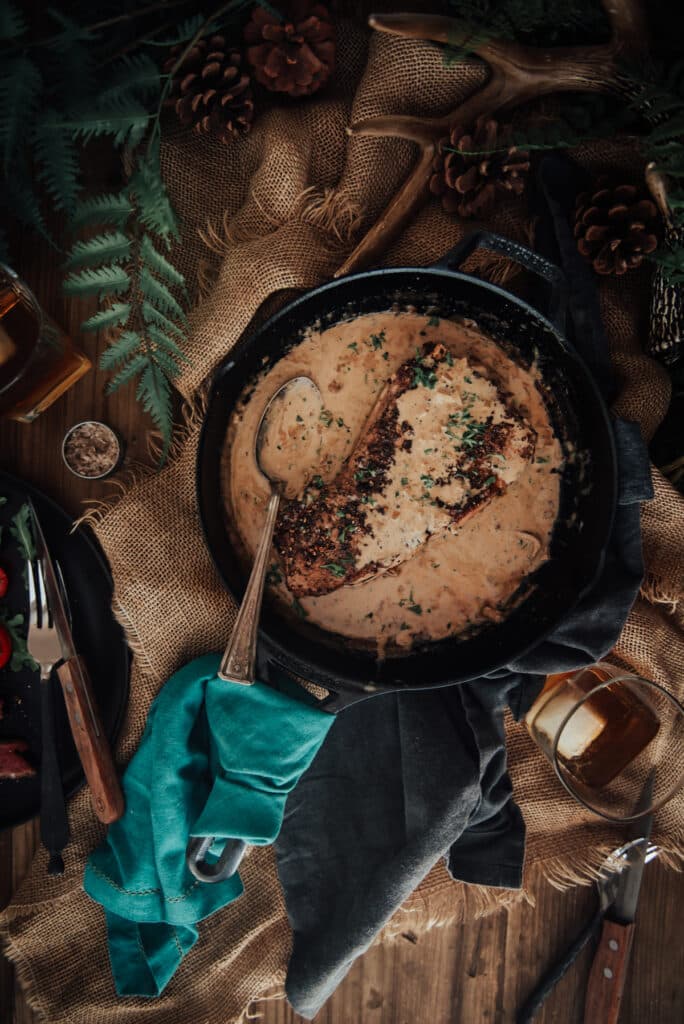 Tips, tricks, and notes for this recipe:
Because this is a camping recipe, we used New York strip steaks, as they are readily available at most markets. However, this recipe would work for t-bones, ribeyes, chuck, or Denver steaks too. Essentially, any steak that can hold up to a hot sear in cast iron.
The filet was common because it is a fork-tender cut, and a hearty sauce can do a lot to add intense flavor to the dish. But, our version of the pan sauce here has is a double down on umami and goes well with any bold beefy cut.
Cognac or brandy are also traditional ingreidnets for steak au poivre. And those are great when I am at home with my full liquor pantry, but I don't know anyone camping with cognac. I do know a ton of people who camp with bourbon or whiskey though, and we found that it swapped out just as well and enjoyed the sweetness it added to the sauce.
Pair cast iron steak au poivre with a bold full-bodied red wine like Cabernet Sauvignon or Malbec. Afterward, it also goes well with a good glass of bourbon.
Want more dinner recipe ideas? Try some of my favorite recipes
If you've tried this Cast Iron Steak au Poivre or any other recipe on GirlCarnivore.com please don't forget to rate the recipe and let me know where you found it in the comments below. I get inspired by your feedback and comments!
FOLLOW Along on Instagram @girlcarnivore as well as on Twitter and Facebook.
Cast Iron Steak Au Poivre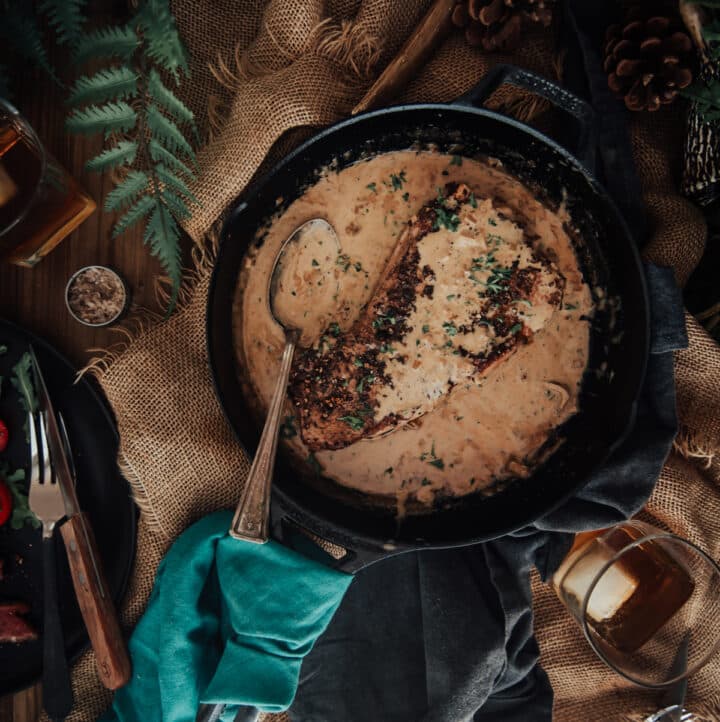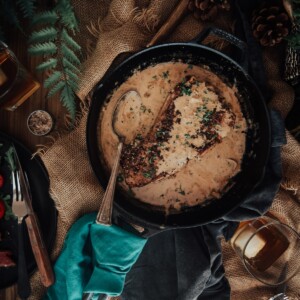 This campfire recipe takes white linen dining to the great outdoors with a cast iron live fire steak au poivre, peppery pan seared steaks in a luscious bourbon sauce.
Ingredients
For the Steaks
2 1.5

lbs

bone-in New York strip steaks

Salt

1

tbsp

Coffee Junkie rub

¼

cup

Peppercorns

coarsely crushed

1

tbsp

butter or cooking oil
For the sauce
4

tbsp

butter

divided

2

cloves

garlic

minced

½

cup

Beef broth or stock

1/4

cup

bourbon

1/2

cup

Heavy cream
Garnish
Thyme

parsley, and chives

Flakey salt
Instructions
Prep the fire
Prep your campfire by building a 2 zone fire, with a cool side and a hot side. Do this by arranging your coals to one sde of the fire ring or grill.

When the coals are ashed over and maintaining and even heat, place your cast iron skillet on the grill grate to pre-heat until it just behind to smoke.
Prep the steaks
Meanwhile, rub the steaks with a liberal sprinkle of salt, Ooomami powder, and coffee rub.

Then, using your hands, press a layer of freshly cracked pepper over the surface of the steaks.
Cook the steaks
Add a tablespoon of butter to the cast iron pan and swirl to coat.

Place the steaks in the skillet, you should hear a good sizzle.

Allow the steaks to sit, without disturbing them for 3 to 5 minutes to form a good crust.

Flip, only when the steak releases easily without any tugging, and cook to desired doneness. 125° for rare.

Remove the steaks from the pan, tent with foil, and rest.
Make the pan sauce
Move the cast iron pan to the cooler side of the grill.

Add 1 tablespoon of butter and the shallots.

Sauté for 3 minutes, until soft.

Add a splash of the beef broth and deglaze the pan, scraping up any browned bits.

Add the remaining broth and maneuver the pan over the heat so that the liquid simmers.

Add the bourbon and cook 3 to 5 minutes.

Add the heavy cream and allow the liquid to just simmer, stirring often, until the sauce thickens and coats the back of a spoon.

Remove from heat, and stir in the remaining butter until smooth.

Return the steaks to the pan
Garnish and serve
Garnish the steak au poivre with freshly minced parsley, thmye, or chives.

Serve the steaks from the pan and spoon additional sauce over top.
Notes
A medley of black, red, and white peppercorns add extra flair to the pepper crust.
Cognac or brandy are the traditional spirits when making steak au Poivre but I dont know anyone who camps with cognac or brandy. I do know a ton of fine folks that camp with bourbon though.
Serve these cast iron campfire steak au poivre with campfire French fries or foil pack potatoes, over tossed spinach and arugula, and with crusty bread to sop up extra sauce.
Nutrition
Serving:
1
g
|
Calories:
763
kcal
|
Carbohydrates:
10
g
|
Protein:
55
g
|
Fat:
55
g
|
Saturated Fat:
28
g
|
Polyunsaturated Fat:
3
g
|
Monounsaturated Fat:
23
g
|
Trans Fat:
1
g
|
Cholesterol:
214
mg
|
Sodium:
233
mg
|
Potassium:
884
mg
|
Fiber:
3
g
|
Sugar:
1
g
|
Vitamin A:
686
IU
|
Vitamin C:
1
mg
|
Calcium:
102
mg
|
Iron:
6
mg