Use fresh blueberries and cheddar craft your own custom breakfast sausage. Homemade sausage isn't hard and tastes amazing.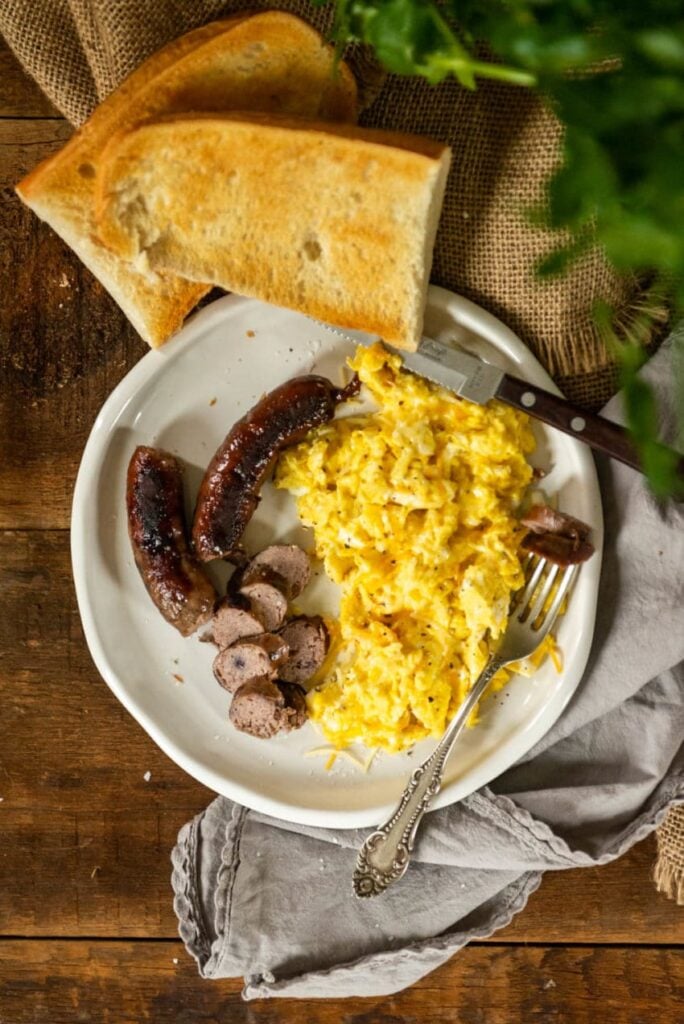 If you haven't made your own breakfast sausage yet, you're in the right place. I have some great tips for starting out.
Bonus, these are perfect with maple pancakes or with these cornbread waffles. Read it over and then scroll down leaving a comment telling me what you need to know about making your own breakfast sausage at home.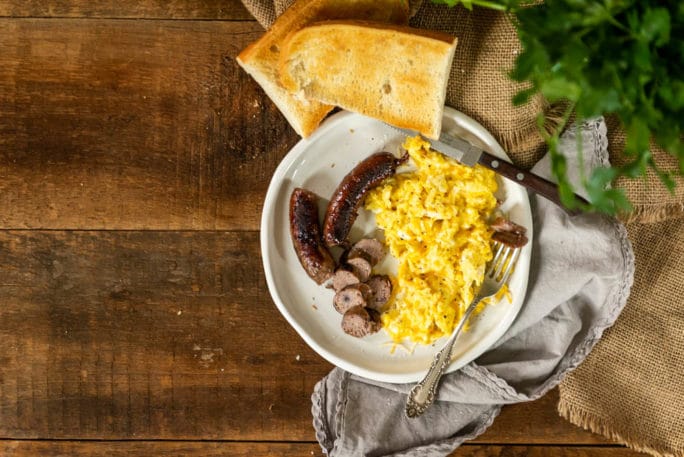 How to Make Breakfast Sausage
Making breakfast sausage is easy! You need pork, and pork fat (like bacon or pork belly), salt, seasoning and a meat grinder. The fat is what gives the sausage that rich flavor and helps keep it moist. This isn't the time to go for lean cuts. Fat = flavor!
Make sure to trim anything that isn't hard fat, like silverskin or bone while trimming out your pork. I buy whatever is on sale, usually a shoulder, and then combine that with an equal portion of pork belly for an amazing combination.
Salt is also a huge factor in sausage for texture and flavor. I like to keep it to just under a tablespoon of salt per pound and then I mix in my seasonings
From there, you need a meat grinder and a little imagination. If you just want to play with flavor combinations, quarter the recipe and make sausage patties.
If it's your first time using casings, I prefer natural casings. One, it's a use for another part of the animal, and two I think they have the best snap. However, it can be a little odd when you first get the package.
Casings often come cured in a lot of salt. It's vital to read the instructions included on the packaging and follow them. Normally that involves soaking and rinsing the casings ahead of time. I have found string across a window to be an easy way to dry the casing until ready to use.
What can you put in breakfast sausage?
Breakfast sausage is one of the easiest to experiment with – because there aren't any hard rules to go by. You can't make Italian sausage without fennels seeds, chorizo must have spice, but breakfast sausage? Well, as long as it's a little sweet – it doesn't matter.
Research will show a combination of mild spices, like sage, thyme, rosemary and a hint of nutmeg in a lot of breakfast sausage recipes. Even brown sugar at times.
You can even add a pinch of cayenne or red pepper flakes. There's really no wrong way to make breakfast sausage.
I like to work in batches, seasoning, grinding and always cooking a testing a bite before stuffing the sausages just to make sure everything is balanced.
For this recipe, I was really leaning in on some New England classics, one Cabot cheddar cheese, local Coombs family farm maple syrup, and Maine blueberries. I love the combination of sweet and savory that cheddar allows for when paired with something like syrup.
And I knew this needed Maine blueberries because they are famous for being smaller – and better – than the rest. Large blueberries would pop while grinding or when being sliced, and no one really wants violet colored sausage.
The combination of Cabot Cheddar, the real maple syrup and blueberries was exactly what I was going for!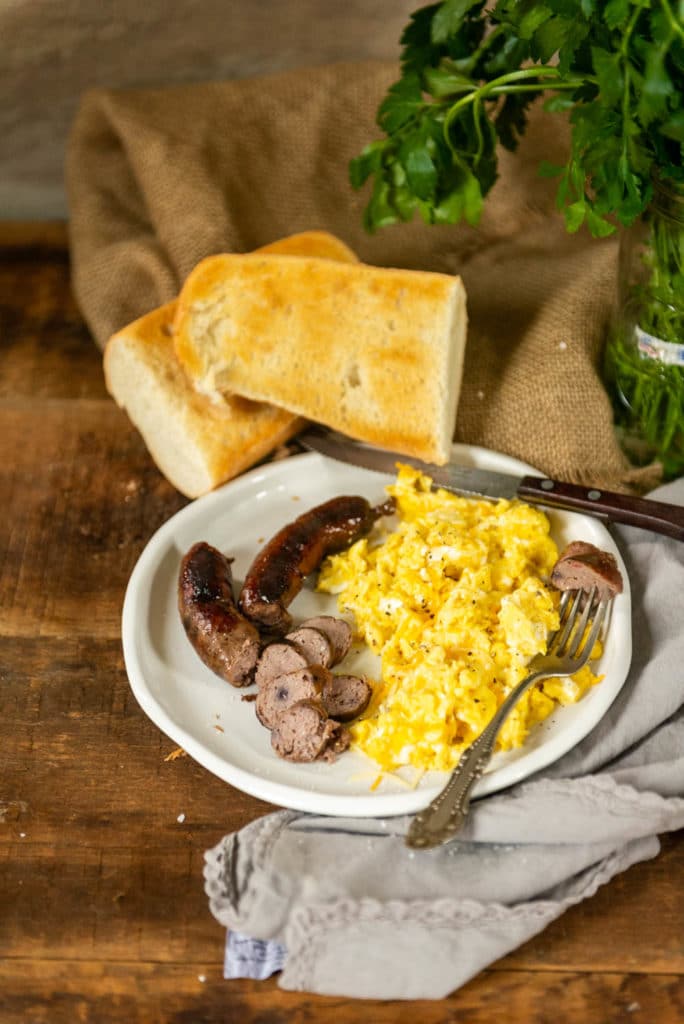 Tips for making your own Breakfast Sausage
Make sure to read the instructions for your casings ahead of time to have them ready to go.
Keeping the meat and meat grinder cold prevents the fat from warming up and becoming too soft while the meat is being ground.
Have a sanitized needle for relieving air pockets ready and on hand.
Invest in an all metal grinder or grinding attachment. It will hold up better and keep cooler when you are putting meat through it.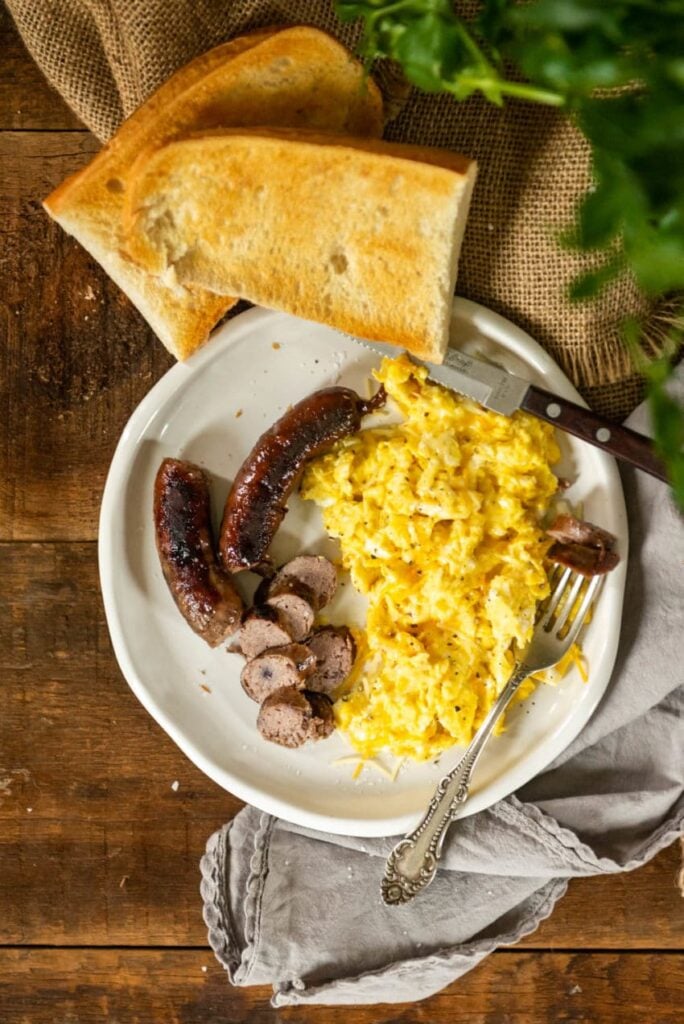 Want more breakfast inspiration? Try some of my favorite recipes
If you've tried my Homemade Blueberry Cheddar Sausage Recipe or any other recipe on GirlCarnivore.com please don't forget to rate the recipe and let me know where you found it in the comments below. I get inspired by your feedback and comments! You can also FOLLOW ME on Instagram @girlcarnivore as well as on Twitter and Facebook.
Blueberry Cheddar Sausage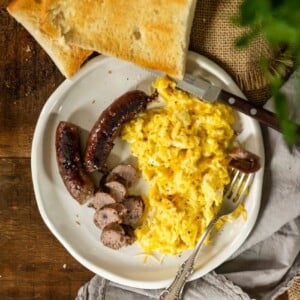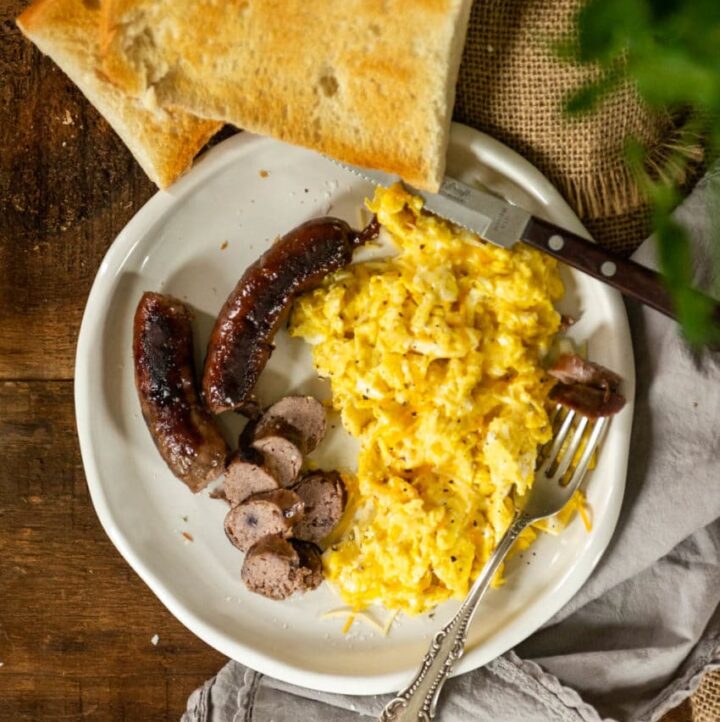 Crafting your own breakfast sausage isn't complicated and can make for an amazing home made option that is far more affordable than buying pre-made sausage. Plus you get to pick the best ingredients – like Maine Blueberries, real maple syrup, and Cabot cheese to flavor the pork. You can't buy that pre-packaged.
Ingredients
natural casings

soaked and rinsed

3

lbs

pork belly

2

lbs

pork shoulder

4

tbsp

salt

2

tbsp

ground sage

2

tbsp

thyme

2

cups

shredded Cabot Cheddar cheese

1

cup

frozen blueberries

use small Maine blueberries

1/2

cup

maple syrup
Instructions
Par freeze the pork for 20 minutes.

Slice the pork into 1/2″ cubes.

Season the pork with the salt, sage and thyme.

Add the cheese and toss to combine.

Chill in the fridge until ready to grind, at least 1 hour.

Meanwhile, place the components of your meat grinder in the freezer to get them cold.

When ready to grind, run the pork mixture through the grinder until all of the pork is ground.

Chill again for at least 3 hours.

Clean, dry well, and place the components of your meat grinder back in the freezer.

Toss the ground pork mixture with the blueberries and maple syrup.

In a small pan, cook a tablespoon of the mixture to test for seasoning. Adjust to your taste.

When ready to stuff the sausage, slide the casing over the sausage extruder completely.

Working carefully, start running the pork mixture through the grinder.

Slide the casing down, giving about 2 inches as the first bit of sausage comes out.

Using your hands, guide and shape the sausage to fill the casings, pulling the casing down to fill.

When a few inches remain stop and tie off both ends.

Slide the next casing on and repeat the process until all of the pork sausage has been stuffed.

Cook immediately or save for later. Par freeze the sausage on parchment paper lined baking racks before sealing to freeze.
Nutrition
Calories:
388
kcal
|
Carbohydrates:
5
g
|
Protein:
12
g
|
Fat:
34
g
|
Saturated Fat:
13
g
|
Cholesterol:
66
mg
|
Sodium:
1257
mg
|
Potassium:
217
mg
|
Sugar:
4
g
|
Vitamin A:
140
IU
|
Vitamin C:
2
mg
|
Calcium:
87
mg
|
Iron:
0.8
mg