Stop. Slow down baby.
We all know by now that this site is dedicated to all the glories of meat. No matter how you slice it. From brisket to bacon and back again, GirlCarnivore is home to meaty delights. I cast aside the sugary sweets for a dedicated space in the food blog world to give the whole hog a home. And do you know what someone dared to say? That my French Onion Burger was the cause of obesity in America. Facts aside people, I doubt that single burger is the cause.  But just in case you need something a little lighter, this skinny cheesesteak is keeping it real with just the bare bones. And you know what, it tastes good.
But everything in moderation and all.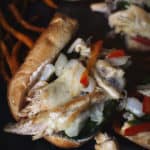 Chicken Cheese Steak
Ingredients
1

tbs

olive oil

1

lbs

chicken breasts

salt and pepper

1

whole red pepper

stemmed seeded and sliced

1

whole green pepper

stemmed seeded and sliced

1/2

yellow onion

sliced

1/2

cup

mushrooms

sliced

Provolone cheese

sliced

Mayo

Split Hoagie Rolls
Instructions
Preheat the broiler and make sure that rack is placed in middle highest position. Line a baking sheet with foil and spray with non-stick cook spray or rub a little olive oil all over it.

In a large skillet over medium high heat, swirl the olive oil to coat pan. Slice the chicken to 1/2" strips and season with salt and pepper. Place in the hot pan and cook on all sides, about 5 to 7 minutes.

Meanwhile, arrange the peppers, onions, and mushrooms on the prepared pan. Roast in the oven 5 to 7 minutes, checking and stirring and flipping as needing so that the veggies are cooked through and a little charred.

On the baking pan, arrange the cooked chicken and veggies so that they are about divided up equally for buns. Layer the cheese over top and place back under the broiler for a few moments until the cheese has melted.

Smear mayo over rolls and spoon the filling into each. Serve.