The flavors from the hot wok action really pop and the snap from the pile of fresh veggies is just what the doctor ordered. No more limp broccoli or MSG overdoses. This is fake-out take-out worth hurrying home for.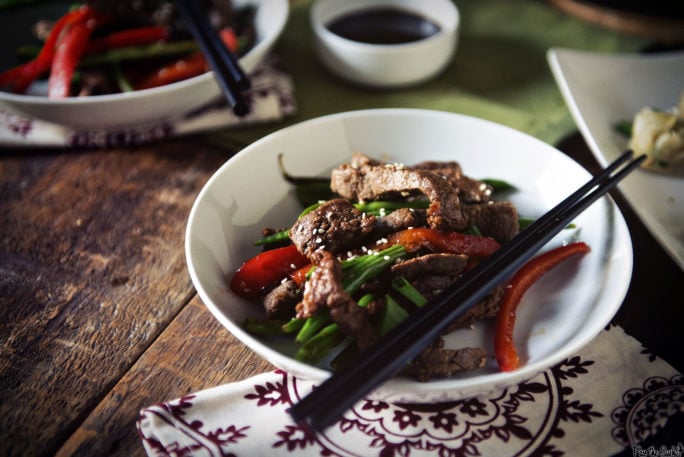 I can't tell you the last time I got take out. I'm not sure if I just became a 'foodie' or too good for my own cheap self, but take out just doesn't happen around here anymore. There aren't many great on the go spots to hit up (though, there is a new BBQ food truck in town that I have to give a go to) so maybe I am just saving myself a little disappointment in the long run.
Besides, I love a fake-out take out Stir-Friday kind of night right at home. And this Sesame Steak Stir Fry was no disappointment.
The flavors from the hot wok action really pop and the snap from the pile of fresh veggies is just what the doctor ordered. No more limp broccoli or MSG overdoses. This is a stir fry worth hurrying home for.
Now heat up that wok.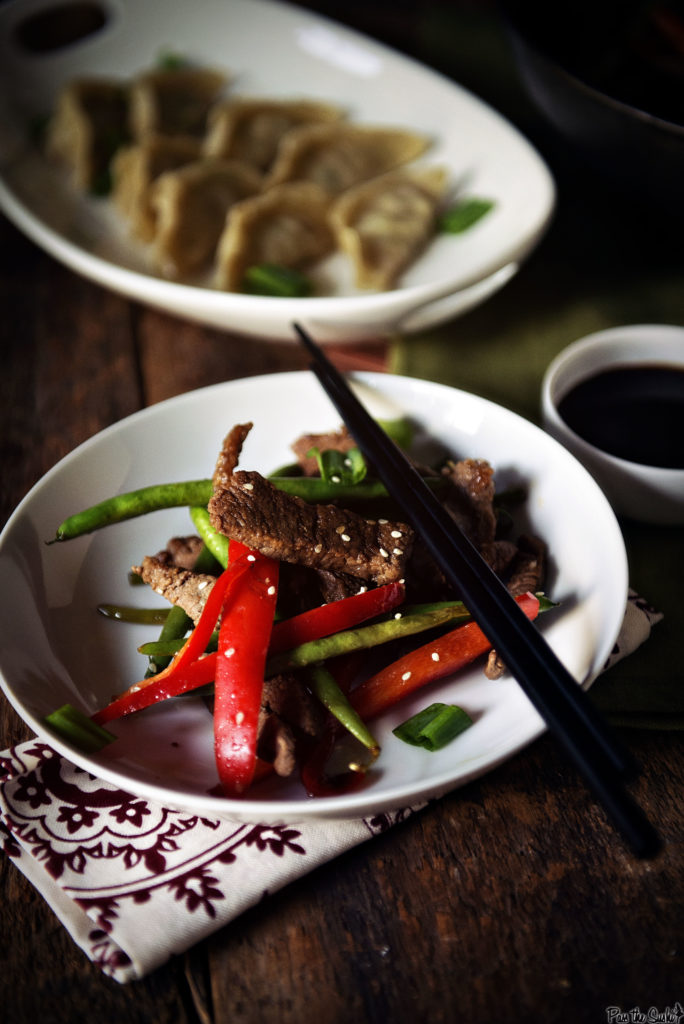 Who doesn't love a good Fake-out Take-out. The kind that reminds you that you can in fact make that perfect food previously only found in a paper box. Yeah, this girl. Check these recipes out, and you might never leave the house.
If you've tried my Sesame Steak Stir Fry Recipe or any other recipe on GirlCarnivore.com please don't forget to rate the recipe and let me know where you found it in the comments below. I get inspired by your feedback and comments! You can also FOLLOW ME on Instagram @girlcarnivore as well as on Twitter and Facebook.
Want another great fast and easy dinner? Check out this Pad Thai from my original site: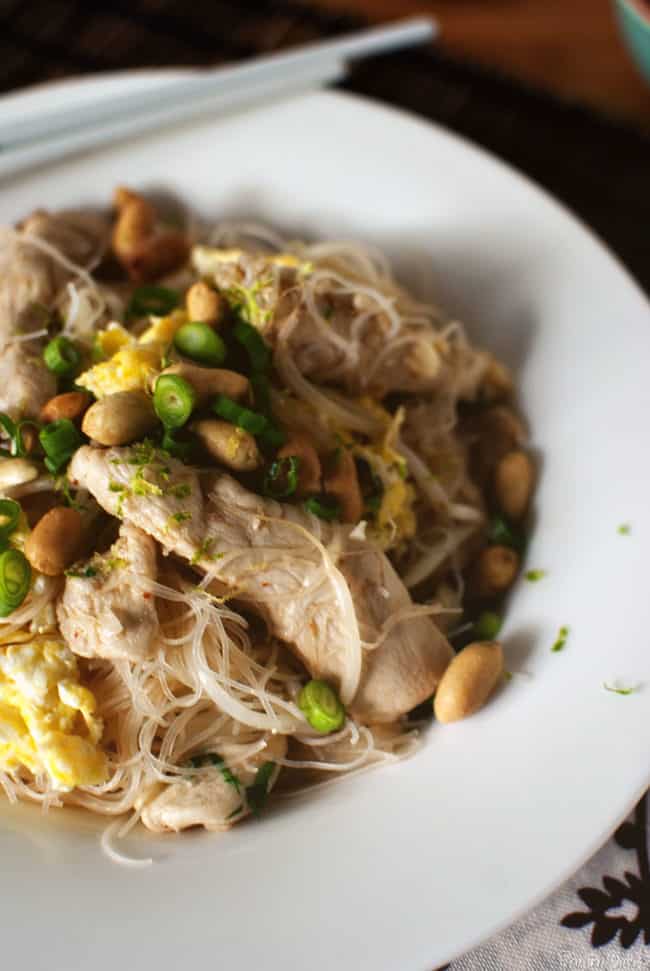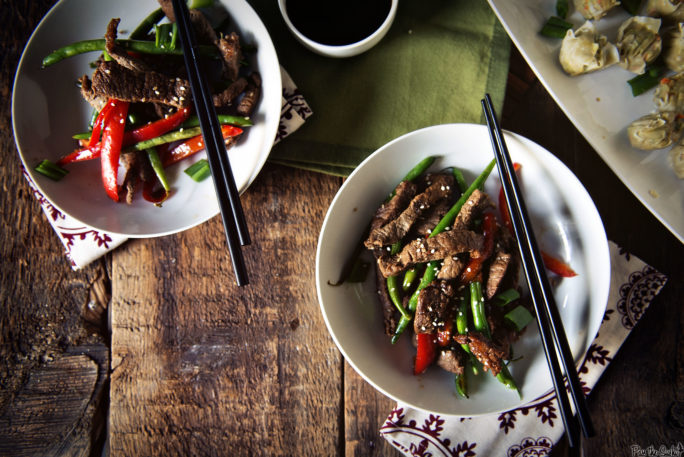 Sesame Steak Stir Fry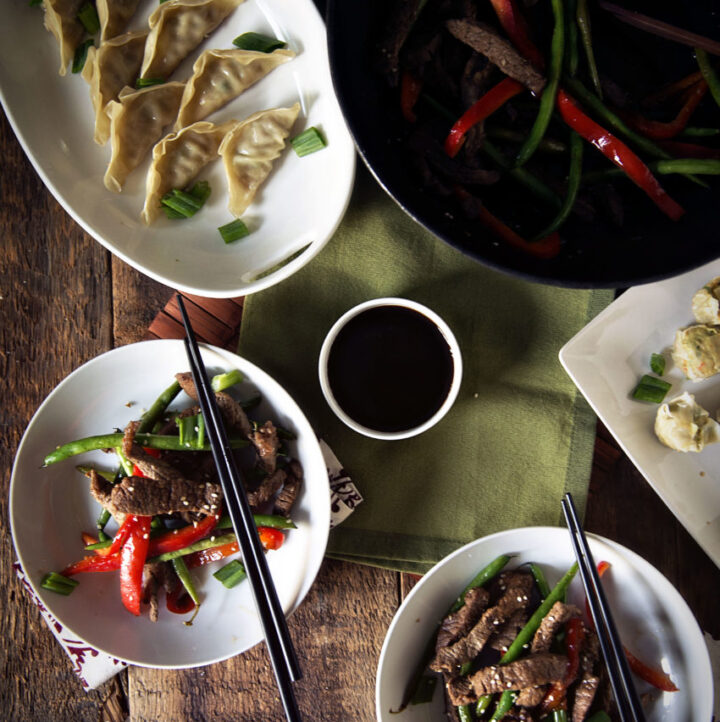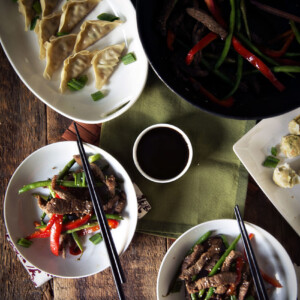 Ingredients
1

lbs

sirloin

2

teas fresh ginger

grated

1

scallion

roughly chopped

1 1/2

teas rice wine

divided

2

teas sesame oil

divided

1/2

cup

beef stock

1/2

teas soy sauce

1

teas sugar

1/2

teas anise or fennel seeds

crushed

1

cinnamon stick

1/2

teas chili oil

1

teas sesame seeds for garnish

Stir fry veggies of choice

peppers, snow peas, green beans, carrots, mushrooms, broccoli and more. A
Instructions
In between two sheets of plastic wrap, pound the meat into a thin sheet. Slice into long thin strips.

Whisk the ginger, scallion, 1 teas rice wine, and 1 teas sesame oil in a bowl. Add the strips of steak and toss to coat. Allow to marinate for 30 minutes in the fridge, tossing again once or twice to make sure everything gets an even coat.

Meanwhile, heat peanut oil or canola oil in a larger wok with high sides or Dutch oven. Oil is ready when small chunk of bread browns within 30 seconds. Remove the bread and working in small batches add the steak. Fry for one minute and remove with a slotted spoon to a towel lined plate. Repeat as needed to work through the batch. When all the meat has been fried, work back through another round, frying for 2 to 3 minutes longer, in batches. Return to plate with fresh towels to absorb oil.

When done, allow the oil to cool before proceeding if using the same wok. If using the same wok, when oil has cooled and wok can be safely handled, discard all but 1 tbs oil.

Place the broth in a saucepan and bring to a boil. Add the soy, remaining 1/2 teas rice wine, sugar, fennel and cinnamon stick. Add the steak strips and simmer for about 20 minutes until reduced and sticky.

When about 5 minutes remain on the beef, heat the remaining oil in the wok and add veggies. Quickly stir fry for crisp delicious additions. Toss everything with remaining 1/2 teas sesame oil and a little chili sauce if using. Sprinkle wth sesame seeds.