This post may contain affiliate links. Please read my disclosure policy
This is a weeknight quick meal that is perfect for anyone trying to eat healthy (it's Whole30 approved) and loaded with flavor! Quick BBQ Chicken with Grilled Apples.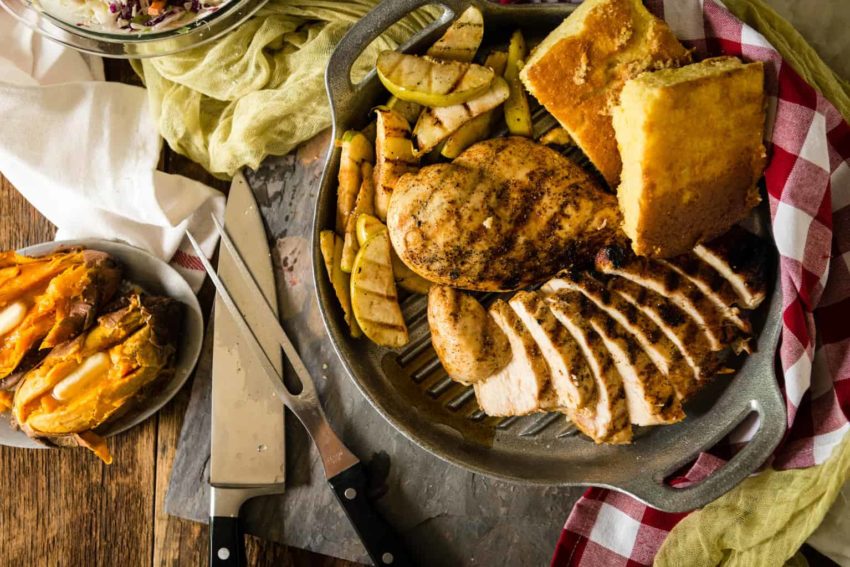 This is a sponsored post for Char-Broil.com but it doesn't make the recipe any less tasty.
There is something about grilling over charcoal that leads people to believe it takes hours. That's not really the case at all. With the quick light of our Halftime Chimney Starter and the even heat of the Kettleman grill grates, cooking over the coals on a busy weeknight is a breeze. This char-grilled BBQ chicken with grilled apples meal is perfect at producing juice grilled chicken off the grill in under 30 minutes and only takes 7 ingredients! The side dish of the tart granny smith apples really shines with the heat bringing out a bonus sweet flavor and tenderness, making them the perfect side. Want to get fancy, throw in some onion rings on the grill too. Onions and apples pair perfectly with chicken and some of your favorite slaw and fresh cornbread on the side make this a homemade weeknight triumph!